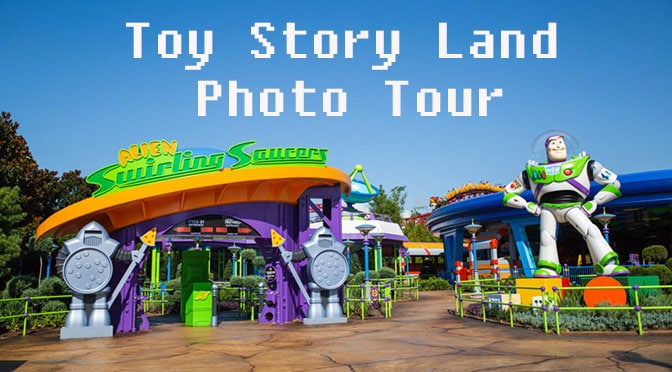 Toy Story Land is a new toy-filled area inside Disney's Hollywood Studios which opens June 30, 2018.  The new land allows guests to shrink down to the size of a Green Army person and play in Andy's Backyard while Andy is away.  It's a whimsical, colorful and oversized land full of toys and fun.  Here's a photo tour of the new land:
The Entrance Area:
As you turn right from the current Pixar Place, which will close on June 30, you'll pass a Disney Vacation Club kiosk and saunter down the path to the main entrance to Toy Story Land.  Woody is on hand to greet you as you enter.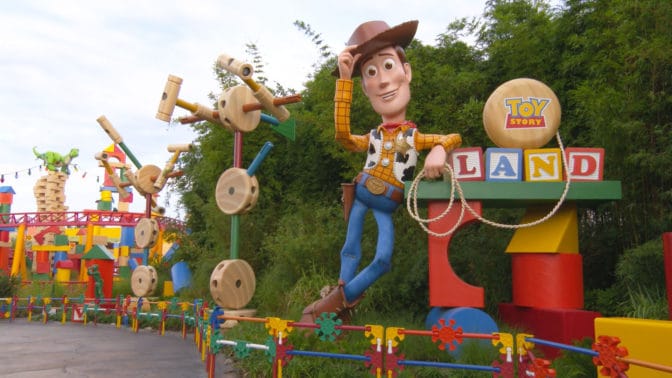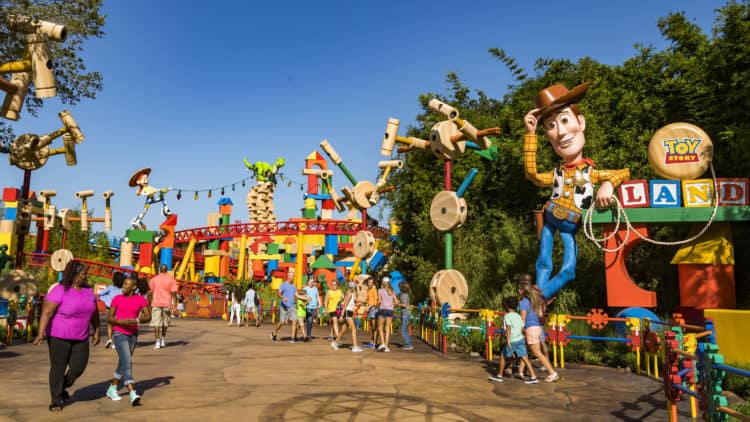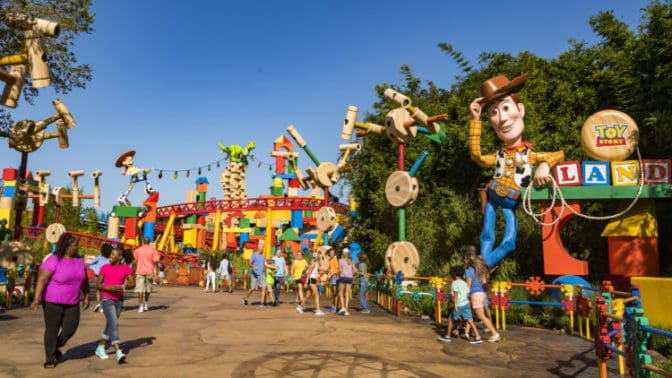 Slinky Dog Dash
The attraction that will attract the most attention in this new land is Slinky Dog Dash.  It is a one-of-a-kind roller coaster that was created especially for this new play space.  The ride shoots you off from the entrance and once more after Slinky re-coils.  It has a couple of broad curves and some small camel back hills.  You are restrained by a lap bar that is similar to Seven Dwarfs Mine Train.  Riders must be 38 inches to ride.  It does offer Tier One Fastpass+ and Child Swap, but does not have a Single Rider line.  It is the most popular Tier One Fastpass.  It offers 9 rows of two by two seating.  Wheezy is at the end of the ride to remind you that "You've got a friend in me."  It takes about 2 minutes to experience.
Add Slinky Dog Dash to your Character Locator Touring Plan!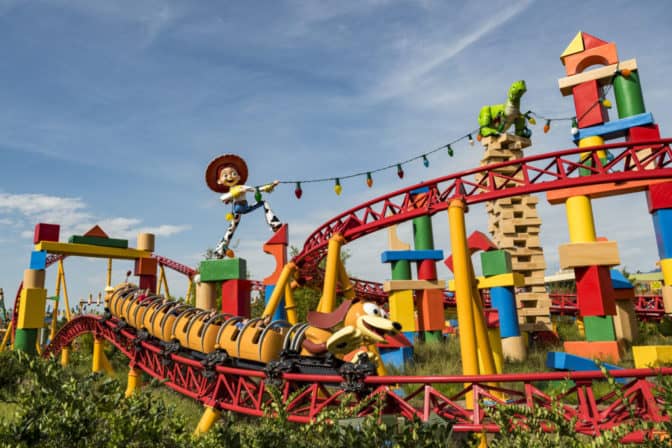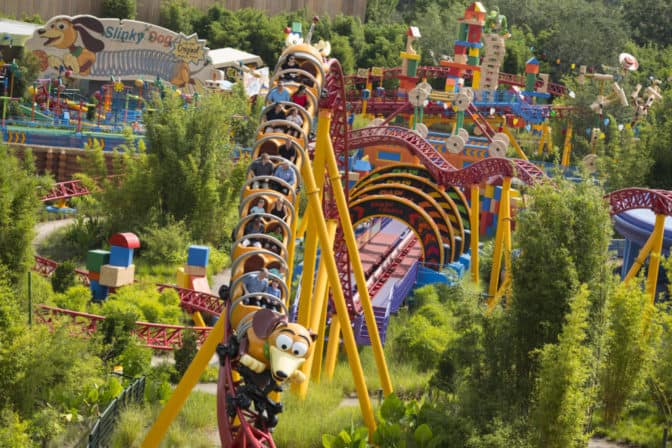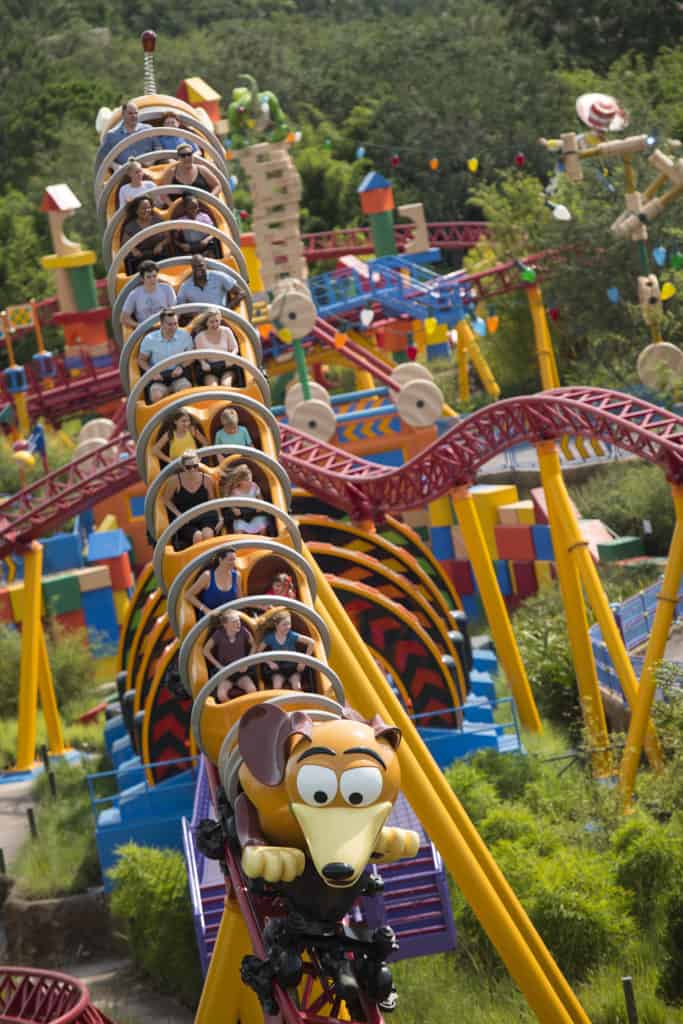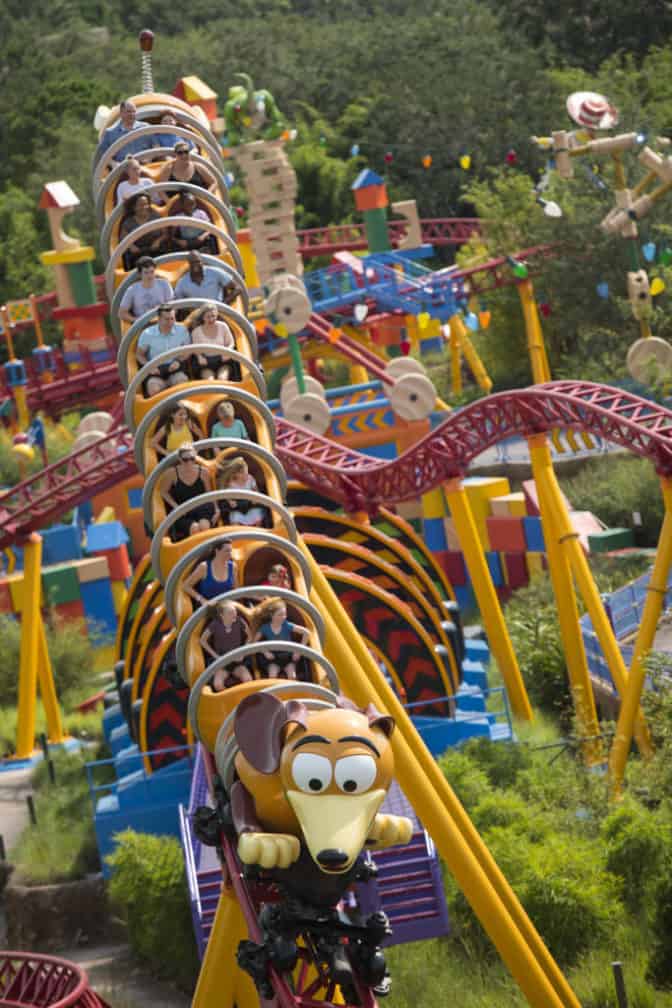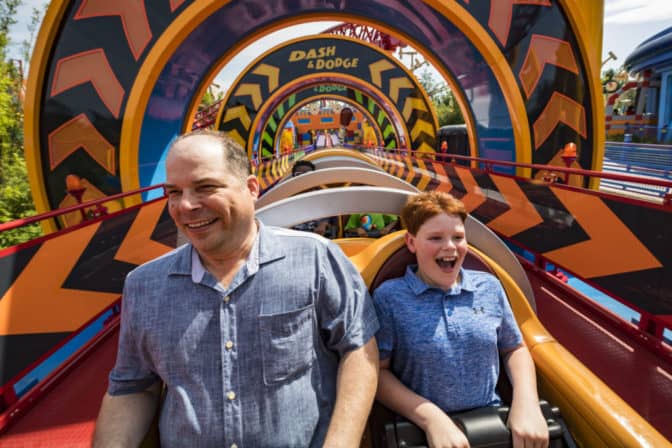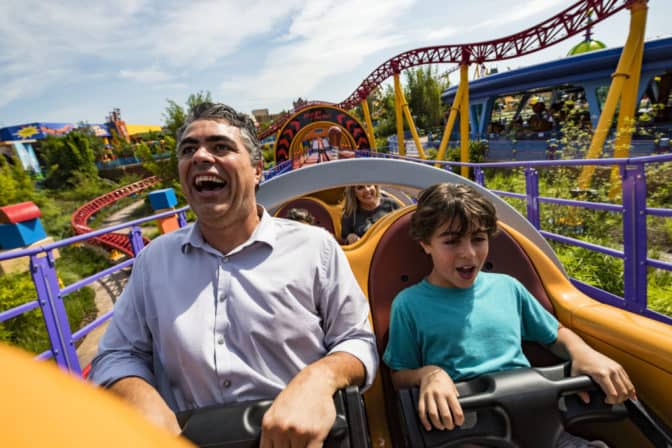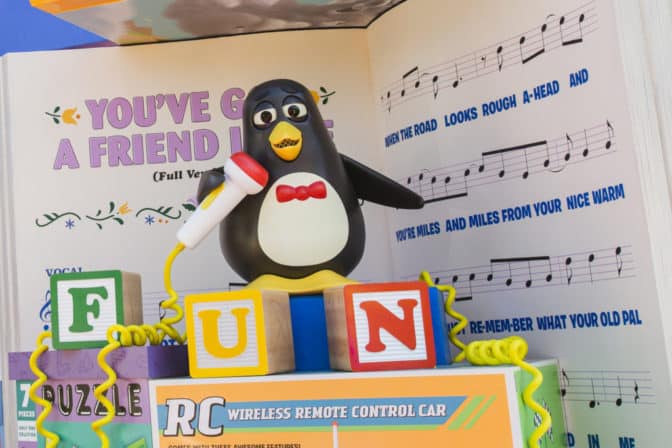 Alien Swirling Saucers
Saucers is a ride vehicle that Disney has used in other parks, but the Alien overlay is totally new for this land.  You'll board a rocket that is being towed by an Alien saucer.  You'll swirl about and swing side to side.  It's a gentle thrill for the little ones and you might smile as well.  The ride has a 32 inch height limit and offers Child Swap.  It is offered as a Tier One Fastpass and is the second most popular in that category.  It takes about 1 minute to experience.   It has a total of 22 ride vehicles.
Add Alien Swirling Saucers to your Character Locator Touring Plan!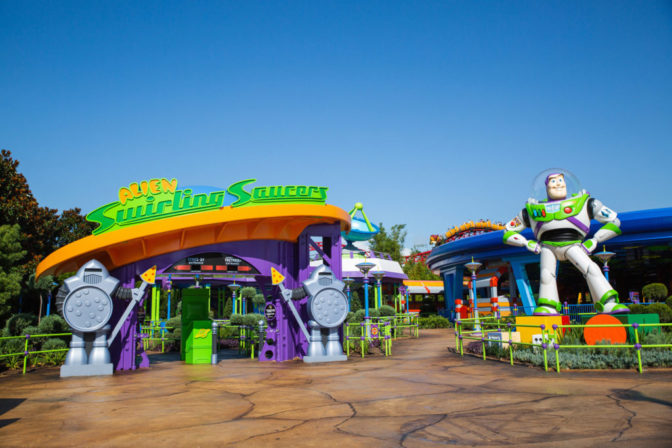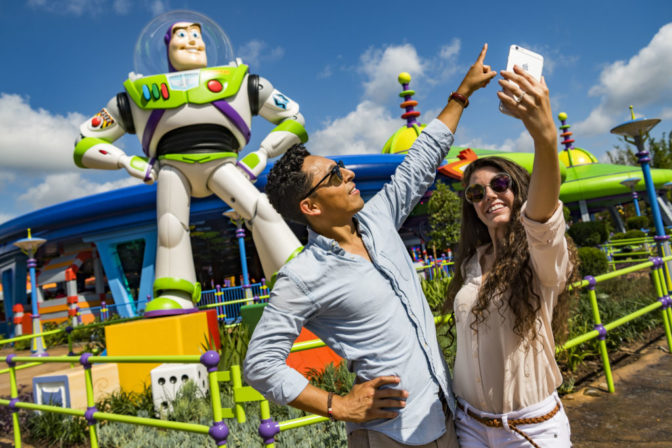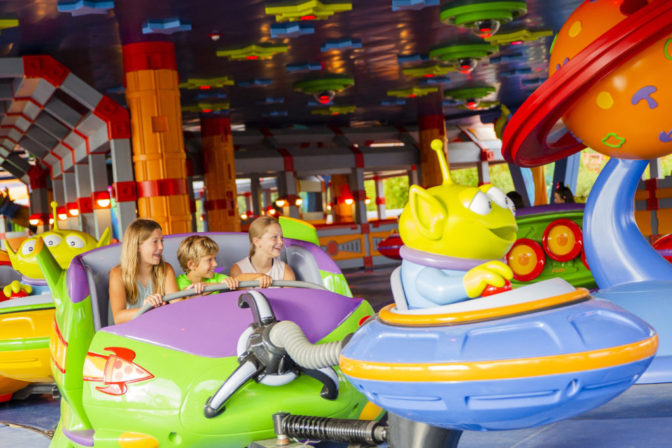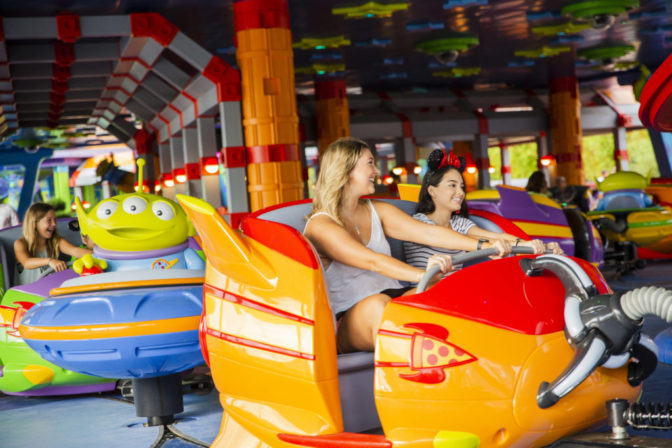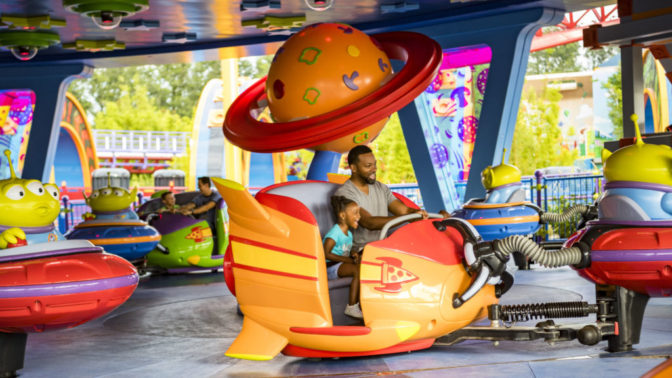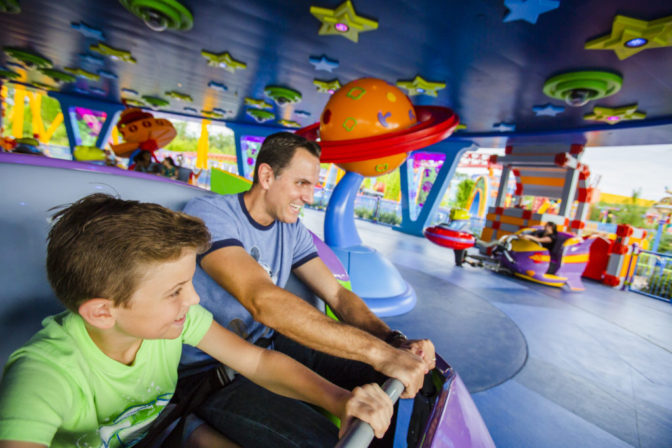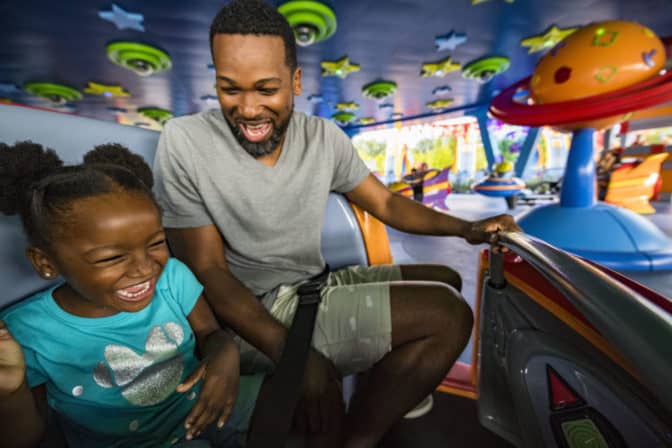 Toy Story Mania
Toy Story Mania is an existing ride in Hollywood Studios that has received a new entrance area inside Toy Story Land.  The game allows you to virtually shoot at a variety of fun Toy Story themed targets.  It has no height limit.  It offers Fastpass+ as a Tier: One and is the easiest Tier One Fastpass to acquire.
Add Toy Story Mania to your Character Locator Touring Plan!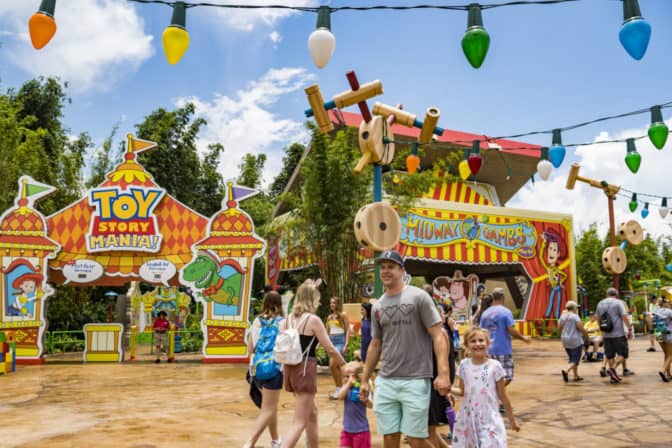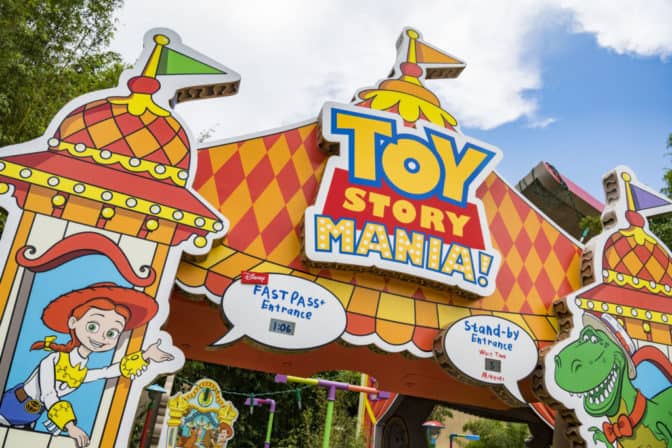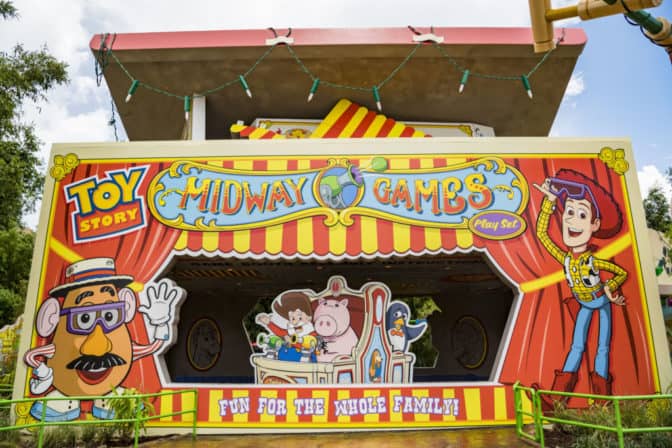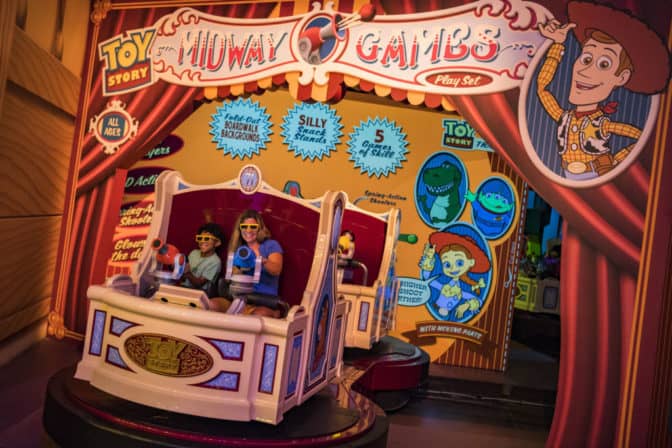 Character Meet and Greets
Your beloved friends Buzz, Woody and Jessie will be on hand throughout the day for a hug and a photo.  Photopass will be on hand to capture that special memory.
Add these meet and greets to your Character Locator Touring Plan!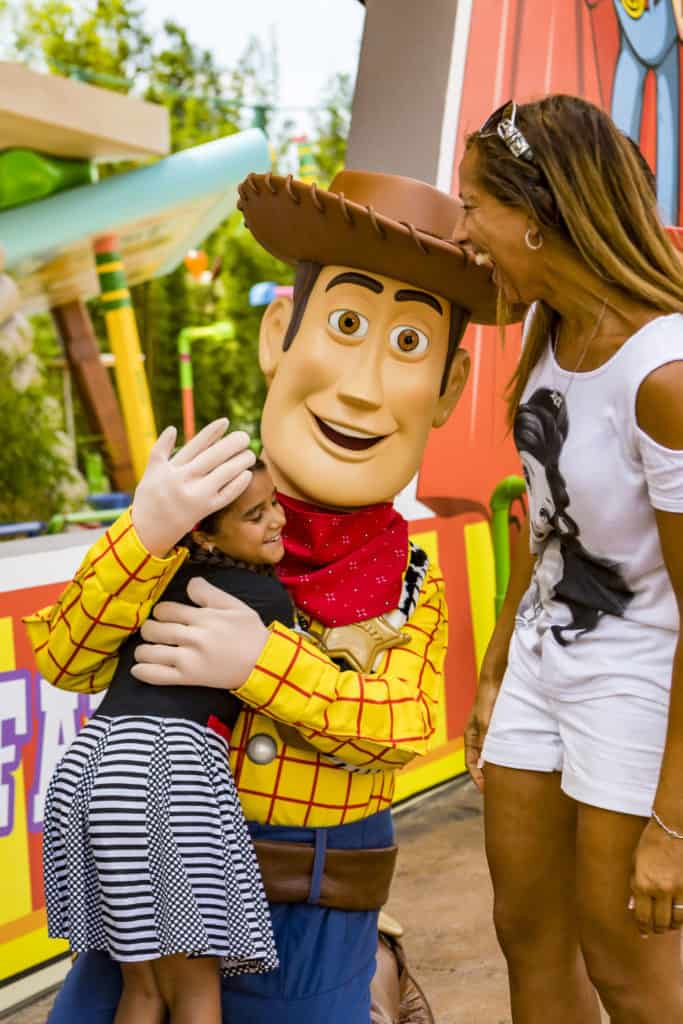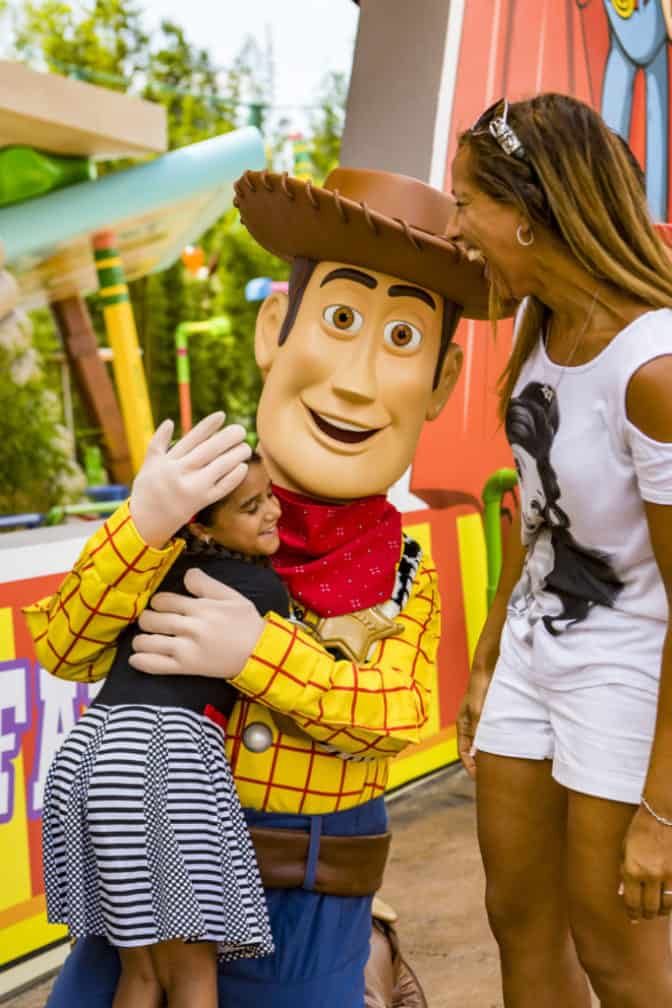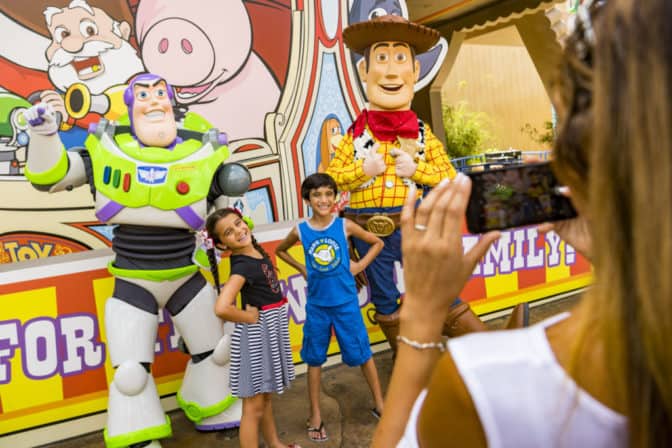 The Green Army
The Green Army will be on hand to entertain at various times throughout the day.  You'll be able to catch them as they perform a Drum Line show or be an actual recruit in their Boot Camp.  They will also mingle for photo opportunities from time to time.  They don't typically offer Photopass support.  Be sure to snap a clean salute solider!
The Green Army will be comprised of both men and women!
Add the Green Army experiences to your Character Locator Touring Plan!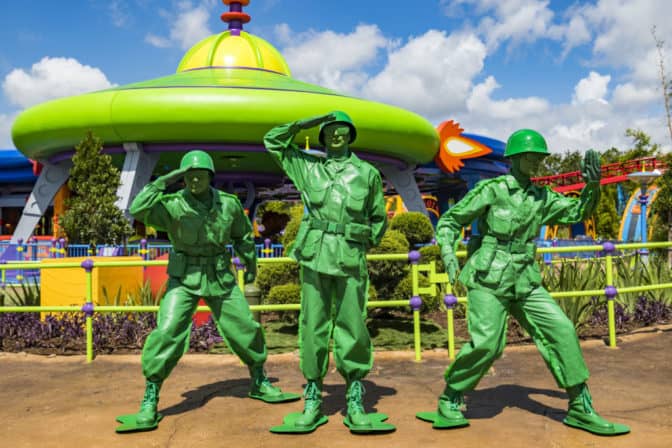 Woody's Lunchbox
Woody's Lunchbox will offer a variety of breakfast, lunch and dinner counter service options with open-air table side seating.  You can use your quick-service dining plan at this location.  I look forward to trying out the S'mores French Toast and the BBQ Brisket Melt!
Woody's Lunchbox will offer Mobile Order through the My Disney Experience app!
Add Woody's Lunchbox Menu to your Character Locator Touring Plan!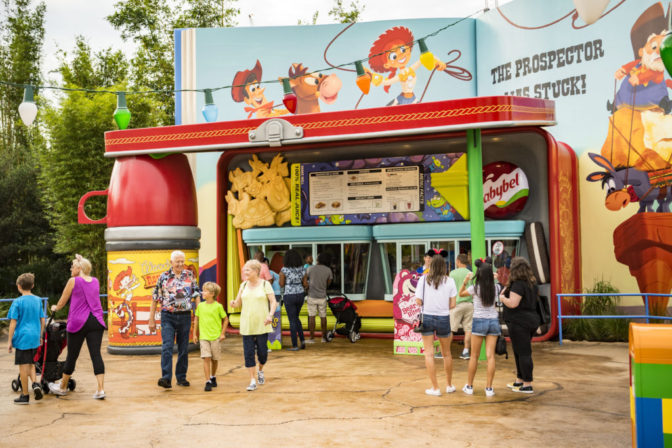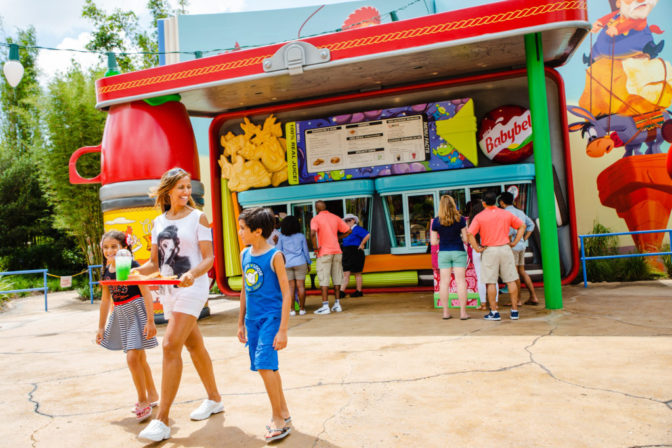 Merchandise
Toy Story Land has limited merchandise available, but you can also find a wide variety of Toy Story inspired merchandise at Beverly Sunset in the front of the theme park.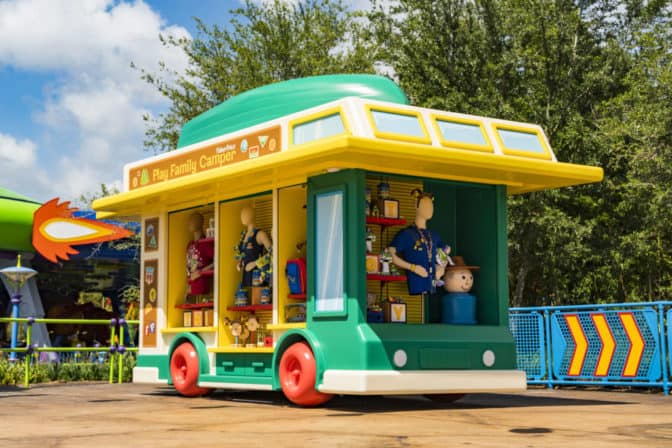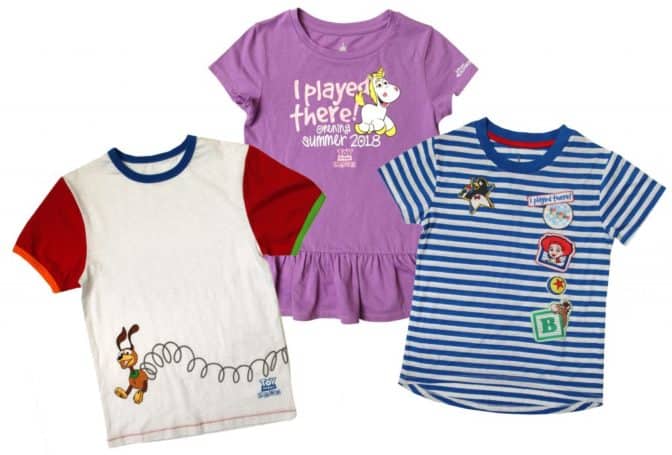 Pirate recommendations:
Plan to arrive early.  If you'd like to experience both of the new attractions with little waiting, arrive early and go to one of the rides and use Fastpass+ for the other ride.
Visit late.  The park is remaining open later this summer, so you might try arriving near closing to ride one ride and schedule the other Fastpass late so you can see the land after dark.
If you plan to visit from 11am to 6pm, I highly recommend bringing along an umbrella and a mister fan.  There is NO shade in the land.  In order to find air conditioning, you have to visit the restroom or Toy Story Mania.  There are no restrooms in any of the queues and you will want to stay hydrated!
I expect the longest lines to form for Slinky Dog Dash, then Alien Swirling Saucers.  Book one of those Fastpass 60+ days in advance by staying onsite.
Images Disney©
Are you excited to experience Toy Story Land?