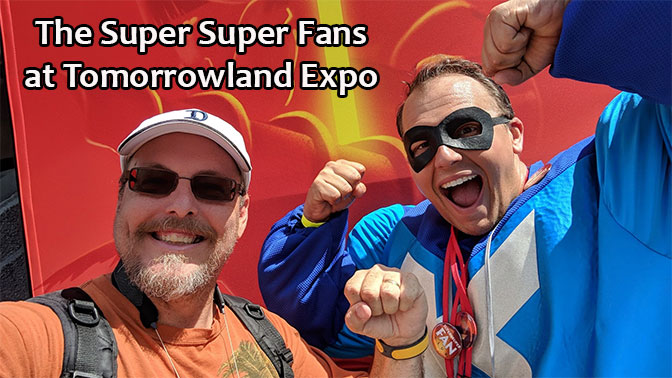 Disney World has done some unusual things over the years.  Things like turning the castle into a giant birthday cake or letting stitch throw toilet paper all over the castle.  This summer's promotion is Incredible Summer, so they are promoting Incredibles 2 in Tomorrowland in the Magic Kingdom.  One of the elements of the promotion are the "Super Super Fans."  Here's what that means:
What is a Super Super Fan?
Bare with me here as I try to explain.  The Incredible Summer promotion that takes place in Magic Kingdom is being touted as the "Tomorrowland Expo."  We are supposed to be taking part in a Super Hero Convention of sorts.  That's why they offer Baby Races, dance parties and "Super Super Fans."
Super Super Fans are official Disney Parks characters, but they aren't the actual movie character.  They are characters who are cosplaying the characters from Incredibles 2.  I know that is confusing!  The Super Super Fans even sign autographs.
It seems like it would have been easier to put the actual movie characters like Krush, Voyd and Brick in the park, but we have official cosplayers instead.  With that said, it doesn't take away from enjoying time with these "characters" as they are quite a bit of fun with which to interact.
Is there a schedule for the Super Super Fans?
They appear intermittently from 10:00am-6:30pm, but you can be assured of meeting them all by joining for the Super Pose off at the Tomorrowland Stage .  It's mentioned on the Incredibles Super Super Fan listing on Character Locator.
Who are these Super Super Fans?
I had the opportunity to meet 5 different Super Super Fans through my time in the Magic Kingdom recently.
Abby Bacchus cosplaying Voyd.
Voyd is a huge fan of Elastigirl.  She has the ability to divert and manipulate objects around her by creating voids that allow objects to appear and disappear.  She plays a key role in helping Elastigirl try to save the day in Incredibles 2.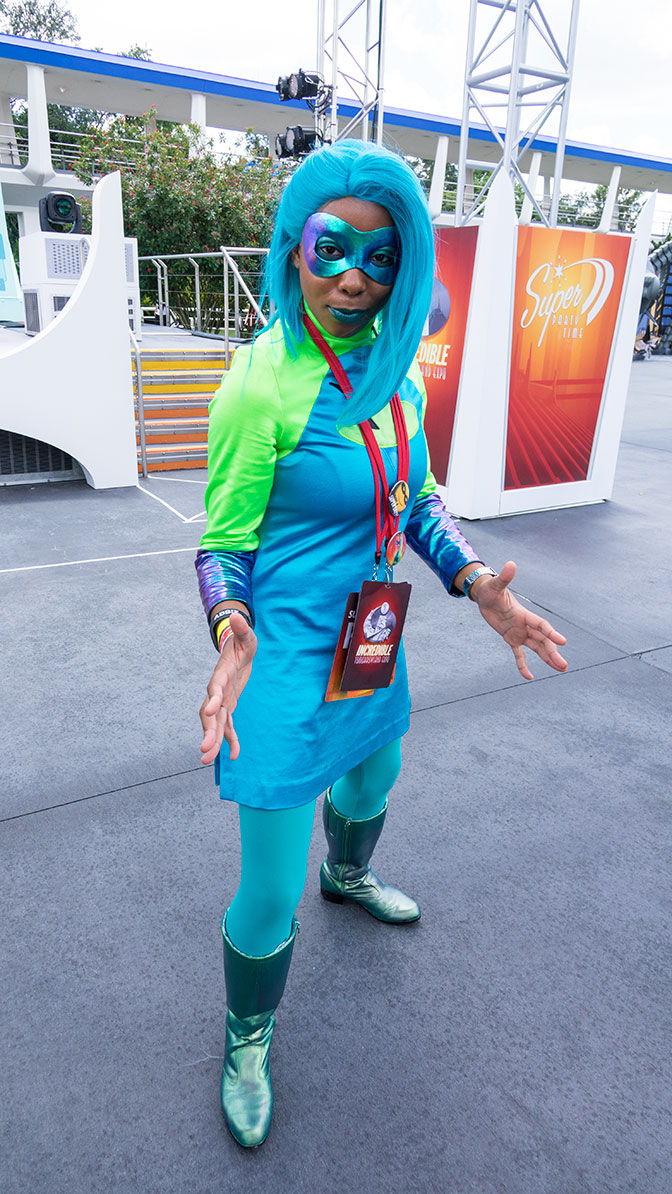 Ed Chilada cosplaying Reflux
Reflux has the special ability of generating fire from deep in his belly.  I think it's because he consumed too much Tex-Mex or something like that.  Ed is always prepared to battle this reflux issue with his trusty bottle of Incredible anti-gas pills.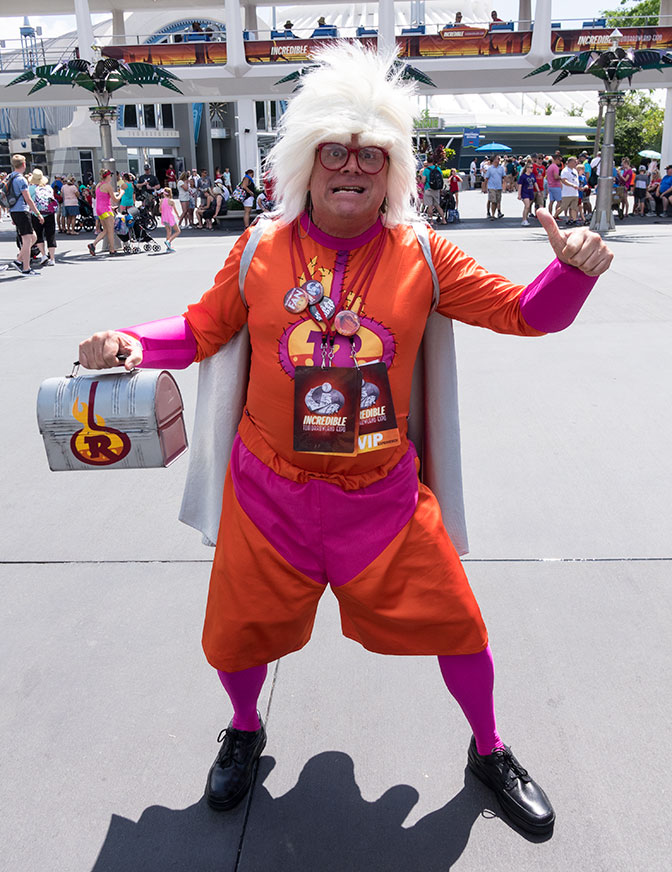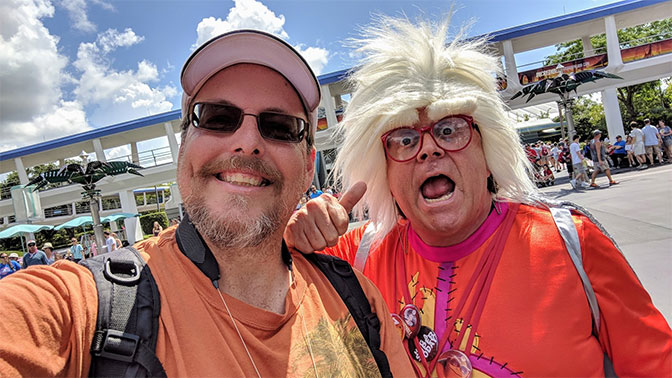 Shirley Block cosplaying Brick
Brick is a ridiculously strong female character.   This type of character is usually played by males, so Incredibles 2 went against type to show that anyone can be super strong.  Like Brick, Shirley has a fearless spirit!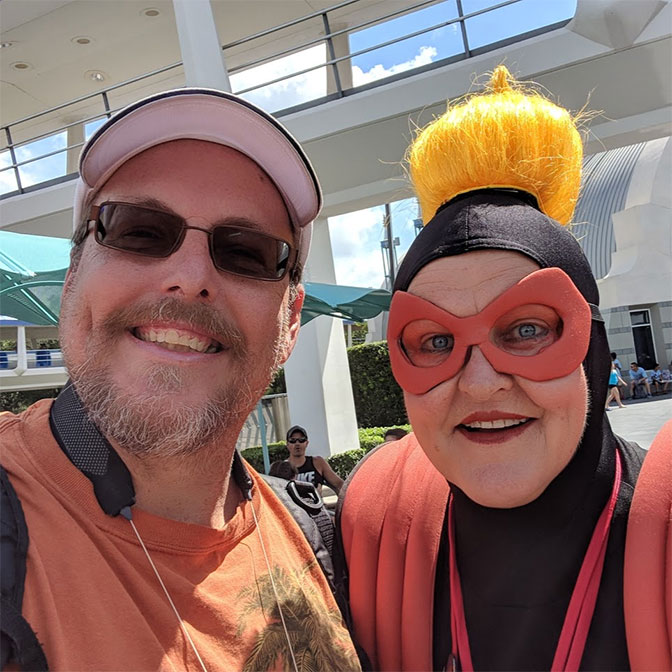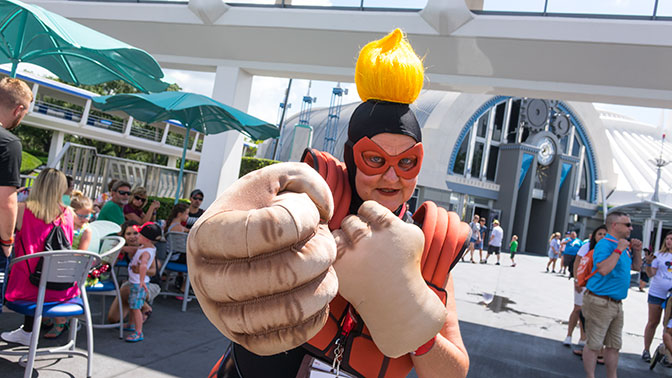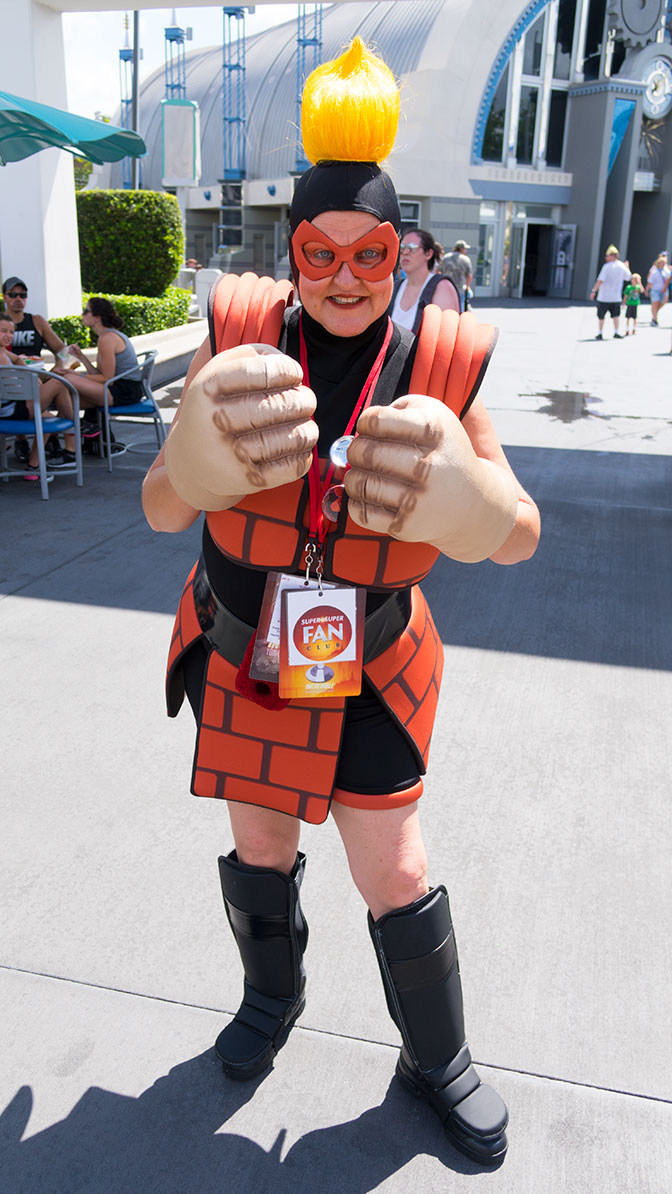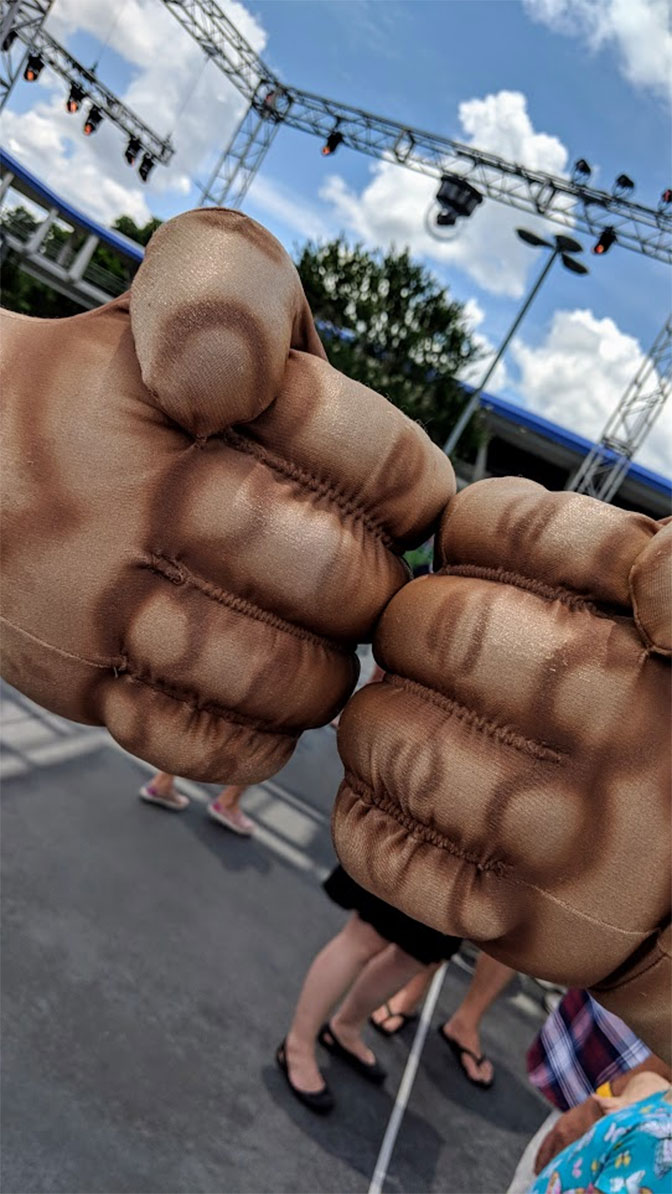 Wendell cosplaying Screech
Screech has super vision and his head can rotate 360 degrees.  His super power is that he has a screech that can break glass.  Wendell said he once broke glass himself, but needed to clean it up after dropping it on the kitchen floor.  Screech can fly because he created a special flying suit.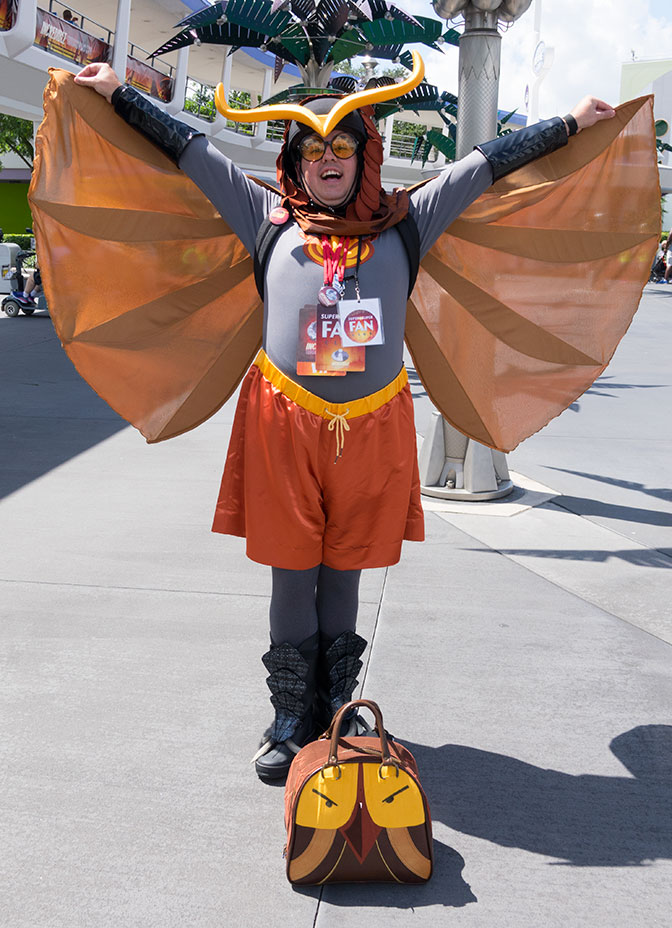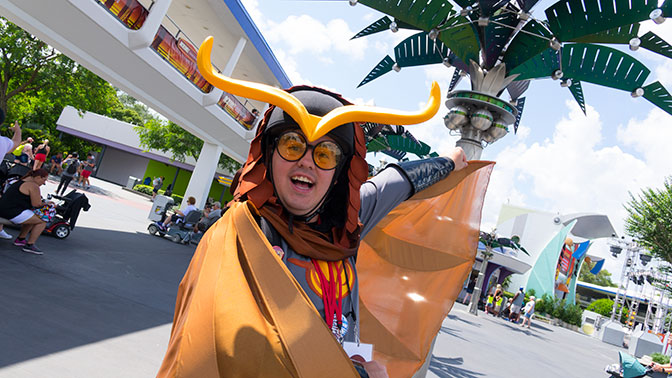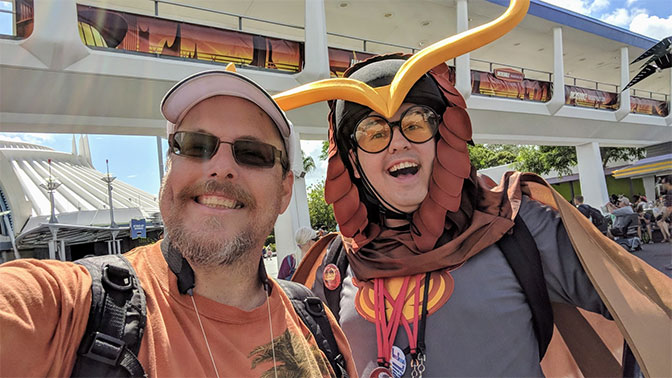 Will Leave as Krush
As the name implies Krush crushes things.  He isn't too capable of uncrushing them though.  Will is a big fan of Krush's abilities and even inducted me into the Super Super Fan Fan Club as a Junior Member.  I'm hoping to advance to the next level on my next visit.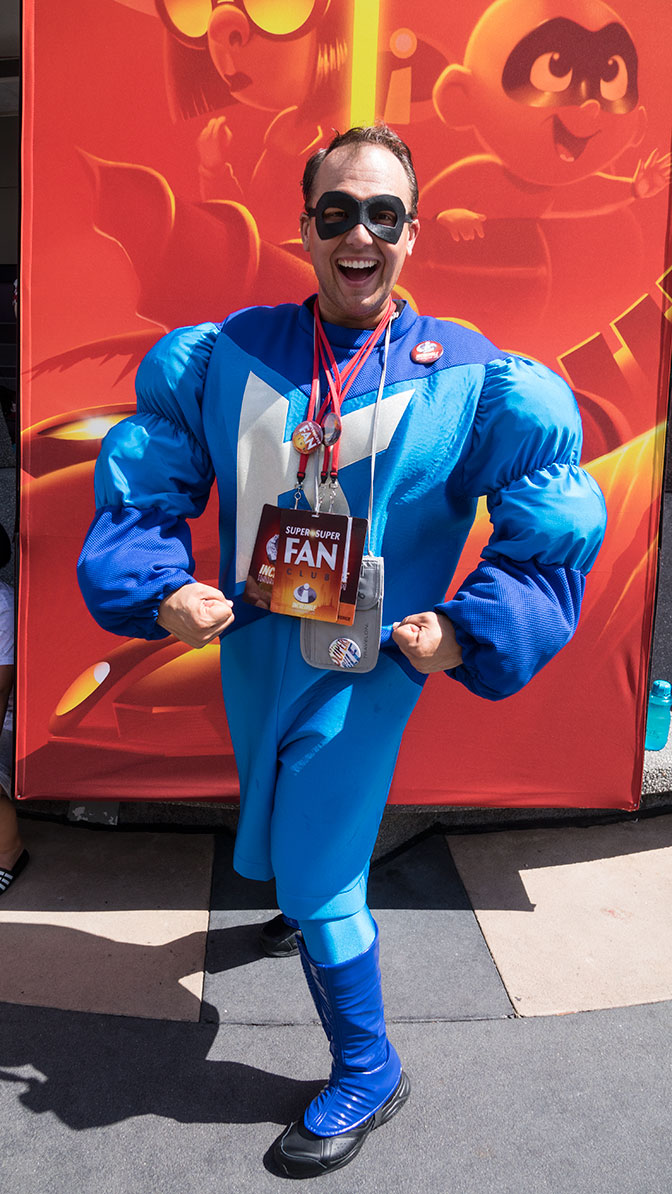 The Official Academy on Character Location has determined that these characters would fall under the "other" category for character meets like the Main Street Citizens, Royal Majesty Makers and Norway Vikings.
On your next visit to the Magic Kingdom this summer, be sure to visit with each of the Super Super Fans, get an autograph and talk to them about their love for their special character and your thoughts of the new Incredibles 2 movie.  Incredibles 2 was a thumbs up movie for our family as my kids were Incredibles when they were little.  The only downside to the movie is the blinking white lights that hinders many fans from attending the movie.
What are your thoughts on the movie or the Super Super Fans?