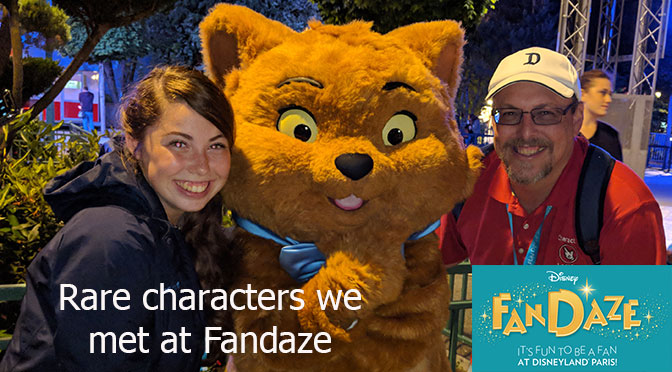 I first heard that Disneyland Paris was planning a special event that would be known as "Fandaze" while planning a trip to England for my daughter and I.  Jordyn was heading to Cambridge for a study abroad this summer and I thought it would be fun to tour around England and Paris with her.  Of course, being the Disney fans that we are, it must include a drive over to Disneyland Paris as well.  Here's how we met 20 very rare characters in a single night!
With an event stating that it would offer up to 100 different character meets (came in at 92), we knew that we would need to choose which meets were important to us and try to accomplish those.  We'd be happy to meet those characters and maybe pick up a few extra roaming characters late.
Fandaze provided a map and full schedule for the characters which had established meet and greet areas.  Many other characters were pop up roaming character in different areas.  Rumors had spread about who some of them would be while we were waiting in the queue outside 2 hours before the event began.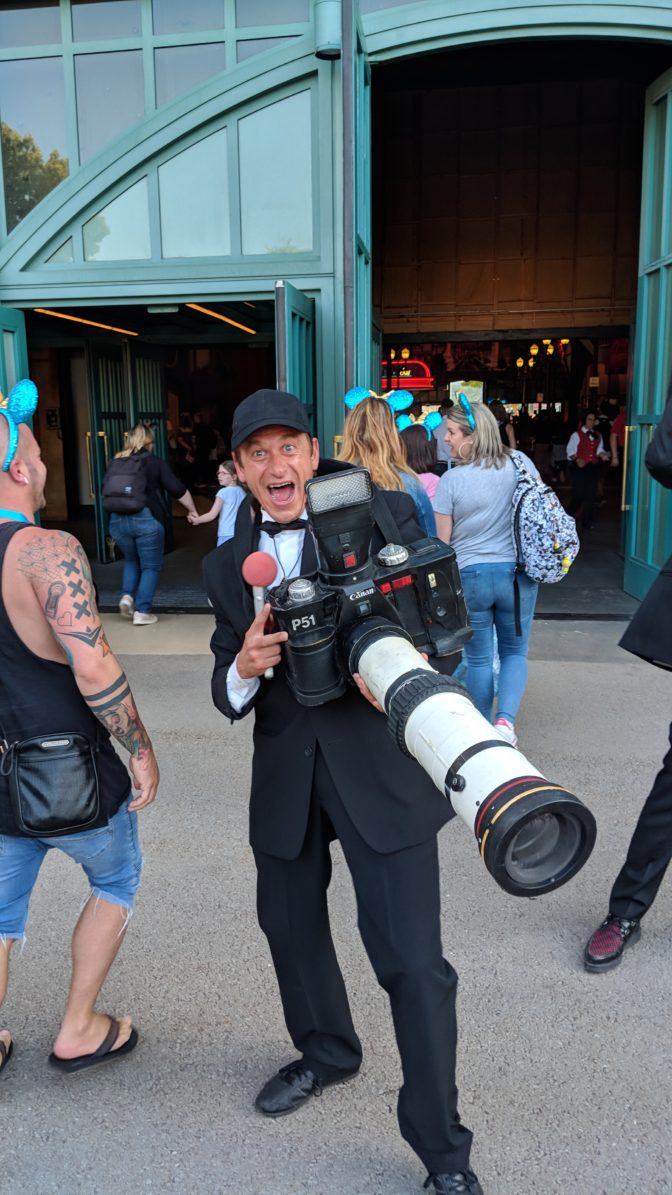 We had been told that the crowd would be in the 3,000 range, but Disneyland Paris flew in a bunch of American media to bring additional exposure to the event and it was unknown if other tickets were comped as well.   The outdoor queue was separated for VIP packages and non-VIP, but it made no difference once the gates were opened.
We were determined to focus on the meet and greets and use the plan I developed on Character Locator.  As we entered, most people went to the stage area for the opening speech.  We found a rope drop spot to the far left that would put us in line for our first character set when the party began at 8pm.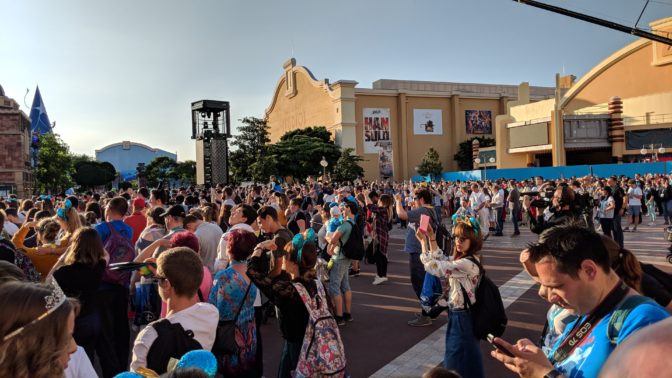 If you've followed my blog for several years, you may remember all my laments about how character lines are queued for special events.  Large-scale character events like this and the special Villains Events at Hollywood Studios as well as Star Wars Weekends were always handled poorly.  A guest would be forced to queue in one single line and then be made to meet whatever character was available when they reached the front of the line.
I'm not sure how many times I was forced to meet Jango Fett before finally meeting Boba Fett in the same queue.  I always asked why they can't just divide the queue into the lines that character locators actually want to meet.  It didn't seem like it would take much effort to do that.  Well, Fandaze got that part RIGHT!  They actually notified you in advance which character line you were in.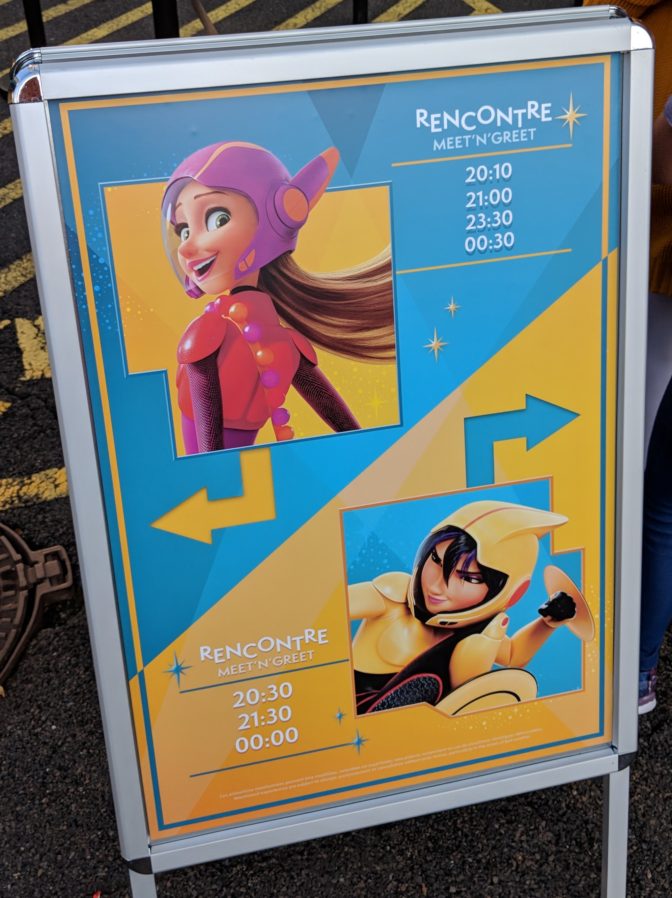 The only downsides to the event were that they forced a 1.5 hour break upon the attendees and one of the two characters for each line only offered 3 sets instead of four.  I was also informed that the Villains area was a complete mess after the first 30 minutes.  That happens when you put too many great characters in one small area.  The 1.5 hour break did offer live entertainment like Max Live, Oh My Ortensia, Jumbla and Pleakley's Mission: Stitch and the Dance Your Ducktales parade.  Most guests began queuing again for characters at least 30 minutes before the next set.  We'll get there soon enough.
When the rope dropped, we made a beeline to begin meeting all the great new Big Hero 6 characters.  We chose Honey Lemon first.  The wrong side of the line was originally opened, but that was quickly remedied.  Each of the characters also had a special backdrop that was designed for that meet area.  Honey Lemon shared the same meet area with Gogo Tomago.
Because we were among the first to meet Honey Lemon, we quickly hopped over to the meet that offered Wasabi / Fred that was only a few feet away.  We met Wasabi in short order.   Guests were told that the Cast Member would take 2 photos of them with their own camera and Photopass would also take photos.  No autographs were allowed and no pre-signed cards were offered.  The cards would have been great to add to memory books.  The lack of autographs did speed up the lines, but many meets didn't stick with the 2 photo limit.
We then took a look at the line for Milo/Kida and Jim Hawkins before deciding to wait a bit in order to meet Fred.   Our focus was to meet as many Big Hero 6 characters as possible, so we continued with our original plan.  Fred didn't disappoint.  He looked awesome.
We then chose to complete the 4 Big Hero 6 character meets by meeting Gogo Tomago.  Jordyn was delighted to have met 4 great characters within an hour.  Many bloggers were satisfied to use the special "picture spot" that was available at many meets.  After a character met with fans, they would turn to the paparazzi style area and pose for a couple of photos.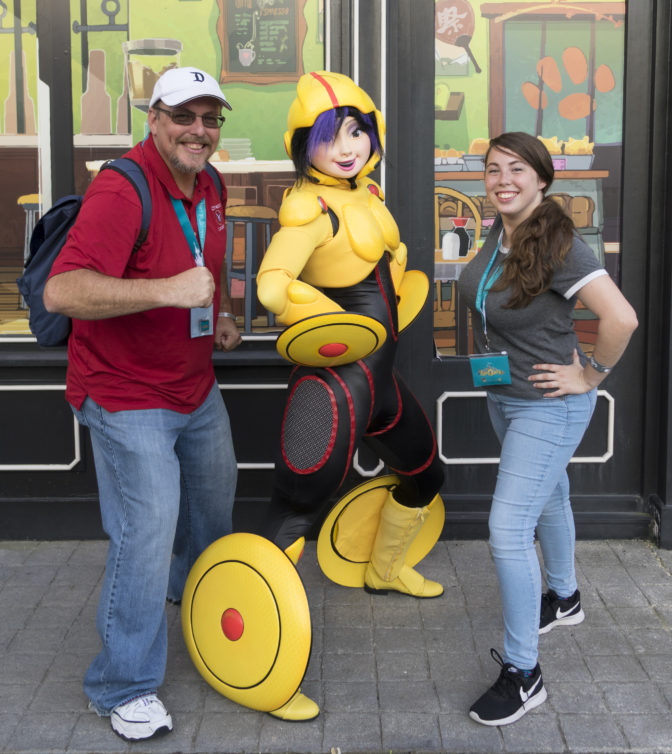 From there we went to join the line for Milo Thatch and Kida from Atlantis.  The Cast Member seemed confused about how long it would take to process the people that were currently in the line and wanted to cut the line very early.  We asked if we could just stand in the back of the line and meet if the meet still had time left before the characters would leave.  It turned out that not only did we meet, but a lot of other people met them as well.  Great interaction time!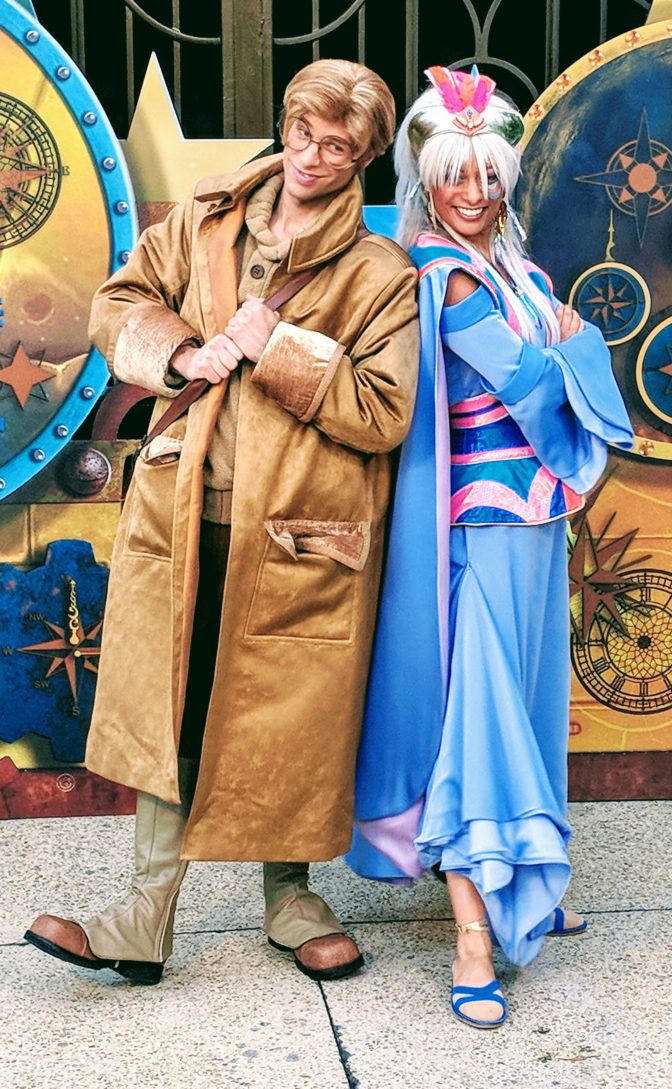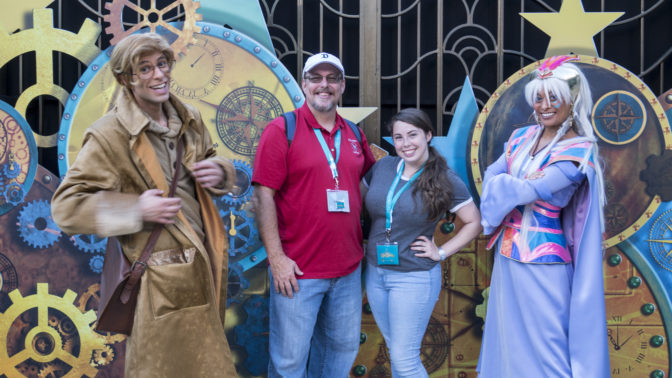 We then joined the long line for Jim Hawkins that would meet in the same location.  I was amazed how quickly his line moved.  He was a lot of fun to talk with.
We watched the Dance Your Ducktales Parade with Donald,  Launchpad McQuack, Scrooge and Huey/Dewey/Louie while in line and caught it again later in the evening.  It was a cute, but brief parade that offered a couple of dance stops.
Because we are pretty serious about our character meets (over 350 different characters over the years), I held our spot for Kuzco and Kronk while Jordyn went to check out Max Live!  More on Max Live! later.  We then switched and I went to see the Oh My Ortensia show.
Fandaze was the grand premiere for Ortensia, Oswald's girlfriend.  Oswald is a Rabbit and Ortensia is a cat for those who aren't in the know.  It was a cute 13 minute street show in which Oswald introduced Ortensia.  It was eerily similar to the Red Car News Boys show in California Adventure.  The only guests who met Ortensia were the ones with the super expensive VIP packages and those who won Karaoke contests.  If they had offered an all night meet and greet, every other fan would have gone there and we'd have had the park to ourselves :)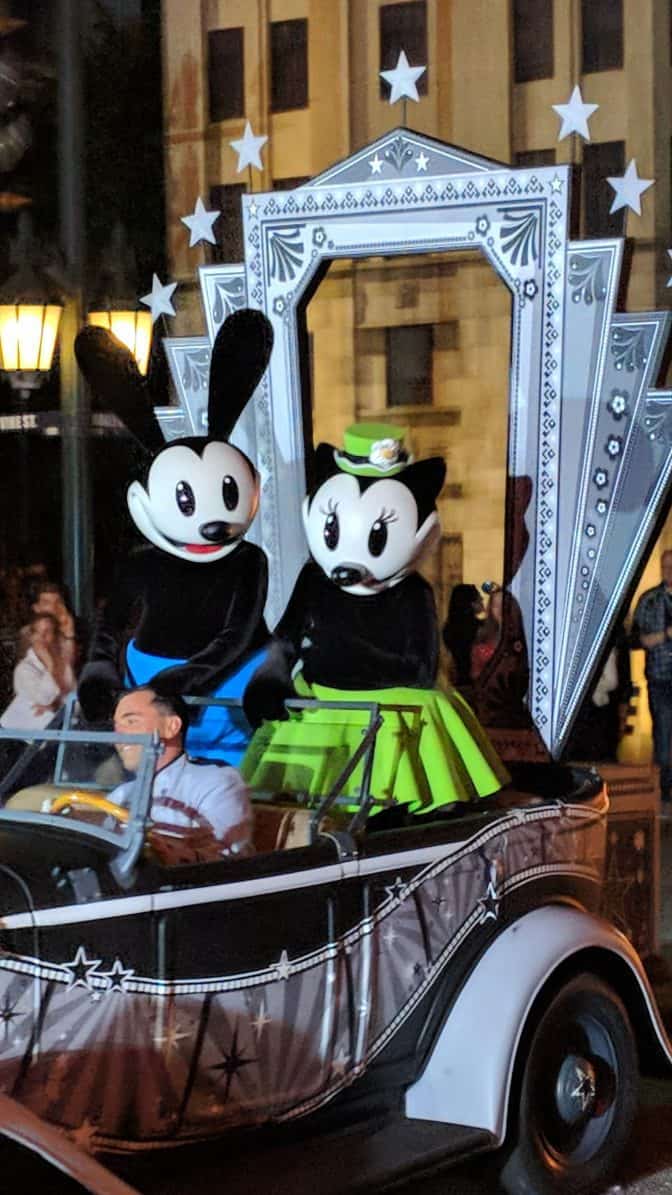 Kuzco and Kronk was one of the more popular meets because Kuzco appeared as a Llama!  Because we held down our spot for 1.5 hours, we were first in line at their return.  By the time they returned the line was cut for the entire night!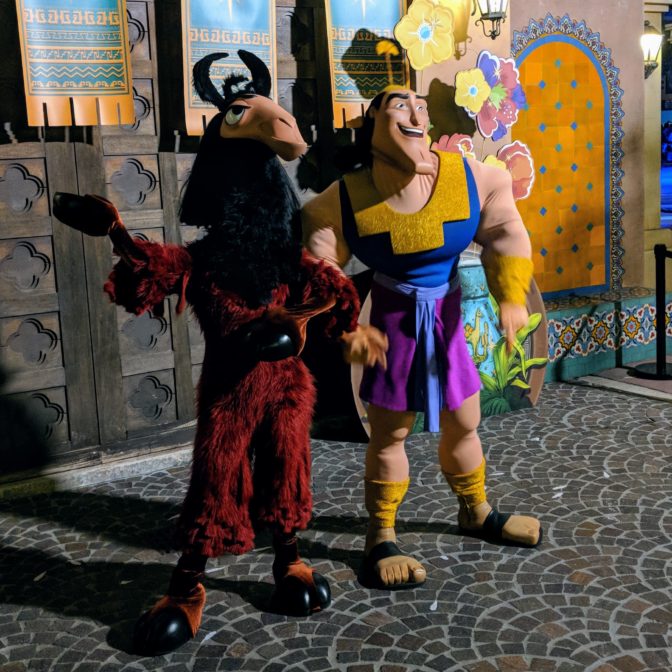 How amazing is this!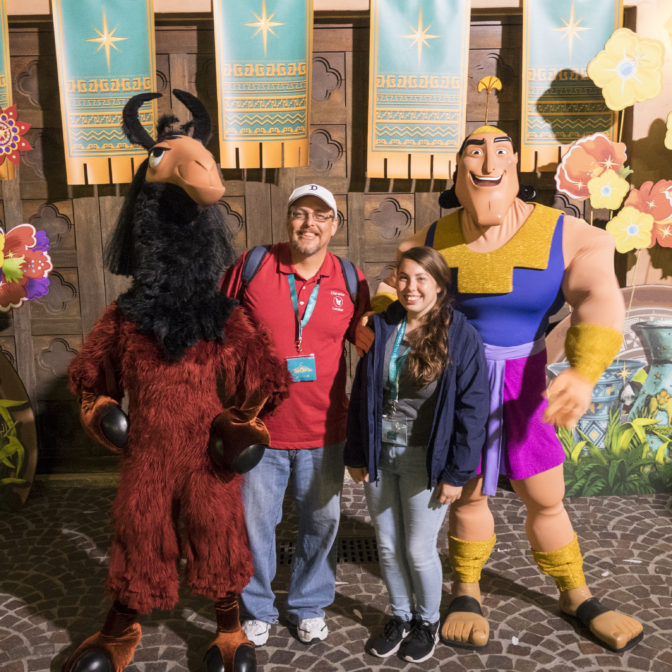 Yaya is the person who sings and sells cookies in the 1945 Three Caballeros film.  She was a live action person inserted into a cartoon.  She also appeared in human form.  She had a very short line when we visited.
From there we intended to scurry over to the Ratatouille area to see if we could find Linguine roaming.  Along the way we saw Roger Rabbit and Eddie Valiant.  Our family had not met Roger Rabbit since 1990 and had never seen Eddie.  Eddie and Roger were kind enough to take a photo with Jordyn.
As we entered the Ratatouille area, we found Emile and Remy, but it would be a little longer before Linguine would appear.  The rats were willing to take a photo with Jordyn.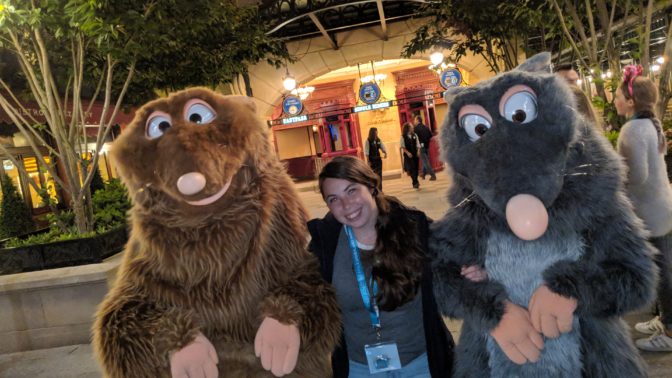 We checked the line for Esmeralda/Quasimodo and Megara/Phil.  The line had already been cut off for both characters, which seemed odd because the lines weren't that long and the girl was adamant that the line was cut.  It was odd because we saw others in the line later.  I think they were having difficulty judging how long a line would take.
We made our way back over to meet Gauchito and Burrito from the Three Caballeros.  We noticed that there was no line to meet Clara Cluck, so we asked and they said the line was still open.  Everyone wanted to meet Clarabelle and Horace in that location.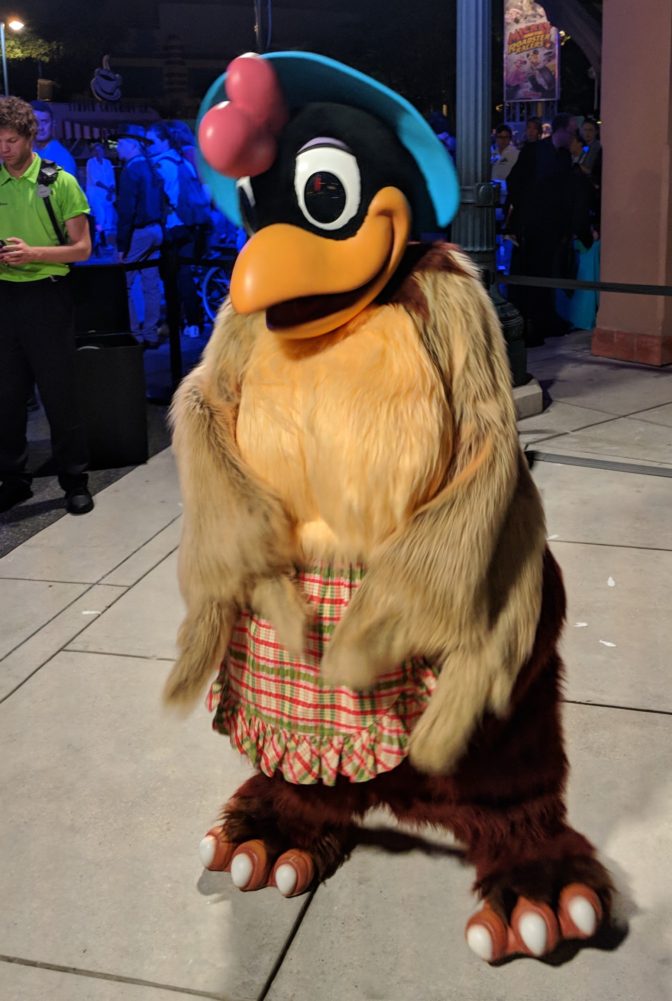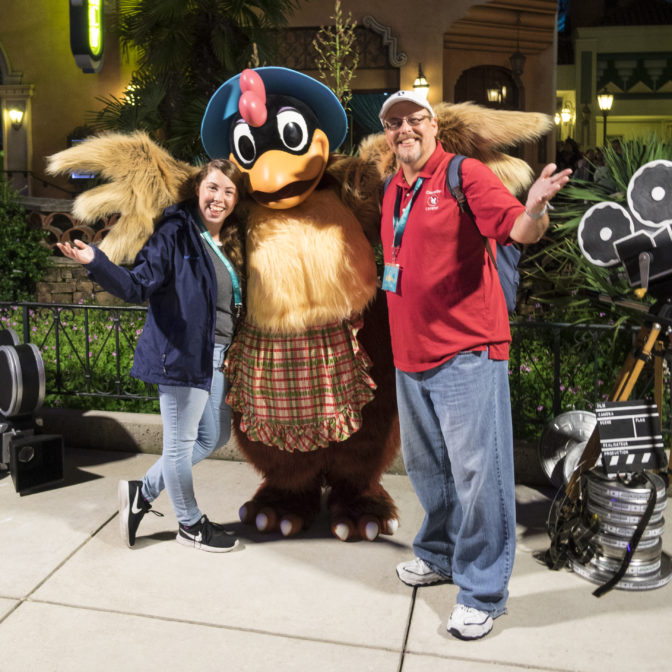 Gauchito and Burrito didn't have a very long line, but they are darn cute!
We then made the journey back over to Ratatouille to see if we could meet Linguine.  I liked the way that they let the characters choose who they would meet at the roaming meets.  It reduced the crush that can easily occur in the Paris parks when roamers appear.  I recall the Soiree a few years ago that Pain and Panic were literally being crushed against the vines behind the castle with Cast Members screaming for people to back up in two languages.  On this evening, any time a character felt pressure, they just walked to another area near by and resume their meets.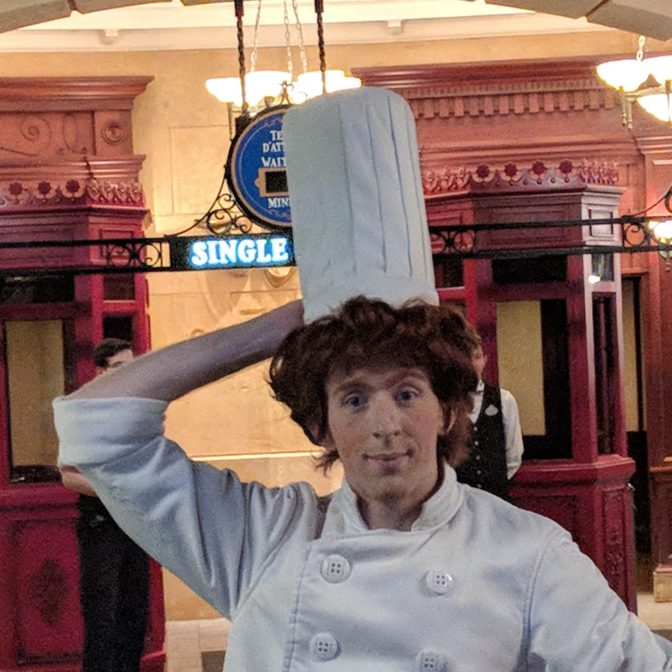 Linguine said he can't give out the Ratatouille recipe as it really belongs to the Little Chef, but he was kind enough to pose for photos for us in front of Chez Remy.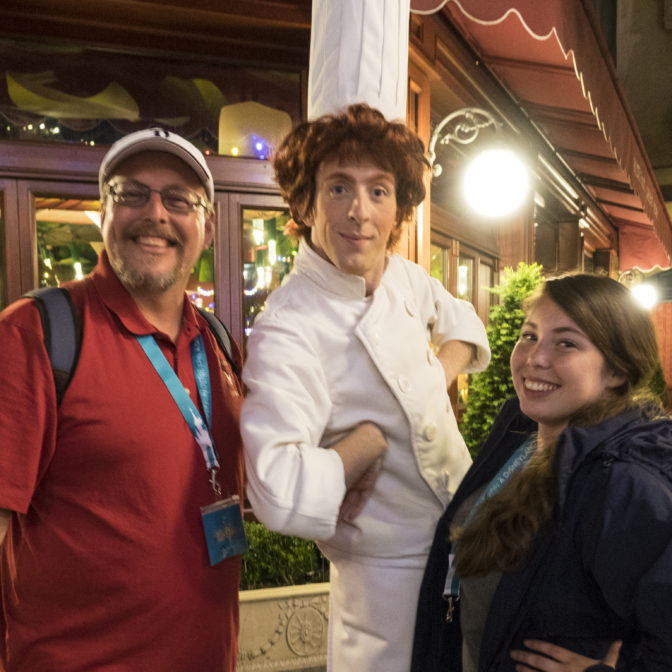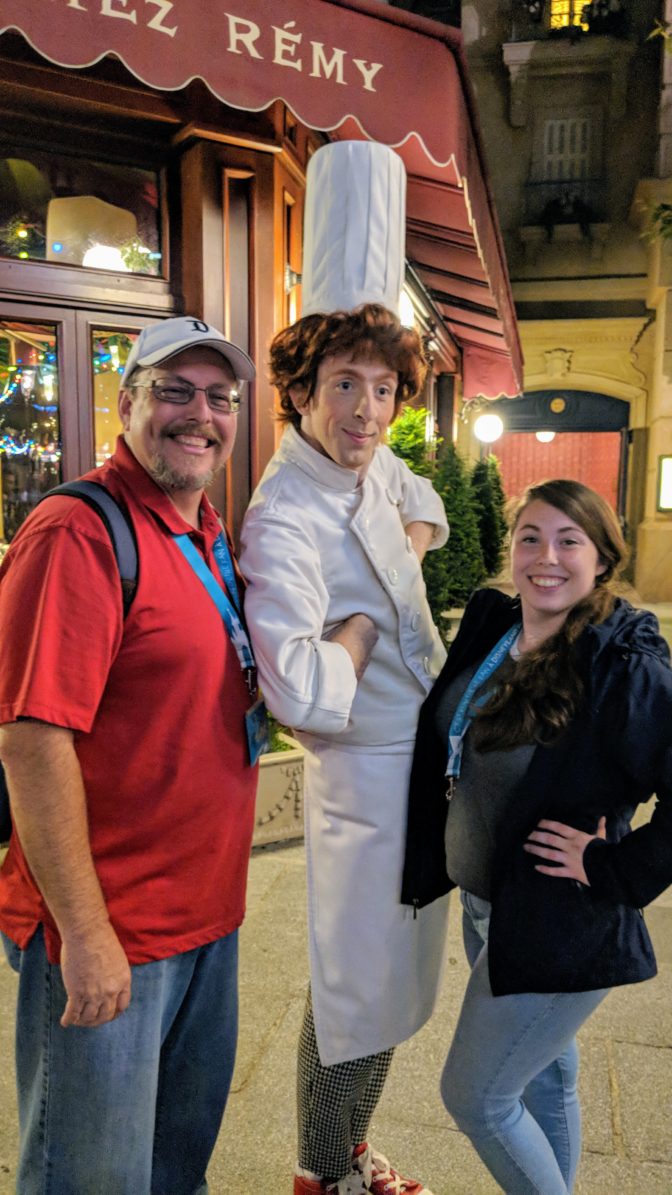 I mentioned earlier that the characters had a 1.5 hour break and some only offered 3 sets.  I mentioned that some did random pop ups. I didn't mention that the event was scheduled to end at 2am, but all character meet and greets wrapped up by 1am.  As we were looking for ANY character line that wasn't cut, Jordyn spotted the kittens from Aristocats in the distance and hurried over to try to meet them.  Marie was out as well, but we had met her previously.  Jordyn was so very excited to meet Berlioz and Toulouse.  She couldn't stop smiling for the rest of the night.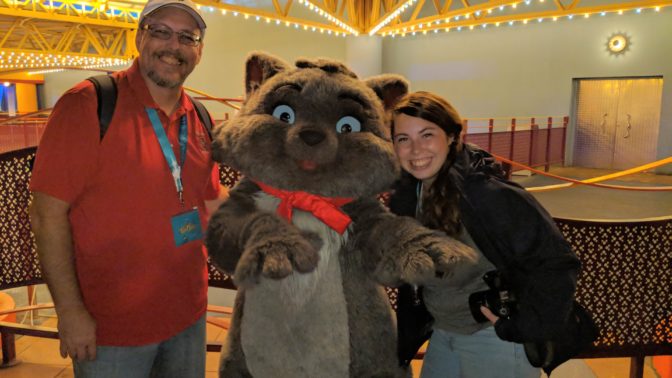 Toulouse was just as playful as he is in the movie.  He was pawing at people and choosing them for the photos by dragging them by the leg.  Time was running near to a close and Jordyn was so hoping to get a photo with him.  I said, "get his attention."  She asked how.  I said, "Here Kitty, Kitty, Kitty" and Toulouse came running over.  I wish I had a bowl of milk to offer him.  The cats really made her night as Aristocats is one of her all time favorite movies.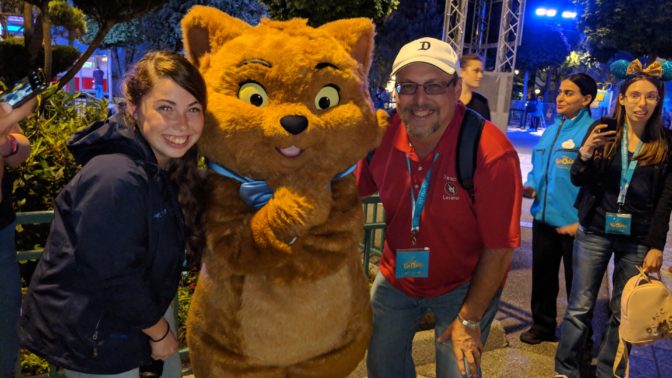 We had tried to ride Crush Coaster during the Early Morning Magic time, but it was not open, so we took a spin on the ride with ZERO wait.  We then went to find a spot to watch Max Live! together.
I was VERY impressed with the Max Live! show.  I had a number of unique characters and songs and many dancers with costume changes through the show.  This show should be offered on a regular basis in the parks!
We finished out the night by spending some time with friends and watching the final character parade.  I had exhausted my camera battery, my phone battery and my backup power.  It's ashamed they don't have Fuelrods in Paris!  I did get one last photo of Yokai as he paraded past to end the night.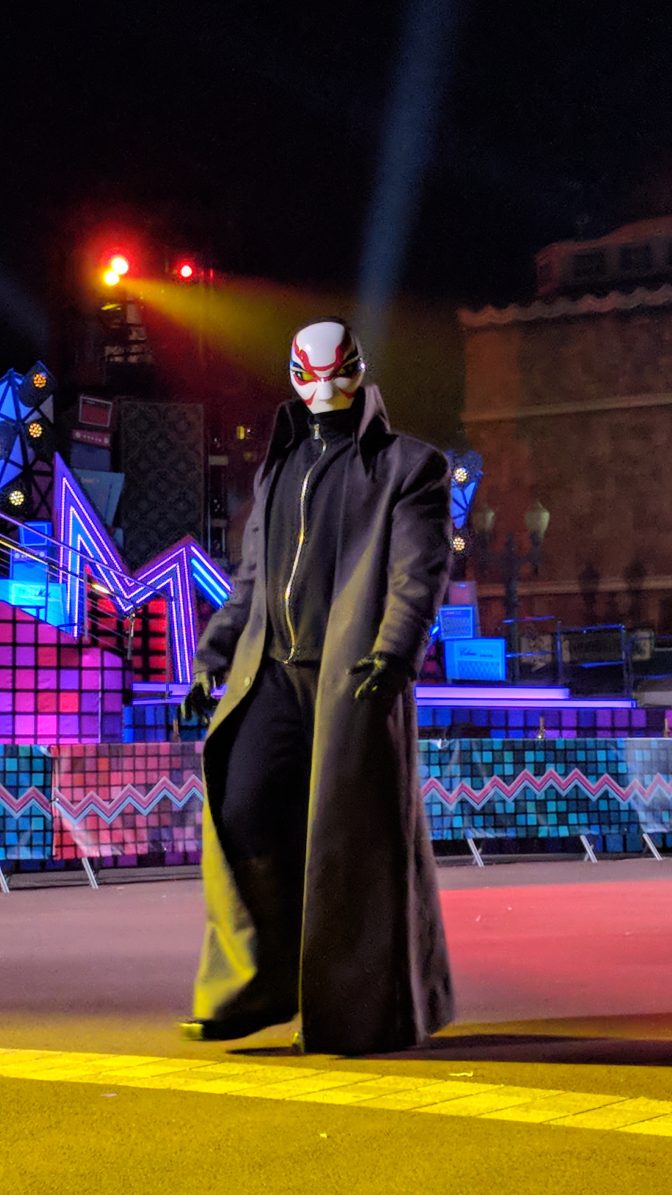 If you attended the event, you'll always remember "I'm a fan!"  I am a fan and I'm a fan of this event!  I hope they do this again in Disneyland Park or even better, do this in the United States.  There are still so many characters to meet that rarely appear and we didn't get them all at this event even.   It was a paid event and we purchased our own admission.
Here's a list I compiled of the characters who offered meets during the event:
| | |
| --- | --- |
| Aladdin | John Smith |
| Abby Mallard | Joy |
| Anna | Jumbla |
| Baloo | Kida |
| Berlioz | King Louie |
| Bolt | Kristoff |
| Boo | Kronk |
| Bowler Hat Guy | Kuzco |
| Brer Bear | Launchpad McQuack |
| Brer Fox | Lewis Robinson |
| Brer Rabbit | Li Shang |
| Bullseye | Lilo |
| Burrito | Linguine |
| Buzz Lightyear | Marie |
| Captain Hook | Max |
| Chicken Little | Megara |
| Chip | Mickey |
| Clara Cluck | Milo Thatch |
| Clarabelle Cow | Minnie |
| Clarice | Mittens |
| Daisy | Mr. Incredible |
| Dale | Mrs. Incredible |
| Darkwing Duck | Needleman |
| Donald | Olaf |
| Duffy | Ortensia |
| Elena of Avalor | Oswald |
| Elsa | Peter Pan |
| Emile | Phil |
| Esmeralda | Phineas |
| Ferb | Phoebus |
| Fred | Pleakley |
| Frollo | Pluto |
| Frozone | Prince John |
| Gauchito | Quasimodo |
| George Sanderson | Remy |
| Gogo Tomago | Robin Hood |
| Goofy | Sadness |
| Gov Ratcliffe | Shan Yu |
| Hades | ShellieMay |
| Hercules | Sulley |
| Hiro | Toulouse |
| Honey Lemon | Wasabi |
| Horace Horsecollar | Wilbur Robinson |
| Jafar | Woody |
| Jessie | Yaya |
| Jim Hawkins | Yokai |