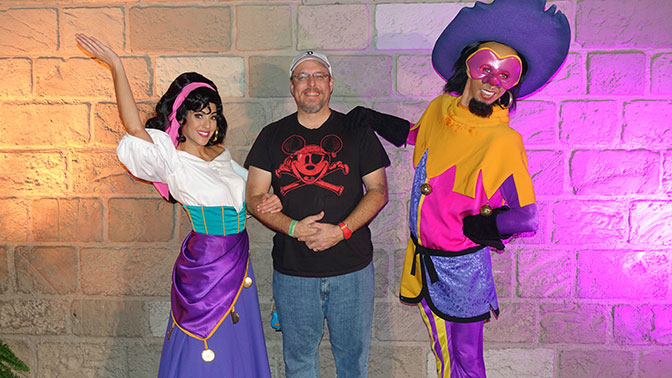 Over the last few years I've been blessed to be invited to a number of Disney Vacation Club Moonlight Madness events.  Disney Vacation Club Moonliight Madness events are a terrific opportunity to meet characters, especially rare characters!  At this recent DVC Moonlight Madness event at the Magic Kingdom I was able to meet 5 characters that I've never met in a Disney park and meet so many wonderful people.  Check out my photos from the Magic Kingdom DVC Moonlight Madness 2018 Characters.
Esmeralda and Clopin
These great Hunchback of Notre Dame characters haven't met on a regular basis in Walt Disney World in many years.  We never had the joy of meeting them, so this was a great opportunity for me.  They had the longest line of the night.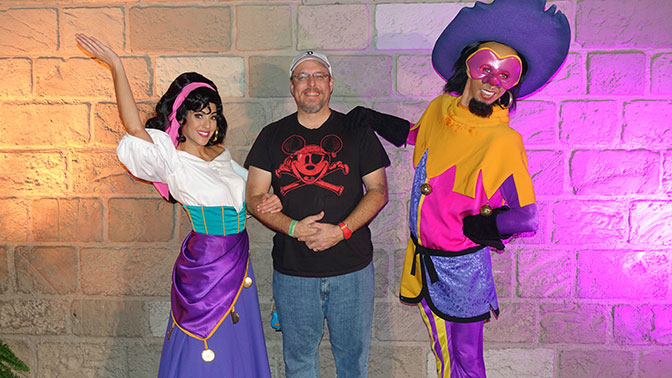 Robin Hood, Friar Tuck and Little John
I had never met Little John, only the remaining Robin Hood gang. It was fun to finally meet the tall guy and have a moment of interaction with him.  Robin Hood is like the puppy we all wish we could adopt, right?  They had a pretty long line.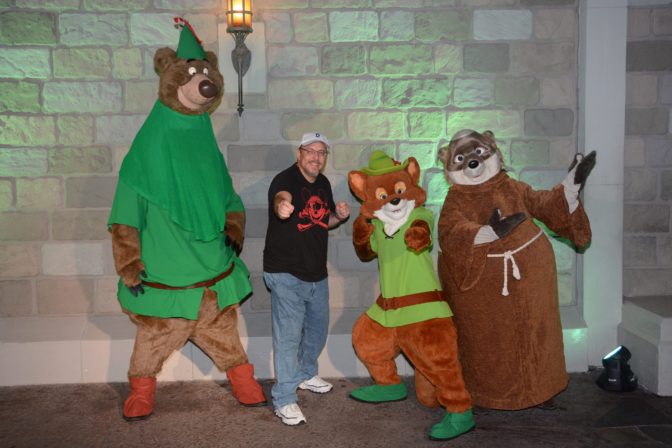 Hyacinth Hippo and Ostrich
These characters have popped up at the Magic Kingdom from time to time during really busy seasons like Christmas week, but I had never met them before this great party.  I was so excited that I forgot to ask for a solo photo.  I hope my friends don't mind being plastered on my website :)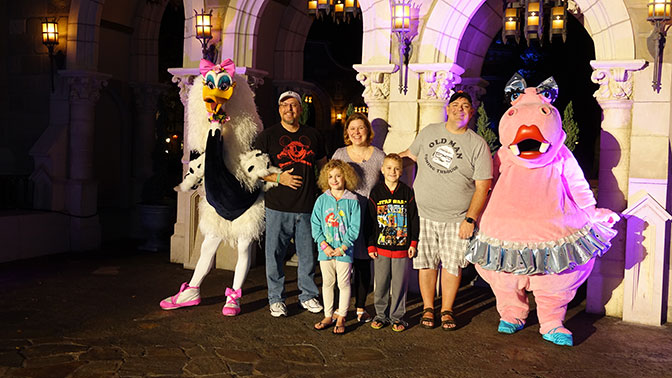 Baloo and King Louie
Baloo and King Louie were out meeting in their former Animal Kingdom parade costumes with no waiting.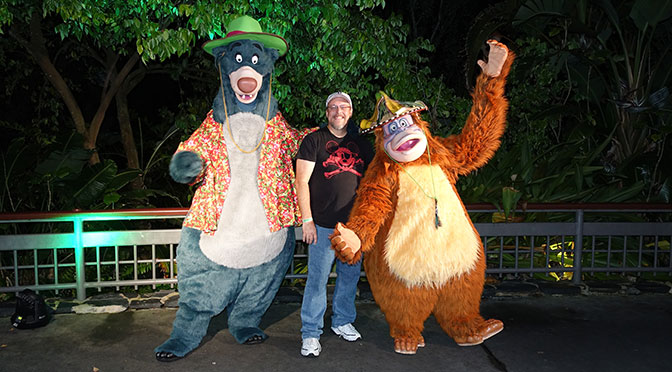 Herbie the Love Bug
Herbie wasn't listed on any of the initial information, but he was over by Tomorrowland Speedway with no wait and a Photopass person ready for the photo.  This photo sparked some discussion on Twitter among my friends as to whether this "counts" as a meet and greet.  Everyone has their own idea what constitutes a meet I suppose.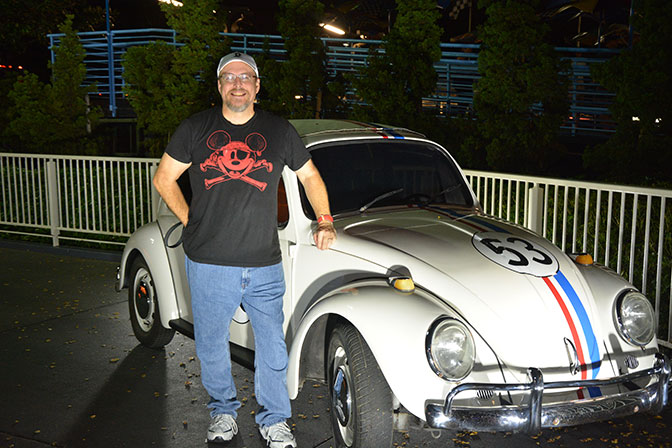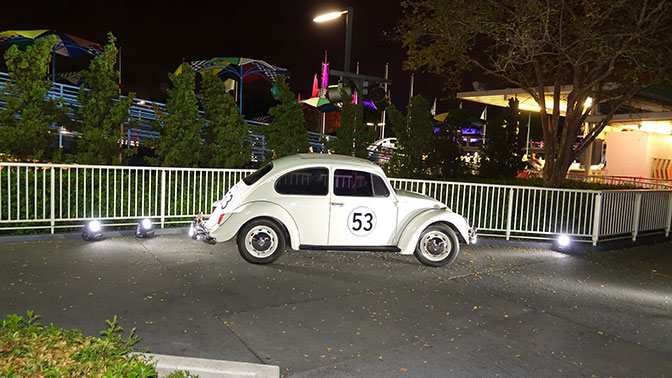 Oogie Boogie
Early in the party Oogie Boogie looked like he would have a long wait, but later in the party the wait was less than 30 minutes!  Many times the lines continue to fall after 11:30pm.  Many guests want to do a few rides, meet a character or two, eat a Mickey Premium bar and leave.  Most leave after the fireworks for sure.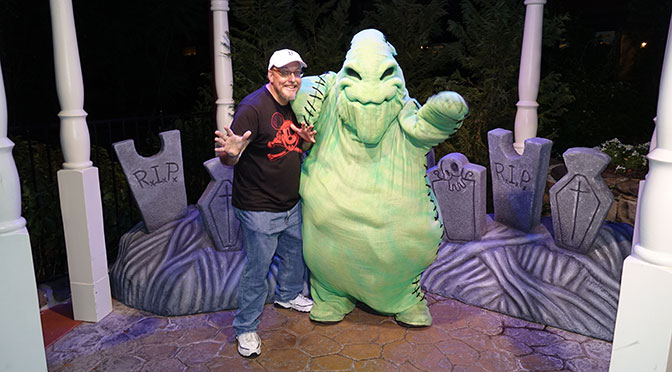 Hyenas
The Hyenas from the Lion King had a long line early in the party, but during the fireworks the wait was around 10 minutes!  These guys were so patient and kind with the little girl in front of me in line.  They didn't want her to be afraid.  When I arrived, it was dinner time again.  Ed, we all know you're the best!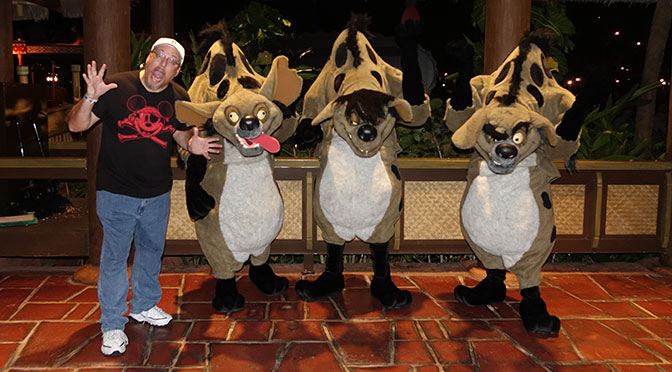 Big Bad Wolf and the 3 Pigs
I had met them previously and they weren't a priority for my friends, so we didn't meet them.  The line didn't appear that long, but with 4 characters, I was told it took longer than it appeared.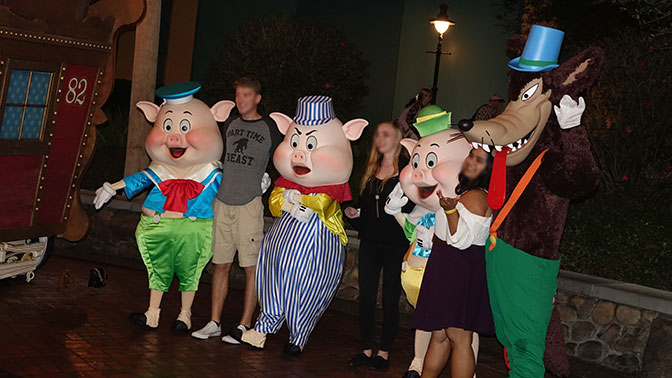 Marie the Cat
Marie from the Aristocats didn't have a very long line and by the end of the party it was almost non-existent.  She used to meet in France and the Magic Kingdom, so many guests have seen her fairly recently.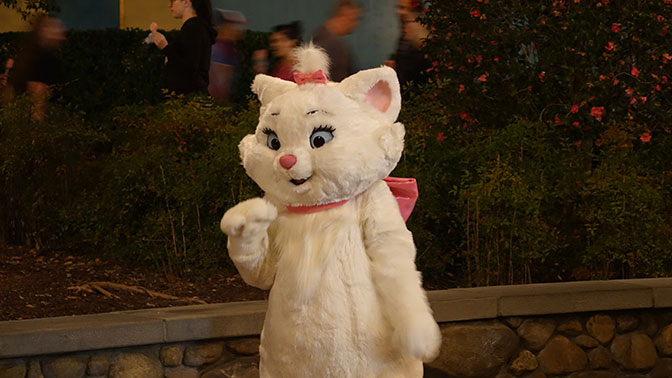 Chip n Dale
The Rescue Rangers had little or no waiting for their meet and greet.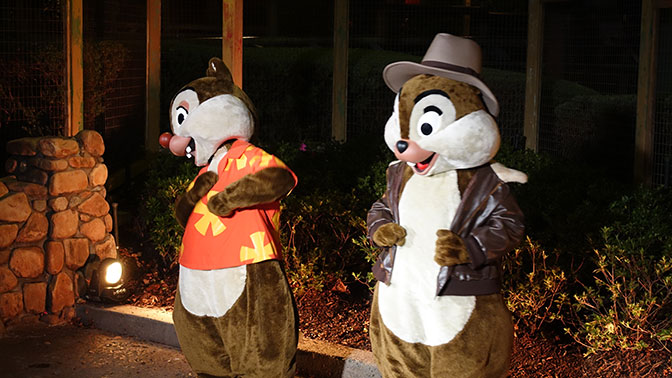 Goofy and Pluto
Goofy and Pluto were dressed as spacemen and they had a great space shuttle style prop with them.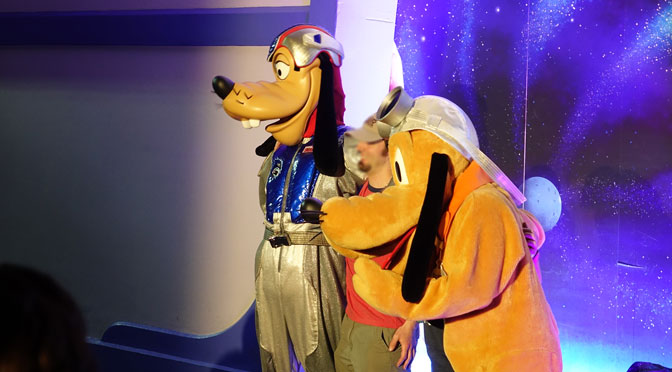 Frontierland Dance Party
The Frontierland Dance Party offered Daisy (Cowgirl), Donald (Cowboy), Koda and Kenai.  There were a great number of selfies taken at this location.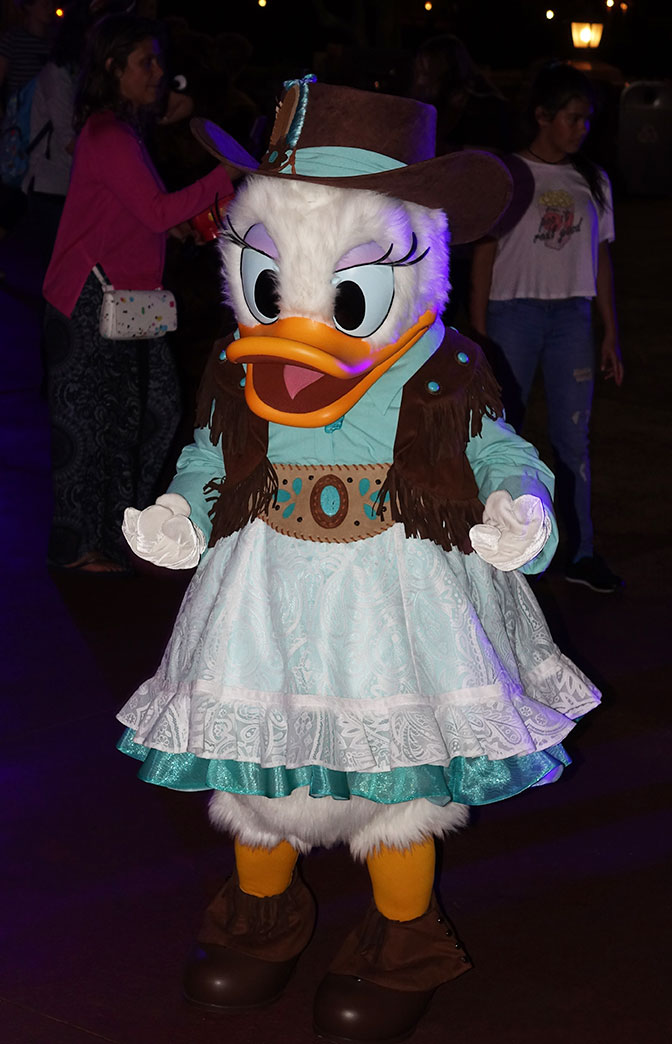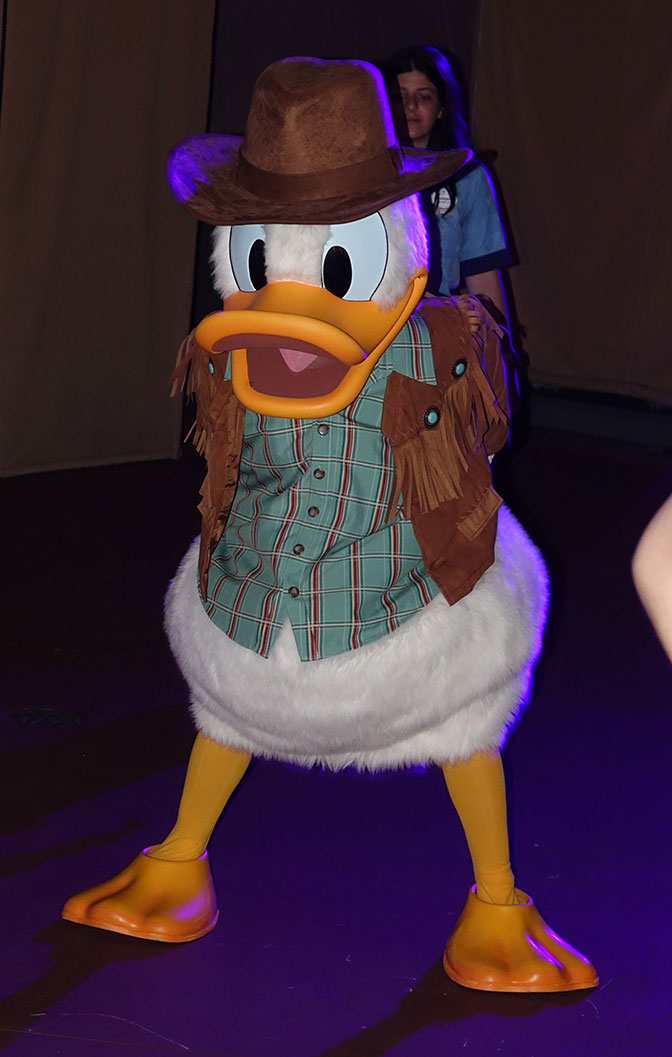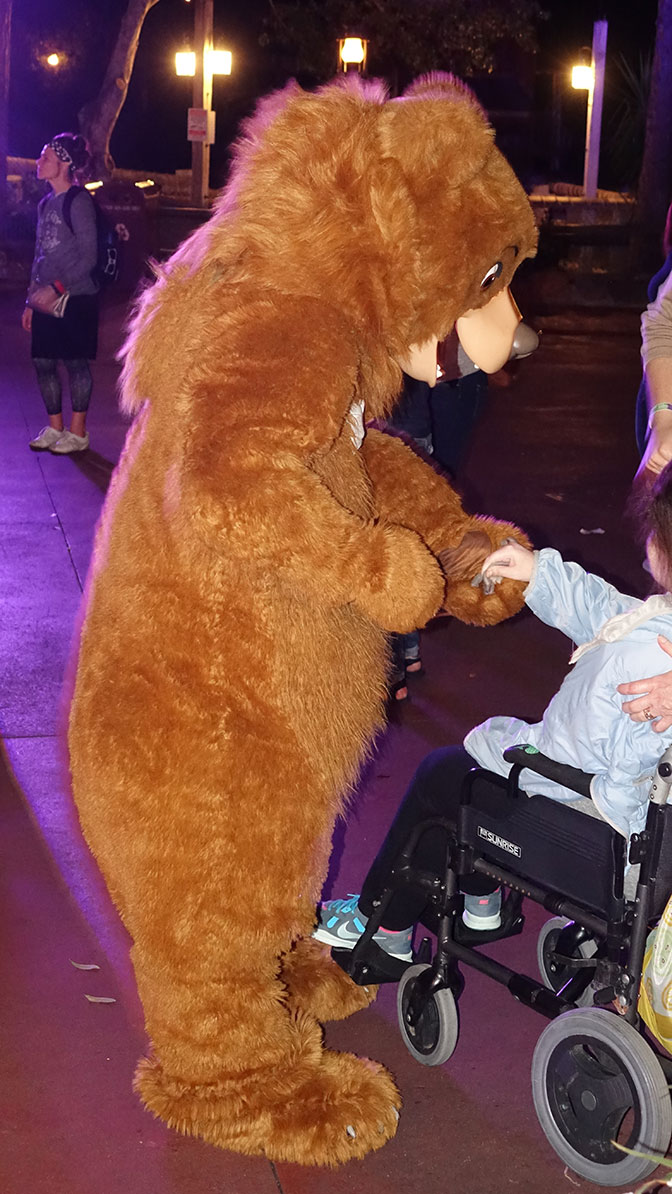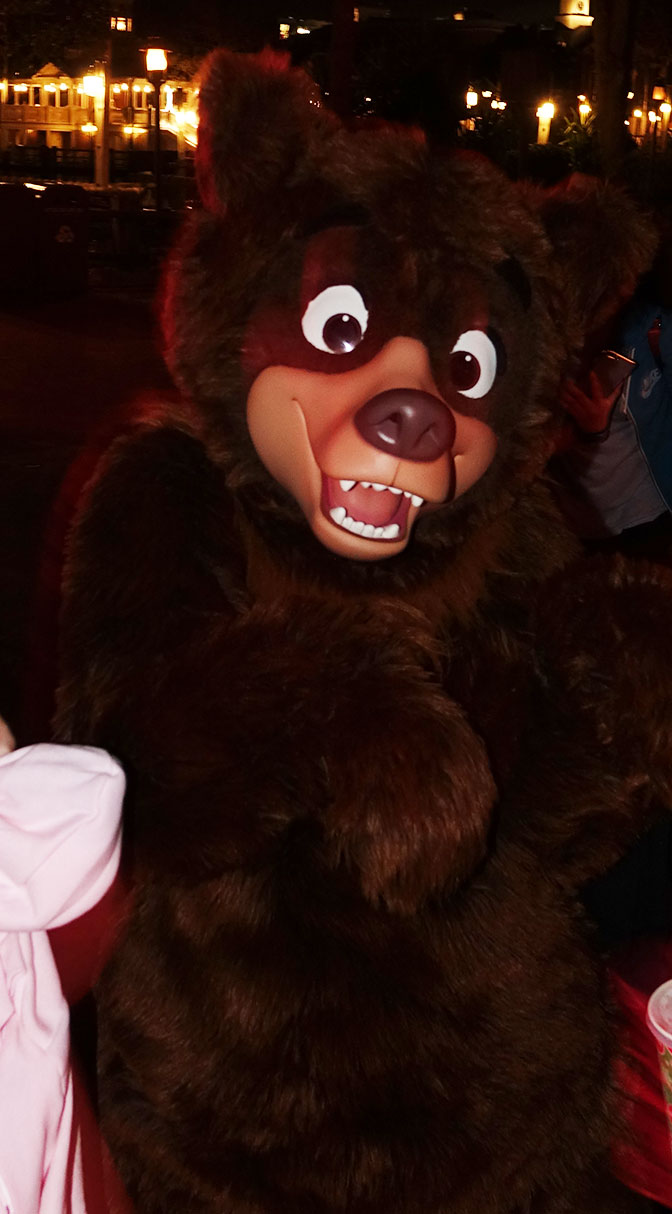 Mickey and Minnie
The mice were VERY popular and had a pretty long line the two times I checked on them.  They are dressed in their colonial gear.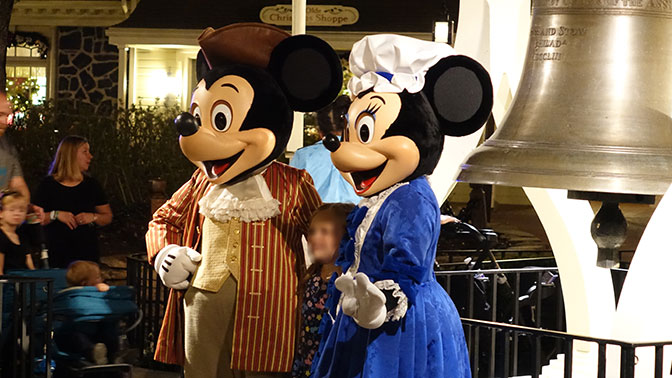 Mr. Toad's Wild Ride Car
It's not a meet, but there was a prop available for a Photopass shot near the 7 Dwarfs Mine Train.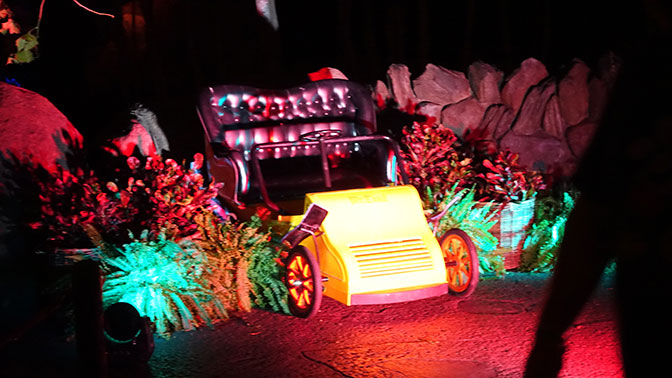 Mickey and Minnie
Mickey and Minnie were available to say "See ya real soon!" as guests were leaving.  They were dressed in their sleepwear.  They didn't offer a meet and greet in these costumes.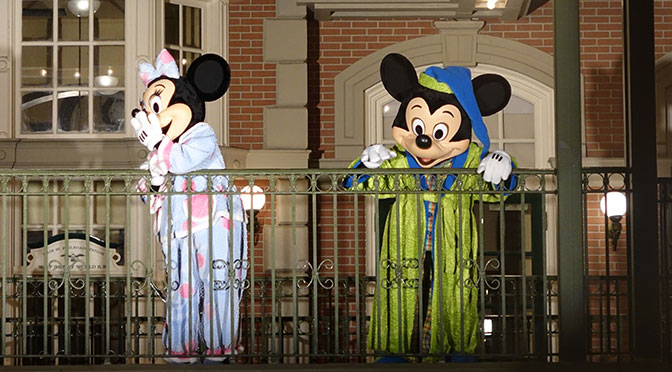 Tiana and Naveen
I also saw that they had added Tiana and Naveen in their "flapper" costumes from the Mickey's Royal Friendship Faire show.  They were next to the Hall of Presidents.  My photos weren't very good, so here's one from the show.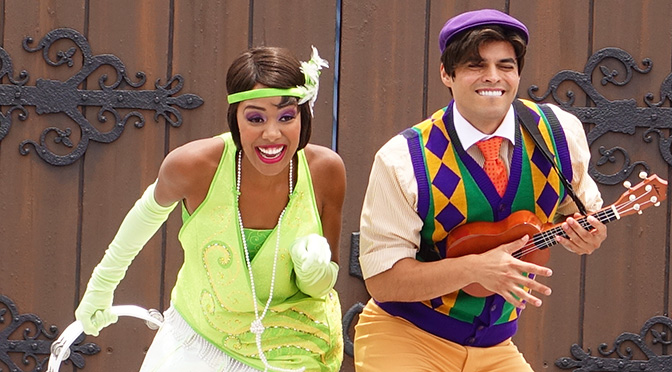 I didn't visit Princess Fairytale Hall to visit those characters because I had met them all before and they weren't a priority for my friends.
If you're interested in building an easy plan for the party, just copy my plan on Character Locator over to your plans and make any adjustments necessary.  Expect to meet 6 to 8 sets, if you begin by lining up early for one of the meets.
If you're unsure what details are offered during these events, read this post.