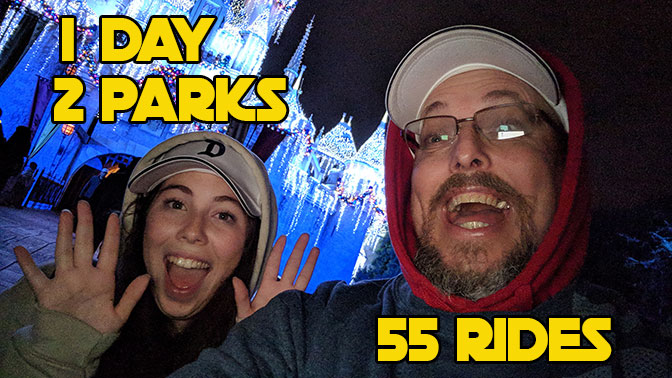 After completing the Walt Disney World rides challenge called #WDW47, Jordyn and I mused about trying a similar challenge at Disneyland.  The challenge involves riding every moving ride in the parks in a single day.  I did some searching on the internet and couldn't find any evidence that anyone had actually completed the Disneyland version.  Jordyn and I quickly put together an outline and the challenge was birthed.
If we were going to attempt the #DLR55 Challenge (now refered to as the #EveryRideChallenge), we'd need to move pretty quickly because Christmas was coming and refurbishment season would begin right after the masses leave the resort.
Once the Christmas gifts topped what we needed for last-minute airfare, we purchased plane tickets.  Then the donations totalled enough to cover our hotel expenses as well!  The date was set for Saturday, December 23, 2017.  We had completed #wdw47 just 17 days earlier.
Part of the challenge that makes it difficult in doing every ride, is how the Davy Crockett Canoes and Sailing Ship Columbia are both on very limited schedules and usually only on busy weekend days.
Many rides break down frequently and for long periods of time at Disneyland as well.  We were up for the challenge and flew coast to coast to take it on.
Before we start with the step by step review of our day, I'll mention a few tips.
You should have access to Early Morning Magic.  We were staying at the Paradise Pier hotel, so we had access to the early hour.  You can also get one early entry by using a 3 day or longer ticket purchased from the Disneyland website.
Use Maxpass!  The standard way of getting FP from a machine would work, but Maxpass actually allows you to get Fastpass from your phone and it often provides times that are earlier than the machines and even has times after the machines are closed.  It was well worth the $10 per person up charge.
Make sure you know the operating schedules of every ride.  They vary greatly and can trip you up if you aren't aware of the nuances.
Use Character Locator.  I created my own park hopping plan and included all those operating times, so I could see them quickly.  We were then able to track our times in line, on ride and off ride as well.  Character Locator is the BEST planning tool for theme park touring, even if you aren't doing a crazy challenge!
Before we jump into the written text version that details how we did #DLR55 in a single day, here's a video that includes every ride we did.  It's only a few minutes long. I goofed up the date on the video :)
Our day began before 6am by walking over from Paradise Pier through the security point near Disneyland Hotel at Downtown Disney.  We had some breakfast snacks and drinks with us to consume while we waited on the park to open.
We were the FIRST guests to arrive at Disneyland.  A tip for you, they begin with ONE line right at the locks and then divide after the Cast Members are at their stations.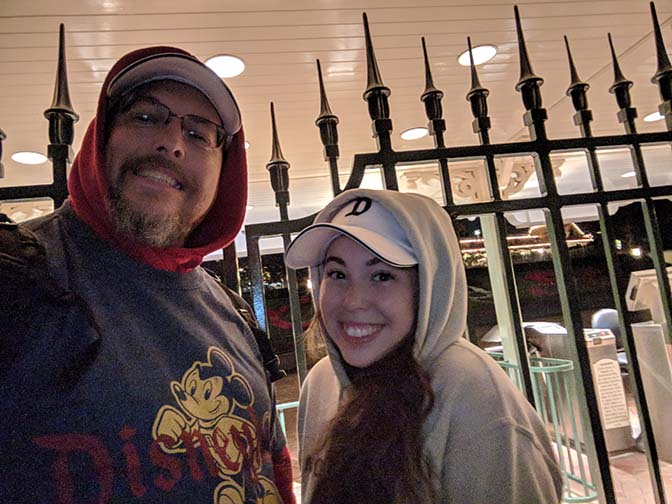 1:  Dumbo the Flying Elephant
7:05-7:10am
At 7:00am the park was open for early entry.  As soon as they scanned our ticket, I quickly made the Maxpass purchase for the day and scheduled our first Fastpass for Guardians of the Galaxy.
We hustled to Peter Pan's Flight only to find that it was experiencing a "delayed opening."  Well, that wasn't in the plan.  We alternated to Dumbo.  We should have gone to Alice in Wonderland, but it didn't cost us too much time.  Here we are flying on an elephant at 7:05am in the cold.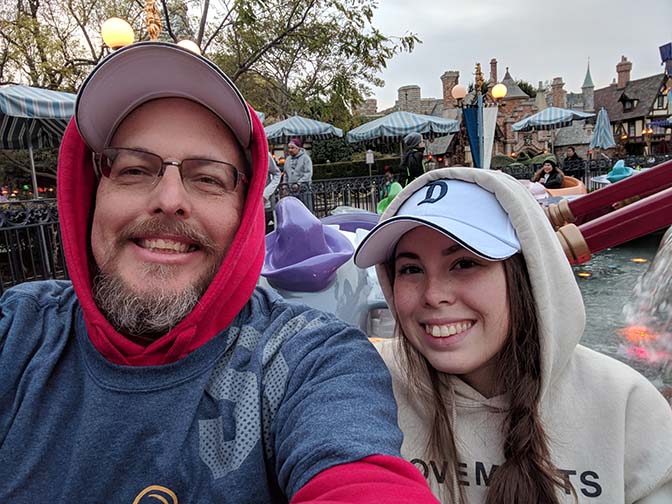 2. Mr. Toad's Wild Ride
7:10-7:15am
With our audible already called on step one, we thought it best to do all the other Fantasyland rides as quickly as possible (while still enjoying them).  I've never understood why a simple speeding ticket had such severe consequences.  I mean, being sent to hell over speeding at around 10mph seems a bit extreme.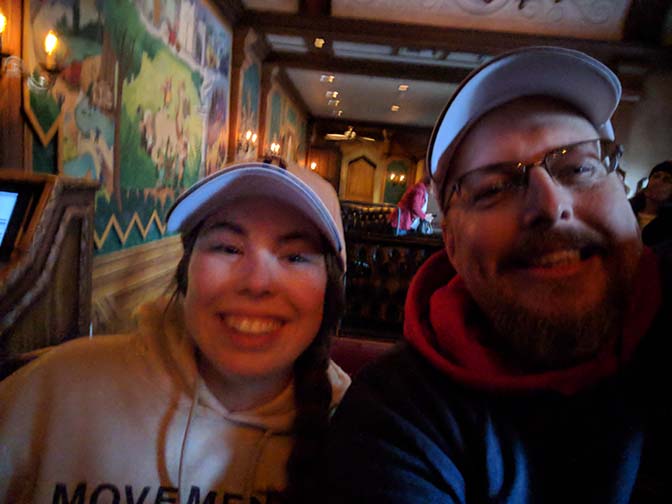 3. Pinocchio's Daring Journey
7:16-7:20am
I love Pinocchio, but it is one of the weirdest Disney movies ever created.  A wooden puppet becomes a real boy, then joins a traveling circus only to become a donkey and get eaten by a whale.  At least we survived it all and the frequent ride breakdowns for this.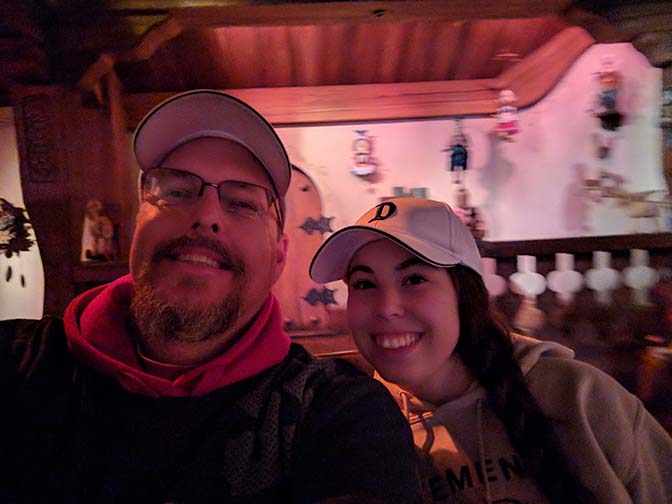 4. Snow White's Scary Adventures
7:21-7:23am
Why is it called Snow White's Scary Adventures?  We only see her once.  I suppose that we are taking her place through the adventure.  We once had a dog named "Snow Flake," so her name was Snow White!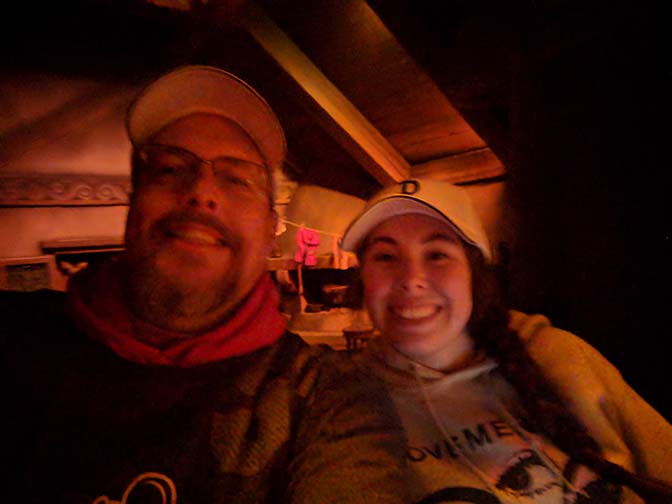 5. King Arthur's Carousel
7:23-7:30am
Why are we riding the carousel this early in the morning with so many other priority rides?  Well, this ride breaks down a great deal and often closes for fireworks and may or may not re-open.  We didn't want to chance it.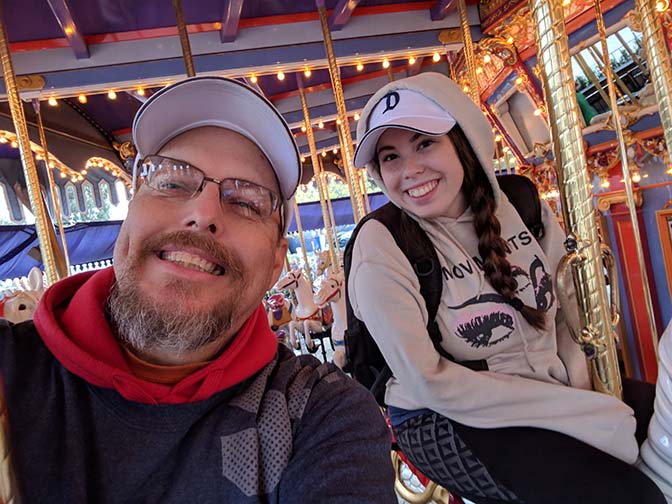 Neigh!!!  Is that Jordyn photobombing me?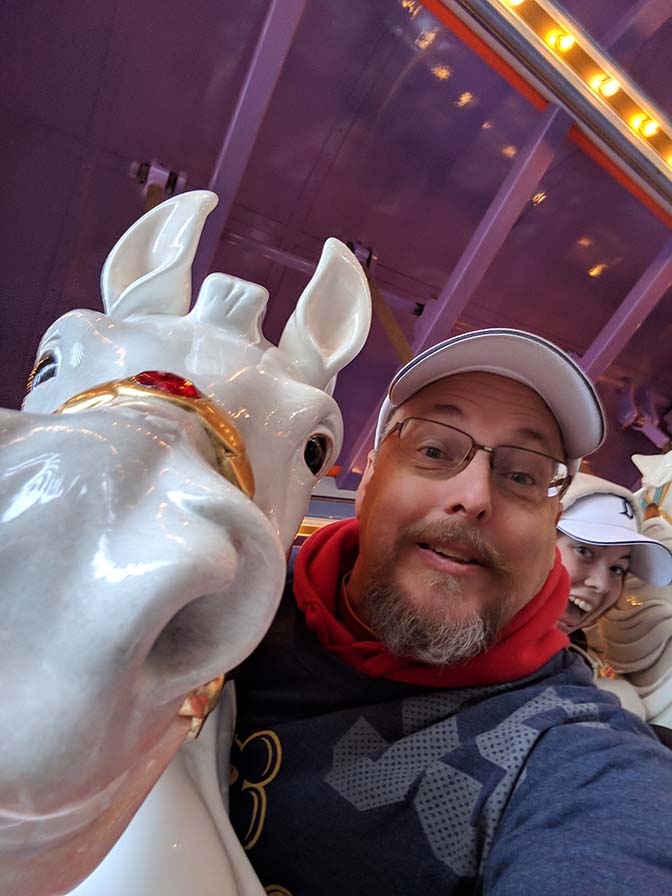 6. Alice in Wonderland
7:31-7:41am
With our early schedule thrown off, we thought we might have to schedule this for late evening with Peter Pan's Flight.  When Peter Pan's Flight re-opened, it pulled most people over to wait for 45-60 minutes, so the line for Alice in Wonderland dropped.  This is one of my more favorite rides, but another really weird mid-century Disney story of a girl taking drugs and having Tea Parties with forest animals.
7. Mad Tea Party
7:41-7:44am
Hey, we just finished the Alice ride, so why not finish up with the Mad Hatter one?  We went with a mildly spinning version, so we didn't get sick.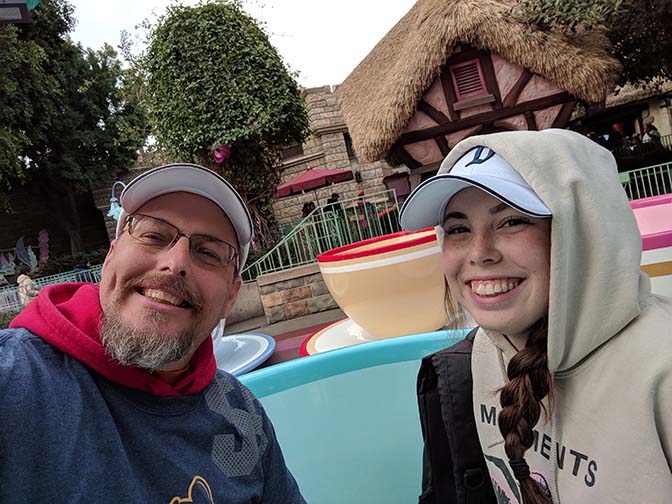 8.  Astro Orbiter
7:48 – 7:54am
In Walt Disney World, this violent spinner attraction always has a long line.  At Disneyland it is low in early morning magic and late in the evening.  Why not ride it when it had NO line?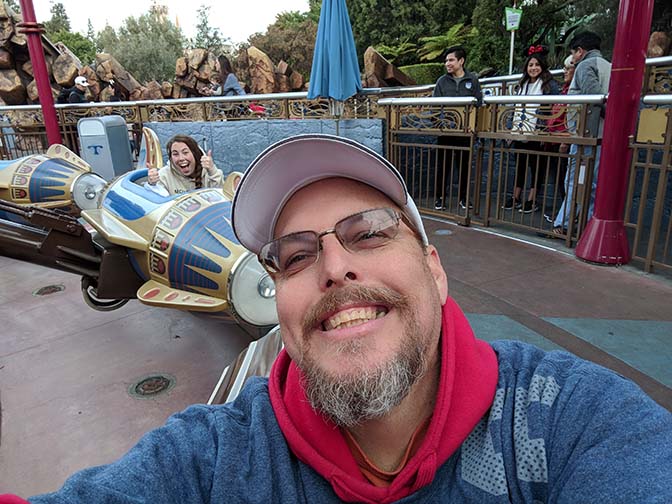 9. Buzz Lightyear's Astro Blasters
7:56 – 8:03am
I'll confess that I'm not quite as good at the Disneyland version of this ride.  I know which targets to shoot at, but it seems that I just miss the bonus when the light comes on.  I still won though ;)  It's almost 1 hour into our challenge and we've already completed 9 of 55 rides!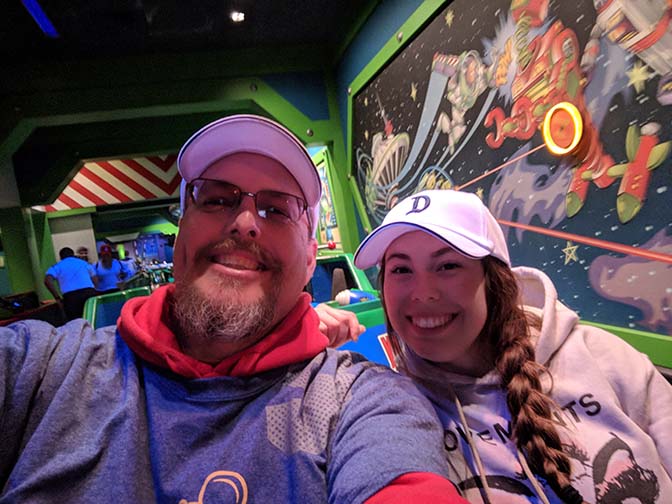 10. Finding Nemo Submarine Voyage
8:10 – 8:28am
Our plan was to ride Space Mountain using the Single Rider option.  It usually opens with the regular park opening hour.  We were told they were going to wait an extra 30 minutes before implementing it this day, so we detoured to Nemo Subs as we knew it would fill the time and we wouldn't need to visit it late at night.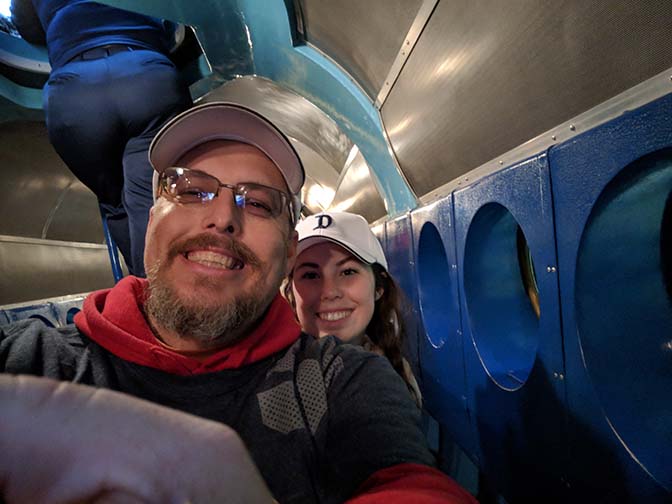 11. Space Mountain (Single Rider)
8:31 – 8:38am
We were the first of the day to us the Single Rider line, which most Disneyland guests don't know exisits.  You enter through the exit area and are given a card to take with you to the Single Rider area.  We were loaded together to fill a handicap rocket, so we explored the galaxy together.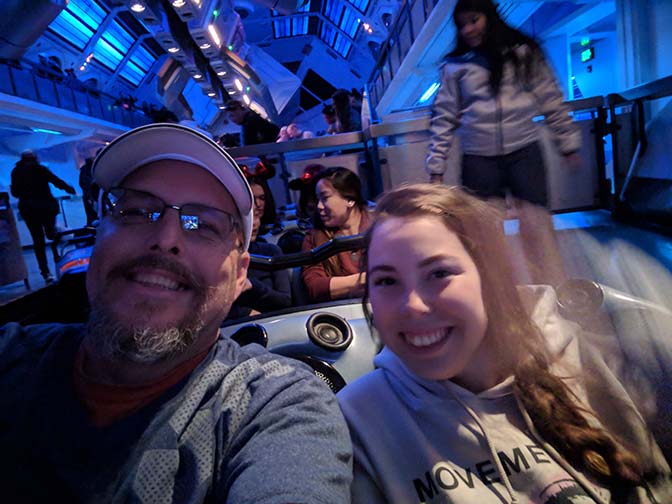 12.  Main Street Vehicle
8:42 – 8:47am
In the #wdw47, the Main Street Vehicles often kill anyone's chance of completing the challenge.  In Disneyland, they usually run more often, but this day were only out for up to 2 hours.  We saw the Trolley parked in front of the Castle and rode it down to Town Square.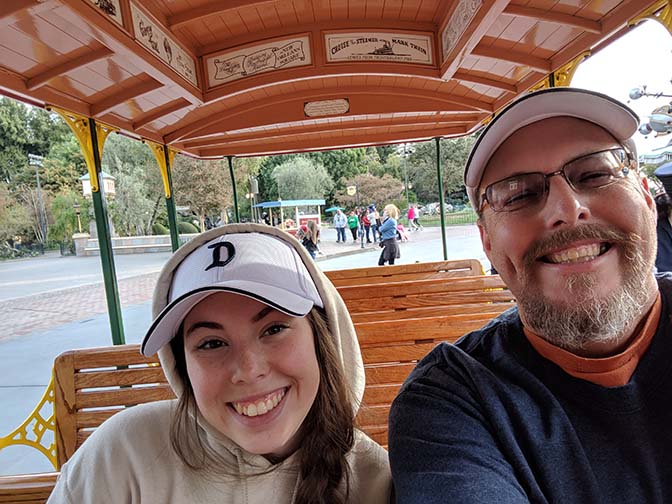 13.  Luigi's Rollickin' Roadsters
8:54 – 9:07am
We wanted to visit some of the attractions that are slow loaders and use a few Fastpasses in California Adventure on our first park hop.  We had just sung "Jingle Bells" and then Luigi sang it for us too :)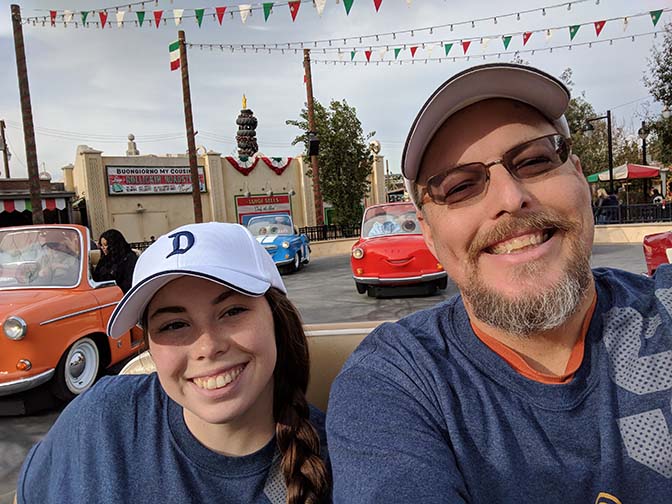 14. Radiator Springs Racers (Single Rider)
9:08 – 9:18am
Using the Single Rider option early in the day is terrific for this very popular attraction.  Most guests are willing to take the painful standby line or use Fastpass early in the day.  The ride breaks down a great deal, so doing it early was important to us.  We would have used Fastpass, if we saw a busy Single Rider line.  The wait time here reached a high of 135 minutes on this day.  We love this ride as it combines the fun of Test Track with one of the best animatronic shows in all the parks.  We lost the race though :(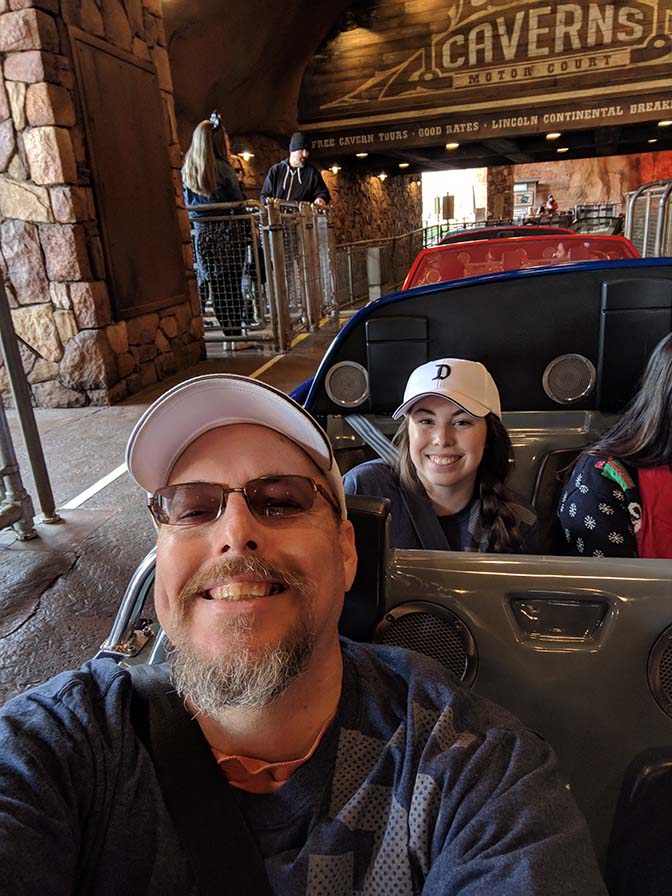 15. Mickey's Fun Wheel
9:25 – 9:39am
We avoided the peak wait of 45 minutes on this slow loader by riding early in the morning.  We didn't want to chance messing up our day by delaying this giant Ferris Wheel until later in the day.  There was no one in line.  You can see our shirts better in this photo.  Jordyn had ditched the hoodie by this time.  We loved that the shirts had the determined, running Mickey and the 55 on the shoulder.  It was designed as a celebration of the park opening in 1955, but we liked it for our challenge.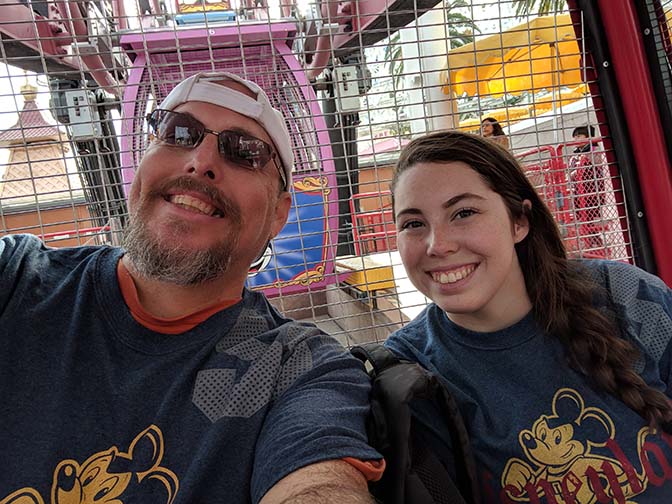 Our view.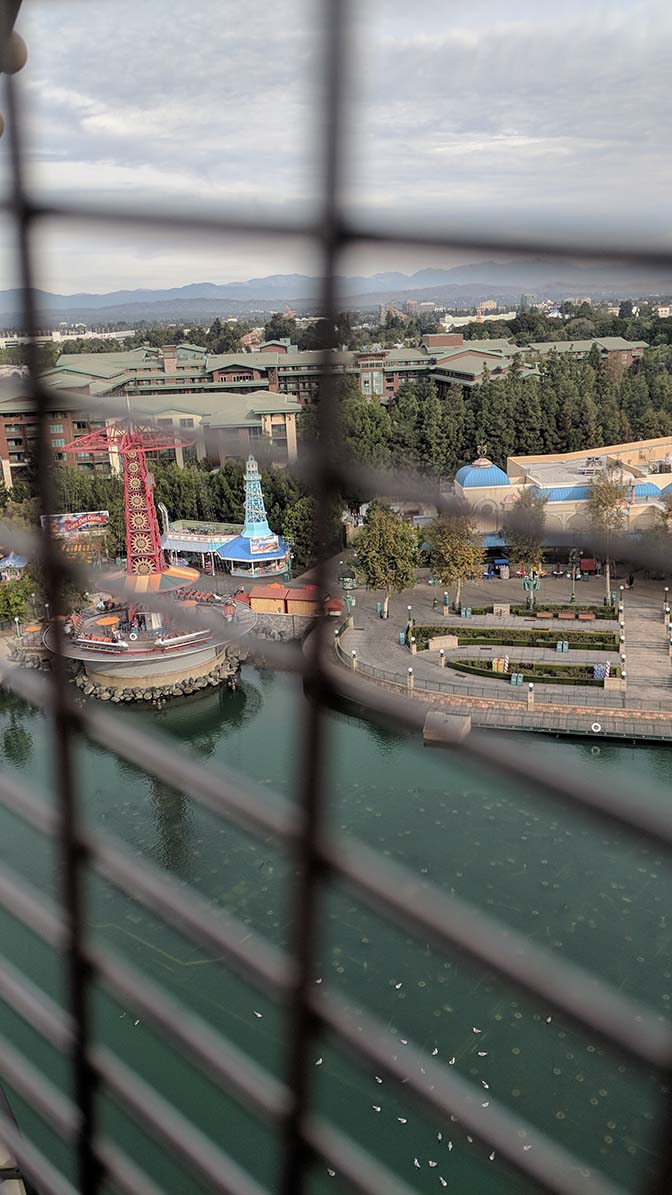 16. Toy Story Midway Mania (Fastpass 1)
9:41 – 9:58am
Toy Story Midway Mania had a posted wait of 45 minutes at this time, so it's a good thing that we used Maxpass to book a Fastpass for this attraction early in the morning.  For anyone wondering the Disney Fastpass systems are built with a "grace period" of entering the line up to 5 minutes early and 15 minutes late versus the time posted on the Fastpass.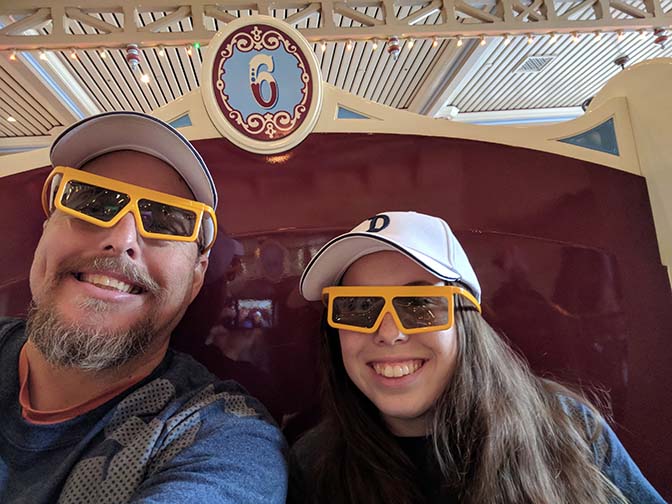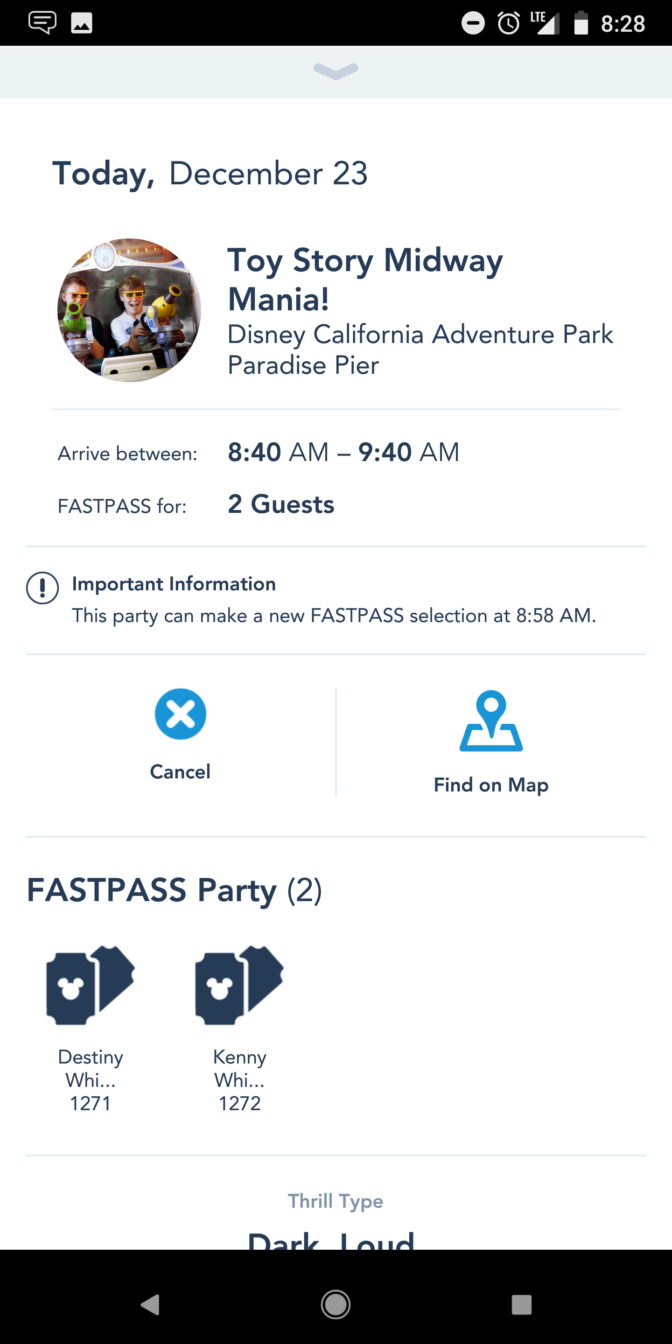 With Jordyn's help in unlocking some key elements, I was able to score 288,600.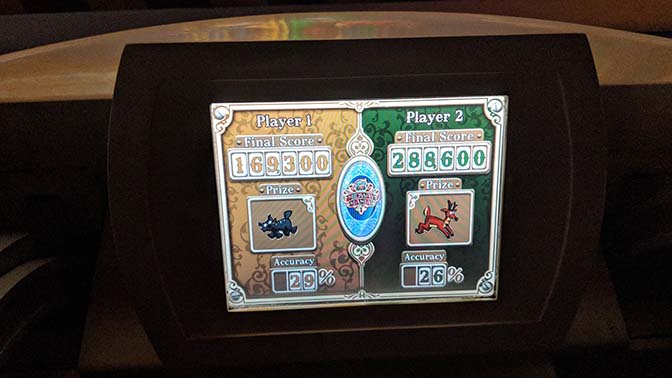 17. California Screamin' (Single Rider)
9:59 – 10:09am
The posted wait was only 10 minutes, but we thought we could still complete the ride more quickly using the Single Rider option.  The line looked longer than 10 minutes and our assumption was correct as we completed the attraction in 10 minutes.  I like this coaster.  It's the longest roller coaster in America and has many fun camel back air-time hills.  It will close soon to become the "Incredicoaster" where the Incredibles take over the experience.  I look forward to the new version.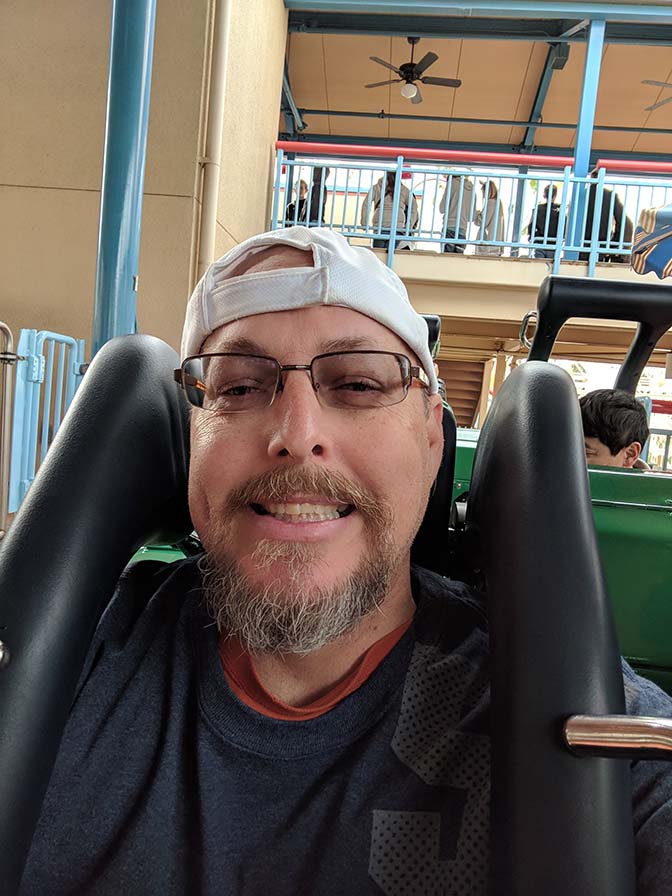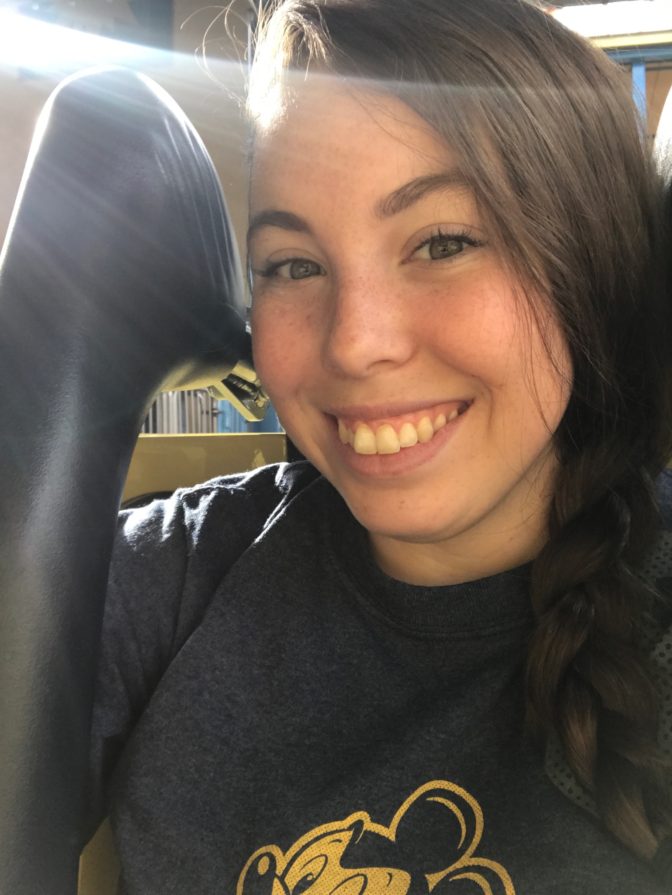 18. King Triton Carousel
10:10 – 10:17am
At this time we discussed our plan options and felt that completing the Paradise Pier section would save us some walking later in the day and protect us from the early closures that happen somewhat randomly for World of Color preparation.  I'm riding upon a fish!  Jordyn did about 2 rides without the hoodie before declaring she was cold again.  Hey, we are doing a challenge here, sport the shirt!  I wore mine over my hoodie to show it off :)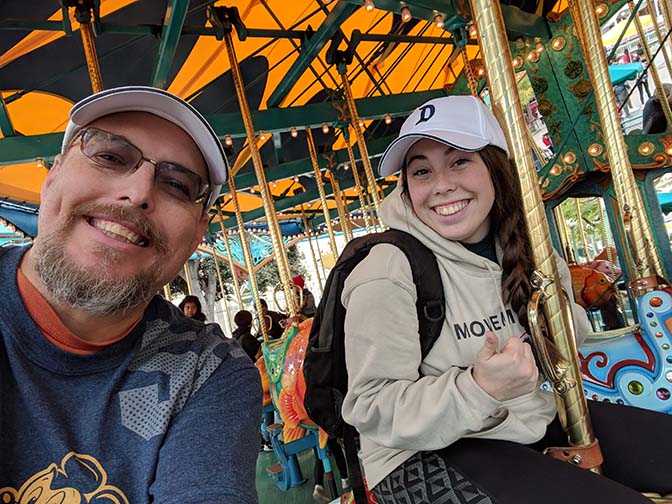 Jordyn picked out a dolphin to ride.  I still owe the girls a real dolphin ride one of these days.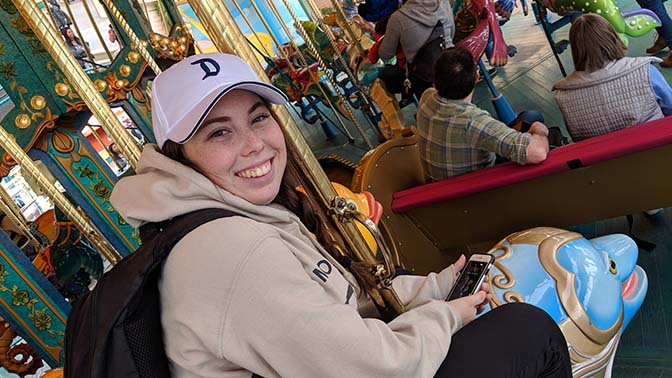 19. Silly Symphony Swings
10:19 – 10:28am
It's a good thing I had lost 18 pounds over the last 6 months as these single seats can be quite tight for those of us with larger backsides.  Just a swangin'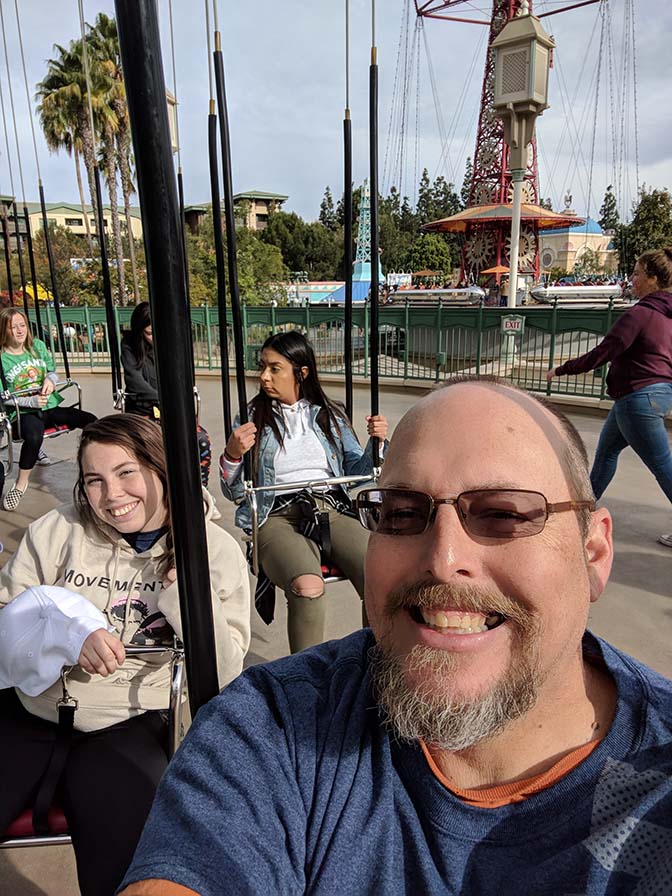 20.  Goofy's Sky School
10:29 – 10:37am
The Sky School wait topped out at 35 minutes later in the day, but one doesn't have time to wait 35 minutes, so we did it when it still had no wait.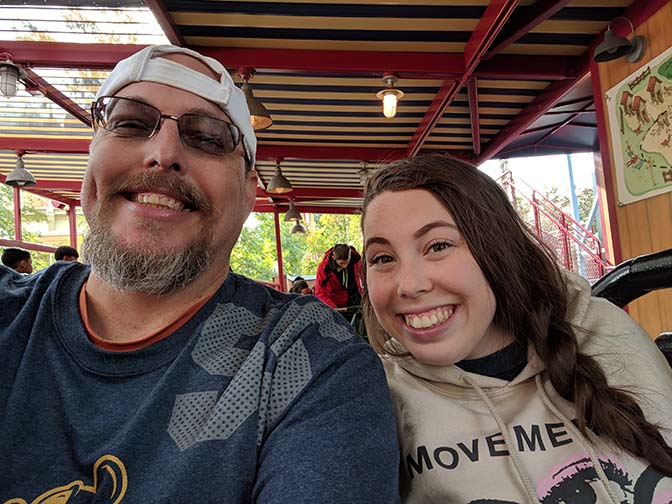 21. Jumpin' Jellyfish
10:37 – 10:42am
We walked right on this child-friendly attraction that gives one a gentle version of Guardians of the Galaxy dropping experience.  Boing, boing, boing!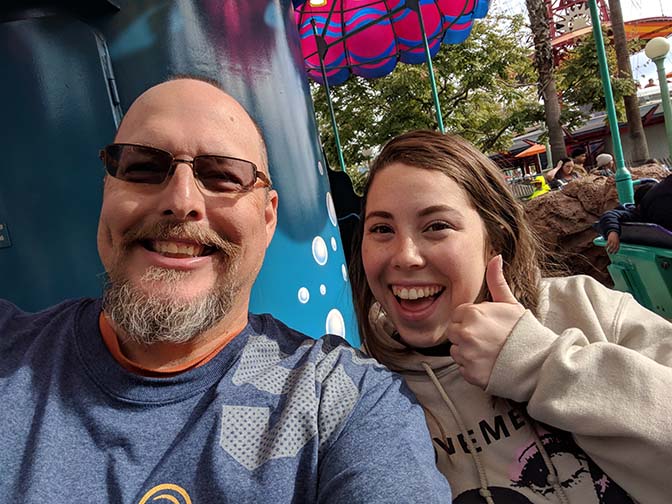 22. Golden Zephyr
10:44 – 10:48am
This simple swing ride had us very concerned prior to our attempt.  I had been watching the wait times on and off and noticed that it was closed a great deal.  Then, suddenly, Disneyland added it for a short refurb.
I guess they fixed the issue and the winds weren't high, so we were sailing over Paradise Pier!  I've always wondered, though, why Imagineers feel that little kids just want to travel in a circle so much?  Have you wondered that?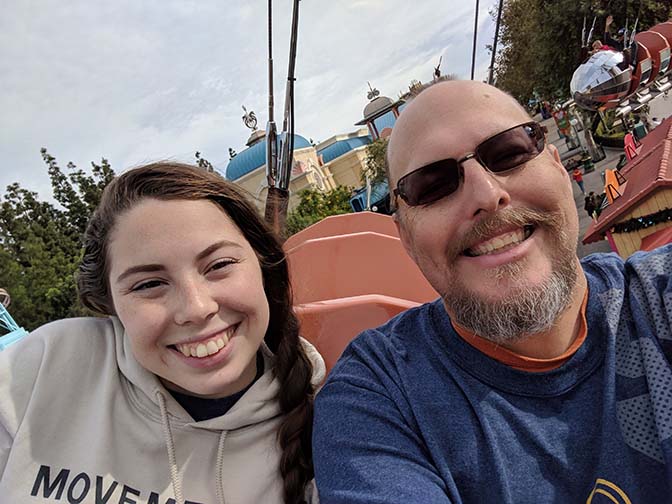 23. Guardians of the Galaxy – Mission Breakout (Fastpass 2)
10:54 – 11:28am
We had booked an initial Fastpass for Guardians for 8:30-9:30, but then dropped it and later found one for 10:30-11:30am.  Maxpass was a huge help to us on this day.  We were celebrating as we entered our 23rd queue of the day in only 4 hours!
After we went through the hand scan and Rocket room, we were held up as 4 of the 6 elevators weren't working.  They finally brought a 3rd one back online, but the wait slowed way down and the attraction ended up taking longer than we had hoped.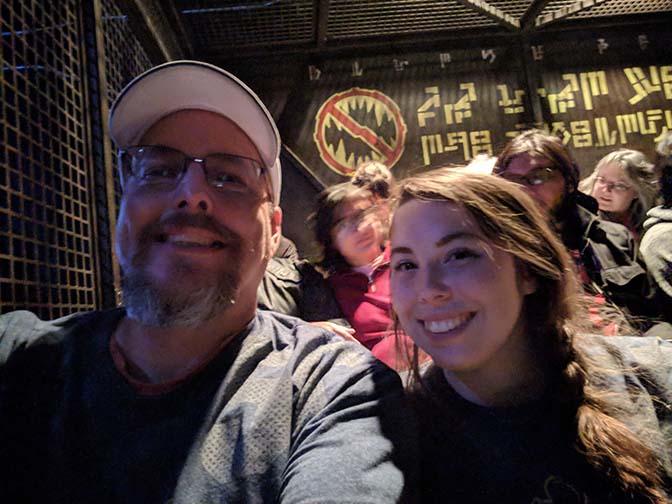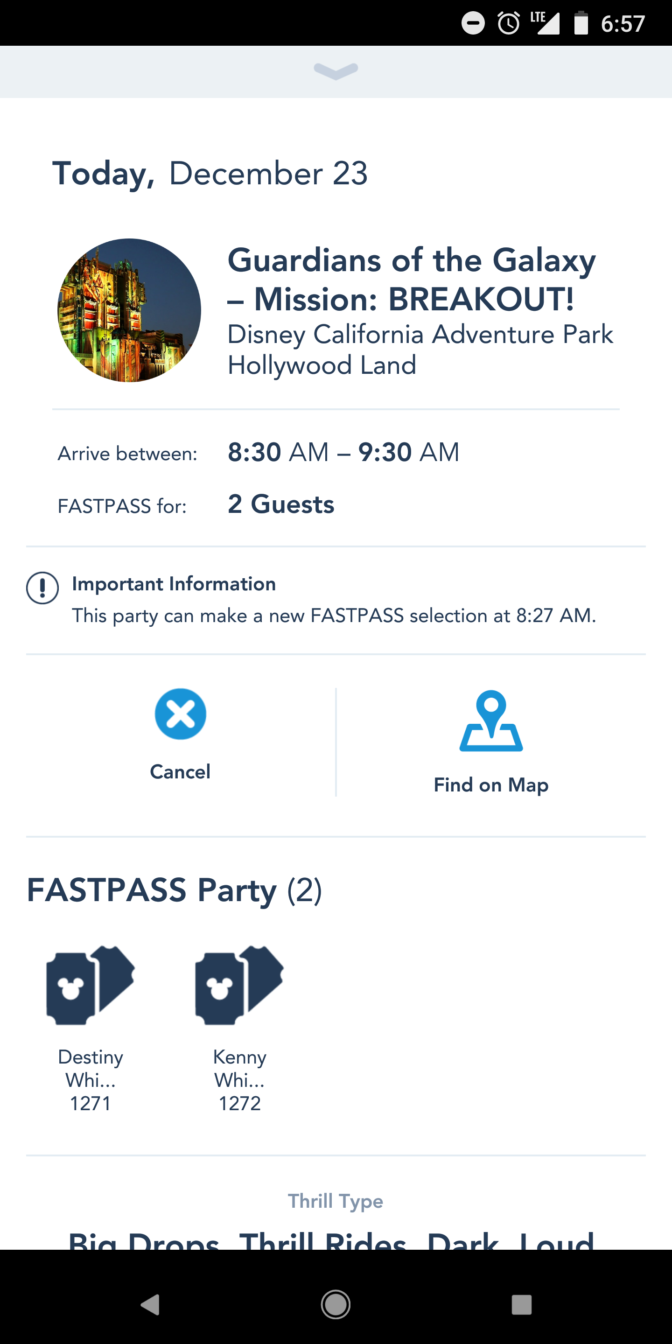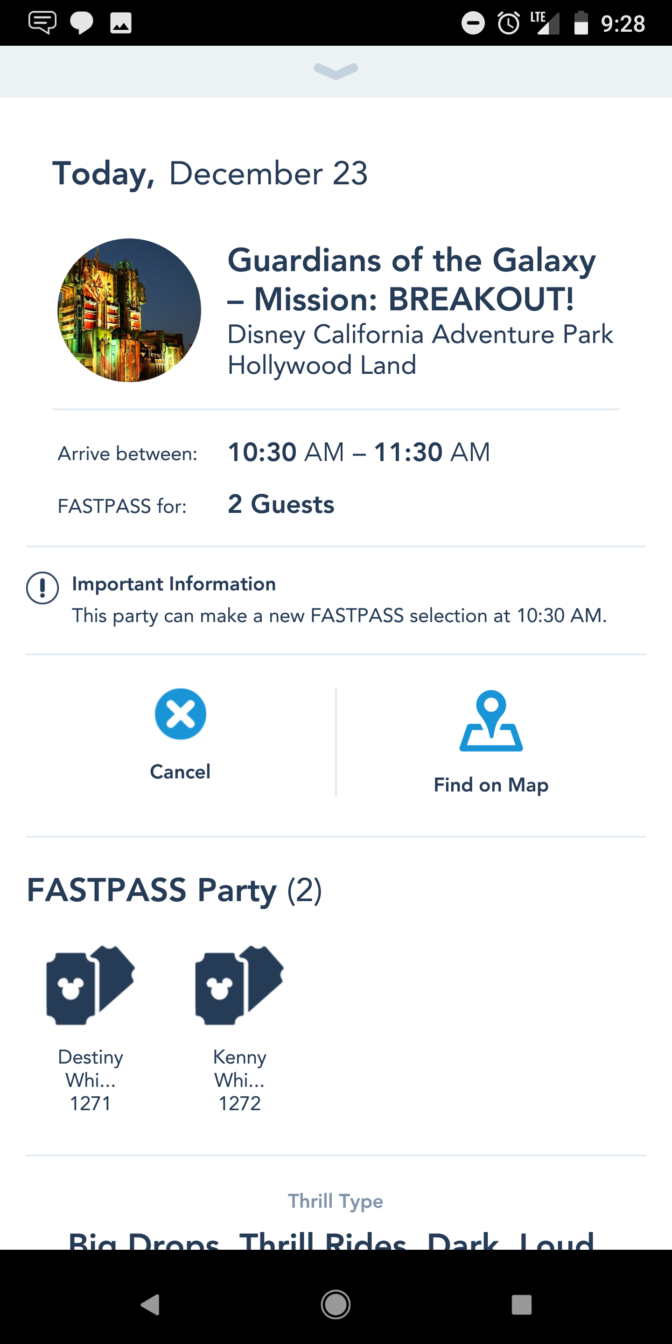 24. Davy Crockett's Explorer Canoes
11:40 – 11:51am
The canoes usually only operate during the busier times and on weekends due to low guest demand.  In cooler weather, like today, we weren't sure if they would follow their schedule.  When we saw a cast member in costume in the area, we made a beeline for the canoes.
The lady behind me kept splashing me with her oar.  I had to politely request that she not row and I'll double for her as my right leg was soaking wet.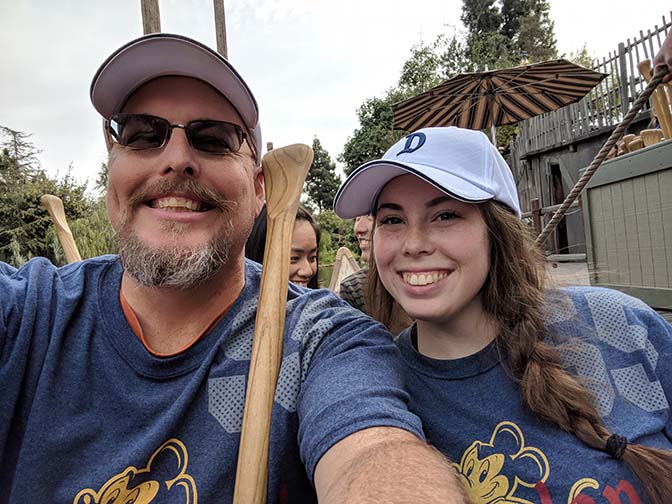 25. Sailing Ship Columbia
11:54 – 12:20pm
Another attraction that can trip you up is this ship.  It is also only offered on busier times and never seems to actually follow its posted schedule.  When we asked it was supposed to begin shuttling guests at 11am, then 11:30am, then near 12pm.  12pm it was and we were onboard!  Ahoy mateys the Captain has arrived!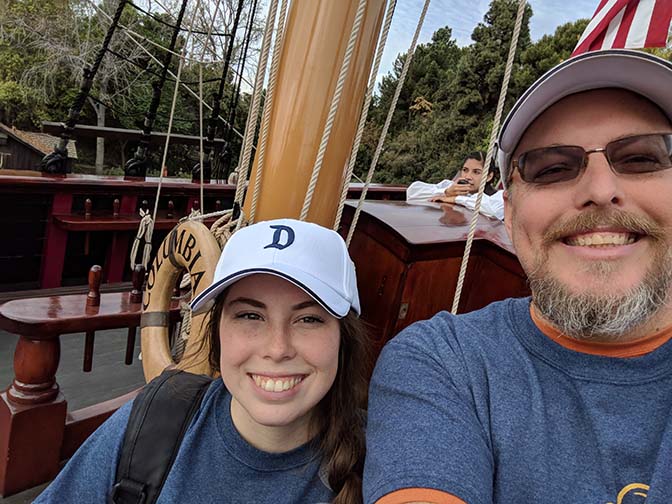 26. Pirates Lair at Tom Sawyer Island Raft
12:23 – 12:28pm
For the purpose of this challenge, one is only required to ride the raft over to the island and back.  We explained that we were just riding the raft, but still had to leave the raft and reboard, the exact same raft :)  Adding to the step count.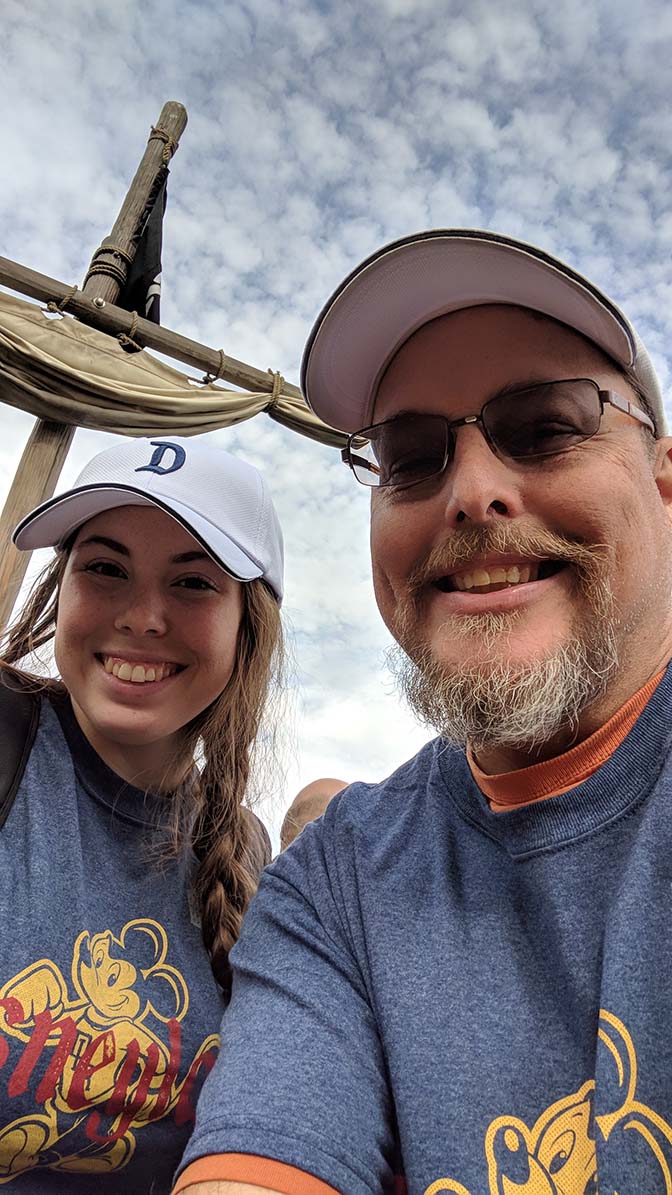 27.  Haunted Mansion (Fastpass 3)
12:29 – 12:41pm
This is the point where someone on Twitter tried to accuse us of cheating.  You'll see that the time for the Fastpass for Haunted Mansion and Indy are the same time,   We acquired Indy first and planned to go there first.  At 12:04pm, we were on the Sailing Ship Columbia and acquired a Fastpass for Haunted Mansion that also begins at 12:05pm.
Yes, you can get FP that has a return time right after your current time.  Maxpass doesn't restrict you to one hour overlaps once your window is open, which was 12:04pm in our case.  You can easily tell on each Fastpass that we each only used 1 ticket that was assigned to each of us.  We chose to use the Haunted Mansion Fastpass first as it was closer to where we were.  The posted wait here was 45 minutes.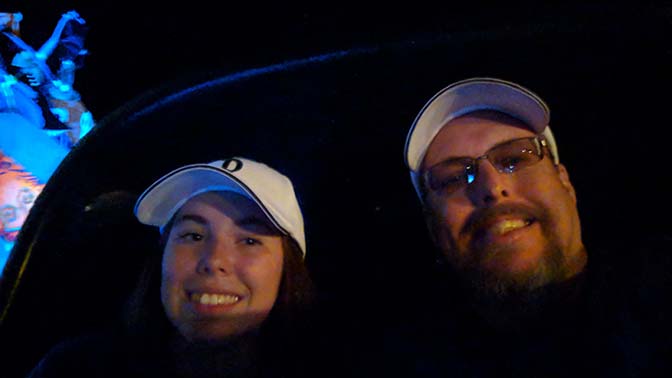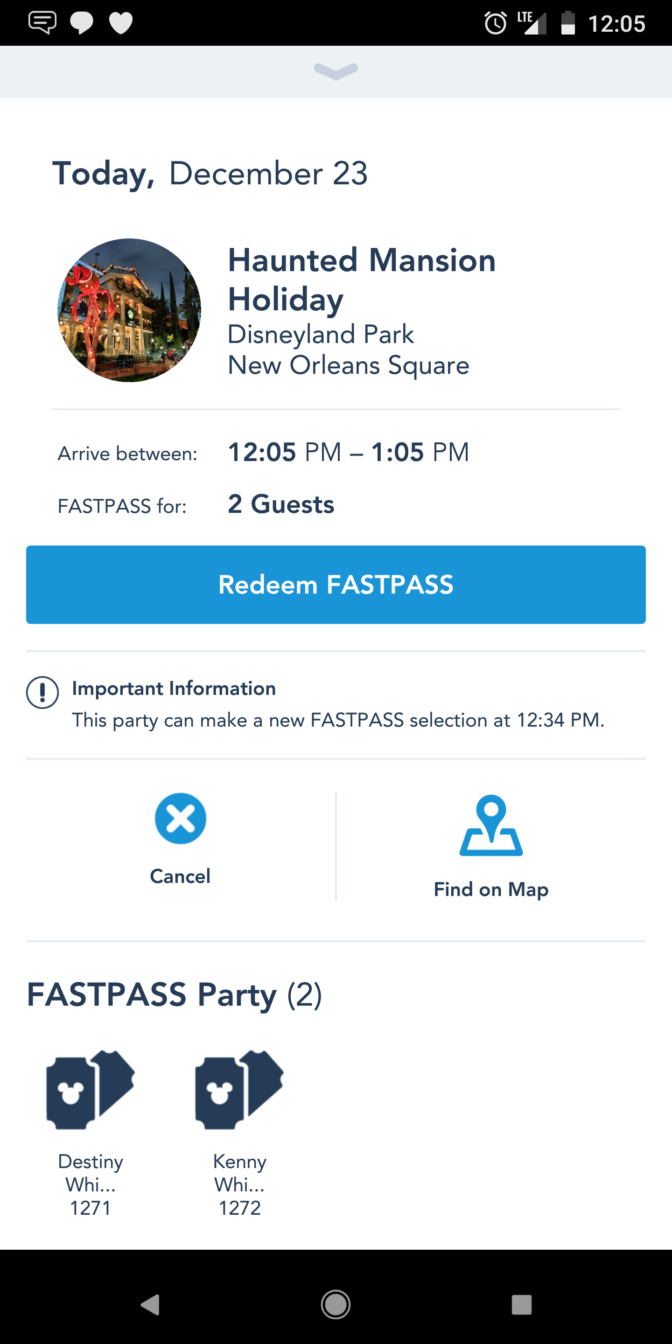 28. Indiana Jones Adventure (Fastpass 4)
12:44 – 1:17pm
In keeping with what would be the theme of ride slowdowns and breakdowns, our Indy adventuremobile kept stalling during the ride.  We had several delays, but we made it through and we were still on course.  6 hours into the day and we had done half the attractions!  The posted wait was 60 minutes.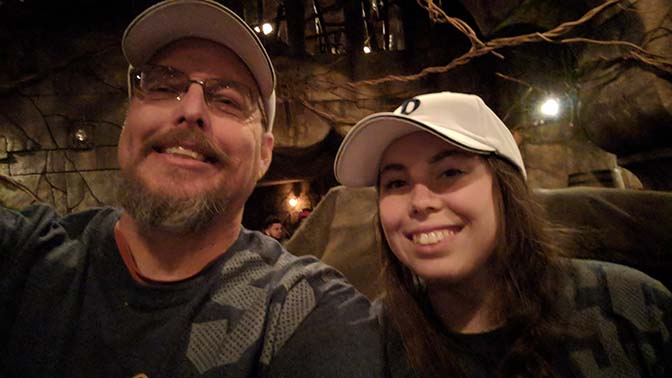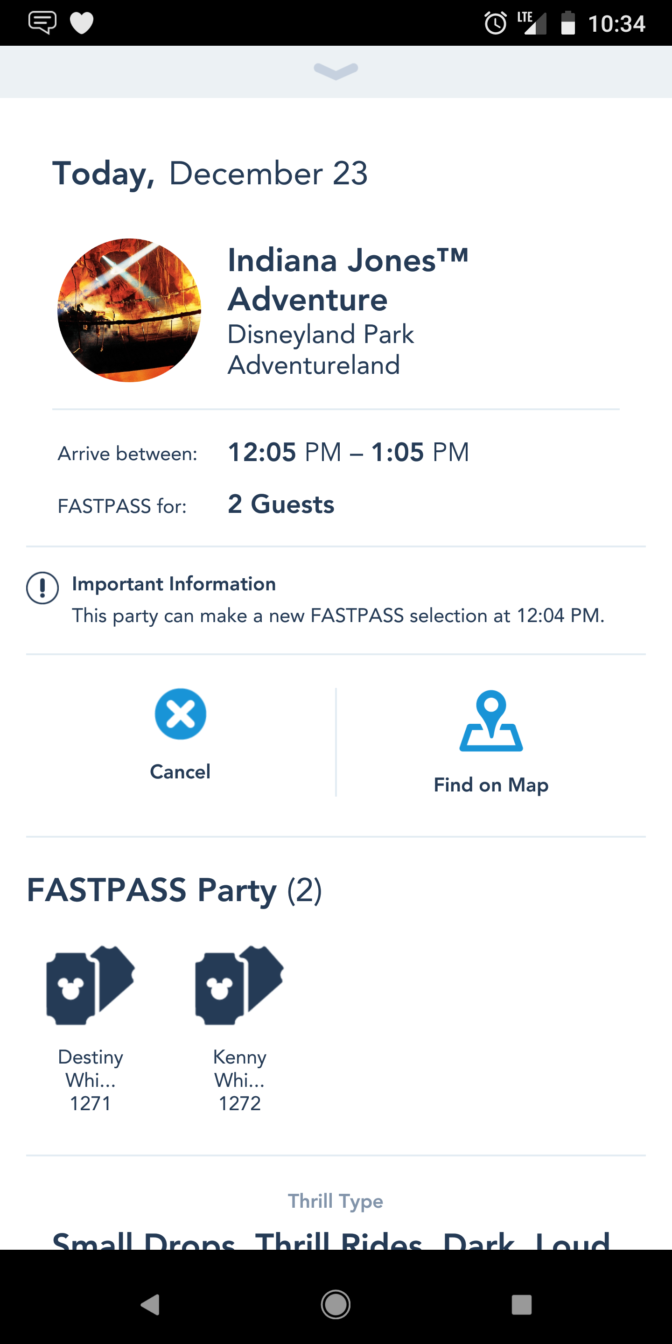 The slowdown did allow me to get a decent phone photo of Indy at the end of the ride.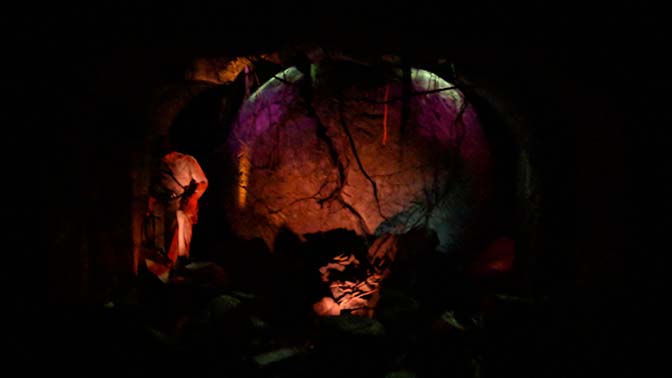 29. Mark Twain Riverboat
1:19 – 1:40pm
We weren't taking any chances of this boat closing early, so we completed our third trip around the island and we crossed it once.  We are good friends with the chomping beaver and Indian Chief now.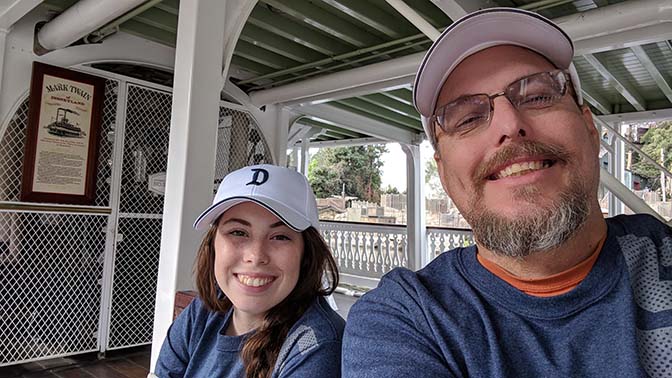 30. Big Thunder Mountain Railroad (Fastpass 5)
1:41 – 1:52pm
It's the wildest ride in the wilderness!  We love this ride and Disneyland's version is superior to our WDW version.  The exploding tunnel is a great gag.  Fastpass acquired after riding Haunted Mansion.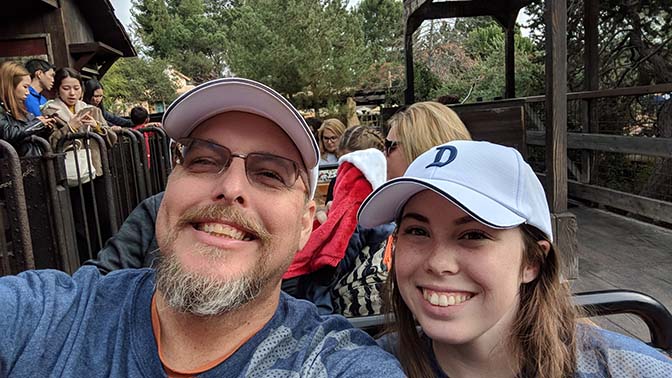 31. Roger Rabbit's Car Toon Spin (Fastpass 6)
2:02 – 2:07pm
We love the Roger Rabbit ride!  It's what modern dark rides should be.  Vibrant, wacky, and the fun of the car spinning about.  Jordyn's never had the joy of meeting Roger Rabbit yet and the only photo I have includes some random kid in a photo with my newly wed wife.  We acquired this Fastpass right after the 1:00pm window opened at Big Thunder Mountain.  The posted wait was 60 minutes.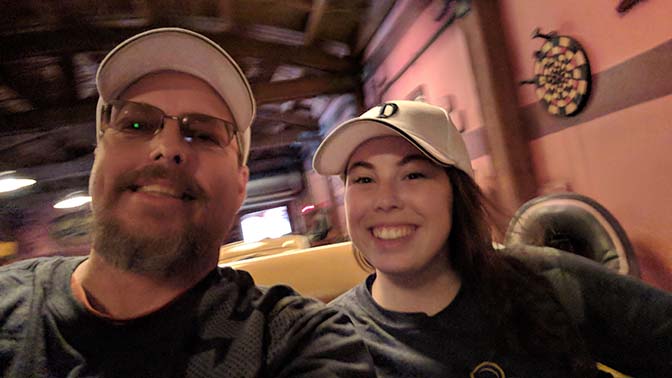 32.  The Little Mermaid: Ariel's Undersea Adventure
2:22 – 2:32pm
We made our way back over to California Adventure and wanted to complete all the rides in that park before returning for a final sweep at Disneyland.  It almost worked, almost….
33.  Flik's Fun Flyers
2:36 – 2:49pm
Flik's Fun Flyers, say it 3 times fast!  We flew in an Animal Crackers box because Animal Crackers teaches us that all animals taste alike…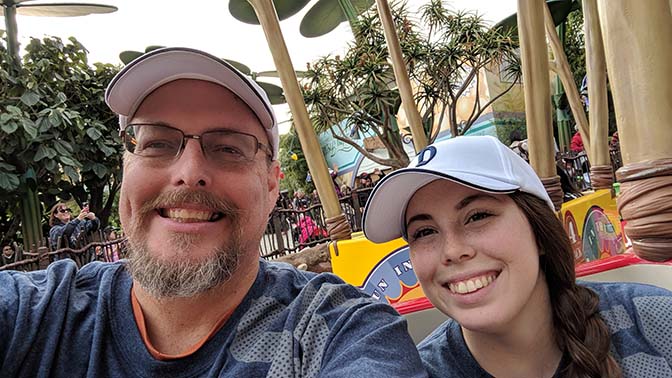 34. Francis Ladybug Boogie
2:49 – 2:52pm
We walked right on this little tea cup style ride.  It's funny because theme park guests complain that there isn't enough for little kids, but these rides almost never have a wait.  But again, why do most of them spin in a circle?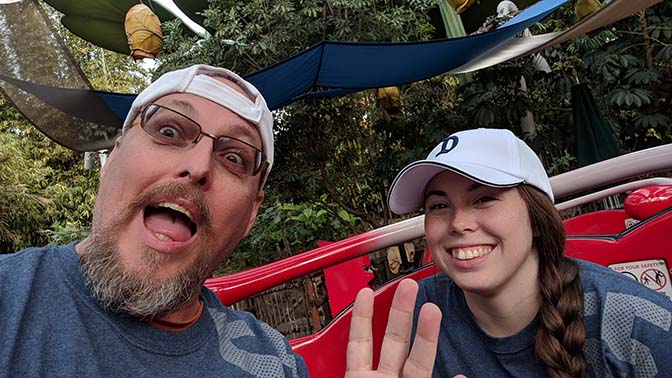 35. Heimlich's Chew Chew Train
2:53 – 2:57pm
It's a simple, short train ride that is a step above what you'd find in your local mall, but the scents are fun.  Chew chew!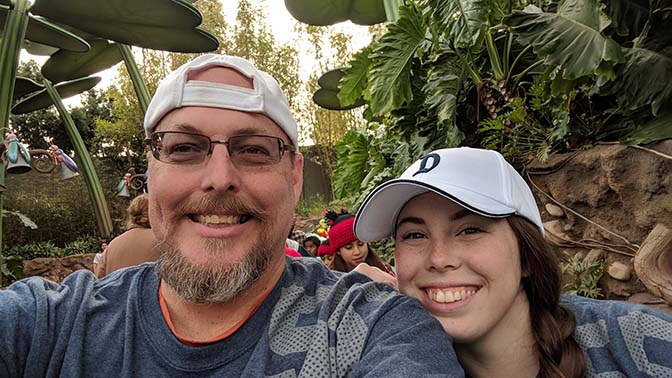 36. Tuck and Roll's Drive Em Buggies
2:58 – 3:16pm
The most painfully slow bumper cars in theme park history.  I wonder if anyone has ever feigned injury at this attraction.   I've been hit harder by my 4 year old son wearing Sock 'Em Boppers.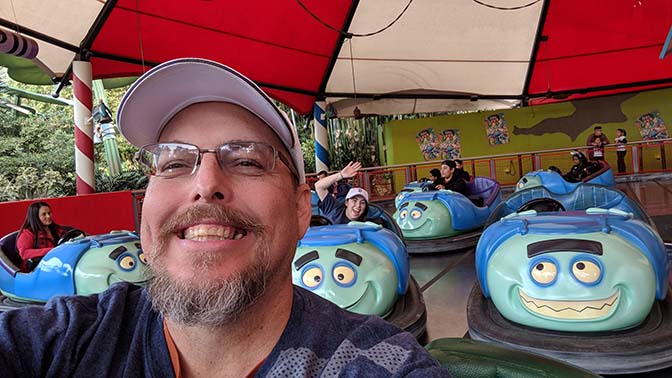 37. Mater's Junkyard Jamboree
3:19 – 3:29pm
Mater was singing his version of Christmas tunes for us while his baby tractors attempted to snap my neck.  This is the same basic ride that we will see at Hollywood Studios with the new alien ride.  I hope they fix the issues with how it damages the turntables so much.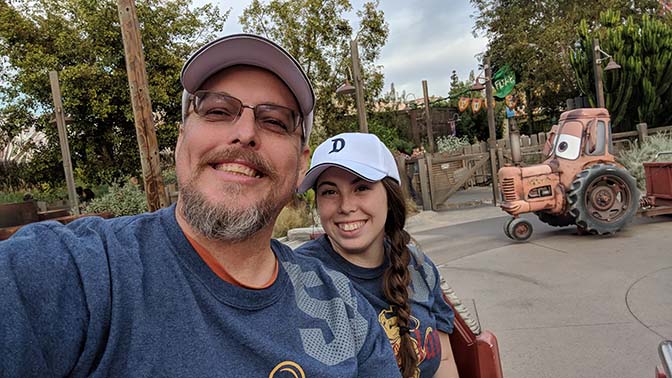 38. Monster's Inc Mike and Sulley to the Rescue
3:36 – 3:46pm
You'll need the watch the video at the top of this post to see how the cast member really contributed to our ride here!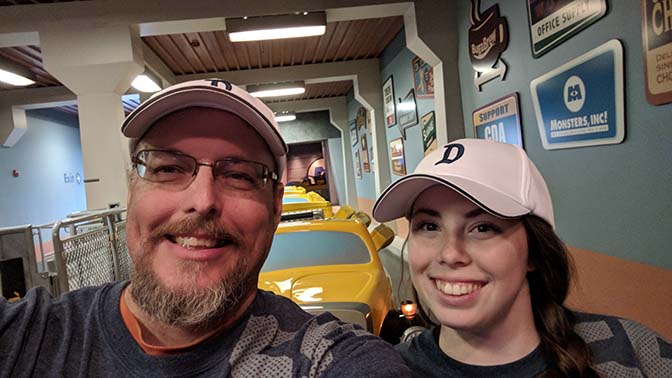 39. Red Car Trolley
3:54 – 4:06pm
The Red Car Trolley runs on weird schedules through most of the day.  It has to avoid the crowds created by Guardians Dance Off and the two shows that play in Carthay Circle.  We were getting concerned about when it would leave, so we could make it to Soarin' in time to use our Fastpass.
Well, right after leaving, our Fastpass converted to any anytime Fastpass as Soarin' was experiencing techinical problems, so all that stressing for was for nothing.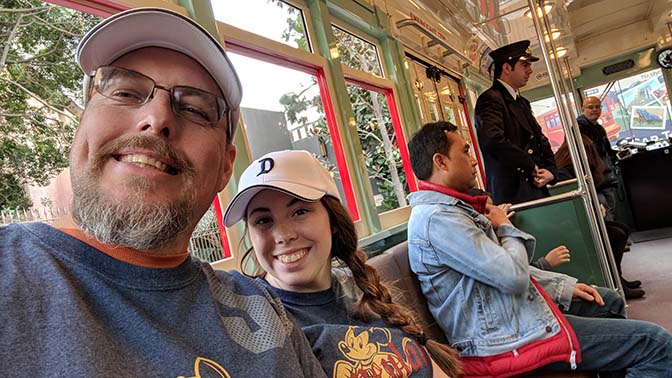 40. Grizzly River Rapids
4:08 – 4:21 pm
It was cold and this ride was not only a walk-on, but we were the ONLY guests in our boat.   We had our ponchos ready as we didn't want to get soaked.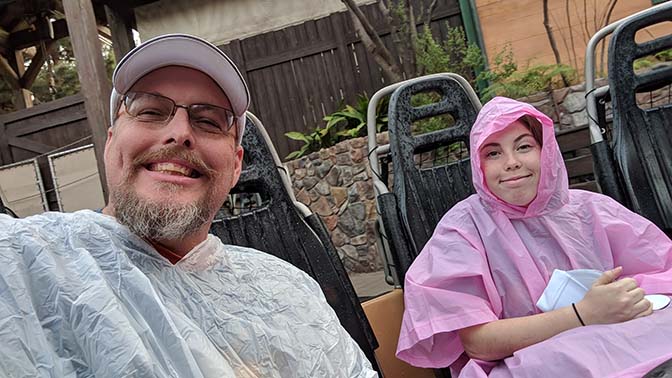 41. Disneyland Monorail
4:32 – 4:43pm
We looked at using our Fastpass for Soarin' but the CM said the wait could be 90 minutes using Fastpass.  The doors for standby were closed.  We opted to try to make it to it's a small world to use our Fastpass, so we didn't have to try to book another one later.  I accidently called this Disneyland Railroad on Twitter, so that confused a few people.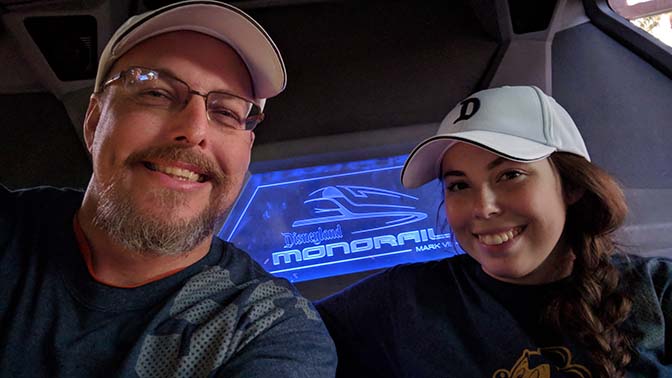 42. it's a small world (Fastpass 7)
4:47-5:08pm
We made it with a couple minutes to spare within the grace period for it's a small world Fastpass.  It was the holiday version, which is terrific, so the wait time was crazy high all day for this ride.  The posted wait was over an hour.
43. Gadget's Go Coaster
5:11 – 5:35pm
At this point we decided it to be best to just go ahead and wait out this ride.  We wanted to do it before Roger Rabbit, but the parade dump messed up that plan.  The posted wait was 20 minutes, and we did have time to spare, so we went for it.  We waited 22 minutes.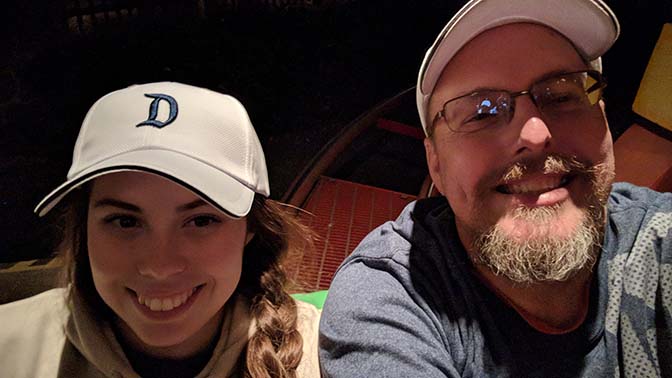 44. Disneyland Railroad
5:37 – 5:51pm
The railroad at Disneyland is a very popular attraction.  We saw posted waits for it up to 30 minutes through the day.  We caught a vision of a shorter wait at the Fantasyland station and took the train down to Tomorrowland.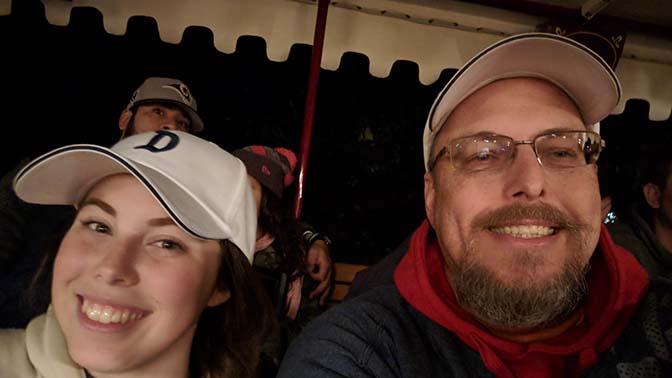 45. Star Tours (Fastpass 8)
5:54 – 6:11pm
Star Tours at Disneyland doesn't offer as many transport vehicles, so the wait times for stand by are crazy high most of the day compared to the Hollywood Studios version.  I think that is the goofiest smile I've ever had.  We quickly bought a slice of pizza each and one soda at Red Rockets and high tailed toward Matterhorn while chewing.
We don't usually have much time for food consumption on these challenges.  We had brought a few snacks and a couple bottles of water in our backpack.  They were gone early in the day.  We did purchase 4 more bottles of water quickly when we were leaving Roger Rabbit earlier from a guy with a little cart in the middle of the walkway.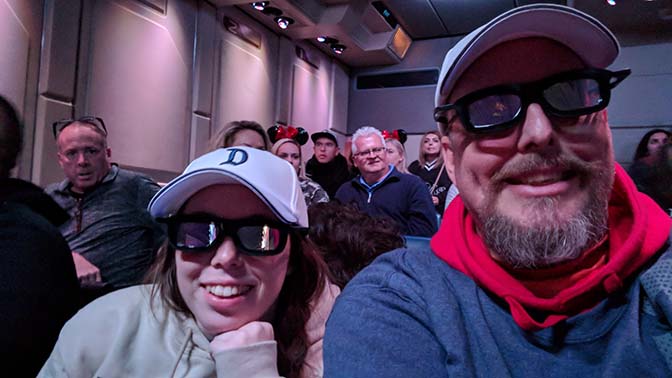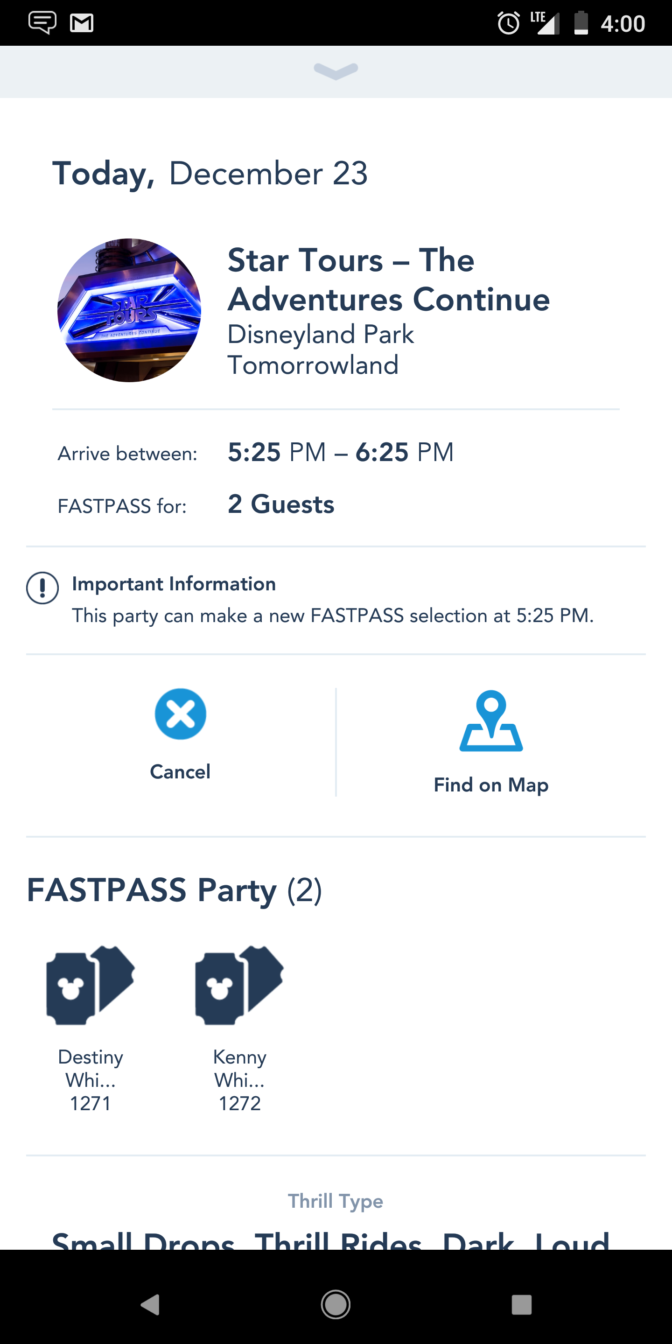 46. Casey Jr Circus Train
6:21 – 6:44pm
We had hoped to use our Matterhorn Fastpass, but the ride was broke down.  I asked the Cast Member if our Fastpass would still be valid as it hadn't converted to an anytime Fastpass.  He assured me it would be valid.  Good thing I followed my instinct.  More on that later.
We were excited to find no real wait for Casey Jr and we did our "I think I can" video as we topped the hill.  Well, the train in front of us didn't think he could and he quit working.  It took quite a while to get him running again, but we did get an even longer view from the top of the hill.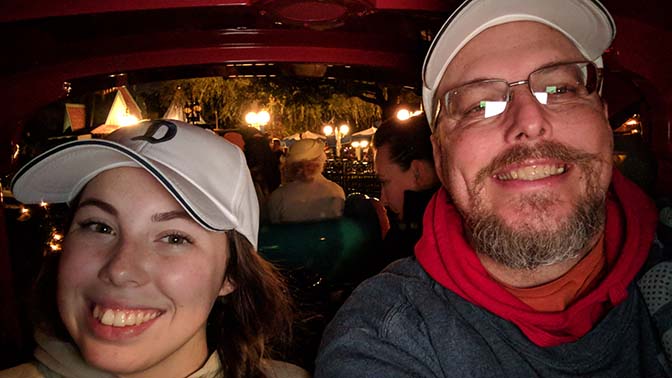 47. Jungle Cruise
6:55pm – 7:08pm
At night the Jungle Cruise is typically a walk-on attraction, but we enjoy the ride after dark.  It's a different experience with the lights being used on the boats, but you still get the same campy humor.
48. The Many Adventures of Winnie the Pooh
7:12 – 7:22pm
It's Jordyn's ride!  Since she was a tiny baby I called her "Pooh Bear" because she had those cute little Pooh Bear cheeks.  There was no wait here either.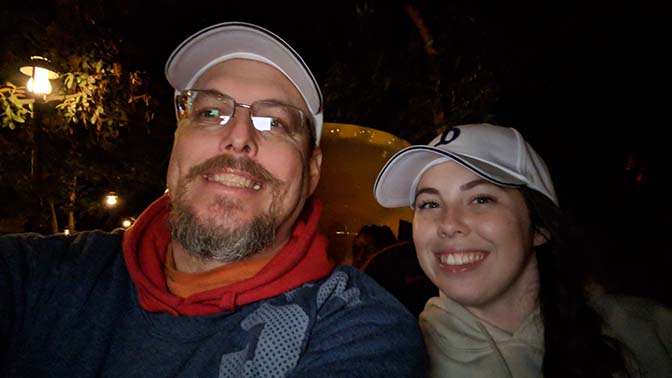 49. Splash Mountain
7:22 – 7:35pm
It's really chilly and after dark, guess what, there is no wait!  We walked right on and request that we not sit in the front of the boat.  We got an odd look, then were told to sit in seats 3 and four. The poncho really helped because the Splash was just as big as usual.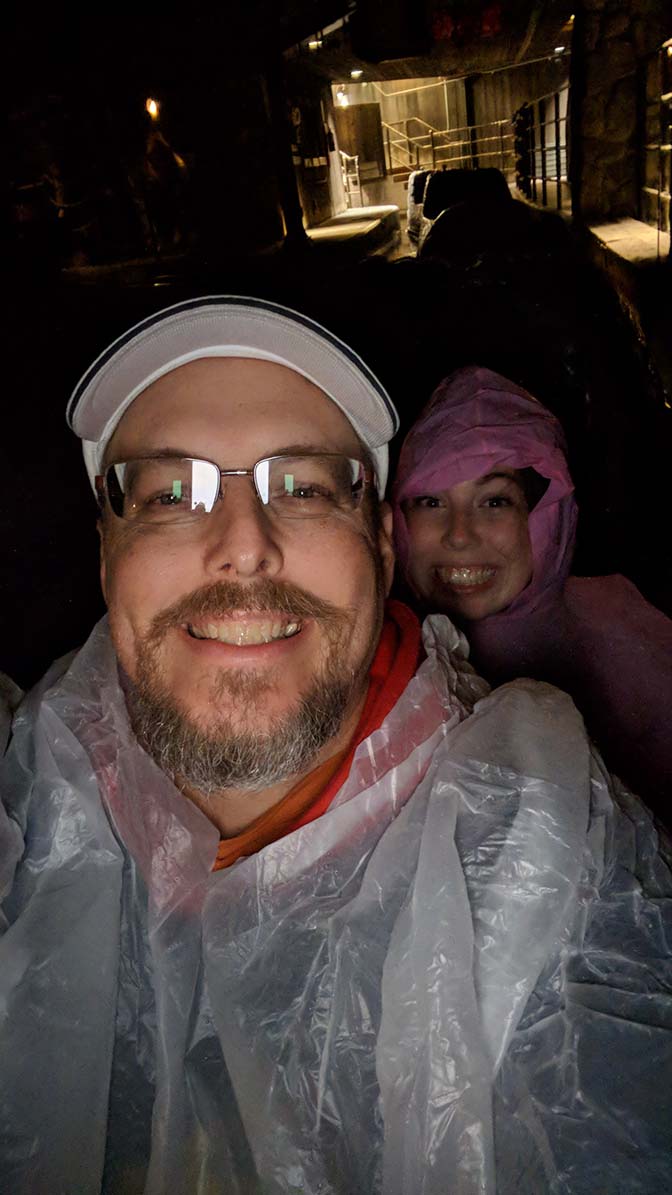 50. Pirates of the Caribbean
7:41 – 8:16pm
The ride breakdown / slowdown day would continue here at this pirate's ride.  We made it through the Bayou scene and got held up for quite a while.  People then kept standing in the boats, I guess they were going to swim for it?  Each time they had to stop the ride and reset it again.  They do actually mean that you need to keep your manos, brazos, piers and piernas in the boat at all times!  Our walk-on boat ride took 35 minutes.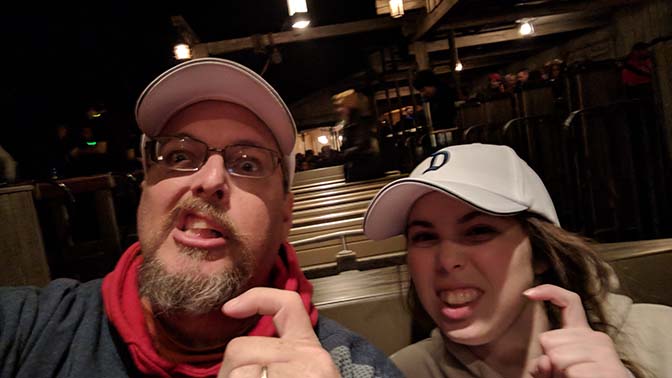 We all need a little help from our friends some times!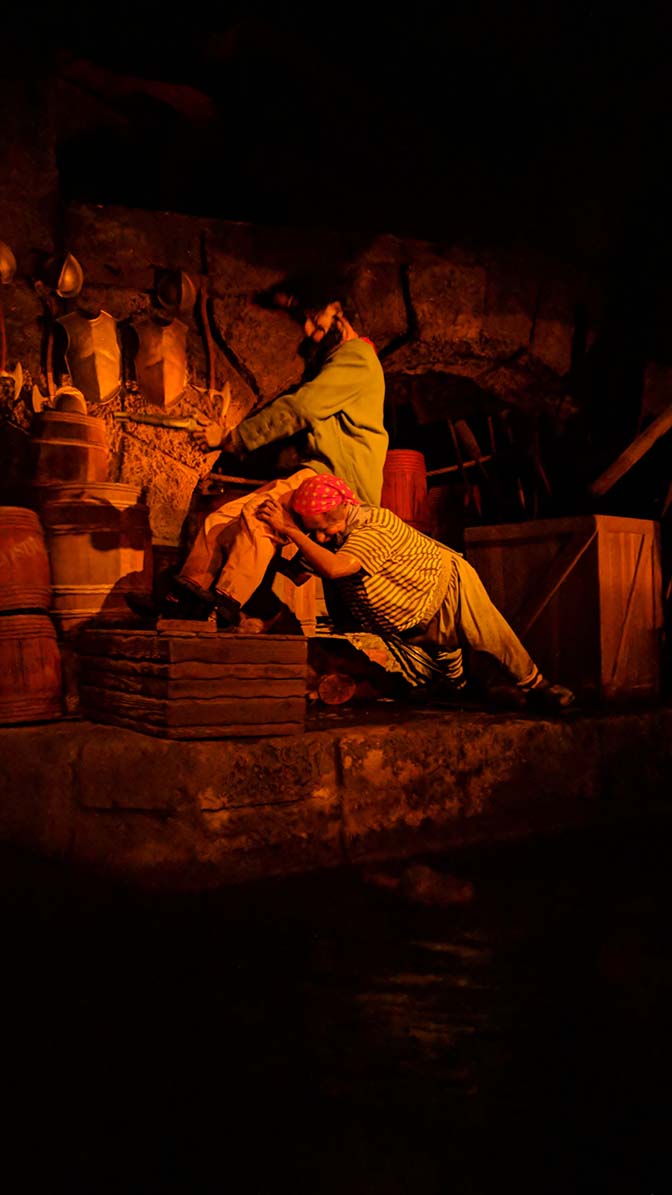 51. Soarin' (Fastpass 9)
8:27 – 9:02pm
We noticed that the posted wait time for Soarin' was low again, so we thought we'd head back over and use our anytime Fastpass that converted earlier.  We made it almost to the merge point and I noticed that they were moving everyone from theater 1 to theater 2.  Uh oh!  Another ride issue!  I expected a delay and we saw one.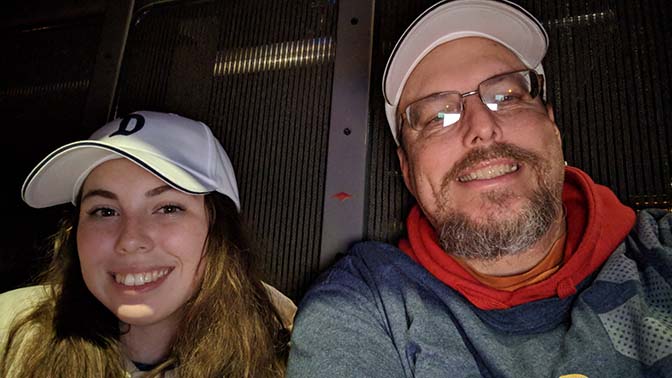 My original Fastpass.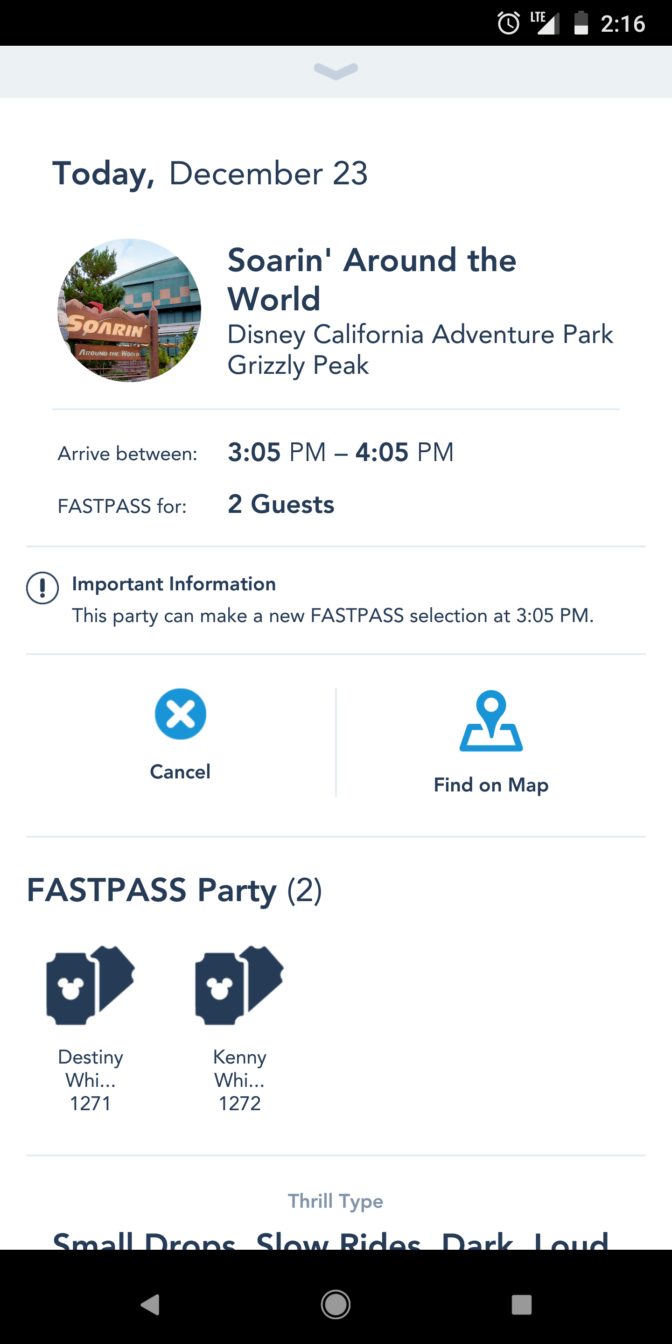 When a Fastpass "converts" to an anytime Fastpass.  According to the rules of the challenge, one must use that Fastpass at only that attraction when it goes back into service.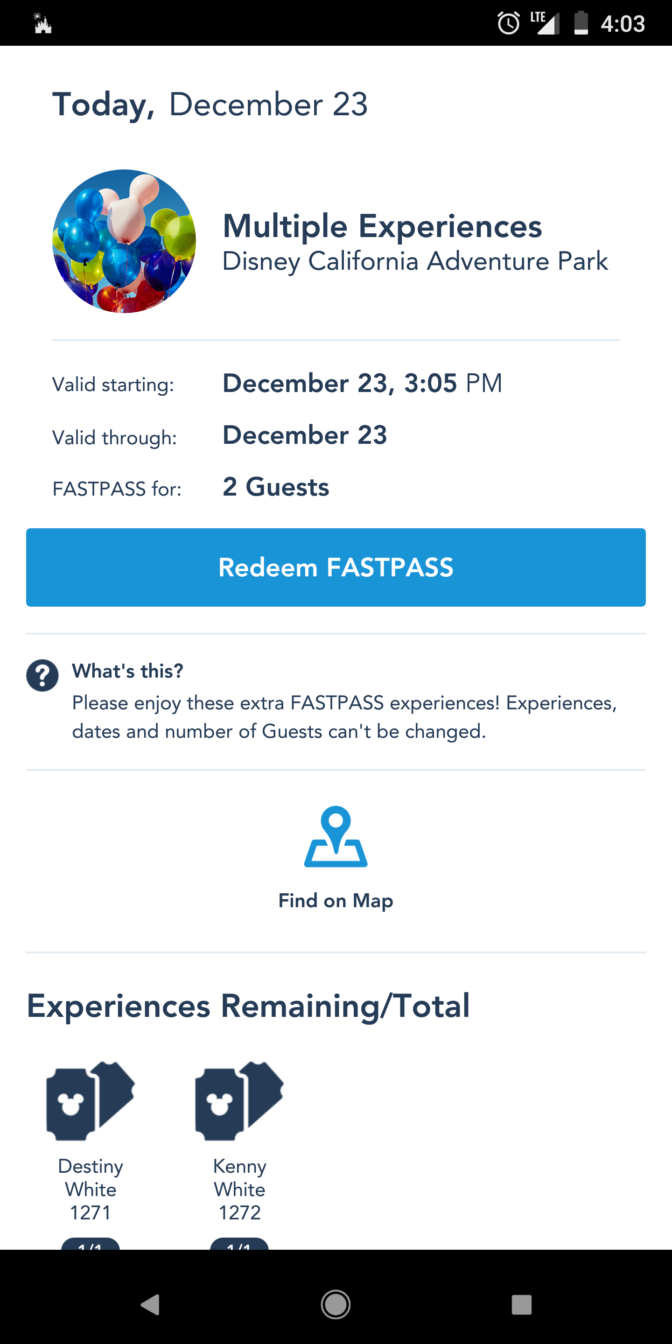 So the one full theater was closed AND the center B section wasn't being used.  It was the weirdest sight that I've seen in a Disney Park to fly on Soarin' with the entire B section on the floor.  Soarin', like Guardians was running at a very limited capactiy, but it was running!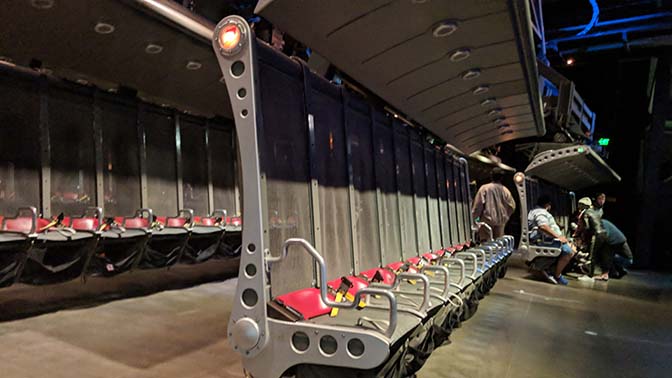 52. Autopia
9:13 – 9:30pm
Another park hop back to Disneyland and we were on Autopia with no wait.  I trusted Jordyn with the driving and took care of the photos and video.  She did a great job with the #wdw47 challenge, but she is just an okay driver when the rail is involved.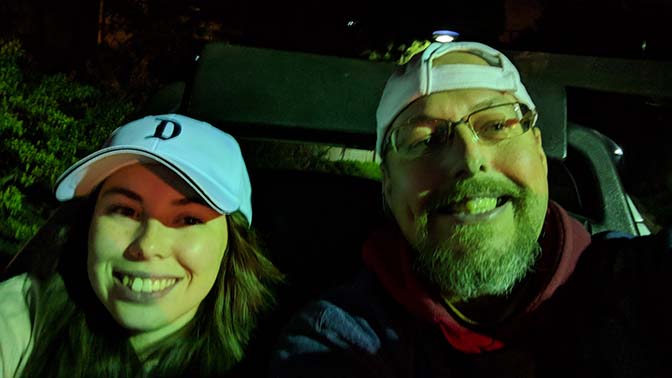 53. Matterhorn Bobsleds (Fastpass 10)
9:33 – 9:38pm
So, earlier we had that Fastpass (below) that we had been assured would convert to anytime or be honored.  At 8:30pm it totally disappeared!  It was gone.  It wasn't old, it wasn't anytime, it was just gone.  Fortunately, after a few back and forths on the Disneyland app I found another Matterhorn Fastpass!
Well, when we arrived to use the Fastpass, we didn't even need it.  The ride was a complete walk on.  The guy said we didn't need to tap, but we did it anyway in the spirit of the challenge.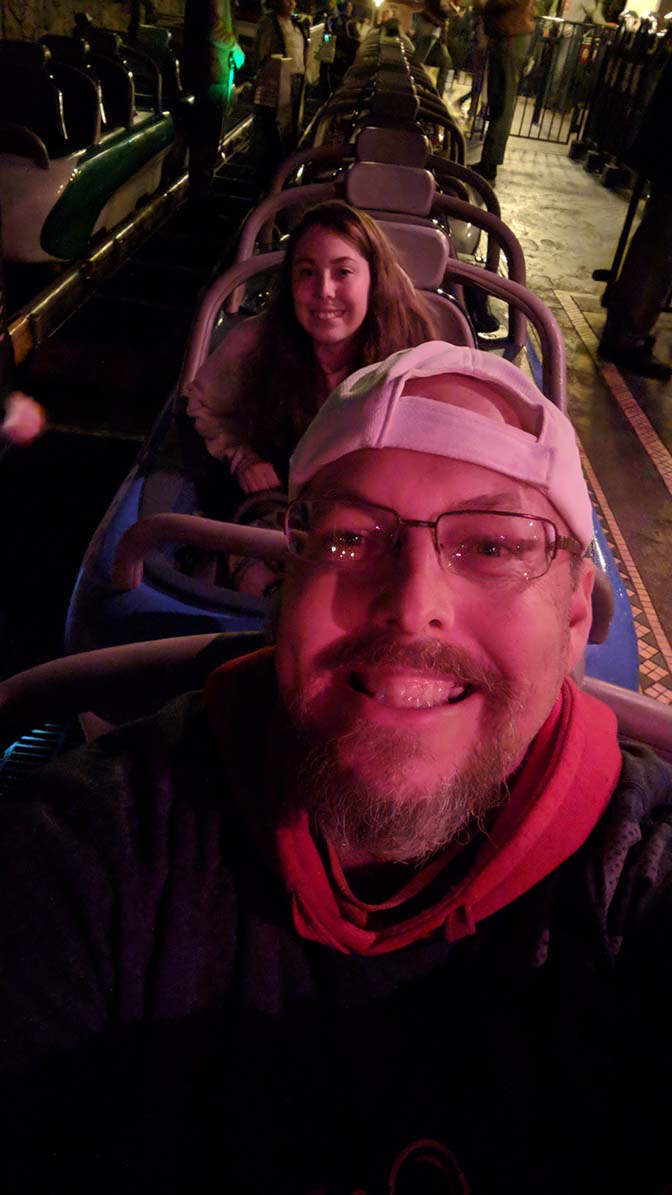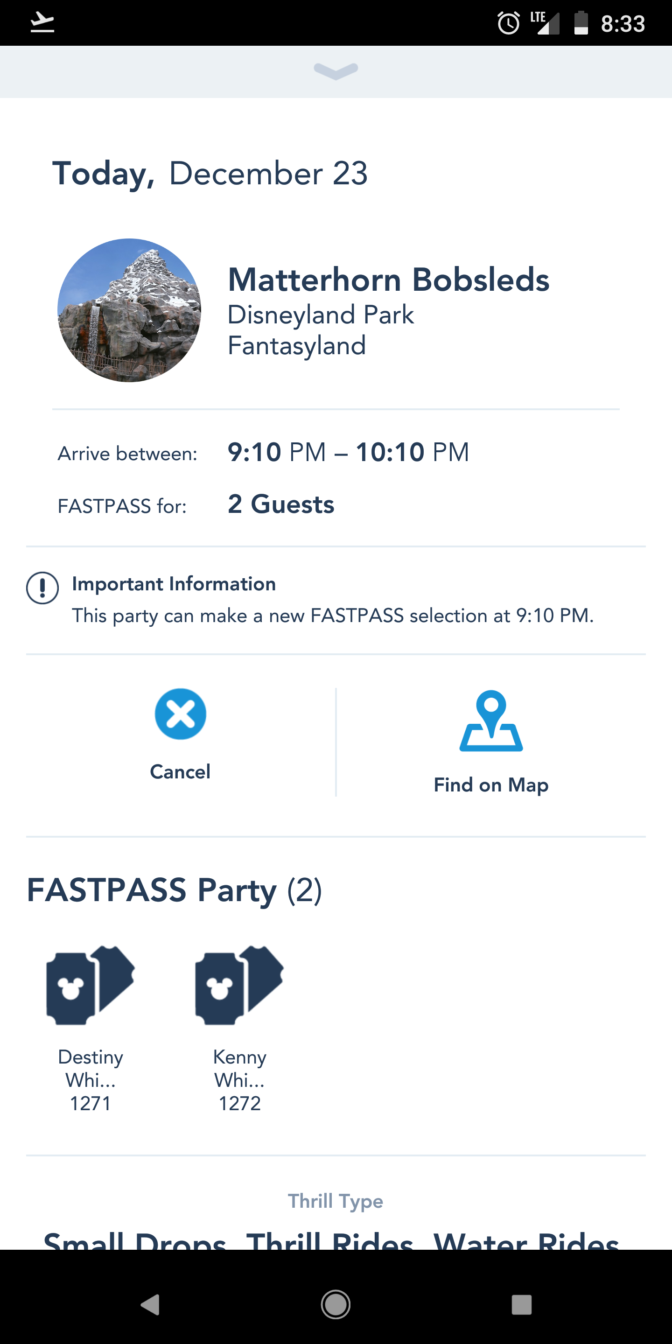 54. Storybook Land Canal Boats
9:39 – 9:49pm
We were almost there!  We boarded the Canal Boats with no waiting and were off hearing stories of wondrous journeys by many Princesses.  Jordyn has had a few of those journeys, but no Prince has come along to find her yet.  At least she hasn't been locked in a tower or dungeon, had to clean the chimney, been told to miss the ball, been taken to live in the forest or posioned, so she's coming out ahead I think.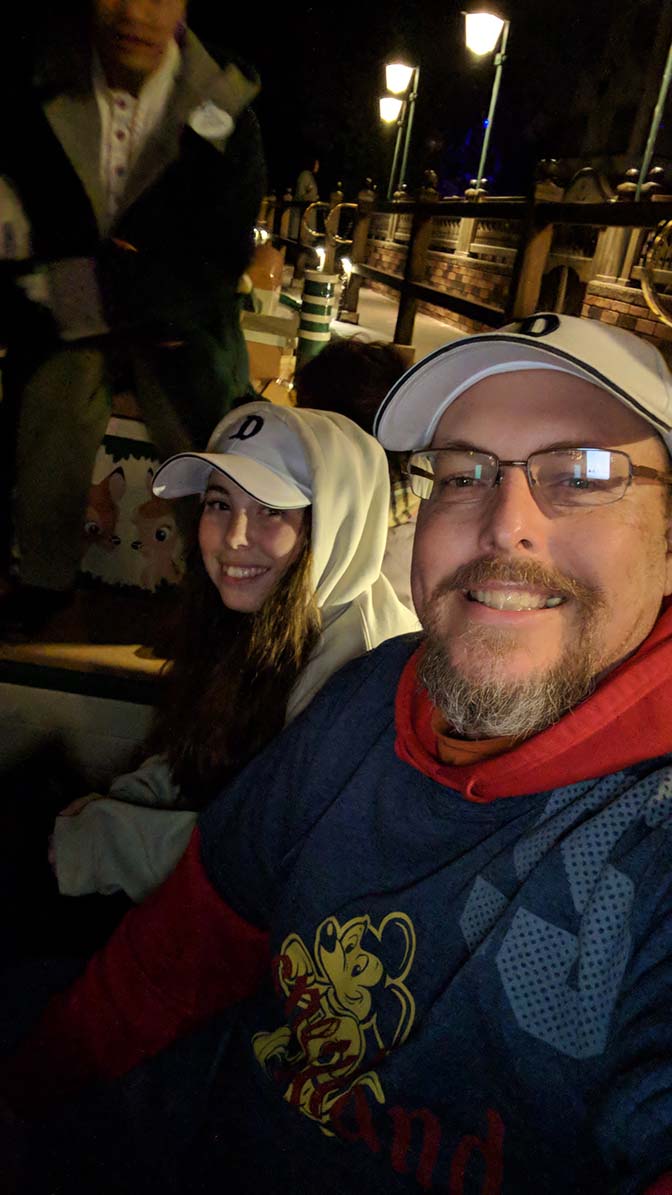 55. Peter Pan's Flight
10:03 – 10:24pm
We had to wait on the fireworks debris clearance before they would re-open Peter Pan's Flight.  We noticed a bunch of people off to the left who looked like they were lining up for Mr. Toad's Wild Ride.  We asked what was going on and no one would say.  We found out that they "pre-queue" for Peter Pan's Flight to re-open.  Oh well, it only took a few minutes longer to wait in the line when they dropped the rope and we were on ride 55!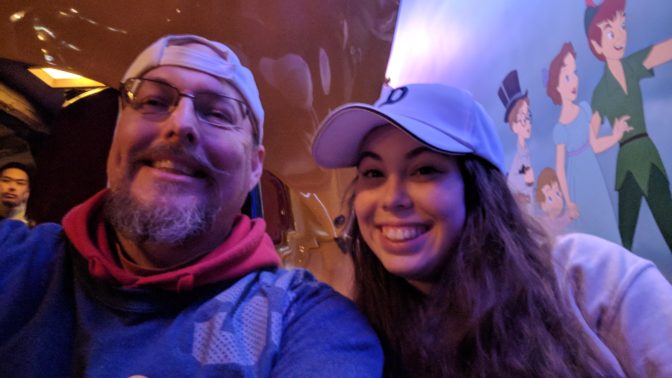 We did it!  We were the first people to be able to confirm with photos and video that we rode all 55 moving rides in Disneyland in a single operating day.  From the time we started until the time we completed Peter Pan's Flight, it took us 15 hours and 24 minutes.  The ride slowdowns and breakdowns added some time to our day, but it didn't defeat us!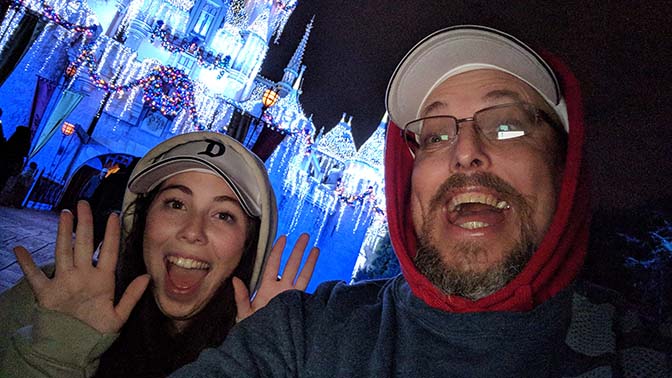 Many thanks to all the KtP Crew Members who gave Christmas gifts to help us to travel to Disneyland on such short notice.  You are great people.
Thank you to my brother who programs Character Locator into such a great product that helped us achieve our dream.  Being able to build a park hopping plan and track our times in line and off ride was a great benefit!
Hi everyone, it's Jordyn, I also wanted to say thank you to anyone that gave Christmas gifts, cheered us on from afar (some of you stayed up too late), or congratulated us. It means the world to us to know that such wonderful people enjoy following along with our crazy adventures. This is something that I will never forget!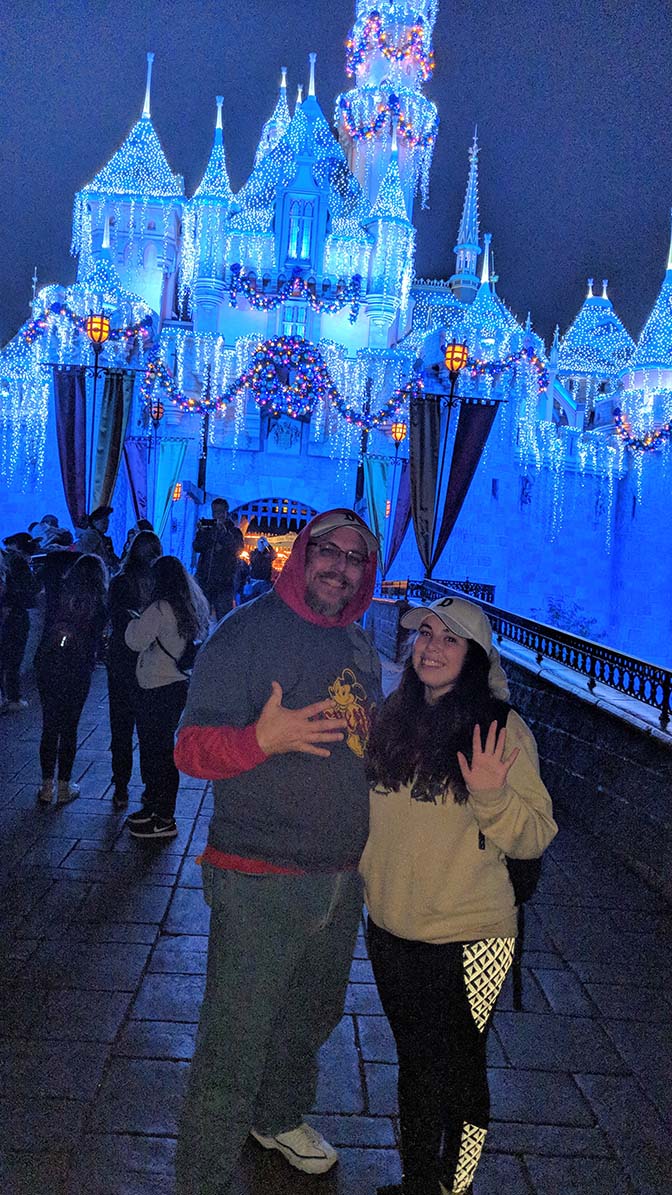 Are you planning a vacation? Reach out to our trusted travel agency sponsor Authorized Disney Vacation Planner
Mouse Class Travel
!