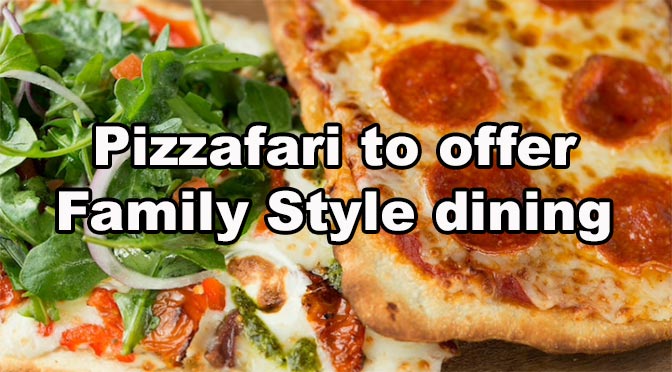 Beginning this summer, Pizzafari in Disney's Animal Kingdom will switch to a new "family style" quick service dining option for dinner.  Here's the details:
Guests will be asked to make a reservation online or via phone, but it will remain as a Quick Service option.  Think of that process like Be Our Guest breakfast and lunch.
You'll place your orders at the check-in podium and be guided to your seat by a Cast Member.  You'll then be given the option of two appetizers (Caprese Salad or Caesar Salad) and three entrees (Pasta, Pizza and Chicken) and finish off your meal with a dessert option.
This new "family style" dining option will be offered from 5pm to 8pm beginning July 31.  The cost will be $19.99 for adults and $11.99 for children 3-9.  It includes tax and non-alcoholic beverages.  Beer and wine will be available for additional purchase.
This meal will still count as 1 Quick Service meal option on the various Disney Dining Plans.  According to the menus on Character Locator, there is a savings here with this option, if you plan to order a meal with side, entree, dessert and drink.  If you prefer to go a little lighter, you may just want to walk-in for lunch.
Reservations are available online at DisneyWorld.com/Dine or by calling 407-WDW-DINE (407-939-3463) starting Tuesday, July 17.