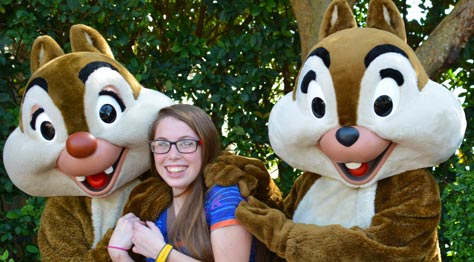 Yesterday I posted a rumor update about the removal of Aurora and Pooh characters from Epcot.  I have some additional details to add that may not make some too happy.
Aurora and Pooh characters will indeed be removed, but I failed to mention that Chip n Dale will not be appearing at Epcot for their regular meet next to Innoventions for the forseeable future too.  (Continue to meet in Garden Grill). Chipmunks will still appear at every other location in Disney World, which is abundant and they appear nekkid in Animal Kingdom as well.
Here's a few more tidbits I received from someone truly in the know.
 Changes to Epcot character offerings may only be temporary.  For some odd reason, that cannot be fully explained to me, these characters could return again in a few months.  It doesn't make any sense to me at this time, but perhaps it will all come together.  While Soarin' is down for refurbishment the park is using the time for all sorts of odd testing of opening and closing schedules for attractions as well.   It doesn't all make sense to us, but we don't make the decisions or know their end goals.  No new characters will appear in Epcot in the next couple of months at least.  Why they are cutting this right now leaves me clueless.  Seems like they would offer more, not less while Soarin' is closed to entertain guests.
Inside Out characters will not coming to Epcot anytime soon.  No guarantee was given me that they couldn't ever appear or that they couldn't appear in another park, but they won't be appearing in Epcot in the next couple of months at least.
Ezra and Sabine will not be occupying the space in the old American Idol tryout area.  It was told me that characters will appear there, but the source isn't at liberty to tell who.  Perhaps they will move Mickey again?  Perhaps they will move Mike and Sulley?  Perhaps they will bring new characters to Hollywood Studios.  We'll wait and see what happens.
Don't shoot the messenger and don't forget, this website, nor anyone that writes for it, doesn't work for Disney,.  Just pass along the tidbits and rumors we receive as it comes in.
Are you planning a vacation? Reach out to our trusted travel agency sponsor Authorized Disney Vacation Planner
Mouse Class Travel
!