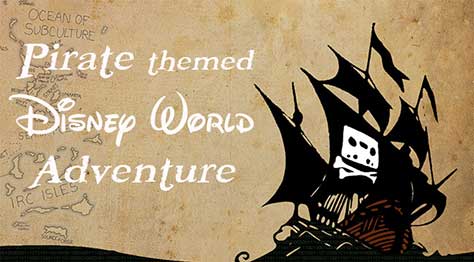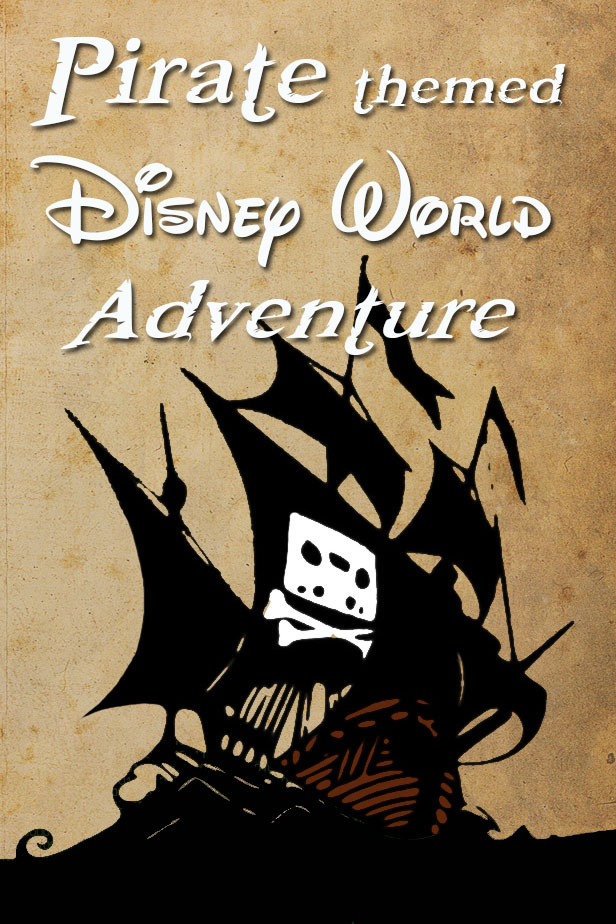 One of the things my children have enjoyed about our many Disney Parks trips to Walt Disney World, Disneyland and Hong Kong Disneyland (I traveled to Paris without my family) is planning a themed day or even a themed trip.  We've used a variety of themes like a Princess day, a roller coaster day, animal themed day and such.  One theme that is successful with those who love adventure is my pirate themed trip.  Here's how it works.
Caribbean Beach Pirate Room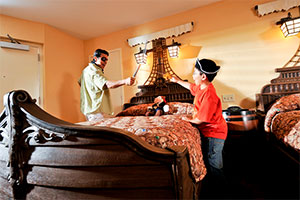 Begin by booking a Pirate Room at the Caribbean Beach Resort.  I don't usually recommend this resort because it's so vast.  The distances require internal bus transfers which require more time, but for the sake of our pirate themed adventure, we should stay in one of these special rooms.
The pirate rooms offer pirate shaped beds, shipping style crate dressers and television stand, a keg styled mini-refrigerator, a pirate flag for curtains and old Spanish inspired lanterns for lighting.  The rooms will set you back an extra $25 or so and they are located as far from the check-in as they could possibly place them.
Spice up the room

Disney Florist.com offers a selection of Pirate themed items you could purchase to have your room spiced up even more.  The items include:
Includes a banner with the mark of a pirate and the word "Beware" hanging on the door. A glowing red-eyed skull waits inside with a note left by Captain Jack Sparrow! Seems the Captain has hidden some treasure from Blackbeard.  Also includes a special blanket and duffle bag
A Pirate's Passion $119.95
This is designed for a romantic twist.  It includes red roses, a sword, pirate necklace and chocolates.  This could be an option for a father/daughter or mother/daughter adventure as well.
First Mate's Treasure $63.95
This package includes a trusty cutlass, Jolly Roger, and eye patch
This package is basically just beer and snacks, so not intended for children
A pirate bandana, authentic Captain Jack Sparrow goatee kit and Pirates of the Caribbean tattoos will help you look the part! The pirate chest filled with chocolate coins is yours to protect, good thing you have a sword!
Note:  You could easily design your own special treats and decor by purchasing things online or visiting your local dollar store!
Get a pirate makeover at The Pirates League
Get your little pirate all decked out for the special adventure with this opportunity for a pirate makeover.  They offer different packages that will excite their inner pirate.  This is located at the Pirates of the Caribbean attraction inside the Magic Kingdom and you'll need park admission.
Participants have to be at least 3 years old and adults are welcomed as well. The Pirates League is open 7 days a week from 9am to 3:30pm and reservations can be made by calling 407-WDW-CREW (939-2739) or (407) WDW-STYLE or (407) 939-7895.  Reservations can be made up to 180 days in advance and are highly recommended.
Children must be accompanied by an adult (18 years of age or older) for the entire experience.Please bring your own brush or comb unless you have a hairstyle that doesn't accommodate one (such as braids) and arrive with clean, bare nails if you are having nail polish applied. Guests must also be free of scalp or skin conditions for at least 30 days prior. Check in 15 minutes before your experience is scheduled to begin.
The First Mate and Empress Packages (starting at $34.95 plus tax):
Your choice of facial effect: Cursed Pirate, Captain Hook, Captain Jack, Blackeyed Jack or shimmering makeup*
Reversible bandana
Earring and eye patch
Sword and sheath
The Pirate League bag
Temporary tattoo
Unique pirate coin necklace
Personalized pirate oath
Official pirate name
Participation in a daily Adventureland Pirate Parade
Jake and the Never Land Pirates Package (starting at $29.95 plus tax):
Jake and the Never Land Pirates bandana with faux hair
Jake facial effect
Sword and sheath
The Pirates League bag
Unique pirate coin necklace
Participation in a daily Adventureland Pirate Parade
The Mermaid Package (starting at $39.95 plus tax):
Luminous mermaid makeup and makeup palette
Mermaid hairstyle and color-changing hair clip
Distinctive mermaid necklace
Nail polish
Mermaid sash
Participation in a daily Adventureland Pirate Parade
NOTE:  You can also dress up your little matey and yourself in your room and begin your adventure.
Captain Jack's Pirate Tutorial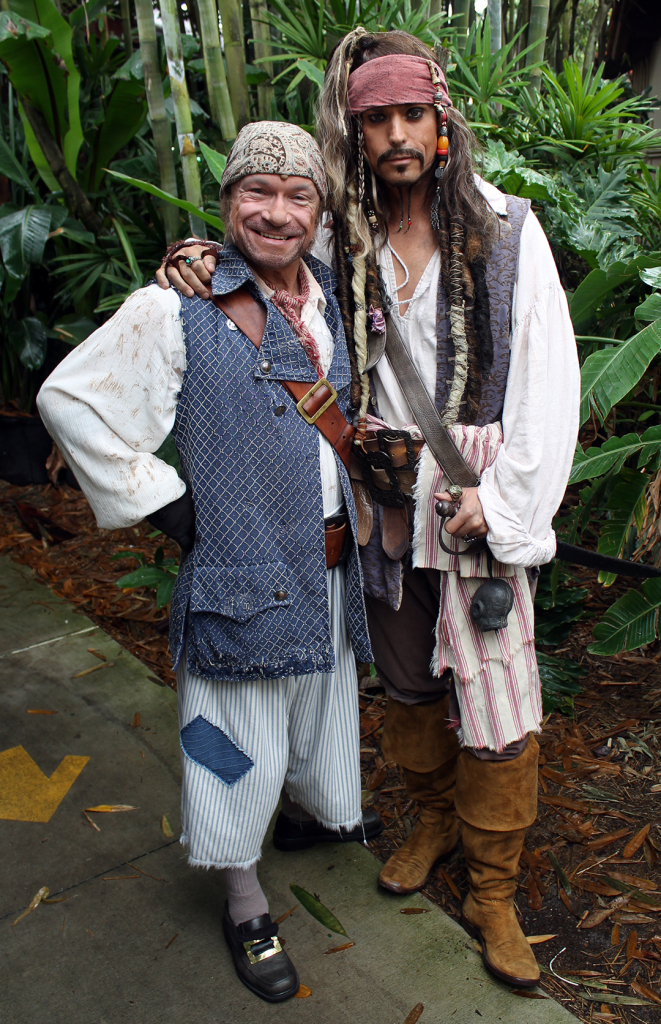 Join Captain Jack and his first mate Mack in this raucous training experience.  You'll learn proper sword play and how to use your deceptive pirate skills from the best pirate on the Caribbean.
Children are chosen randomly to participate, so be sure they have lots of energy and jump up and down to get the Captain's attention.  Only a few kids per show are chosen to participate in the sword drill, but more are invited for the pirate oath at the end of the show.  Each child who takes the oath will receive a special certificate.  Bring a paper towel tube to protect it!
NOTE:  To really get Capt Jack's attention, consider making a special banner!
Pirates of the Caribbean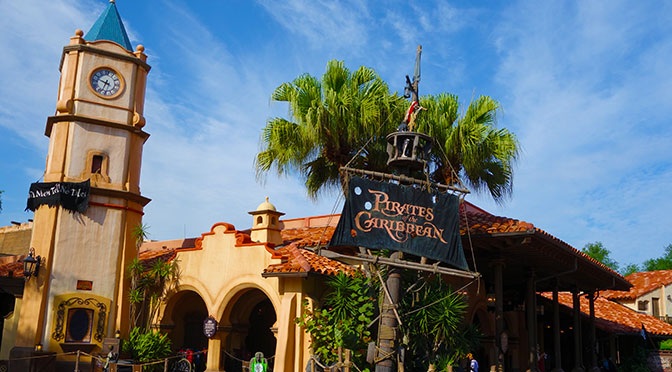 Now that you're all made over for your swashbuckling adventure and you're sworn in, cross back over and sail the Caribbean in search of real pirates in their natural atmosphere at Pirates of the Caribbean.  Be sure to watch for my favorite part with the Mayor being dunked in the well and listen for his wife!  This is a fun, relaxing boat ride in the dark.
NOTE:  Reserve your Fastpass+ for an hour after your Pirate's League reservation!
A Pirates Adventure
You're in your pirate garb, you took the oath and sailed like a pirate, now lets set off in search of adventure.  Just down from the path from Pirates of the Caribbean, heading toward Splash Mountain, you'll find the check in location on the left hand side.  This is an adventure that you can do at your own pace.  It's free and includes the special maps and rfid card that you can keep.  You use the rfid card to activate various fun effects throughout Adventureland.  Each adventure can take 10 minutes or more depending upon your knowledge of the are.
Note:  Bring a paper towel tube to keep those maps!
Captain Jack be needin' yer help to raid 5 treasures hidden throughout Adventureland. So make yer way o'er to The Crow's Nest and get yer hands on a magic talisman—ye won't be able to read the 5 maps without it. Then, and only then, will ye be able to help Jack complete each unforgettable mission.
Heads You Lose: Race against Captain Barbossa to steal the Treasure of the Pacific from a tribe of headhunters.
Guardian's Curse: Lure an evil British Captain into a trap and lay claim to the Treasure of the Indian Ocean.
Haven Defense: Collect ingredients for a powerful spell to hide the secret Pirate port and reveal the Treasure of the Caribbean.
A King's Ransom: Follow Jack's clues to locate a pirate ship where the Treasure of the Arctic is hidden.
Blackbeard: Battle Blackbeard and win the Treasure of the Mediterranean.
Savvy? Then pull ye self up by yer boostraps and come along for the kinds of quests only the high seas have to offer—X marks the spot, ya seadogs!
Swiss Family Treehouse
You're in Adventureland, so why not spend some adventure time climbing the Swiss Family Treehouse.  They were a family sailing across the ocean who shipwrecked on this island. It might get you a special viewing location of various treasure spots in the area too!
Jungle Cruise
It's a campy boat ride, but a boat ride just the same.  Your junior seadog might just enjoy a little time aboard ship and laugh at some of the corny Jungle Cruise jokes.
Meet Peter Pan

Peter Pan has had a lot of experience in sword play with classic Disney pirates.  Maybe he'd be interested in a quick battle with your little one?  He is currently located in Adventureland as you crossed the bridge.  His schedule is on Character Locator.  It will also document if Peter moves back to Fantasyland.
Eat Lunch at Tortuga Tavern
Hey, you're doing piratical things, why not enjoy some pirate lunch items?  Here's a look at the Tortuga Tavern Menu.
Tom Sawyer Island Treasure Hunt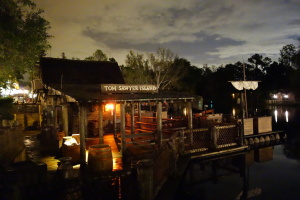 As you leave Adventureland and make your way toward Splash Mountain, you'll find the Tom Sawyer Island rafts on the right side next to the water.
Here's what I would do.  I would send one parent or responsible older child ahead and plant some hidden treasures (small trinkets) in a few places that other guests wouldn't think to look.  Give your little one a telescope and see if he or she might find them.  The child might need some nudging.  You could create a special treasure map with X marks the spot or something for the final location of the little treasure that's being guarded by the loved one who planted the treasures.
Note:  If you are doing this in the summer, don't bring chocolate!
Click on the map below for a larger sized image.  you might want to use this for the treasure hunt.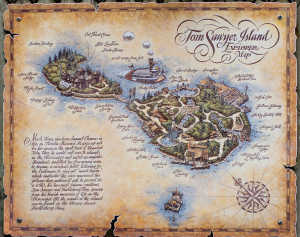 Peter Pan's Flight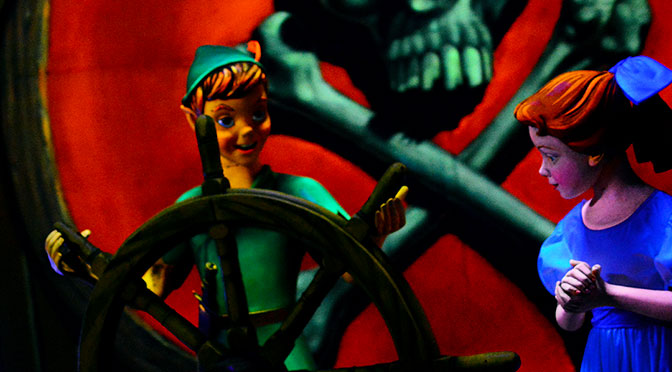 Be sure to reserve a Fastpass+ in advance for several hours after your Pirate's League reservation and make your way up to Fantasyland to catch Peter Pan's Flight.  You'll board a ship and fly over London and into Neverland to face Peter's nemesis Captain Hook.  Be sure to look for the Tick Tock Croc.
Pirate Adventure Cruises from Disney Resorts
Disney's Pirate Adventure (Grand Floridian) – children 4-12 years of age are invited to sail the Seven Seas Lagoon and they'll hear legends of pirates past and discover clues that may just lead to a bountiful treasure chest.  Kids receive a free bandana.
At the final port of call, kids split up the pirate booty, as they enjoy a snack (such as goldfish crackers or pretzels) and a drink (such as water or a juice box).
Crossing Bay Lake and Seven Seas Lagoon, this pirate cruise treats kids to a reading of "The Legend of Gasparilla"—a real Florida pirate. Departs from the Marina at Disney's Grand Floridian Resort & Spa.
This cruise is offered Monday, Wednesday, Thursday and Saturday.  The 2 hour cruise departs at  9:30am and costs $37.
Albatross Treasure Cruise (Yacht and Beach Club) – kids 4 to 10 years of age are given bandanas and invited to find treasure based on clues and treasure maps.
Kids hear "The Legend of the Albatross" and search for pirate booty across Crescent Lake and Epcot park's World Showcase Lagoon. Departs from Bayside Marina at Disney's Yacht Club Resort and Disney's Beach Club Resort.
This 2 hour cruise is offered Monday, Wednesday and Friday 9:30am and costs $37.
Bayou Pirate Cruise (Port Orleans Riverside) – kids 4 to 12 years of age sail down the Sassagoula River.  The young scallywags listen to the legends surrounding Captain Jean Lafitte—one of the most infamous pirates ever to haunt the waters of New Orleans. Departs from the Fishin' Hole on Ol' Man Island at Disney's Port Orleans Resort – Riverside.
This 2 hour cruise is offered Sundays, Tuesdays and Thursdays from 9:30am and costs $37
Island of the Caribbean Pirate Adventure (Caribbean Beach Resort) – Buccaneers 4 to10 years of age  sail the Ports of the Caribbean waters, as they hear the story of Old Port Royale and its pirate-laden past. Departs from Barefoot Bay Bike Works at Disney's Caribbean Beach Resort.
 This 2 hour cruise is offered Sundays and Tuesdays at 9:30am and costs $37
Pirates and Pals Fireworks Cruise
The Pirates and and Pals Fireworks Cruise is one of the more fun things I've done and I'm a grown adult.  Okay, I'm a large sized child, but I still have to do adult things.  It departs from the Contemporary Resort and provides the opportunity to meet Captain Hook, Mr. Smee and at the end you'll meet Peter Pan!  There's a variety of snacks included.  Be sure to read my full report on Pirates and Pals Fireworks Cruise.
Meet Jake from Jake and the Neverland Pirates (Hollywood Studios)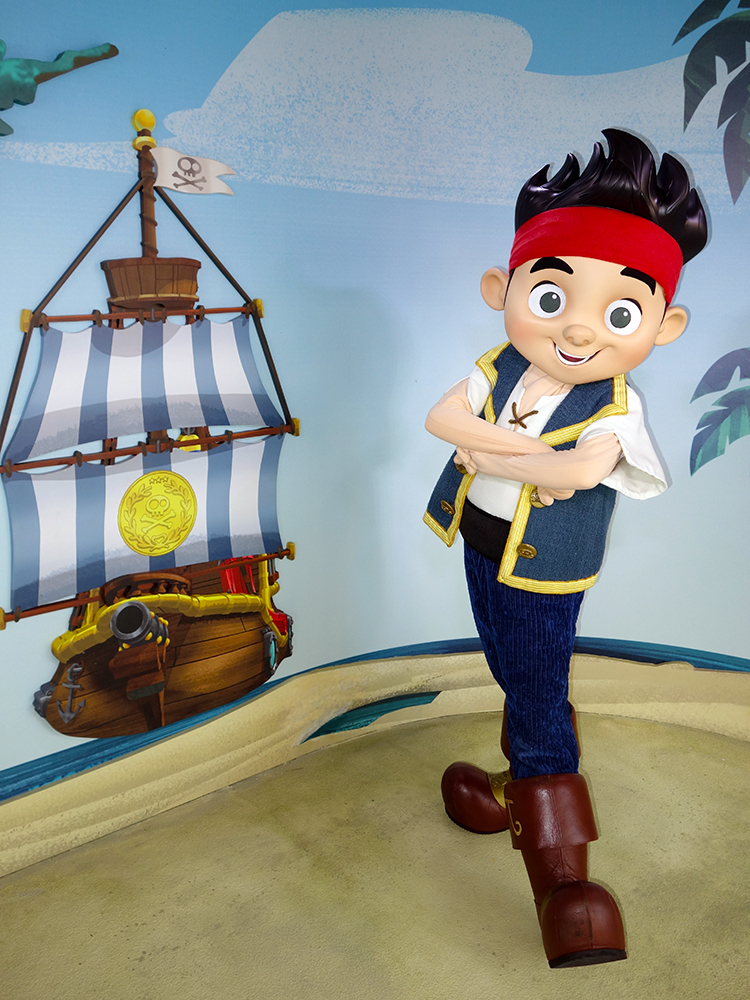 There are two opportunities to meet Jake.  He offers a standard meet and greet at Hollywood Studios and he also meets at the Hollywood and Vine character breakfast and lunch.  It will require a park hopper to visit on the same day.
His line is shorter in the afternoon for the regular meet and greet location next to the Disney Jr Live on Stage show.
Seas with Nemo and Friends (Epcot)
If your Junior Pirate is truly into the high seas, wouldn't he or she want to see what is UNDER the seas like dolphins, sharks, manatees and fish?  Drop in to visit one of the largest salt water aquariums in the world and help your pirate have an appreciation for the ocean!
Meet Captain Jack Sparrow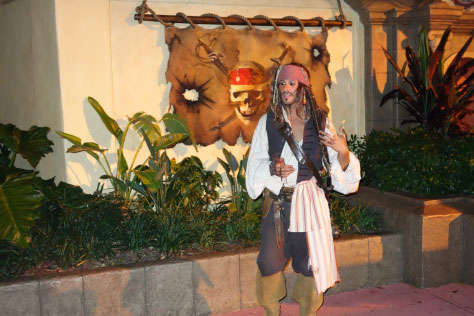 If you're visiting from October through December and you're planning to take part in Mickey's Not So Scary Halloween Party or Mickey's Very Merry Christmas Party at the Magic Kingdom, you can actually meet Captain Jack and receive his autograph.  This is a specially ticketed event!