Vera Bradley surprised us this week with a stunning new collection of bags and merchandise inspired by The Mandalorian. Check out what pieces were included in the line and see if you want to add any to your Christmas list!
Past Disney Vera Bradley collections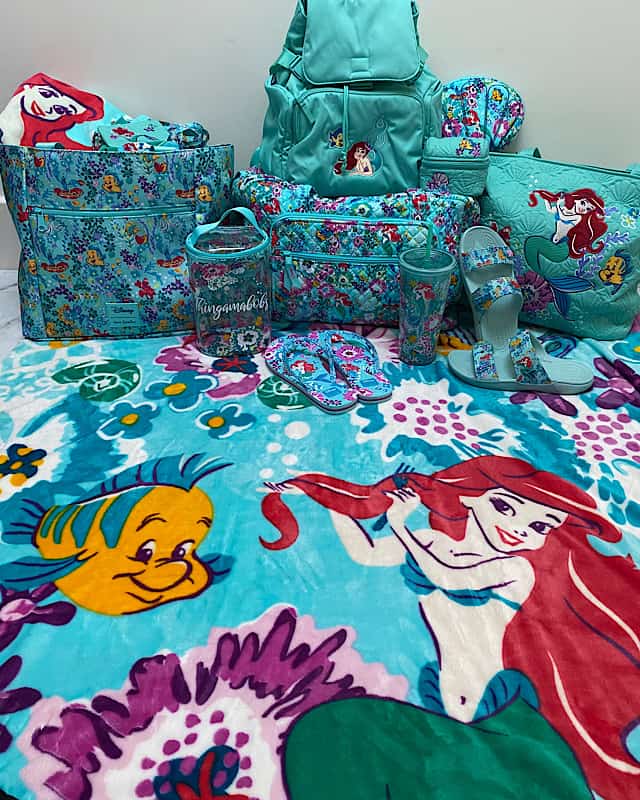 Vera Bradley has created several Disney collections over the years including a few featuring Mickey/Minnie, a Beauty and the Beast line and a "painting the roses red" Alice in Wonderland collection. The best Disney release by far though has been, in my (Ashley) opinion, The Little Mermaid Vera Bradley collection that was released last spring. You can see some of my favorite pieces from that release here.
Vera Bradley has also released a few Harry Potter inspired collections and a Star Wars collection featuring C-3PO, R2D2, Chewbacca, Darth Vader, Han Solo, Luke, Leia, storm troopers, Ewoks and more iconic images from the original trilogy.
The Mandalorian Medallion Collection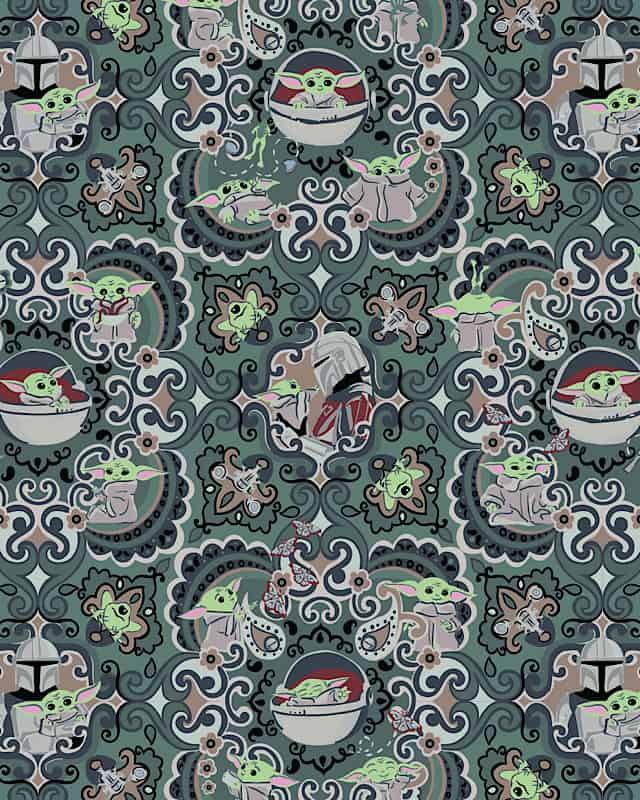 The new Vera Bradley Mandalorian collection that released today comes in 3 different designs. First up is the "Mandalorian Medallion" pattern which features a classic Vera medallion pattern on an olive background and various scenes of Grogu and the Mandalorian.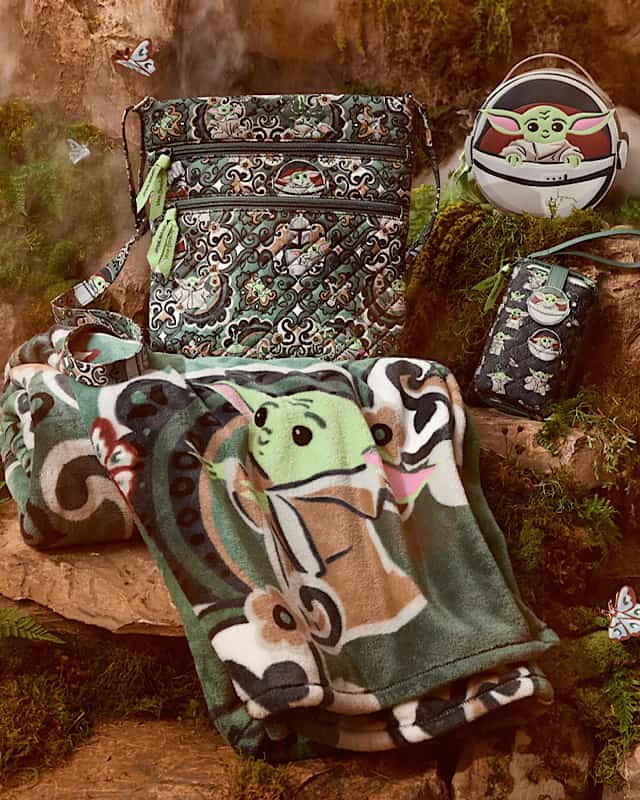 Several bags come in this pattern including a quilted tote, crossbody, campus backpack and weekender as well as a notebook, blanket, pajamas and a tumbler.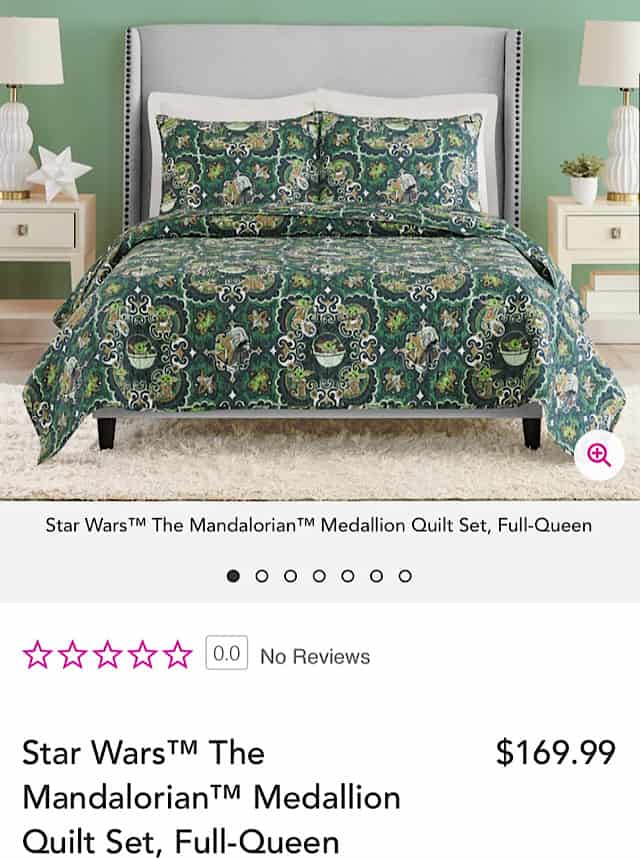 You can also purchase a Queen bedding set in the Mandalorian Medallion pattern which is a fun addition not seen before in a Disney Vera Bradley line!
Grogu Medallion collection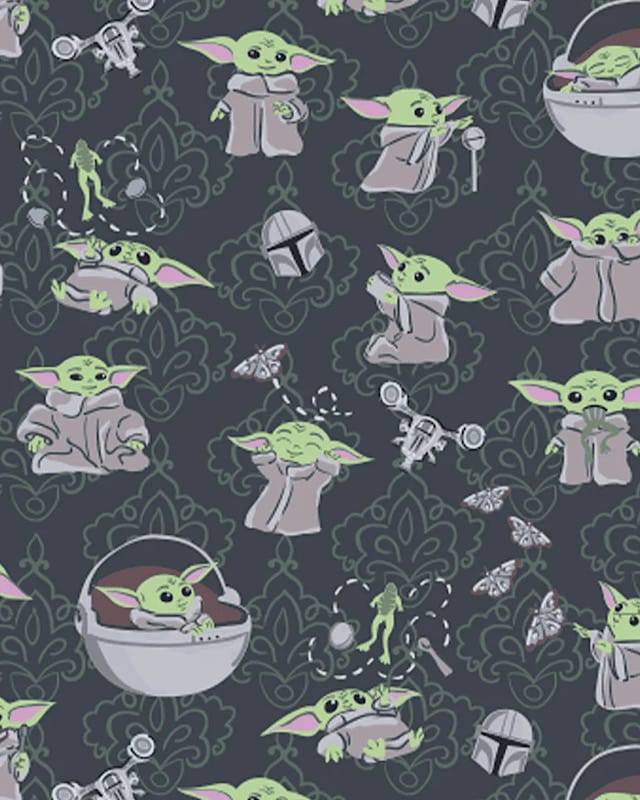 This pattern primarily features Baby Yoda as he snacks, plays and uses the force. The design is a little more simple and playful in nature.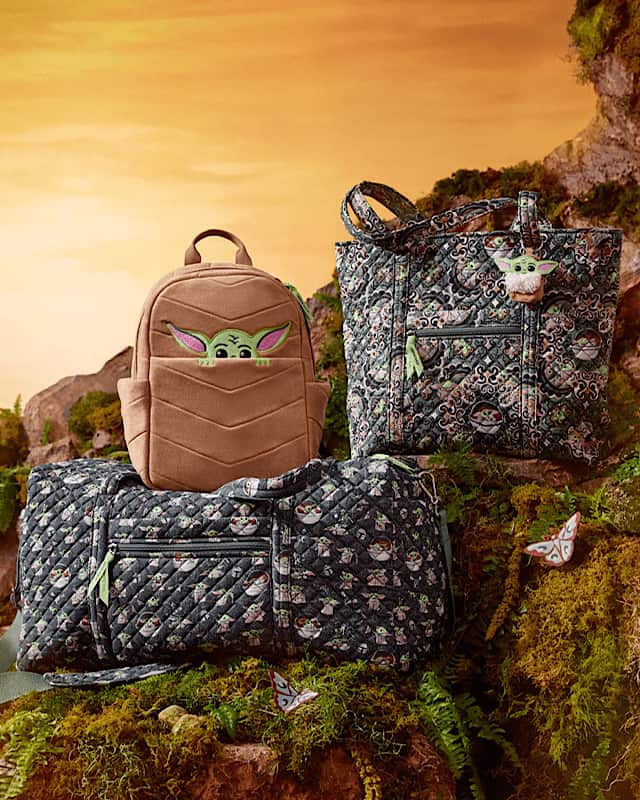 In the photo above you can see the two patterns next to each other. The tote on top is the Mandalorian Medallion while the duffel on the bottom is the Grogu Medallion. Several of the bags, like the tote, crossbody and campus backpack come in both patterns. However, there are also several pieces that are unique to each pattern.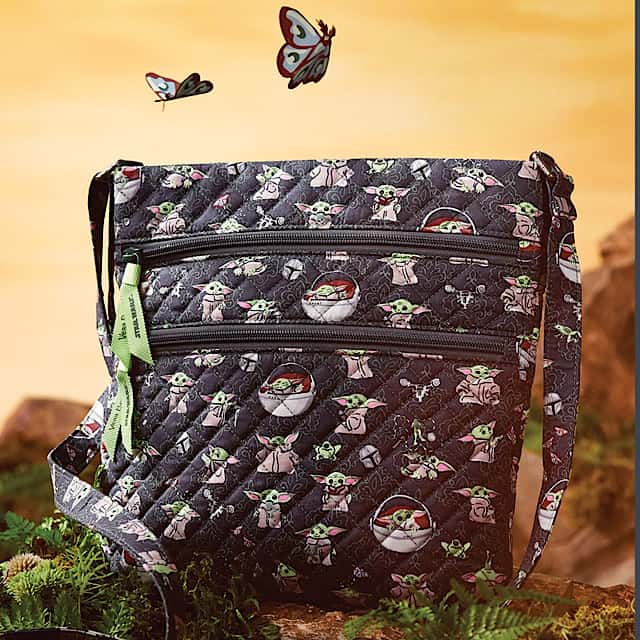 Vera Bradley created three different fleece blankets for this collection, one for each pattern. Their blankets are amazingly soft and make the perfect couch blanket. This time I decided to try the Grogu Medallion blanket because it is sherpa lined which is a unique touch and seems like it will be extra cozy for winter!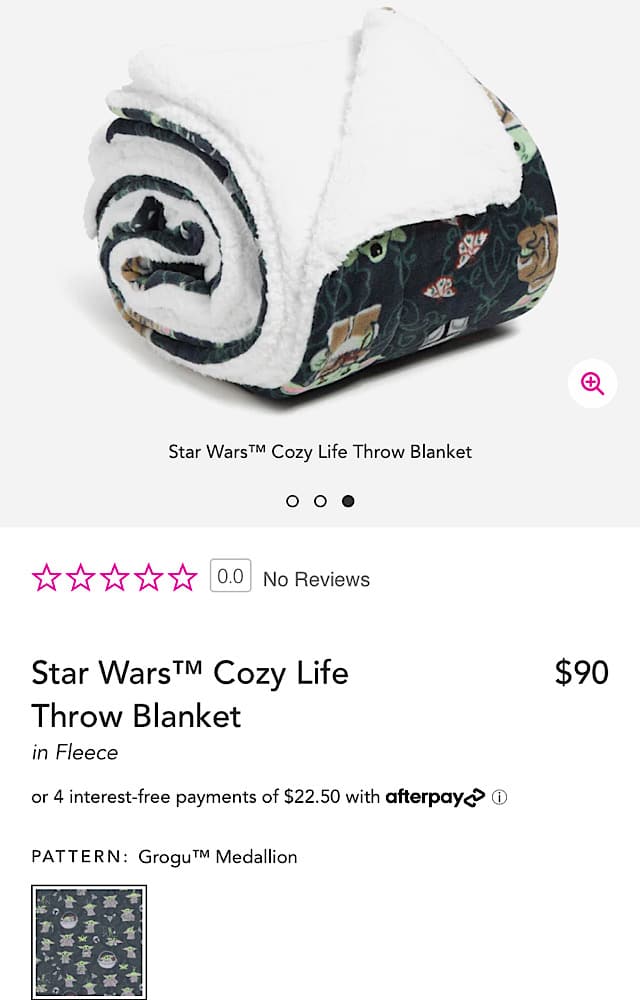 Mando & Grogu fleece collection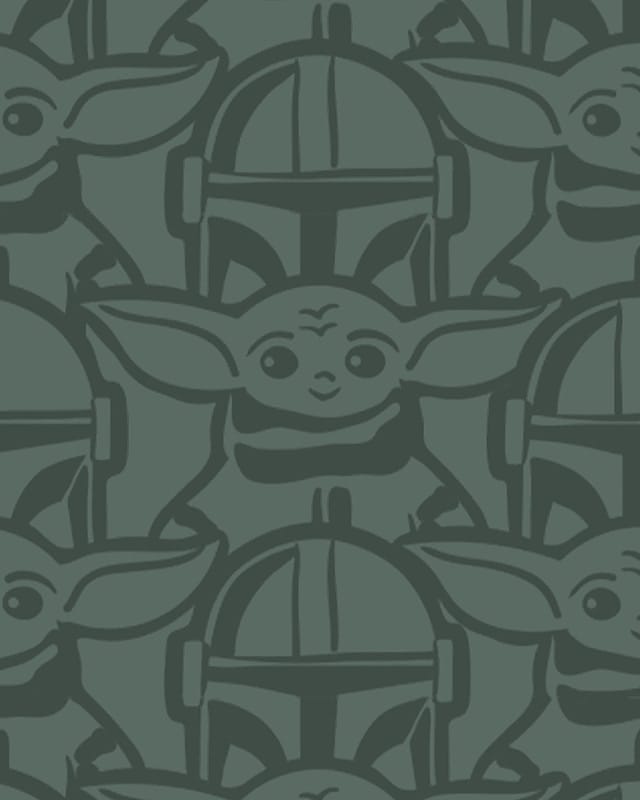 This soft two toned sheared fleece depicts Grogu and the Mandalorian in olive and dark green. It comes in a blanket, a robe and this amazing duffel bag that I couldn't resist adding to my Disney bag collection. The lining features the Grogu medallion pattern so you get two designs in one bag which is neat. It retails for $140.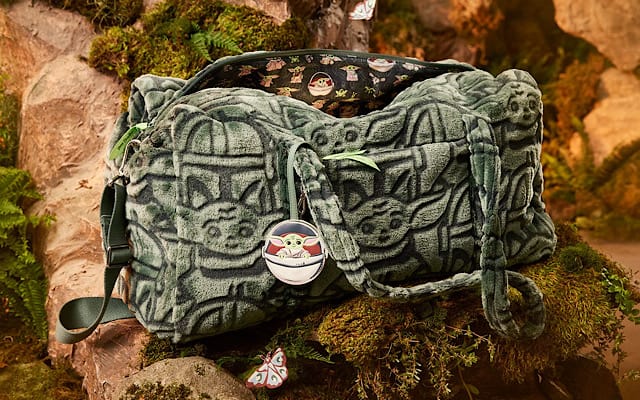 The luggage tag in the photo is actually sold separately but would make a great stocking stuffer along with others small items they have available such as ID cases, an AirPods case/bag charm, slippers and the travel pill case seen here on the upper left.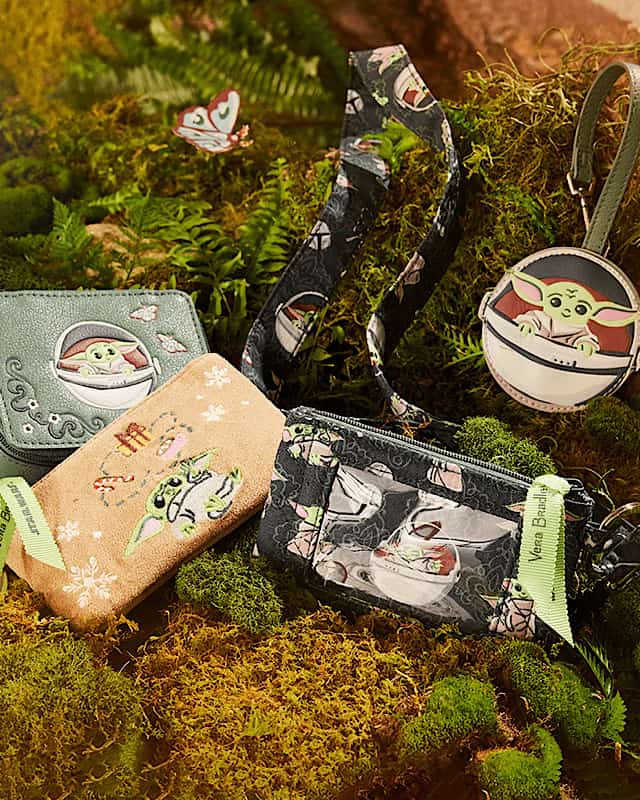 This amazing new collection is available now on the Vera Bradley website and at the Disney Springs Vera Bradley location. Personally I think they did an amazing job and I like it better than the previous Star Wars collection that Vera Bradley released.
What do you think of this new collection? Will you be purchasing any of these items for yourself or as Christmas gifts? Comment on Facebook and let us know.
Ashley Beckwith McKellar
Follow me on Instagram: @disneyparksmom