Recently Vera Bradley released an amazing new collection of Little Mermaid bags and merchandise. This is by far the most creative Disney line that Vera Bradley has come out with, and it was very popular! Check out what I got in my shopping haul and where you can still find some of these items in stock.
Vera Bradley Little Mermaid Collection: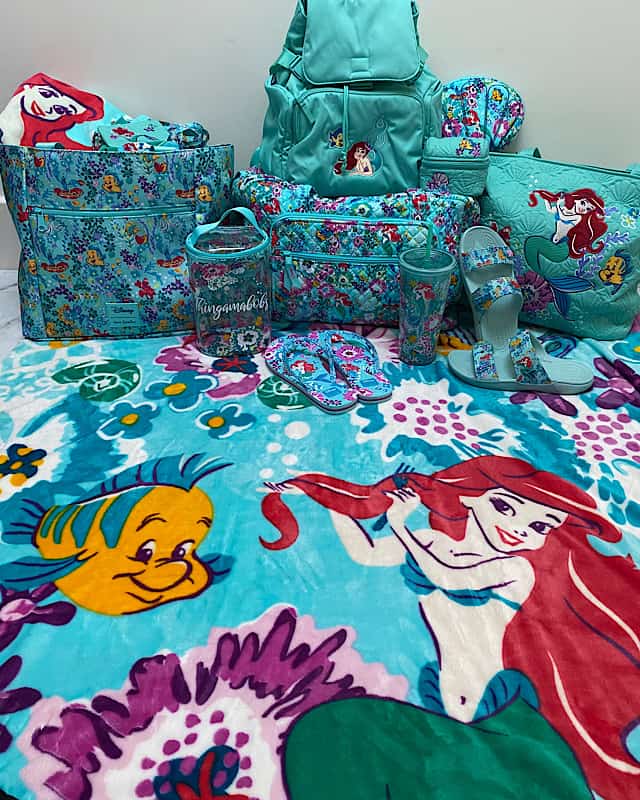 "Look at this stuff, isn't it neat? Wouldn't you think my collection's complete?"
I (Ashley) am a big collector of Disney bags and when this release was announced I knew I would be adding a few things to my Disney purse closet. The great thing about this line was that it had so much variety in the type of merchandise available. Vera Bradley makes the softest fleece blankets, and I purchased the one above featuring Ariel combing her hair with a dinglehopper for $65.
There actually were two patterns available in the collection. This pattern featuring Ariel was called "Ariel Floral". There also was a pattern called "Ariel Floral Ditsy" which oddly does not feature Ariel at all. Instead it only includes Flounder, Sebastian and other sea creatures. There was also a fleece blanket available in that pattern.
Bags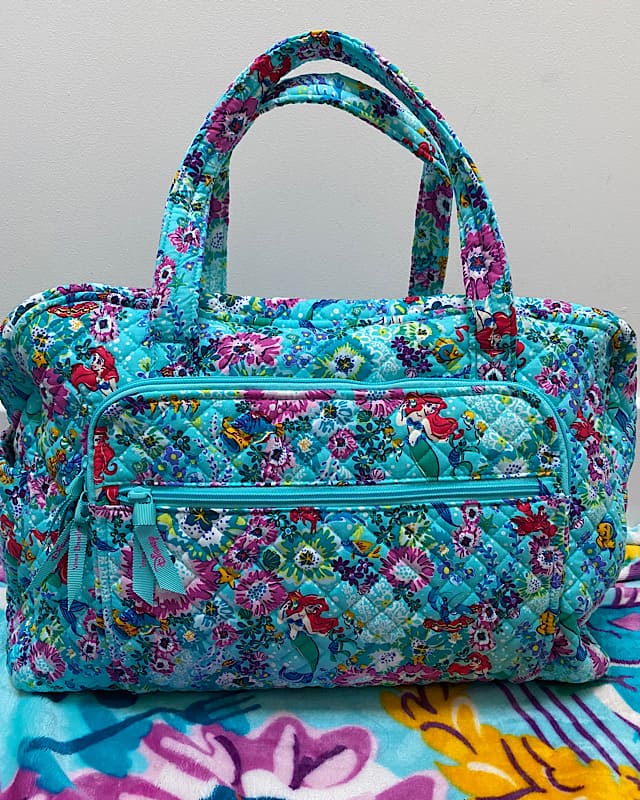 The Ariel Floral pattern is pictured above on the weekender bag which sold for $140. They also had a duffel for $95, but since I have a few in that style I decided to try the weekender which is carry-on size and has a handy trolley sleeve that can slip over the handle of a suitcase.
There were many other bags available in this quilted Ariel Floral pattern including totes, backpacks, crossbodies, a wristlet and a wallet.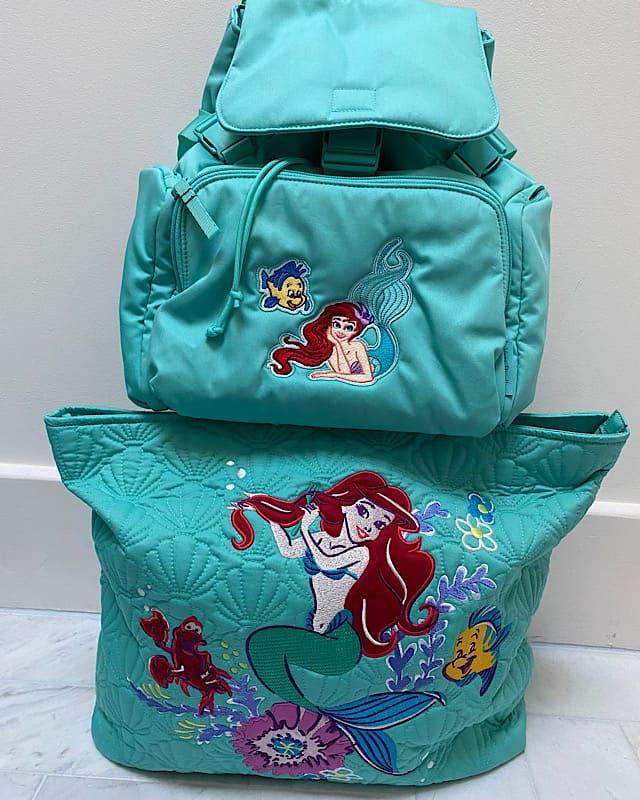 Two of my favorite bags from the Ariel Floral are pictured above. I love the seashell quilted pattern and the large embroidered Ariel on the tote. This one sold for $150.
The backpack pictured above was an exclusive item to the Disney Springs Vera Bradley store. However, I was able to call them and place a phone order and have it shipped to me! It's called the Ariel utility backpack and sold for $125.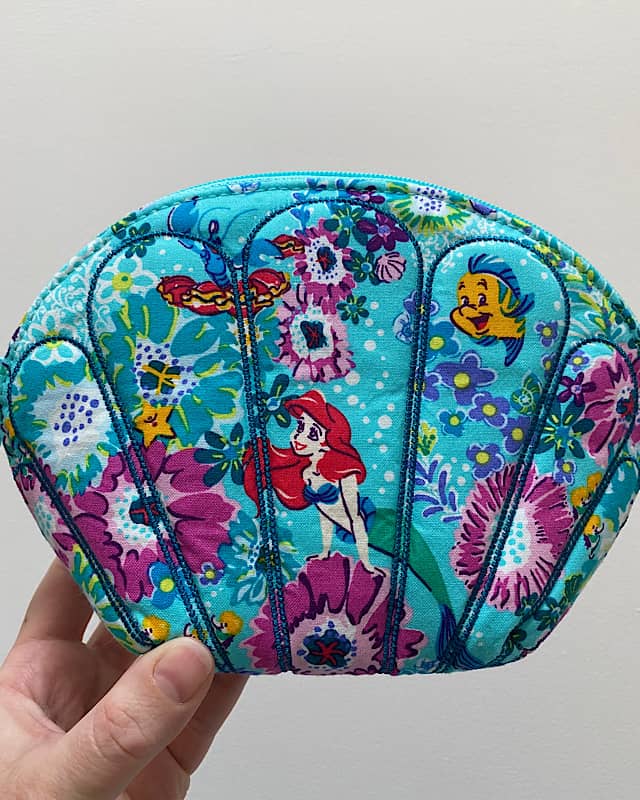 One of the most popular items in the collection was this amazing little clamshell shaped cosmetic bag in the Ariel Floral pattern. It sold for $45. This one was tricky on the pattern placement since it's so small, but I got lucky with an amazing placement of Ariel front and center.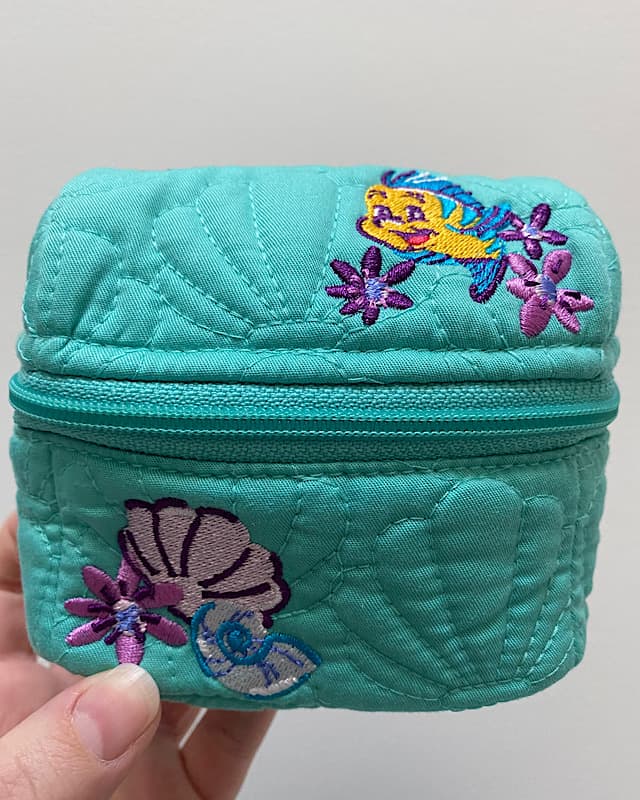 Another one of my must-haves from this collection was this adorable treasure chest shaped travel jewelry box for all your whozits and whatzits galore. It sold for $35 and features the same beautiful teal seashell quilted pattern, seen on the tote above, along with an embroidered Flounder, shells and flowers.
Accessories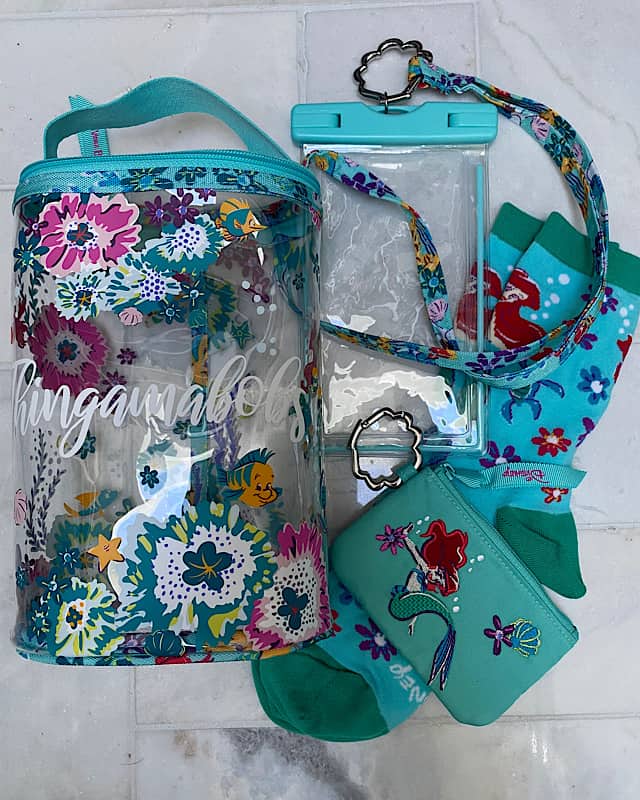 In my opinion the small accessories were some of the best parts of this collection! This "thingamabobs" lotion bag, which sold for $40, seems very handy for throwing sunscreens in your beach bag. The ID case featuring Ariel, which sold for $25, is great if you only need to carry a few cards around and the shell clasp makes it able to be attached to a lanyard.
The waterproof phone pouch with lanyard sold for $32 and is very useful when you want to take photos at waterparks, the beach or on a Disney Cruise. The socks featuring Ariel sold for $15. This is my second pair of Vera socks and I love the way they fit!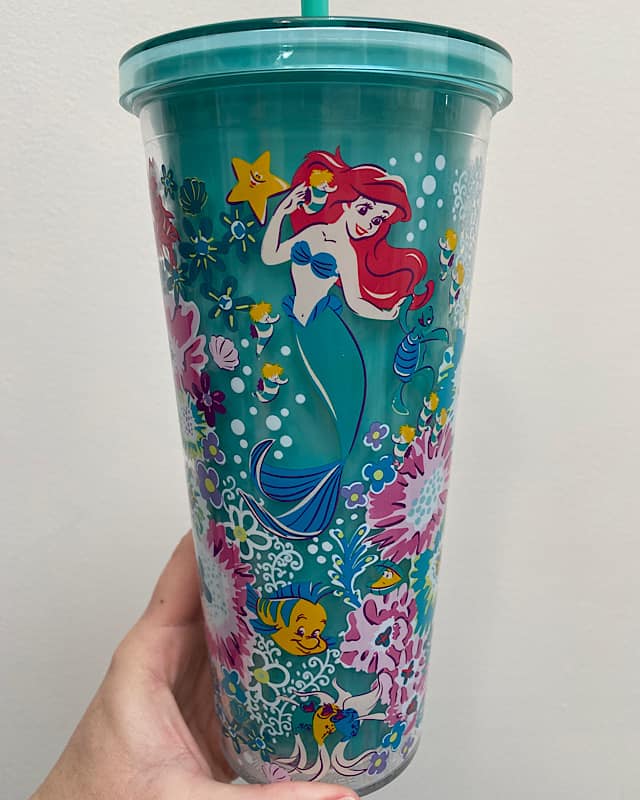 Another small item that was on my must-buy list is this adorable teal tumbler in the Ariel Floral pattern which sold for $25. It's been my new favorite cup for the past few weeks and I can't wait to use it poolside this summer!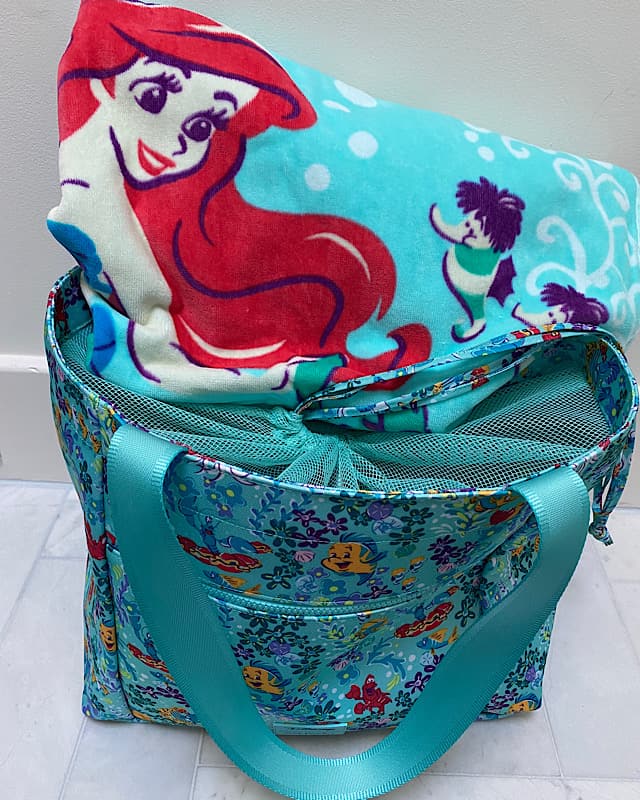 Speaking of summer I can tell that this drawstring family tote will be my new favorite beach bag! It sold for $75 and is made from recycled PET bottles which makes it lightweight, durable and waterproof. In my post about my summer purse collection I showed a similar style Vera beach bag that I own.
But I love the teal color, Ariel Floral Ditsy pattern and drawstring top on this one. The beach towel shown with it sold for $50.
Sandals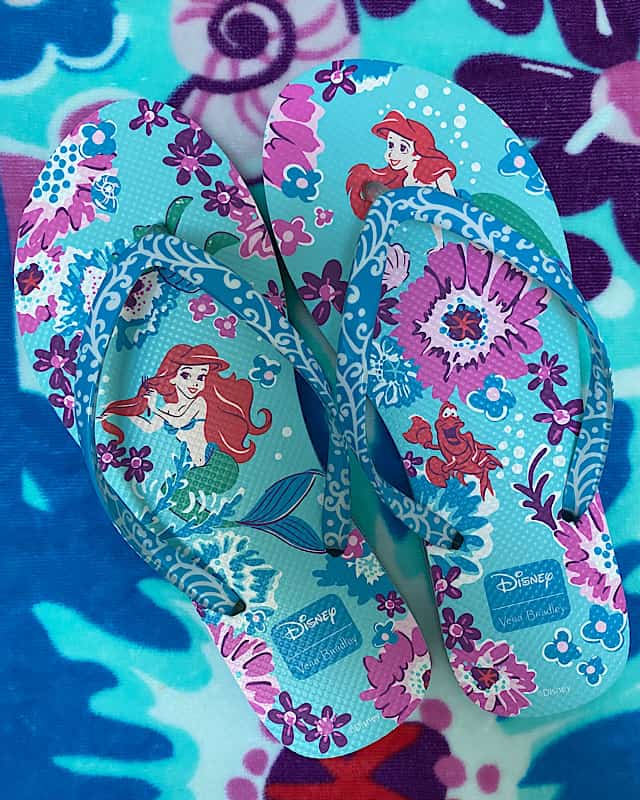 The footwear was some of the best parts of this collection! These Ariel Floral flip flips sold for $35. But the crocs were one of the most sought after items in the entire line! They had regular clog style crocs in the Ariel Floral pattern in both adult and children's sizes.
The adult clogs sold for $54.99 and the children's sizes sold for $39.99.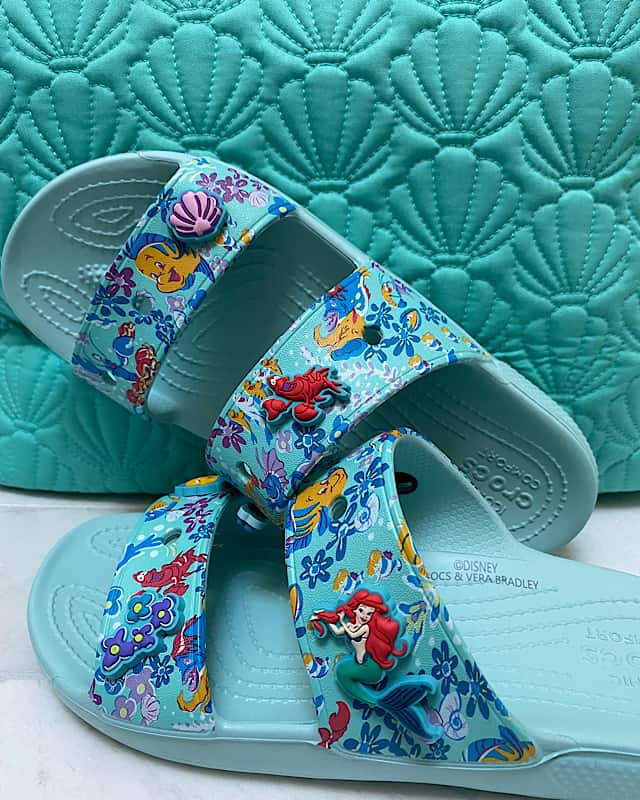 Instead of classic crocs clogs I decided to go for the crocs sandals in the Ditsy pattern. I thought the sandals would be more practical for summer and beach trips and I already own a few pairs of regular Disney crocs. This style sold for $39.99.
The pattern does not include Ariel but I added the jibbitz which sold separately for $19.99.
The jibbitz could also be added to plain white or teal crocs to make custom Little Mermaid crocs!
Where to Buy?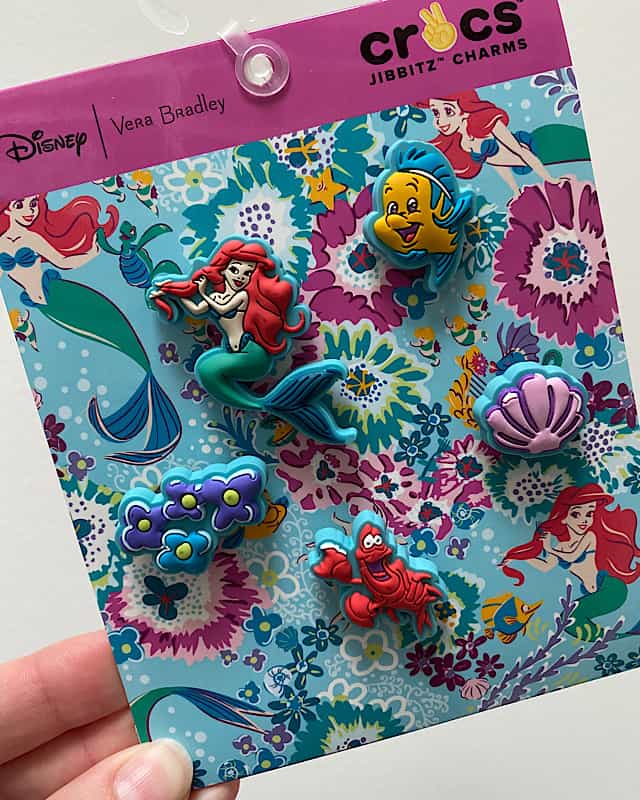 While many of these items sold out on release day there are still some available on Vera Bradley.com and Dillards.com. The Crocs also popped up on the Crocs website and some sizes are still available. There is also stock in stores such as Vera Bradley, Dillards, Hallmark and other stores where Vera items are sold.
The Vera Bradley Disney Springs location takes phone orders and often gets restocks. Some people have had luck by putting their name on a waiting list at the store and getting a call back when the item comes back in stock.
Vera Bradley Star Wars Collection: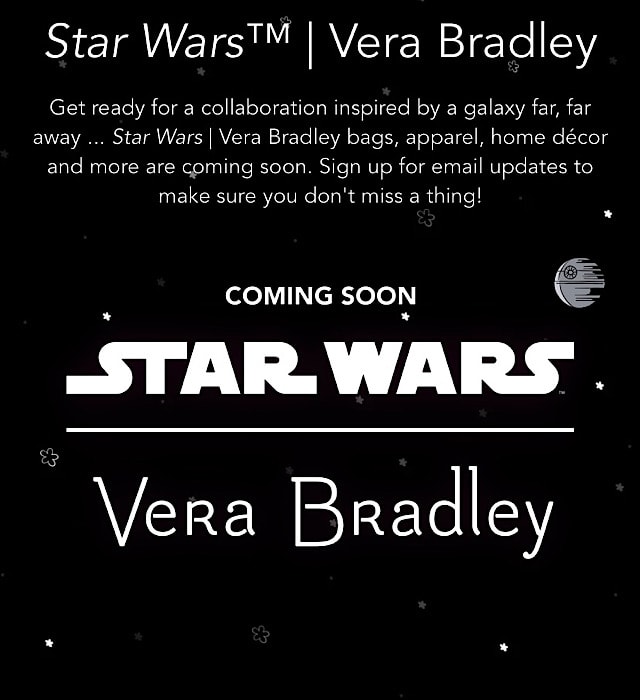 The next Disney collection being released by Vera Bradley is a Star Wars design that is sure to be very popular! We don't yet have a release date but you can sign up for alerts on the Vera Bradley website.
Did you shop the Little Mermaid Vera Bradley Collection? Or are you more excited about the Star Wars release? Comment on Facebook and let us know what Little Mermaid items you purchased or what you're hoping to see in the Stars Wars collection!
Ashley Beckwith McKellar
Follow me on Instagram: @disneyparksmom