Do you look forward to menu changes or prefer to stick to your favorite dishes? Check out the latest EPCOT menu changes.
Space 220 Restaurant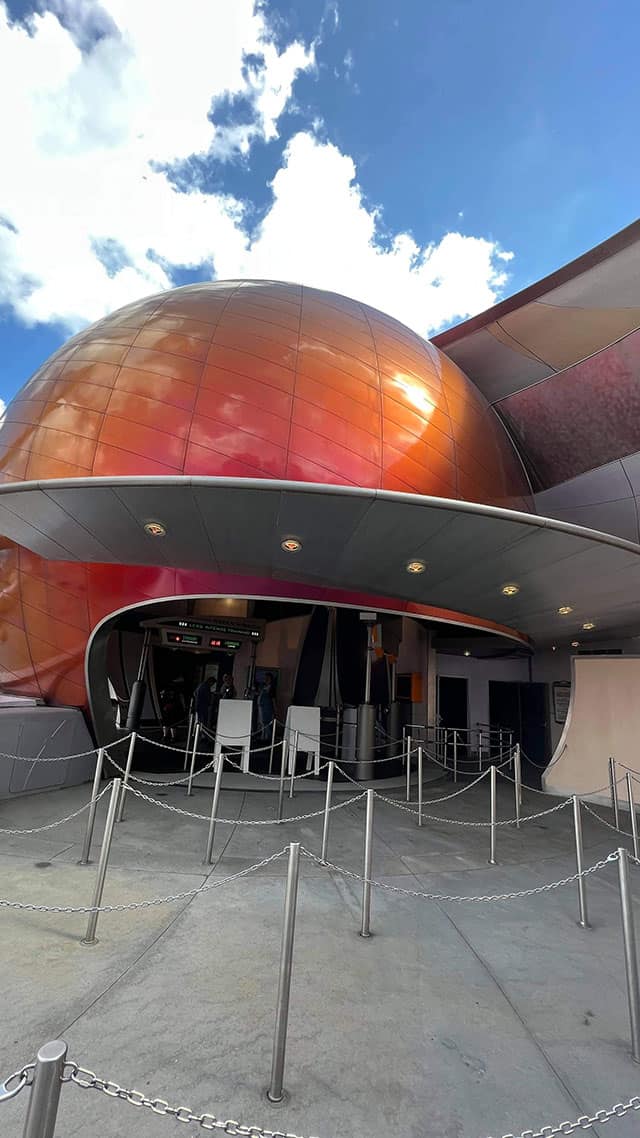 Embark on the ultimate culinary exploration from this new expansion of the Mission: SPACE Pavilion.
Step inside Space 220 Restaurant from a space station for a delicious meal. To begin your journey, board a special space elevator that will ascend to the stars! Along the way, viewports will give you an aerial view of EPCOT as you travel high above the planet.
As you dine, peer out and enjoy amazing daytime and nighttime views of Earth from 220 miles up. Check out Maggie's review of Space 220 HERE.
Dining in Space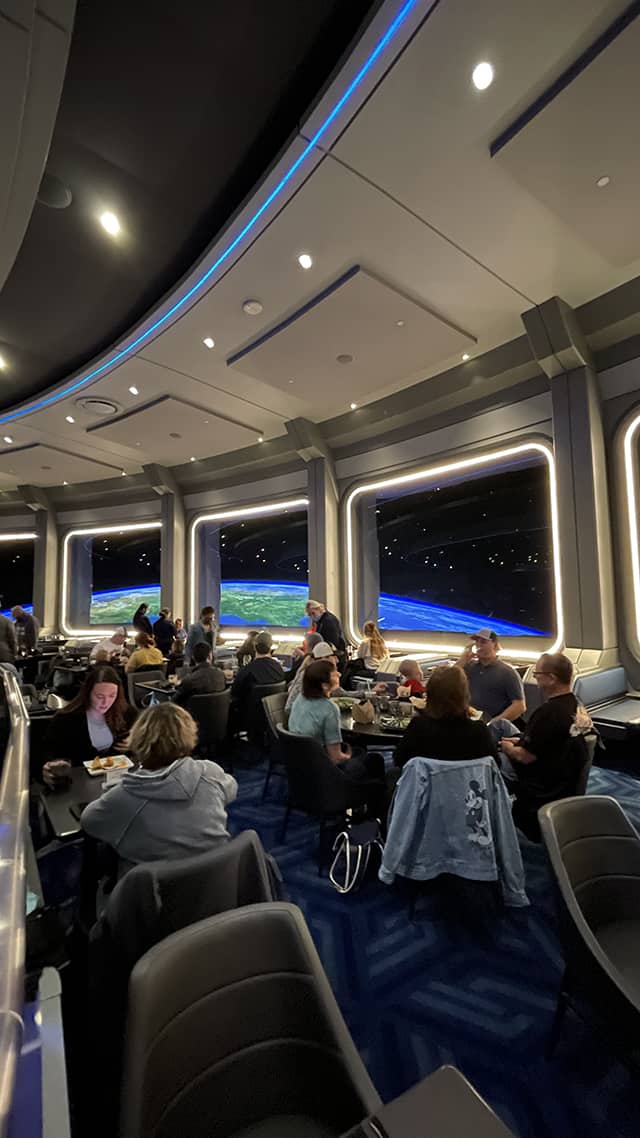 Sit down to a prix-fixe, 2-course meal at lunch or a prix-fixe, 3-course meal at dinner—both featuring modern American cuisine.
Or, if you prefer to order a-la-carte menu items, you can also make reservations to eat at the Space 220 Lounge. Check out Kate's comparison of eating in the lounge versus the dining room HERE and Maggie's lounge review HERE.
Specialty beverages––like the Celestial Cosmopolitan or the Planetary Punch––are also available along with a wide selection of craft beer.
Menu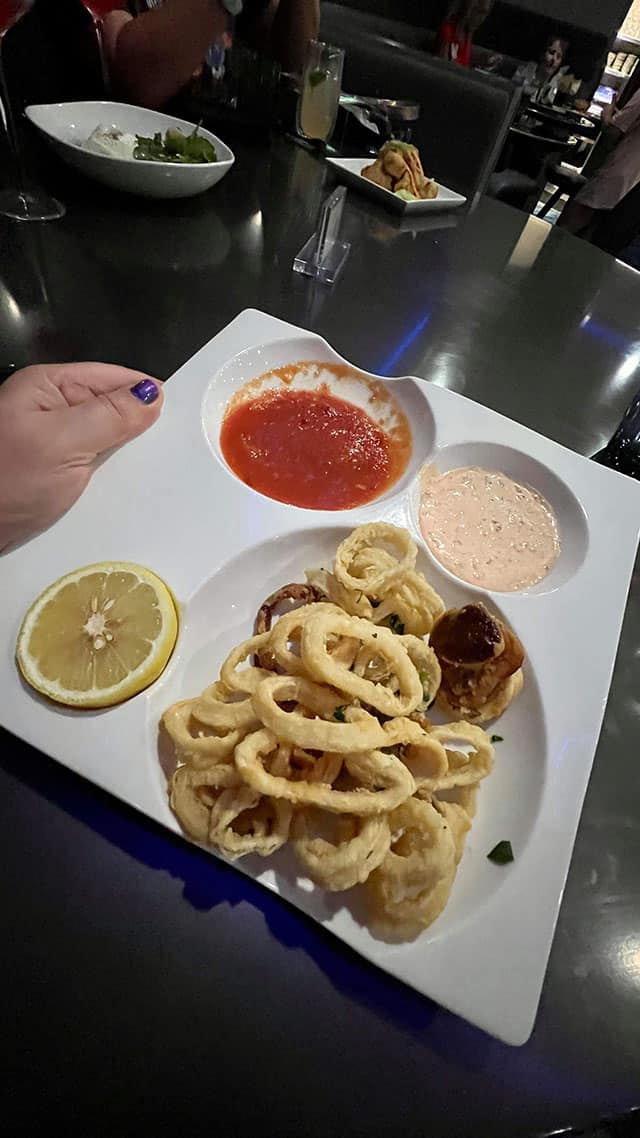 The current price to dine at the Space 220 restaurant is $55 for lunch and $79 for dinner. Each of these prices excludes tax and gratuity and includes a Lift-Off (Appetizer) and a Star Course (Entrée). Note that dessert is included only at dinner. Guests are paying a premium for the experience here.
Appetizers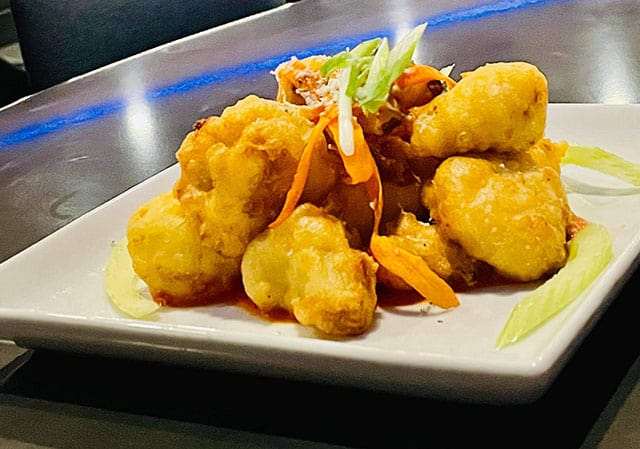 Take a look at the appetizer choices below with new ones noted:
Big Bang Burrata – Burrata di Mozzarella, Grilled Artichoke Hearts, Arugula, Sunflower Seed Romesco
Starry Calamari – Fried Calamari, Italian Cherry Peppers, Spicy Marinara, Roasted Pepper Citrus Aioli
Blue Moon Cauliflower – Tempura Fried Cauliflower, Housemade Hot Sauce, Blue Cheese Dust
Neptuna Nicoise – Diced Yellow Fin Tuna, Haricot Verts, Cherry Tomatoes, Potatoes, Olives, Balsamic Reduction NEW
Centauri Caesar Salad – Miniature Romaine, Classic Caesar Dressing, Parmigiano Reggiano, Crouton Crumble
Roasted Beet Salad – Petite Rosette Lettuce, Herb Pesto, Hazelnuts, Caramelized Goat Cheese NEW
Space Greens – Bibb and Red Leaf Lettuce, Honey Crisp Apples, Radish, Cornbread Croutons, Bacon Bites, Warm Bacon Vinaigrette
Both the Galaxy Grain Salad and the Neptune Tartare have been removed from the menu.
Main Dishes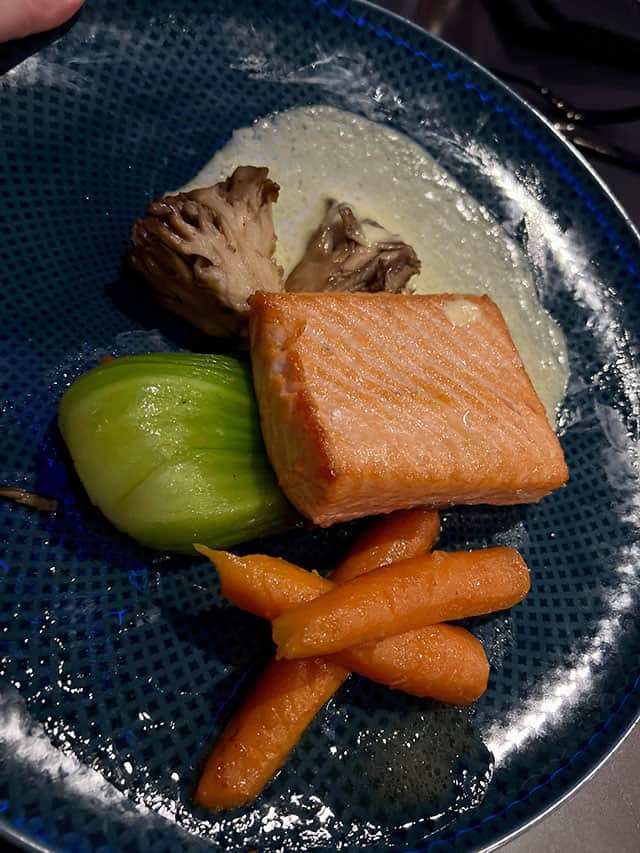 Next, checkout the main dish options to see is your favorite is still here:
Rocket Flame Seared Tuna – Fennel Spice-Rubbed Tuna Loin, Eggplant Caponata, Arugula, Aged Balsamic NEW
Steak & Frites – Coffee Space Rub Flat Iron, Fries, Broccolini, Chimichurri
Steak Salad – Marinated Filet Tips, Iceberg Wedges, Cucumber, Cherry Tomatoes, Chives, Blue Cheese Crumble, Horseradish Dressing
Roasted Chicken Breast – Maple-Glazed Parsnips & Carrots, Potato Gratin, Black Truffle Jus NEW
Stuffed Jumbo Shells -Crushed Chickpeas, Edamame, Saffron Tomato Ragout, Eastern Spice, Basil Pesto
Gemini Burger – Signature Beef Blend, White Cheddar Cheese, Bacon, Shredded Lettuce, Tomatoes, Fried Potato Wedges, Sriracha Aioli (RENAMED, PREVIOUSLY THE CENTAURI BURGER)
Galactic Miso Salmon – Miso Glazed Salmon, Glazed Rainbow Carrots, Edamame, Celeriac Puree
Steak Salad – Marinated Filet Tips, Iceberg Wedges, Cucumber, Cherry Tomatoes, Chives, Blue Cheese Crumble, Horseradish Dressing
Stuffed Jumbo Shells – Crushed Chickpeas, Edamame, Saffron Tomato Ragout, Eastern Spice, Basil Pesto NEW
Spaceghetti & Shrimp – Sautéed Shrimp, Spaghetti, Cherry Tomatoes, Basil, Garlic Beurre Blanc
The Terra-Bolognese and Supreme Chicken Breast are no longer on the Space 220 menu.
Other Menu Items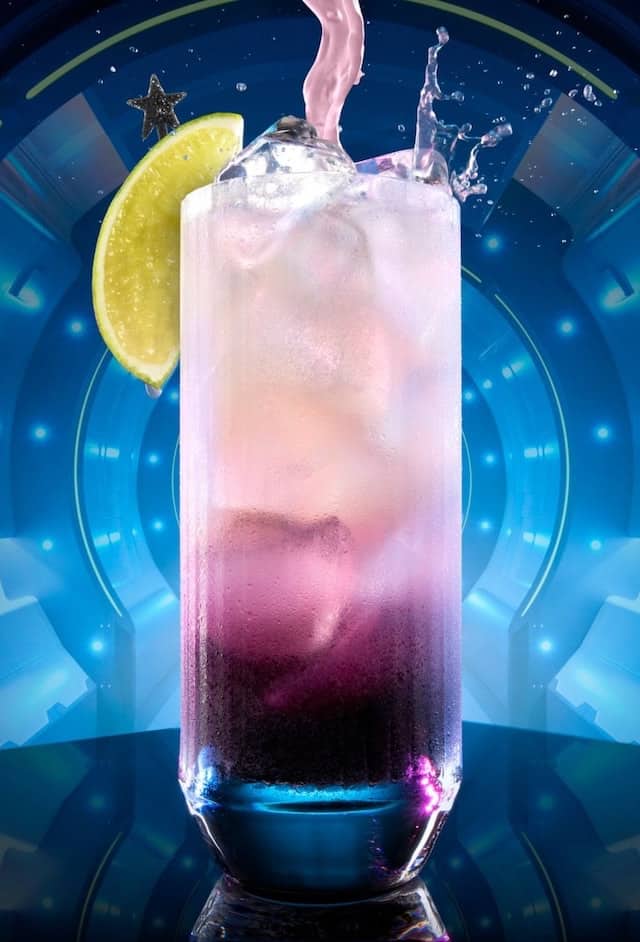 Other menu changes include removing the Launch Pad and Lunar Eclipse dessert drinks. Adult beverages now include Imagination with Bacardi rum, Malibu rum, blood orange, pineapple, passion fruit and a Pop Rock rim. The Celestial Cosmopolitan cocktail has been removed.
Last, there are two new desserts:
Pistachio and Citrus – Pistachio Mousse, Charcoal Olive Oil, Blood Orange Sorbet and Sauce
Peanut Caramel Caramel – Vanilla Tart, Candied Peanuts, Caramel Popcorn, and White Chocolate Cream
The Short Cake an Coconut Panna Cotta has been removed from the menu.
What do you think about these menu changes? Are you eager to try them or will you pass? Please share your thoughts in the comments below or on our Facebook page.

Are you planning a vacation? Reach out to our trusted travel agency sponsor Authorized Disney Vacation Planner
Mouse Class Travel
!