Eating and cruising go hand in hand, and the quick service locations on the pool deck on the Disney Wish do not disappoint in any way!
Mickey and Friends Festival of Foods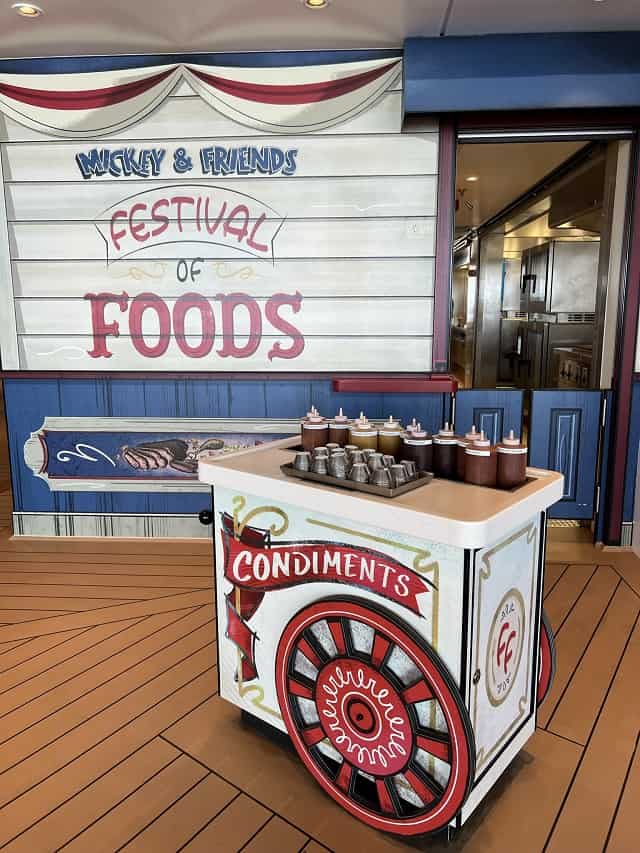 There is nothing like enjoying a refreshing dip in the pool and then jumping out because of the rumblings in one's tummy! All of Disney's ships offer a variety of quick service locations on its pool decks which includes mostly hamburgers, fries, pizza and Disney Cruise Line's famous chicken strips. One of the unique offerings on the Disney Wish are the chicken and lamb shawarmas. They are delicious and one not to miss at all!
Disney stepped up their food game when designing the Disney Wish as two new quick service offerings have been quite the hit with guests aboard.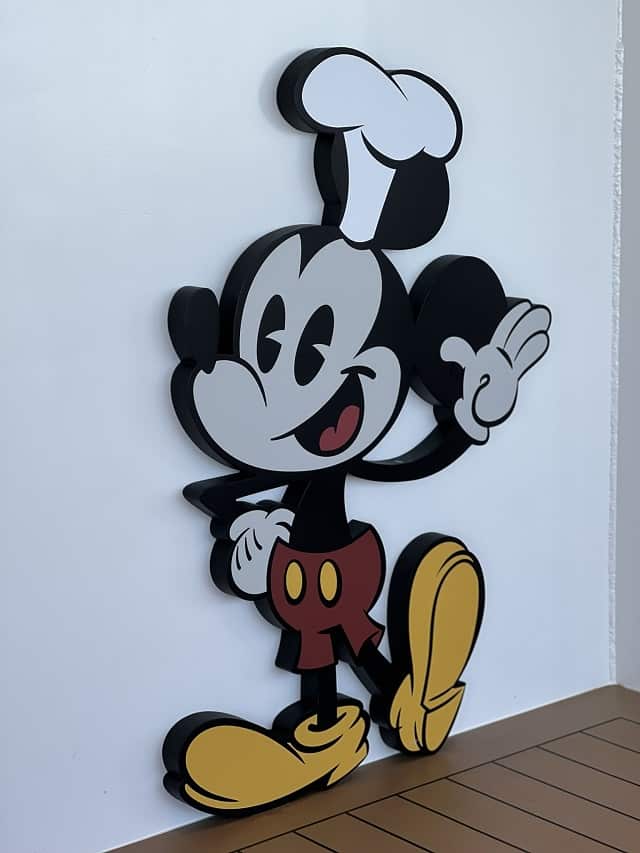 Located on the Deck 11 Forward, guests will find the Mickey and Friends Festival of Foods which is open for lunch, dinner and anytime in between. The theming of this quick service location is inspired by the Mickey Mouse animated shorts featuring a seaside boardwalk setting. It has a food court feel with a variety of dining locations.
Mickey's Smokestack Barbecue and Donald's Cantina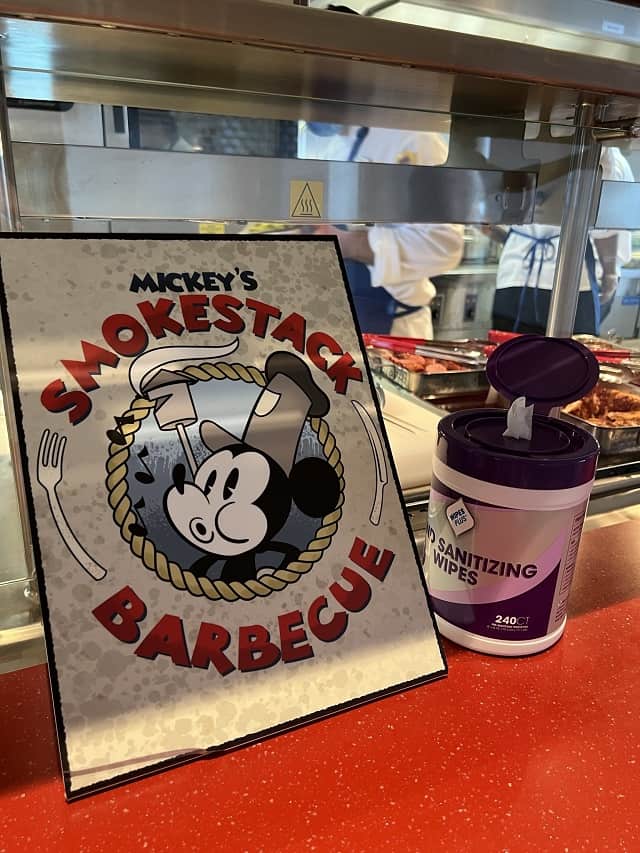 There are two new brand new food offerings which include Barbeque and Mexican food!
Mickey's Smokestack Barbecue's menu includes BBQ smoked brisket carving, St. Louis pork, smoked chicken, BBQ smoked pulled pork, smoked kielbasa sausage, naked macaroni & cheese, collard greens, sweet potato fries and Texas jalapeño corn bread. Situated next to the BBQ locations is a variety of BBQ sauces.
This location did not disappoint as the brisket is so tender and delectable. I also especially enjoyed the baked mac & cheese and I'm usually picky as my husband makes a delicious brisket and its cheesy side dish. I would definitely recommend this dining location for a great place to grab some filling food.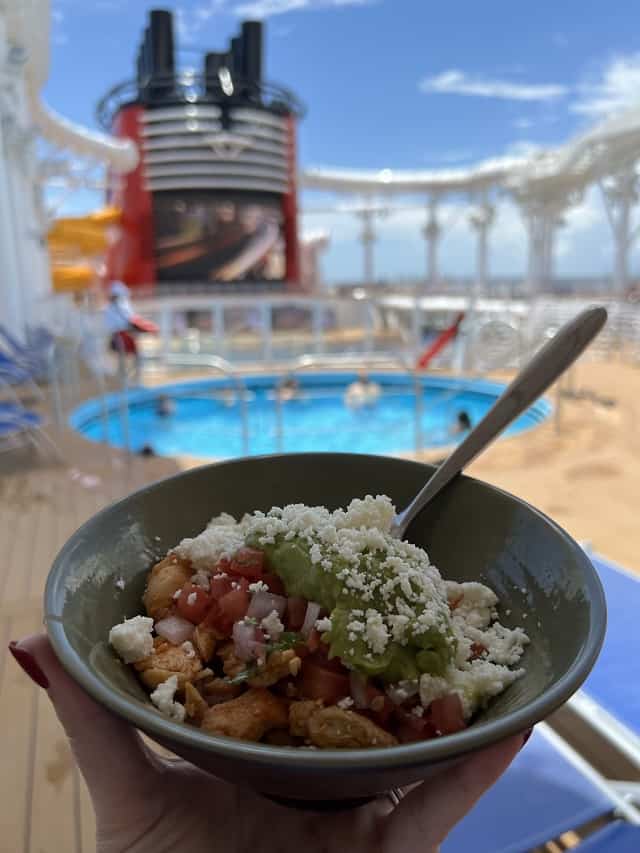 Chipotle at sea anyone? Donald's Cantina certainly does not disappoint as the quality and quantity of the food is on point, and the guacamole will not cost you extra!! Guests are able to build their own burrito, tacos and bowls filled with choice of fajitas beef, fajitas chicken, pork carnitas, rice, beans or fajita vegetables. Finish off with guacamole, salsa, sour cream, queso blanco or Mexican cheese blend. There is also a salsa bar with a variety of different flavors and spiciness.
Of all the quick service locations on the pool deck, Donald's Cantina was certainly my favorite. We looked forward to eating it each day at various times of the day. My only minor complaint is that I would have loved to have seen a tomatillo salsa included in the salsa bar.
Daisy's Pizza Pies, Goofy's Grill and Sweet Minnie's Ice Cream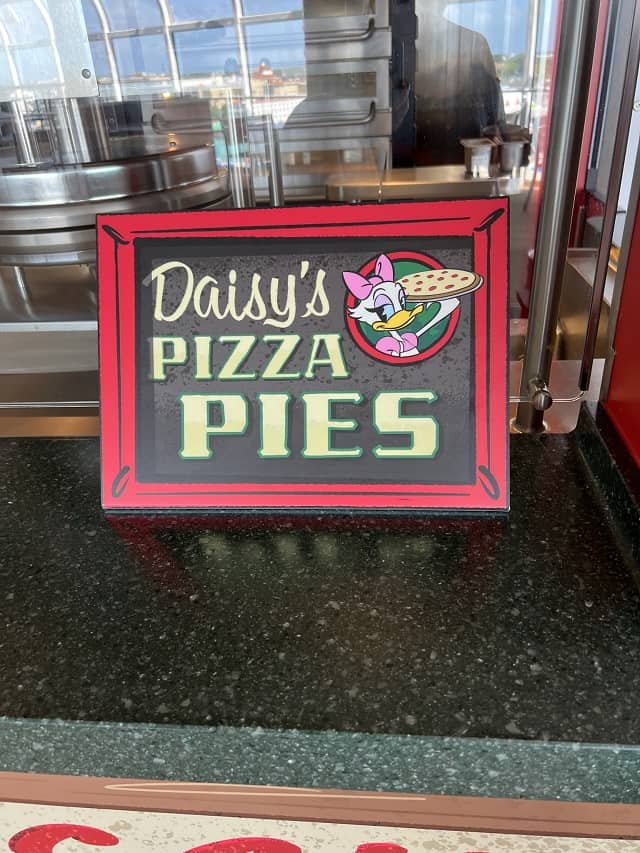 Although the other Disney cruise ships on the fleet do offer a quick service pizza location, the Disney Wish took it one step further. Daisy's Pizza Pies invites guests to a fresh slice of pizza a Cast Member makes it right in front of you. My kids very much enjoyed this location as they frequently visited it. The menu at the pizzeria includes prosciutto, four cheese, pepperoni, margherita and plant based sausage.
Tip: Daisy's Pizza Pies stays open each night until 11 pm. It is a great location to grab something to eat late at night!
Guests who visit Goofy's Grill will be able to order grilled 100% Angus cheeseburgers, hamburgers, impossible burgers, all beef hot dogs, plant-based sausage, grilled bratwurst and crisp chicken tenders. French fries are available upon request.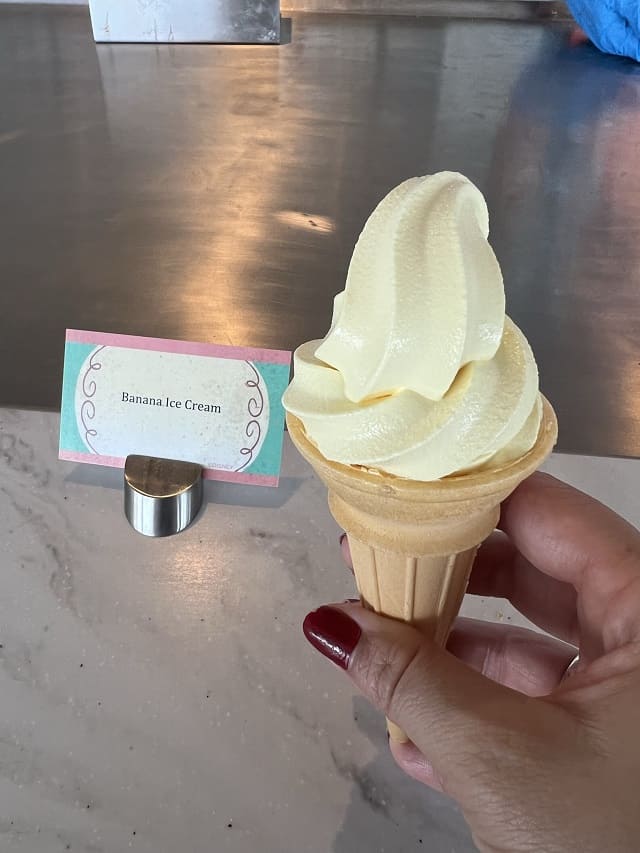 Still have room for dessert after enjoying a fulfilling meal? Head on over to the last of the quick service locations at Mickey & Friends Festival of Foods for a soft serve ice-cream cone. Guests can enjoy banana, chocolate, vanilla, or a swirl of both!
One of my tips is to ask for the soft serve in a cup with a spoon instead of a cone, that way it won't make a mess! Flavors rotate throughout the duration of the voyage. My personal favorite was the banana!
Marceline Market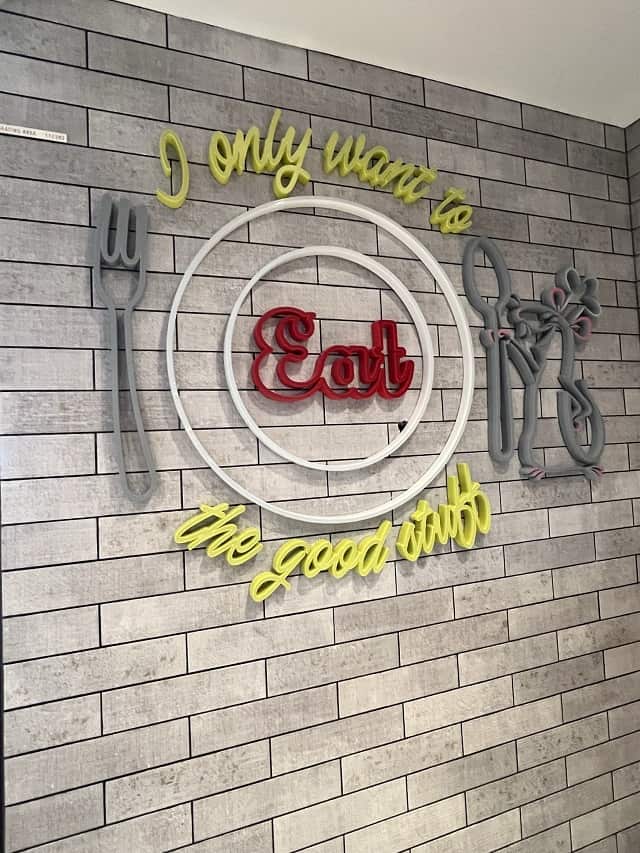 Located on Deck 11 Aft, guests will find Marceline Market, replacing Cabanas which can be found on the four other Disney ships. Marceline Market is a casual, walk-around dining experience for breakfast and lunch. It then becomes a table-service dining offered at dinnertime for those guests that wish to not eat at their traditional dining rotation.
Named for Walt Disney's early childhood hometown in Missouri, Marceline Market is a free-flow food hall inspired by popular marketplaces around the world.
It features ten food stalls and a café beverage bar. Food offerings include a changing menu which includes American classics, international specialties, comfort foods, seafood, soups and salads, vegetarian and plant-based fare, baked goods, and desserts. The ambience is styled as an old industrial loft converted into a bustling marketplace with each station themed to a different Disney and Pixar animated film such as Zootopia, Alice and Wonderland, Tangled, and Ratatouille.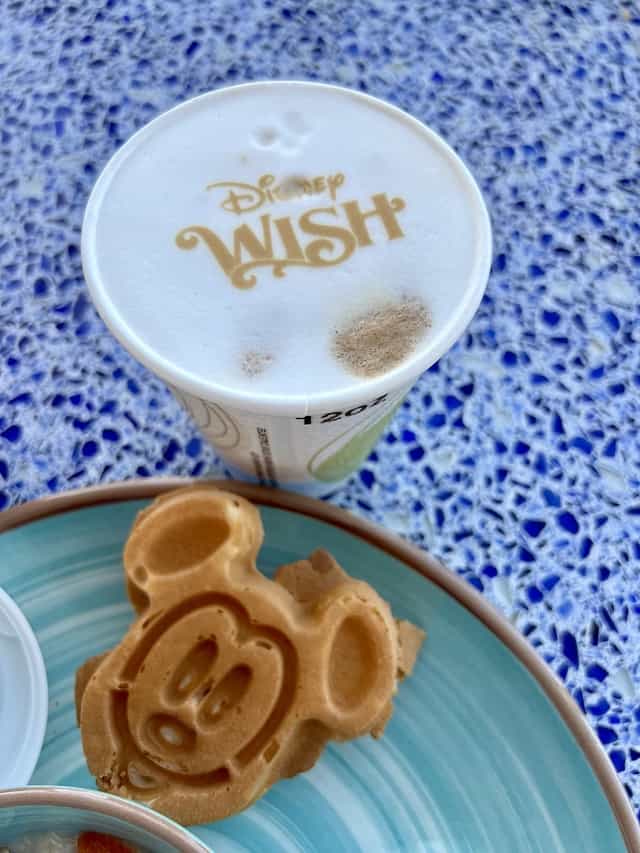 Personally, I found Marceline Market to be my least favorite of quick service locations. The flow inside was very narrow and at times easy to run into people. This is not an enjoyable experience when you are carrying a tray full of food!
The ambience of the location is quite lovely and wonderfully themed as Disney is known for its attention to detail. However, the reality of logistics of getting around was a miss for us. I preferred to eat at Mickey & Friends Festival of Foods. With that being said, the Mickey waffles at the kids station were AMAZING!! I had them for breakfast each and every morning complete with whipped cream and syrup!
Inside Out: Joyful Sweets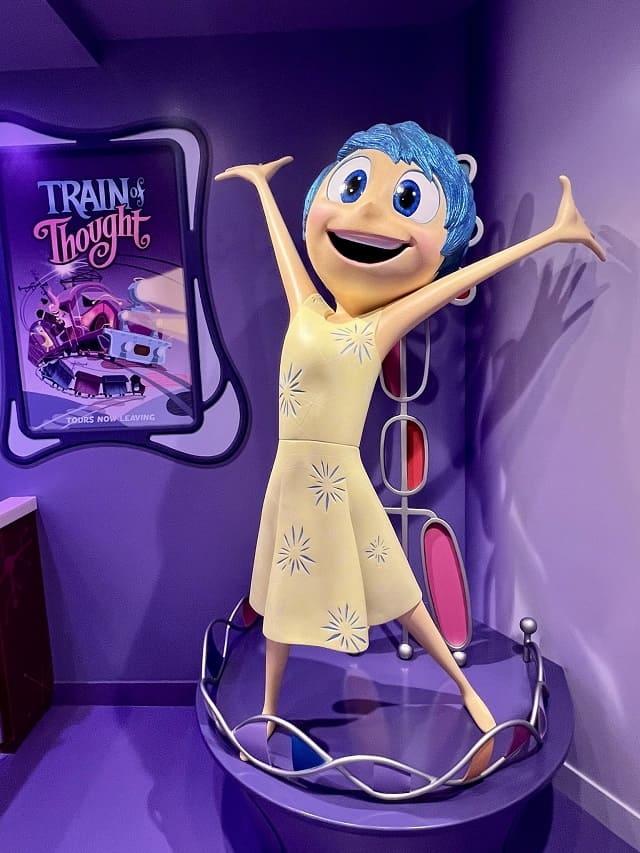 Lastly, located directly to the left of Marceline Market, guests will come across Inside Out: Joyful Sweets. This is a dessert shop inspired by the Pixar film where guests will find handmade gelato, ice cream, candy and novelty treats for purchase.
Once again, the attention to details in the sweet shop is superb as the colors and design emulate the control center inside Riley's 11 year old mind. All five figures depicting emotions are featured among walls full of Memory Orb fixtures.
Signature treats inspired by the film include cupcakes that evoke all five emotions. These include: Joy (lemon), Sadness (blueberry), Disgust (pistachio), Anger (red velvet), and Fear (bubble gum) — and chocolate Memory Orbs filled with sweet candy remembrances. Other specialty offerings are macarons, cake pops, handcrafted truffles, designer cookies, chocolatey brownies and assorted candies.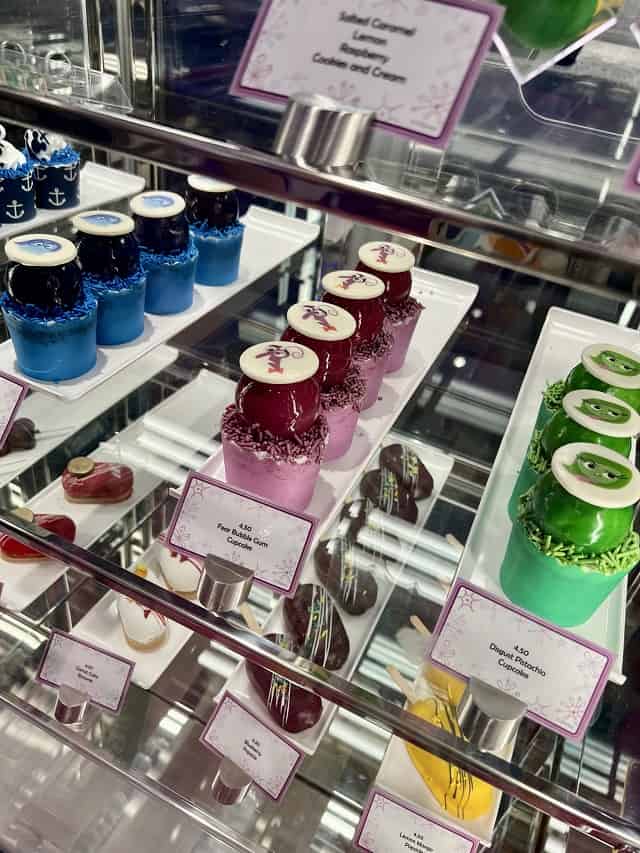 As you can see, no one shall go with hunger aboard the Disney Wish. With such a variety offered throughout the day, no one's tummy shall remain rumbly! Sailing aboard the Disney Wish soon? Make sure to read my reviews on exploring the pools, toddler and baby activities onboard, visiting the hair salons, and experiencing the Oceaneer's Club through the eyes of a child.
Which quick service dining area would you most want to visit sailing aboard the Disney Wish? Let us know in the comments on Facebook and in our Facebook group.