When it comes to summertime, there is no better way than to relax than taking a dip in a swimming pool!  The new Disney Wish offers many more pool choices than ever before.  During our recent cruise on the Wish, we swam in all of them. Here are our favorites!
Pools on Disney Ships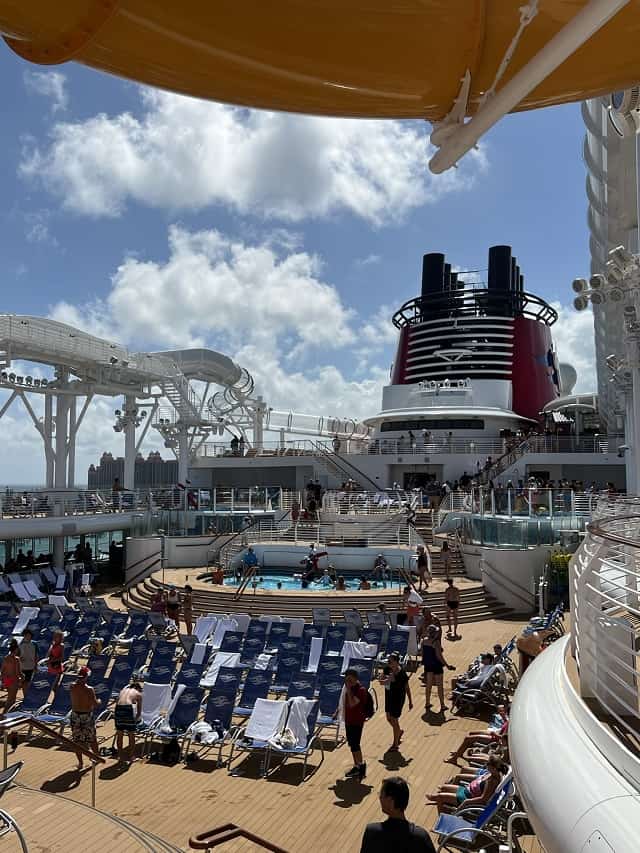 My (Marisol) family's tradition when sailing on Disney Cruise Line is that we make a beehive straight to the pools as soon as we have embarked on the ship.  This is the time that we find them to be very relaxing because there are not many people in them yet. 
Traditionally, Disney Cruise ships are known for the two main pools aboard the Disney Magic, Wonder, Fantasy, and the Dream.  However, for Disney's fifth ship, they decided to shake things up a bit by including more pool spaces but spread out in different decks around the ship.
So, what is the main difference on the Wish when it comes to swimming? It now offers six different pools, the Aqua Mouse, a splash area, a pool for toddlers and of course, the adult only pools. All pools vary in size and depth.
Mickey and Minnie Pools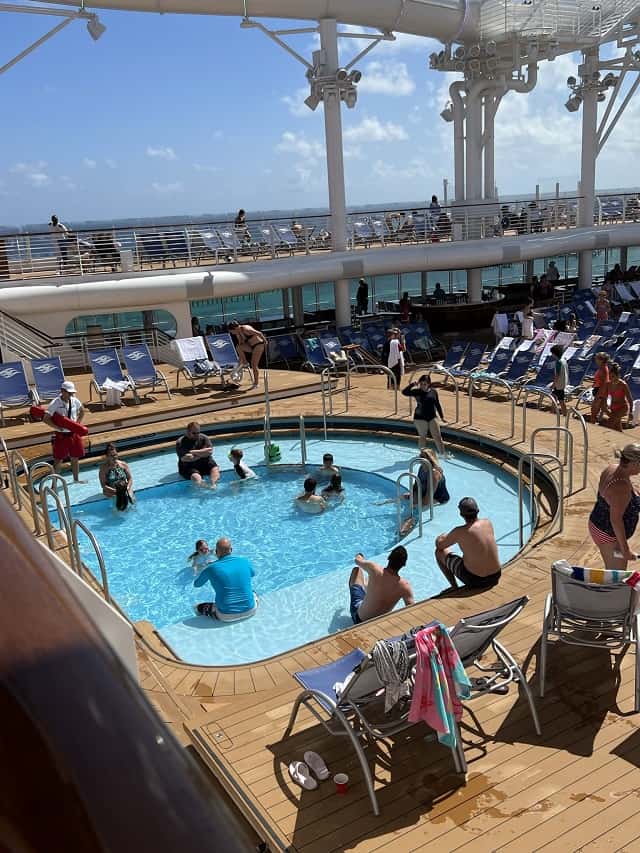 Mickey's Pool and Minnie's Pool are the largest pools on the ship and are both located on Deck 11.  If you are familiar with other Disney ships, you will be surprised to hear that Mickey's pool is beneath the main stage where performances such as the Sail Away and Pirate Show take place.  Minnie's Pool is often also covered up due to entertainment, so both pools are not always available.  Both pools are also close to Funnel Vision which plays movies throughout the day.     
Our initial thoughts when we first saw both of these pools was that they were very small in size. We are used to having two bigger pools on the other ships. It was a bit of shock when we encountered them.
Daisy, Pluto, Donald, and Goofy Pools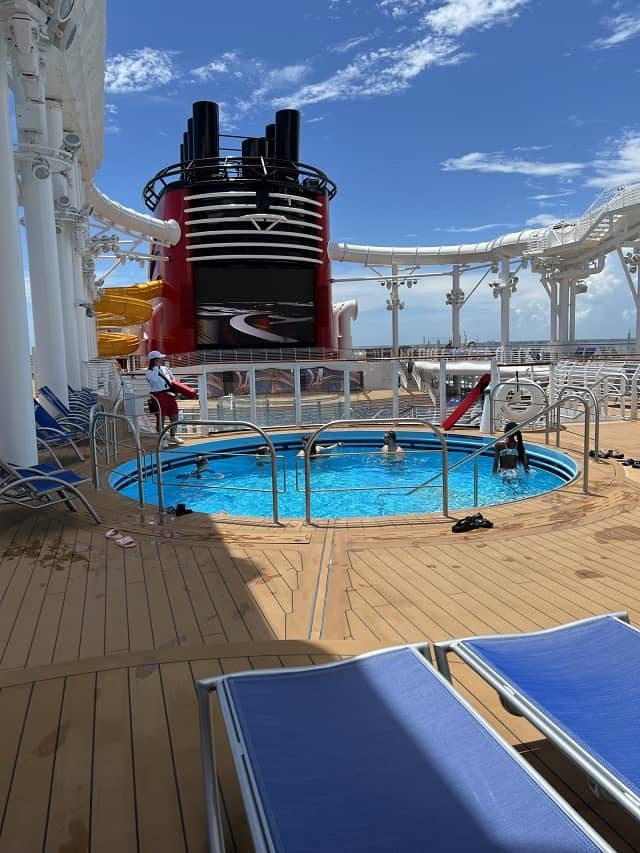 Deck 12 offers two more pools which are smaller in size compared to Mickey and Minnie's pool.  Daisy's Pool and Pluto's Pool are shallow pools and are 2 feet in depth.  They both include a waterfall at the back.  Donald's Pool and Goofy's Pool are four feet in deep.
The pool that we visited often was Goofy's Pool. It was interesting to note that the capacity is 45 guests. During one visit to this particular pool, there were about 15 people in the pool. It felt like you were restricted to your own area due to the size. In fact, a young boy kept swimming around at his leisure while bumping into people quite regularly.
The Daisy and Pluto pools were nice to enjoy because we could wade in the pool while watching a Disney film on the Funnel Vision. No swimming can be done as they are only 2 feet in depth, but it was a nice escape from the warm sun.
Chip N' Dale's Quiet Pool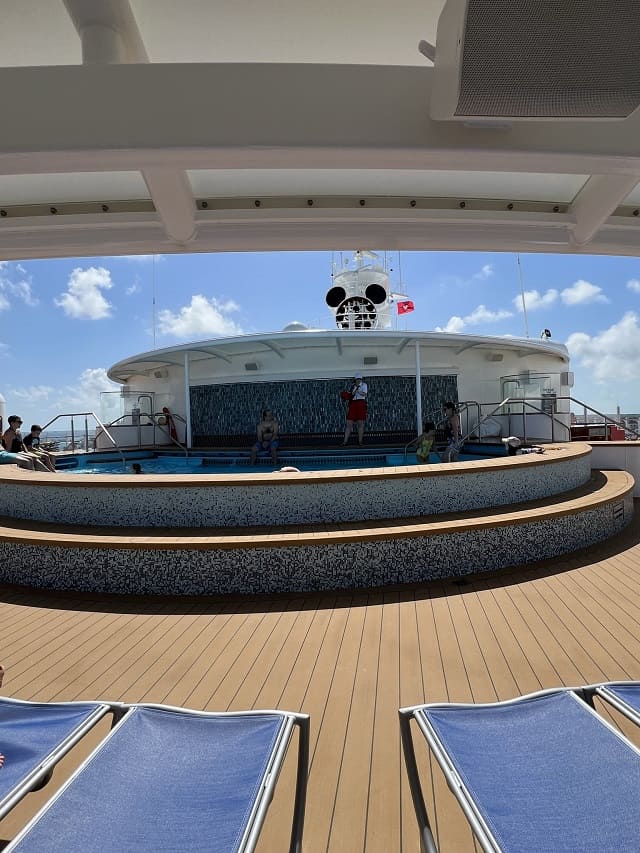 Sometimes it is nice to get away from all the hustle, bustle and noise from the pool deck and enjoy a relatively quiet and secluded location. Disney was brilliant in coming up with the Chip N' Dale quiet pool that is located on Deck 14. 
This pool is often overlooked as not many people are aware that is exists. It is the first of its kind for a Disney ship. This specific pool is only 2 feet deep and is a wading pool.  It is also at the front of the ship, so the views are amazing!
This was, by far, our favorite pool! Each time we visited there were only two or three people in the pool. The only downside to this pool is that the water was chilly as opposed to the rest of the pools on the ship. However, once you are in the water, your body acclimates to the temperature.
I would strongly recommend this pool for families who want a quiet pool time. This pool is also in close proximity to the Toy Story Splash Zone.
Toy Story Splash Zone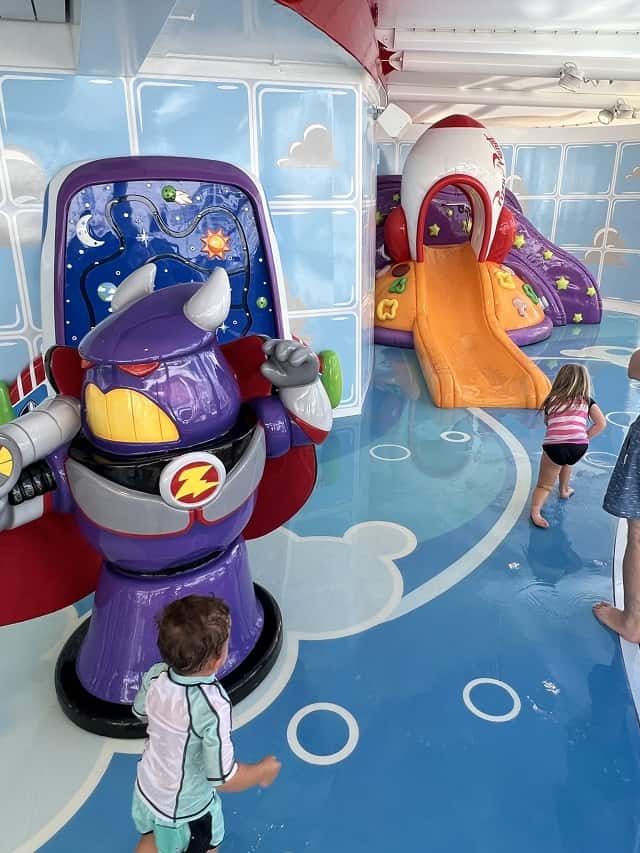 Children splash pads are a wonderful amenity for babies and toddlers, and the one located on the Disney Wish is no exception.  It is themed after the animated film which features Woody, Buzz and other Toy Story friends. It is inspired by the Disney and Pixar short "Partysaurus Rex." 
The splash zone is made to look like inflatables and includes two toddler sized slides, pop jets, geysers and bubblers. Additionally, there is only one entrance which also serves as the exit.  The location also features Trixie's Falls, a six-inch-deep wading pool complete with a small fountain and waterfall.  Both areas are in shaded areas and away from the Funnel Vision screens.   
The Toy Story Splash Zone and Trixie Falls are located on Deck 12 and for ages 3 and under.  Swim diapers are required, and children must be supervised at all times. One important point to keep in mind is that complimentary life jackets are located near the pools. They come in different sizes for young children.
Slide-a-saurus Rex and Aqua Mouse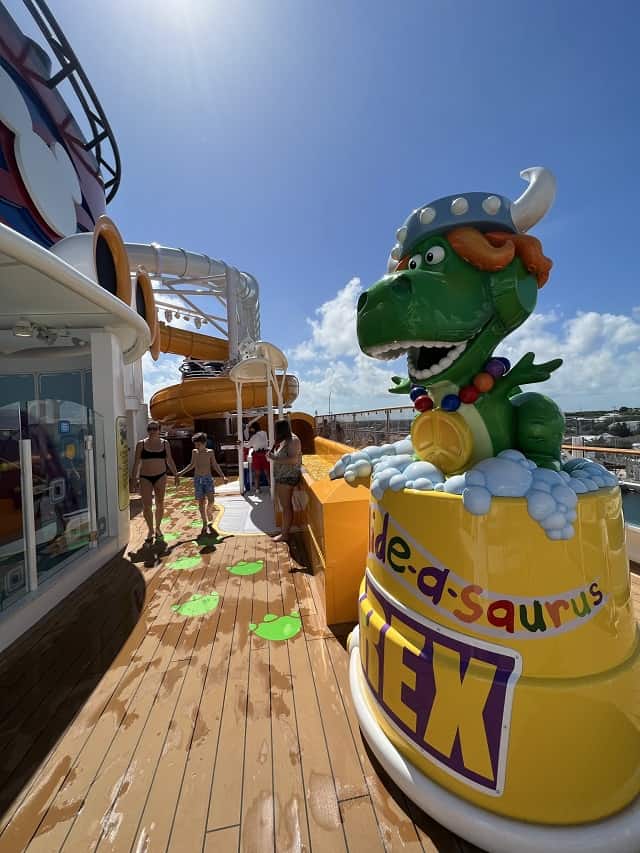 The Slide-a-saurus Rex is a double-looping waterslide that sends guests plunging "down the drain" with the rest of the toys when the metaphorical bathtub overflows. It is considered family friendly for everyone to enjoy. My daughter and I both rode the slide and the queue itself was half the fun with the music and art décor on the staircase leading to the slide. It is not a scary water slide nor will you get very wet at all.
The Aqua Mouse is what Disney has presented to be the first Disney attraction at sea.  The ride and water slide feature two different Mickey and Minnie shorts that can be enjoyed throughout the sailing.  The minimum height requirement for Aqua Mouse is 42 inches tall.
Before riding the Aqua Mouse I stayed away from POV spoilers so that I could go in with no preconceived expectations. We really enjoyed the Aqua Mouse. Although the water coaster is much shorter than on the Disney Dream and Fantasy, that is because the Mickey and Minnie shorts play during the first part of the ride.
It did make it a bit difficult to watch the short because water shoots out towards your face and body as you ride along during this part of the ride. However, it still makes for a fun time and a great way to get wet!
Adults Only Pools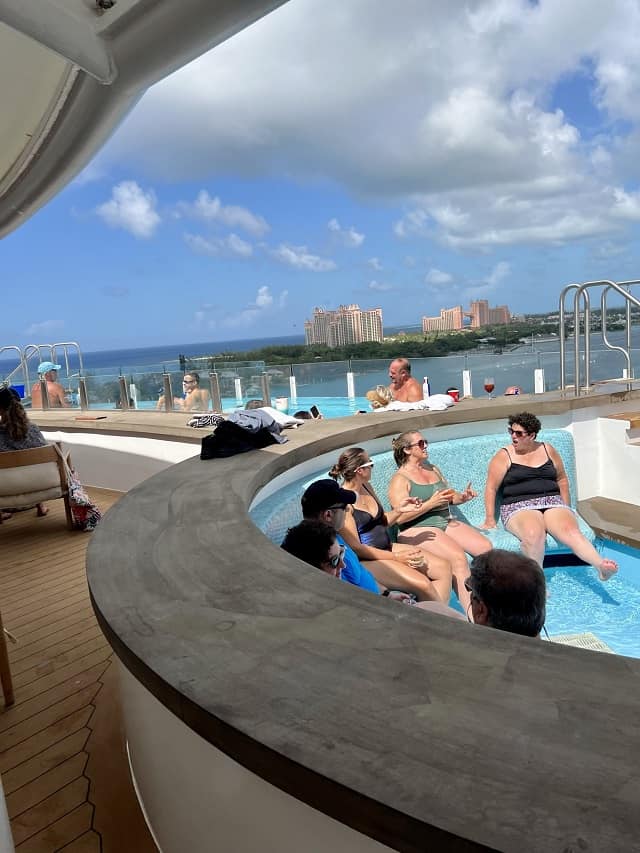 While our kids are enjoying the kids club or other amenities around the ship, my husband and I love to slip off together to the adult only areas of the ship.  The Disney Wish offers an enormous wrap around sun deck with ample seating on Deck 12. As yet another first for a Disney ship, an infinity pool overlooks the ocean.  There are also two shallow wading pools with waterfalls.
I can share from experience that the wrap around sun deck was never crowded, and there was always ample seating areas. The shallow wading pools, on the other hand, were always crowded each time I visited. I did visit during the Castaway Cay day, and I thought that it would be least crowded as adults would be enjoying the adults-only beach, Serenity Bay.
Unfortunately, we did not spend time in this area during this trip because there were many other amenities aboard the ship that allowed my husband and I to enjoy our time away from the kids.
Overall Thoughts
One of the disadvantages that we found with the new pools is that finding a central location to find a lounge chair can be a bit problematic in terms of being able to lounge in a chair while watching kiddos swim in the pools.  This layout makes it different especially if you have one child at a pool in Deck 11 while another is on Deck 12!  
We also noted that during at-sea days when one pool was open such as the Mickey pool, the Minnie pool was closed. I asked a life guard what the reasoning was and he simply noted that they rotate them out. However, on Castaway and Nassau days, they were all open.
I would highly recommend rope dropping about 20 minutes before it first opens or in the evening. These are the least busy times during the day. Sea days are the busiest days to ride throughout the day with all guests are on the ship. During our back to back cruise, we noted that on the three-day cruise, the pools were very crowded on the day when we visited Nassau. However, on the four-day cruise it was less crowded during the port call. I would guess that the difference would be due to the three-day not having a sea day, whereas the four day cruise does include the sea day.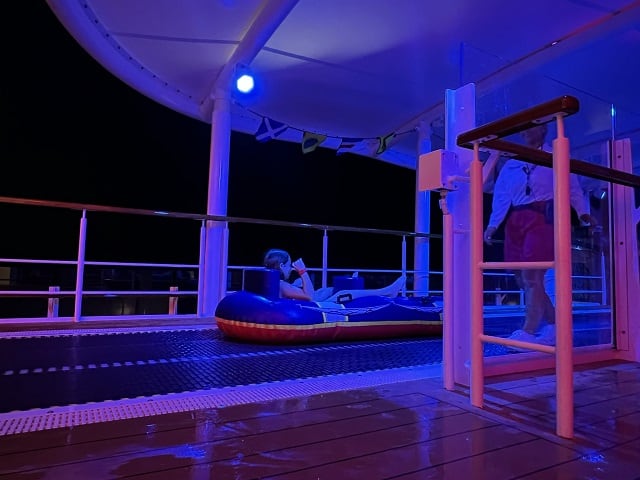 The Aqua Mouse also provides a cubby area where guests can secure their belongings while riding the attraction. Guests can ride while wearing flip flops, hat, and sunglasses. Go pros are allowed but only if they are secured hands-free.
Overall, there is nothing like enjoying a dip in a pool while on vacation. Doing so aboard the Disney Wish is no exception. Each of the pools and water amenities offer a unique experience to guests of all ages.
Which pools are you most likely looking forward to enjoying while sailing on the Disney Wish? Let us know in the comments on Facebook and in our Facebook group.