Planning on traveling aboard the Disney Wish with an infant or toddler? This article will highlight the different amenities and activities that are available to this specific age group.
it's a small world Nursery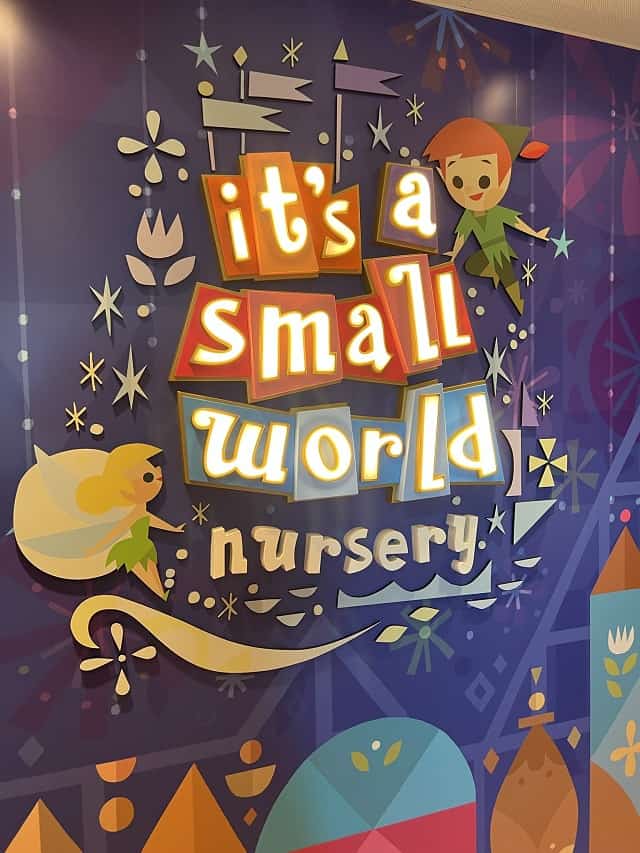 One of the amazing opportunities and perks of sailing on Disney Cruise Line is the amazing amenity of childcare for babies and infants. The it's a small world Nursery makes me want to have another child with how adorable this location is for wee little ones aboard all four ships in the Disney Cruise fleet.
The nursery on the Disney Wish welcomes little ones ranging from 6 months to 3 years of age.
Adults will be happy to learn that each child is looked after and entertained by expert Disney counselors. Parents even can check on their children while going unnoticed through a window looking into the nursery's main play area. It is the sweetest sight to see! Throughout the day the nursery offers unscheduled programs such as movie time, story time, and arts and craft projects.
The Disney Wish Nursery
The it's a small world nursery is located on Deck 2 on the Disney Wish. It's an understatement when I say that my heart melted and my maternal instinct immediately kicked into high gear upon entering the nursery. I could not help but walk around with oohs and aahs while grasping my hands to my heart. It is adorable!
Inspired by the infamous Disney animator, Mary Blair, it's a small world nursery features wall to wall artwork which incorporates a plethora of Disney, Pixar and Marvel characters. Disney Imagineers even created the entryway to mimic the façade of the iconic clock tower from the Disneyland attraction!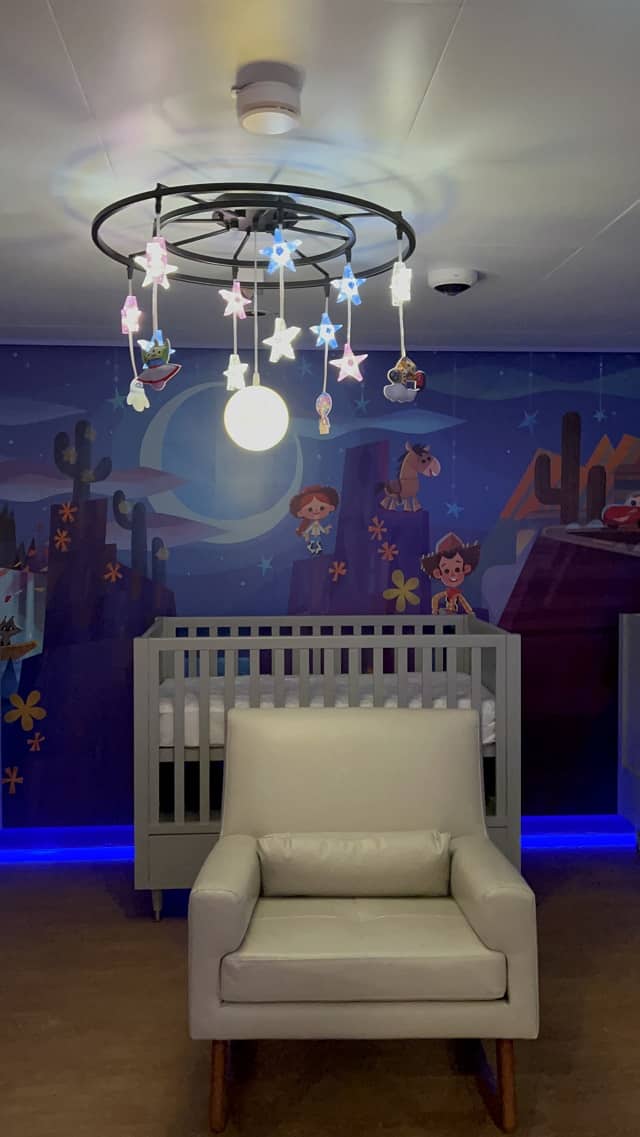 I could have stayed in the nursery all day as there is something to see and play with at every corner, and when I'm tired I could lay my head down in the nap room. Sounds perfect, right? My daughters at one point told me that it was time to leave the nursery and do something else!
The cuteness further continues in the bathroom and changing area of the nursery. Babies are treated to various murals depicting Lilo and Stitch, Finding Nemo, The Little Mermaid and Moana. Even the floors are decorated to represent the Seven Seaways.
Cost and Additional Information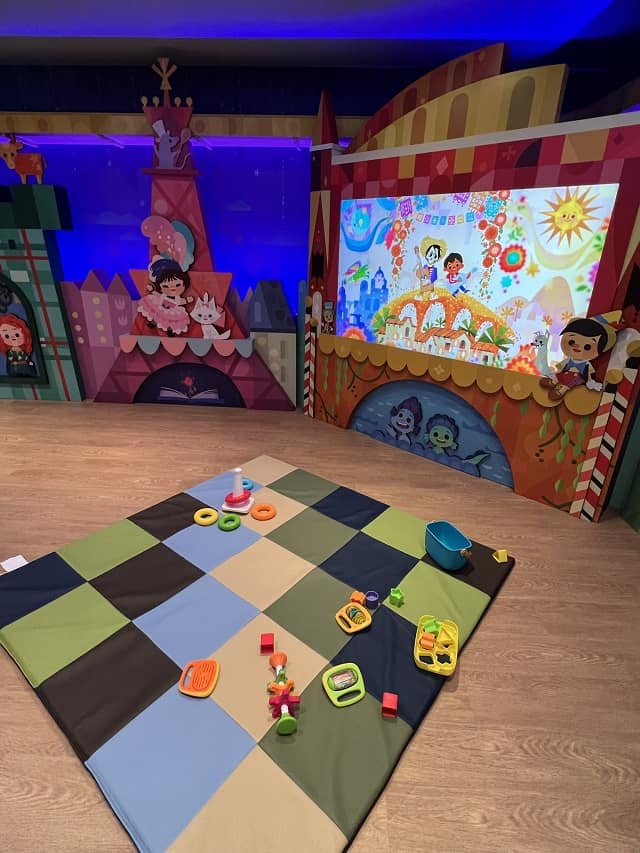 Daily operating hours vary. Guests are advised to check the Disney Cruise Line Navigator mobile app on board the ship. Reservations can be made on a first-come, first-served basis during the open house on Embarkation Day or anytime throughout your cruise. Childcare at "it's a small world" nursery is available for $4.50 per half hour, or $9 per hour for the first child. It is $4.00 per half hour, $8 per hour for any additional children in your family. The minimum reservation time is one hour.

Counselors also feed and change children in the nursery. Upon dropping of your child, please make sure to bring baby food, formula or milk and bottles, diapers or pull-ups and diaper wipes, extra clothing, a baby blanket, and a pacifier.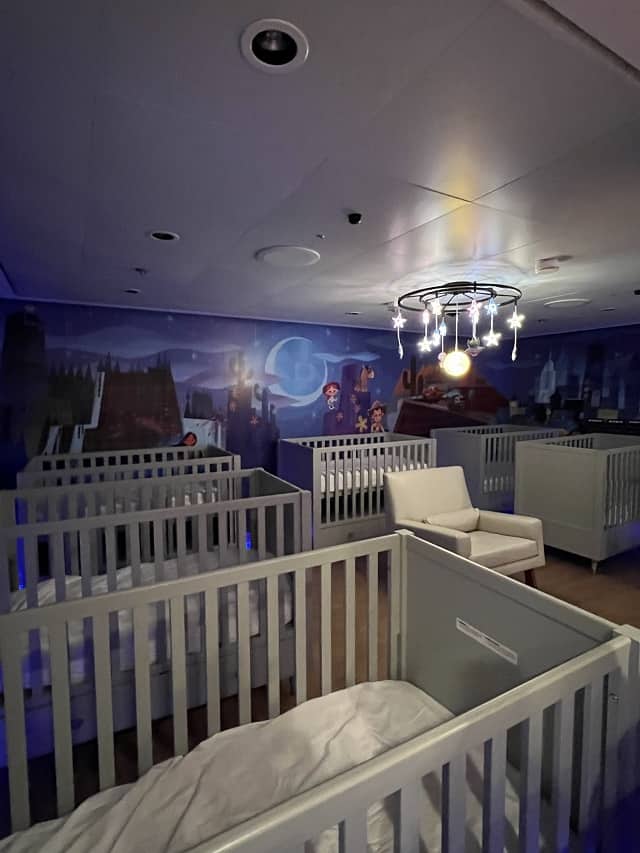 Children under the age of 12 months are not permitted to bring any items other than pacifiers without an attachment into a crib.

Children with special needs are welcome at it's a small world nursery. However, Disney Cruise Line is unable to provide one-on-one counselor care, a counselor with specialty training, or counselor-assisted medical attention.
Toy Story Splash Zone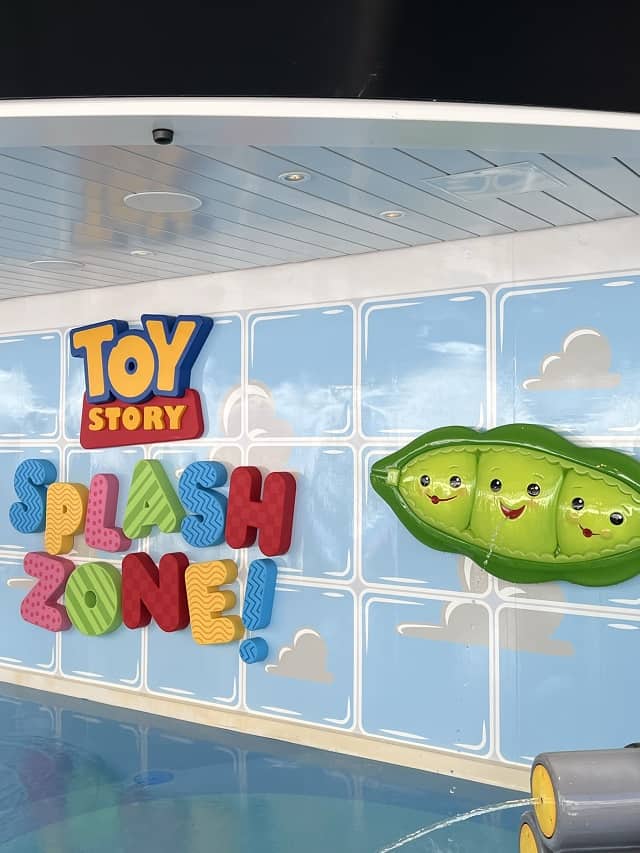 The Toy Story Splash Zone and Trixie Falls are located on Deck 12 on the Disney Wish and for ages 3 and under. Swim diapers are required, and children must be supervised at all times.
Children splash pads are a wonderful amenity for babies and toddlers. The one located on the Disney Wish is no exception. It is themed after the animated film which features Woody, Buzz and other Toy Story friends and inspired by the Disney and Pixar short "Partysaurus Rex."
The splash zone, which is made to look like inflatables, includes two toddler sized slides, pop jets, geysers and bubblers. The splash zone offers only one entrance which also serves as the exit. The location also features Trixie's Falls, a six-inch-deep wading pool complete with a small fountain and waterfall. Both areas are shaded and away from the Funnel Vision screens.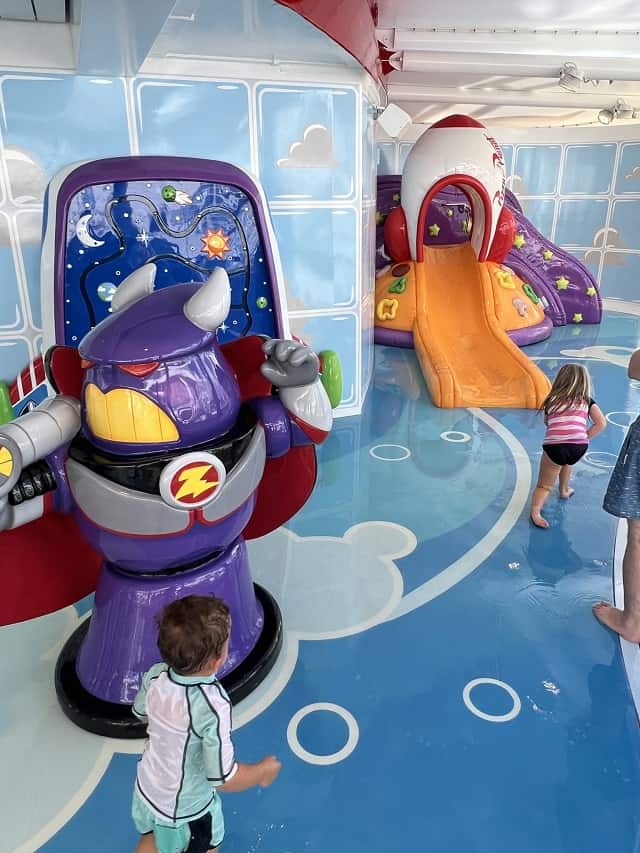 This area for little ones is ideal especially for parents because children are secluded in their own area to enjoy the many amenities in the splash zone. When our kids were younger, they enjoyed the splash zone on the other Disney Cruise ships. Often, we would provide them with a Go-Pro so they could run around and record their experience. The footage that they captured from their eye level was priceless.
It was sweet to see so many little ones enjoying the Toy Story Splash Zone and Trixie Falls. It certainly brought back sweet memories to me. One thing that I did observe was that the Splash Zone was packed with adults and young children on sea days.
Children are also welcomed to enjoy the six pools aboard the Disney Wish. Be on the lookout soon for a review of the pools and water areas soon.
Jack-Jack's Incredible Diaper Dash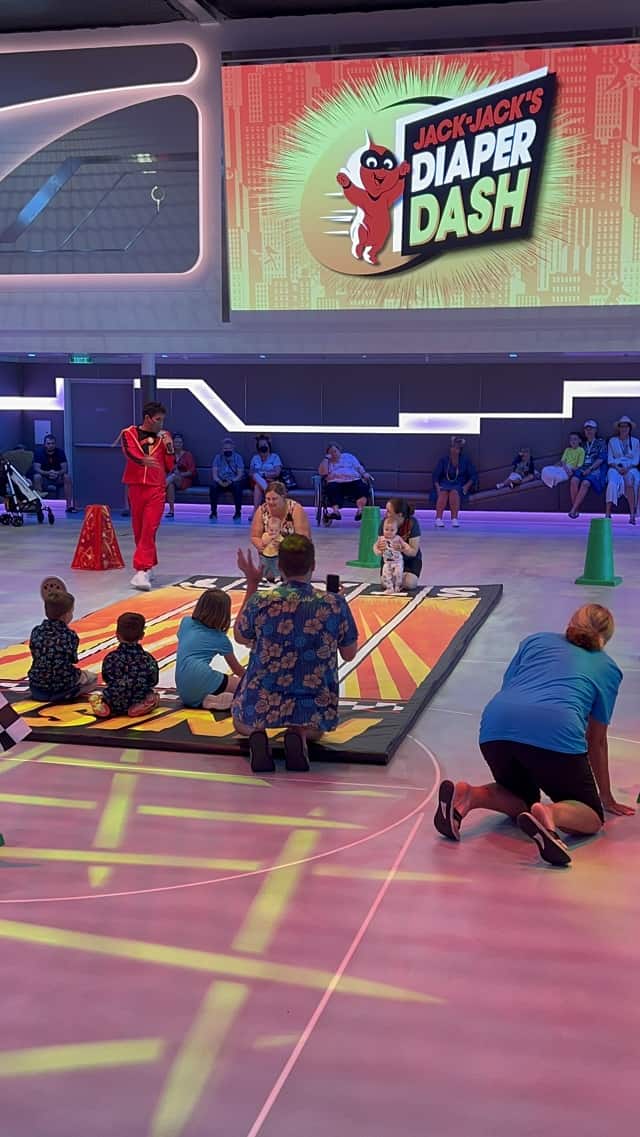 Calling all crawling babies! When I tell you that this is my favorite part of all Disney cruises, you will only understand when you witness this glorious activity firsthand! The beloved competition offers a crawling toddler the chance to compete for the coveted title of Diaper Dash Champion as they crawl across a 20-foot track to the cheers and chuckles from family, friends, and adoring fans.
The competitor's adult is allowed to entice the crawling tot with their favorite food, toy, or anything and everything that will help them make their way to the finish line. The only requirement is that competitors are not allowed to walk or run as disqualification will take place to the sounds of hoots and hollering of joyous cheers.
Jack-Jack's Incredible Diaper Dash takes place in the Hero Zone area on Deck 12. Guests can check the Disney Cruise app onboard the Disney Wish for days and times.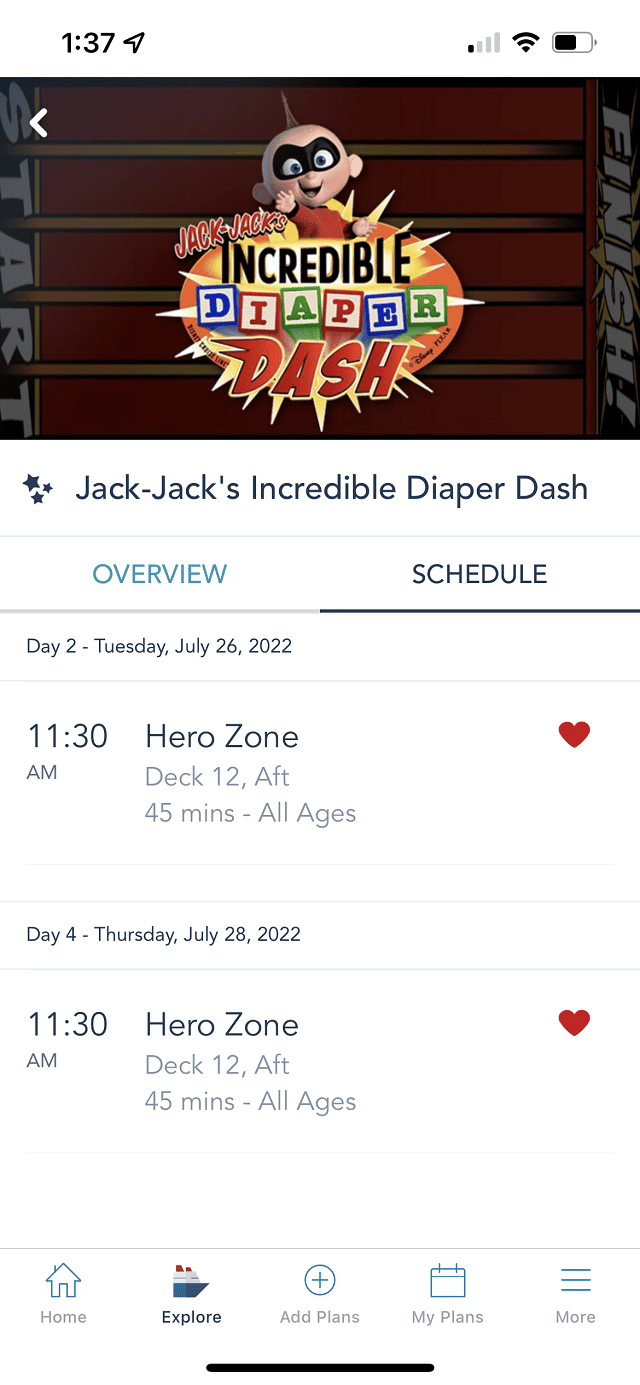 I did notice that Jack-Jack's Incredible Diaper Dash did not take place during our three day sailing. However, it did occur during the four day sailing. There were two days and times listed on the DCL app, and the first competition only consisted of two competitors. When I went back on the app later on during the week, I noticed that second race had been canceled.
As you can see, traveling with an infant and/or toddler on a Disney Cruise vacation can be an enjoyable experience for both the kids and adults. The Disney Wish offers an array of different activities and amenities.
Have you taken your infant and toddler on a Disney Cruise before? Have they enjoyed the nursery and play areas or the guest favorite Jack-Jack's Incredible Diaper Dash? Let us know in the comments on Facebook and in our Facebook group.
Are you planning a vacation? Reach out to our trusted travel agency sponsor Authorized Disney Vacation Planner
Mouse Class Travel
!