Do you love Walt Disney and the beautiful lands that he created in the Disney Parks? If so, check out the one dining location that you absolutely have to dine at.
Main Street, USA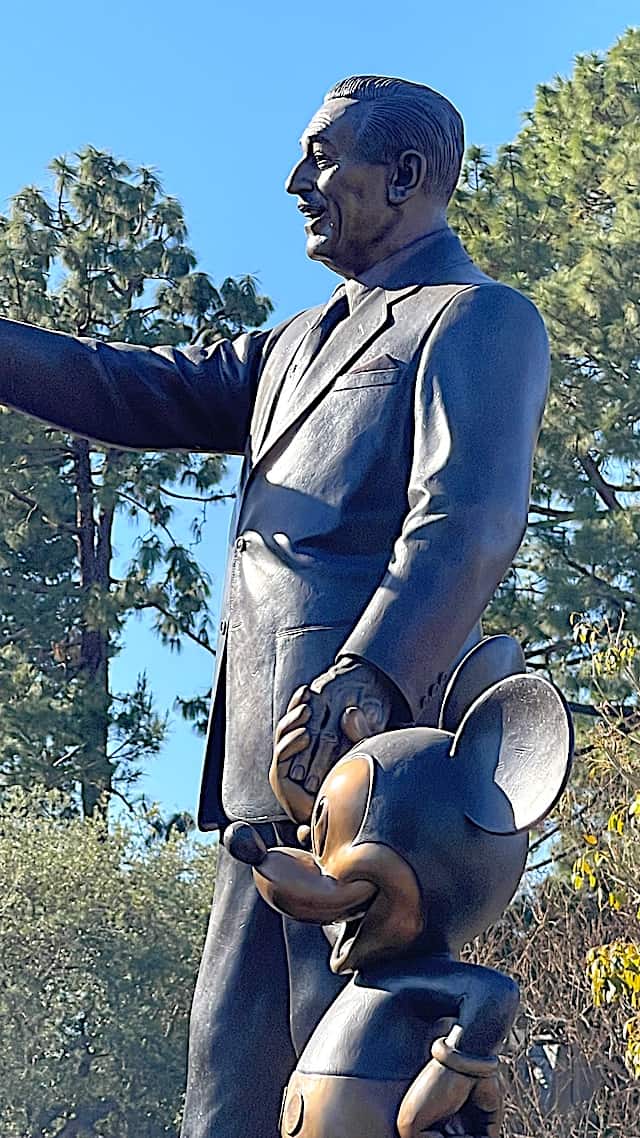 As we walk down Main Street, USA there is something comforting in how familiar this walk is. The street has been kept seemingly unchanged over the years to allow Guests to feel as though they are "Home" in this enchanted land.
Returning to the same Parks reminds us of the memories that we have made while also looking forward to new adventures yet to come. I (Donna) have been blessed to visit Disneyland, Walt Disney World, and Disneyland Paris. What is interesting in each of these parks is that Main Street still feels like home although the park address has changed.
This is one of the main reasons that my family continues to book Disney vacations year after year. Recently we discovered the absolute best dining location to enjoy the beauty of Main Street while enjoying a few of Walt Disney's favorite dishes.
Carnation Cafe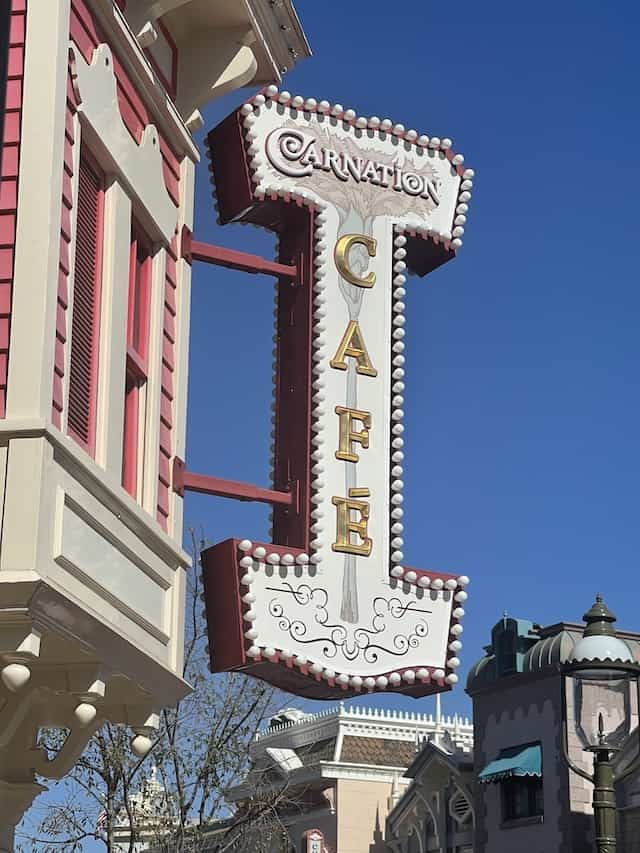 Carnation Cafe is conveniently located on Main Street, USA at Disneyland. When Disneyland first opened in 1955, this dining location opened as Carnation Cafe Ice Cream Parlor. Tall counters allowed guests to sit at stools and enjoy their ice cream dishes. In 1997, the Nestle Company purchased the Carnation Company and the Carnation brand of ice cream was no longer in production.
This led to the change of the Caranaction Cafe Ice Cream Parlor. The Walt Disney Company received the blessing to keep the Carnation name but reimagined this dining location. Although Walt Disney never dined at the newly reimagined Carnation Cafe, he was a frequent guest at the previous Carnation Cafe Ice Cream Parlor.
Walt Disney was a man with big dreams, but his wife Lillian shared that "he liked basic foods. He loved chili." This love for basic foods inspired the menu at Carnation Cafe.
Cheeseburger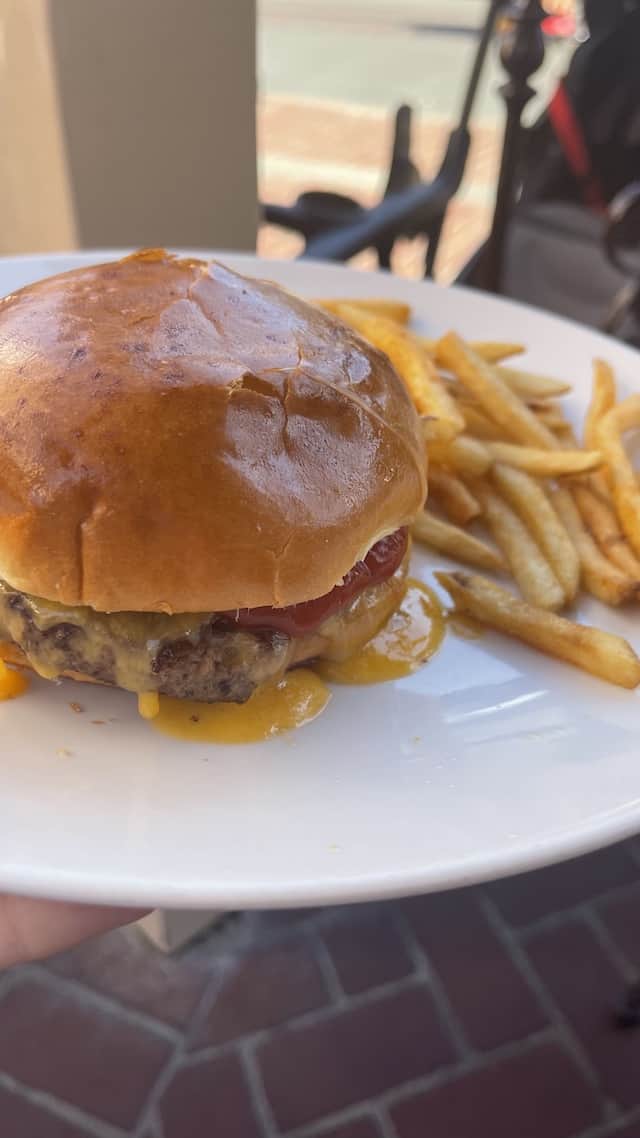 Of course, you can't have comfort food on Main Street without including a good old-fashioned cheeseburger. The Carnation Burger was absolutely delicious. This burger is described as, "Angus Chuck Patty, Cheddar, House-made Pickles, Vine-ripened Tomatoes, Red Onions, Lettuce, and House Sauce on a Brioche Bun served with your choice of fresh Fruit or Seasoned French Fries."
This burger was HUGE and my (Donna) teenage son almost couldn't finish it. I tried a bite (for research purposes of course, ha). The bun was so soft and the patty was a decent size and seasoned perfectly. My son asked if we could come back and have another burger later in the trip because it was just that good.
Kids Create your Own Entree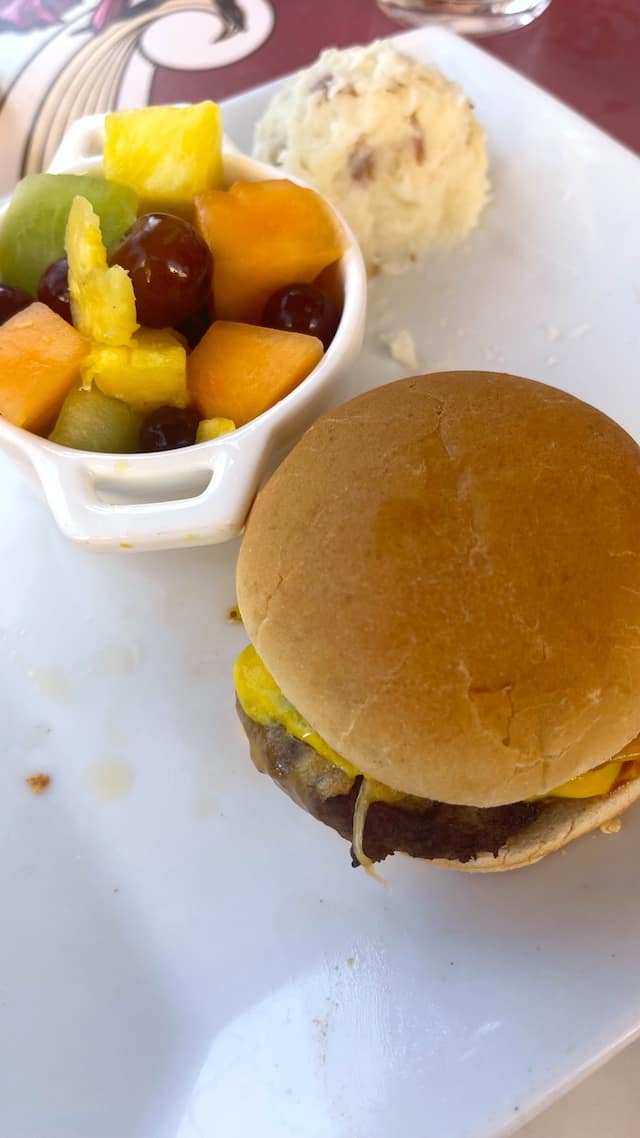 Will your child enjoy dining at Carnation Cafe? My youngest princess gives Carnation Cafe two thumbs up. She ordered the hamburger entree. This entree is served with a choice of two sides. Available sides include the following: seasonal fruit, mashed potatoes, seasonal vegetables, and French fries.
The cheeseburger was quite a bit smaller than the Carnation Burger, but a perfect size for a child's meal. Both sides were well-sized and delicious.
Baked Potato Soup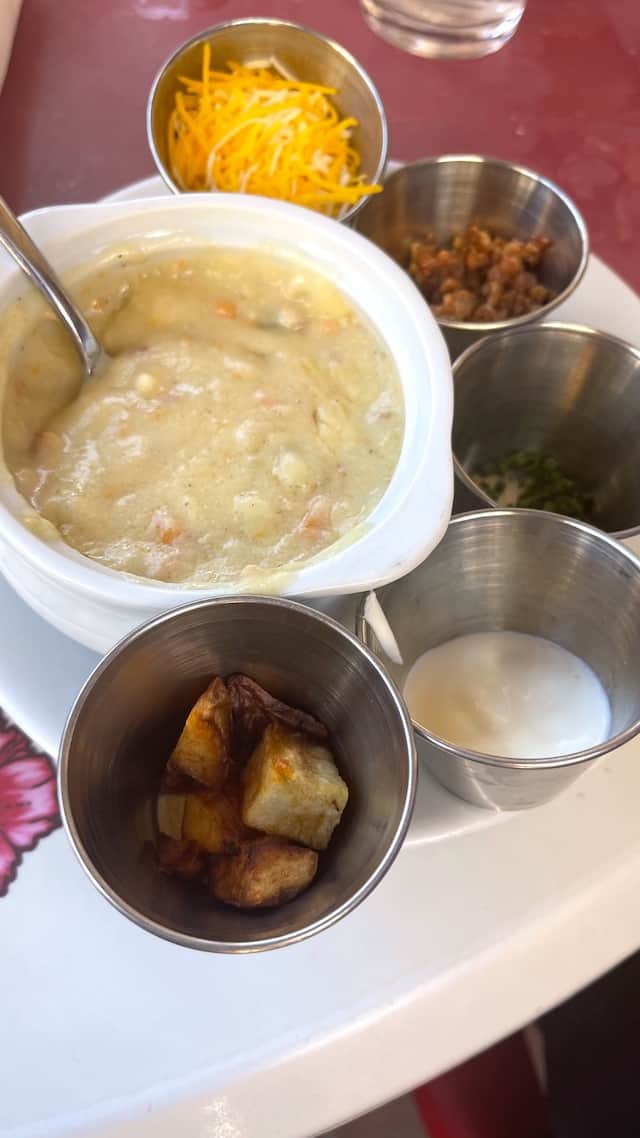 Sit back and enjoy a cup of rich and delicious baked potato soup. My (Donna) husband couldn't decide if he wanted all of the toppings on his baked potato soup, so he had them placed on the side. Side toppings include the following: fried potato, bacon, cheddar, Monterey Jack, sour cream, and chives.
This baked potato soup was delicious on its own but absolutely scrumptious when the toppings were added. This soup was quite filling and delicious to the very last spoonful.
Walt's Chili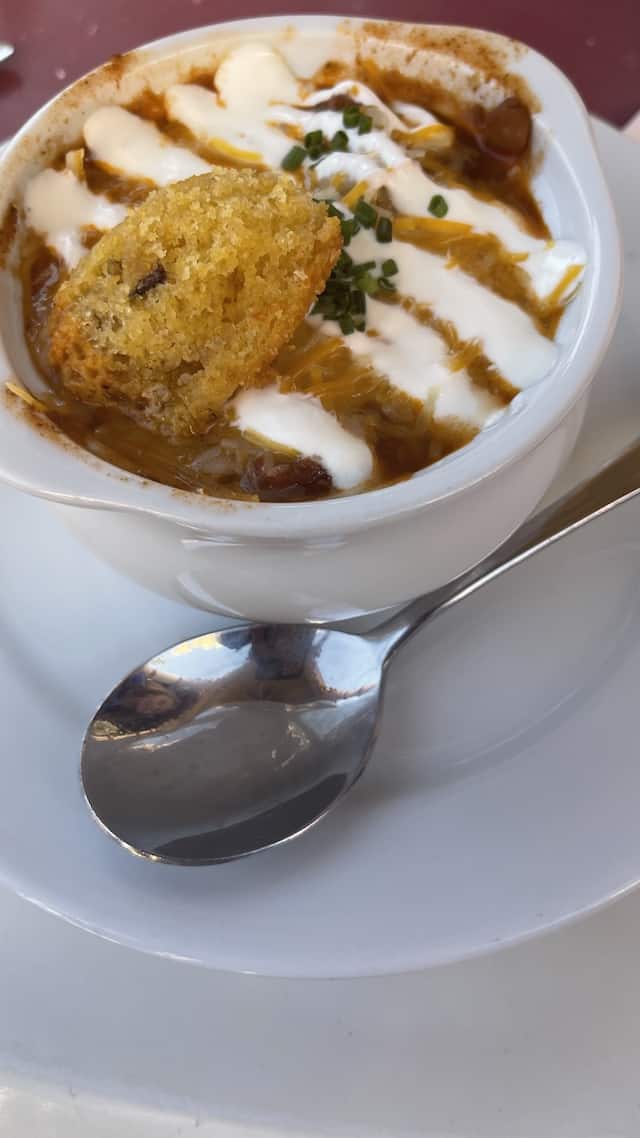 As many Disney fans know, Walt Disney loved Marceline, Missouri. It was his childhood memories of Marceline that inspired Main Street, USA. One of Walt's favorite dishes from his childhood was chili. It is only fitting that Carnation Cafe offers "Walt's Chili" on the menu.
This dish is described as a "hearty chili with cheese, sour cream, chives, and a cornbread garnish." This chili dish may be a bit fancier than what Walt Disney typically enjoyed, but this is so delicious. Check out a recipe for Walt's Chili HERE.
There is something nostalgic in enjoying Walt Disney's favorite dish on the very street that he once walked along.
I (Donna) enjoyed that this dish was hearty with meat and beans. The chili was absolutely delicious. There is something nostalgic in enjoying Walt Disney's favorite dish on the very street that he once walked along.
Take in the Wonder of Main Street, USA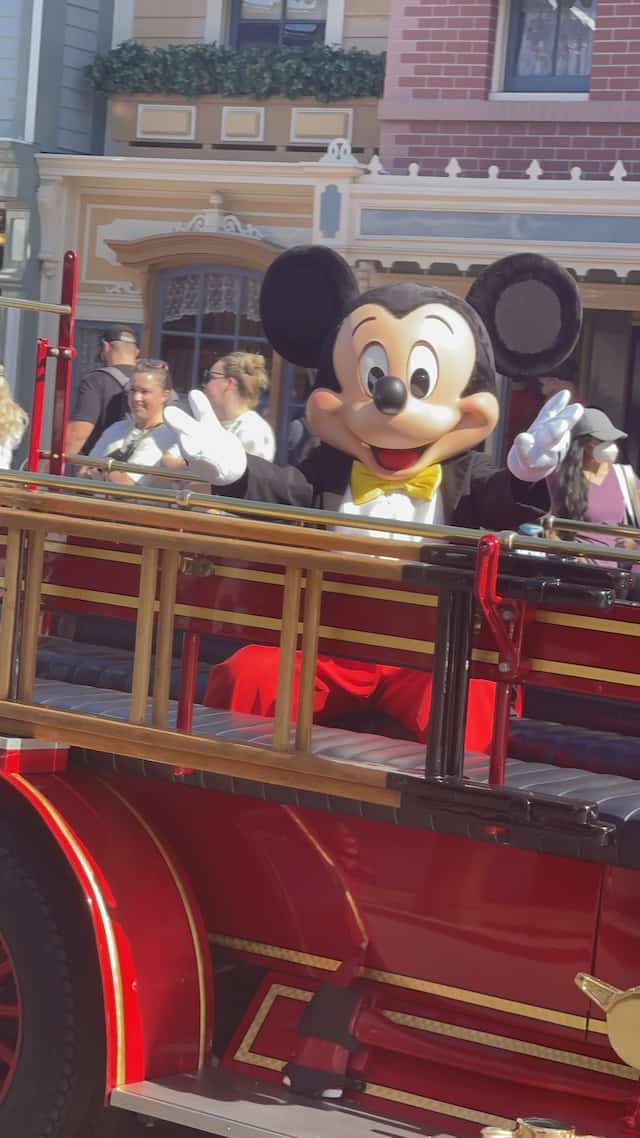 While we dined in the outdoor seating of Carnation Cafe, we enjoyed watching the many guests that walked past. After we had ordered our food, we could hear cavalcade music begin to play. As we sat at our table we were delighted to see Mickey Mouse making his way down Main Street.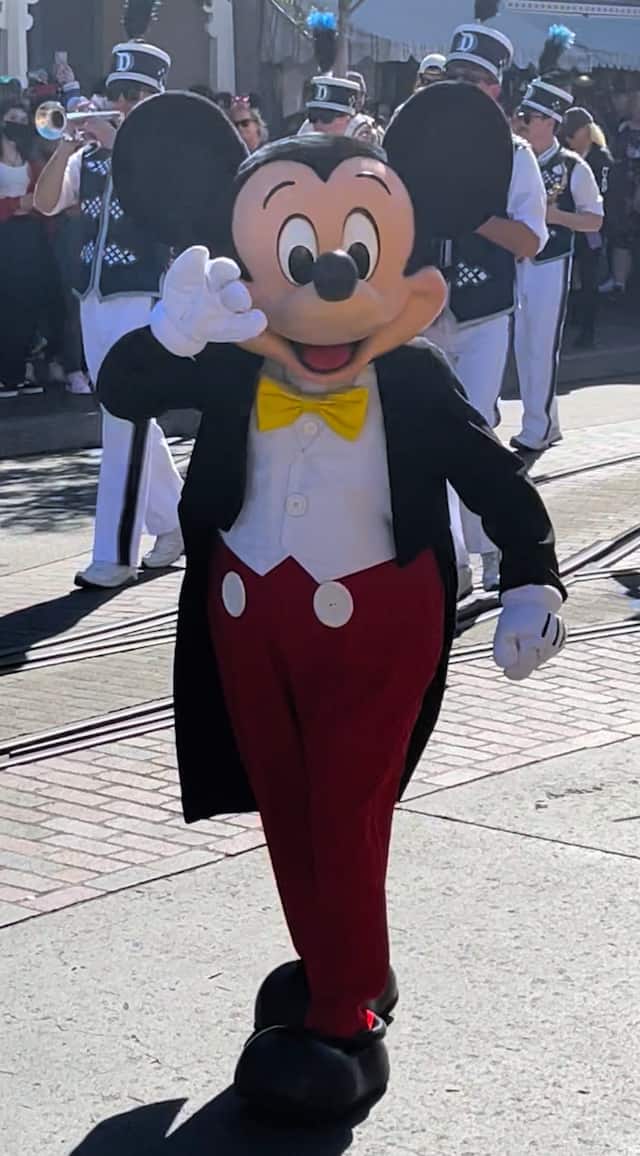 I (Donna) was crying happy tears as we waved to Mickey Mouse and he blew us kisses. This is the magic of Disney and the beauty of Main Street. After we finished our lunch and prepared to leave, we heard the band begin to play. As we watched from our table we saw Mickey Mouse appear once again along with the Disneyland band.
We felt as though we had the best seat on Main Street to enjoy such great entertainment during our meal.
We felt as though we had the best seat on Main Street to enjoy such great entertainment during our meal.
Reservations and Wait Times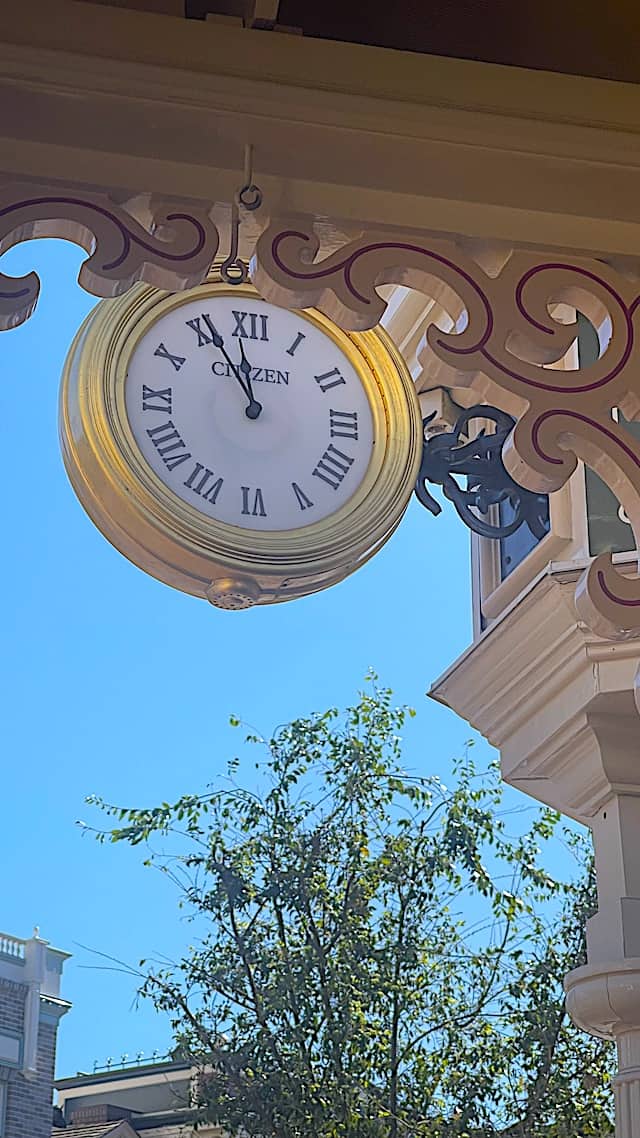 Reservations are highly recommended for Carnations Cafe and can be made 60 days before your visit. We originally made reservations for lunch, but a scheduling conflict caused us to cancel this reservation. When Carnations Cafe opened for lunch at 11:00 am we were among the first in line to be placed on a "wait list."
On the day that we visited, we were seated in less than thirty minutes. This was such a special dining location with perfect views of Main Street and a delicious menu. We would happily dine here again.
Do you love dining at any location along Main Street USA? Have you dined at Carnation Cafe before? What is your favorite dish? Do you wish this dining location was offered at Walt Disney World? Share your thoughts with us on our Facebook Page.

Are you planning a vacation? Reach out to our trusted travel agency sponsor Authorized Disney Vacation Planner
Mouse Class Travel
!