Check out all the details on the one-stop dining, shopping and more at the Artist's Palette located at Disney's Saratoga Springs Resort.
Saratoga Springs Resort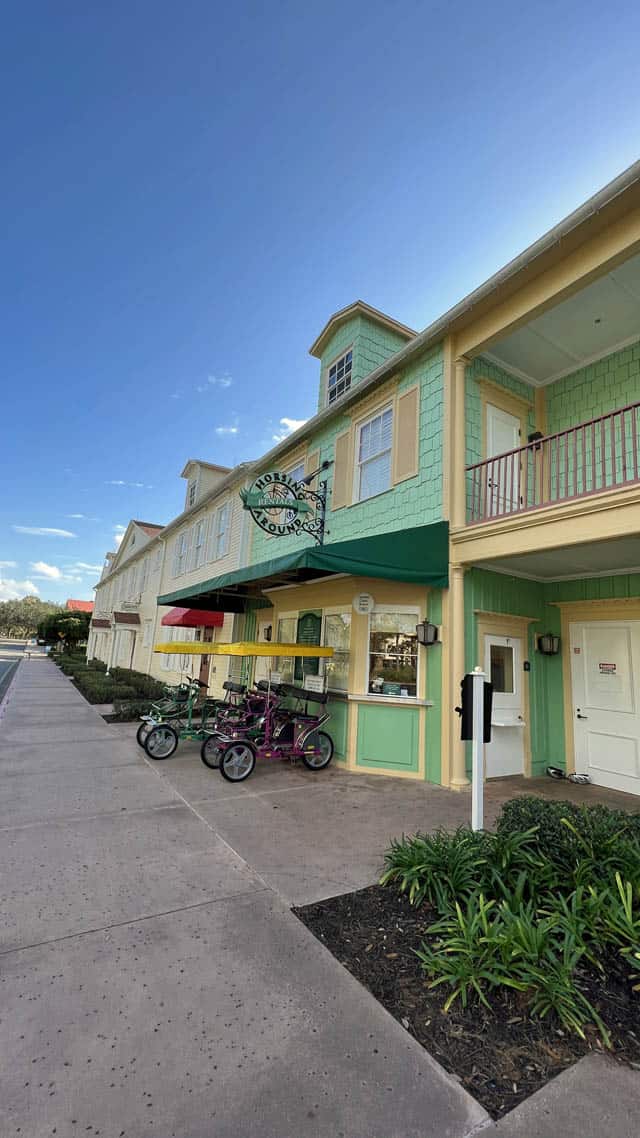 Disney's Saratoga Springs resort covers over 65 acres, contains 18 guests room buildings, and is the largest resort on Disney property. I (Susan) love all the subtle nods to Disney horses here. The entire check-in area features larger-than-life portraits of our favorite Disney horses. Check out our Saratoga Springs resort guide HERE.
Disney's Saratoga Springs is located next to Disney Springs. To get here, either take the boat or a short walk to/from Disney Springs or by Disney buses from theme parks.
Location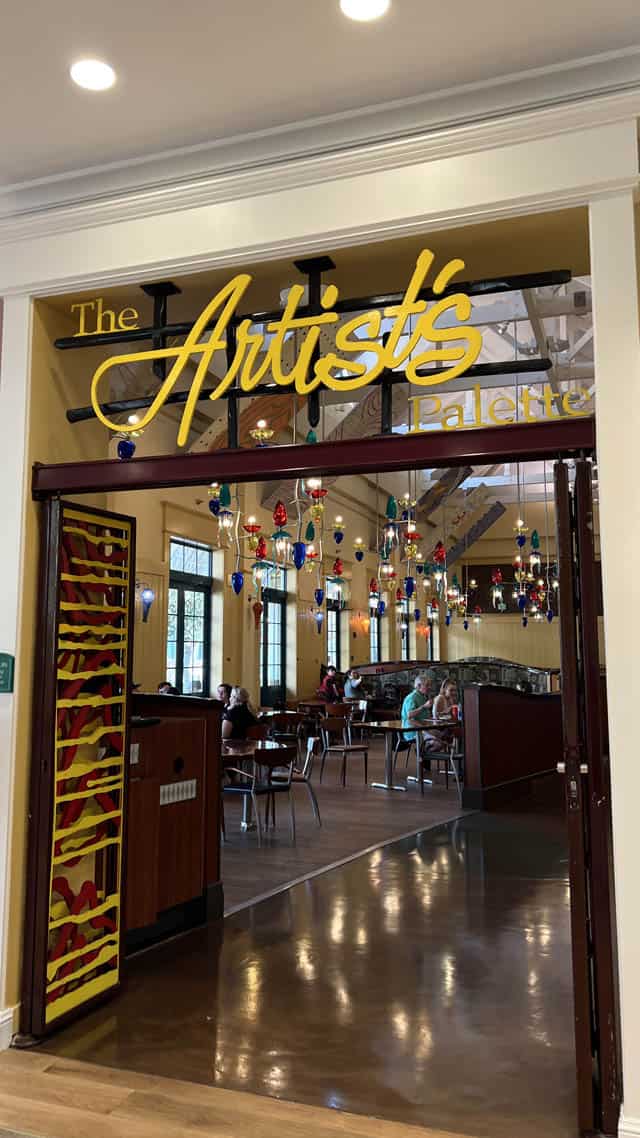 The Carriage House is the main building at Disney's Saratoga Springs. In this building and just outside, you'll find check-in, bell services, check-in, and Artist's Palette. In addition, just outside the entrance, relax in the oversized seating area. I (Susan) love the relaxing seating found at Disney DVC resorts.
One Stop Shop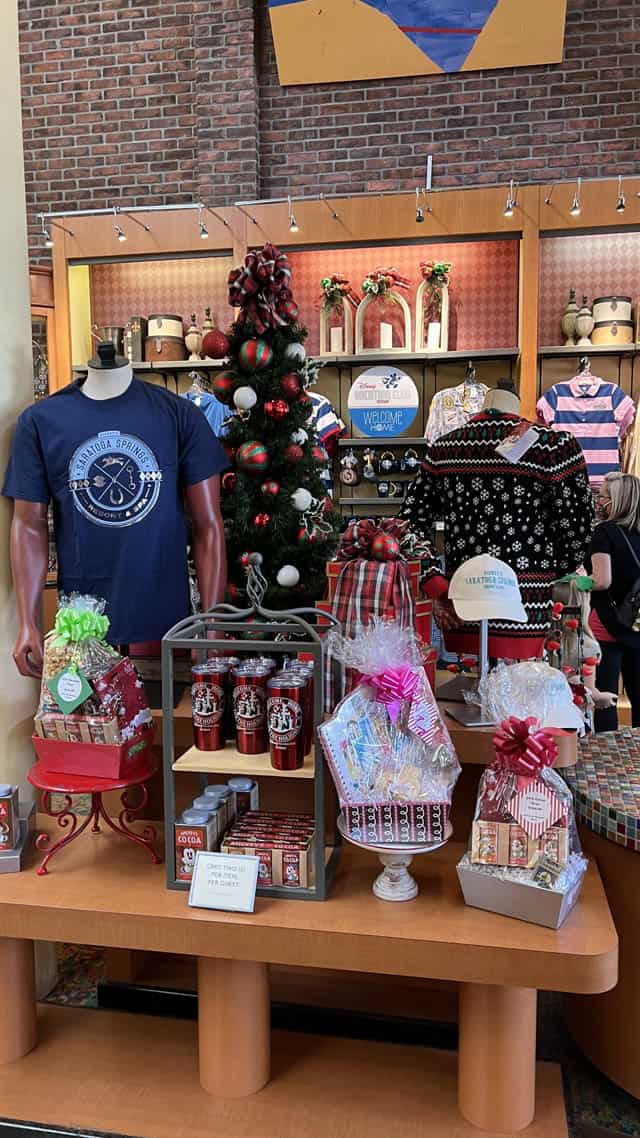 When staying at a new Disney Resort, locating dining and shopping areas can be confusing. However, at Disney's Saratoga Springs this isn't the case since they are combined. I (Susan) love the convenience of having everything in one place. The Artist's Palette also combines a full quick-service location with ample seating.
I (Susan) prefer the larger shop like in the Wilderness Lodge and Beach Club versus having a few shops spread out like at the Boardwalk. Speaking of shops, let's take a look at merchandise offerings first.
Resort Merchandise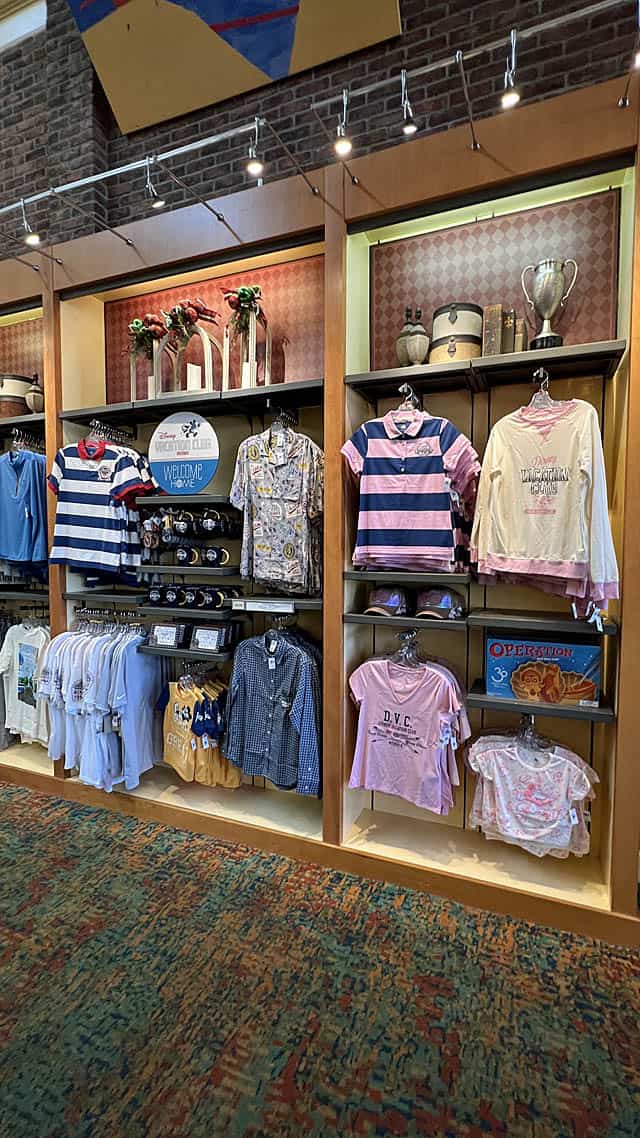 Every Disney Disney Vacation Club (DVC) resort carries a line of DVC merchandise. Not only that, but you'll also find Saratoga Springs DVC specific merchandise in a variety of clothing, accessories, kitchen items, and more. Be sure to take a look at these unique products.
Children's Items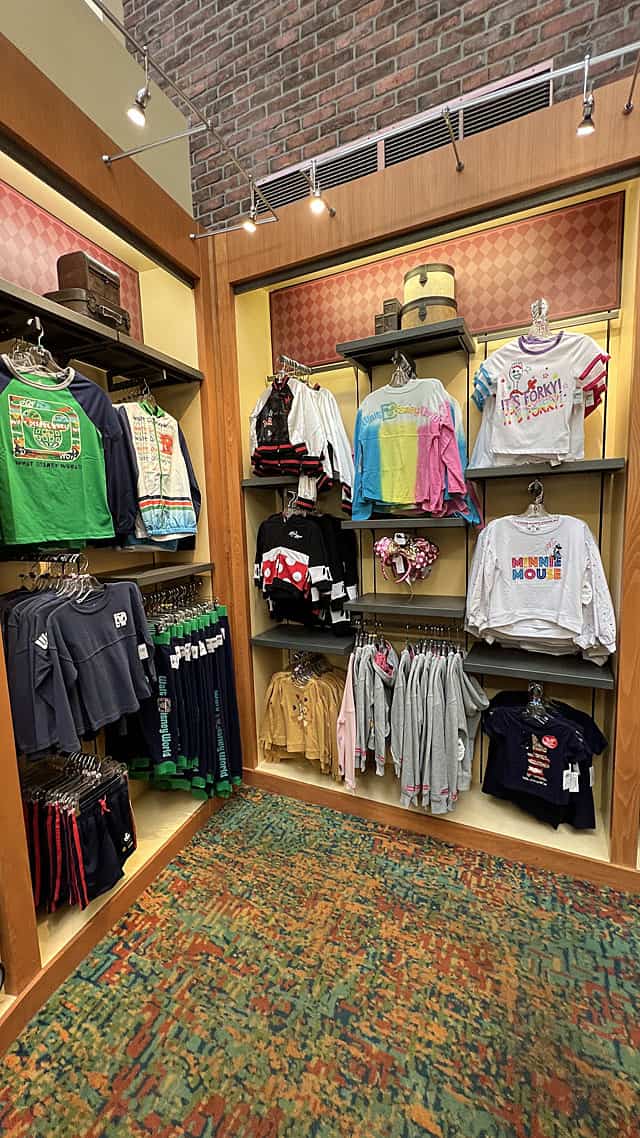 Check out the adorable children's items above. The Artist's Palette carries a variety of Disney merchandise for kids of all sizes.
Toys and Games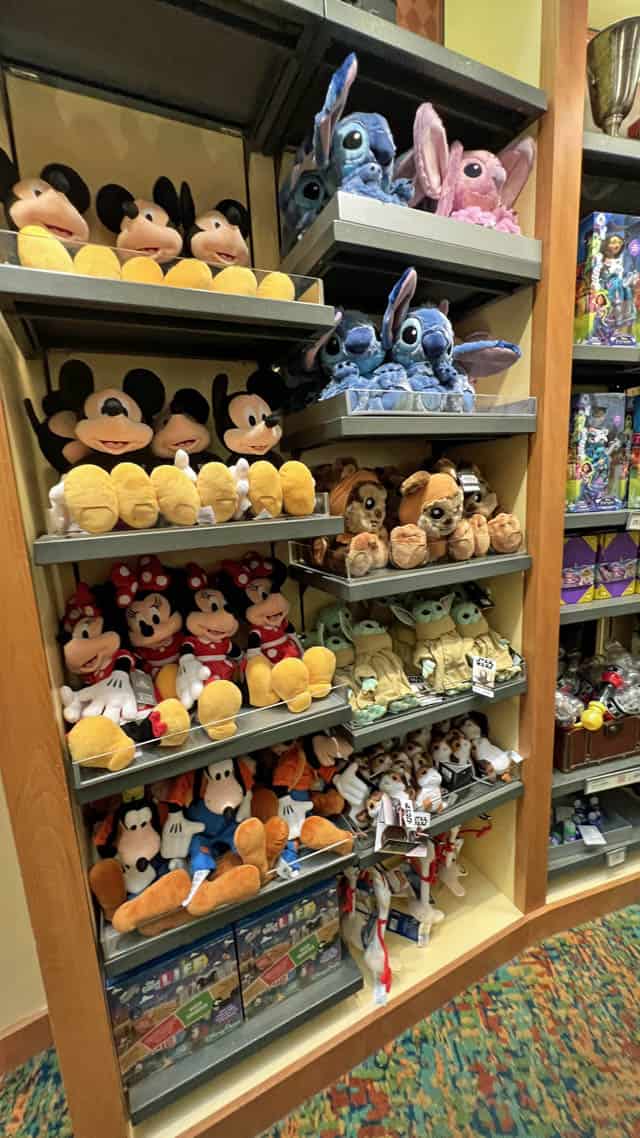 Whether you're looking for games, toys, or your favorite plush Disney character, you'll find that and more! The Disney version of popular games are extra fun!
Headwear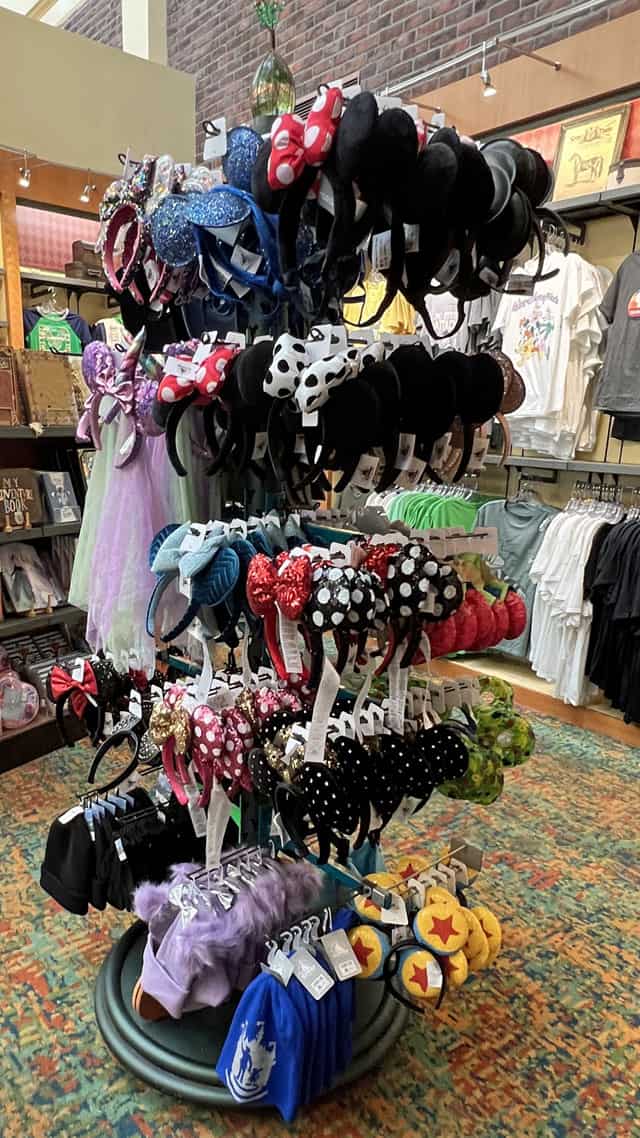 Need a new pair of headband ears? You'll find a nice variety at the Artist's Palette. In addition, seasonally cold weather hats available. Or if you're looking for a ball cap to protect your head from the heat, you're in luck!
Jewelry and Accessories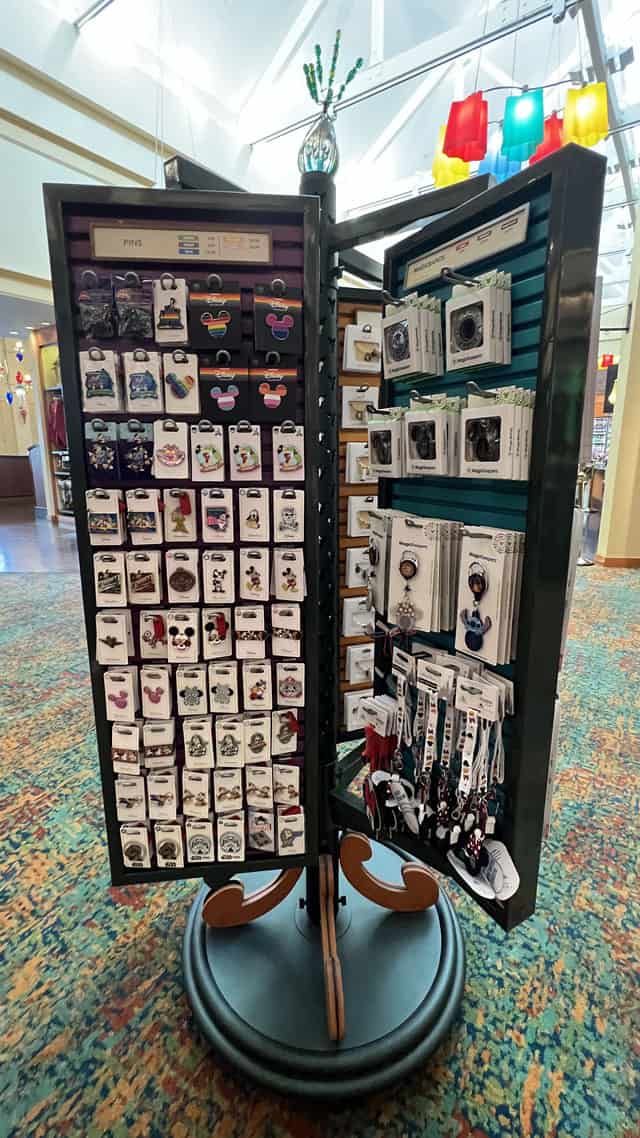 If you're looking for an inexpensive souvenir, check out the keychains, jewelry, pins, and more above. When on vacation, it adds a bit of extra pixie dust letting children pick out their souvenir. An extra bonus of purchasing it here is you won't be stuck lugging around extra items at the parks!
Bags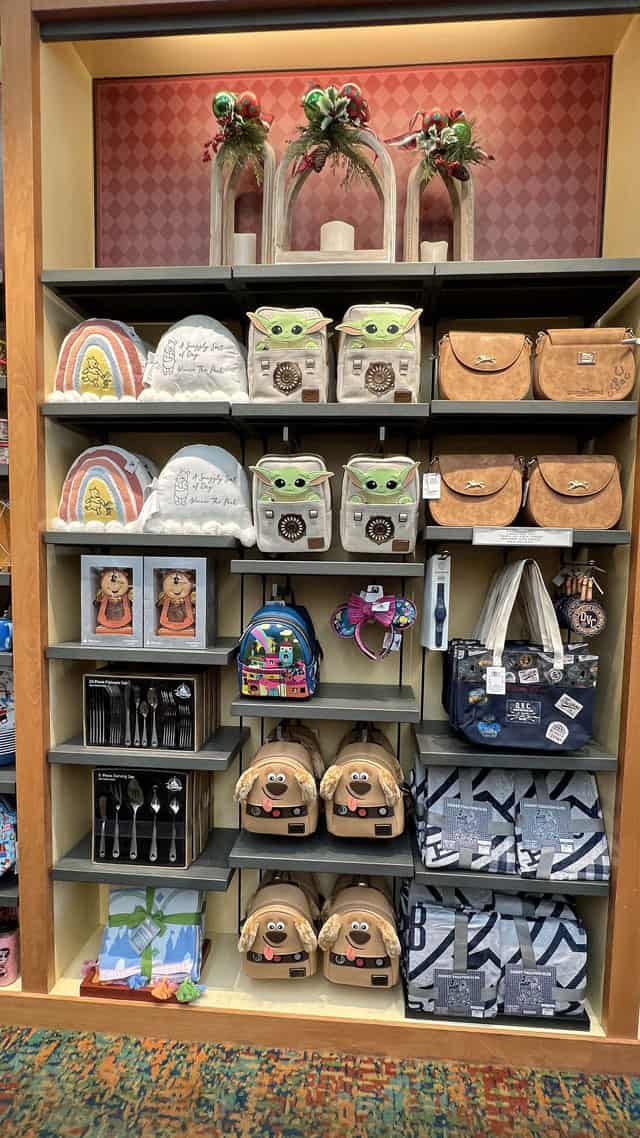 In addition to clothing and accessories, guests can purchase all types of bags and blankets. Look closely at the tan bag in the top right corner. It's sold exclusively at Saratoga Springs shops since it's a resort themed Loungefly crossbody. Did you spot the gold colored race horse on it? The other side has "Saratoga Springs" embossed on it.
The Saratoga Springs Loungefly is sold exclusively at the resort.
Swimming Gear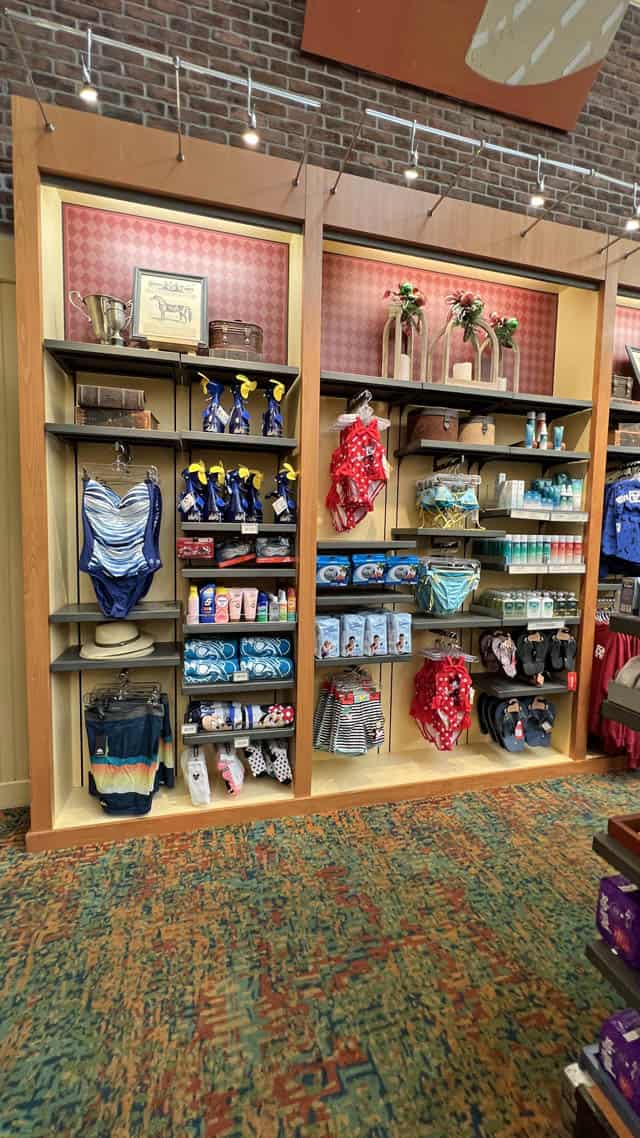 Disney's Saratoga Springs has so many pools! In case you forget your swimsuit or sunscreen, Disney offers a decent selection here. Be aware though that the cost will be quite a bit higher than you'd pay elsewhere.
First Aid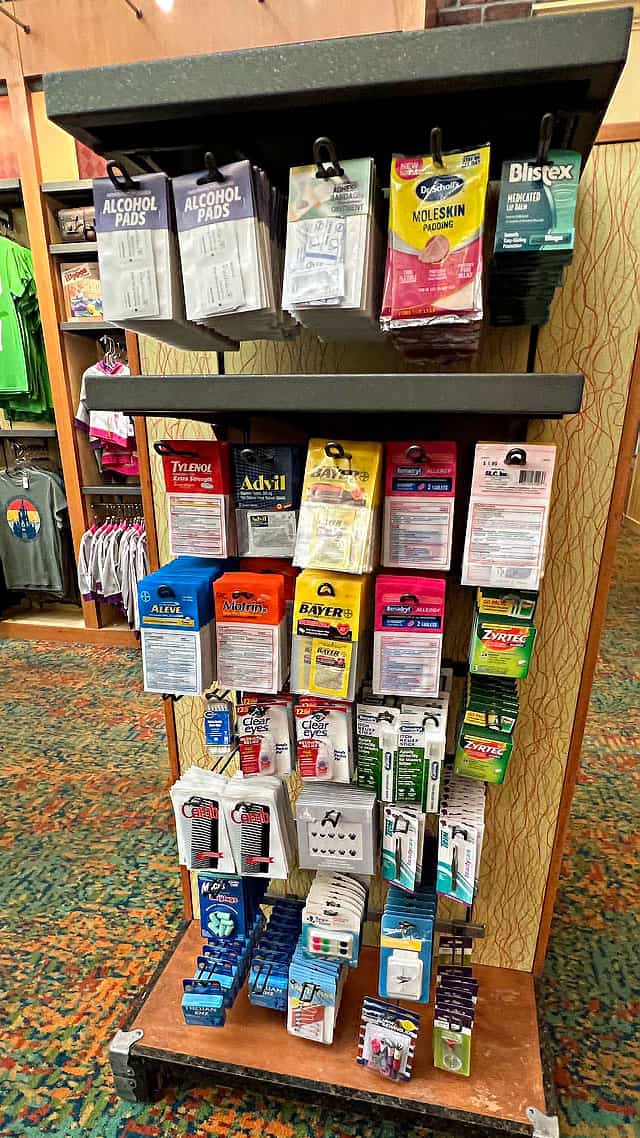 If you come down with a headache or your allergies give you a fit, no worries! Disney has you covered! You can see some of the medicine, first-aid and other necessities shown above.
Baby Items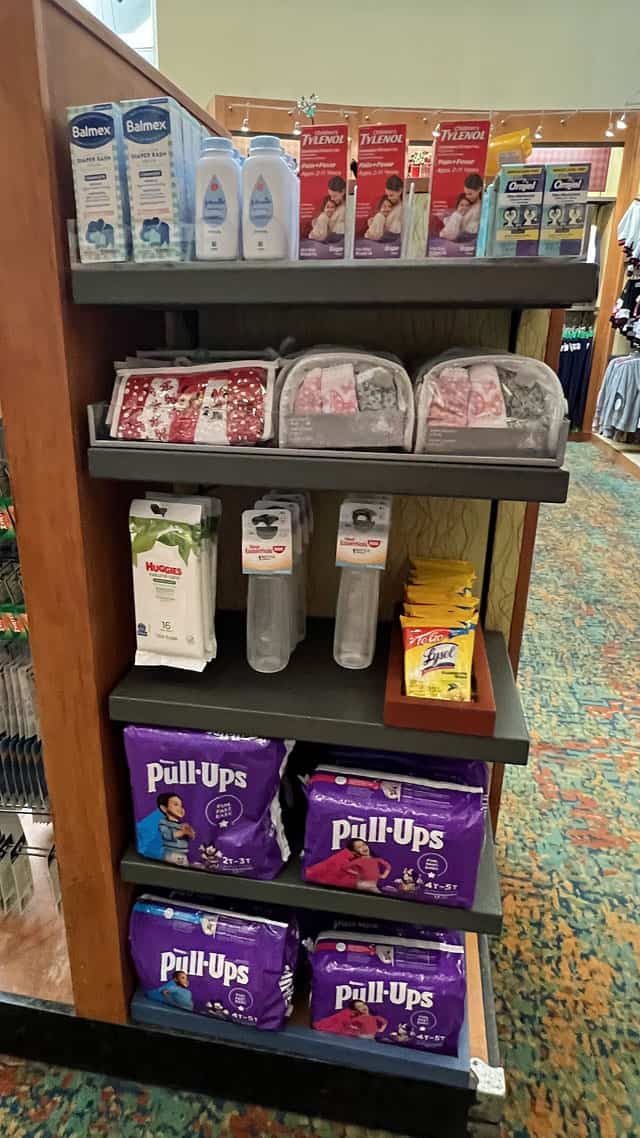 Babies need too many items! If you run out, head to the Artist's Palette to stock up.
Kitchen Items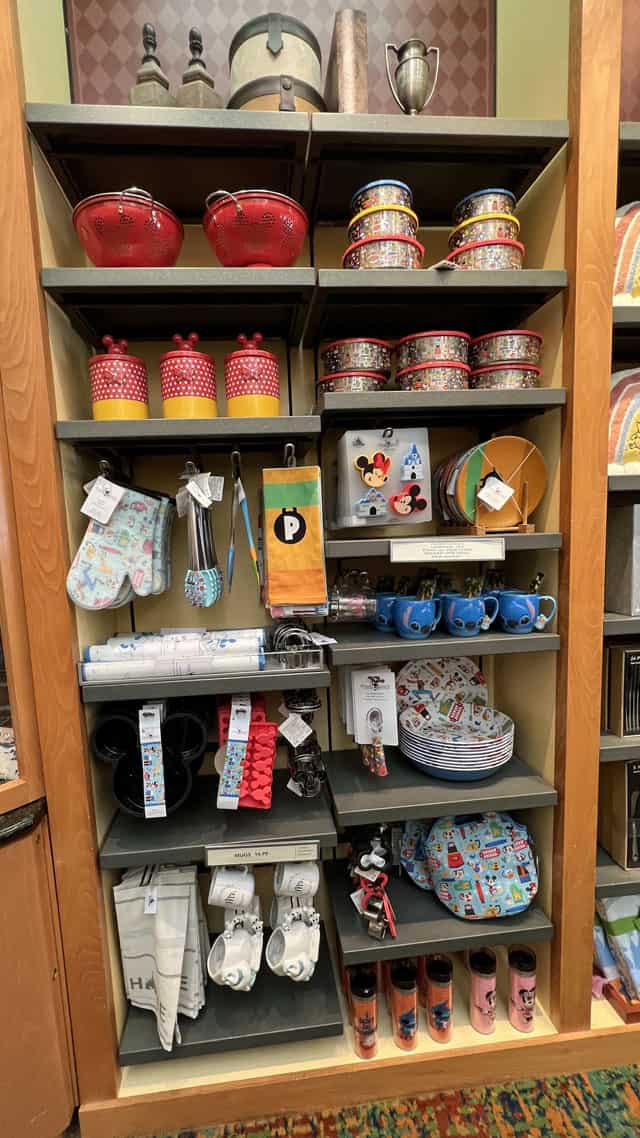 Although not the largest kitchen selection, this shop carries various kitchen items from towels to mugs and more.
Pin Trading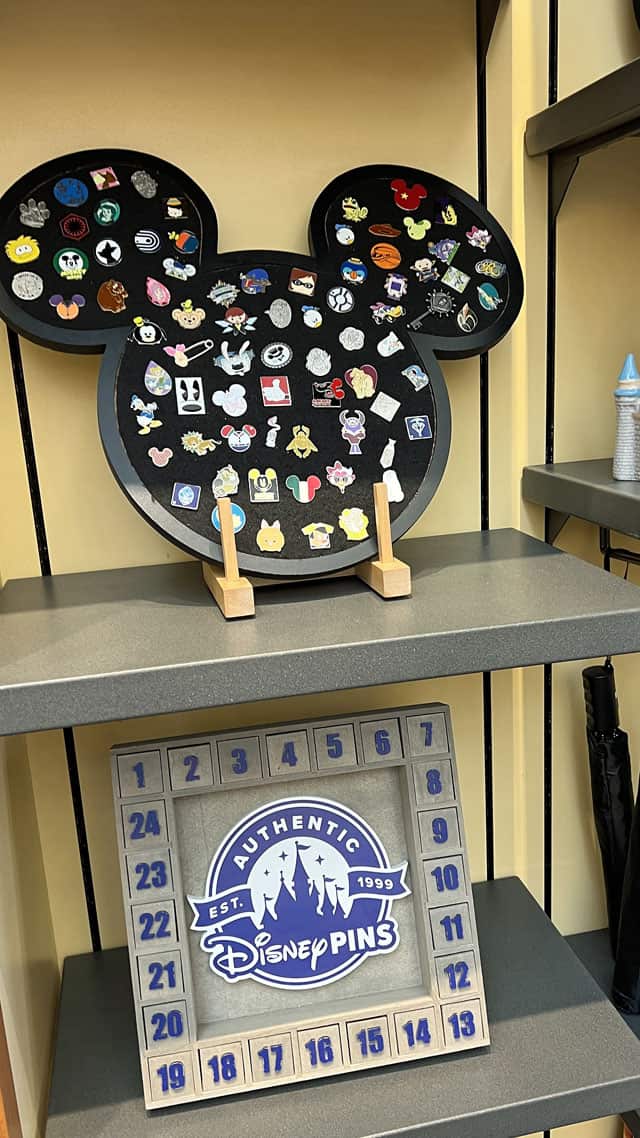 Behind the register in the shop section of the Artist's Palette, Cast Members are eager to pin trade with guests. Check out the "blind" pin trading box, too.
Theming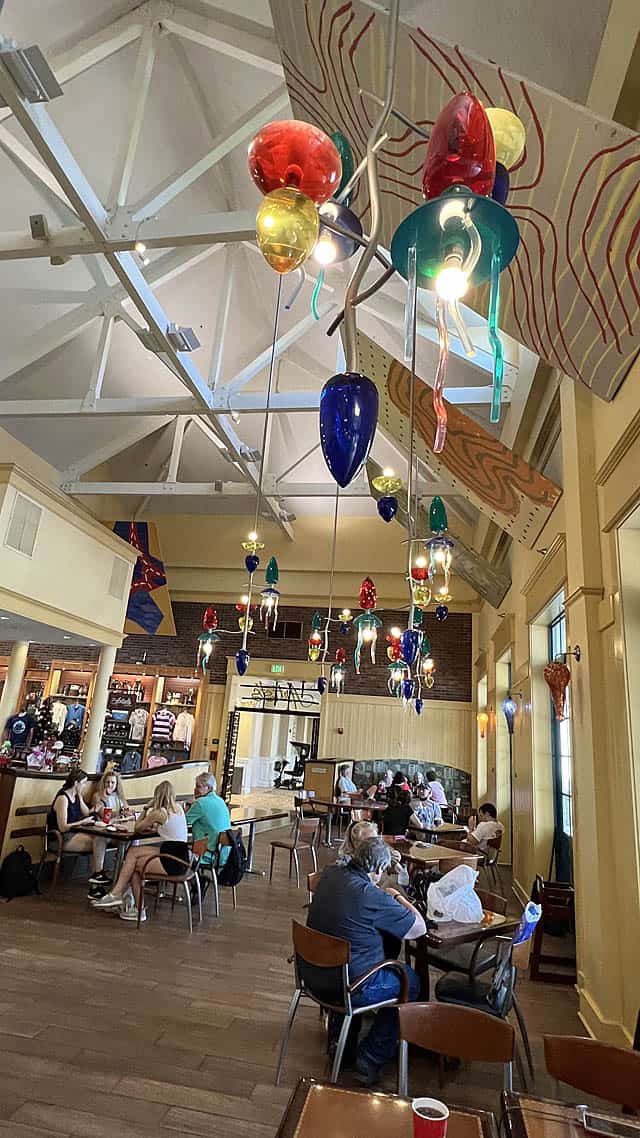 Although theming is understated here, walking into the Artist's Palette gives guests an artsy vibe. The hanging glass light fixtures are amazing. Other than that, there's not much theming going on. When we went, there was ample seating, and it wasn't overly crowded.
Groceries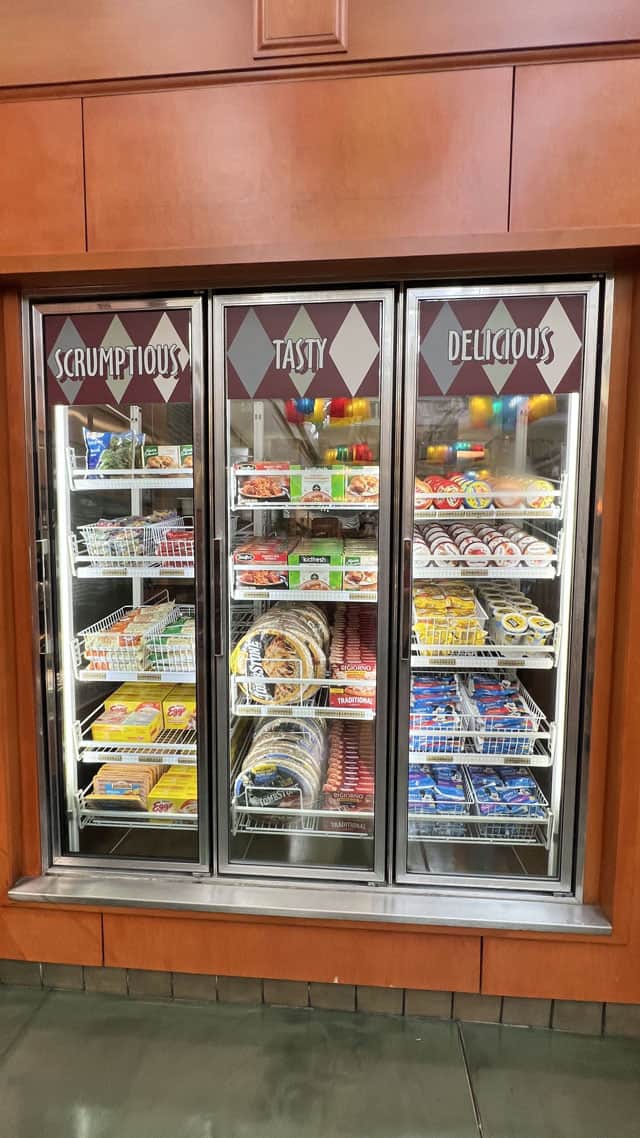 One of the best things about staying at the DVC Studio, 1-bedroom, or 2-bedroom Villas is the kitchenette or full kitchen included. While most people aren't going to prepare 3 meals a day in their room, it's so nice to have the convenience to eat a quick breakfast or late night snack there.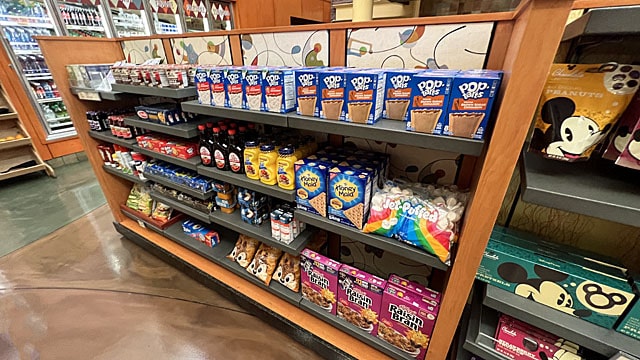 In addition, there's a large freezer and refrigerated section at the Artist's Palette including frozen pizzas, sandwich meats, beverages, ice cream, and so much more.
Sweets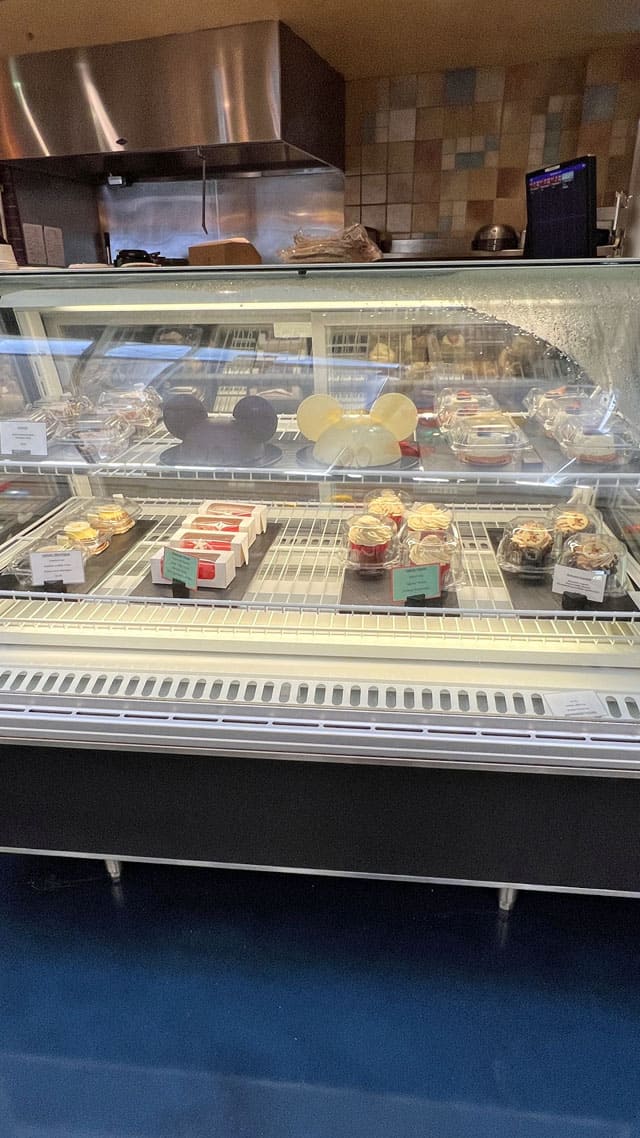 Some say Disney themed treats taste better. Not sure about that, but the feelings of nostalgia eating them on vacation sure can give us the warm fuzzies!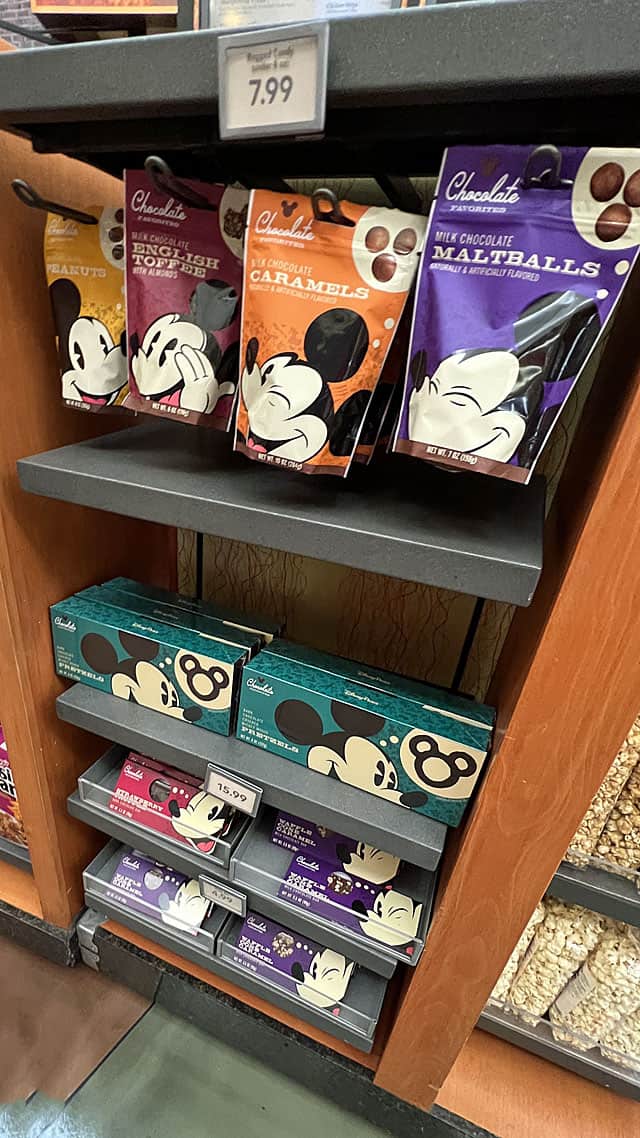 In addition to Goofy's Candy Company, you'll find chocolates and Mickey shaped rice krispies treats. Sweets make a wonderful souvenir that are easy to bring home.
Grab and Go Food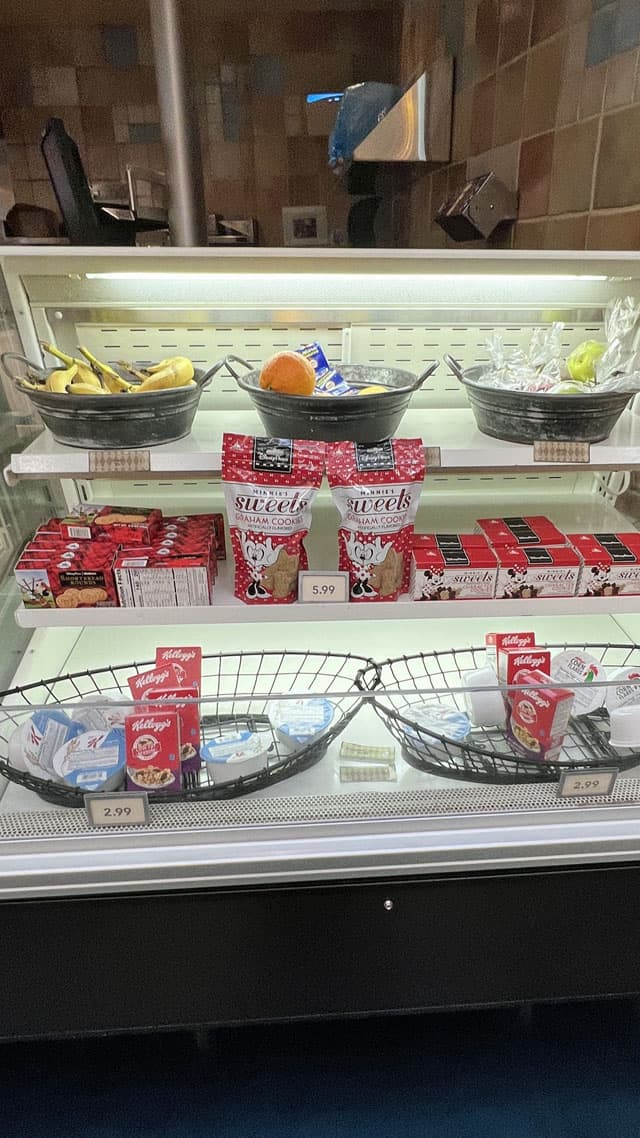 Whether you're looking for a sandwich, healthy snack, or sweet treat, guests at Disney's Artist's Palette can pick what you want and take it to go.
Quick Service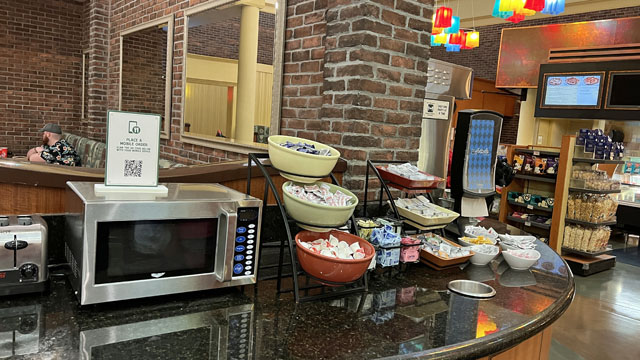 The Artist's Palette serves breakfast, lunch, and dinner. In the picture above, you'll see the condiments and coffee creamers. Each morning, Joffrey's coffee is served hot.
Breakfast Entrees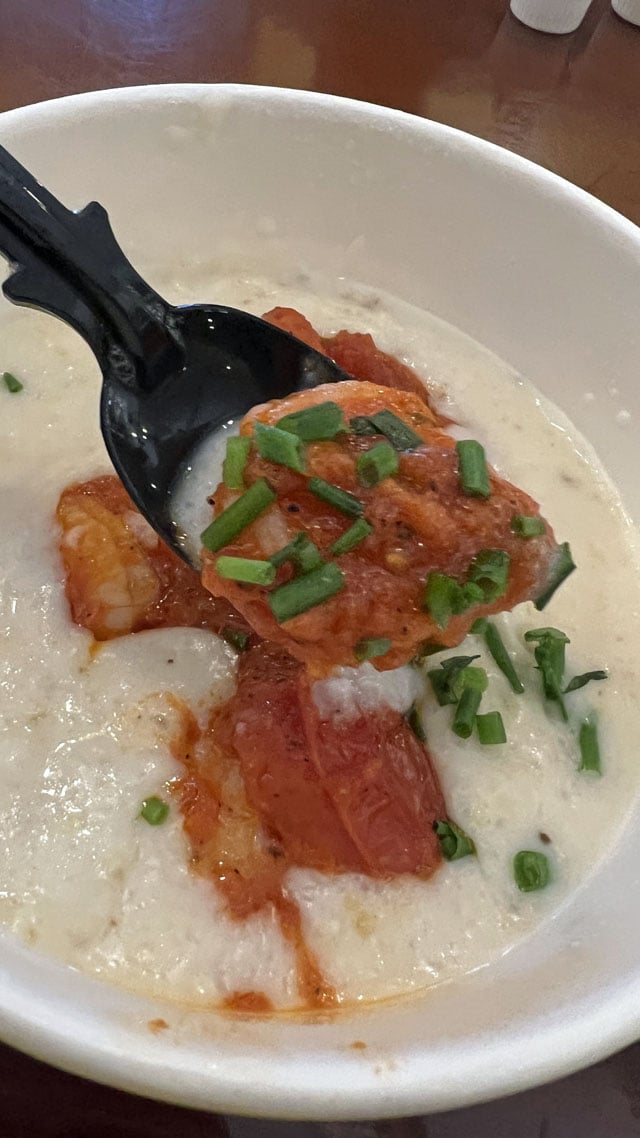 In addition to Disney's traditional Mickey waffles and scrambled eggs, look for more adventurous dishes, too!
Shrimp and Grits – Cajun-spiced Shrimp, Slow-cooked Grits, Tomatoes $12.49
Bounty Breakfast Platter – Scrambled Eggs, Mini Mickey Waffles, Breakfast Potatoes, and a Biscuit served with Bacon and Sausage $12.49
Bacon and Caramelized Onions Quiche – Flaky Crust with Caramelized Onions, Bacon, Fresh Chives, and a Four-Cheese Blend served with choice of Side $9.29
French Toast Strata – Topped with Fresh Strawberries and Maple Drizzle served with Bacon $9.29
Mickey-shaped Waffles – Three Mini Mickey Waffles served with Bacon $9.49
Country Breakfast Wrap – Scrambled Eggs, Diced Onions and Peppers, Breakfast Potatoes, Sausage, Cheddar, and Salsa wrapped in a Flour Tortilla $7.99
Croissant Sandwich – Eggs, Bacon, and Cheddar served on a Flaky Croissant $7.99
What We Tried for Breakfast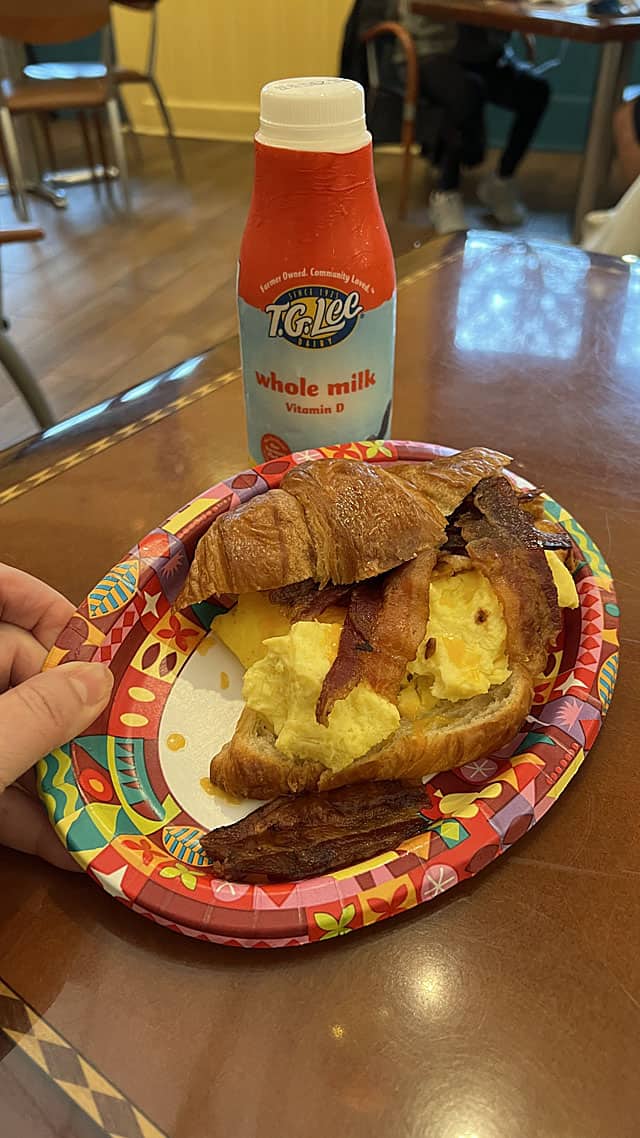 For breakfast, I (Susan) tried the shrimp and grits. They were delicious! The grits were amazingly creamy. I counted 7 shrimp in my dish, and they were very fresh tasting. In addition, the tomatoes and cajun spices blended together perfectly with the grits. This breakfast was one of my favorites anywhere on Disney property. The spices were flavorful but not spicy.
My husband ate the croissant sandwich. All of the ingredients were fresh, and he enjoyed the breakfast sandwich.
Lunch/Dinner Menu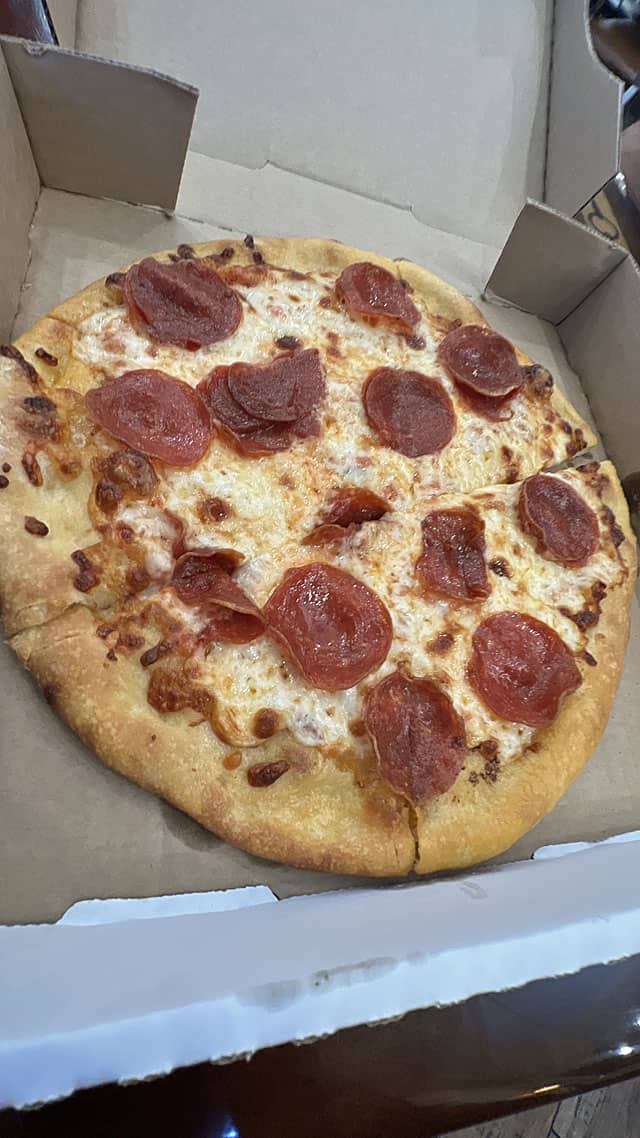 Entrees
Lemon-Tarragon Roasted Chicken – Roasted Half-Chicken in Lemon-Tarragon Butter served with Roasted Potatoes and Seasonal Vegetables $14.49
Braised Meatballs – Pork and Beef Meatballs cooked in Pomodoro Sauce served with Polenta, Sweet-and-Sour Peppers and Onions, and Grilled Baguette $11.99
Chicken Strips (4 Strips)*
Sandwiches
Cheese Steak Sandwich – Sliced Roast Beef, Caramelized Onions, Red Peppers, and Provolone on a French Baguette* $11.49
Turkey Club Wrap – Smoked Turkey, Cheddar, Bacon, Lettuce, Tomato, and Ranch Dressing on Flour Tortilla* $11.49
Italian Sub Sandwich – Sliced Ham, Salami, Mortadella, Provolone, Pepperoncini, Lettuce, and Tomato on a French Baguette with Herbed-Red Wine Vinaigrette $10.99
Barbecued Pulled Pork Sandwich – Barbecued Pork topped with Creamy Coleslaw and Mango Ketchup on a Kaiser Roll served with a choice of Side $10.49
Hot Ham and Cheese Sandwich – Black Forest Ham, Smoked Gouda, Dijon Mustard, Herbed Oil, and Quattro Formaggi Spread on Ciabatta Bread $10.49
*Served with house-made Saratoga chips
Salads
Saratoga Salad with Chicken – Chicken, Mixed Field Greens, Dried Blueberries and Cranberries, Apples, Spiced Walnuts, Crispy Croutons, and Lemon-Poppy Seed Dressing $11.29
Caesar Salad with Chicken – Chilled Chicken on a bed of Romaine Lettuce, Croutons, and Shredded Parmesan served with Caesar Dressing $10.99
Saratoga Salad – Mixed Field Greens, Dried Blueberries and Cranberries, Apples, Spiced Walnuts, Crispy Croutons, and Lemon-Poppy Seed Dressing $9.29
Caesar Salad – Bed of Romaine Lettuce, Croutons, and Shredded Parmesan served with Caesar Dressing
Pizza
Three-Meat Pizza $10.49
Margherita Pizza $9.99
Pepperoni Pizza $9.99
Cheese Pizza $9.49
What We Tried for Dinner
I ordered the Cheese Steak Sandwich. When I first bit into this sandwich, I was amazed at how soft the French Baguette was. It tasted to fresh! The combination of sliced roast beef, caramelized onions, red peppers, and melted provolone cheese were so satisfying! It was one of the best Disney sandwiches I've tried. And the addition of house made chips is a nice touch. They were crispy and thicker like kettle chips.
My husband ordered the pepperoni pizza. He enjoyed it and appreciated the fact that there wasn't too much pizza sauce on it. The pizza was also a decent portion and filled him up.
Our Favorite Cupcake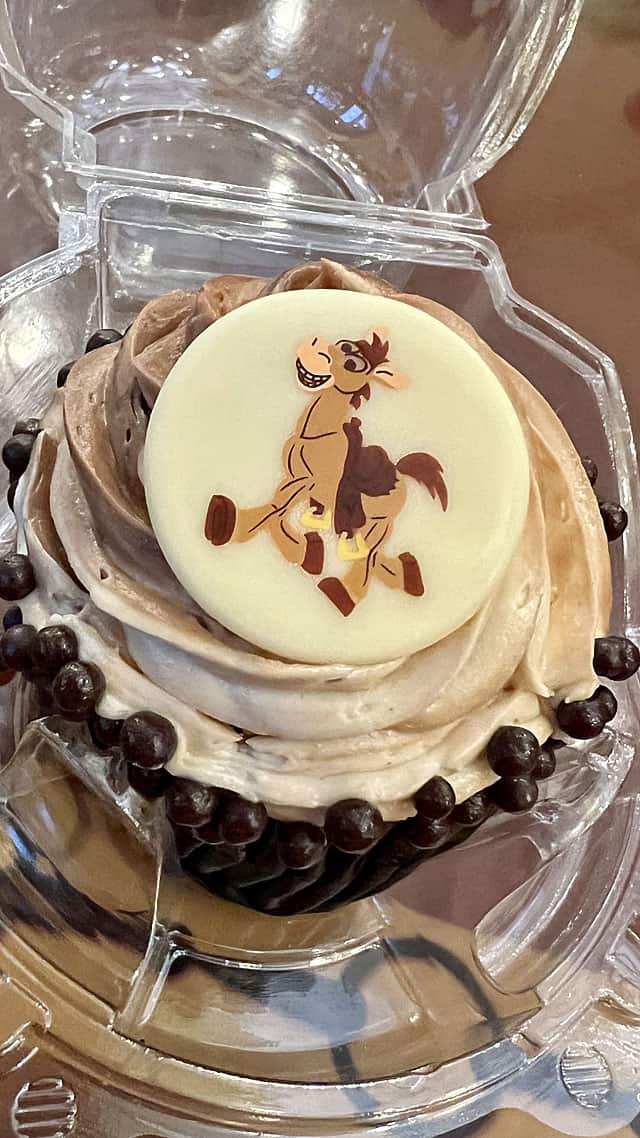 Usually, I'm not a Disney cupcake fan. They're just overly sweet and lack flavor. However, the Bullseye cupcake at the Artist's Palette is delicious! This chocolate cupcake filled with peanut butter mousse and topped with buttercream frosting was bursting with flavor!
It was so tasty we ate the entire cupcake. The chocolate rice krispies and white chocolate Bullseye coin made the cupcake visually appealing but didn't add taste to it.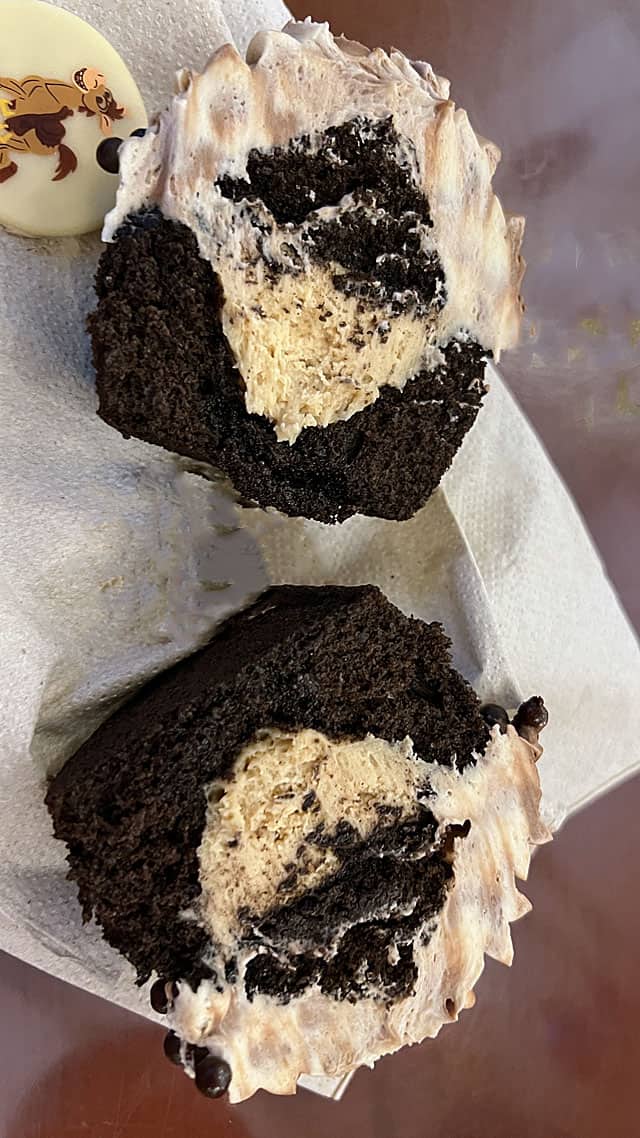 Check out the cross section above to see the generous amount of peanut butter mousse filling. If you visit Saratoga Springs, I'll hope you give it a try!
Final Thoughts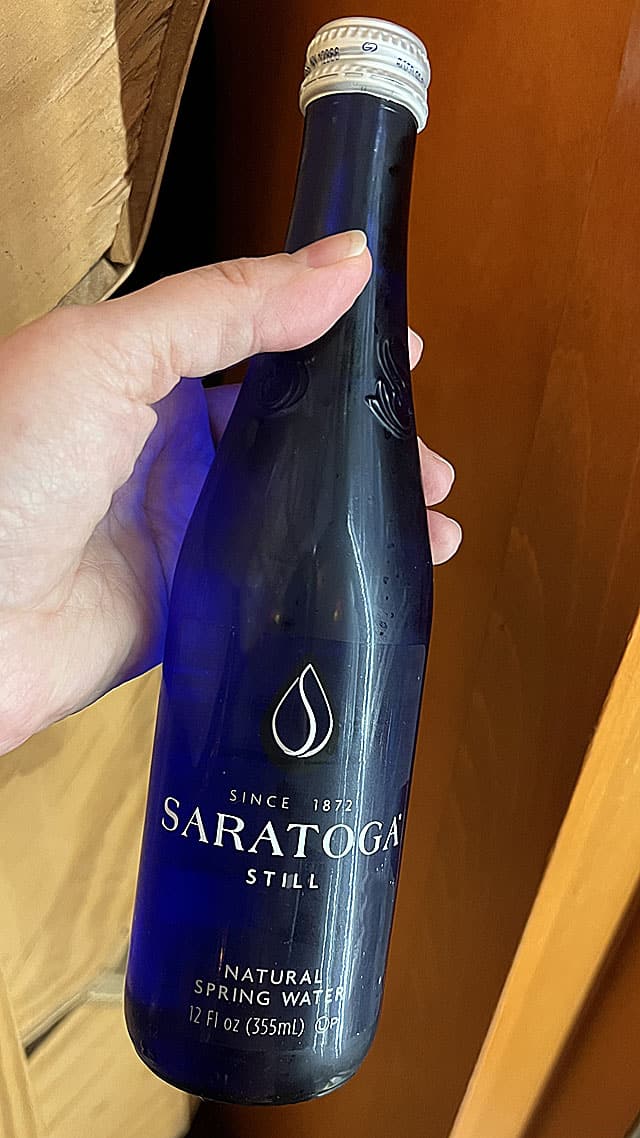 Another nice touch found at the Artist's Palette is guests can purchase water from the actual Saratoga Spring in New York. As you can tell, we thoroughly enjoyed dining here. As for shopping, it had pretty standard Disney and DVC items.
Have you ever been to the Artist's Palette at Disney's Saratoga Springs? Would you go there to try the food? Please share your thoughts with us on Facebook.