You will not believe how detailed and elaborate many of these displays are. Join us for a full tour of these eggs. Which will be your favorite?
Disney Easter Eggs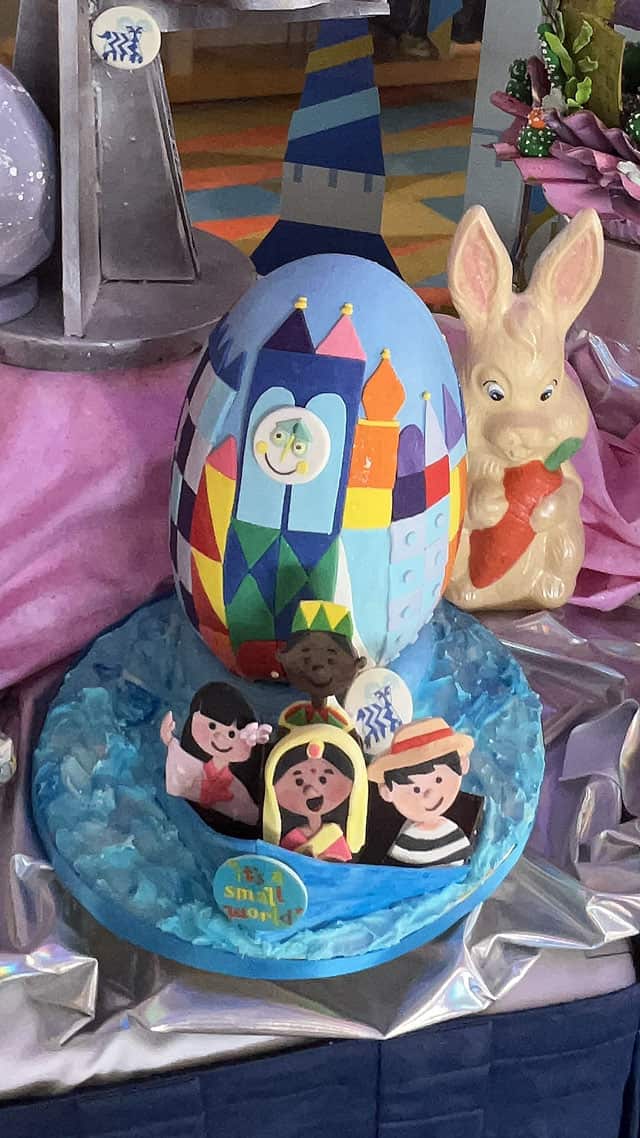 There is so much to enjoy during the holidays at Walt Disney World. This Easter season Guests can enjoy delicious treats, a fun Easter Egg scavenger hunt, and Disney gifts for your Easter basket.
Many Walt Disney World Resorts also offer breathtaking egg displays in their lobbies. At the Grand Floridian, there are 25 unique eggs that feature many of our favorite characters, films, and attractions. Each display weighs any where between 9 to 100+ pounds and stands 16-30 inches heigh. Check out many of these great decorative eggs HERE.
But there are even more decorative eggs to behold through the Walt Disney World Resort. You will not want to miss this tour of the eggs at Contemporary Resort. It is simply amazing what the talented Disney artists can create. Grab your Easter basket because the fun does not stop at simply these resorts. Check out the photo tour of these Resorts along Disney's Boardwalk.
Disney's Beach Club Egg Displays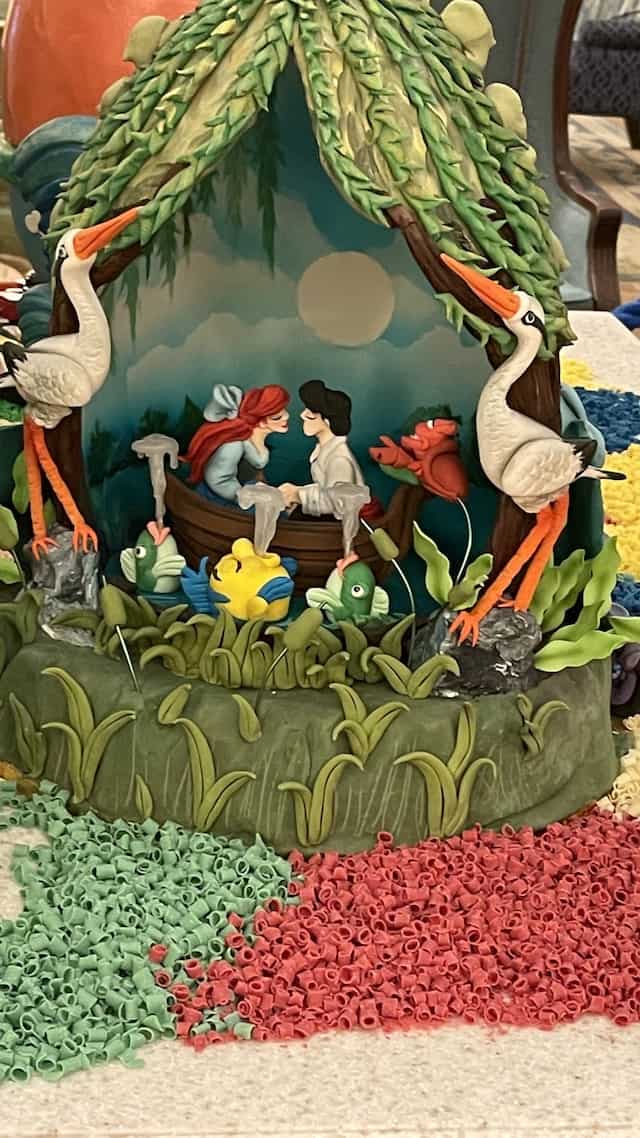 Disney's Boardwalk area offers a variety of Disney Resorts, dining options, and even great entertainment. It was very easy for us to tour all of these beautiful egg displays along Disney's Boardwalk.
At Disney's Beach Club, there were a few eggs on display from previous years. Returning this year is the GORGEOUS "Little Mermaid" egg. On one side is the scene from "Kiss the Girl".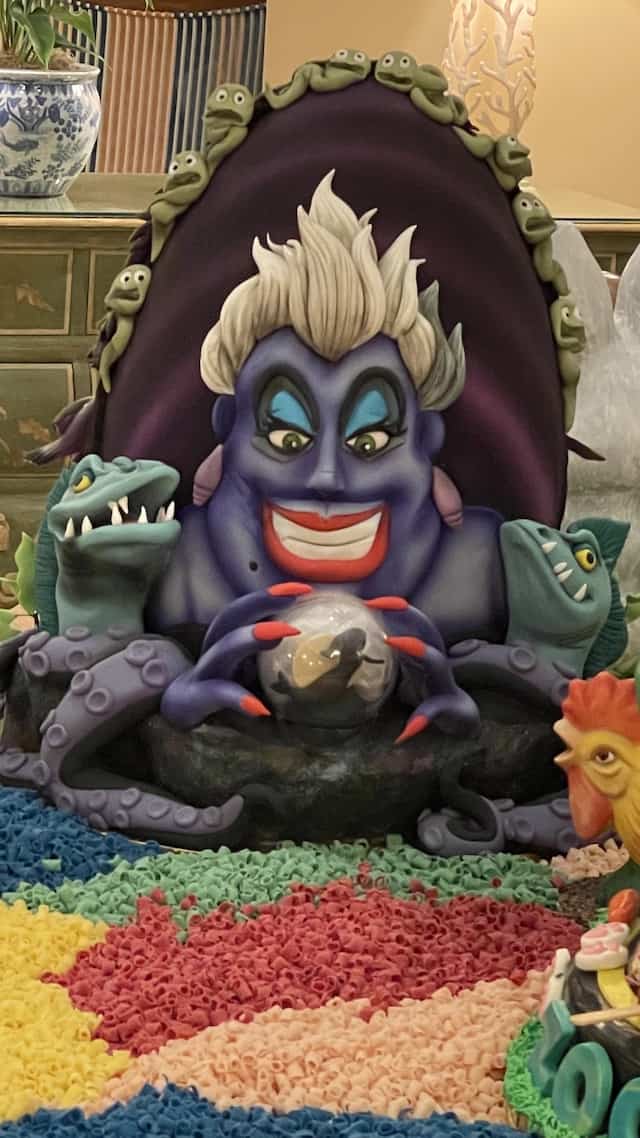 While the other side displays the ever so fabulous, Ursula. The detail of this egg is astounding. You can even see the image of Ariel swimming in Ursula's crystal ball. We are personally glad that this egg made a repeat appearance.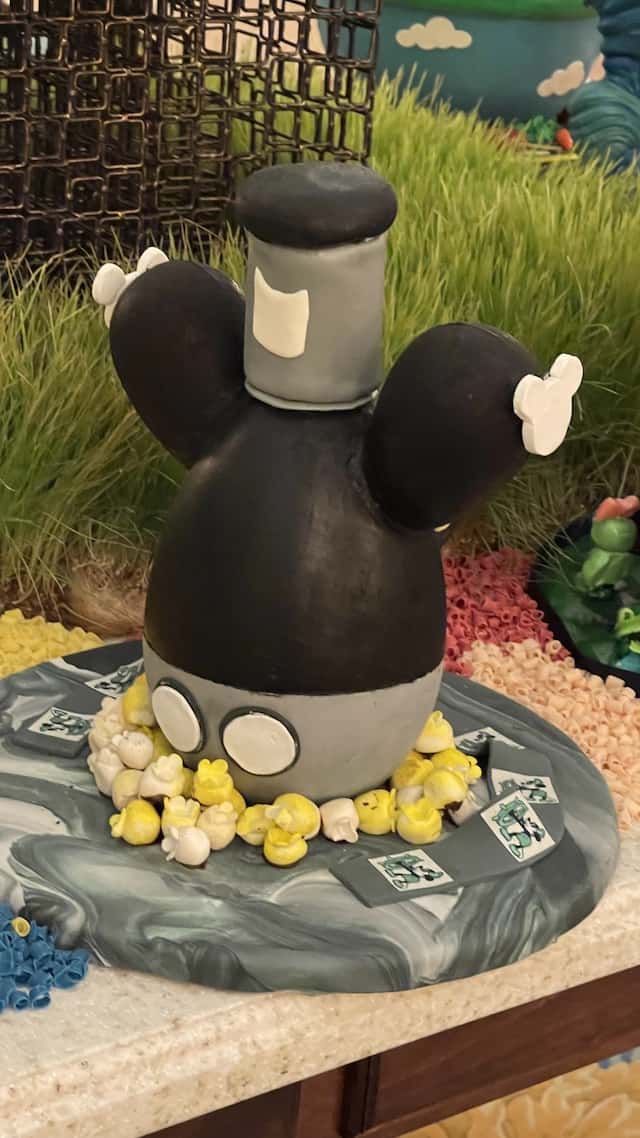 Popcorn! Get your Popcorn! Check out this fun Steamboat Willie themed popcorn bucket. The fun detail of Mickey ears on the side that serves to hold the popcorn lanyards is so cute. Of course you can't have a popcorn bucket without…popcorn. Look carefully to see the fun popcorn pieces that make this display so realistic.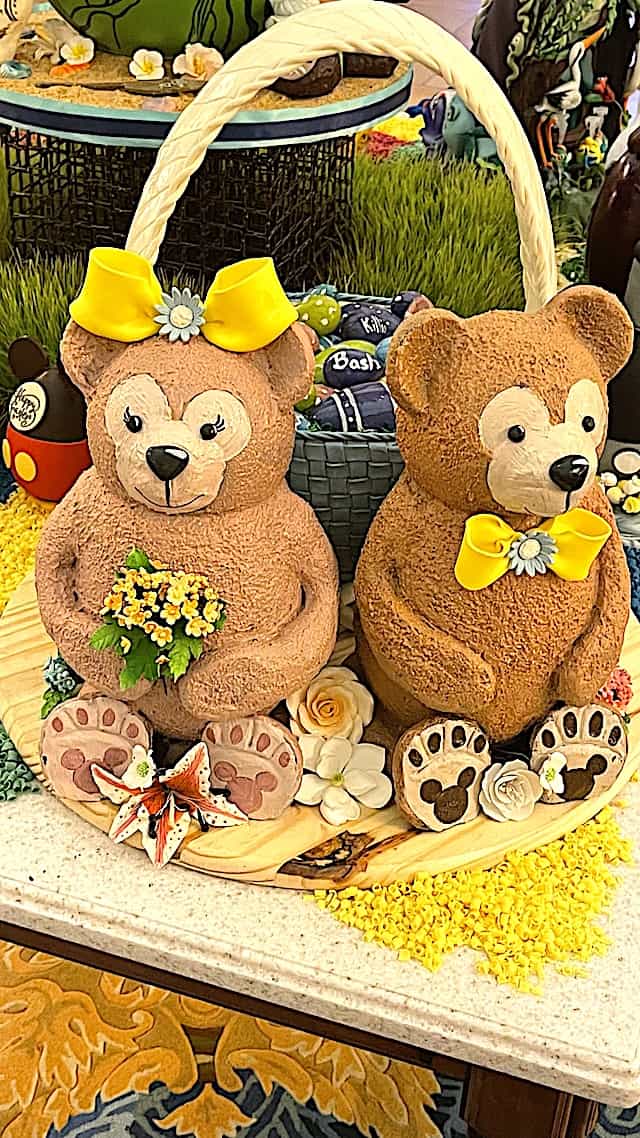 The star of this display is the large Easter basket with both Duffy and ShellieMay. The adorable Mickey Mouse heads on their paws was my (Donna) favorite touches. Both Duffy and ShellieMay look so soft and ready to receive big bear hugs. Inside their Easter basket, there are dozens upon dozens of decorated eggs.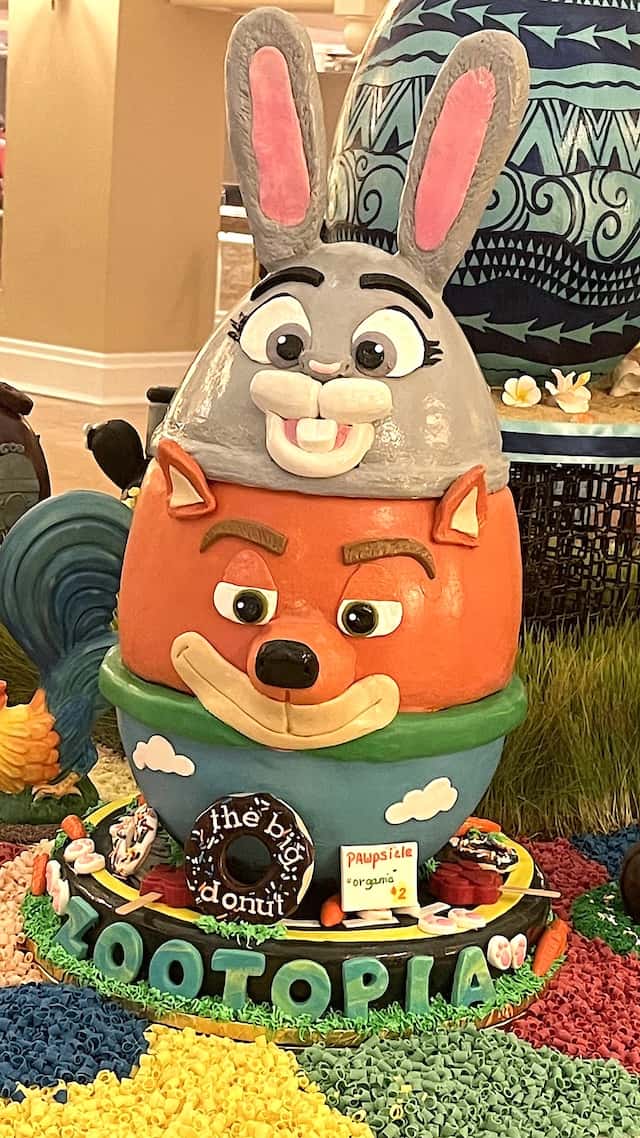 The Zootopia egg is re-imagined a bit this year. Featuring Judy Hoops and Nick Wilde, this is such a clever design. We love the sign for "Pawpsicles" on the bottom. Can you really have an Easter Egg tour without featuring one of our favorite Disney rabbit from Zootopia?
These decorative Easter Eggs will be on display until Monday, April 18, 2022.
There is also a Moana themed egg on display at this location complete with Maui's hook and Stitch popping out of a cleverly decorated Easter egg.
Yacht Club Easter Egg Tour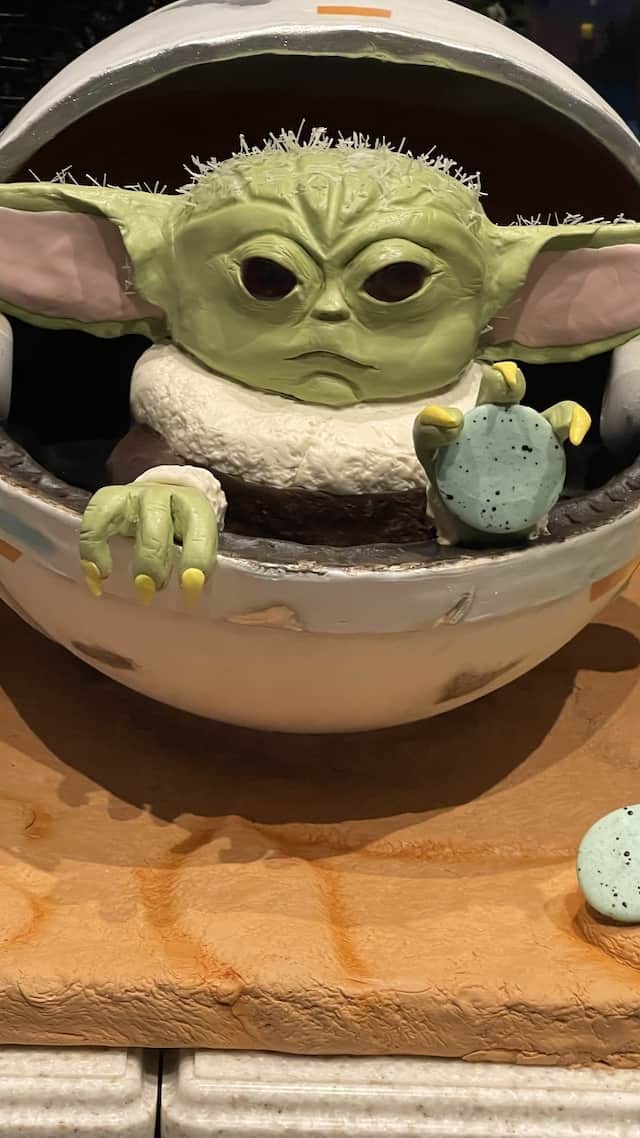 This is the Way to finding "The Child" Easter Egg. Baby Grogu is safely inside his pram snacking on a few of his favorite blue macaroons. Although the face looks a bit off for "The Child", I (Donna) did love the adorable attention to the fuzz on the top of his head and ears.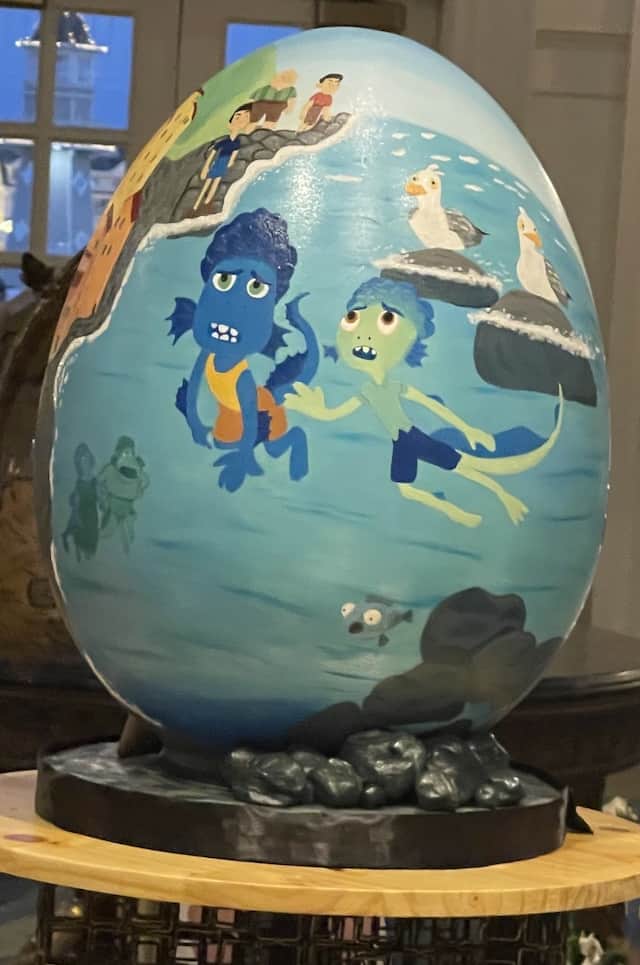 The center of the display features many of our favorite scenes for the newer Pixar film, Luca. One one side you see them underwater and the opposite side they are on land.
We love how each of these eggs are beautiful all of the way around. No matter where you are standing, you will not see a bad angle for any of these eggs.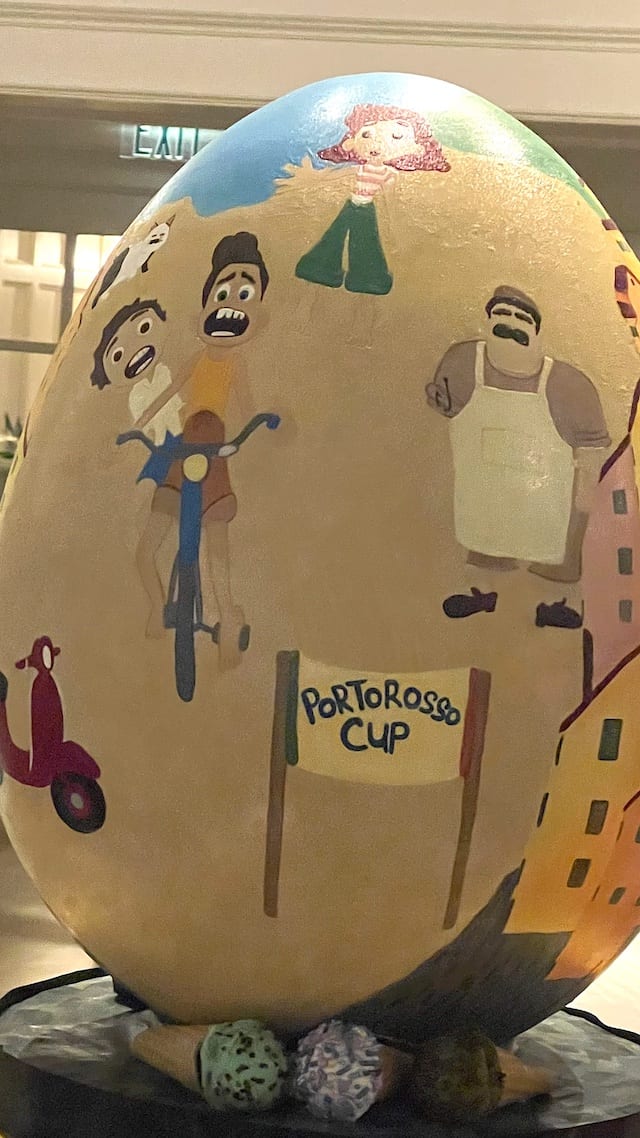 It is a "Tale as Old as Time", but this egg is truly egg-citing. This ballroom scene from the Disney classic "Beauty and the Beast" gives us all the feels. Also on the display, a beautiful mosaic rose as seen in the opening scene of the film.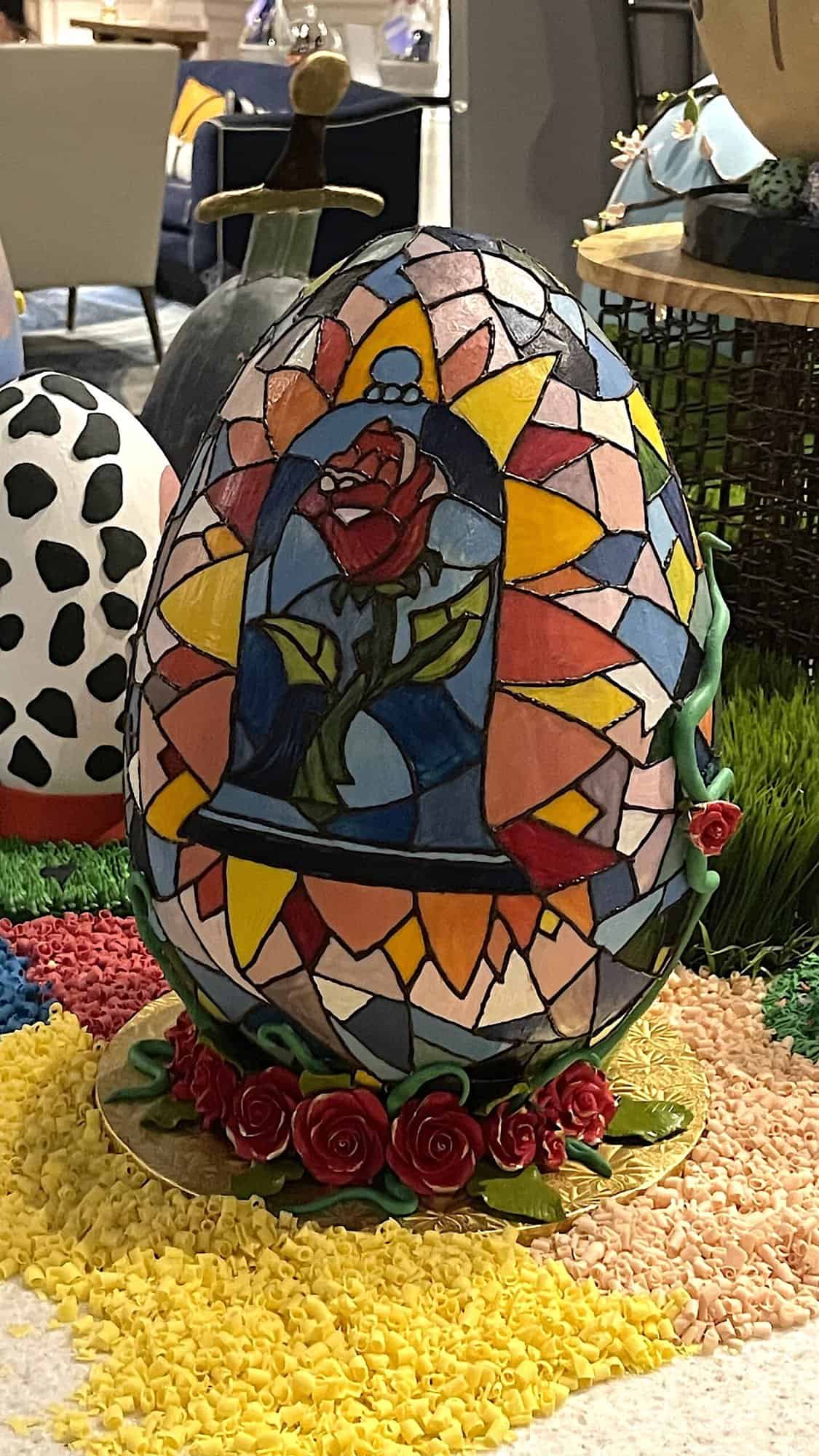 Are you a fan of the "Orange Bird"? You will not want to miss this HUGE Orange Bird egg! This is complete with orange slices at the bottom as well.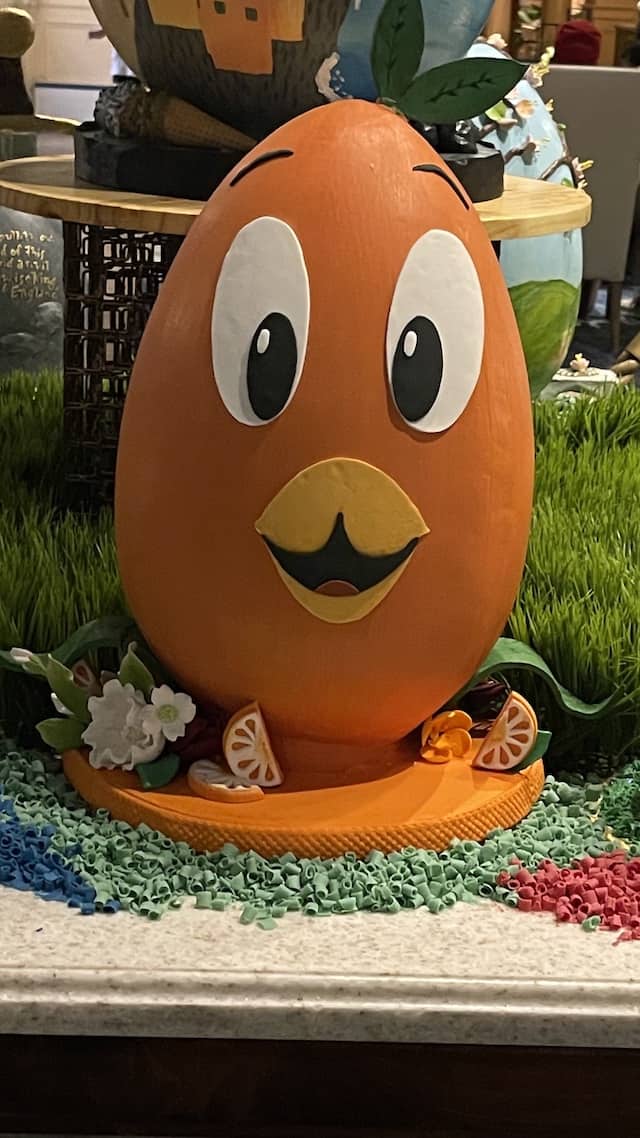 My (Donna) personal favorite from this display is the Tangled egg. As you peer inside her tower, the details are impeccable. See the scene that she creating of the glowing lanterns.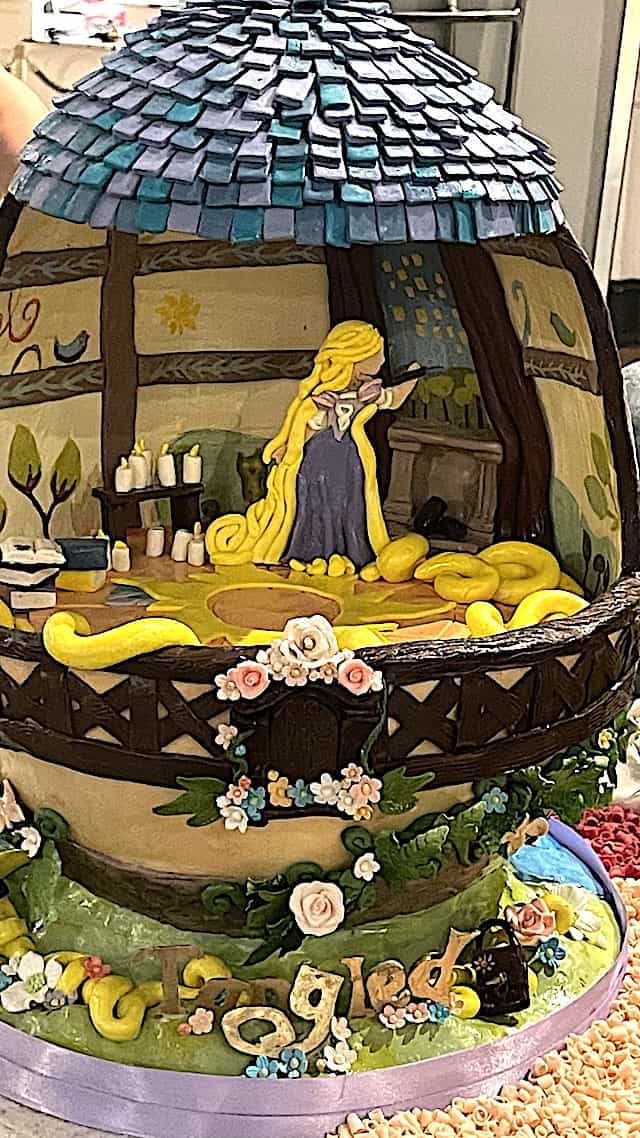 On the opposite side of this beautiful egg, you can see the floating lantern scene with Rapunzel and Flynn Rider. This egg is breathtaking from every angle.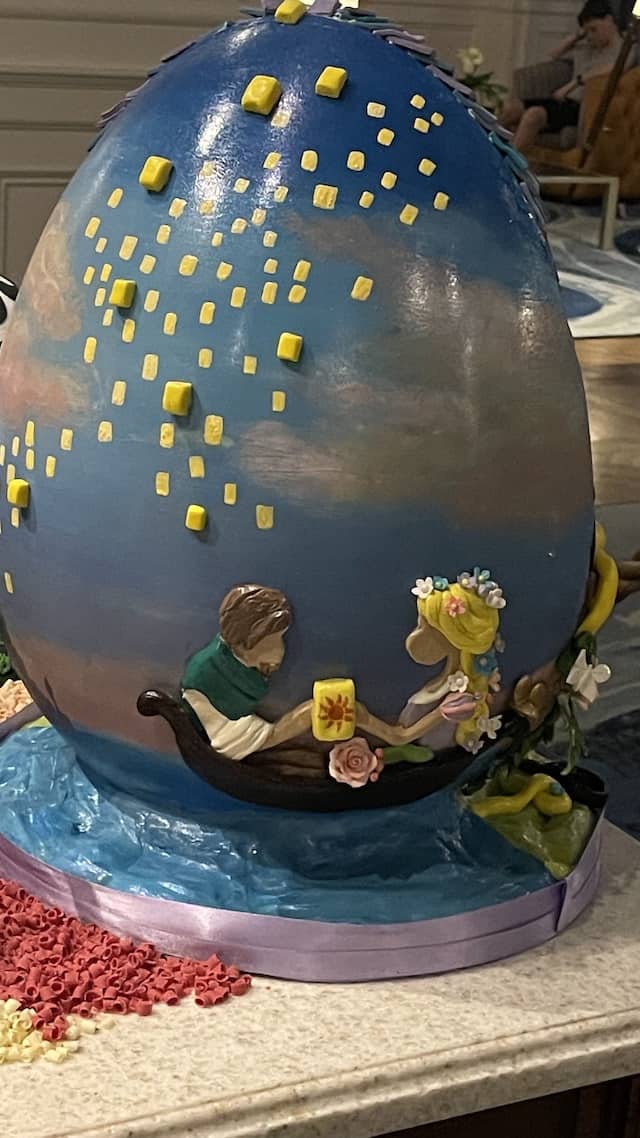 Also on display at the Yacht Club are the following: 101 Dalmatian egg for "Pongo", Sleeping Beauty inspired egg, the Sword and the Stone theme egg, Hades, and a Mulan egg complete with cherry blossoms.
Although these eggs will only be on display for a limited time, this is a favorite experience for Guests visiting for the Easter holiday. It has been a dream of mine (Donna) for several years to enjoy Walt Disney World at Easter. Enjoying these decorative eggs was the magical experience that I had always dreamed that it would be.
Which Easter eggs were your favorite? Have you visited Disney at Easter in past years? Which Resort is your favorite to check out these edible Easter eggs? Share your thoughts with us on our Facebook Page.