Disney World is giving so many food options for the 50th celebration. Check out the latest dishes released at Pecos Bill here.
Disney's 50th Anniversary Celebration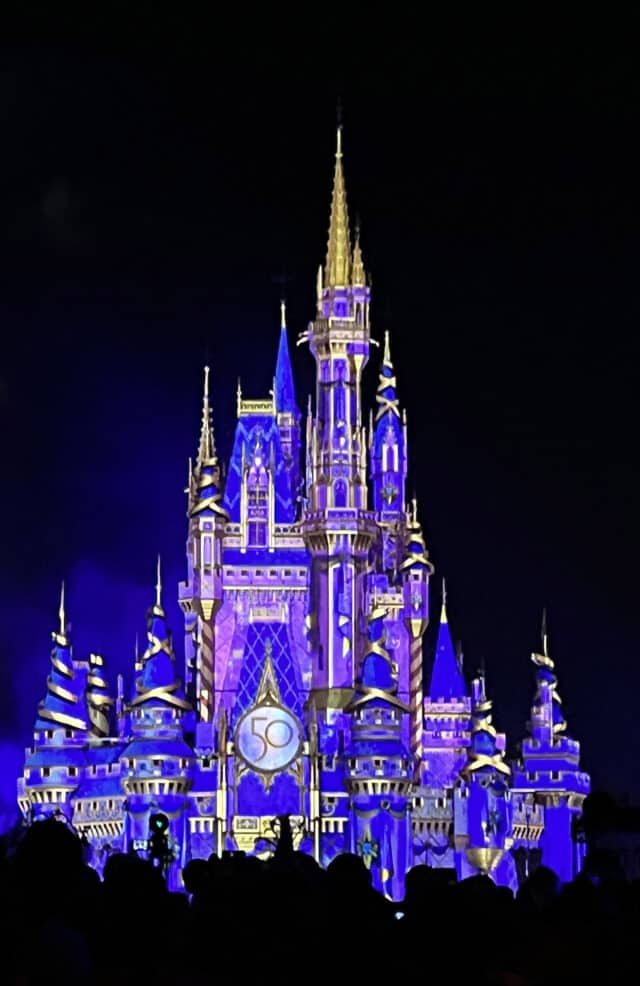 On October 1, 1971 Disney World opened up its gates for the first time. Much of the operating procedures back then are the same as they are today. Guests paid to park at the Transportation and Ticket Center and then either took the monorail or ferry boat to The Most Magical Place on Earth.
While the layout of the park has largely stayed the same (only gotten bigger), the attractions that have come and gone since that time have changed immensely. Guests could buy different categories of tickets allowing them to ride certain attractions. See how Magic Kingdom has changed through the years HERE.
Pecos Bill Tall Tale Inn and Cafe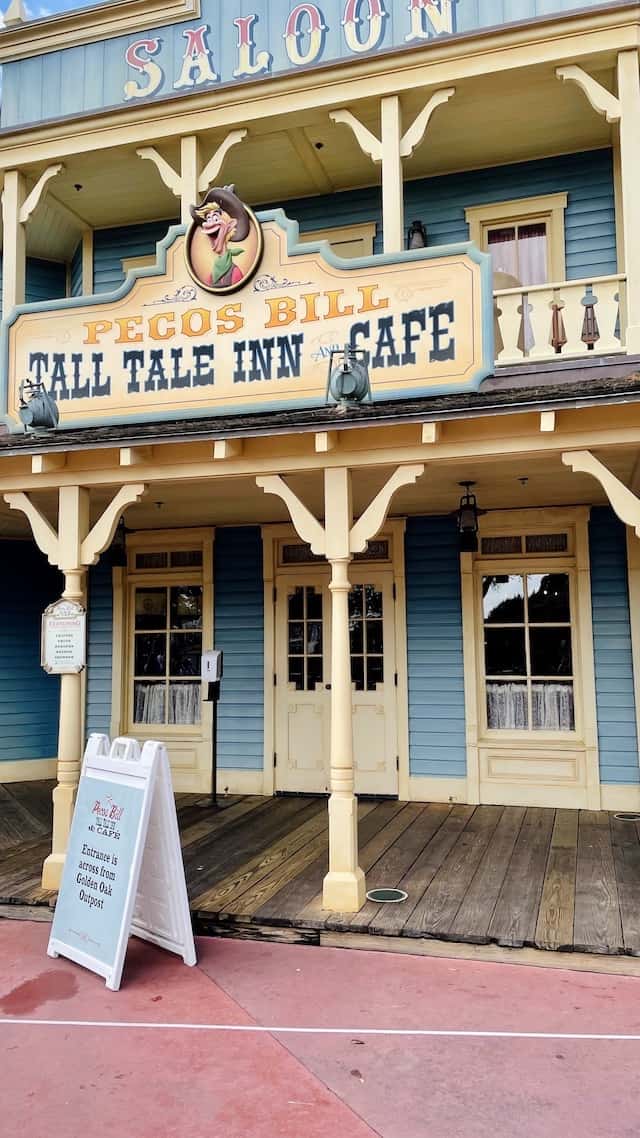 You'll find this quick service location in Frontierland at Disney's Magic Kingdom. Rustle up some grub at this Old West saloon! Tell tall tales over chicken fajitas, southwestern salad and the bacon cheeseburger.
Then, try the sweet treats. When visiting here make sure you check out all the nods to the Tall Tale it's named after. Monica shares 5 reasons you should eat at Pecos Bill on your next trip HERE.
Churros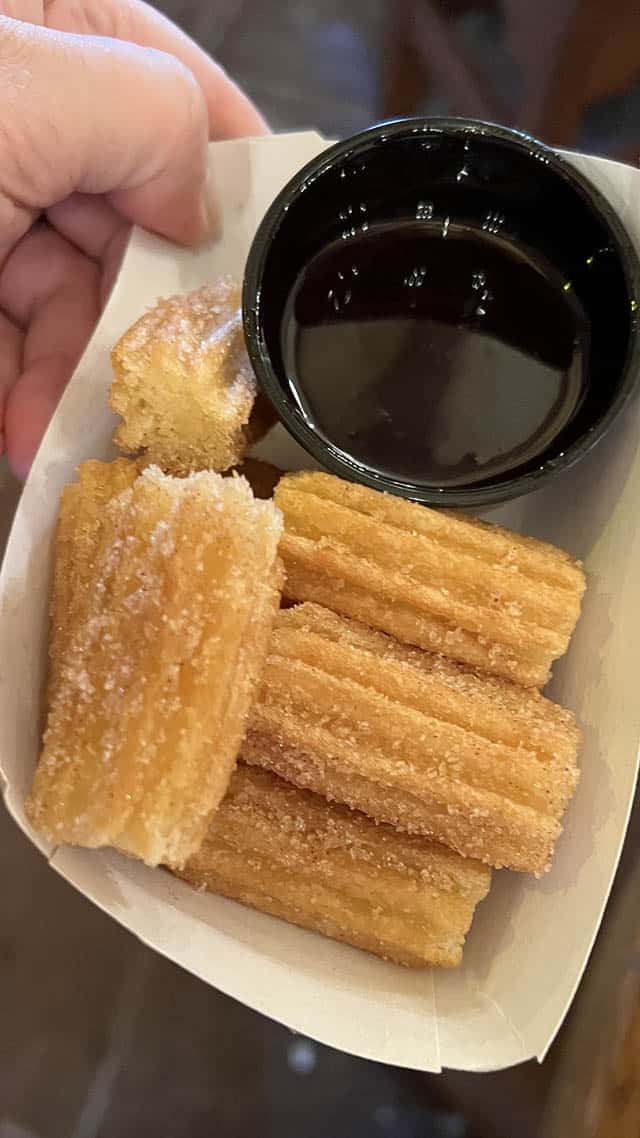 These EARidescent Nugget Churros sell for $7.00. They were freshly cooked with a nice crunch on the outside. The chocolate sauce made these tiny churros even more tasty.
I (Susan) had to look carefully, but I did spot some shimmery sugar accents, making them appear to have glittery Earidesence. Ooooo! If you're looking for something sweet, I recommend trying them on your next visit.
Sun Bonnet Salad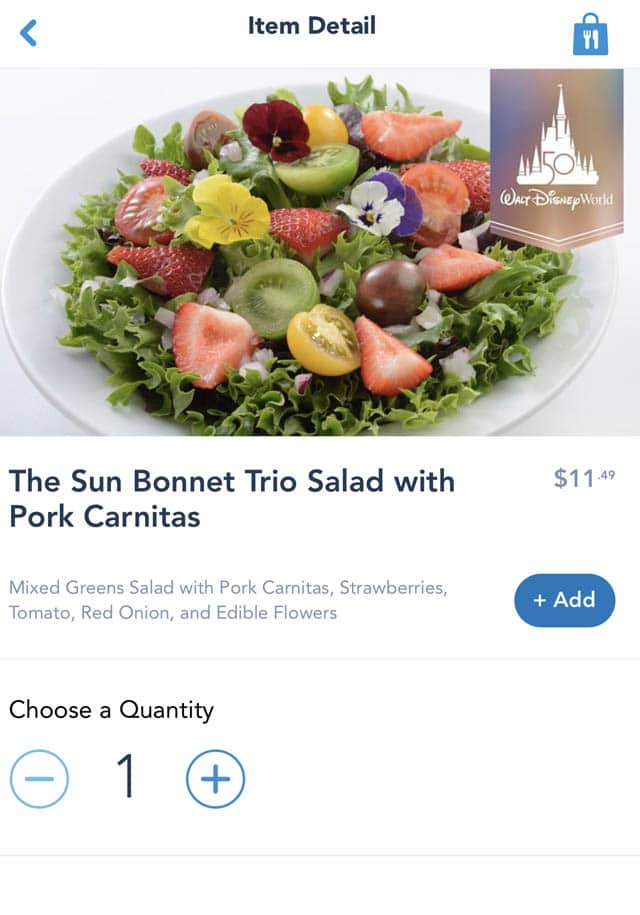 When I saw how pretty this salad looked on My Disney Experience, I just had to try it! The combination of tomatoes, strawberries, and wild flowers looked amazing.
However, as you can see from the picture, the salad looked nothing like the picture. I realize there's pork carnitas on the top of my salad, but let me explain how this dish fell flat. First, although there is a generous serving of pork carnitas, they did not go well with any of the salad ingredients. The pork carnitas had a slightly spicy flavor, but you'll find so much better Mexican food at the Mexico World Showcase pavilion and booths.
The few tomatoes I had were cut in half and were fresh tasting. But, the strawberries were not fresh. They tasted mushy like when you defrost frozen strawberries. I was really disappointed with them. The greens were a typical spring mix. Salad dressing for this dish consisted of 2 small containers of puréed strawberries.
I'm guessing they took some of the frozen strawberries to make it. I didn't have any wildflowers on my salad at all. Literally nothing worked well with this 50th item. I would recommend skipping this one. If you do try it, I would order it without meat for $9.99.
Do you love southwestern food? If so, would you try either of these items? Please tell us your thoughts in the comments below or on our Kenny the Pirate's Facebook page.