LATEST VIDEOS
Subscribe to my Youtube!
Just Mousing Around - LIVE
LIVE - Just Mousing Around
LIVE - Just Mousing Around Tonight!
I am very fortunate and thankful to have been invited to the Grand Opening Media Event for the brand new Peppa Pig Theme Park in Florida.  Here I share all the details and my overall thoughts on the park!
My Personal Connection to Peppa Pig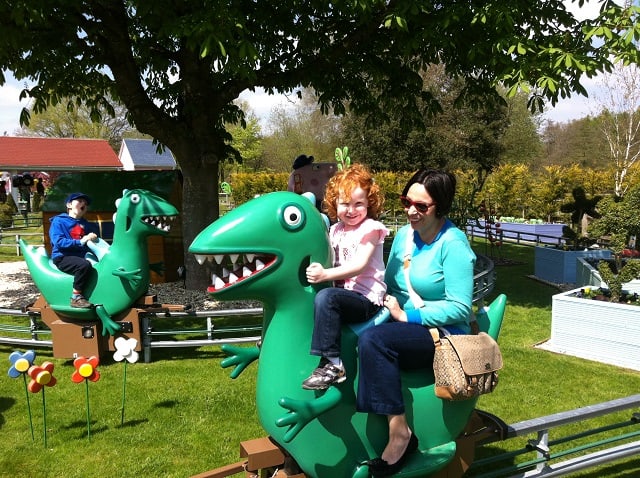 Nine years ago when my family and I visited the United Kingdom, one of our visits was to Peppa Pig World at Paulton's Park. Our oldest daughter was in preschool and our youngest was a toddler, and we watched Peppa Pig daily.  In fact, you can read all about our connection to Peppa, George and their friends HERE. 
When I heard that a Peppa Pig Theme Park was going to open in Florida, my heart skipped a beat and memories began to flow! You can imagine how I felt when I was invited to attend the Grand Opening Media Event!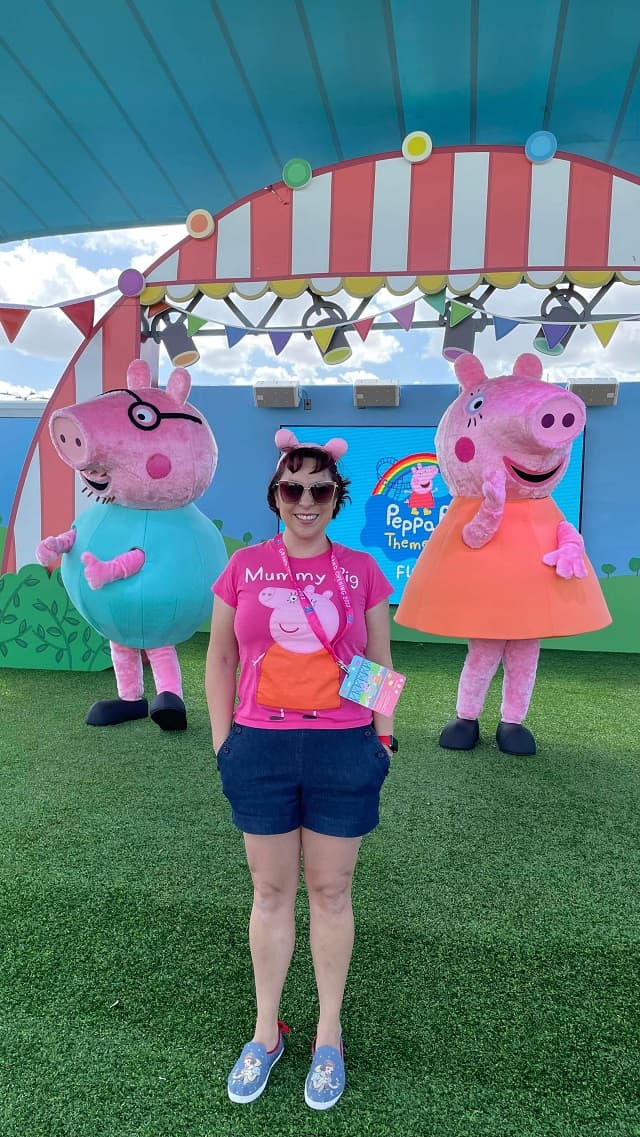 I was more than ready to have an "oinktastic" time jumping in muddy puddles with Peppa and George. I even pulled out my nine year old Mummy Pig shirt for the joyous event! To say that I was excited was an understatement!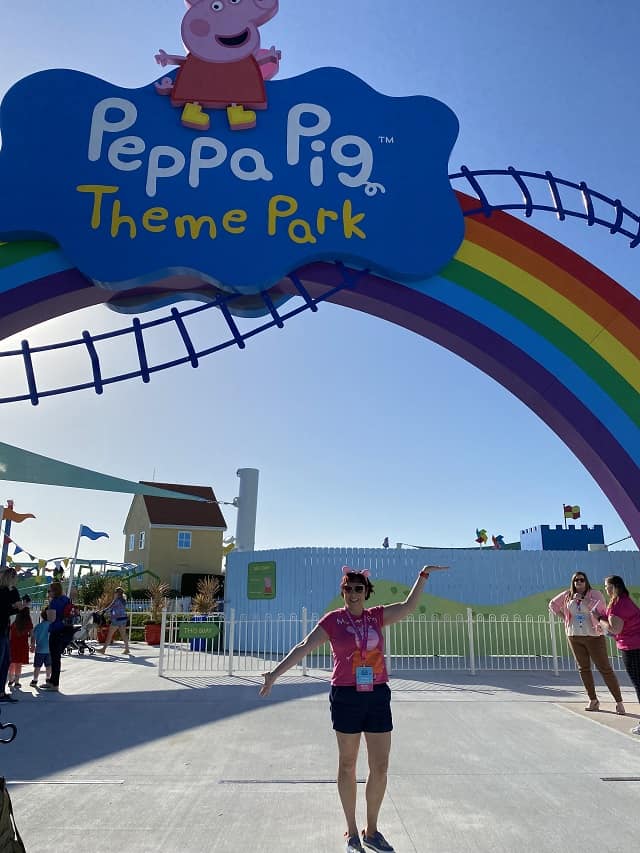 Walking up to the theme park, guests are greeted with a giant rainbow arch.  Immediately, I could tell that the day would be full of adventure and excitement.
Peppa Theme Park is the ultimate theme park for preschool age children. However, this 40-year-old had an absolutely wonderful time regardless, too!
The colors, sights, and sounds that encompass the entire park is captivating even for an adult.  I can only imagine a young child's initial reaction walking through the welcome sign as they are able to catch a glimpse of the fun that awaits them.
Attractions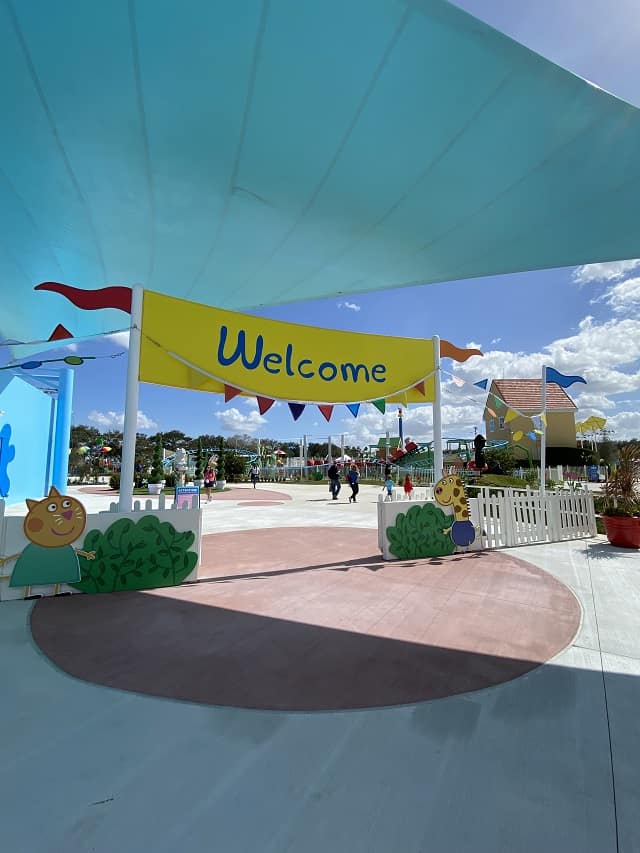 Peppa Pig Theme Park includes six attractions, seven play areas, meet and greets, two live shows, a cinema, one quick service restaurant and a shopping store.
The first ride of the day was Grampy's Dinosaur Ride where families can ride along on an epic dino quest. Riding on George's favorite toy, his dinosaur, was the sweetest ride. It made me feel like a child again!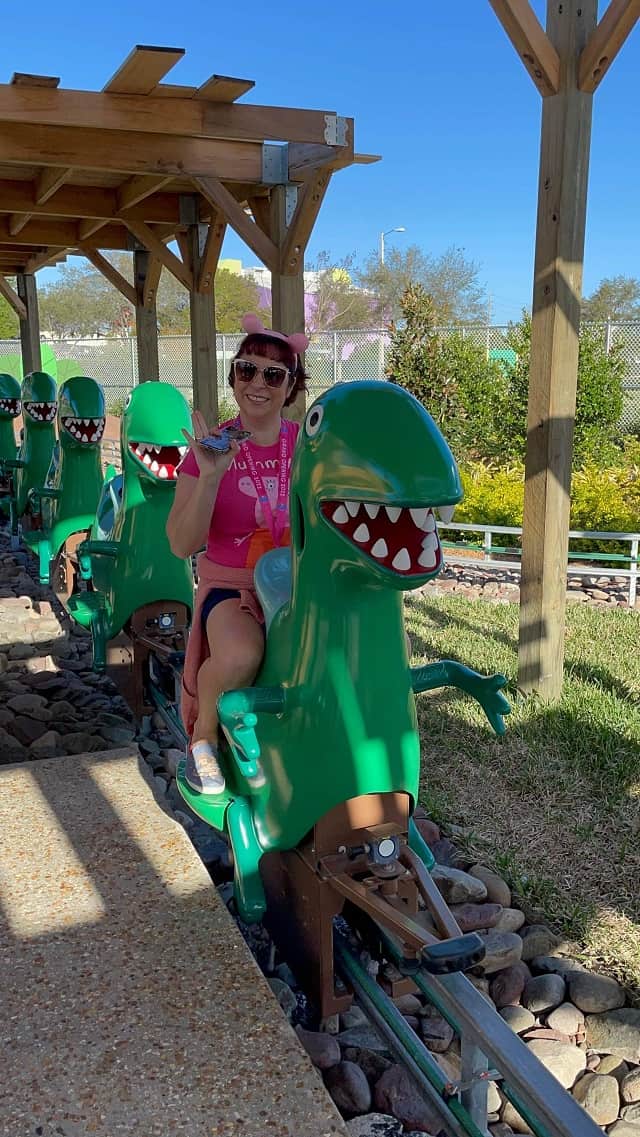 Another attraction that I very much enjoyed was Grand Dad Dog's Pirate Boat Ride. Anchors away on this family fun boat ride as guests sail with Grandad Dog to find his hidden treasure. Situated next to the attraction is a sand area for kids to find and bury treasure!
Want to ride on Miss Rabbit's hot air balloon? The theming behind this attraction is that families have won the Fun Fair raffle. As their prize they now get to ride to the sky with Peppa Pig. The views from the very top are wonderful as guests will enjoy an aerial view of the entire park!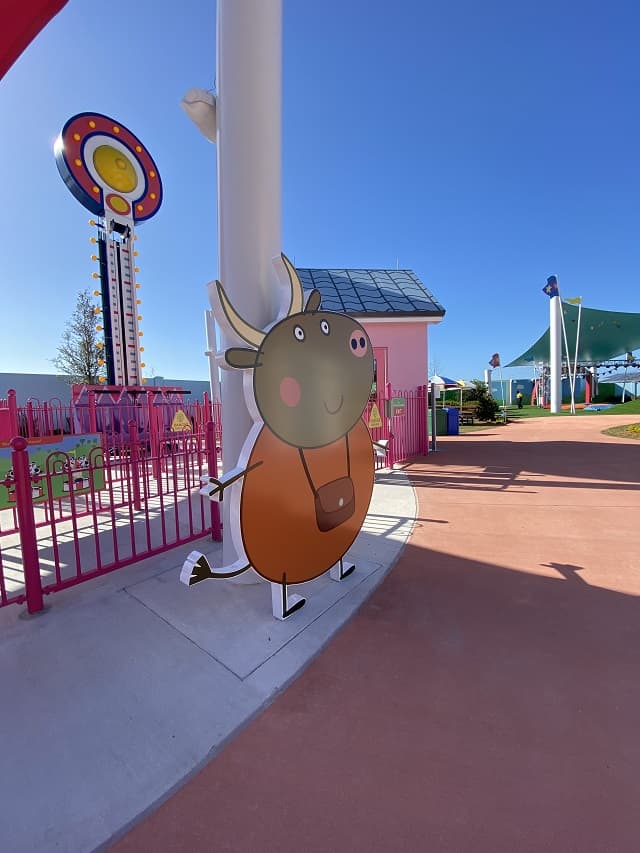 On Mr. Bull's High Stricker, guests will bounce up to the sky after his hammer hits the bell! Hold on tight and be prepared for a surprise! After all, what goes up must come down!
Daddy Pig's Roller Coaster attraction is the ideal "first coaster" experience for a young child.  You can read more about this attraction HERE.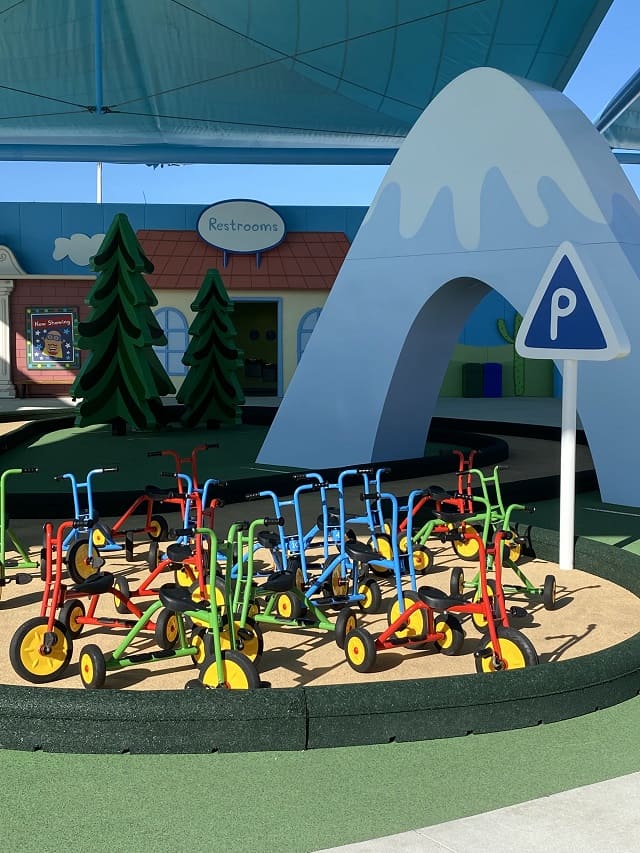 The last attraction, that I unfortunately could not experience, is Peppa's Pedal Bike Tour and George's Tricycle Trail. Little ones pedal their way through a camping adventure in the woods through the icy mountains. They will experience the sights, smells and sounds of the great outdoors! Smaller cyclists can enjoy George's shorter pedal path adventure on tricycles built just for them!
Play Areas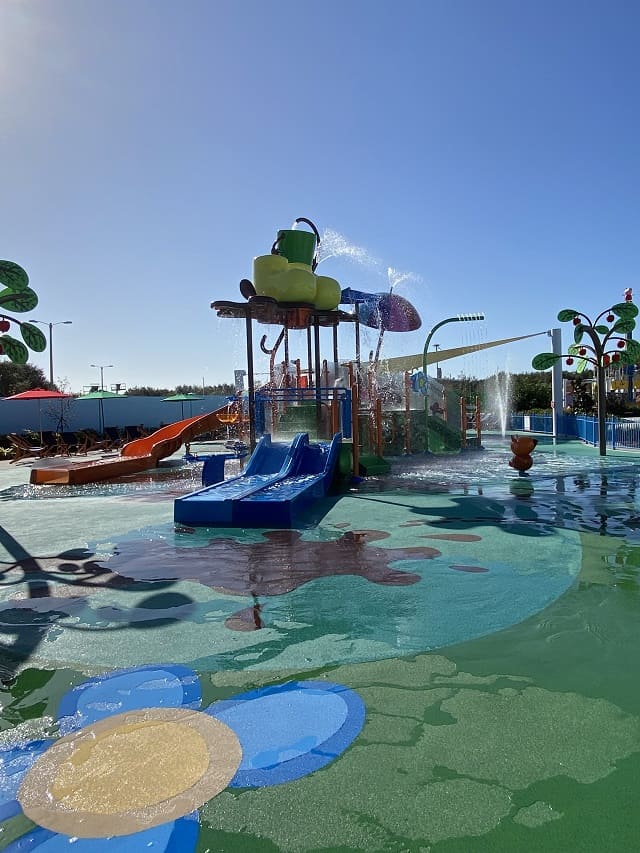 Get ready to jump in some "muddy puddles"! Muddy Puddles Splash Pad is a lively water play area featuring spouting fountains, slides and other watery surprises to keep the play experiences super fun and splashy. This area will certainly be ideal on a hot and humid Florida summer day!
Not wanting to get your muddy boots wet? Then head on over to the Fun Fair. Guests can meet Peppa and her friends for a fairground adventure full of free games for the whole family. Miss Rabbit's funny wobbly mirrors will make guests look all kinds of shapes and sizes!
Families can also try their luck and hook-a-duck while they swim around the pond. How about testing one's skills with Hoopla Ring Toss, Tin Can Tumbler, and Bean Bag Toss games! There is something for everyone to enjoy!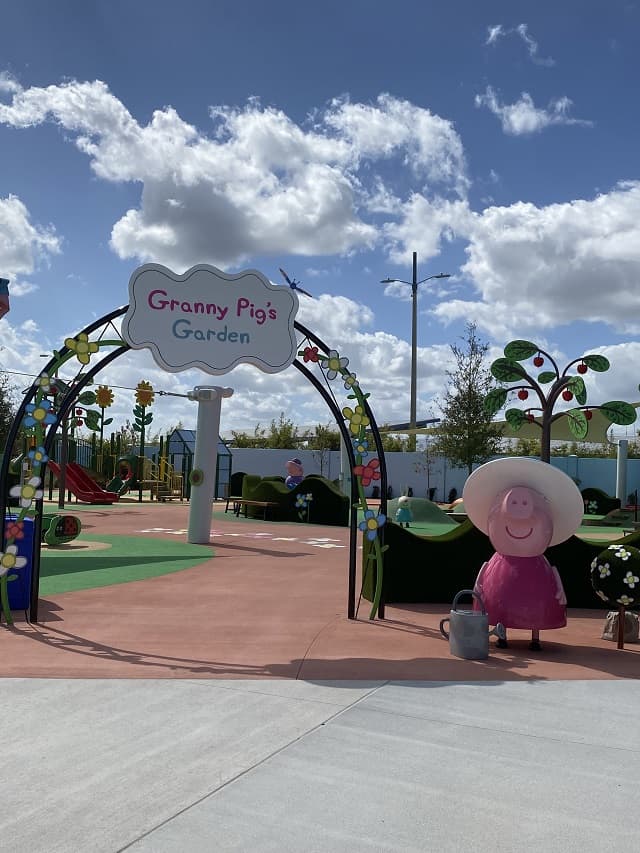 Granny Pig's Garden offers many fun filled activities such as George's Fort. Here guests will venture their way through a maze while exploring George's Fort in search of the croaking noise.
Children will discover what Grandpa Pig's Greenhouse is growing as they slide around to find out. Peppa Pig's Treehouse allows kids to climb for "high tea" in her not-so-high treehouse! There are also many slides for kids to enjoy!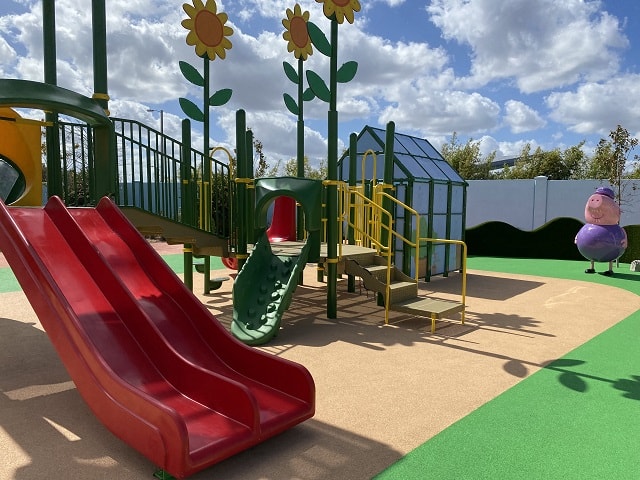 Guests can get active and find all the ways to play around the rabbit burrows as they jump, crawl or hop at Rebecca Rabbit's Playground. Lastly, in Madame Gazelle's Nature Trail, guests discover what has left the mysterious footprints on the ground.
This entire active play area offers so many different hands-on activities located in one central are. Kids will not know where to go begin!
Shopping and Dining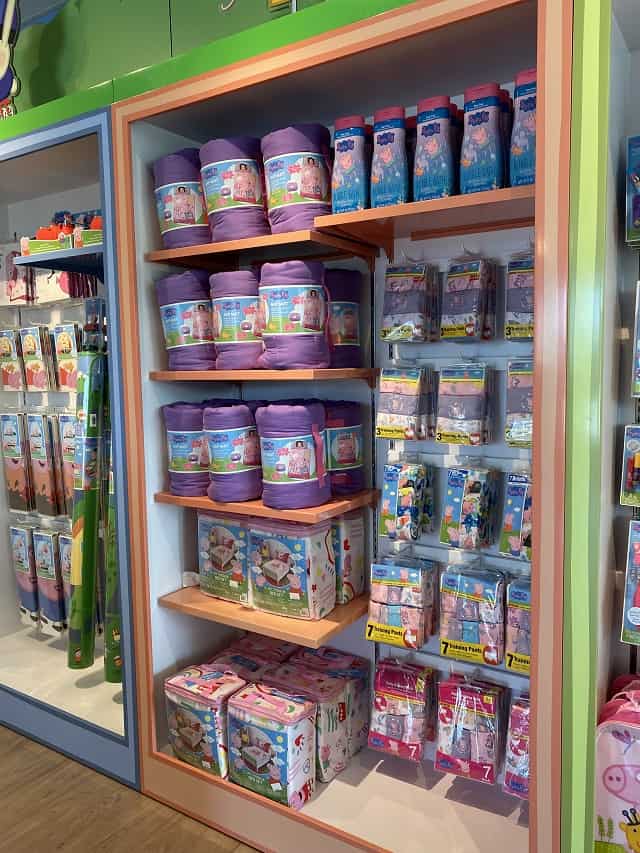 I am a fan of shopping for souvenirs when I am on vacation, and I was excited to go inside Mr. Fox's Shop. 
As a collector of different Christmas ornaments, I was happy when I found many options.  Throughout the store, there is a variety of merchandise. Find Peppa Pig plushes, backpacks, books, toys, bedding, wall decals and much more.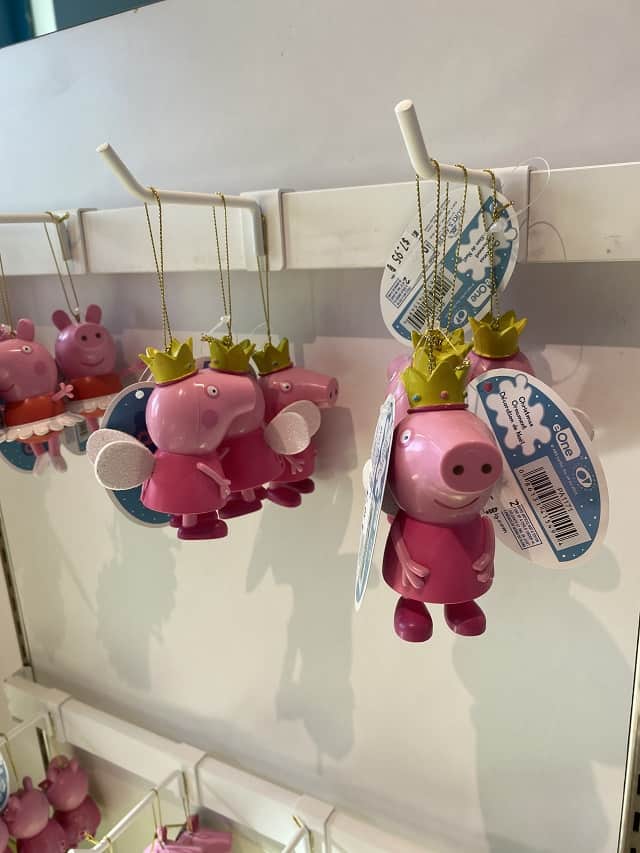 During the media event, theme park specialty merchandise had not yet arrived due to shipping delays. However, we were informed that magnets, t-shirts, and many other exclusive items will be available by the theme park's opening.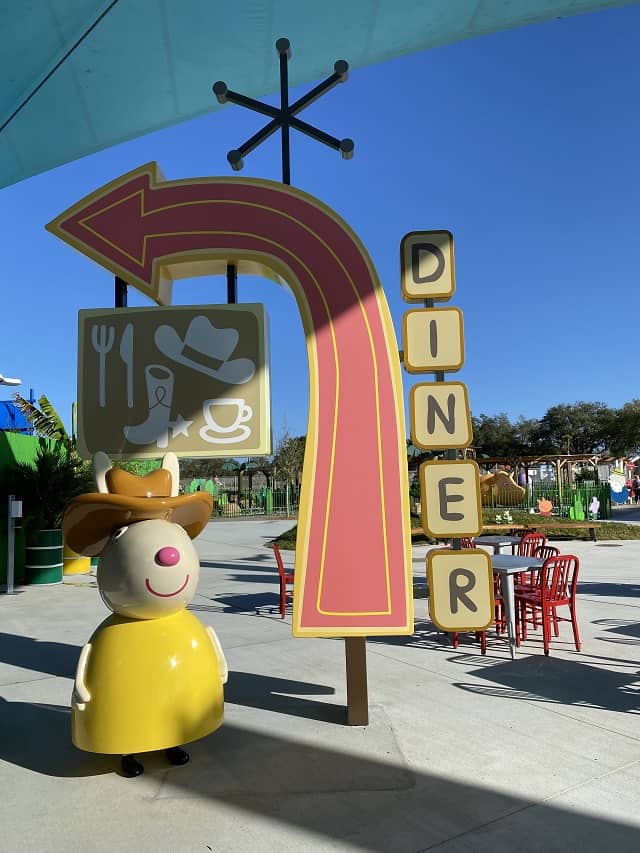 Miss Rabbit's Diner is a quick service location that offers a selection of different satisfying food options for the entire family. Read my review HERE.
Meet and Greets, Live Shows and the Cinema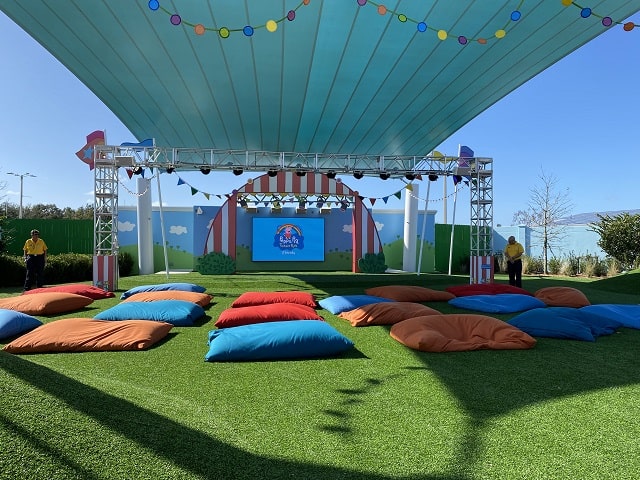 One can not visit a theme park without meet and greets with favorite characters! Families will be happy to hear that Peppa, George, Mummy and Daddy Pig have meet and greets throughout the day.
Join Peppa and her family under the canopy at Mr. Potato's stage with live shows packed full of songs, games, snorts, and giggles. The two live shows that are presented are Peppa Pig Comes to Play and Peppa Pig's Treasure Hunt Adventure.
Each live show runs approximately 10 minutes.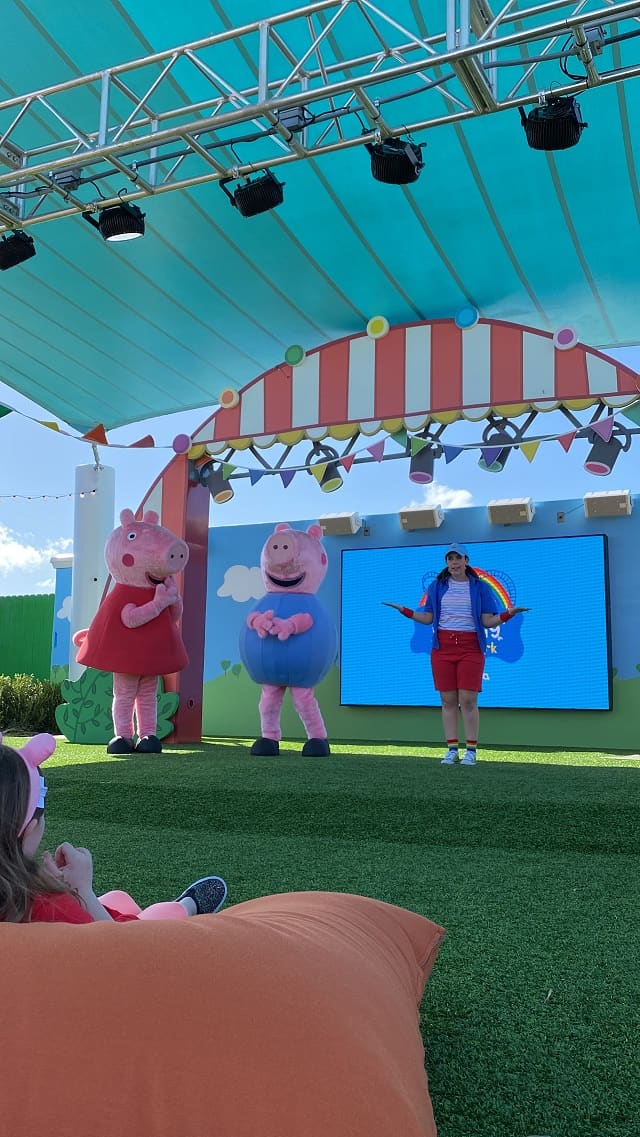 During the media event, guests were treated to watching "Peppa Pig's Treasure Hunt Adventure." I was especially happy to hear the well-known "Bing Bong Song" during the show and joined in during the chorus.
It is a really cute show for the whole family to enjoy! An honorable mention also goes out to how comfy the bean bag chairs on the grassy area are. I could have taken a quick power nap!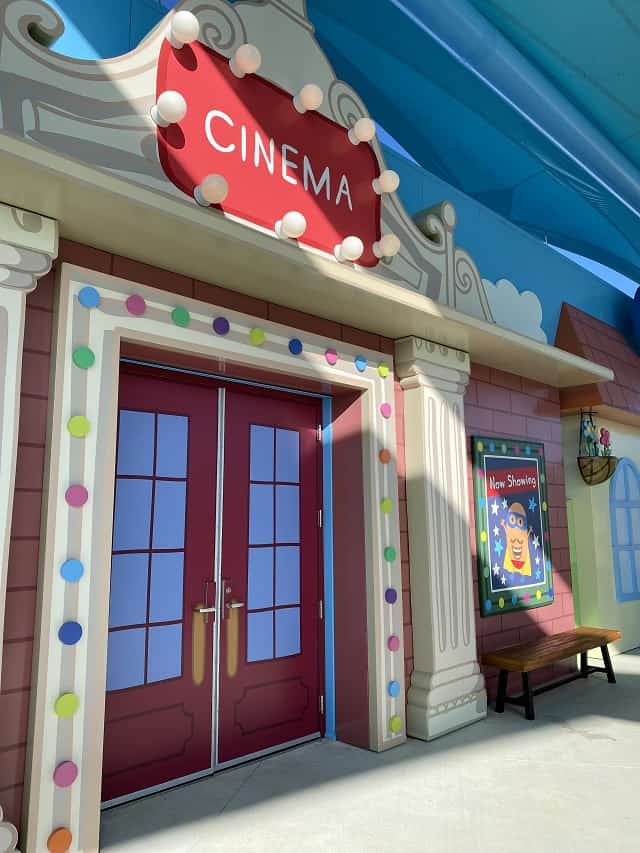 Speaking of quiet time, The Cinema is an indoor venue that allows families to take a break from the sunny fun by watching Peppa Pig episodes on the big screen. And, yes, the comfy bean bags are also located in this area! This is a great place for kids to take a break and re-energize. Again, it is another great location for guests of all ages to take a quick nap!
Pirate tip: there are two electrical outlets located at the entrance inside the Cinema.
Overall Thoughts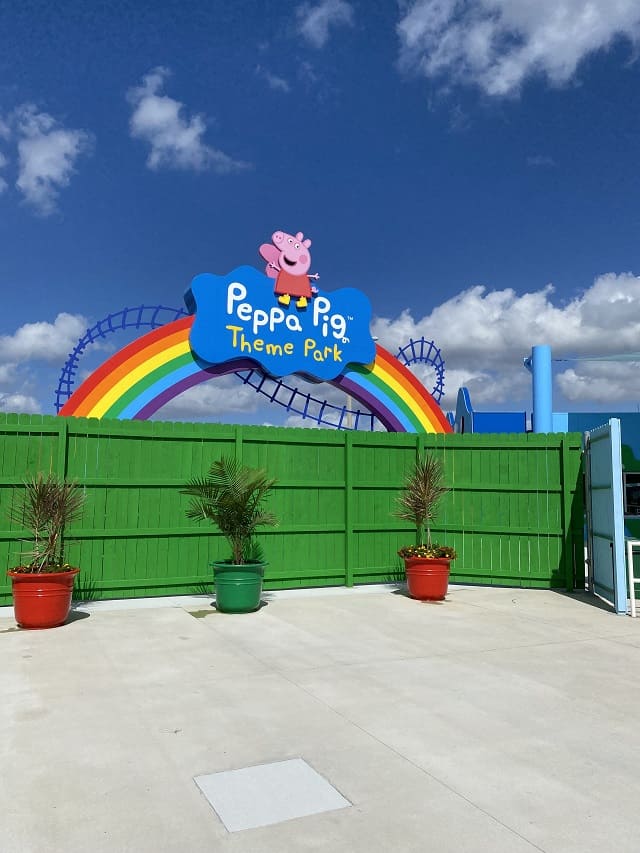 Did I have fun at Peppa Pig Theme Park? 
Well, let's put it this way.  I arrived at 9 am and left the park at 3:45 pm!  There are so many activities to experience that I would honestly say that this is not a half day park.
Families are able to do as little or as much as they would like without feeling overwhelmed.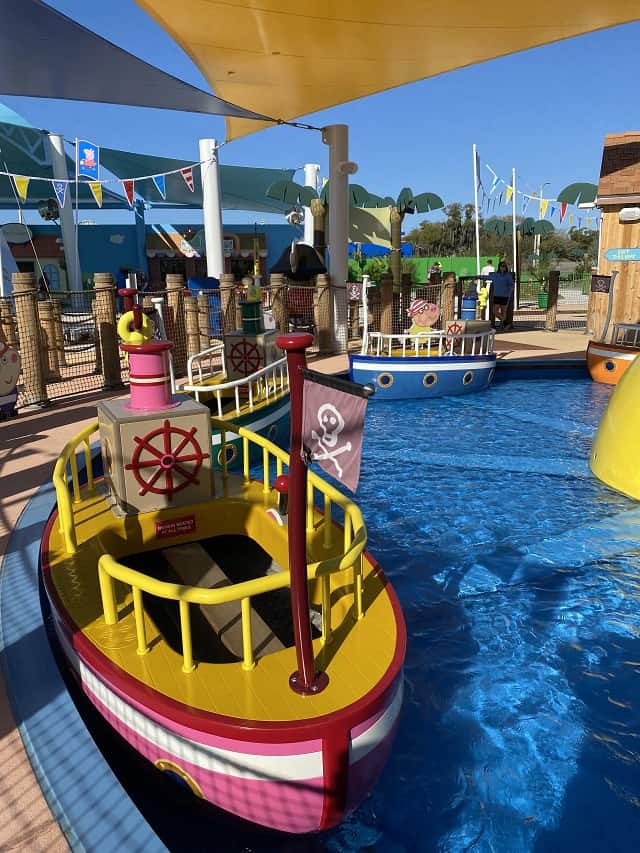 I can imagine riding a couple attractions in the morning and taking in a live show and meet and greet. Then, my family would enjoy some lunch at Miss Rabbit's Diner. Afterwards, the kids could enjoy the sand area and water park. Next, we would wash up and take a relaxing break inside the Cinema while watching a couple of Peppa Pig episodes. To end the day, we could enjoy a couple more attractions and play areas. Of course, we could not leave without a stop into Mr. Fox's Shop!
I would have certainly welcomed this relaxing itinerary when my children were younger.  We all know how overwhelming visits to theme parks can often be when having little ones. It is rare that theme parks take into account the importance of relaxation areas and experiences.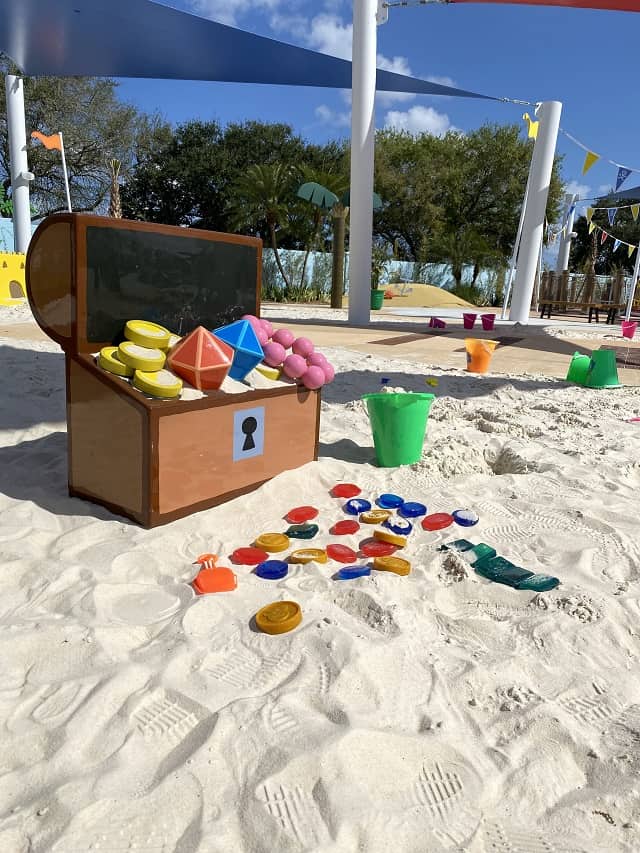 Speaking of accommodations for children and their families, Peppa Pig Theme Park provides inclusivity for accessibility and special needs. The park's commitment to accessibility was seen throughout my experience at the park.
The inclusion of sensory guides at each attraction throughout the entire park is absolutely amazing. The increased accessibility for children with wheelchairs to be able to enjoy attractions at the park was incredible.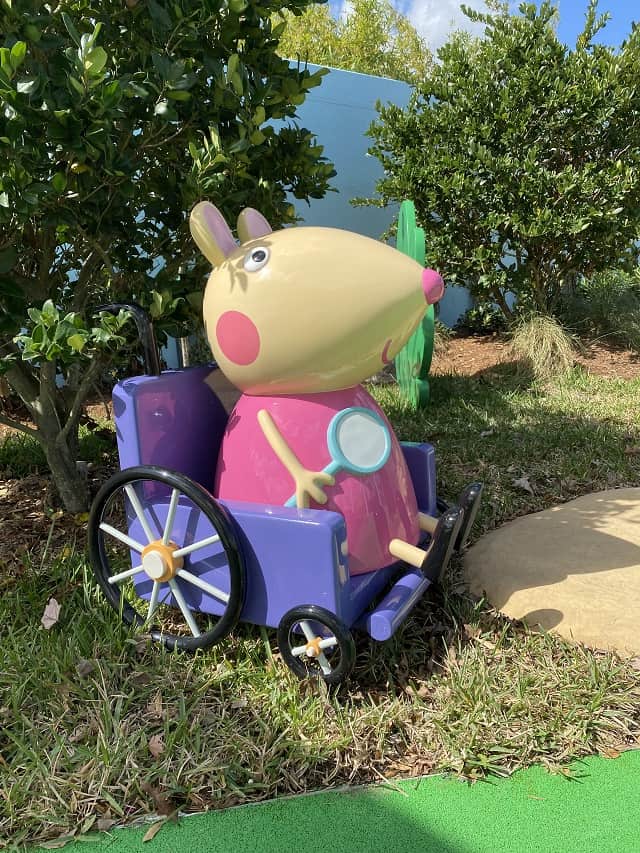 I was very impressed with Peppa Pig Theme Park.  Families are going to have a splendid "oinktastic" time and will be excited to plan their next visit to this whimsical theme park.
I cannot wait to bring my own family when we visit Orlando later this summer for our vacation. My girls may not be of preschool age anymore. However, after showing them videos and pictures from my visit, they immediately began to plan our itinerary for the day!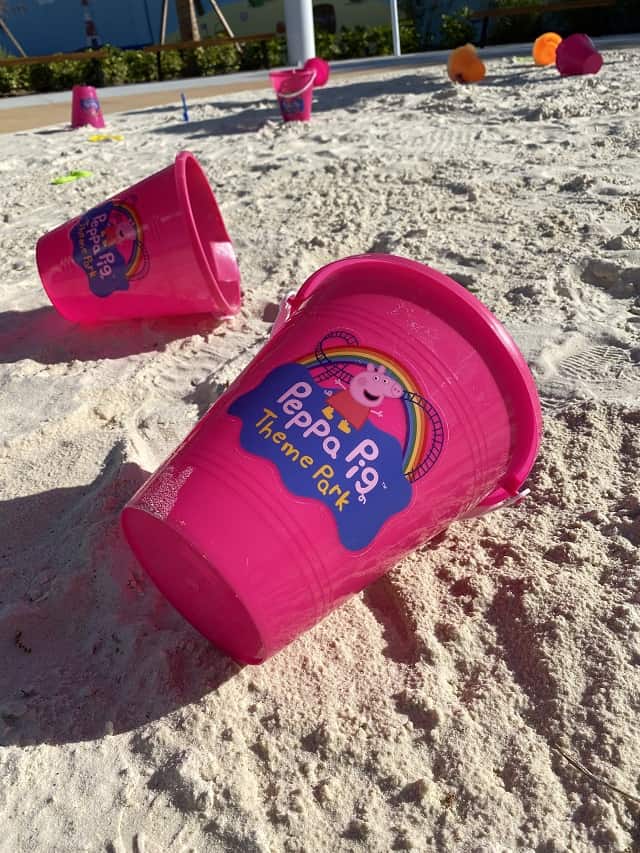 Peppa Pig's Theme Park opens February, 24, 2022. Are you excited to visit the brand new Peppa Pig Theme Park in Florida? Tell us about it in the comments below or on our Facebook page.

Are you planning a vacation? Reach out to our trusted travel agency sponsor Authorized Disney Vacation Planner
Mouse Class Travel
!