Are you curious how Walt Disney World's Disney's Very Merriest After Hours Event measures up? Is it worth the high price tag? How does it compare to Mickey's Very Merry Christmas Party? Check out my full review of the Good, the Bad, and the Confusing from this event.
Disney's Very Merriest After Hours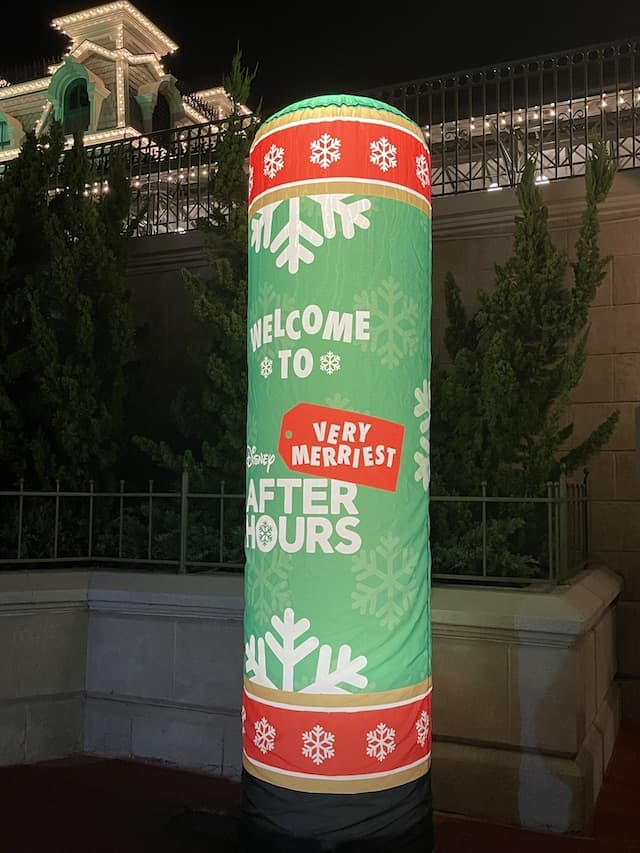 Starting on November 8,2021, Guests may attend the brand New Disney Very Merriest After Hours Event (with the purchase of special event ticket.) This will be a bit different than Mickey's Very Merriest Christmas Party from previous years.
This new event came with the promise of lower crowds which also created a higher price tag. My family visited this event on November 11, 2021 which was one of the lowest priced events. The lowest priced events sold out first and the night that we visited was a completely sold out event.
The Good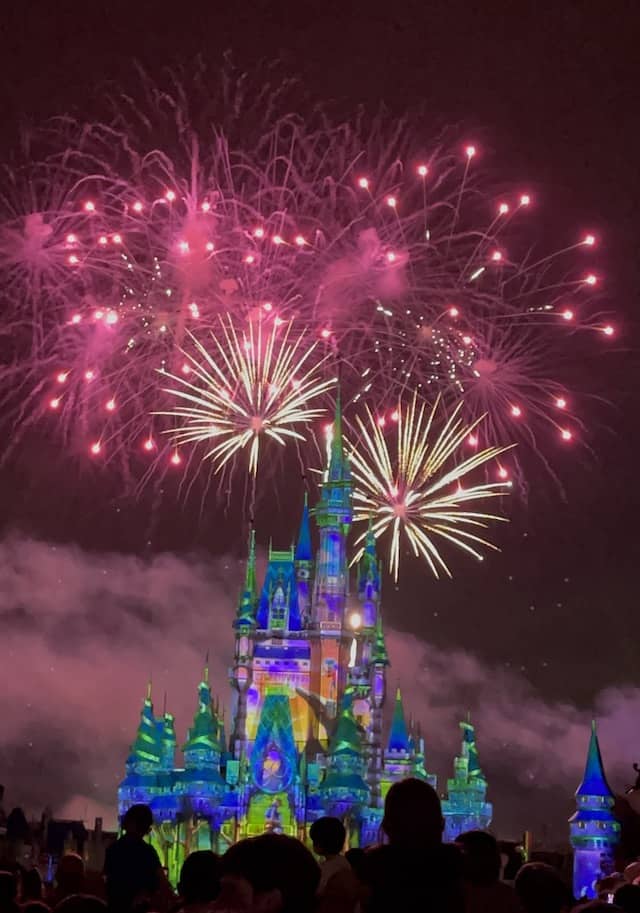 Let us start off this event with the Good part of the evening. We were able to enter Magic Kingdom starting at 7:00pm. This allowed us time to enjoy the new firework show, Disney Enchantment. I (Donna) loved that we would be able to see not one, but two firework shows in the same evening.
Minnie's Wonderful Christmastime Fireworks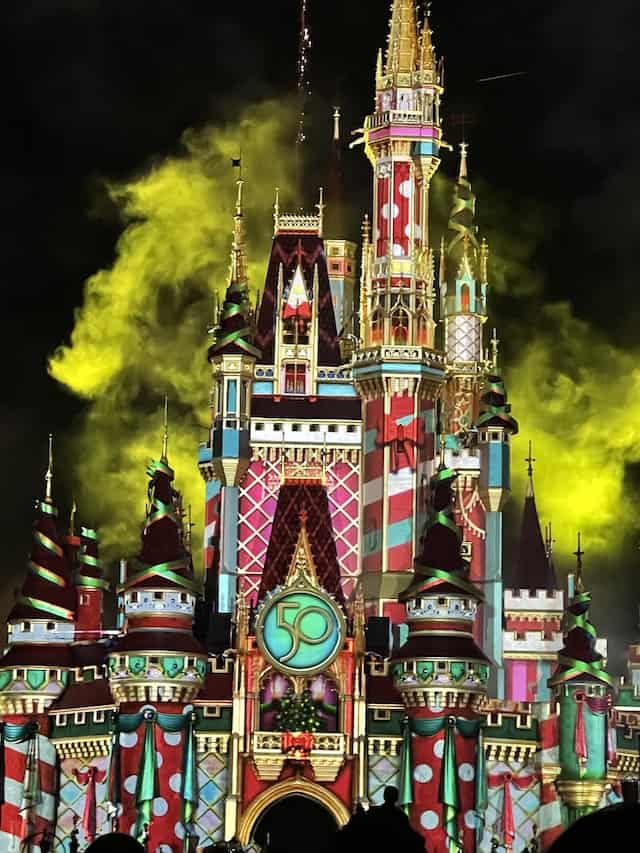 This leads to the second good aspect of the evening which was the return of Minnie's Wonderful Christmastime Fireworks. The last time I enjoyed this fireworks extravaganza was at Mickey's Very Merry Christmas Party in 2019.
Minnie's Wonderful Christmastime Fireworks were just as wonderful as I had remembered. Beautiful projections could be seen on Cinderella Castle as perimeter fireworks returned to create an awe inspiring show. Be sure to check out the FULL Schedule of events HERE.
Wait Times for Attractions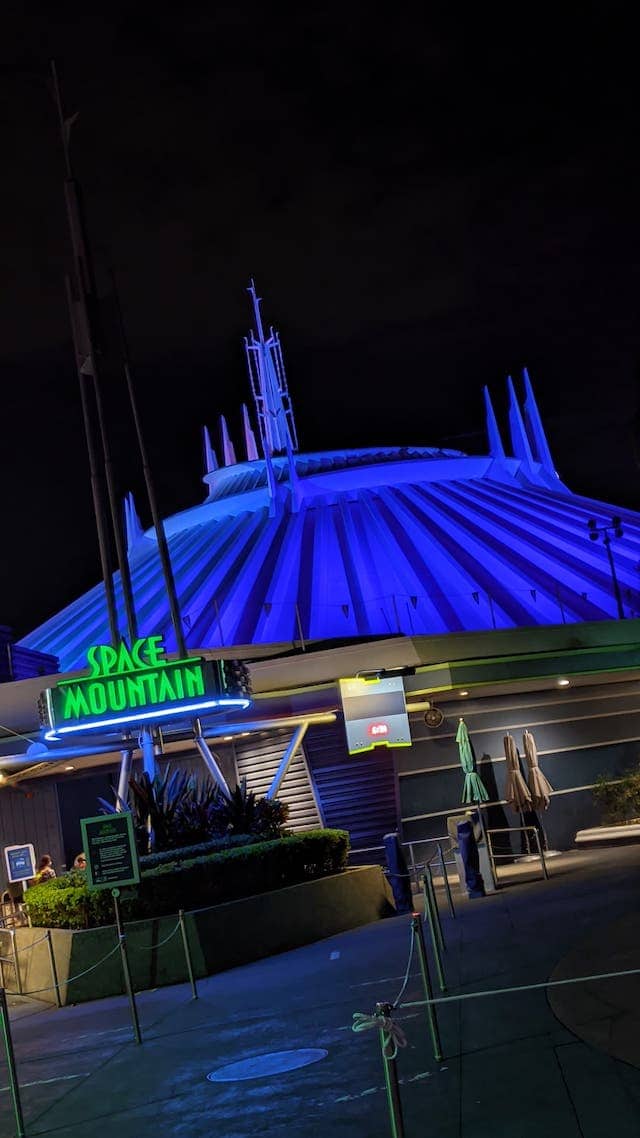 With this being a "sold out" event, I was a bit hesitant of what wait times may be for attractions. We possibly waited 5 minutes for a few attractions, but most were a walk on.
We were able to enjoy the following: Space Mountain, Mad Tea Party (featuring Christmas music), Seven Dwarfs Mine Train, Peter Pan, Big Thunder Mountain Railroad, Jingle Cruise (with Christmas lights illuminated), Buzz Lightyear Space Ranger Spin, and People Mover.
We waited 5 minutes for a few attractions, but most attractions were a walk on.
Monster's Inc Comedy Club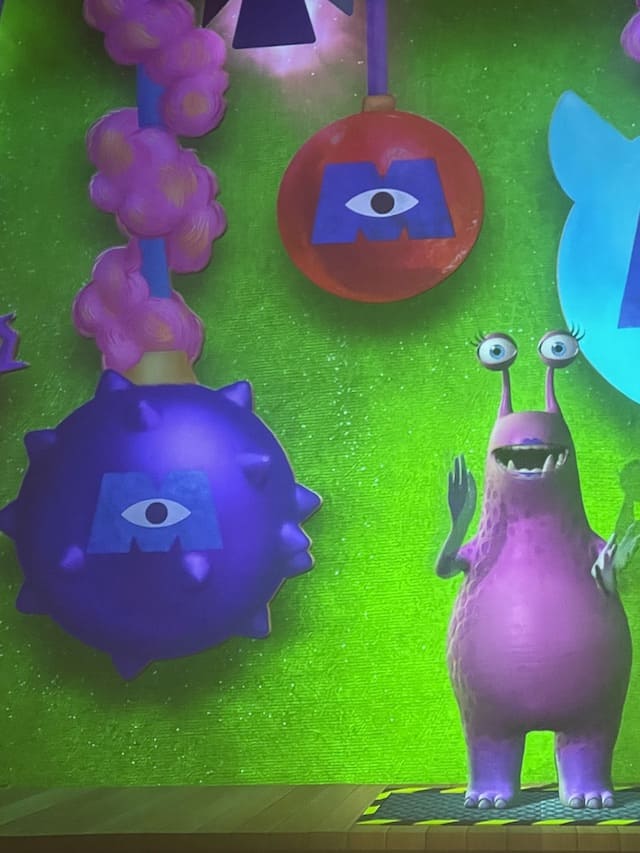 I will preface this with saying that I do not prioritize this show during normal Park hours, but I was curious when it was announced to have a holiday overlay for this event.
I would definitely encourage you to take time to visit this one attraction if you attend Disney's Very Merriest.
The Monster's Inc Comedy Club did not disappoint! I loved the holiday themed jokes, fun mentions of Guests who had too much eggnog, and that one Guest who was definitely on the naughty list. I would definitely encourage you to take time to visit this one attraction if you attend Disney's Very Merriest. It truly was one of my favorite parts.
Free Snacks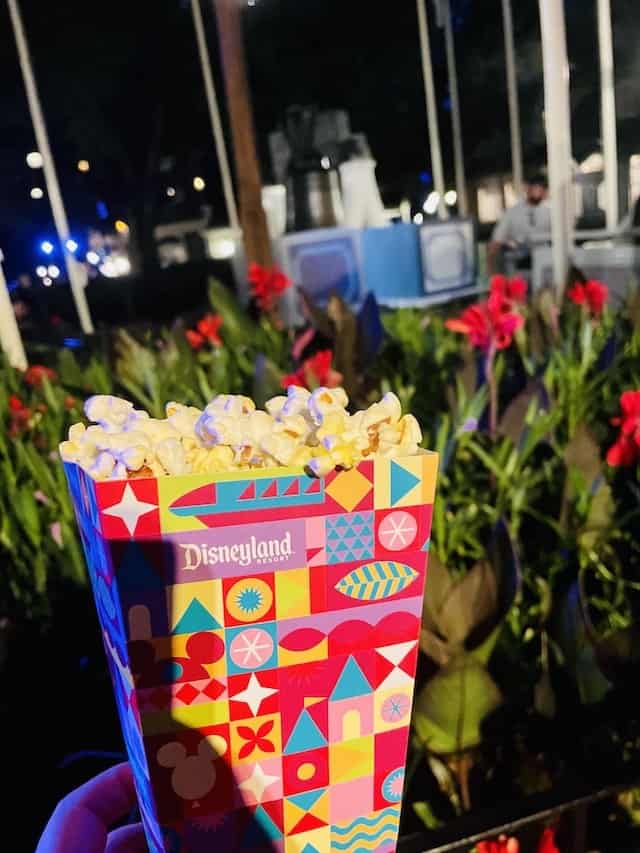 Prepackaged cookies and hot cocoa were available for Guests at Pecos Bill, Columbia Harbor House, Pinocchio Village Haus, and Cosmic Rays. Honestly, we did not care much for these snacks.
Now give us free popcorn and a Mickey Mouse ice cream bar or ice cream sandwich and we will be ready to party the night away. I loved the addition of these snacks to this event and appreciate seeing them like at regular After Hours events. Let's not discuss how many Mickey Mouse ice cream bars I consumed in a single evening.
Club Tinsel Dance Party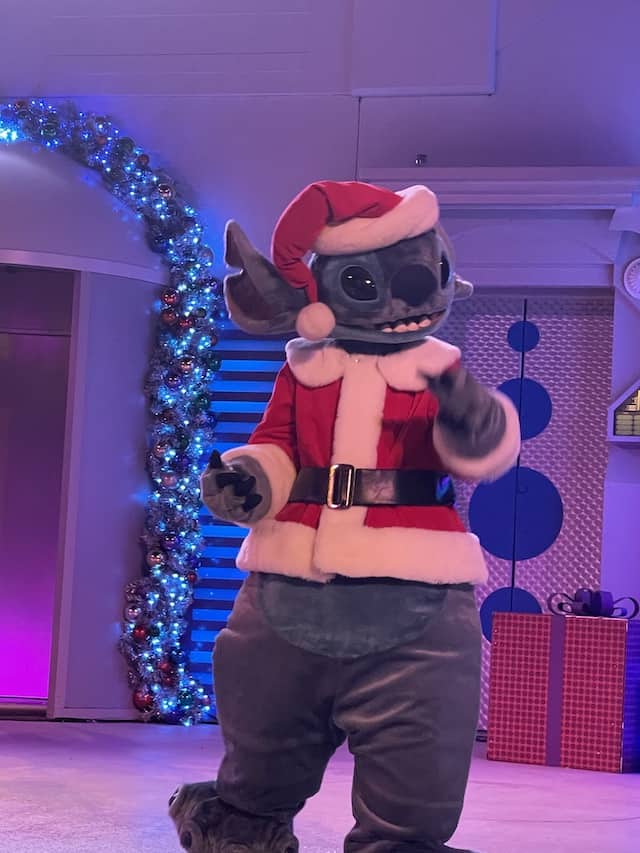 I (Donna) am always read to dance the night away although I look like a Peanut character while dancing. Previously Club Tinsel was housed at Cosmic Ray's Starlight Cafe. This dance party is now featured on the Tomorrowland stage.
Although I miss the fun Tomorrowland holiday stage show that was at Mickey's Very Merriest Christmas Party, I greatly enjoyed the dance party being held in this more open space.
Stitch was busting a move and it was so much fun to dance to a few of our favorite songs with fellow Guests.
Characters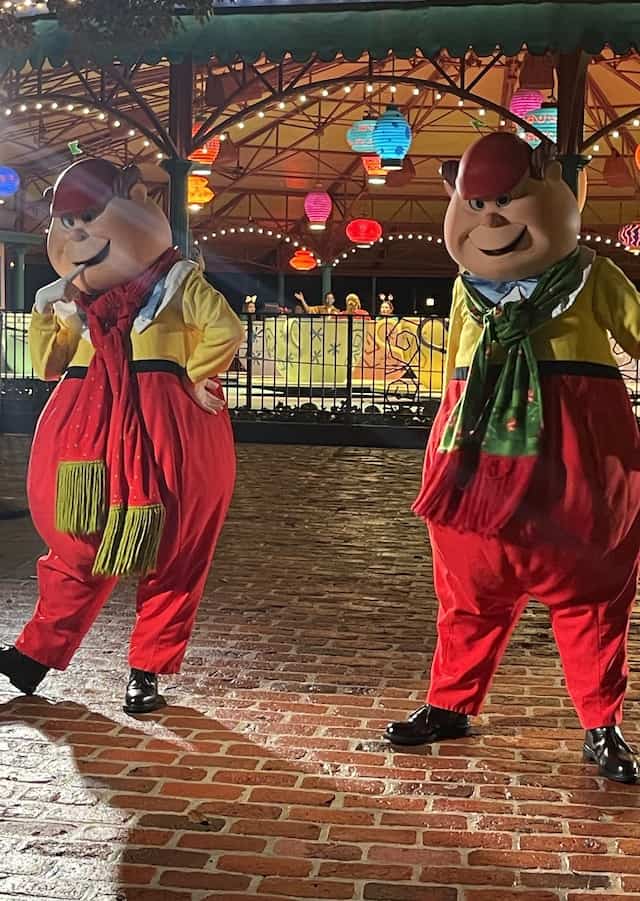 For the night of our event we were able to see a few characters (more to come on why we only saw a select number). At the Mad Tea Party, we saw a favorite comical duo of Tweedle Dee and Tweedle Dum.
Over in Adventureland across from Pirates of the Caribbean, we spied our favorite pirate (aside from Kenny the Pirate of course), Captain Hook. Mr. Smee can also be found here, but he must have been busy swabbing the poop deck.
Bad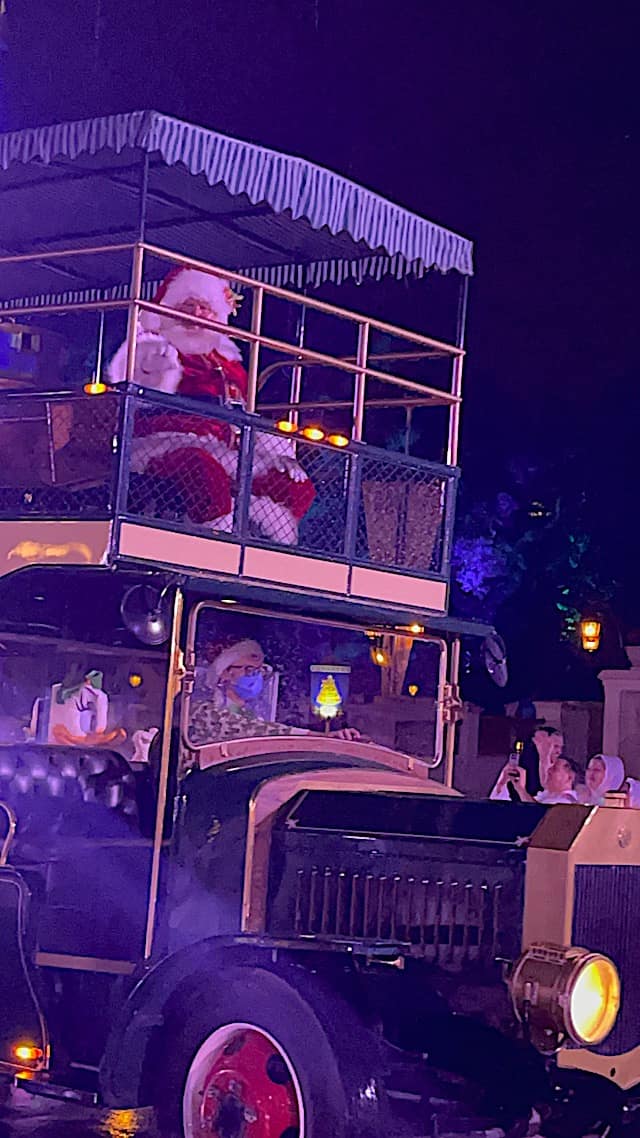 So now we move to the not so very merriest aspects of the event. I wish we could simply stay on the good parts. As I mentioned previously this event was "sold out", although waits for attractions were great we did experience wait times at other places.
Long Lines to Enter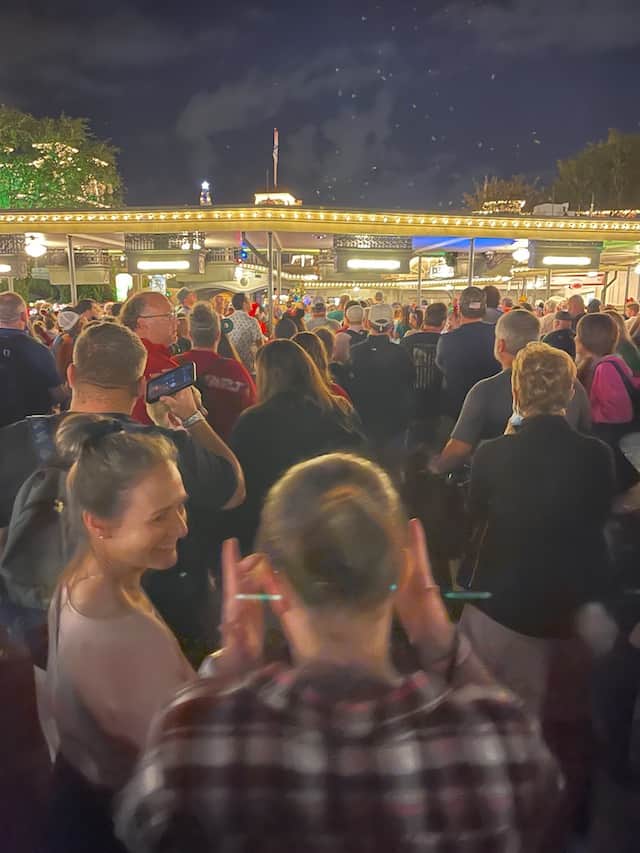 When we arrived at the Magic Kingdom, After Hour Guests were corralled in the 3 far right 3 turnstiles to enter for the event. This created a HUGE traffic jam. Our MagicBands turned green immediately once we were able to scan them, but many fellow Guests were not so lucky. This added to the delay in entering for the event.
After we finally made it through the turnstile there was another long line to receive our event wristbands. I would like to say that Guests were jolly and merry, but there was quite a bit of pushing and yelling as unclear lines led to confusion for Guests.
Long Lines for Snacks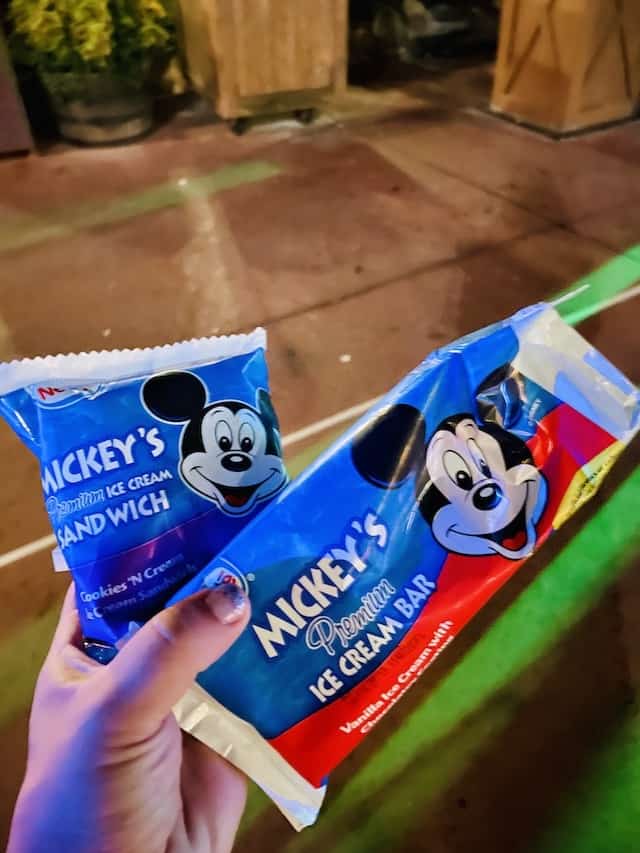 We saw HUGE lines for snacks and treats within the first 2 hours of this event. I do love a Mickey Mouse ice cream bar, but I had no interest in waiting 30 minutes for one.
Pirate tip: wait to enjoy snacks until later in the evening when the lines have diminished.
We did attempt to visit Golden Outpost in Frontierland for special event snacks. The "To Be Jolly Float" looked so yummy. The line for this was so long both times that we walked past, that we chose not to wait in line for it.
Mickey's Christmastime Parade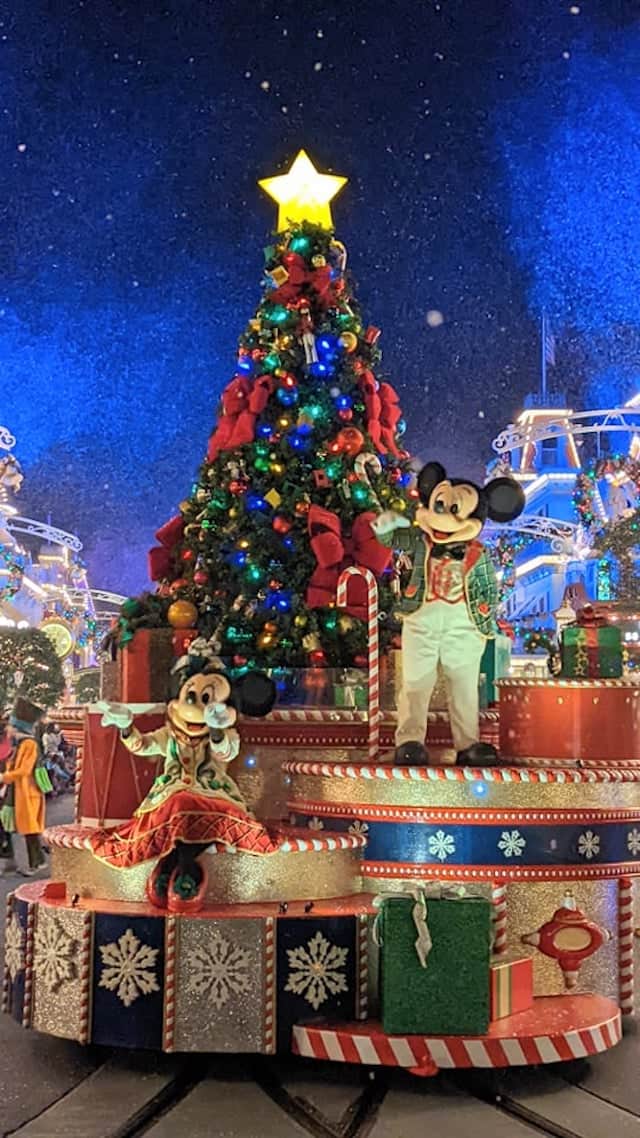 Please don't "Boo" me for including this in the "Bad" portion of this event. I was most excited about seeing this parade as it was the first parade to return since 2020.
This parade can be enjoyed at both 9:45pm and 12:05am. We attempted to watch a little of this parade at 9:45pm as we walked towards Frontierland. Where we were standing we had a great view of the parade, but technical difficulties caused the music to unexpectedly stop as Mickey and Minnie Mouse started the parade.
Have you ever wondered what happens to a Disney parade with no music? Every dancer simply walks with no music to perform choreography to. I was told by a Cast Member that the music did return later on the parade route which was good news for Guests closer to Main Street, USA.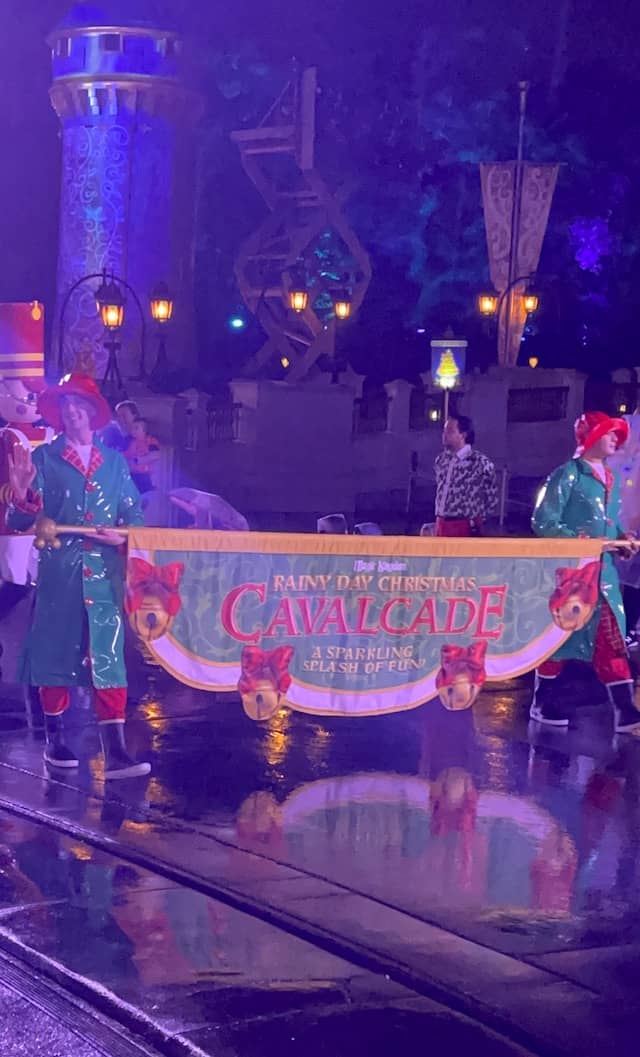 We had hopes of getting a great spot for the 12:05 am parade. As we waited it began to sprinkle just a bit. I thought the parade may be delayed due to the sprinkle, but then we heard music.
The fact that we could hear music was already a better sign than the previous parade. However, it was not the magical music we expected. We saw the Rainy Day Christmas Cavalcade.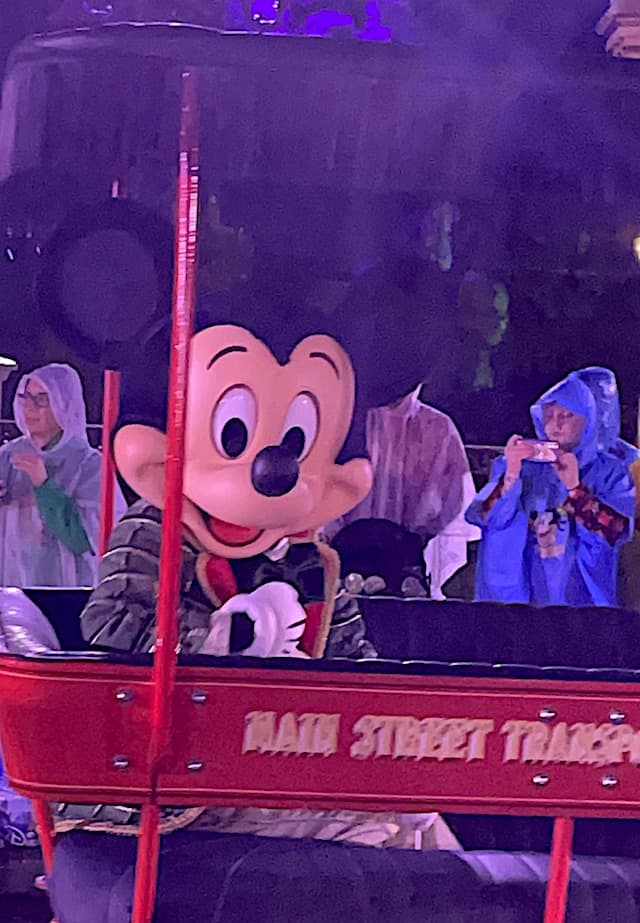 We could still see Mickey and Minnie in their holiday attire, Santa Claus, and a trolly car filled with Donald and Daisy Duck, Clarabelle Cow, and Goofy. This was just not the full parade experience that we had hoped for.
The Confusing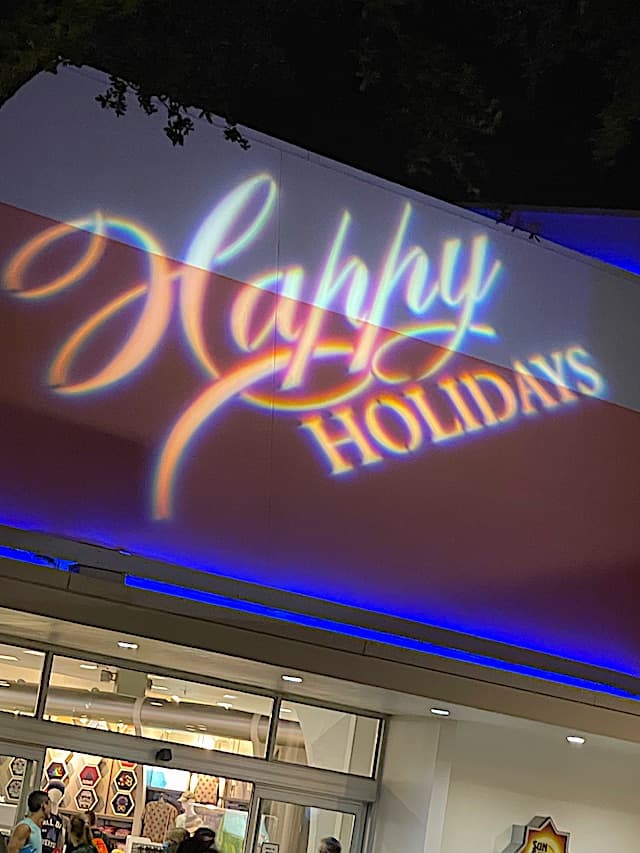 After the event, fellow Disney fans asked me what my thoughts were of this new event. Between the Rainy Day Cavalcade and the "music-less" parade, I was a bit confused. However, there were also a few other things that left me scratching my head in confusion.
Mickey & Minnie's Very Merry Memories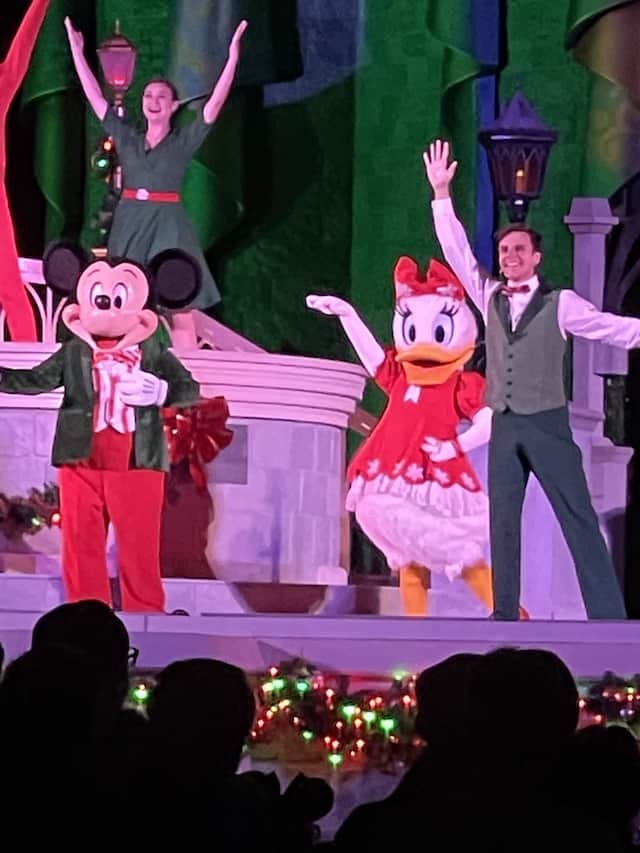 We were excited to watch the 10:45pm Mickey & Minnie's Very Merry Memories stage show. It was such a cute compilation of our favorite Christmas memories. It was merry until the Caballeros took the stage. Halfway through their musical number the music faded and the lights went low.
We heard the announcement, "Please pardon the interruption. This performance of Mickey & Minnie's Very Merry Memories has been delayed. We apologize for the inconvenience and hope to resume shortly. Thank you for your patience."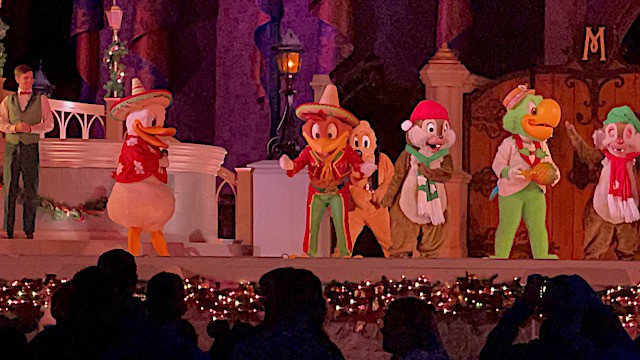 The show returned in about 5 minutes and it appeared that they cut out a few songs from their show due to the interruption. I learned from a Cast Member that sometimes these interruptions may be due to a misstep, wardrobe malfunction, or an injury.
It all happened so quickly, I'm not sure what caused this interruption. However, it was very confusing for all party guests.
What is Mickey Mouse wearing?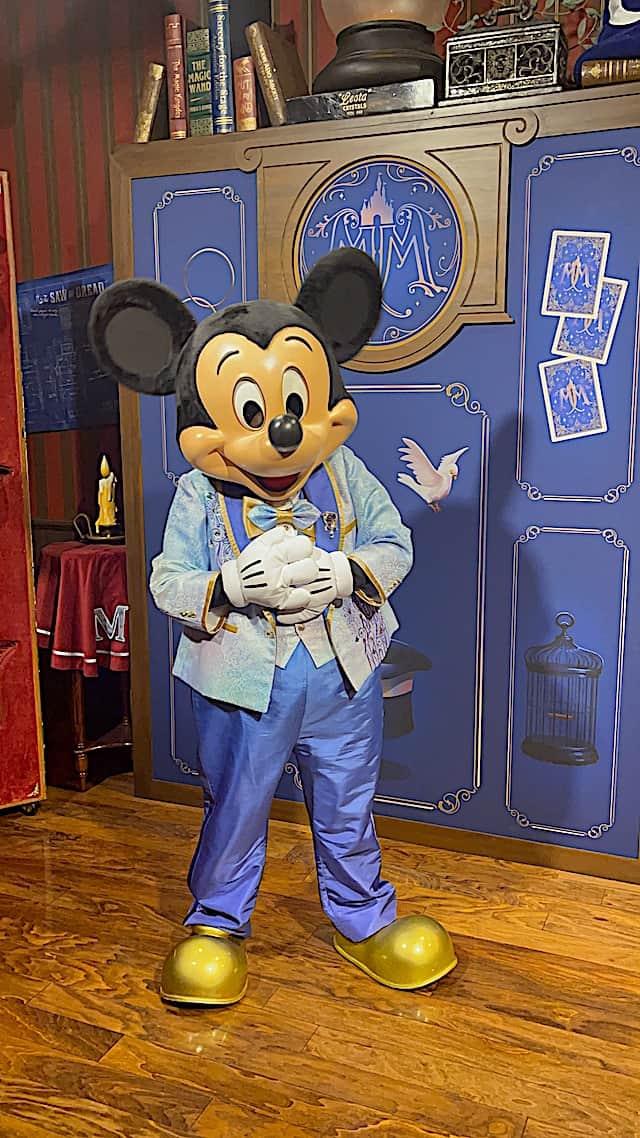 I was so excited that character sightings were returning, and I couldn't wait to meet Mickey Mouse. Previously, Mickey Mouse could be found wearing his festive holiday attire during the Mickey's Very Merry Christmas Party.
It appears that he is loving his new 50th Anniversary suit that he wore this to this event. Of course it is always a great night when you get to see Mickey, but it was a little disappointing that he wasn't wearing holiday attire.
Characters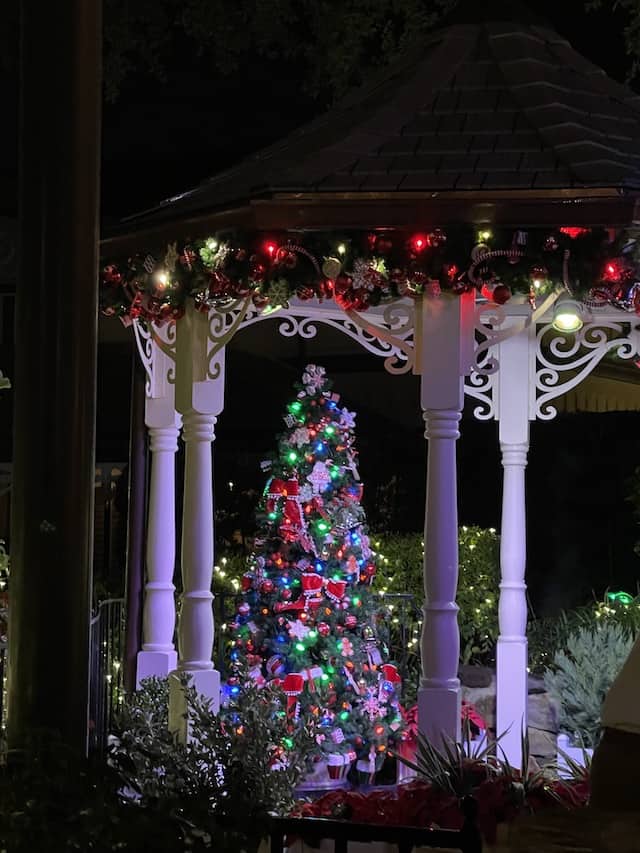 Due to the light sprinkling on the night of our event, many of the characters were missing. I completely understand that even Disney cannot control the weather, but with this being a special ticketed event it was unfortunate that our night was greatly affected by the weather.
The above photo shows where Santa Claus "should be" greeting Guests.
Overall Review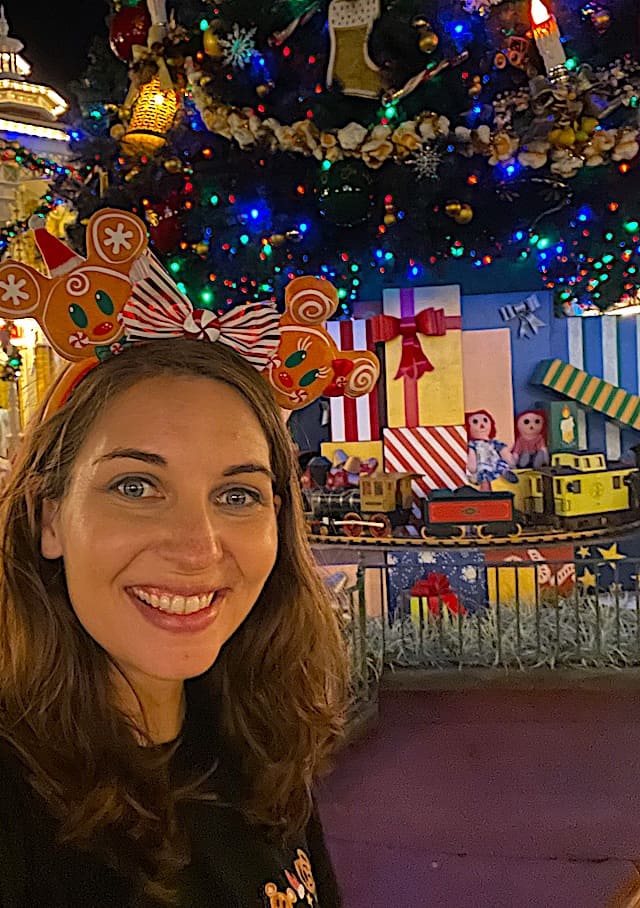 Overall I was pleased with the event. My "Good" list far outweighs that of the "Bad" or "Confusing". I would recommend that you prioritize what is most important for the event because the weather in Florida is clearly erratic. The night of our event forecasted clear skies, but that was not the case for us.
I hope that lines to enter the party may go smoother for future events and additional snack carts may be added as well. As with anything enter with reasonable expectations and hopefully those expectations will be exceeded with Disney magic.
I would recommend that you prioritize what is most important for the event because the weather in Florida is clearly erratic.
To all who will attend future Disney's Very Merriest After Hours events, I hope you have a truly merry time.
What do you think of this new After Hours event? Will you be attending this year? Have you had a similar experience at a previous special event? Share your thoughts with us on our Facebook Page.