Were you excited to learn about Disney+ Day? Find out all of the fun offerings and magic that were sprinkled throughout Disney's Hollywood Studios for this inaugural event.
Early Park Entry
We were so excited to share earlier all of the fun that will be available for Disney+ subscribers at the Disney Parks this Friday, November 12, 2021 for Disney+ Day. Check out all of the fun offerings HERE.
Disney+ subscribers were able to enter the Parks 30 minutes prior to Park entry. All they had to do was present the Disney+ app on their mobile device and show that they are able to successfully log in. 
But how did this affect Disney Resort Guests? These Guests were already able to enter the Park 30 minutes early. Disney Resort Guests were able to enter the Parks an HOUR BEFORE official Park opening.
This was such a fun way to start our day!
Free Gift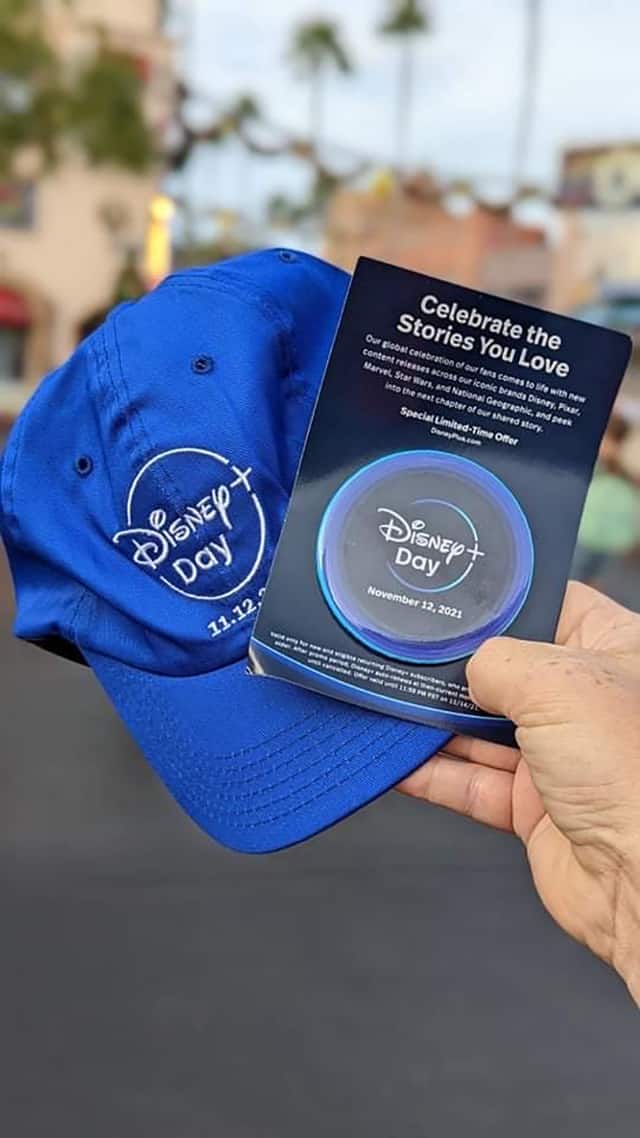 In addition to early Park entry we were also given a free Disney+ baseball hat and a commemorative pin. These fun gifts went quickly.
While visiting Muppet Vision 3D, the Cast Member asked who all received their free baseball hat. Many Guests commented that they had not, and she jokingly mentioned that she would mention the free gifts to future audiences.
In addition to early park entry, we were also given a free Disney+ baseball hat and a commemorative pin.
Special Filming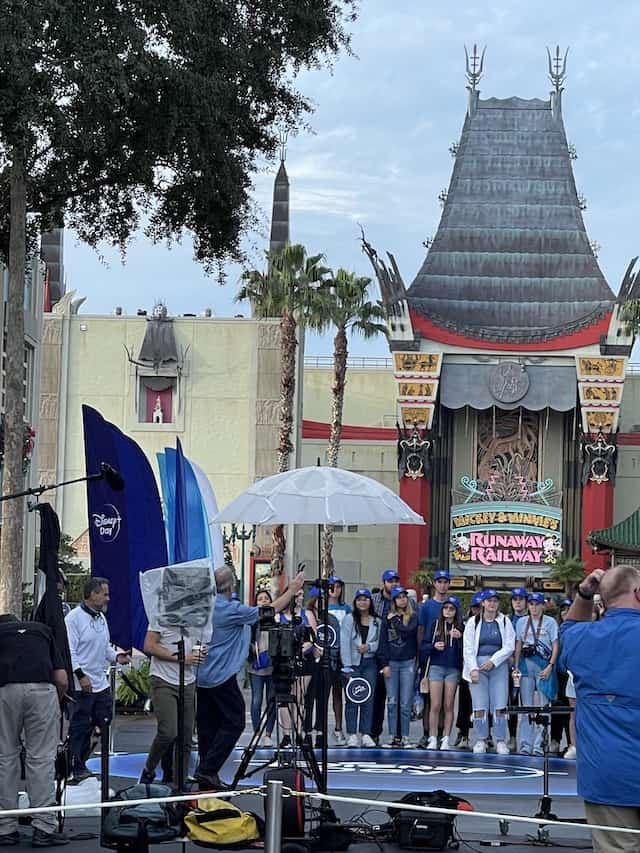 Once we had entered the Park we were able to see photos taken by Disney press photographers and a filming of Good Morning America. We truly felt as though we were in Hollywood with these special filming events.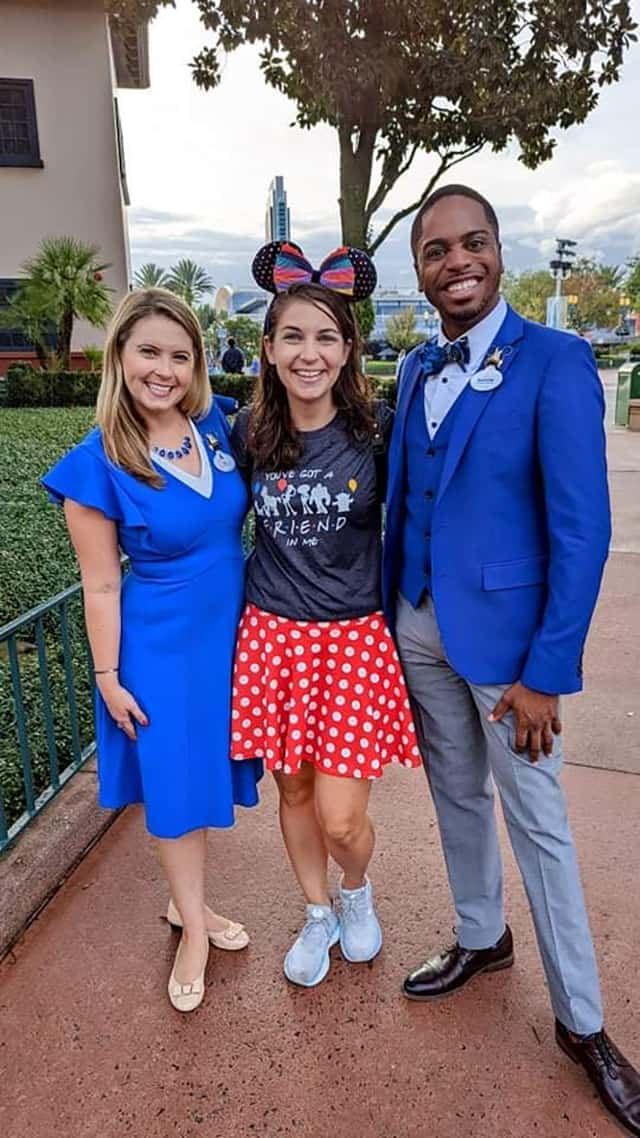 We even able to spy a few familiar faces of the Walt Disney World ambassadors. Ali Manion and Raevon Redding were so friendly and allowed me to get a photo taken with them.
We truly felt as though we were in Hollywood with these special filming events.
Fun PhotoPass Photos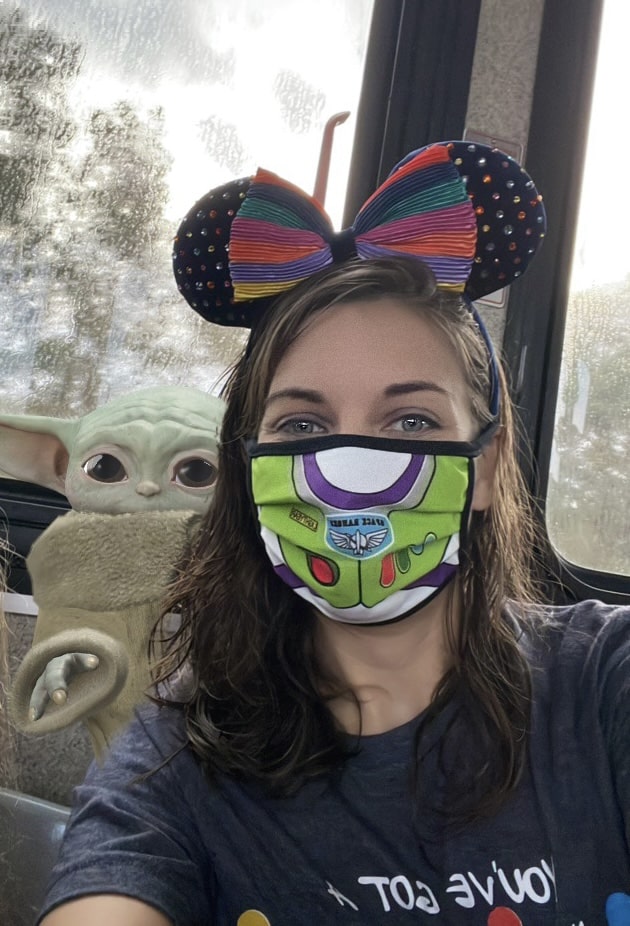 The fun began even before we arrived to Disney's Hollywood Studios. While on the Disney bus, I tried out the fun virtual reality photo lens featuring my favorite Star Wars pal, Baby Grogu.
This was available to Disney+ suscribers both in the Parks and at home on November 12, 2021. Now this fun photo may only be captured if you purchase the Disney Genie+ service at Disney's Hollywood Studios.
Each Walt Disney World Park offered a variety of Magic Shots available only for Disney+ subscribers. When standing in line for these exclusive photos, Guests had to show their Disney+ log-in screen to be able to have these unique photos captured.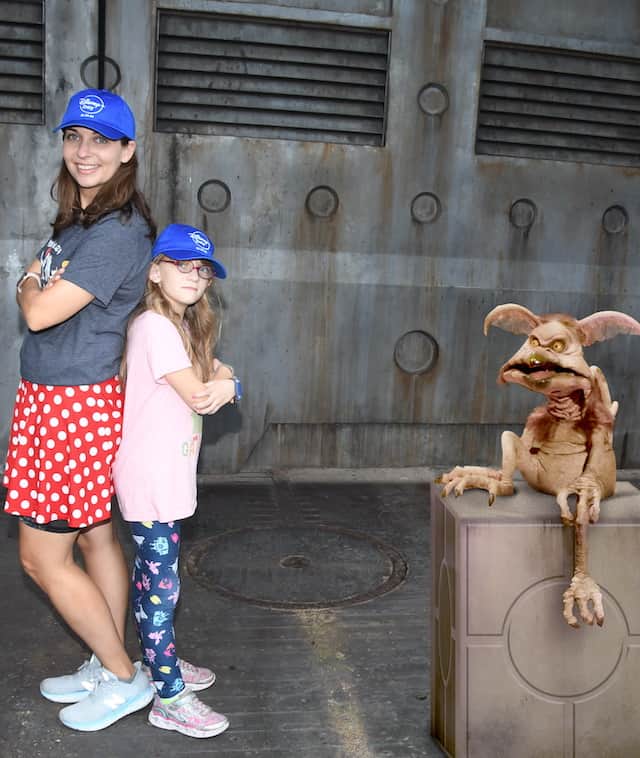 A HUGE line of Guests were formed near the large archway near the market in Star Wars: Galaxy's Edge for the Kowakian Monkey magic shot. We returned later in the day to wait behind two families for this unique photo.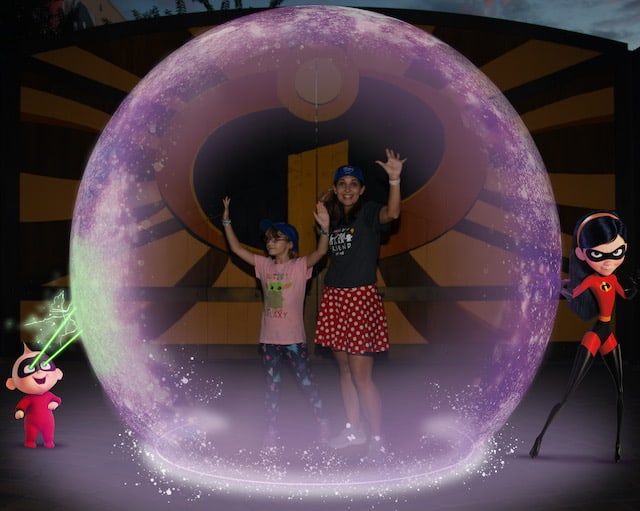 Near the Animation courtyard we had an INCREDIBLE photo pass magic shot where we were able to step inside the force field with Violet and baby Jack-Jack.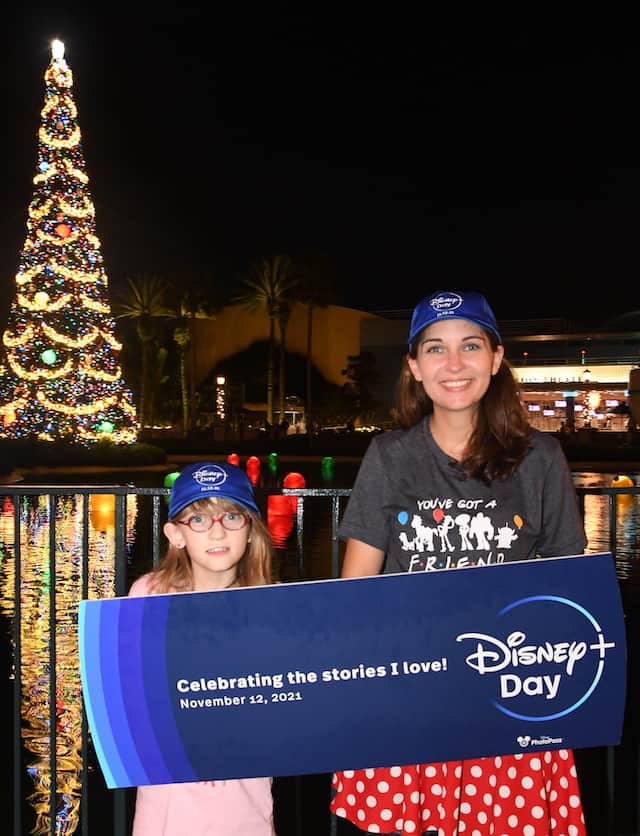 Finally we took a photo at Echo Lake with the Disney+ prop to commemorate our day.
Fun Characters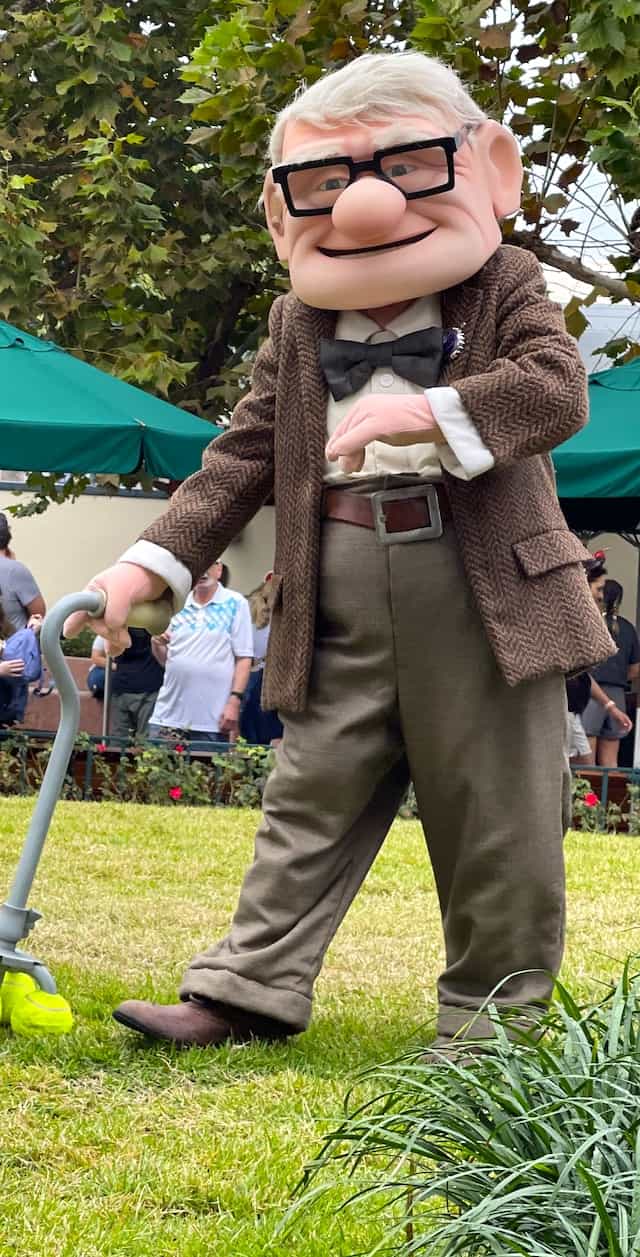 Truly the highlight of my day was to spot a few rare characters that we hadn't seen before. Prior to the park closures, my family had visited both Dug and Russell at Disney's Animal Kingdom. We had not yet met Carl from Up.
I felt like a child as I took in Carl's detailed outfit complete with hearing aid, grape soda button cap pin, and cane complete with tennis balls.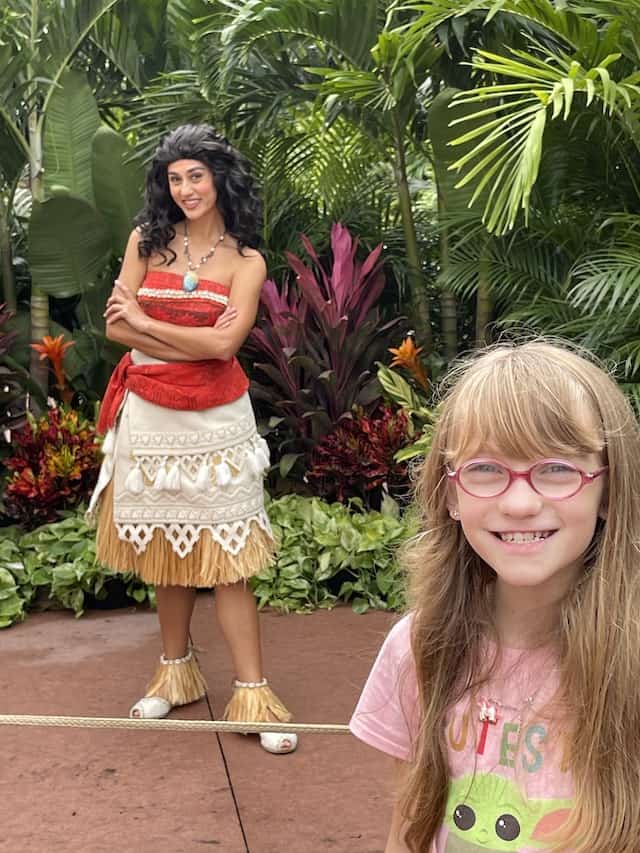 Since the Disney Parks reopened we have seen Moana on cavalcades, but we had not had an opportunity to interact with her. My daughter loved practicing to be a Wayfinder with Moana with this special socially distanced interaction.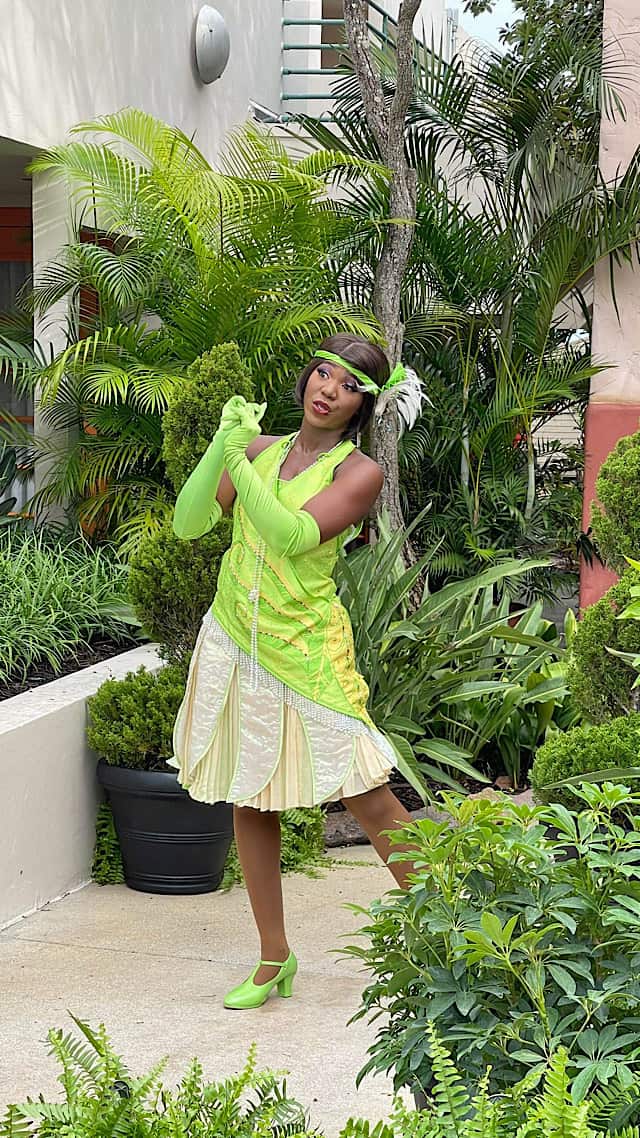 We were so excited to see the ever beautiful Tiana. She was not in her customary formal gown like at Magic Kingdom. Instead, she stepped out in style along the Disney+ Blue Carpet in her fun flapper dress.
Over near Star Tours we were able to interact with both Darth Vader and one of his Storm Troopers.
Disney+ Cavalcade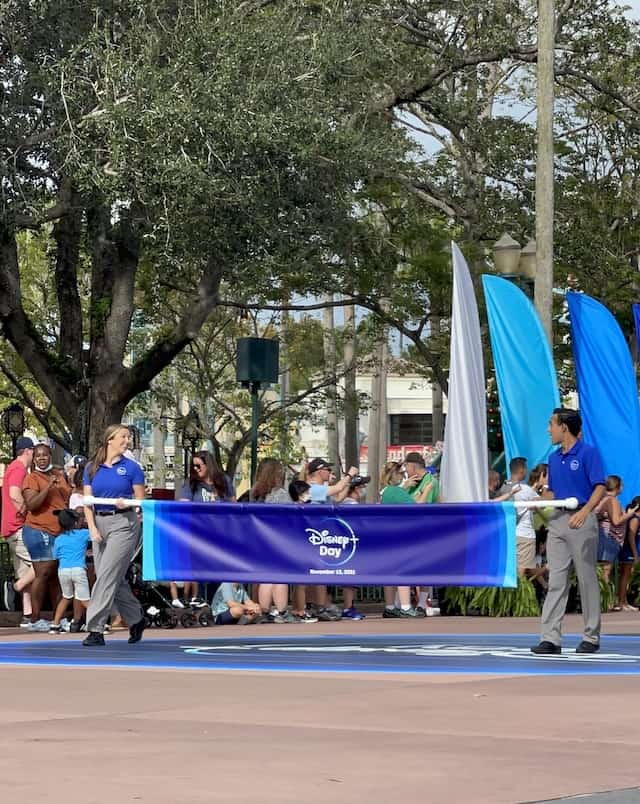 I was completely blown away by all of the offerings of Disney+ Day. When they announced that a special Disney+ cavalcade would be available at 2:15pm on November 12th, my mind raced as to who we may see.
Honestly, I was expecting the Mandalorian to possibly make an appearance since this was a hugely popular show on Disney+ and we were near Star Wars: Galaxy's Edge. Unfortunately, Mando did not make an appearance.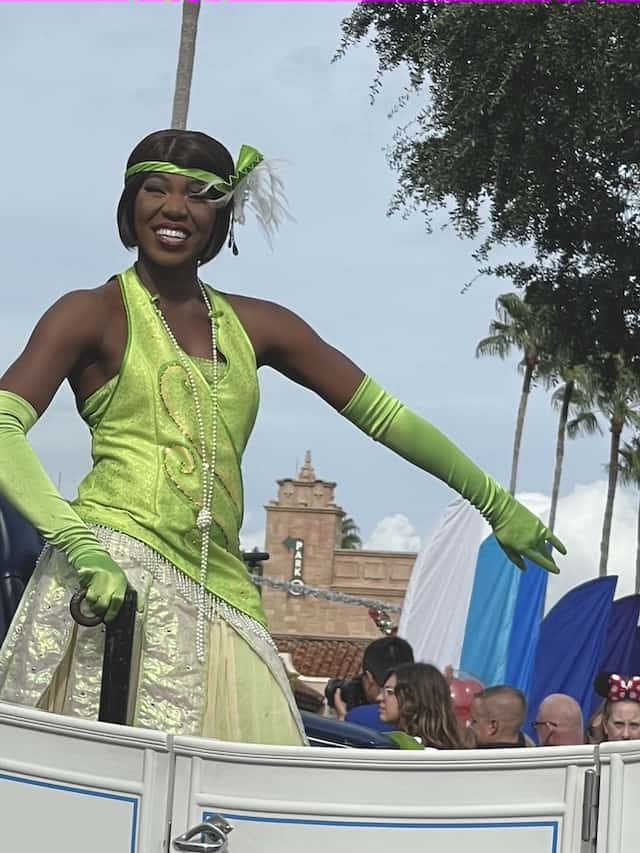 We were able to see many of the characters that we had spotted in the Park earlier that day including: Tiana as well as Russel and Dug from Pixar's Up. They also included a Minnie Mouse, Mickey Mouse, Chip 'n Dale, Goofy and Pluto as are customarily featured in the Mickey & Friends motorcade throughout the day.
This was still a fun event, it was just not as magical as we were expecting. All in all this was a very magical experience to our day at Disney's Hollywood Studios.
Were you at a Disney Park for Disney+ Day? What was your experience? What would have been your favorite part of this fun event? Share your thoughts with us on our Facebook Page.