We really miss the full service Magical Express with bag delivery that Disney World previously offered. But, there is a way to skip luggage claim at MCO and have your bags sent to your hotel!
Bag Delivery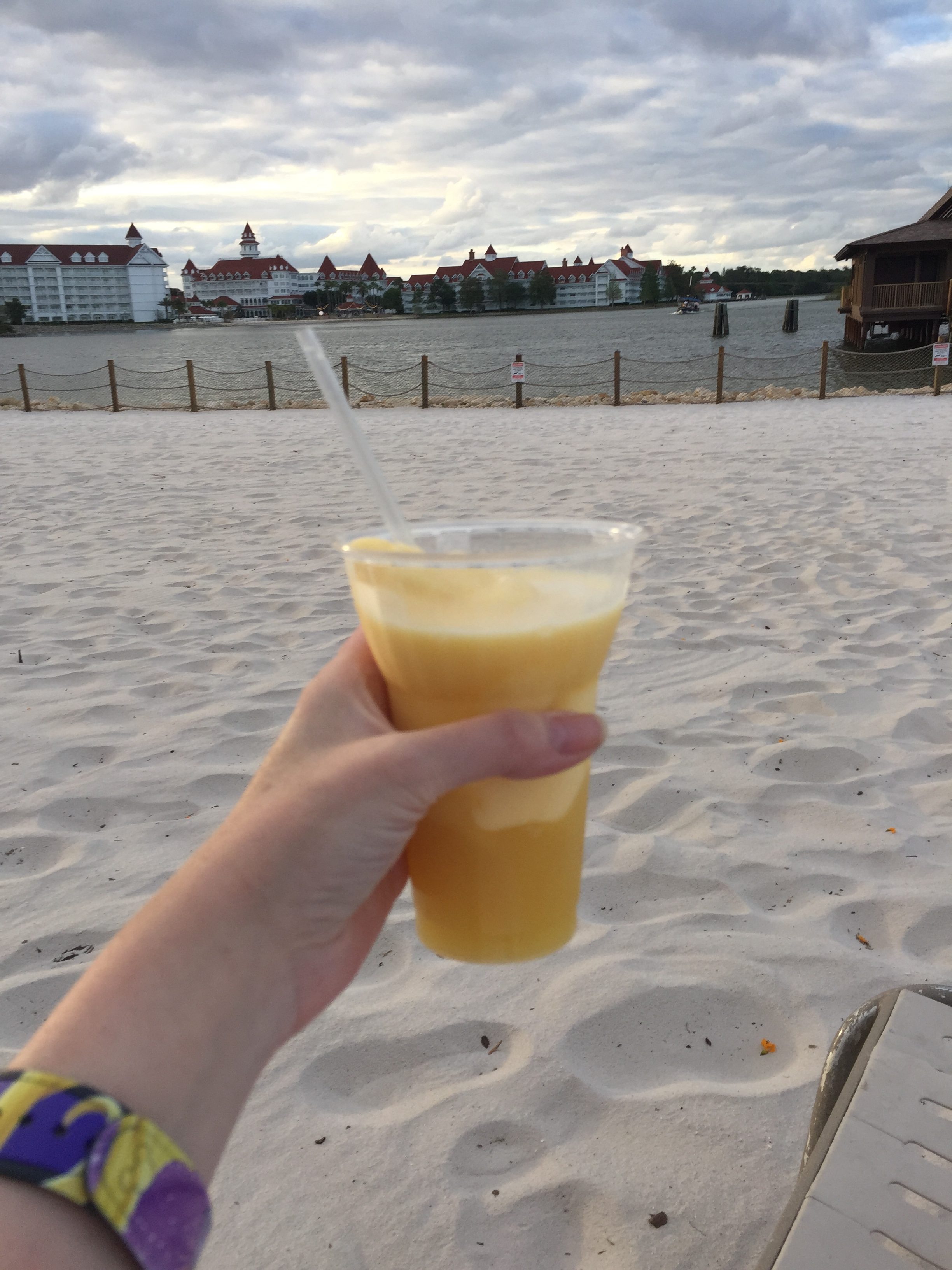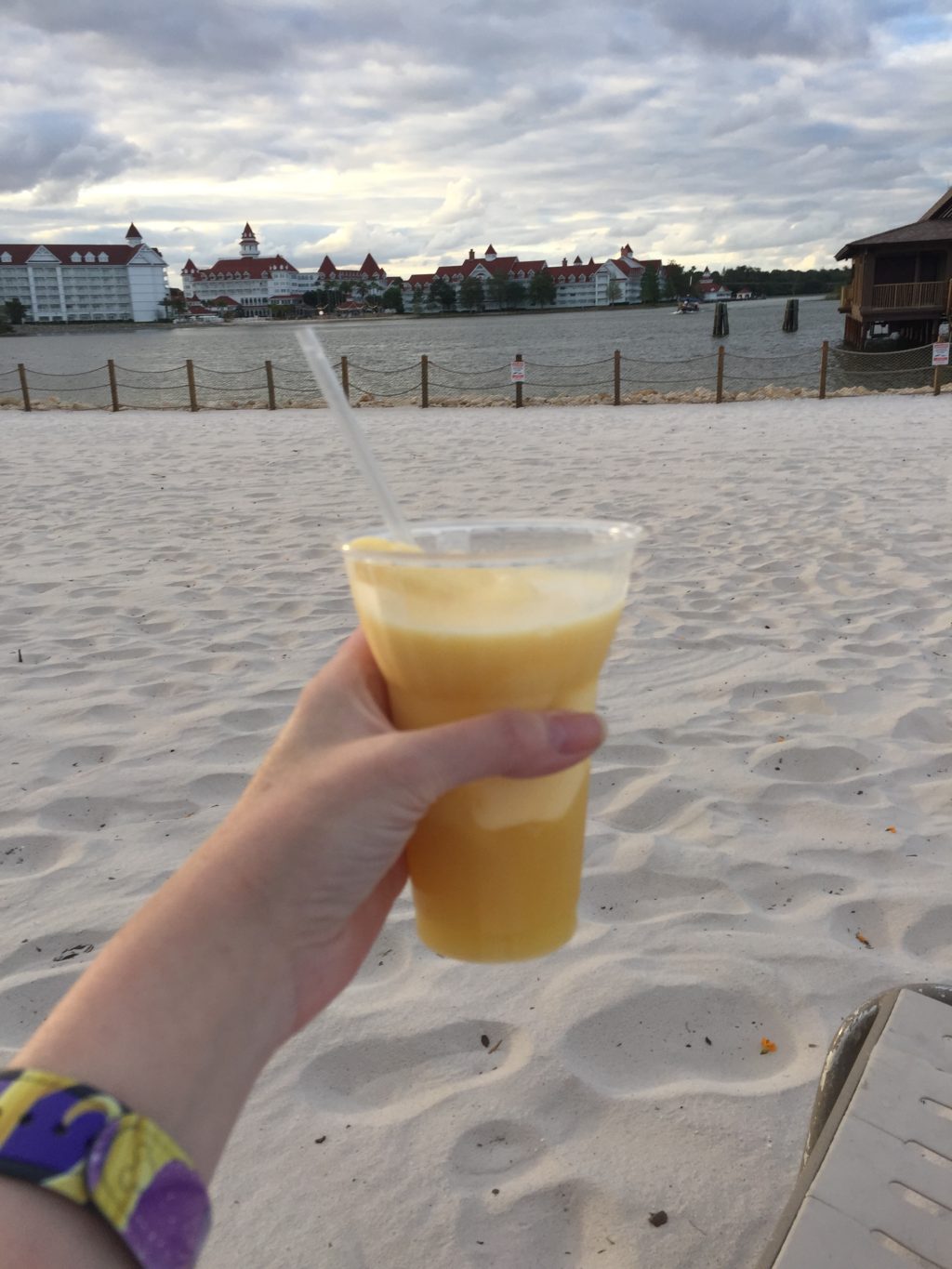 One of the Disney Resort perks that did not return in July 2020 doesn't get much discussion. For me (Rebecca), luggage service (bag delivery) is one of the Disney resort hotel features I miss the most!
I miss that Disney vacation feeling where everything is taken care of. My non-Disney friends were stunned to learn about luggage service and checking in to the airline from the resort. Oh man… I miss that too.
Luggage Service Pre-Pandemic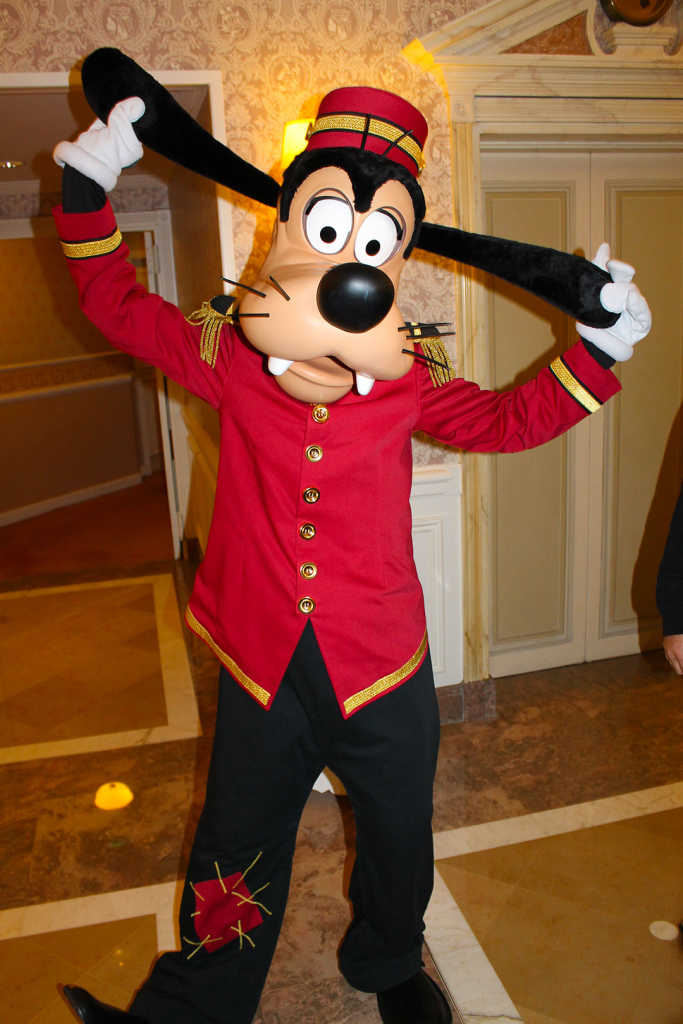 Before the extended closure in 2020, Disney World provided luggage service. This offering went along with Disney's Magical Express, which will soon be replaced.
Why I Miss it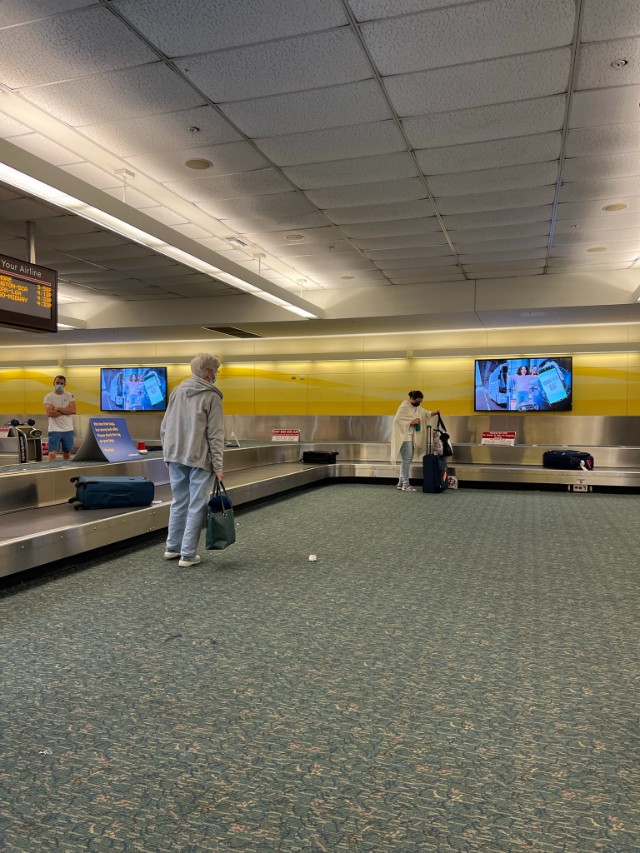 Because I never had to haul a bag around MCO, it was much easier for me to take my son on solo trips. My husband would help us check in our bags in DC, and then we'd see the bag in our room that evening.
On the return flight, before the pandemic, guests on certain airlines could check their bags through to their destination from their resort! So the longest I ever had to deal with my luggage was from my room to the lobby, and bell services would come get it for me if I needed.
Now, Disney doesn't provide luggage service of this type anymore.
Current Luggage Services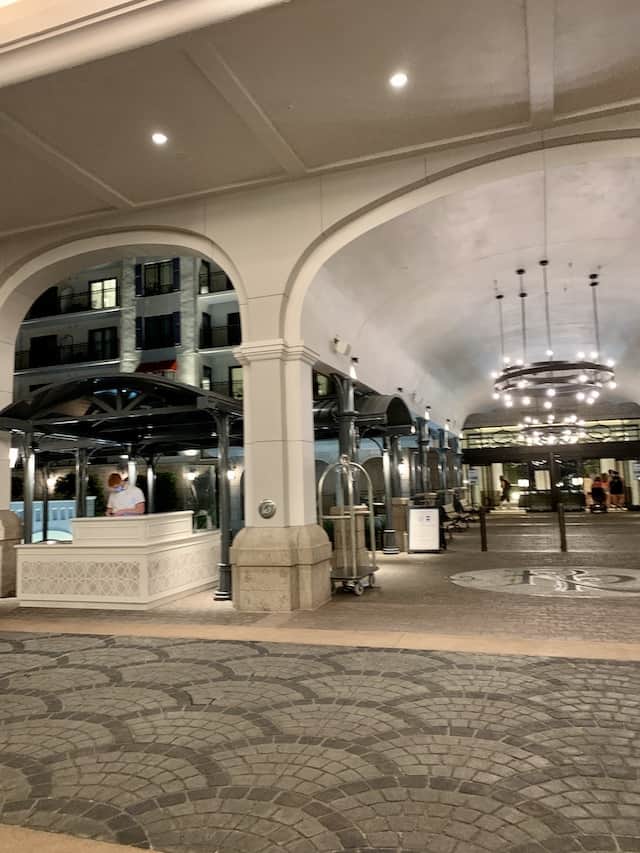 Disney will store your items at bell services and bring them to your room. They will help you take luggage to or from the room.
They also transfer your luggage between their resorts if you're enjoying a "split stay." However, they no longer move refrigerated or perishable items, but bell services will hold those items for you and keep them cold if necessary.
Private Luggage Service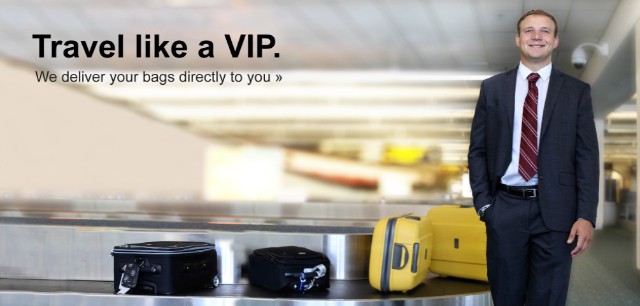 Not long ago, someone on social media turned me on to Bags VIP, a service that will grab your bags at bag claim and deliver them to your resort!
For $39, Bags VIP will pick up 1-2 bags and deliver them inside of 40 miles from the airport. Additional fees apply for longer distances and additional bags.
When I flew to Disney in July, storms and baggage handler labor shortages meant I waited over an hour at bag claim before hauling my bag over to the Magical Express on the opposite side. I guess you could say my "willingness to pay" for suitcase delivery had hit an all time high. I recently tried this service when staying at Disney's Wilderness Lodge!
Making and Changing Reservations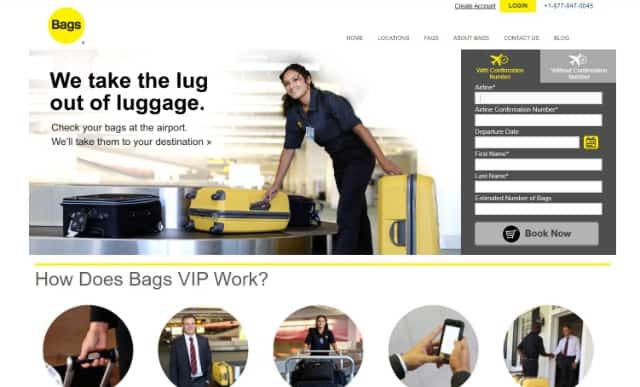 Reservations can be made online. You'll need to have the address of your destination, your flight information (flight number and landing time), and a description of your suitcase(s).
You will get an email confirmation, so definitely verify that the info is correct. I also recommend bookmarking the home page and printing the email because I had trouble searching my e-mail for "bags" to find the confirmation.
Changing a Reservation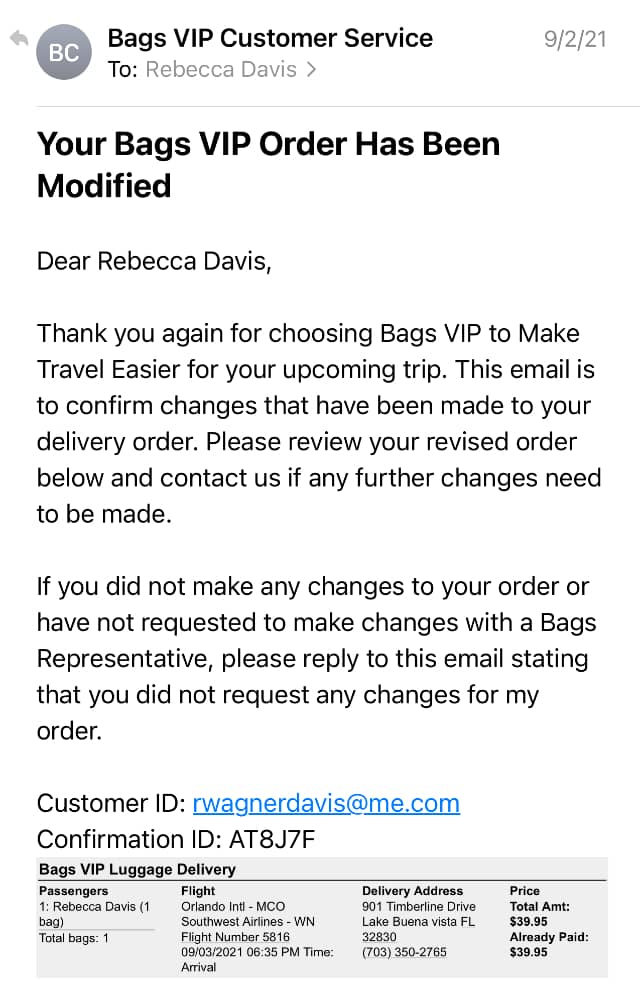 I needed to make a change to my reservation. At the last minute, I realized that I'd forgotten to alert Bags VIP about flying in a day earlier! Oops. I reached out via e-mail with my new flight information and said I would call in the morning.
But when I woke up, Bags VIP had updated my reservation with the new info and had sent me a new confirmation email. I found their response time on e-mail to be excellent! See above.
Packing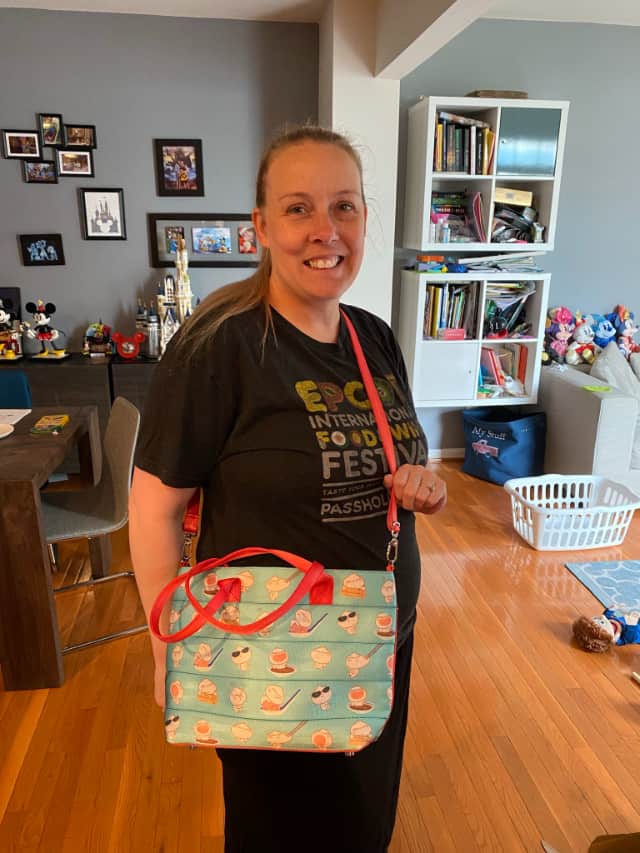 As far as packing the luggage, the only thing I did differently was to leave out anything of value. I did pack a loungefly and a Harveys bag, but I chose ones I can easily replace. Other than those, I stuck to clothes and a toiletry kit.
I always carry on medicine, and since my flight arrived at MCO at 6:30 pm, I threw a travel toothbrush/toothpaste in my purse, too. I definitely should have carried on a change of clothes.
In contrast to Disney's service there were no special luggage tags to put on your suitcase. So don't worry when you don't get those!
Arriving at MCO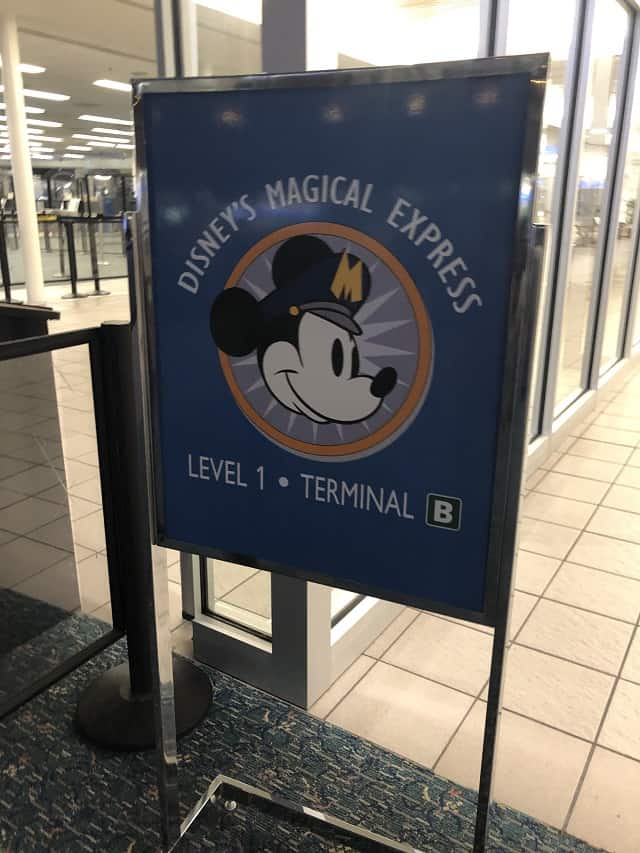 When my flight arrived at MCO, it felt great to just head straight for the Magical Express like the before times! Compared to July, I had already saved an hour or more by skipping bag claim. That part was great.
I did feel a little weird about just leaving my luggage there, but off I went to the Magical Express!
Bell Services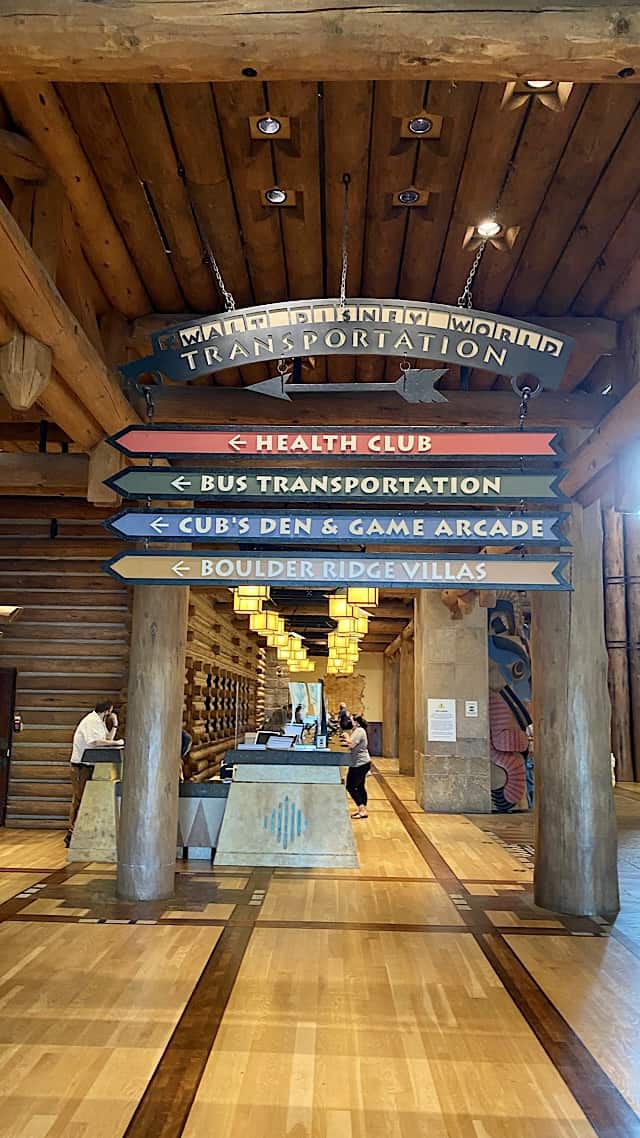 Bags are expected to be delivered between 4-6 hours after flight arrival. That could mean I would not have my suitcase until the next morning. My flight got in at 6:30 p.m., so I checked in with bell services one more time before bed. No bag yet.
The most amazing cast member from the night before was still there the next morning. He had called Fort Wilderness and they didn't have it either. It was really sweet of him to take that initiative. This service is not through Disney at all, so Adam was under no obligation to help me. He simply exemplified the Disney spirit that keeps us coming back all the time!
I told him that my party and I needed to move rooms that day from the studio to the 1 bedroom and could he please see if he can give me, like the first available 1 bedroom to make my day easier? We ended up getting a "room is ready" text before noon! Thanks, Adam!
But Where is My Bag?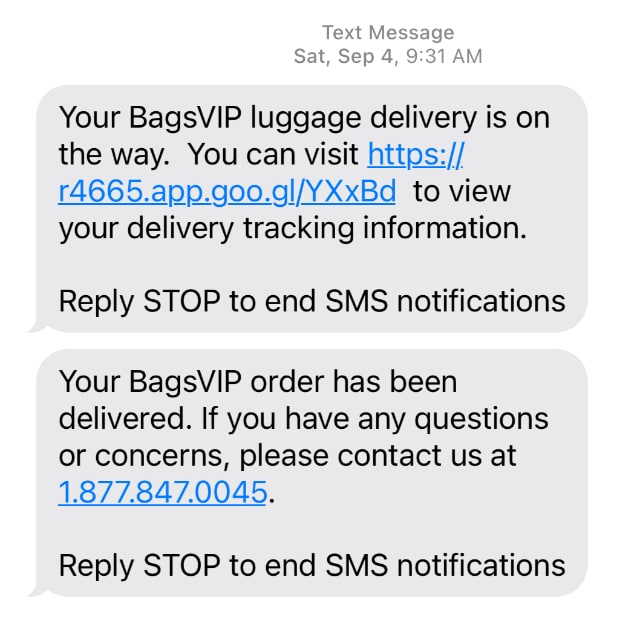 I began calling the bag service people first thing in the morning. I was surprised I didn't have any sort of status update. Did the airline lose the bag? Was it picked up? I finally got through at 8a.m., only to find that the customer service arm of Bags VIP does not have any information for me.
After several calls on my part, around 9:30 a.m. I finally get a status update via text that my bag is on the way. At 10:03 they texted that the bag had been delivered.
I picked it up at Bell Services, changed clothes and headed off to Magic Kingdom to wait for our room is ready text!
Plan to Try Again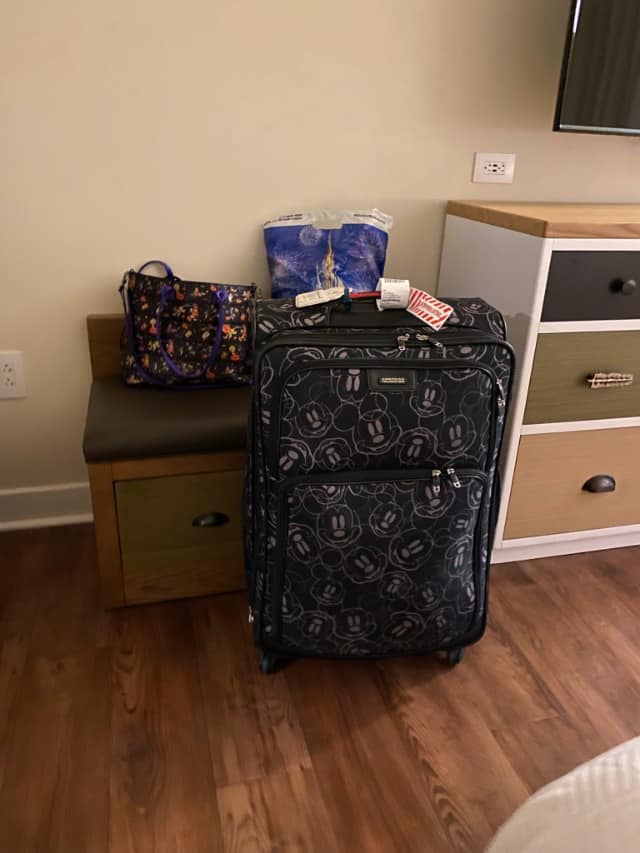 Even though it was quite stressful not to get a status update until the next morning, I think I would try this service again. However, I plan to wait for a time when my flight arrives earlier in the day. That way, the full 4-6 hours will be during customer service hours.
I provided feedback, when asked, that stated please send status updates even if the status is "still don't have your bag," It really was irritating to not have the bag for 15+ hours and to have no status updates during that time.
I'll also definitely carry on a full change of clothing in addition to my toothbrush and medications. In this case, I didn't have a change of clothing with me and that is one of my biggest regrets of 2021.
Would you try a service like this? Let us know in the comments on Facebook and in our Facebook group!
Rebecca W Davis