Disney's Contemporary Resort will soon be getting a new restaurant. Check out the opening date and all the details here.
Steakhouse 71 Opening Date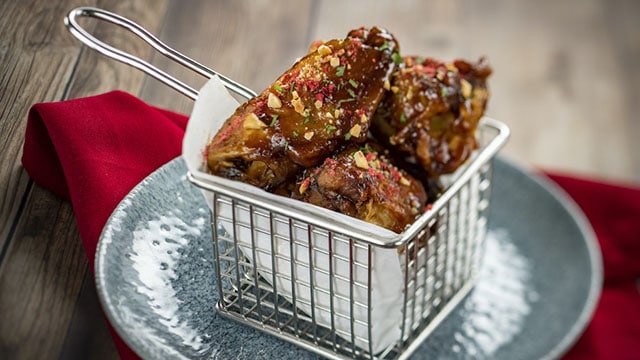 From Disney Parks Blog:
Steakhouse 71, located on the first floor of Disney's Contemporary Resort, will open on October 1 for breakfast, lunch, and dinner. We're are thrilled to give you a menu preview!
Steakhouse 71 opens on October 1.
Meals Served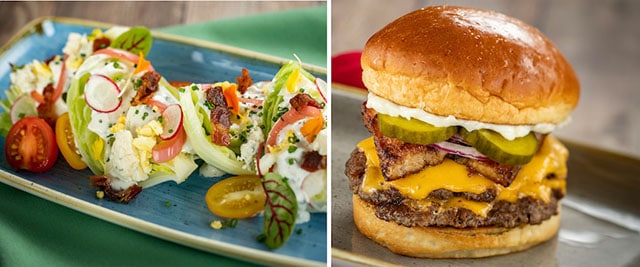 The chefs here created a terrific dinner menu with all the hallmarks of a family-friendly steakhouse, and offerings at breakfast and lunch are unique and delicious. They even give a nod to Walt Disney with contemporary spins on some of his favorite foods.
And kids get to be creative with their meals for breakfast, lunch, and dinner. They can choose an entrée, select two sides, and a drink from a menu that includes oatmeal with dried cranberries and Mickey-shaped waffles for breakfast and PBJ wings and cheeseburgers for lunch and dinner. They can even create their own ice cream sundae!
The talented mixologists have crafted fabulous alcoholic and nonalcoholic libations offered in the Steakhouse 71 Lounge or to enjoy while you are dining. Check out all the new menus below!
Inspiration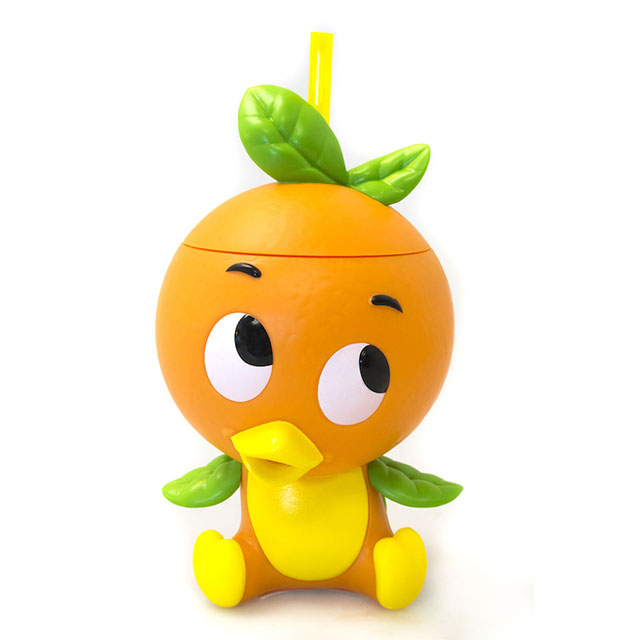 Steakhouse 71 gets its name from the year the resort opened. Also, it has a sleek yet comfortable décor with fun design elements from the '70s. Here, you'll see hints of Florida heritage with subtle sightings of the beloved Orange Bird and citrus groves.
Breakfast
Start your Disney day with a delicious breakfast at Steakhouse 71. The breakfast menu offers everything from Fresh-baked Pastries and Avocado Toast to Walt's Prime Rib Hash and Eggs Benedict!
Enjoy a variety of wake-up sips like the Steakhouse Bloody Mary and the Bourbon Cold Brew (Joffrey's Coffee Cold Brew, bourbon, maple, vanilla bean cream), as well as espresso, cappuccino, latte, freshly brewed coffee, assorted teas, and juices.
Lunch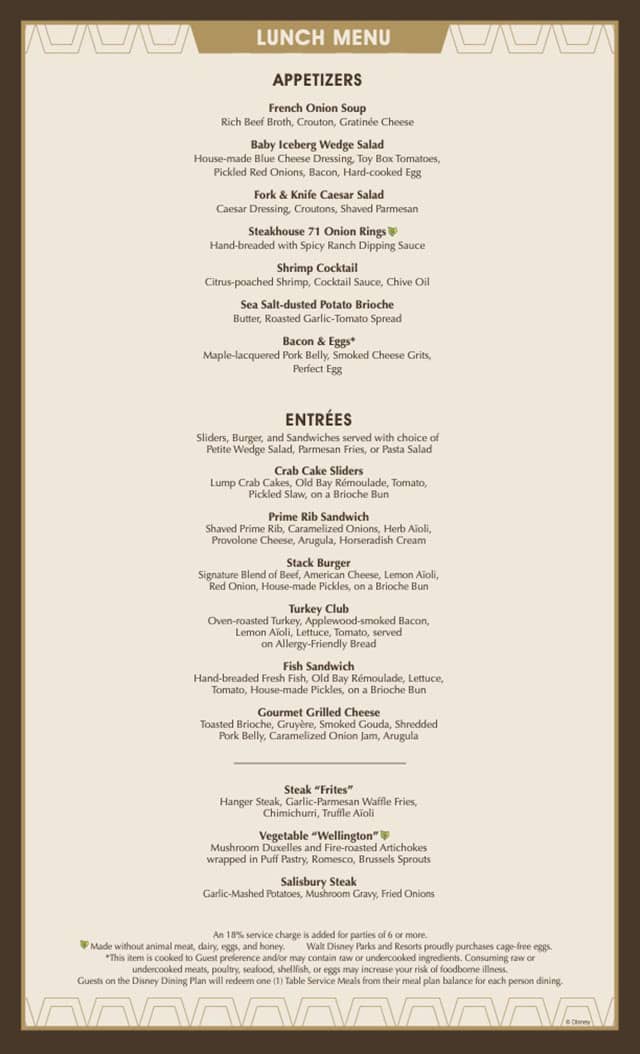 Love a tasty lunch? Take a lunch break and relax at Steakhouse 71. Check out this fantastic lunch menu – the Wedge Salad and Steakhouse 71 Stack Burger look delicious. Hopefully it will be as good or better than the Wave's burger.
Dinner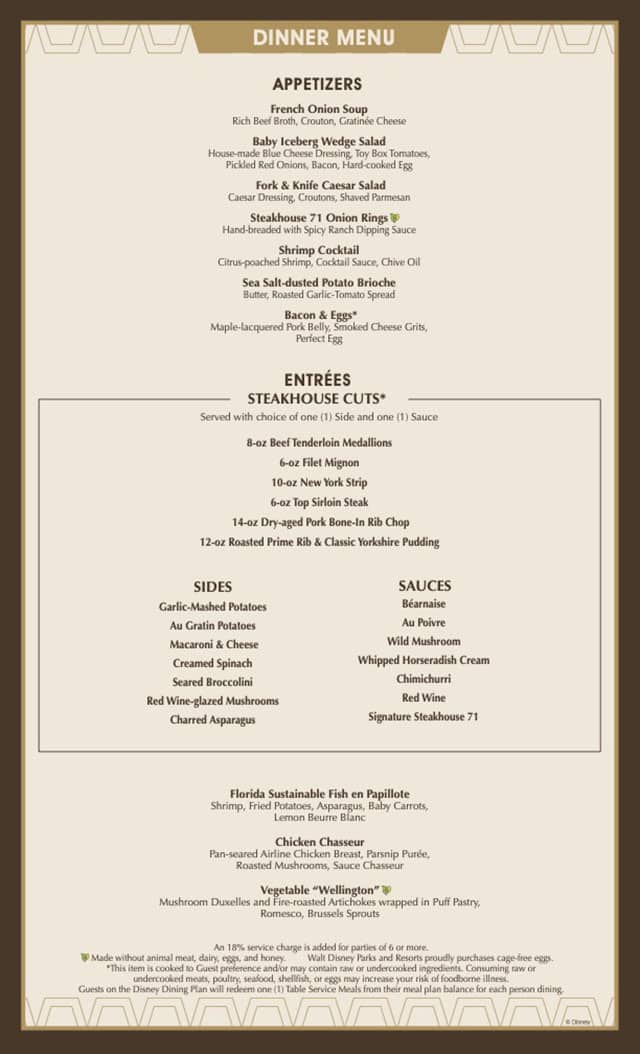 Customize your steak entrée with your choice of side and delicious sauce. Craving something other than a steak? Steakhouse 71 has delicious fish, chicken, and plant-based offerings as well.
Desserts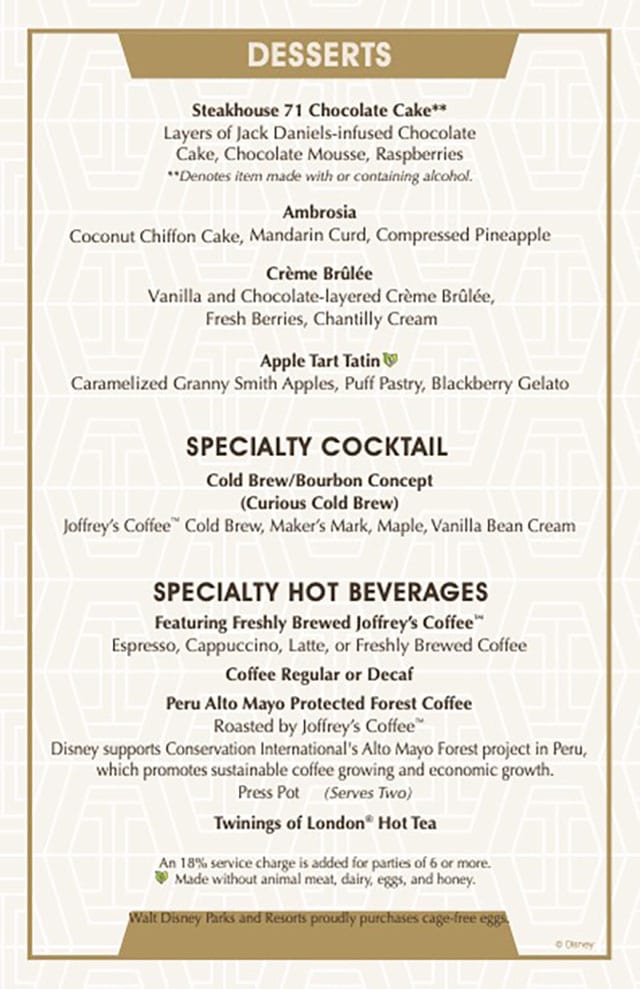 Steakhouse 71 Chocolate Cake looks mouthwatering. It is 15 layers of whiskey-infused chocolate cake, chocolate mousse, and raspberries – one layer for every floor at Disney's Contemporary Resort.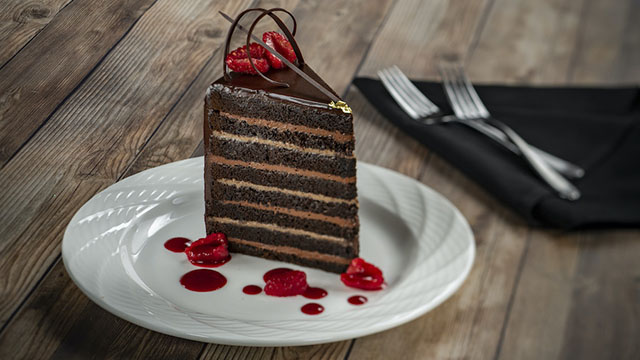 Lounge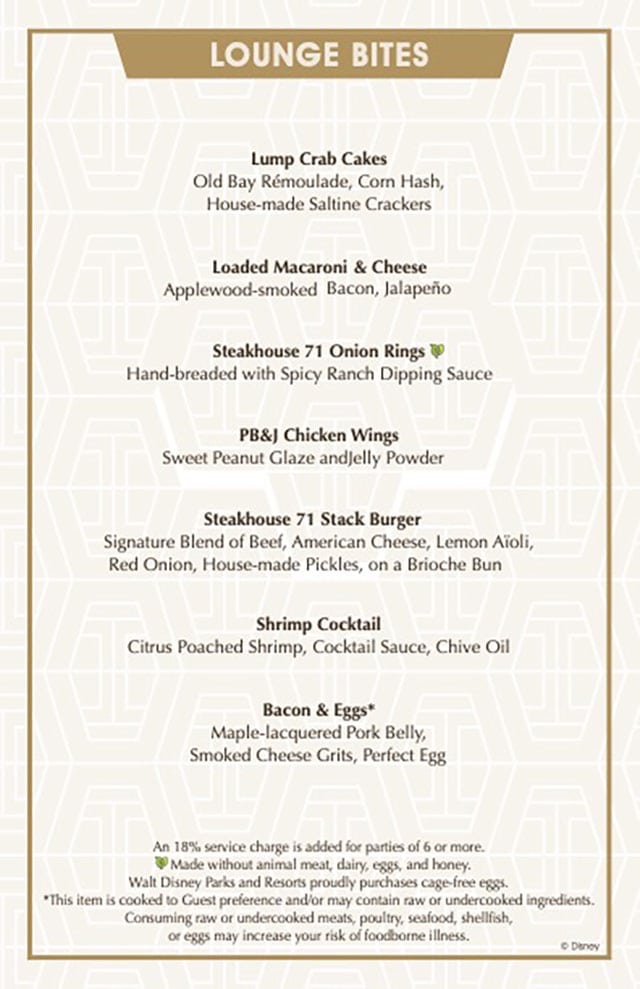 Before dining (or any time), relax, sip, and nosh in the retro Steakhouse 71 Lounge with comfortable seating at the large rectangular bar.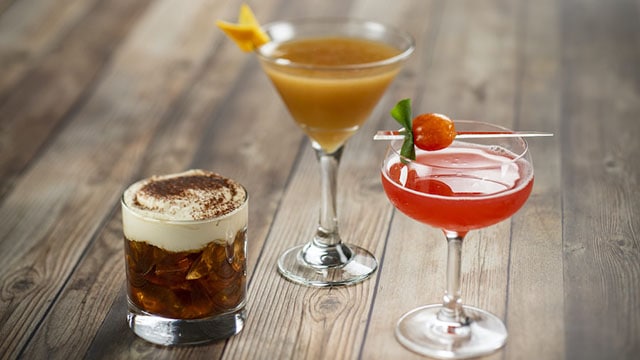 Citrus groves surrounding the resort when first being built were the inspiration for two refreshing cocktails. The Citrus Grove Cocktail (Italian bitter, green herbal liqueur, citrus juices, simple syrup, and orange bitters) evokes the scents of fresh oranges and citrus groves. And the Steakhouse 71 Vodka Gimlet (vodka, green herbal liqueur, herbal blend, lime juice, simple syrup, and Minute Maid Premium Lemonade) is a fresh and herbaceous cocktail inspired by the Florida wetlands. The "Lily" pad garnish is in honor of Lillian Disney.
While you enjoy the subtle '70s vibe of the restaurant, relax with a popular drink from that decade – the Tequila Sunrise! The mixologists gave their Tequila Sunrise a modern twist with tequila, tropical juices, rosemary simple syrup, and house-made grenadine. A "sharable" Tequila Sunrise is available for lunch and dinner, serving 2-4 guests.
Steakhouse 71 proudly offers a selection of "Disney Family of Wines," a diverse collection of wines with a personal connection to the Disney name. The wineries display qualities long identified with Walt Disney and The Walt Disney Company – passion, innovation, and quality.
Reservations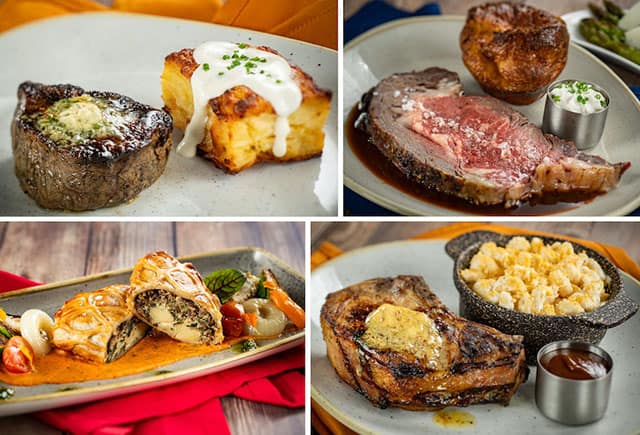 Be sure to keep a lookout on My Disney Experience. Reservations for Steakhouse 71 are available beginning September 16 and are sure to book up quickly.
Reservations for Steakhouse 71 are available beginning September 16.
Are you excited about this new location? Please share your thoughts in the comments below or on our Facebook page.