Disney World is sending out surveys to some of its most loyal visitors. Check out some of the questions they asked. Does this mean we could see even more changes soon?
Annual Pass Survey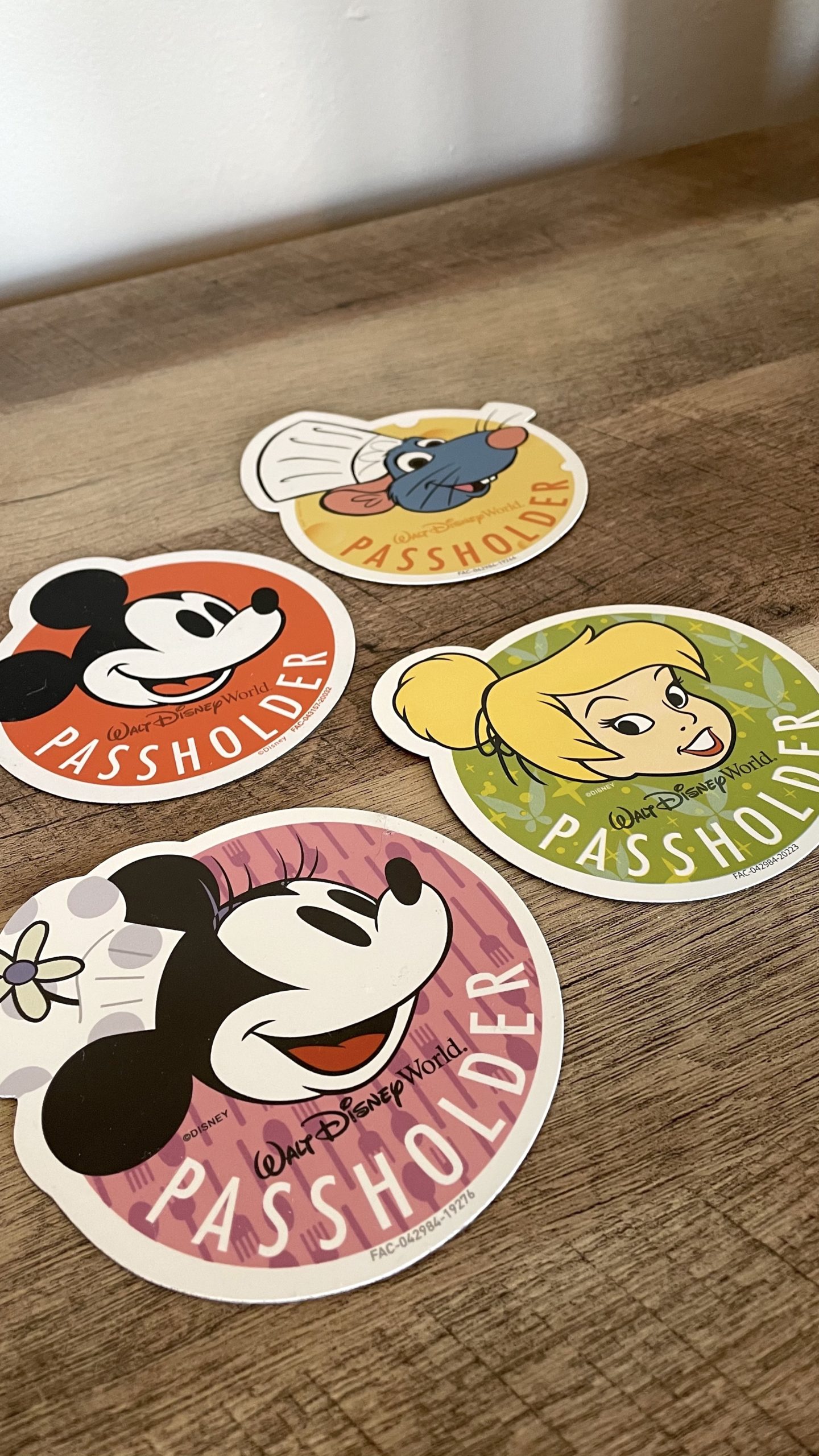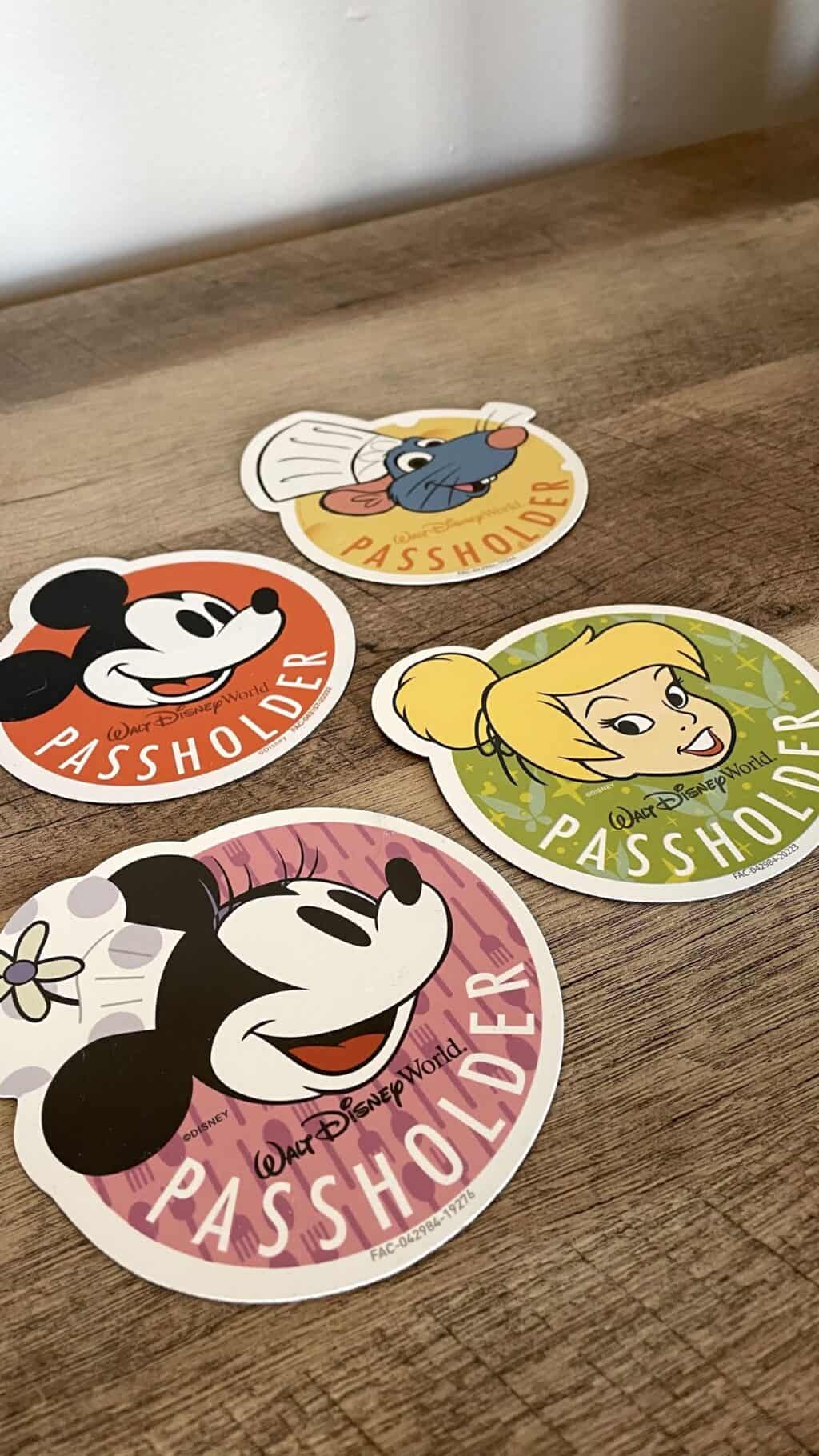 Last week, Disney sent out surveys to Guests with upcoming vacations. In it, they asked for opinions on health and safety measures, lack of experiences in the park, and so much more. You can read the questions and take our own informal poll HERE.
Now, Disney is sending out another survey – this time to another population of Guests: Annual Passholders. APs are some of the most loyal Disney fans out there so it's appropriate that Disney ask them their opinions. Let's take a look at what they asked.
Processes and Procedures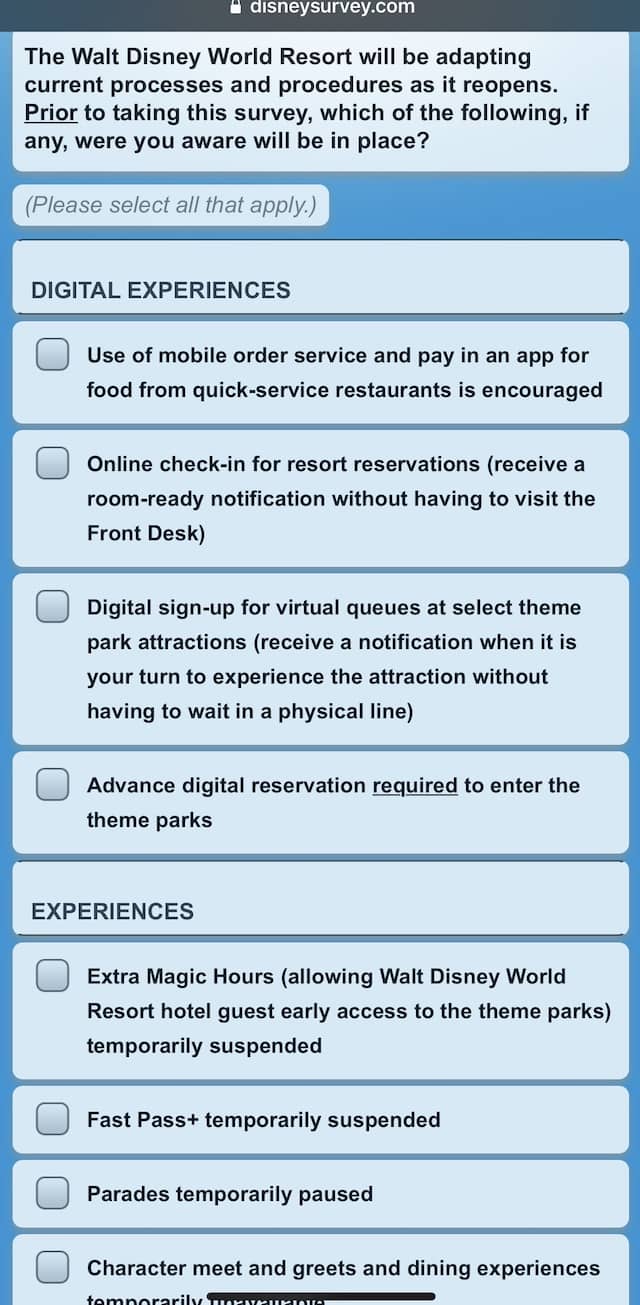 One of the first questions Disney asked is if APs are aware of the following processes and procedures:
Digital experiences like mobile order, online check-in at resorts, virtual queues, and park pass reservations
Experiences like suspension of Extra Magic Hours, Fast Pass+, parades, character meet and greets, and nighttime spectaculars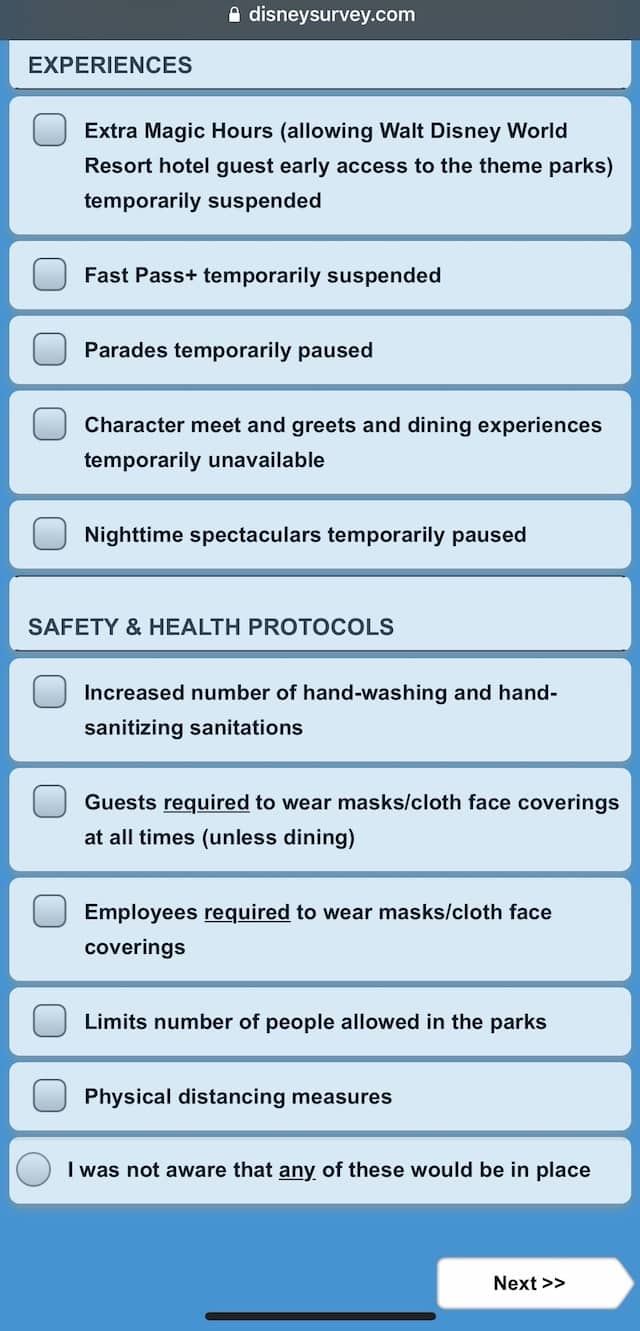 Safety & Health Protocols like increased hand washing and sanitizing stations, mask requirements, capacity limits, and physical distancing measures.
It's interesting that they asked the last section because of that has changed. Hand washing stations disappeared several weeks ago, and physical distancing was decreased just last week. Plus, capacity limits and mask requirements have also been addressed as well at the end of last week and into the weekend.
Plans to visit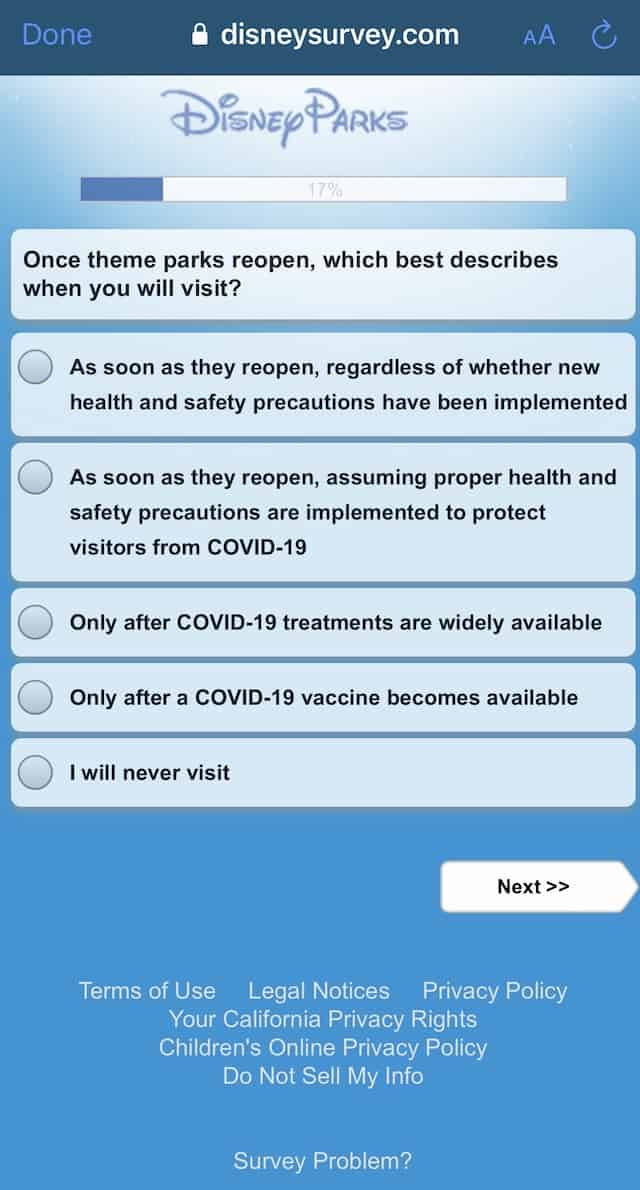 Next, Disney asks at what point APs will be comfortable visiting: as soon as they reopen, regardless of any health and safety measures; as soon as they reopening assuming health and safety measures are implemented; after COVID treatments are available; and after COVID vaccines are available.
Again, this question did not really address anything new. The parks have been open almost a year, and vaccines have been available for close to 6 months now. Disney also asked how often passholders expect visit once they are comfortable going.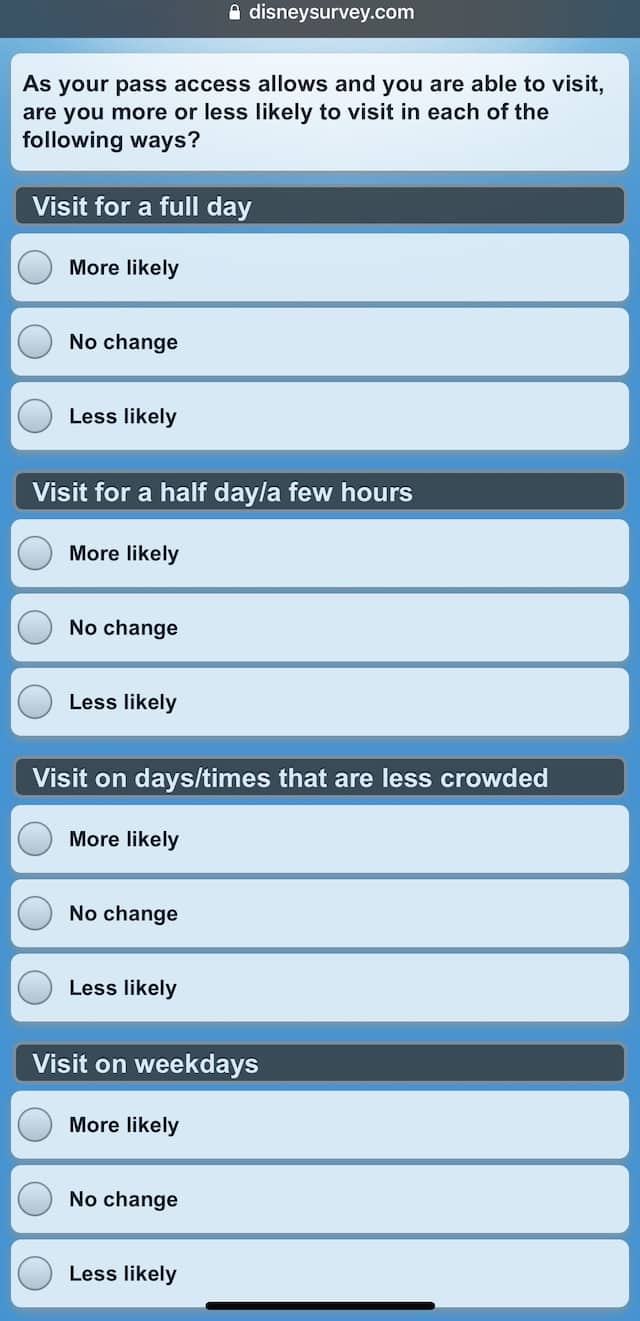 Later in the survey, Disney asks APs how more or less likely they are to visit in the following ways: full day, half day/few hours, days/times that are less crowded, and weekdays.
Park passes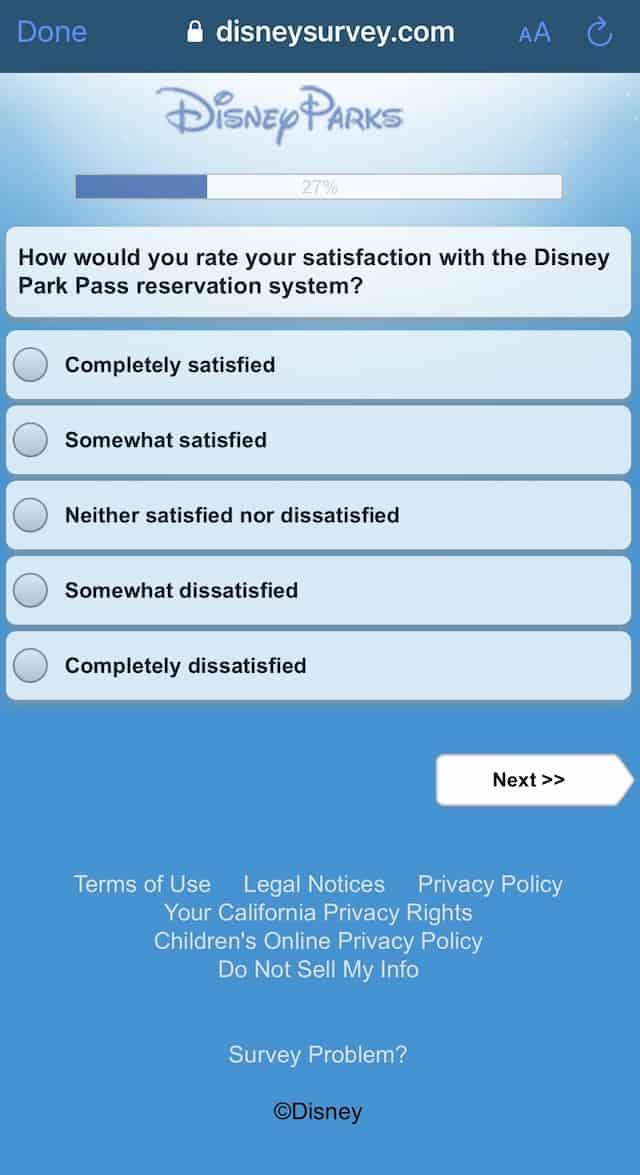 The next portion of the survey focused on park passes. This has become a tender spot for Annual Passholders because the ability to visit 365 days a year (or whatever their specific pass allows) has been restricted. If an AP does not have a Disney Resort Hotel reservation, they can only book 3 park pass days. This is burdensome for many local APs who do not need hotel reservations but want to visit during busier times.
The question asked how satisfied the passholder is with the park reservation system: completely satisfied, somewhat satisfied, neither satisfied nor dissatisfied, somewhat dissatisfied, or completely dissatisfied.
Satisfaction with Annual Pass Program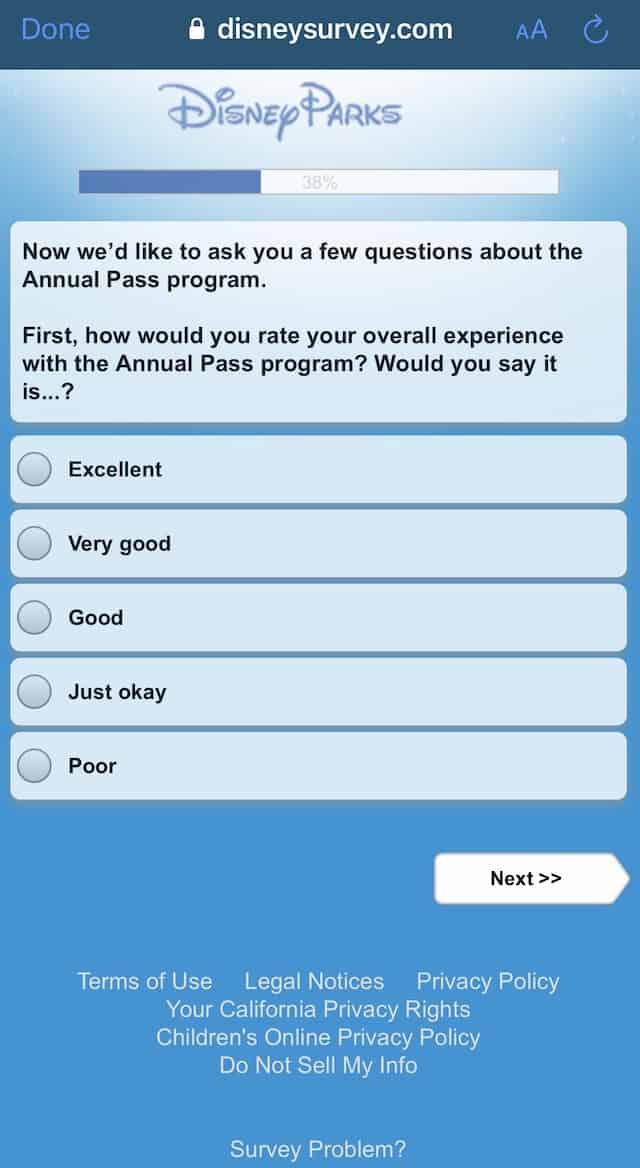 Disney asked several questions about satisfaction levels with the program. First, they wanted to know the AP's overall experience with the program: excellent, very good, good, just okay, and poor.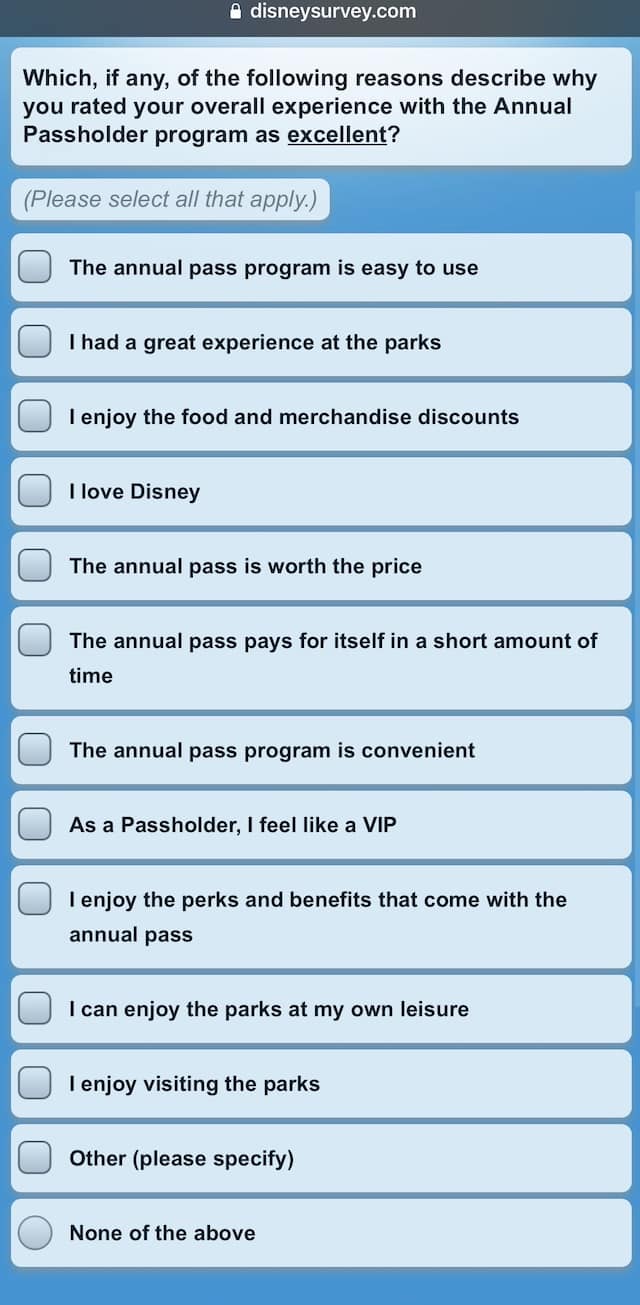 They then give the option to describe why they chose what they did. For and excellent experience, the options are:
easy to use
great experience in the parks
food and merchandise discounts
love for Disney
worth the price
pays for itself
convenient
feel like a VIP
perks and benefits
enjoy the parks at leisure
enjoy visiting
other
none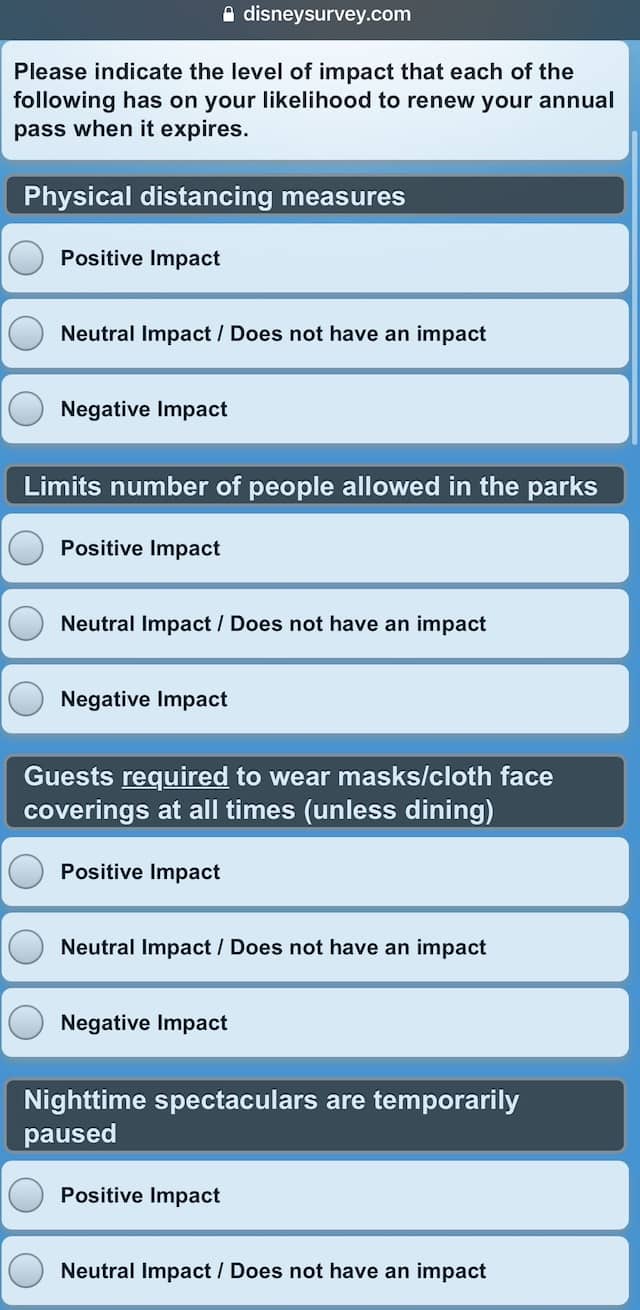 Disney also wants to know how likely the passholder is renew when the pass expires and then the factors that impact the likelihood of renewing. These include:
Physical distancing measures, limits of people allowed in the park, Guests required to wear masks at all times, and Nighttime spectaculars paused. I thought it was interesting Disney did not ask about FastPasses or park passes in this section.
Appreciation for APs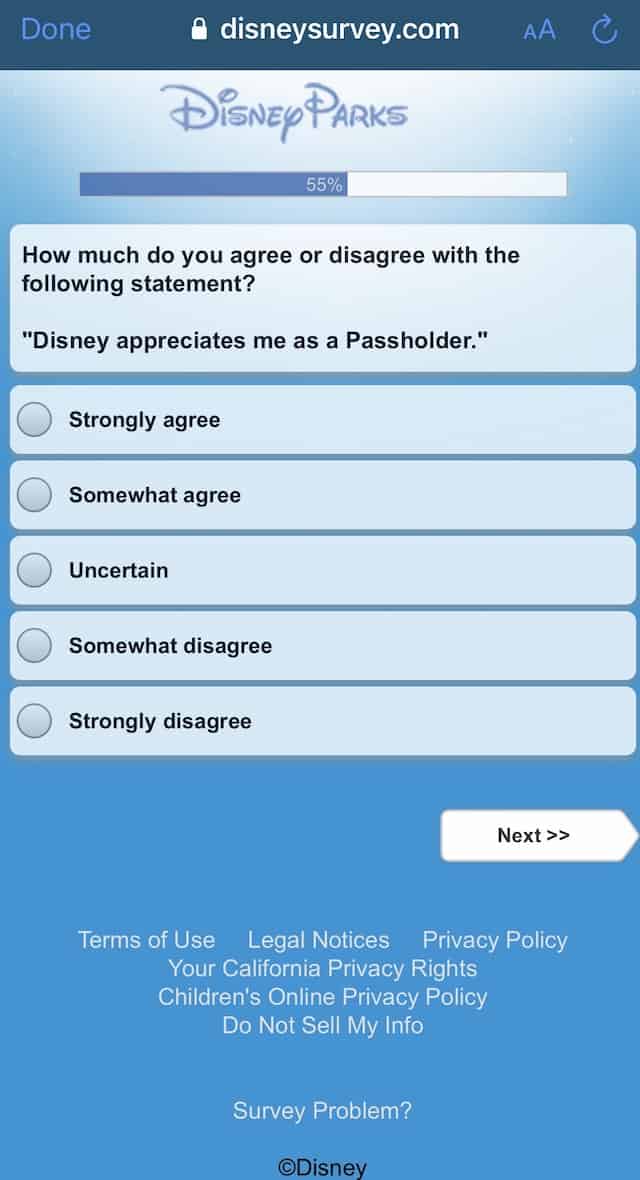 The last question of the survey before asking about more demographics asked passholders to agree or disagree with the following statement: Disney appreciates me as a Passholder. Then there was a spot on the next page that allowed the AP to make comments about why they answered the way that they did.
It will be interesting to see if there are any changes to the passholder program in the future (like at Disneyland), or if Disney World will soon begin allowing for the sales of new passes. Currently, only a select group of people can purchase APs.
Did you receive a survey? Let us know in the comments or on Facebook.