Are you heading to Walt Disney World in April? Here are the latest new and returning treats!
April Showers Bring Disney Treats!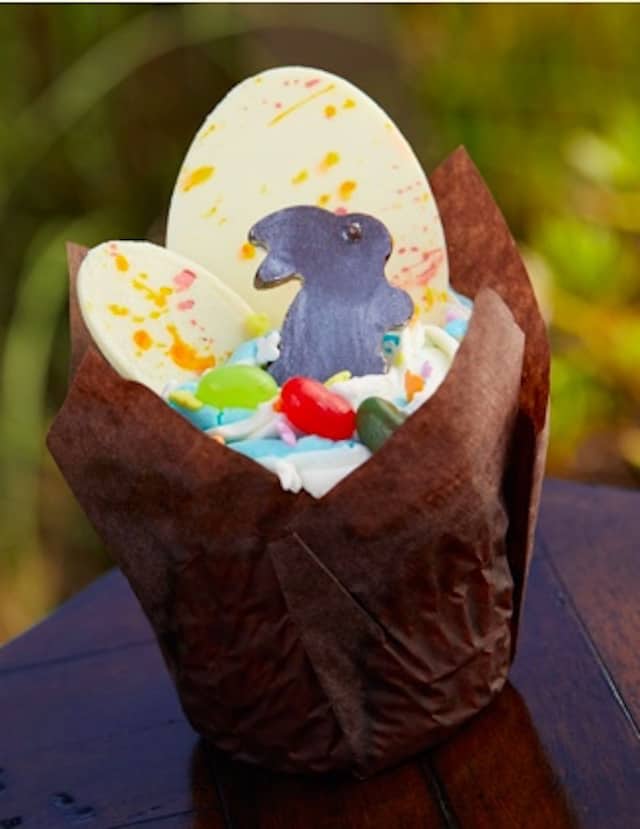 Greetings, foodies! If you are heading to Walt Disney World in April and love dining in Disney, you are in for some treats!
April is a great time to taste some of Disney's offerings. In addition to some brand new items, we will see the return of a fan favorites, too!
Epcot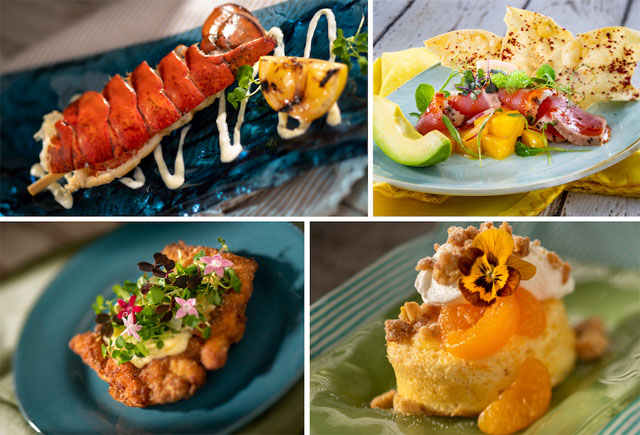 The Taste of Epcot International Flower and Garden Festival is in full bloom. And of course, you can check out a myriad of treats at the various outdoor kitchens.
To check out the full guide of what to expect during the festival, click here. It includes the list of food offerings.
But, if the Flower and Garden treats leave you wanting MORE, you have something to look forward to! Epcot has a new float, just in time for the warm weather.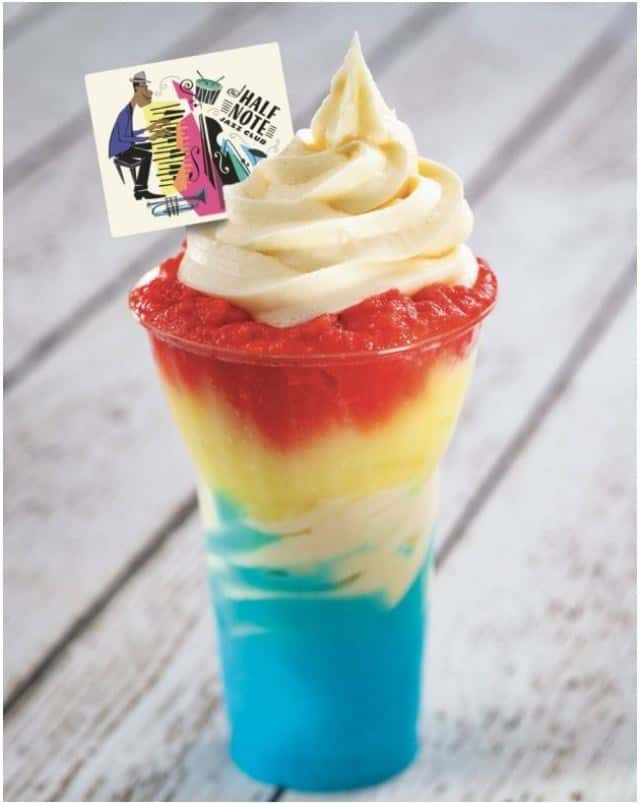 This refreshing float is called the Half Note Float. It is sold at Fife & Drum Tavern near the American Adventure.
It is inspired by the Disney and Pixar's film "Soul," and hits the perfect note of tart and sweet. Disney Parks Blog describes is as, "Layered Fanta Strawberry, Minute Maid Lemonade, and Fanta Blue Raspberry slushy with vanilla ice cream and half note white chocolate garnish" (2021).
It is the perfect accompaniment to Epcot's new American Adventure: Soul of Jazz Exhibit, which recently took the stage at American Adventure. To read all about the exhibit, including a detailed review, click here.
Animal Kingdom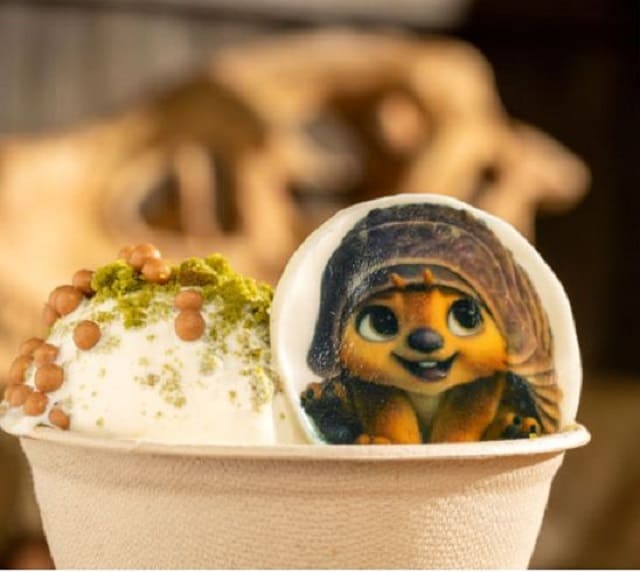 You may have heard that Animal Kingdom is playing host to Disney's Earth Month festivities. To read all about them, click here.
However, if you are like me, and your favorite Disney experience is the part where everyone eats, then you will be particularly intrigued by the food offerings.
The Animal Kingdom April Round-Up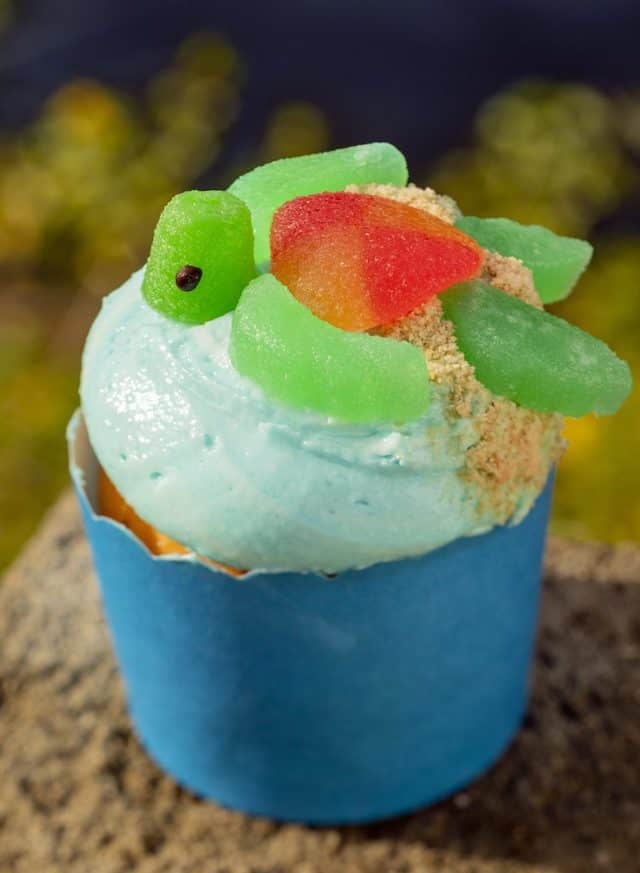 Restaurantosaurus has a new cupcake. The Sea Turtle Cupcake is a graham cracker cupcake, key lime pie filling, and guava gelée with vanilla buttercream topped with a fruit snack sea turtle.
It is available through April 29, 2021, so if you think you may have cupcake FOMO, don't skip this one. You should notice it in the mobile ordering option.
If you are craving a cocktail, the Crave the Wave Cocktail which is Vodka, blue curaçao, lemonade, and lemon wheel might hit the spot. It is also available through April 29, 2021.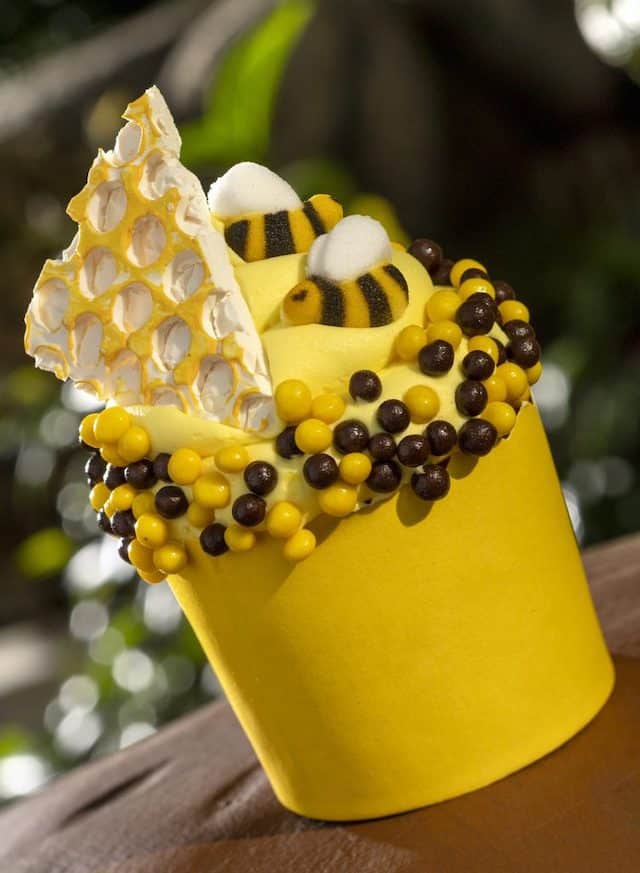 Creature Comforts has a cupcake of its own. The Honey Bee Cupcake is orange cake, honey Bavarian filling, and honey frosting with white chocolate honeycomb.
It, too, is available through April 29. If you ask me, it is adorable and it sounds delicious, which is why I might just have to try it for myself.
Satu'li Canteen over in Pandora also as a new Kiwi Margarita available through April 29th. It has kiwi flavoring beverage syrup with lime, sour, and tequila.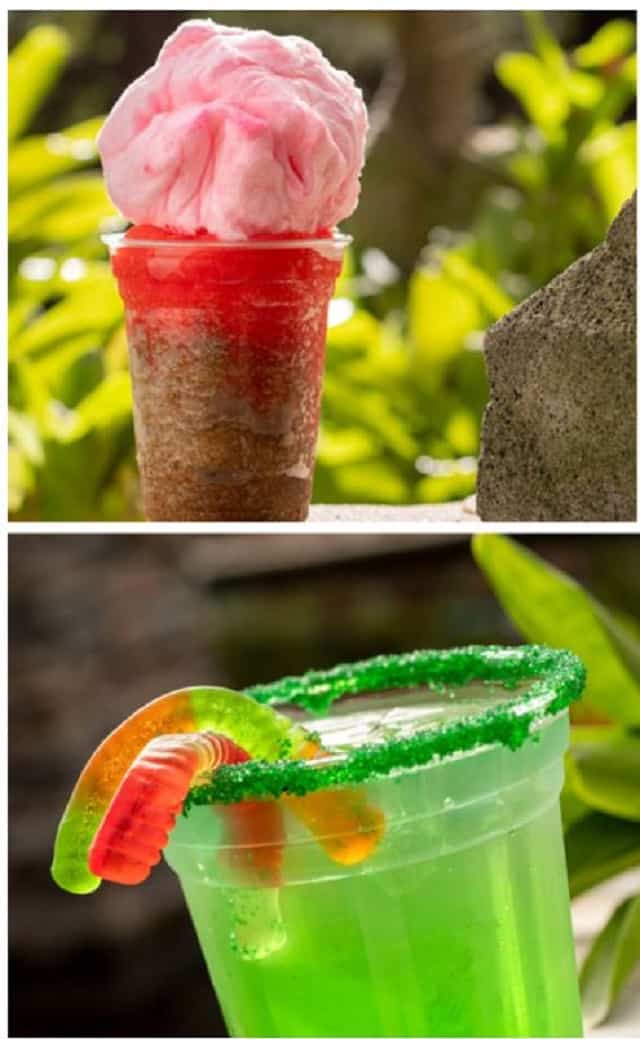 Isle of Java will be home to 3 fun non-alcoholic frozen drinks. All three are available through April 29, 2021.
The Cotton Top Lagoon is a frozen blend of blue raspberry and lemonade. It is topped with a puffy wave of cotton candy.
The Red Crowned Crane is Frozen Coke and Frozen Cherry Coke topped with strawberry cotton candy. This one can be served with rum if you desire.
Finally, the Loggerhead is sour Apple Sprite with a green sugar–rim, sour fruit snack worms, and a glow cube. The Loggerhead is also available at Flame Tree Barbecue.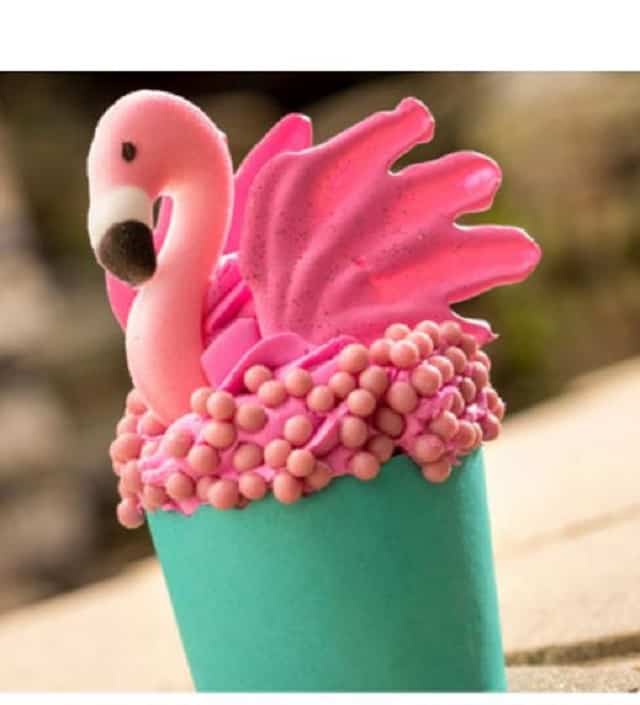 In addition to the limited time beverage, Flame Tree Barbecue will have a special cupcake. The Flamingo Cupcake is a Strawberry cake filled with strawberry compote, guava frosting, and strawberry crisp pearls topped with a sugar flamingo.
It sounds like a fun warm weather treat. Like the other offerings, it disappears after April 29, 2021.
Resorts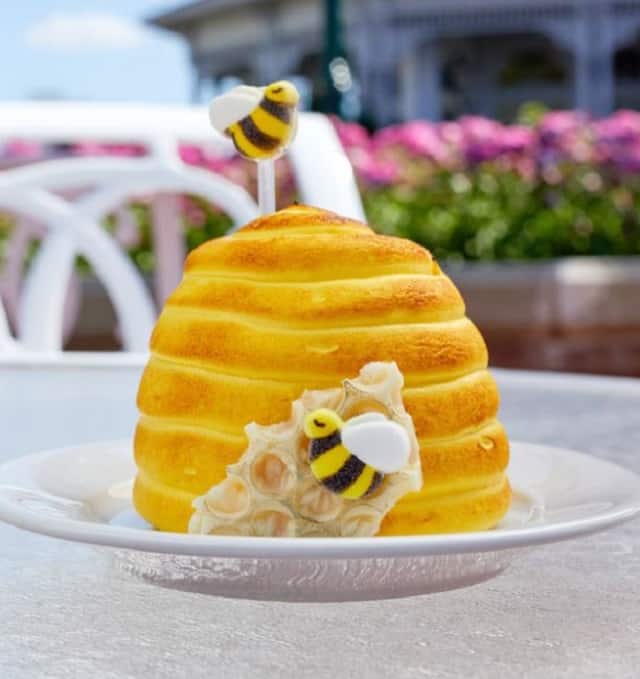 Are you staying at one of Walt Disney World's Resorts? If so, you might be able to sample some special treats! You might even find it is worth navigating your way to a resort just to try one of these offerings. They look and sound divine.
Gasparilla Island Grill at Disney's Grand Floridian Resort & Spa has a spring cupcake. The Earth Day Bee Hive Cake is a buttermilk-honey chiffon cake with crunchy almond mousse covered in toasted meringue
This adorable cupcake is only available April 6-22, 2021. If I were staying at a Monorail resort or visiting the Magic Kingdom, I'd probably hop over and give it a try.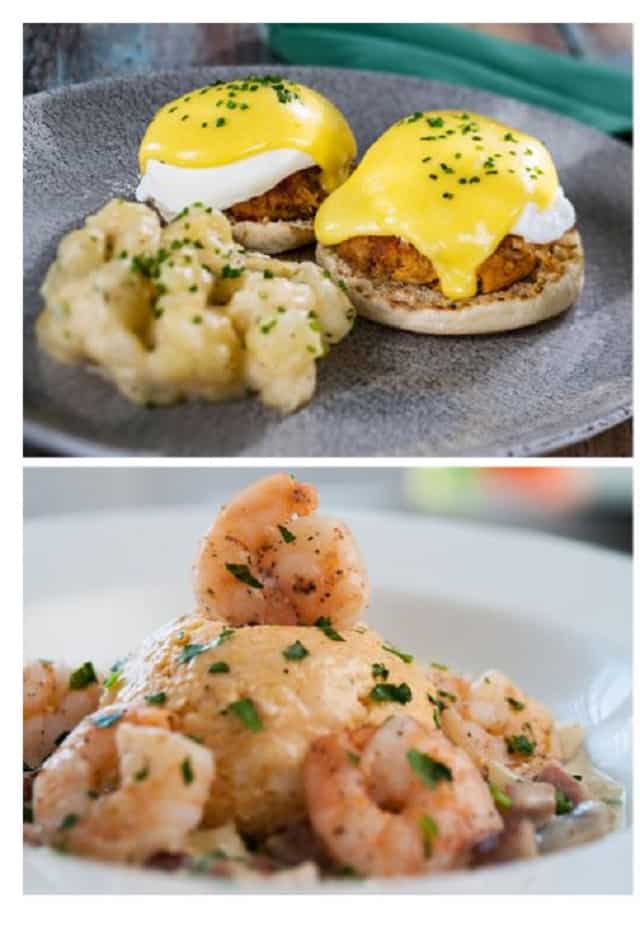 Even More excitingly, the popular Olivia's Café weekend brunch at Disney's Old Key West Resort is back! Brunch fans, you will love this!
BRUNCH IS BACK AT OLIVIA'S AT OLD KEY WEST
The brunch is offered every Saturday and Sunday from 7:30 a.m. to 2 p.m. During brunch, you can enjoy all the classic breakfast menu entrées and specialty cocktails.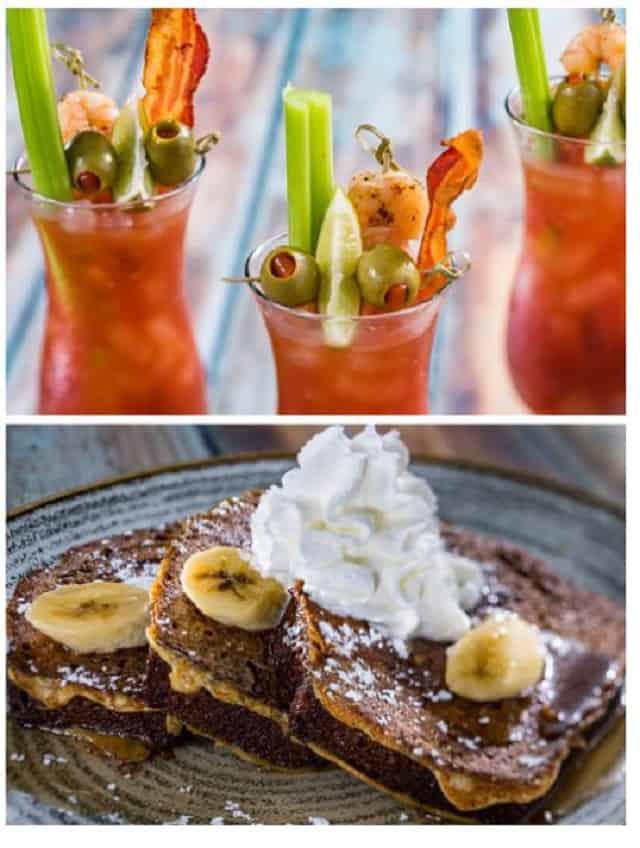 But most importantly, Olivia's signature Chicken and Waffles, Banana Bread French Toast, and Crab Cake-Eggs Benedict are all on the menu. If you are staying at Old Key West Resort, this will be a hot reservation!
Don't forget that for a very limited time, you can also check out Easter decorations at the resorts. For a guide, click here.
Want More April Food Options?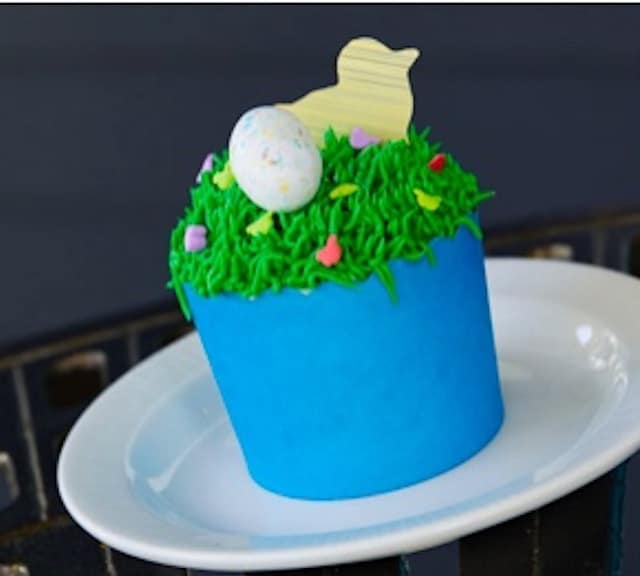 If the Epcot International Flower and Garden Festival and these new April additions still leave you wanting more, you might be in luck depending on your trip dates. If your trip is planned for the very first few days of April, you can partake in Disney's Easter Treats.
To check out a full guide to the Easter offerings, click here. However, most of these Easter treats wrap up by April 4, 2021, so you will have to be quick it you want to try them.
You might also be able to catch some of Disney's latest Raya and The Last Dragon inspired snacks. To read all about them, head over here.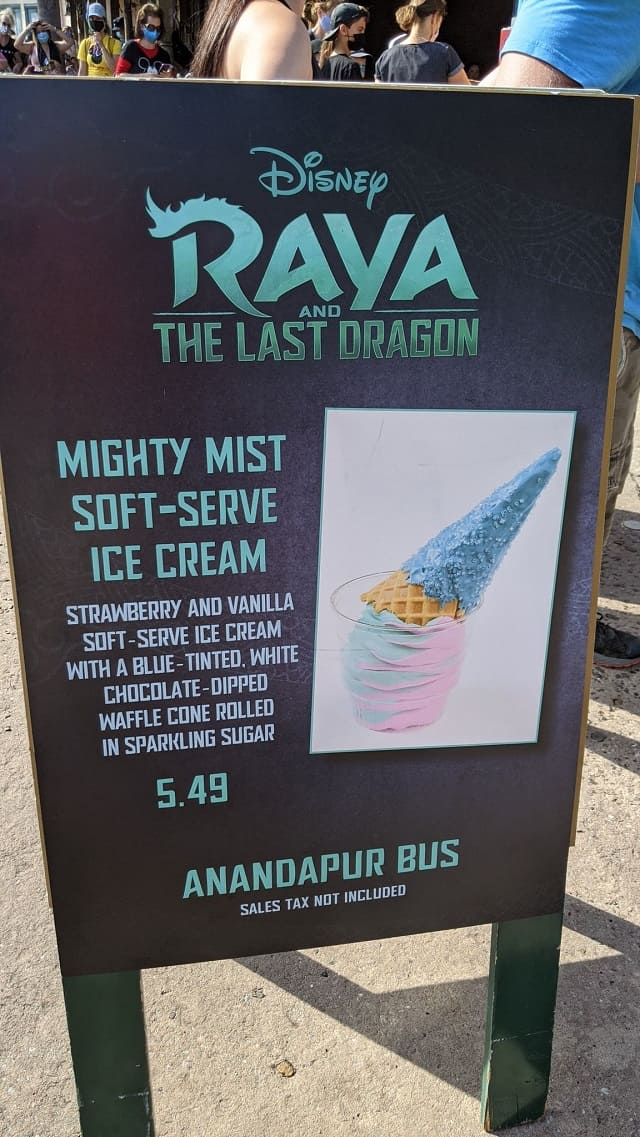 Do you have an April trip planned to Walt Disney World? If so, what treats are you looking forward to the most? Let us know in the comments below or on our Facebook page. Or, keep the conversation going and share them with us in our crew, too!