Select Disney and Disney Springs locations have announced that they will serve Christmas meals. To-go options are available!
Disney Christmas Meals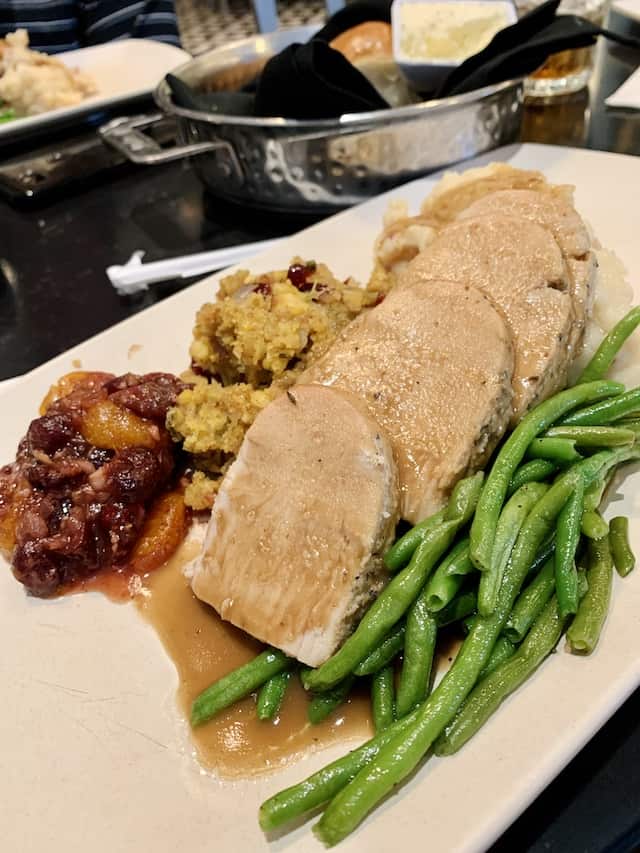 Are you are heading to Walt Disney World for the holidays? If so, you may be looking for a place to ding that serves traditional Christmas dinner offerings.
It is relatively common knowledge that advanced dining reservations can be extremely hard to come by for Christmas Day in Walt Disney World. Hopefully you will be able to snag something. These new options may open some doors for you.
Rainforest Cafe Christmas Dinner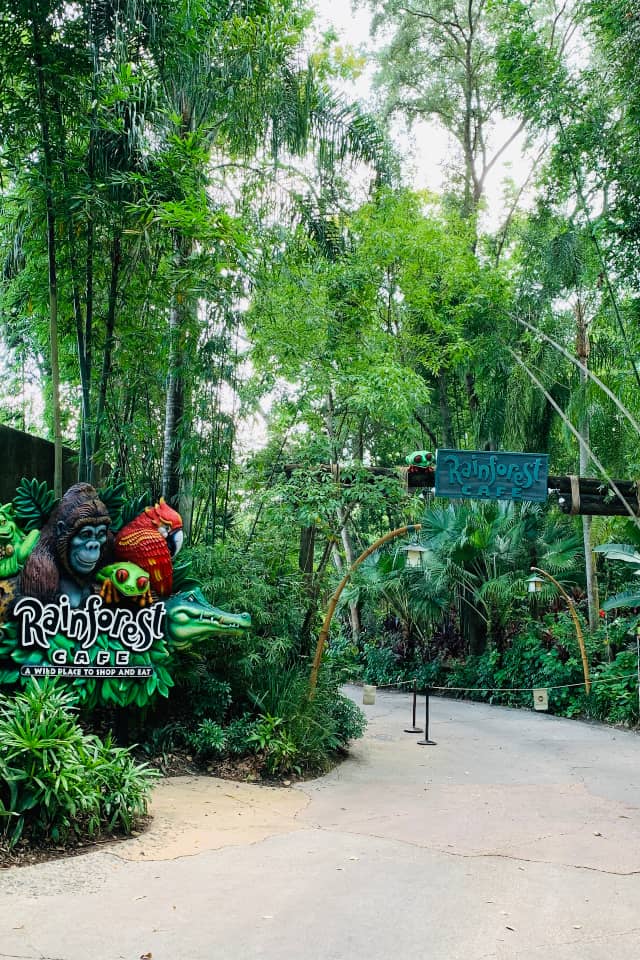 Rainforest Cafe is a Landry's Group restaurant. There are locations in both Disney Springs and Animal Kingdom.
Each of these locations is offering a special Christmas Day Menu for diners. If you have a Christmas planned at Animal Kingdom or Disney Springs, you could try to hunt for reservation availability that may pop up.
The meal is an extensive plate of holiday favorites. It includes: roasted sliced turkey, baked ham, cornbread stuffing, mashed potatoes, sweet potatoes,green beans, turkey gravy, cranberry sauce, dinner rolls & butter, and apple pie.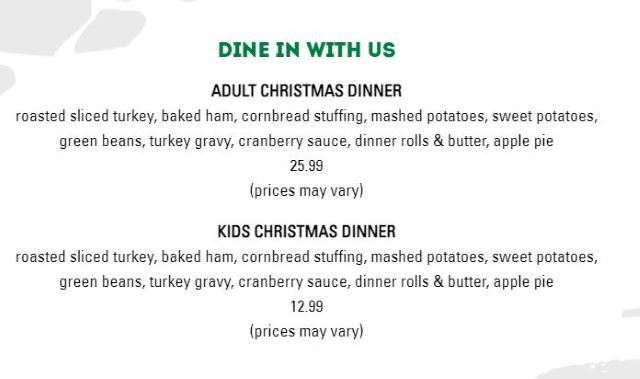 Adult portions include all of these items. Child portions are also available.
The rainforest cafe menu notes that the price may vary by location. So, factor that in if you are budgeting carefully.
Christmas Dinner To Go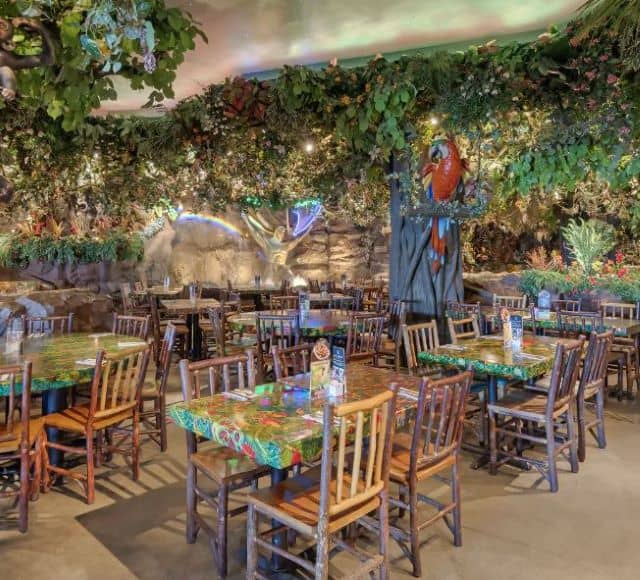 If you can not manage to snag a reservation at one of the locations, you still have options. The Disney Springs location of Rainforest cafe is offering a family pack To Go!
The meal has a similar menu. It includes: Roasted Sliced Turkey with Gravy, Baked Ham, Rainforest House Salad, Cornbread Stuffing, Mashed Potatoes, Sweet Potatoes, Green Beans, Corn O'Brien, Cranberry Sauce, Dinner Rolls & Butter, and Apple Pie.
It is made to serve 8-10 people. So, you could feed a larger group once or a smaller group twice if you wanted to.

Honestly, this may be the preferable option for a lot of people who do not particularly want to cope with crowds during dinner. It may be nice to take the meal back to the comfort and privacy of your room.
It is also nice that this option is available for both onsite and offsite guests. Local residents can get in on it as well.
If you want to utilize this option, time is of the essence. Pre-orders are required, and they must be made by December 20, 2020 at 4:00 PM.

There are also specific time frames for picking up these meals. You will have to plan accordingly to arrive within your pickup window.
Keep in mind that the meals are non-refundable. This means that you will not be able to cancel if you reserve one and see a last minute preferable ADR pop up.
Seasonal Dessert
Even if you do not book a Rainforest cafe meal for Christmas day, you can celebrate Christmas every day in December with their latest dessert creation. For the rest of December, Rainforest cafe will offer a festive twist on the restaurant's chocolate volcano.
The desert, called Cha Cha's Christmas Volcano, is described as a giant, rich chocolate brownie cake stacked up high, served warm with vanilla ice cream, creamy peppermint whipped topping, Christmas candy and raspberry and chocolate sauces. It is meant to be shared.
T-Rex Cafe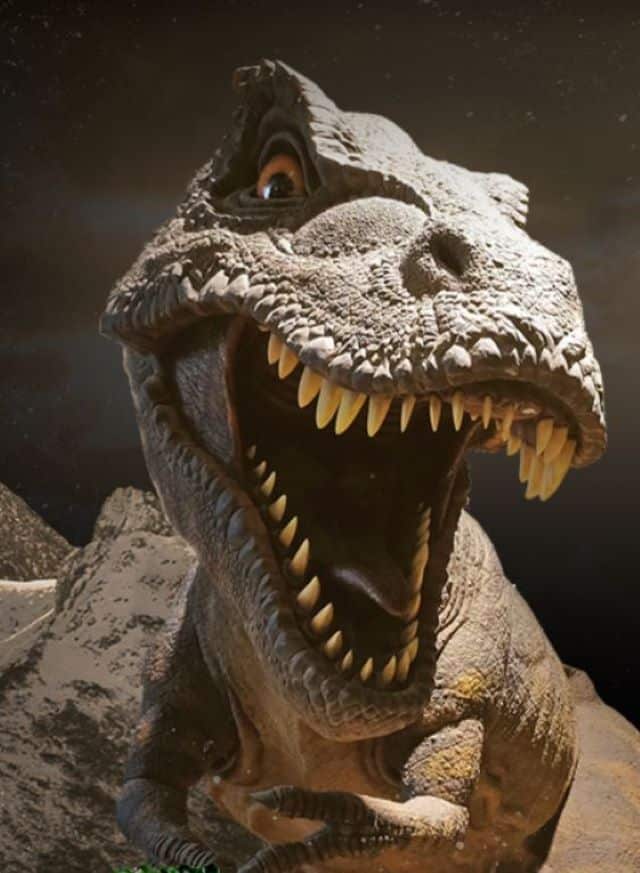 T-Rex Cafe is another fun Disney Springs Location. It is also a Landry's owned restaurant.
Like Rainforest Cafe, T-rex Cafe will be offering a Christmas Day meal. There will also be holiday outfits available for plush creations in the shop.
Reservations will be hard to come by. So if you want to try it, you will need to search your app daily.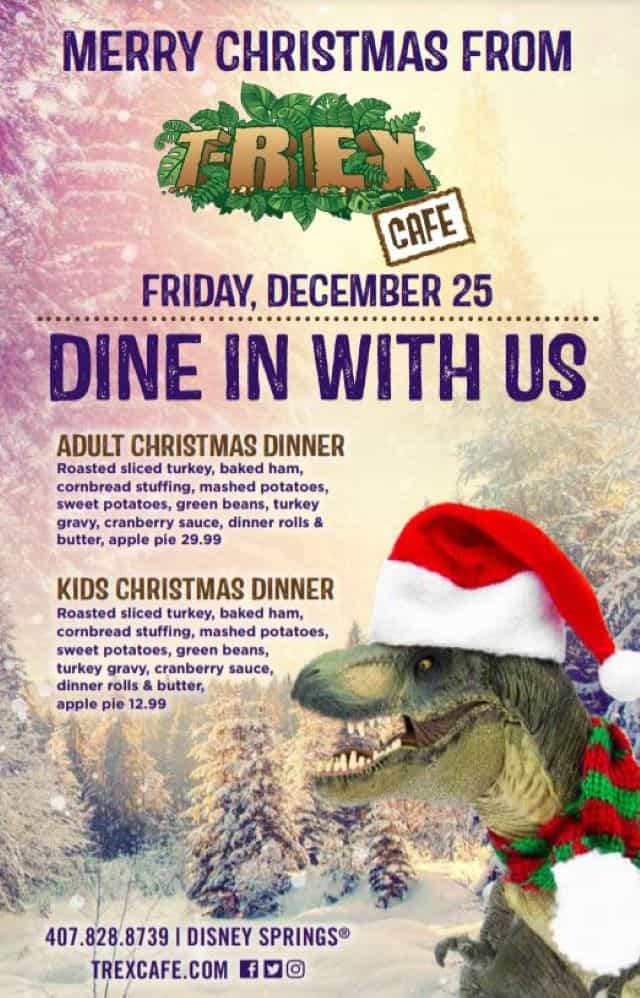 The same menu is available. It includes: Roasted Sliced Turkey with Gravy, Baked Ham, Rainforest House Salad, Cornbread Stuffing, Mashed Potatoes, Sweet Potatoes, Green Beans, Corn O'Brien, Cranberry Sauce, Dinner Rolls & Butter, and Apple Pie.
Unlike Rainforest Cafe, this location is offering Dine-in only. There is currently no togo pack option.
In addition to T-Rex Cafe and Rainforest Cafe, a few other restaurants are offering holiday menus at special pricing as well. Check them out HERE.
Other Holiday Options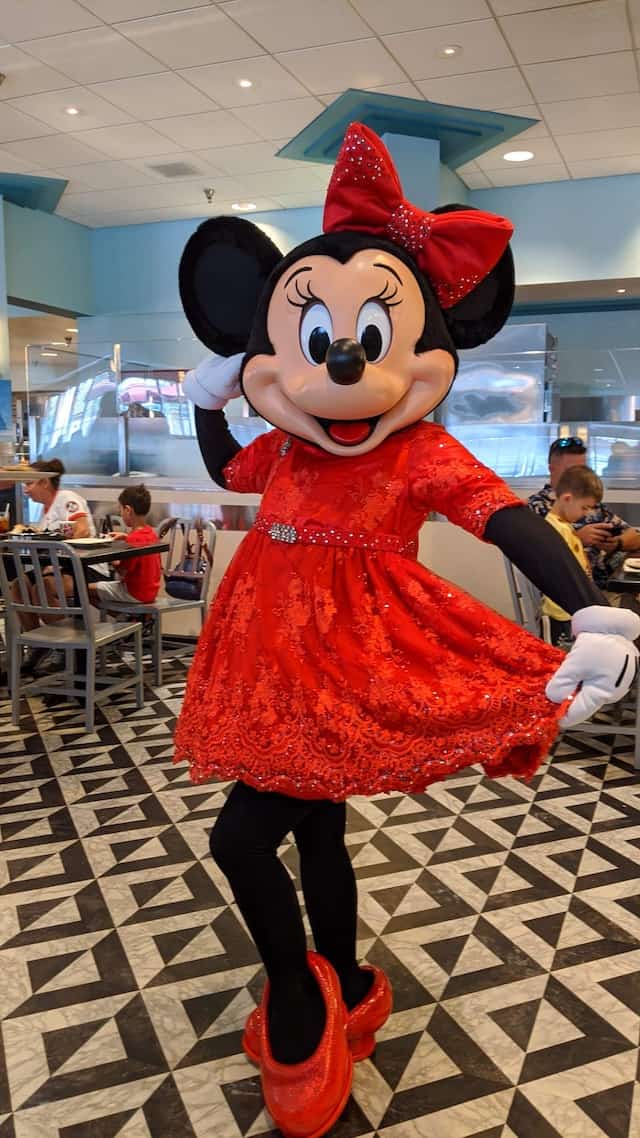 Disney World also has other options for the holidays. Minnie's Seasonal Dine at Hollywood and Vine in Hollywood Studios is sure to be a popular choice. For a review click here.
Crystal Palace is also opening just in time for the holidays. Check out their new menu right here.
Liberty Tree Tavern in Magic Kingdom and Garden Grill in Epcot are both popular choices as well. This is because their regular menus offer turkey daily.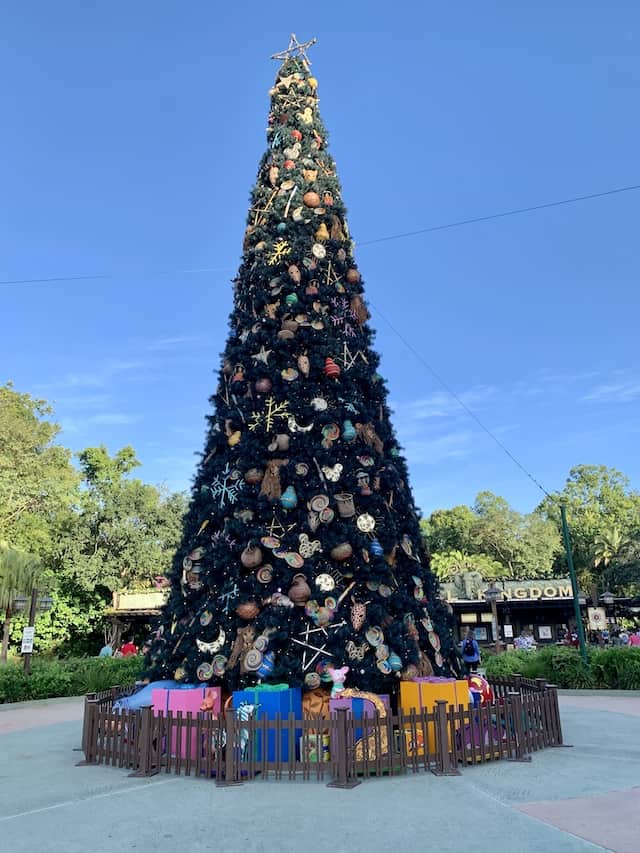 Of course, a holiday at Disney does not need to include a traditional meal to be special. No matter where you dine, your Christmas Day is sure to be magical.
Are you planning Christmas Dinner In Disney World. What reservations have you been able to snag? Let use know by posting your thoughts on the KtP Facebook page and share on our Crew group.