Animal Kingdom is the most uniquely decorated theme park for the holidays! Come check out all the photos of the beautiful decor from around the park plus the festive character flotillas you can see there!
Holidays at Disney World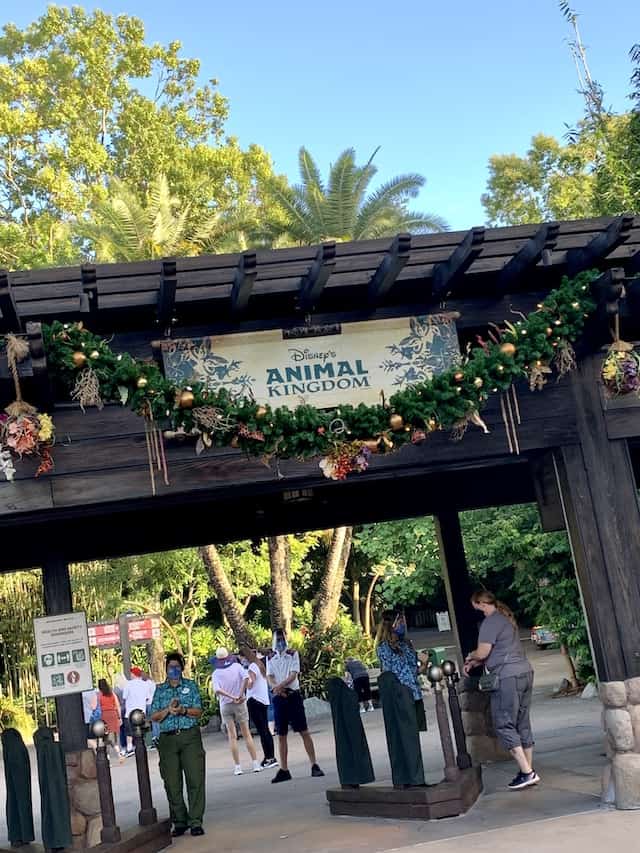 The holiday season officially began on November 6, and even though it looks different this year there is still so much to celebrate.
I have covered all the decor, treats, character cavalcades, and more at Magic Kingdom and Hollywood Studios.
Animal Kingdom Decor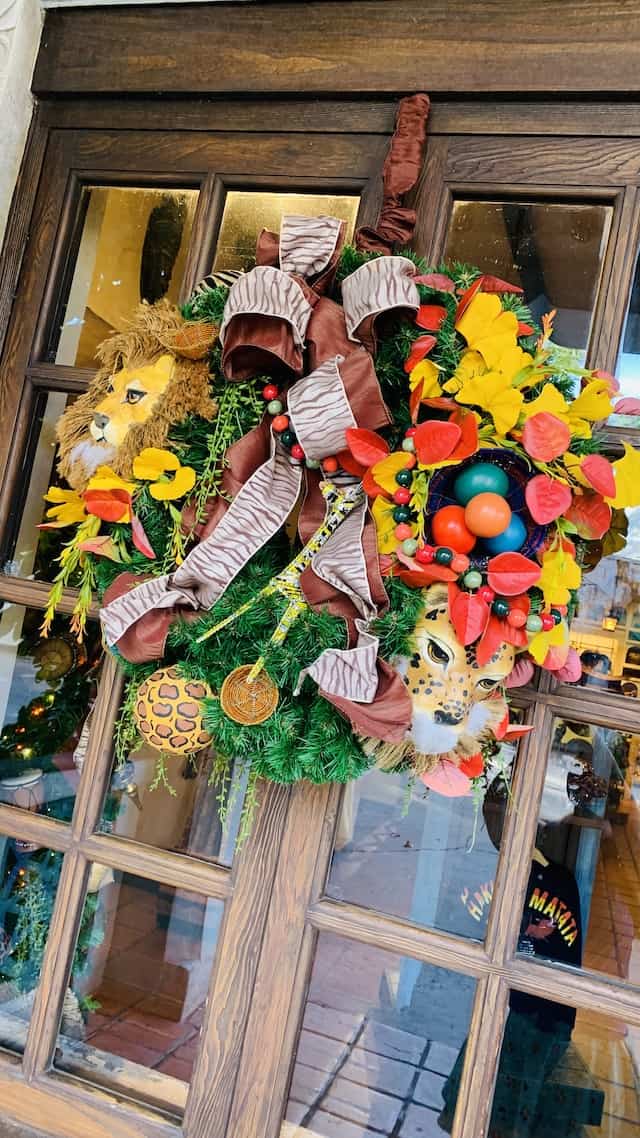 Animal Kingdom has the distinct advantage of offering unique decor. From the fun surprises found in the icon tree to the little details found in the nooks and crannies, I enjoyed hunting down all the decorations.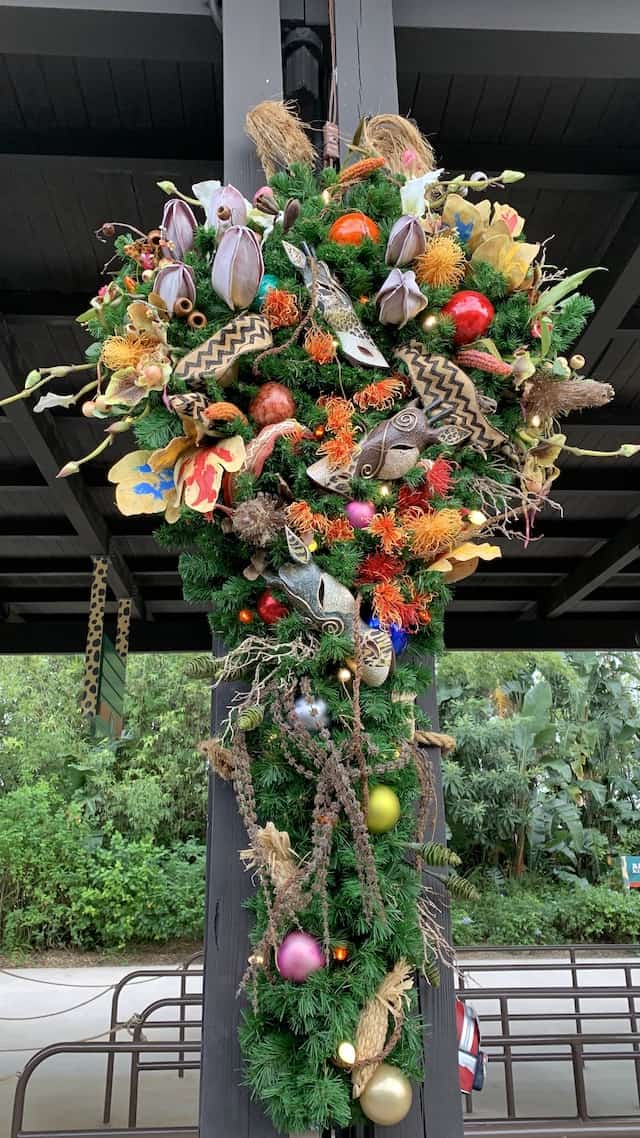 As soon as you step of the Disney busses, you will be greeted with garland displays at the bus stops. I thought these were absolutely beautiful.
We certainly don't decorate this way here in America, and I really appreciated getting to experience different decorations from other countries.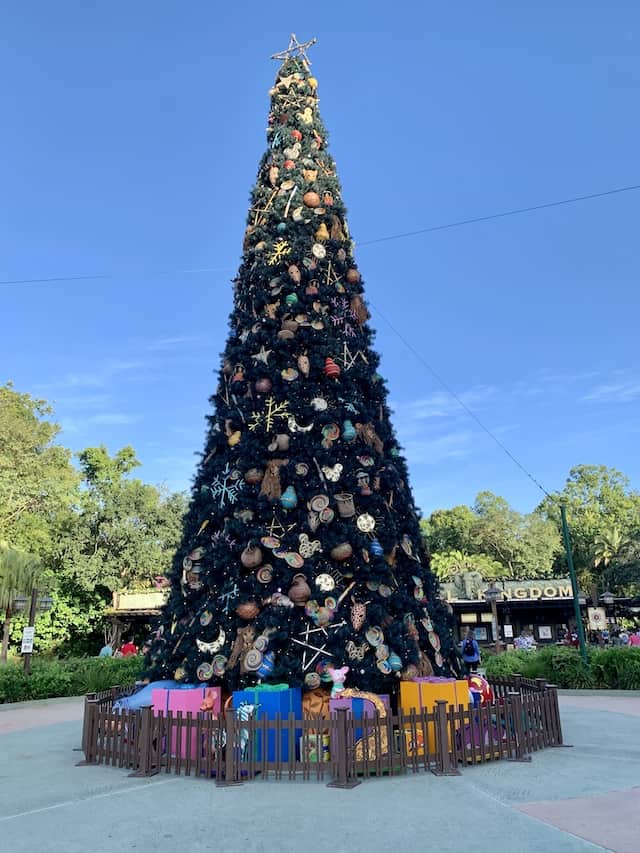 When you first approach the park, you will see the Christmas tree. Animal heads, drums, and even some Hidden Mickeys can be found in the tree. Around the bottom of the tree, you can spot presents and some Disney characters.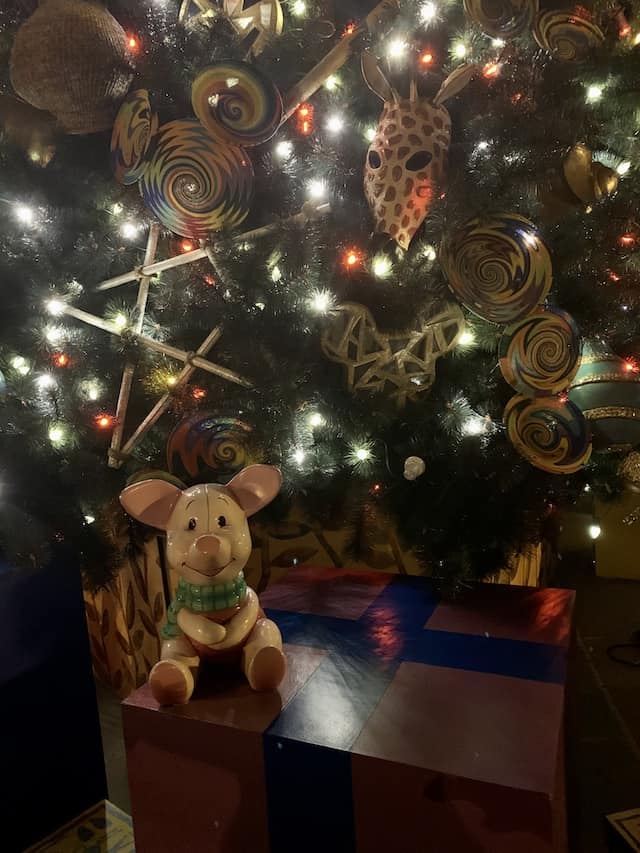 Adjacent to the tree is a photo opportunity. A PhotoPass photographer is there to take photos of you inside a holiday scene.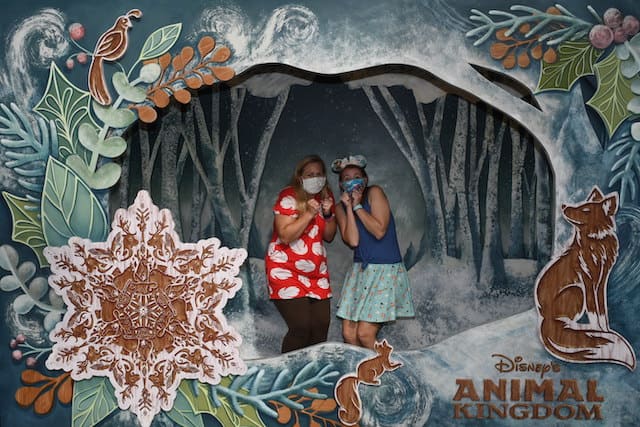 Upon entering the park, wreaths are hung and garland wraps around doorposts and more. Much of the decor is inspired by African art and culture, which can be plainly seen in the details. A lot of gold and white accents are used as well to look more organic in nature.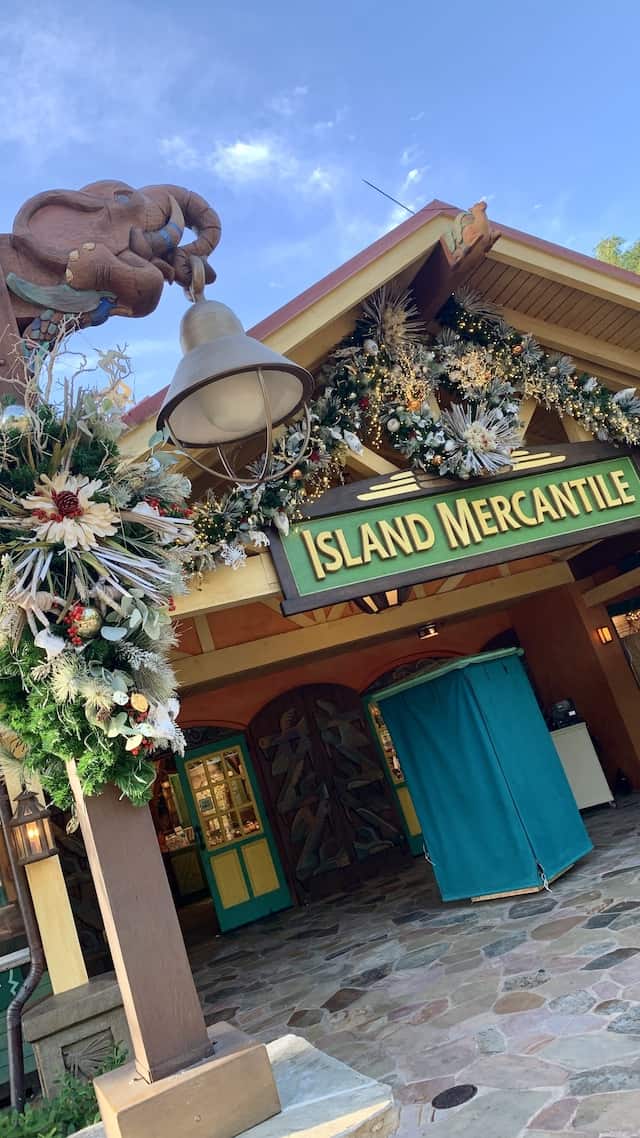 Throughout Animal Kingdom, unique wreaths can be found on many doors and lampposts. This one includes bottle caps, netting, and a tire! Others include animal heads, animal prints, and beads.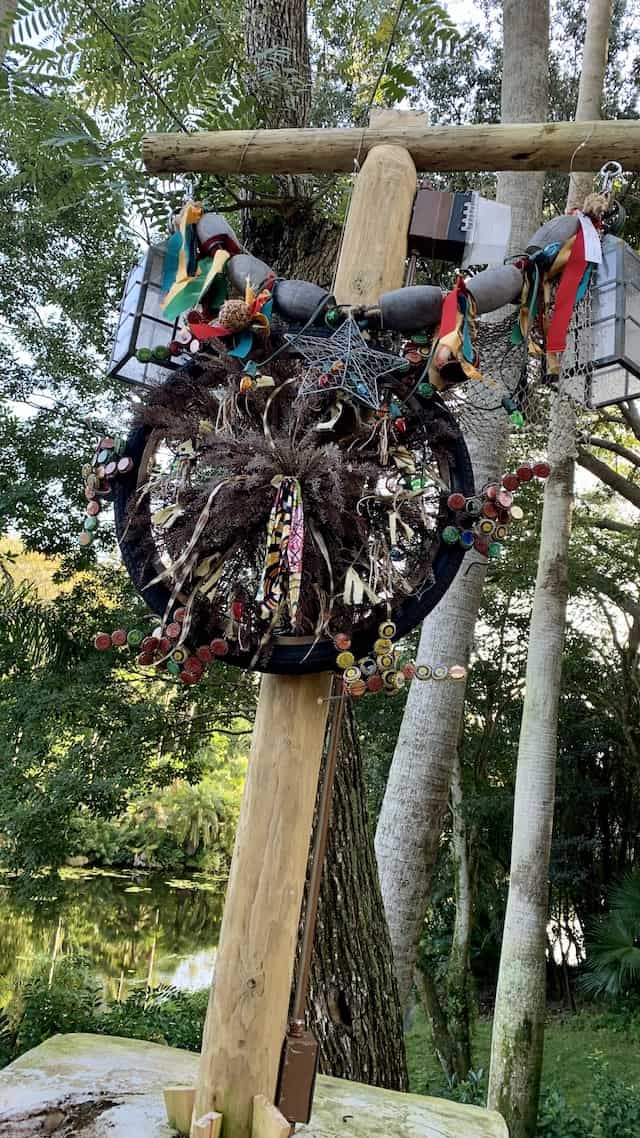 Uniquely decorated Christmas trees also pop up. They don't look like your traditional evergreen tree, though! They are fun and eclectic. Check out this one I spotted near Kilimanjaro Safari: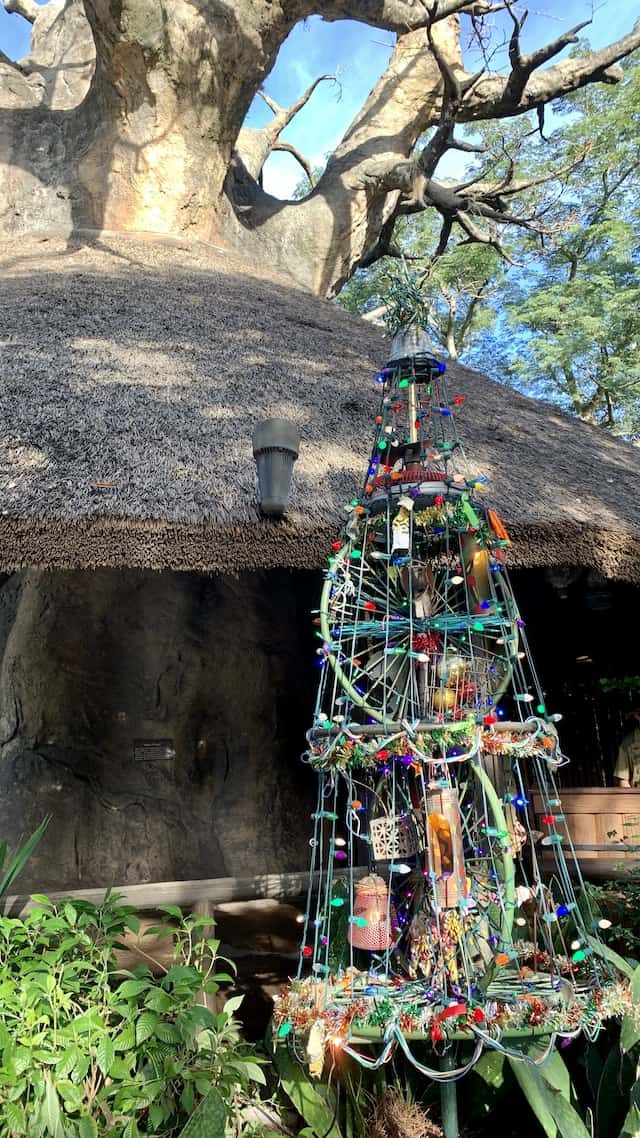 Over in Pandora, the Pandora Rangers Conservation Utility Suit is festively decorated for the holidays, looking very much like Santa with the hat and white beard.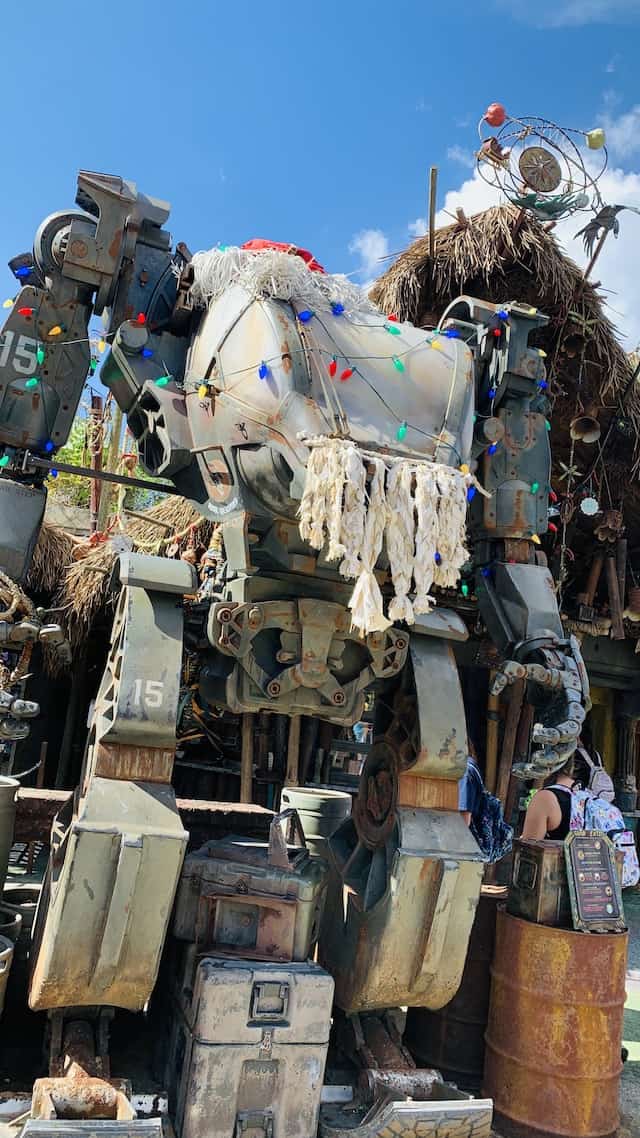 Pandora looks just as pretty at night! The land is already known for "waking up" once the sun goes down with all the bioluminescent plants.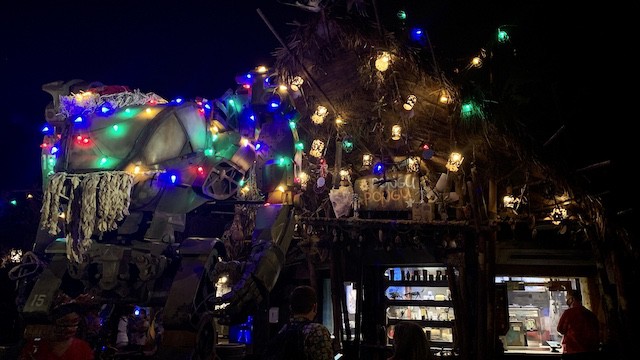 Flotillas
There are several holiday-themed flotillas at Animal Kingdom this holiday season. They are called flotillas because they are a cavalcade on water. The flotillas start at the bridge by Expedition Everest and work their way around the entire Discovery River. You can spot them from all over the park.
Santa Claus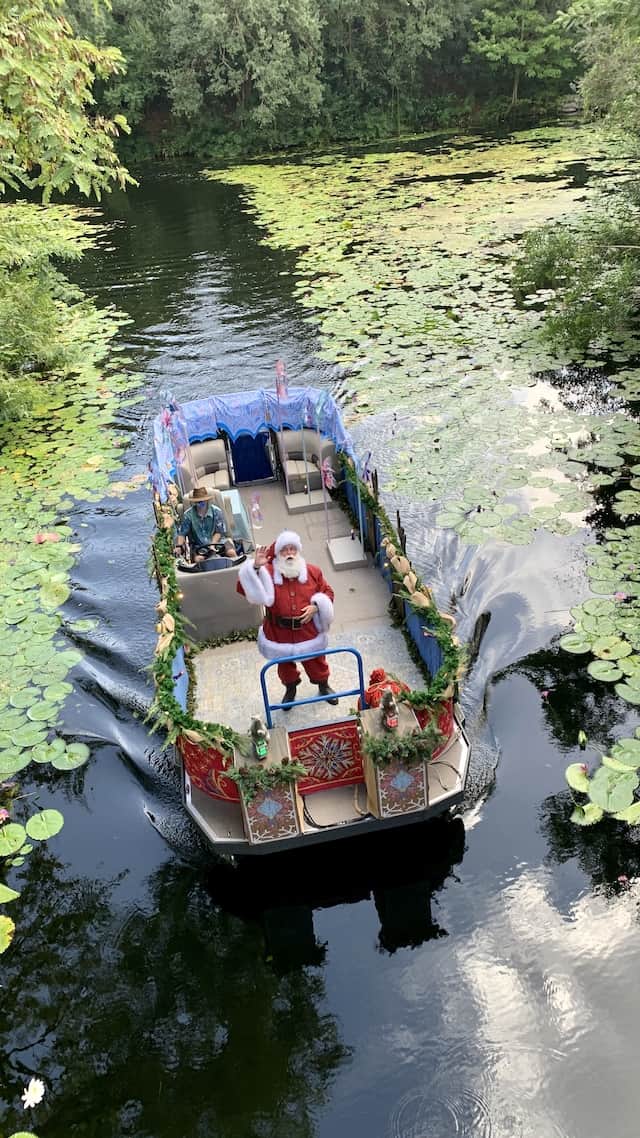 What holiday character line up is complete without Santa! The jolly man himself stops by Animal Kingdom as well to greet Guests.
He's got his sack of gifts with him as he floats along in his beautifully decorated water vehicle. I love the purple, pink, and blue accents as those are not typically associated with Santa. There are little pinwheels as well.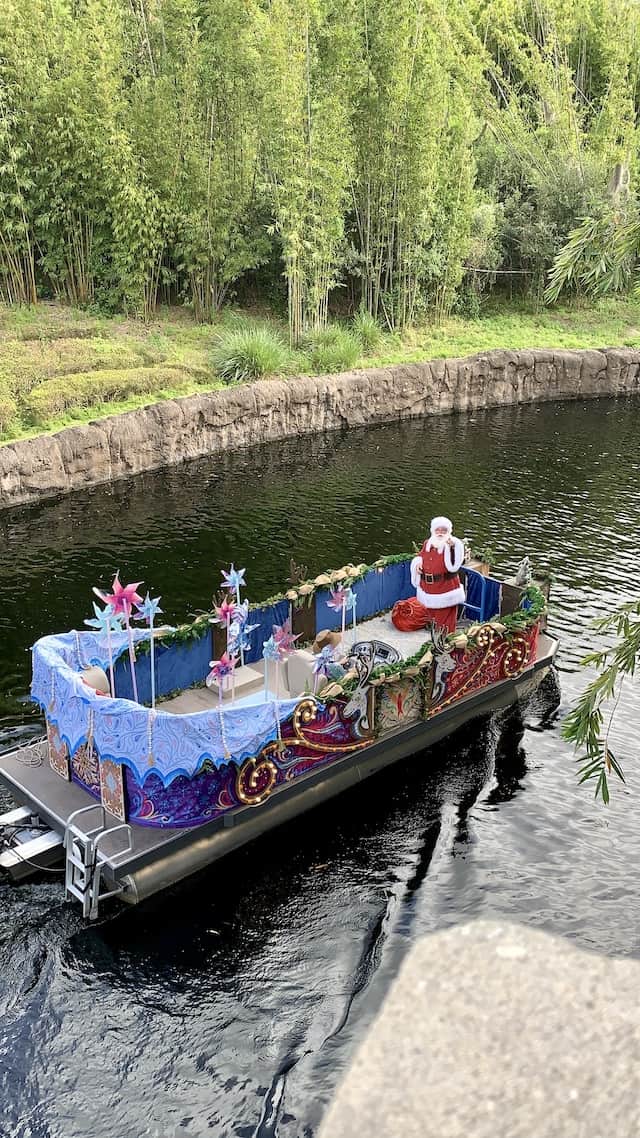 Personally, other than the decor there is a little left to be desired with this float. An elf or helper or even a reindeer would have been an excellent addition. He is all by himself (along with the driver of the flotilla) while the other mini parades have at least two characters.
Donald, Daisy, and Launchpad McQuack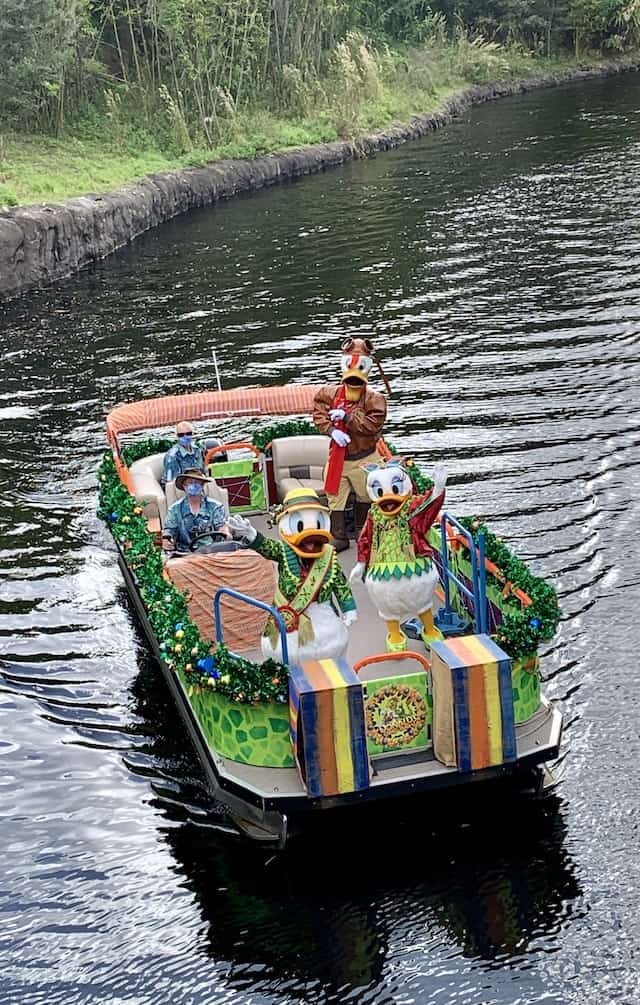 Donald Duck, Daisy Duck, and Launchpad McQuack all share a flotilla decorated with garland and ornaments.
Island Drummers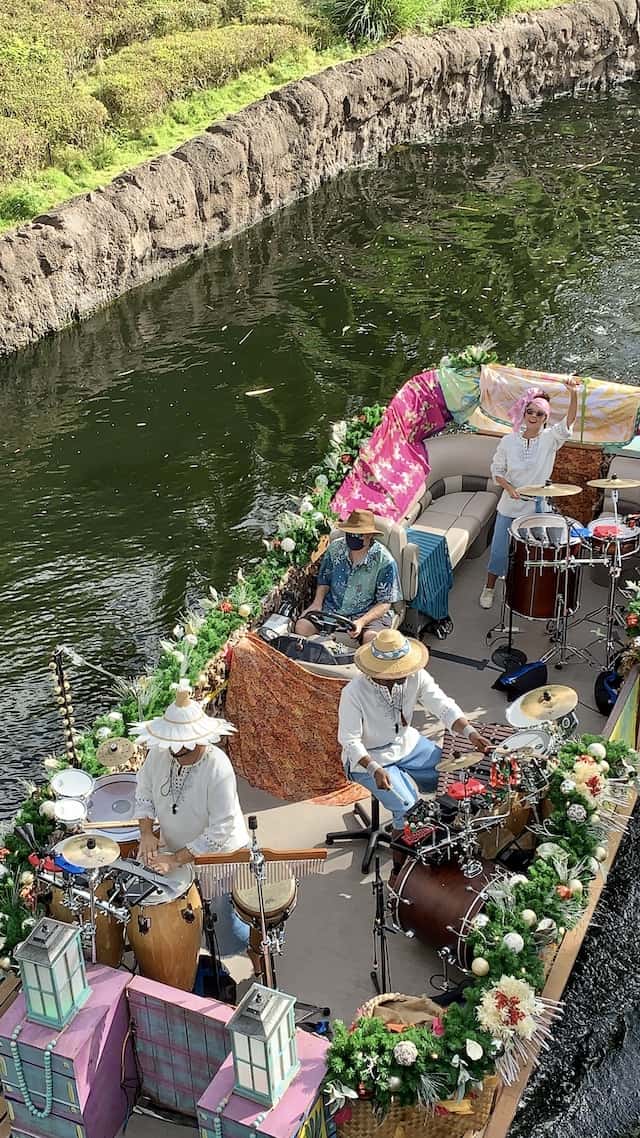 This flotilla is unique in that the Island Drummers are not characters, and their music is live!
This was my favorite holiday flotilla because of the African music they played! Their flotilla was also decorated for the holidays with garland, ornaments, and other beautiful accents.
Chip & Dale and Goofy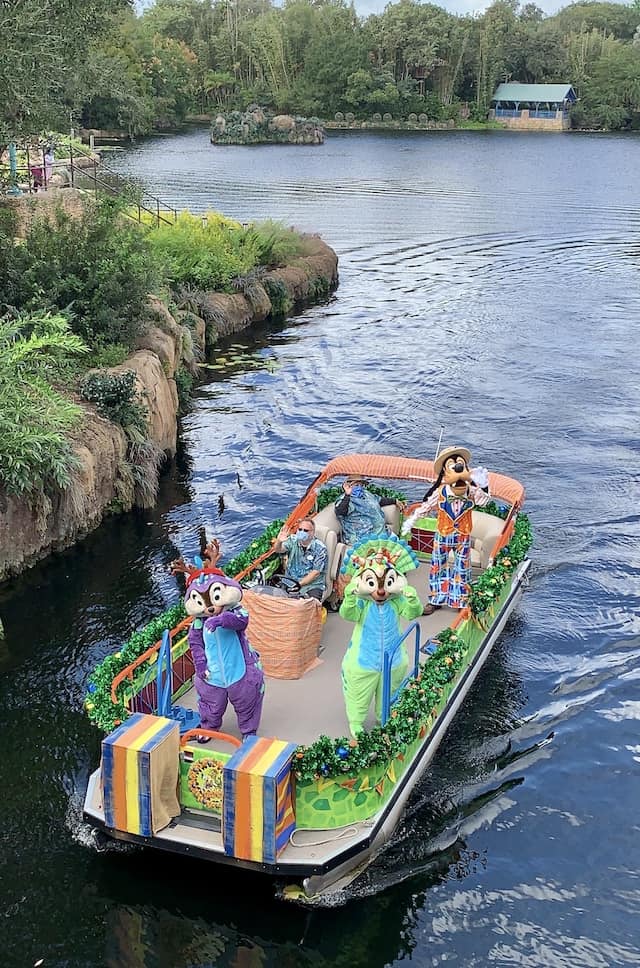 Chip & Dale are dressed like cute little dinosaurs while Goofy rocks his Christmas best in this flotilla.
The decorations on the flotilla match the characters' outfits as can be seen with the orange and green elements. This flotilla does not look like the traditional Christmas cavalcade like you might expect at Magic Kingdom, which makes this a really fun flotilla.
Mickey & Friends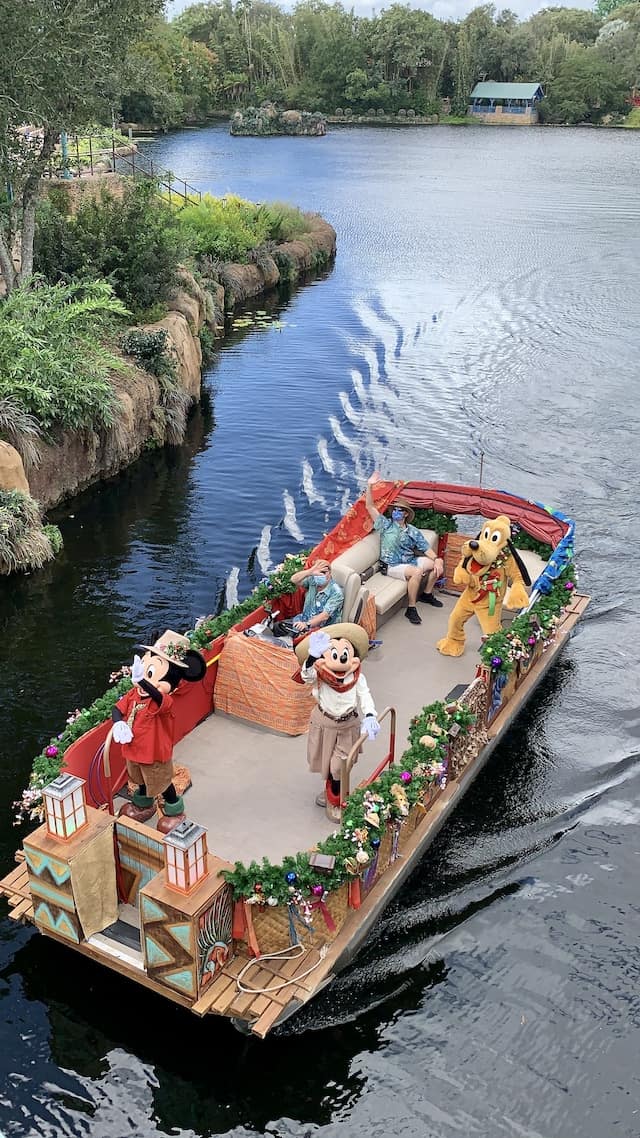 Mickey, Minnie, and Pluto are dressed in their festive safari outfits for this special flotilla. They are not quite the same as the traditional Christmas sweaters they wear at Animal Kingdom, but I think that is quite alright.
Pluto has his special red and green ribbon with his name written on a bone in the middle.
The water vehicle was appropriately decorated – they sure looked ready for a Christmastime adventure! More garland and ornaments lined the flotilla with the African-inspired elements at the front.
Other Flotillas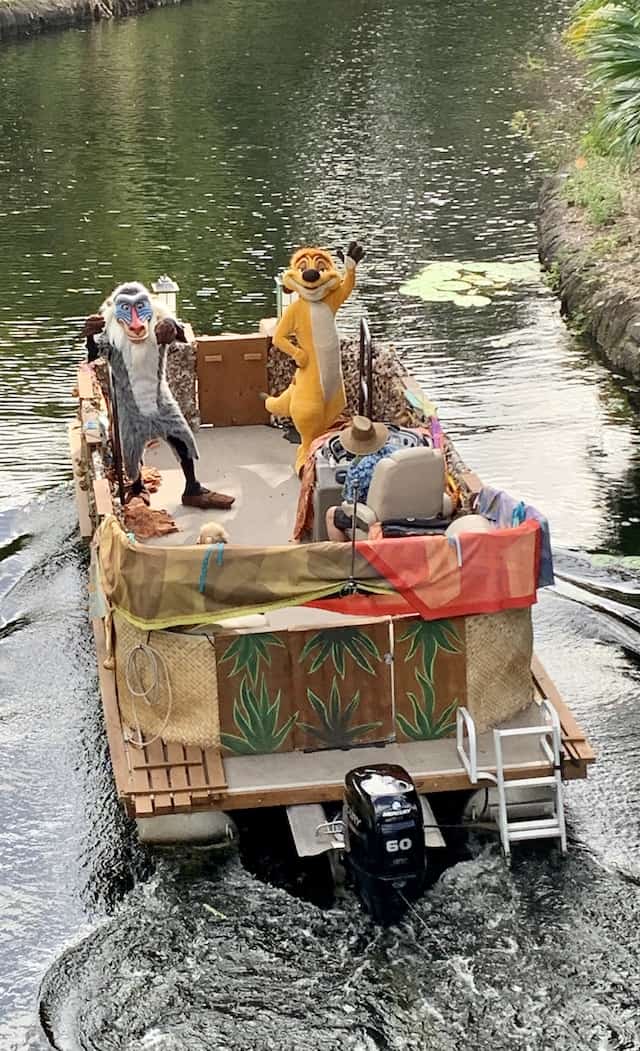 Timon and Rafiki still float on the river throughout Animal Kingdom, even though they aren't decked out for the holidays.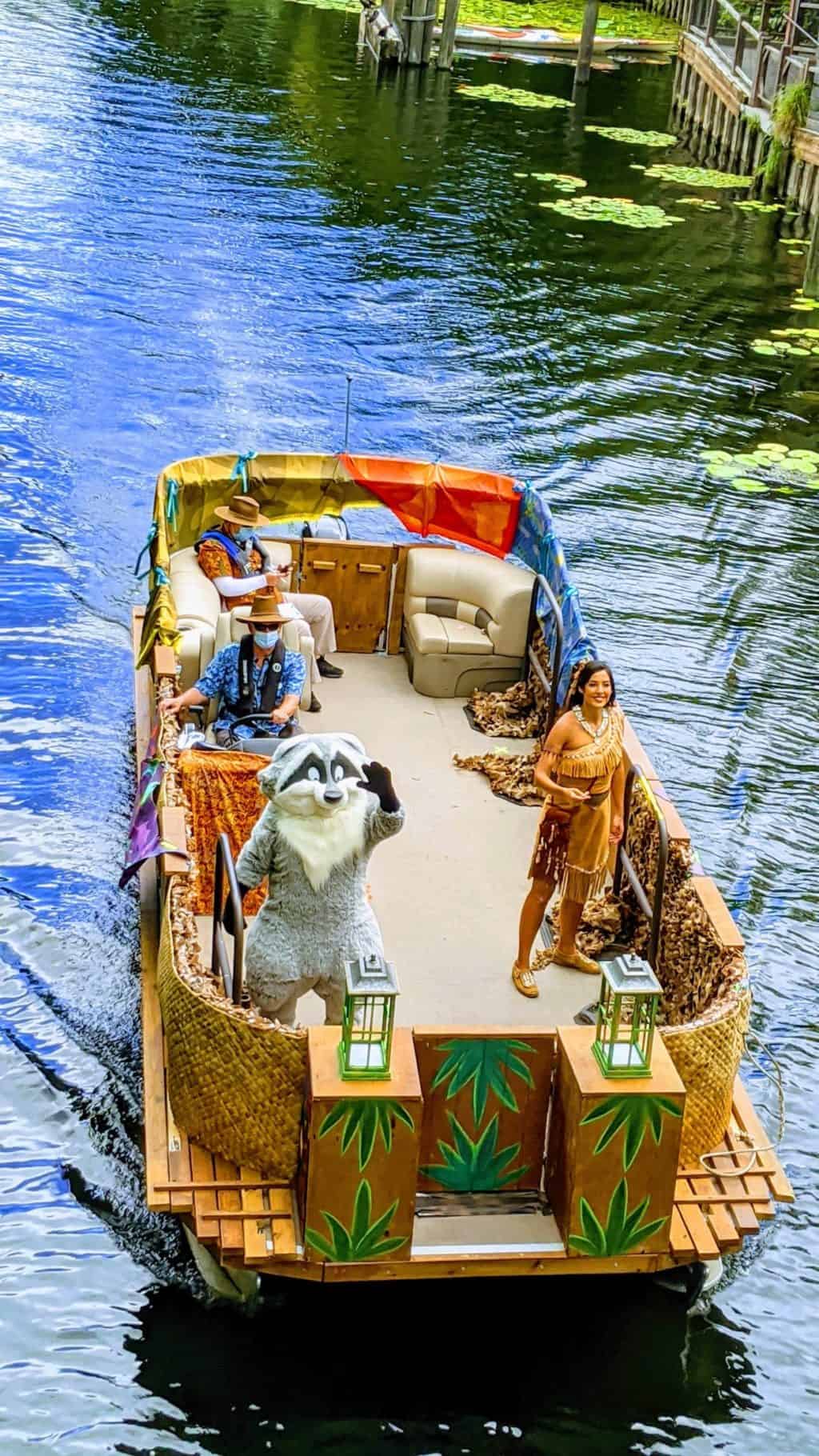 Pocahontas and Meeko floated through during my recent visit as well.
Treats and Other Entertainment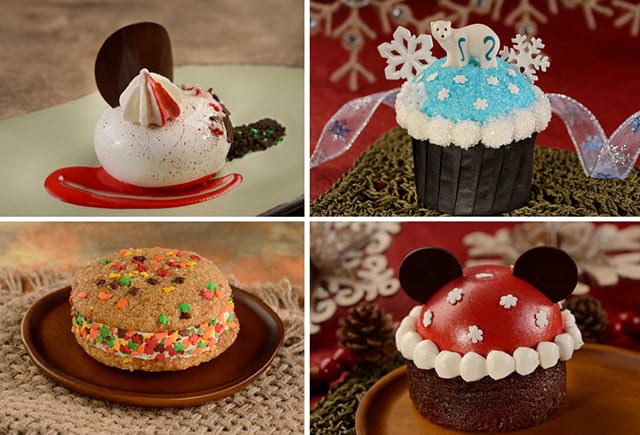 The festive snacks were not available during my visit, but here is what you can expect to find if you plan to visit Animal Kingdom this Christmas season:
White–Chocolate Peppermint Cream Cheese Mousse – White chocolate peppermint cream cheese mousse with peppermint sauce and chocolate cookie crumbles (Available at Satu'li Canteen Dec. 20 – Jan. 2)
Menagerie Cupcake – Gingerbread cupcake with cream cheese frosting topped with a white chocolate bear (Available at Creature Comforts, Flame Tree Barbecue, and Restaurantosaurus Dec. 1–30)
Santa Mickey Mousse – White chocolate peppermint mousse dome on a brownie base, snowflake sprinkles, and chocolate Mickey ears (Available at Creature Comforts Dec. 1– Jan. 2)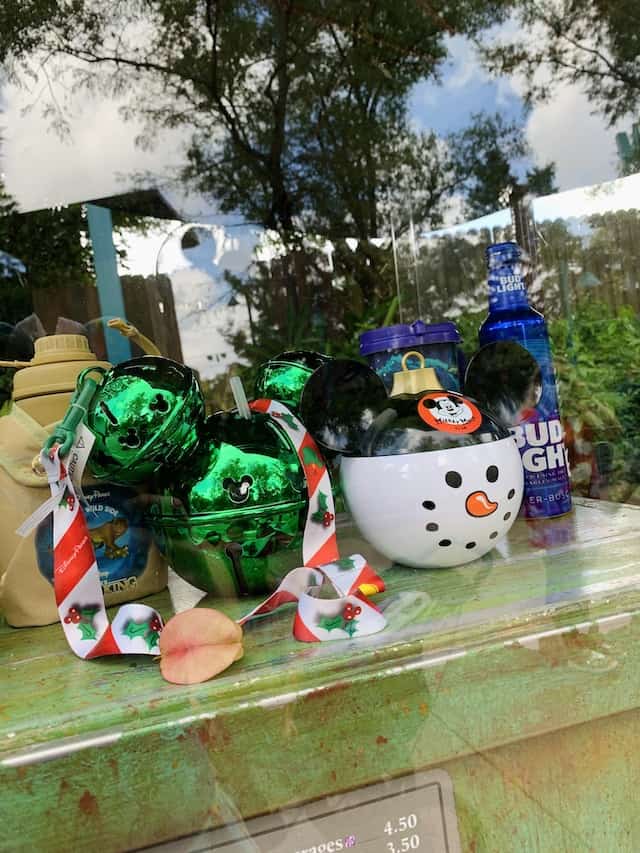 The popcorn buckets, sippers, and even Lion King straws are available to purchase at Animal Kingdom. The popcorn bucket and sippers can be found in all the theme parks. However, the Lion King straws are unique to Animal Kingdom only.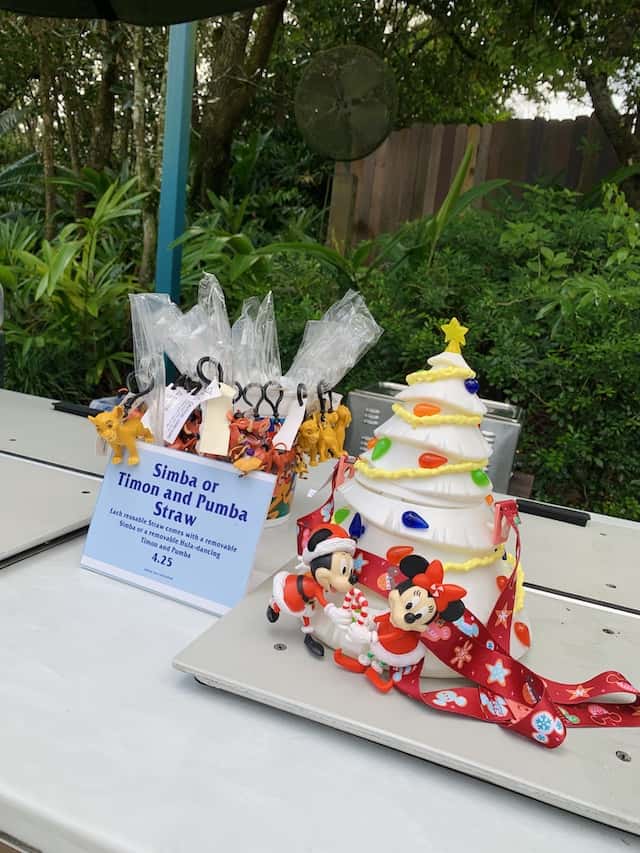 The reusable straw costs $4.25 and comes with a removable Simba or a removable Hula-dancing Timon and Pumba.
As far as entertainment, be sure to check out Tree of Life Awakenings – Holiday Edition. Our beloved tree shimmers and sparkles each evening, alive with the magic of nature and the spirit of the holidays.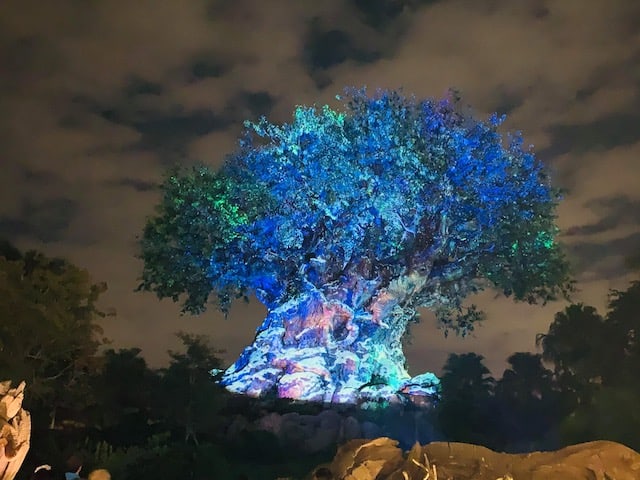 Scenes on the tree rotate while music plays. It's beautiful.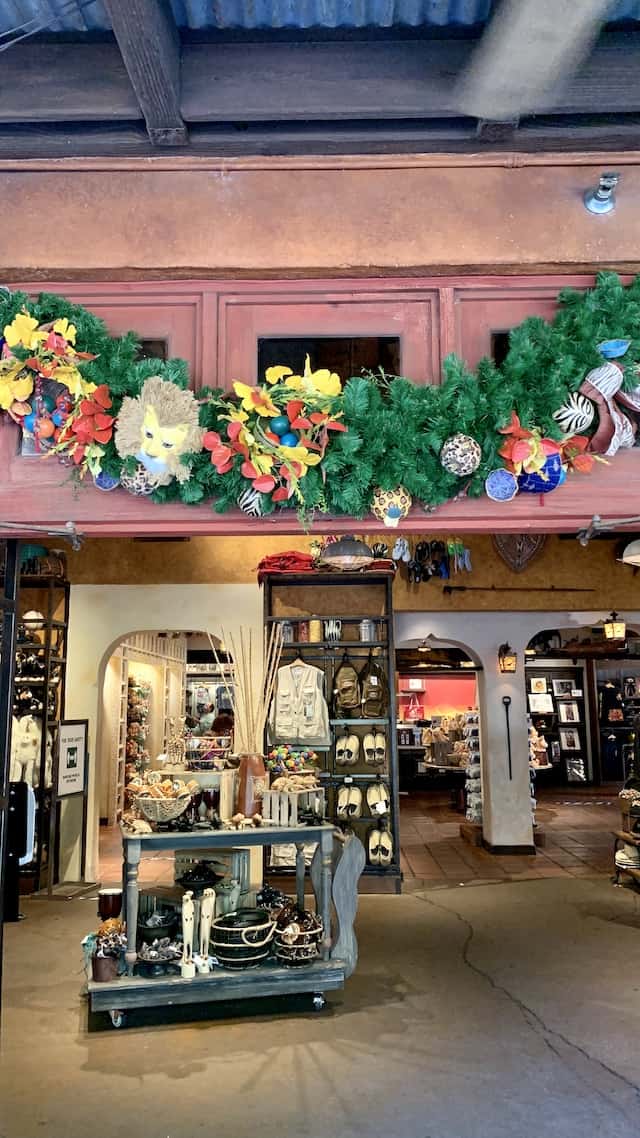 Other than the nighttime Tree of Life Awakenings show, there is really no other entertainment. With so many performers laid off, things are a bit bare at Animal Kingdom as well as the other parks.
Other Theme Park Holiday Guides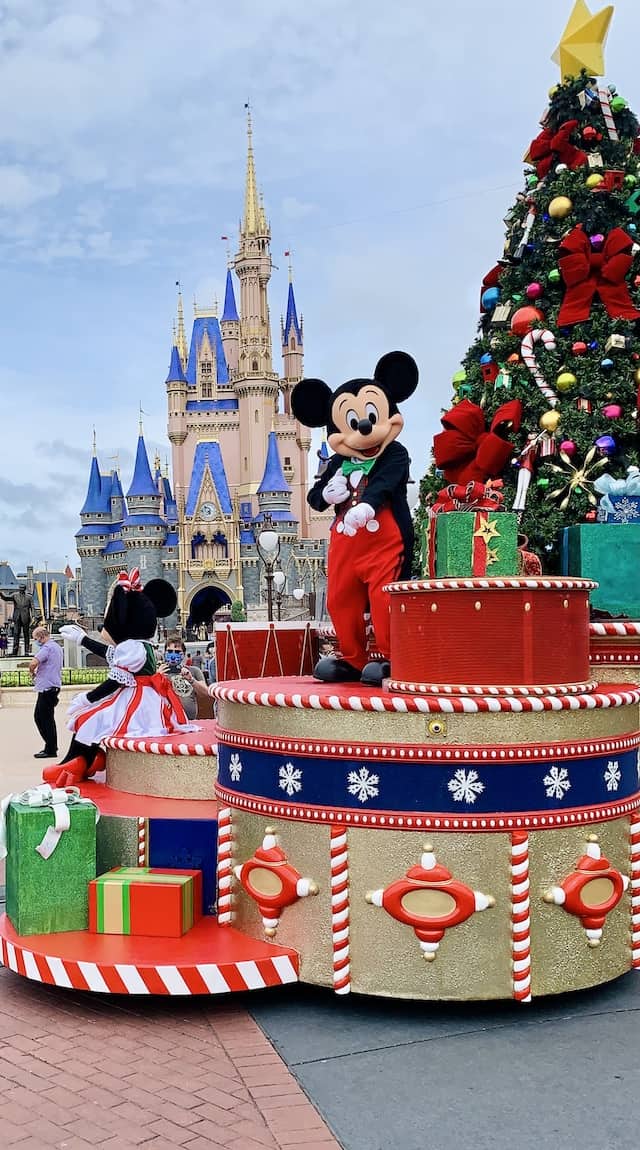 I have covered all the decor, treats, character cavalcades, and more at Magic Kingdom and Hollywood Studios.
With Festival of the Holidays just beginning, I was not able to visit during my recent visit. Stay tuned, though, as we will have more coverage of EPCOT during the holidays soon!
What is your favorite part about the holidays at Animal Kingdom? Are you visiting this year? Let us know on Facebook!