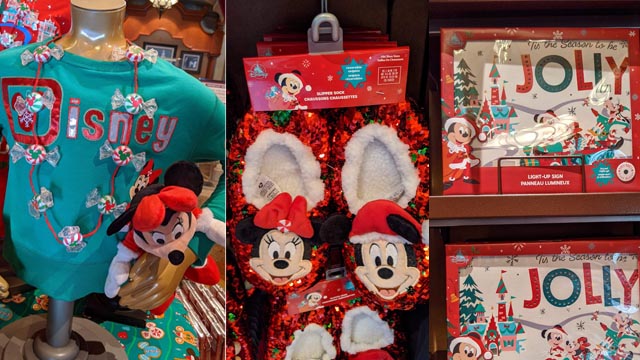 Great new merchandise has been spotted at Disney's Hollywood Studios today. Let's go on a virtual shopping trip together!
Holiday Merchandise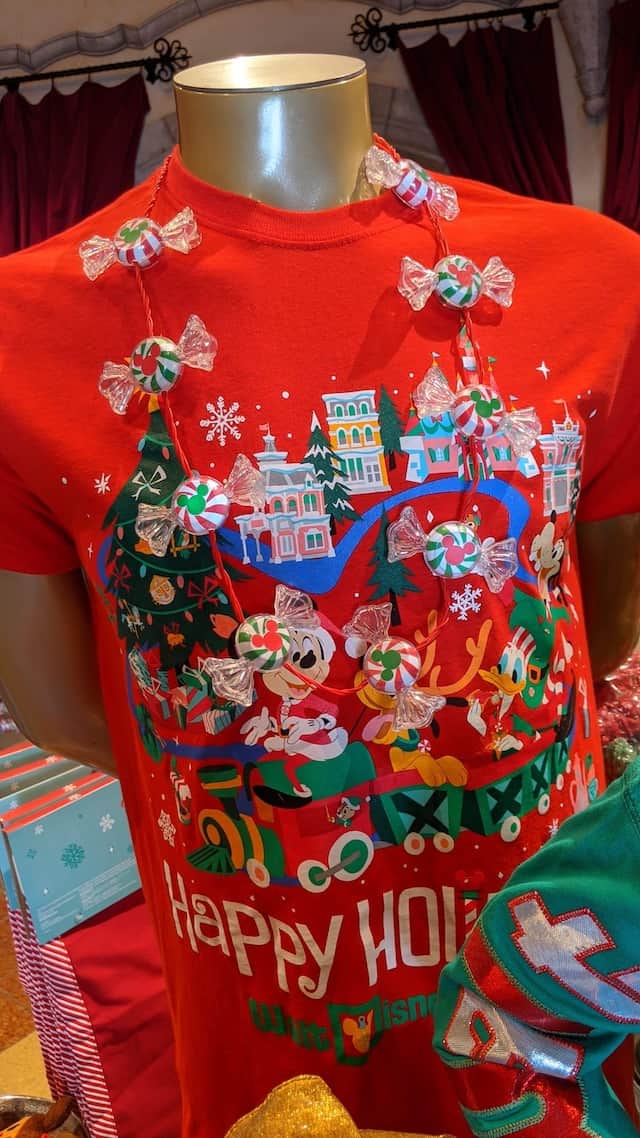 We are just a few short days away from the official start of the holiday season at Disney World! Disney has been preparing us for months by dropping festive sweaters, ears, and Loungefly bags on shopDisney for months. Just recently, holiday masks were spotted at Magic Kingdom. Unfortunately, the price increased by about $4.00…
So far, I have managed to not purchase anything but that may all change in a few days when I head to Disney World. A lot of the merchandise you see on shopDisney is also available in the parks.
For recent posts highlighting all the fun Christmas things, click HERE, HERE, HERE, or HERE. (Wow, we sure do like our Disney merch!)
Hollywood Studios Holiday Merchandise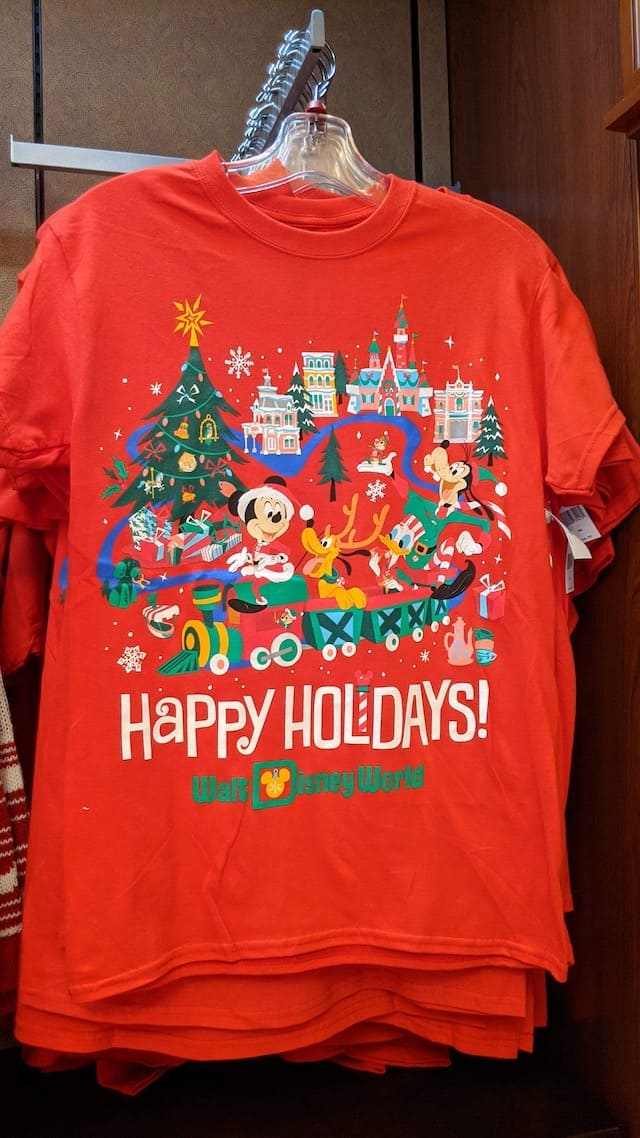 Now, Hollywood Studios has stocked up on home decor, footwear, and clothing. Kenny the Pirate is in the parks today checking out the new process for obtaining a boarding group for Rise of the Resistance. He also noticed one of the attractions is testing dividers on the ride vehicle!
There seems to be a lot going on at Hollywood Studios today. For those of you who can't be there in person today, join me on a virtual shopping trip.
Christmas Clothing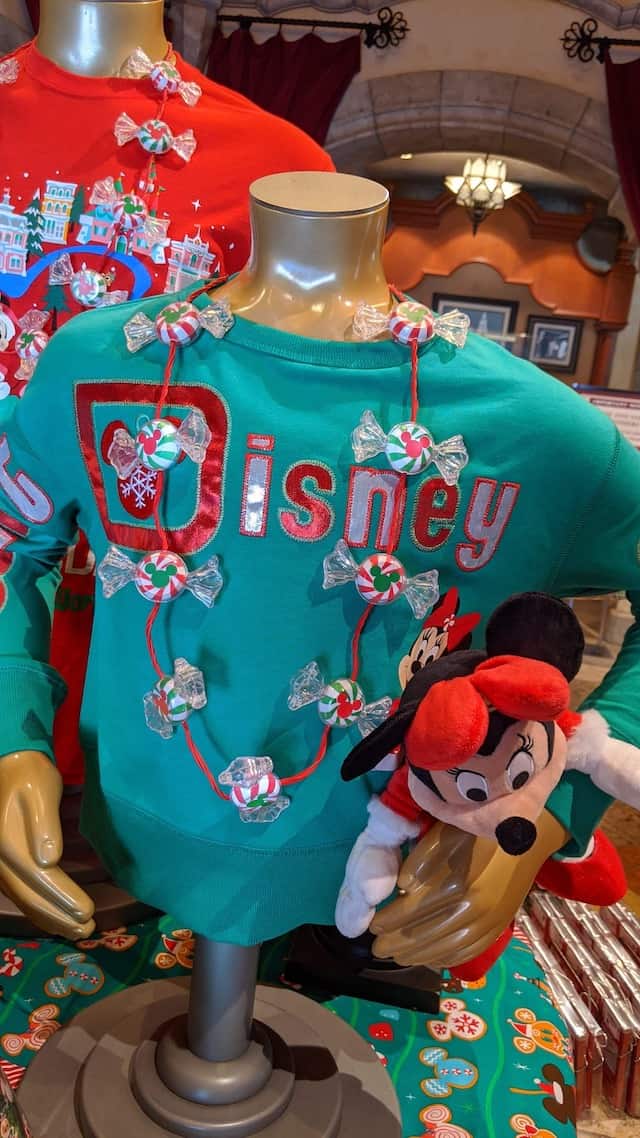 Many t-shirts (both short sleeve and long sleeve) have made their way to the racks at Once Upon a Time on Sunset Boulevard.
Feeling jolly this year? There are a couple of shirt options if you would like to display said jolliness!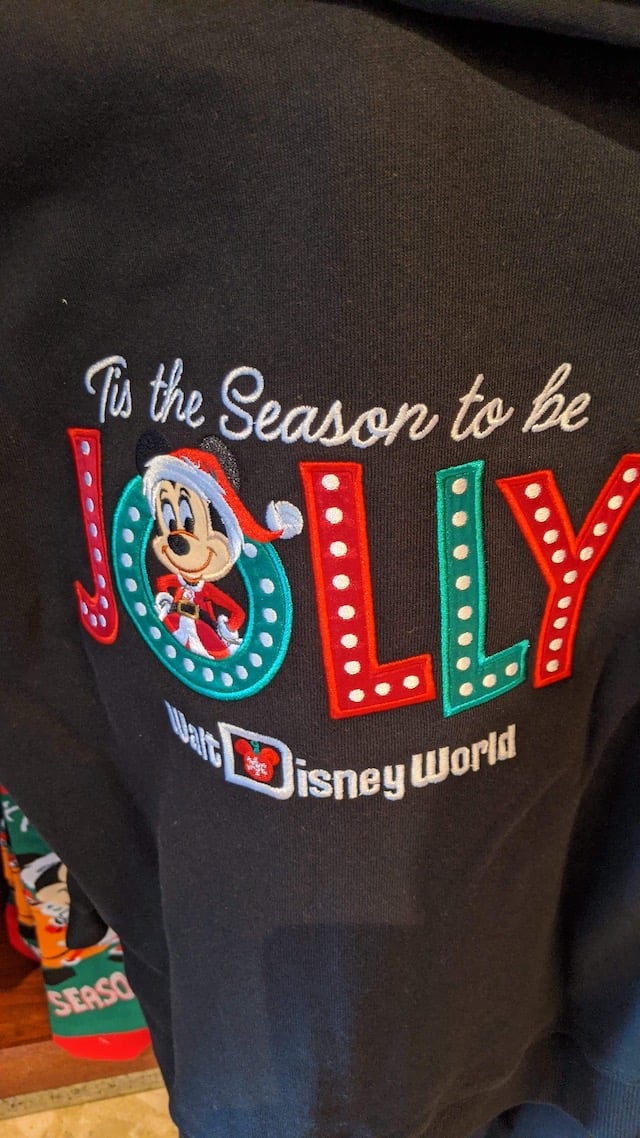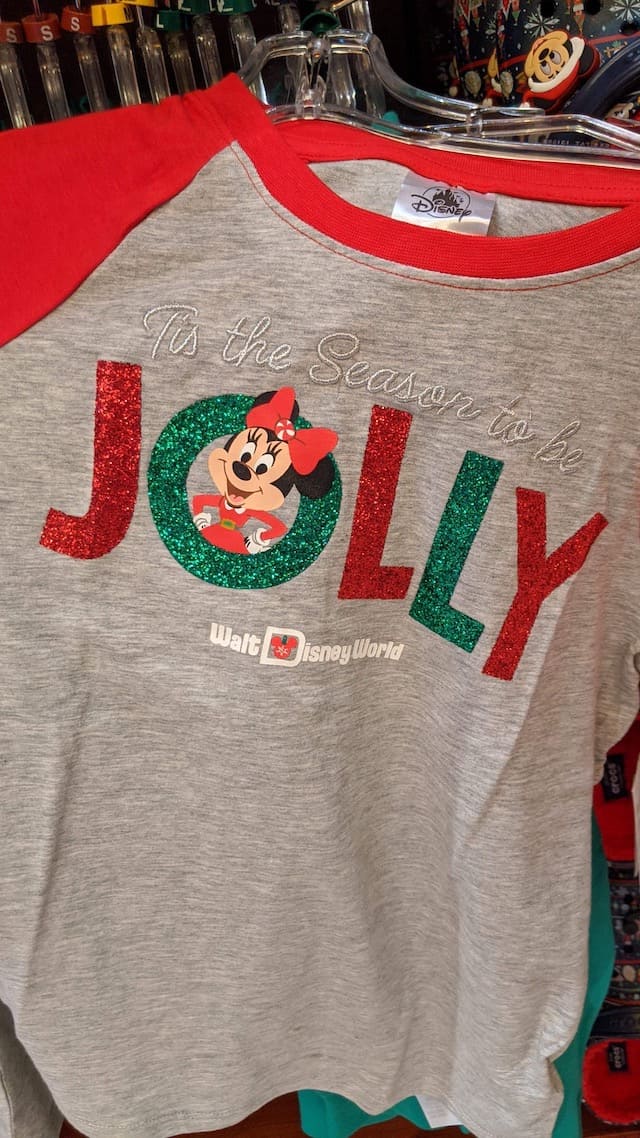 More shirt options…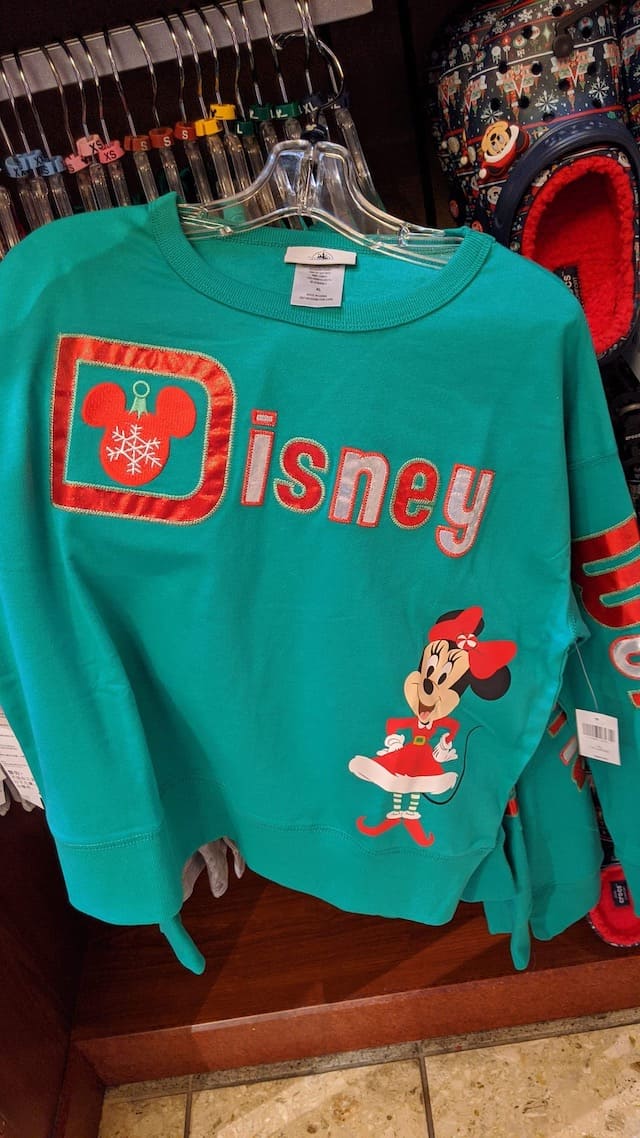 Weather becomes a bit more unpredictable this time of year in Florida so it may be necessary to layer. There are plenty of jackets and sweatshirts to layer on top for those cooler mornings and evenings.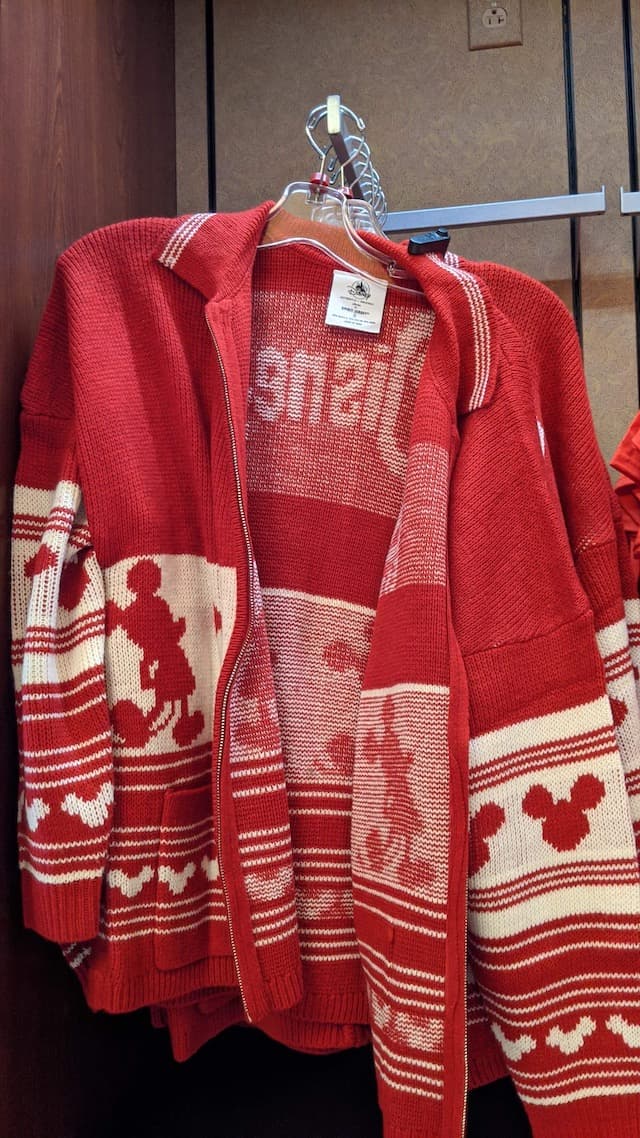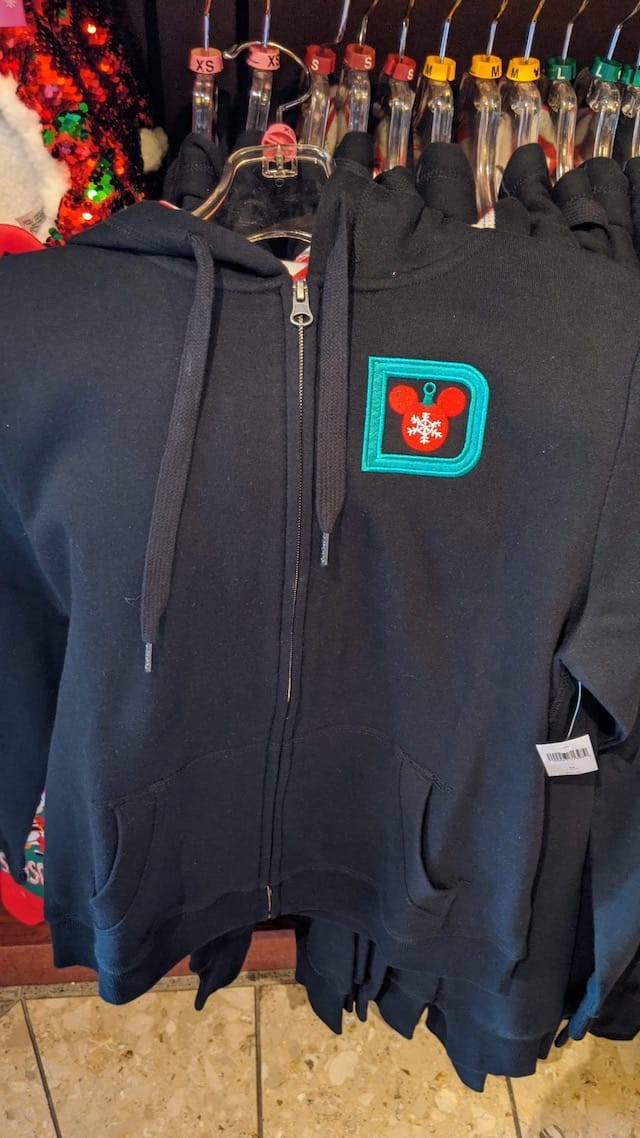 Spirit Jerseys are a hot item these days, and Disney has you covered with two options.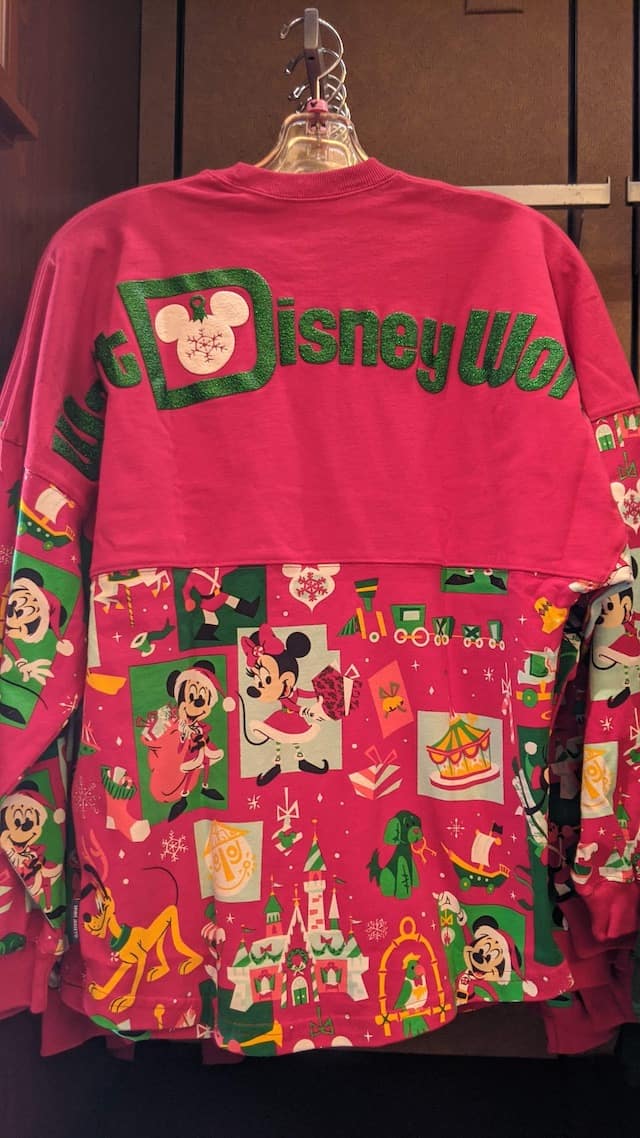 First, we've got the red background with various designs. If you look closely you can spot Disney attractions!
I see it's a small world, Peter Pan's Flight, Pirates of the Caribbean, and Enchanted Tiki Room – to name a few.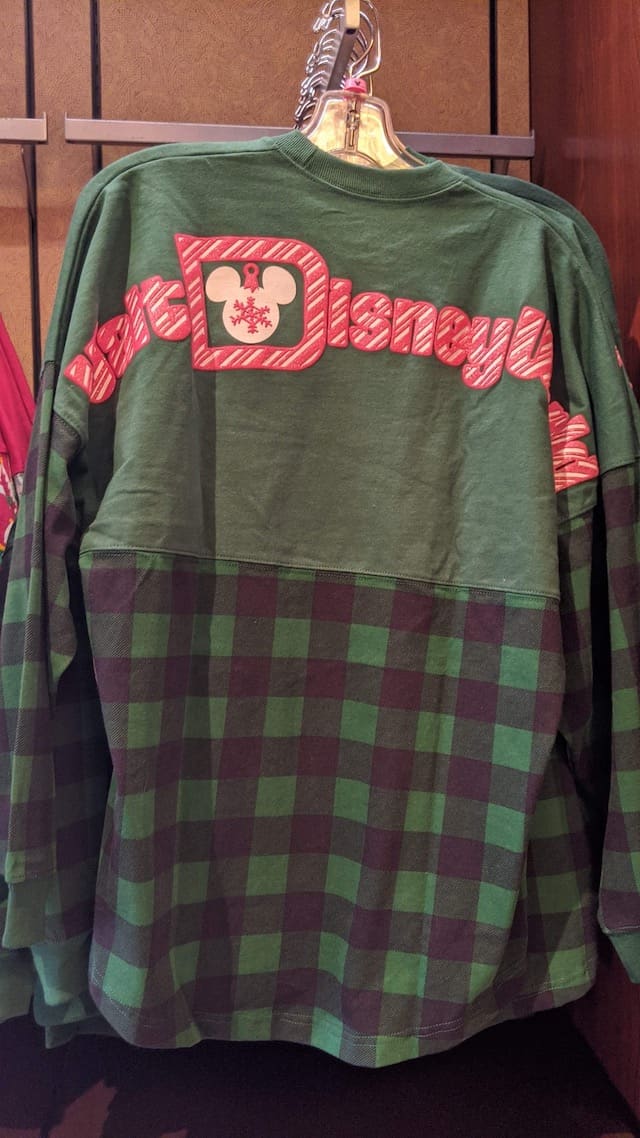 I am kind of in love with the second option. I love the green buffalo plaid and the candy stripe text.
Accessories
You can't buy just a shirt and call it a day – especially at Disney. You need to be dressed in head to toe Disney. I've decided I will absolutely splurge on these fleece lined crocs. FLEECE. LINED. CROCS.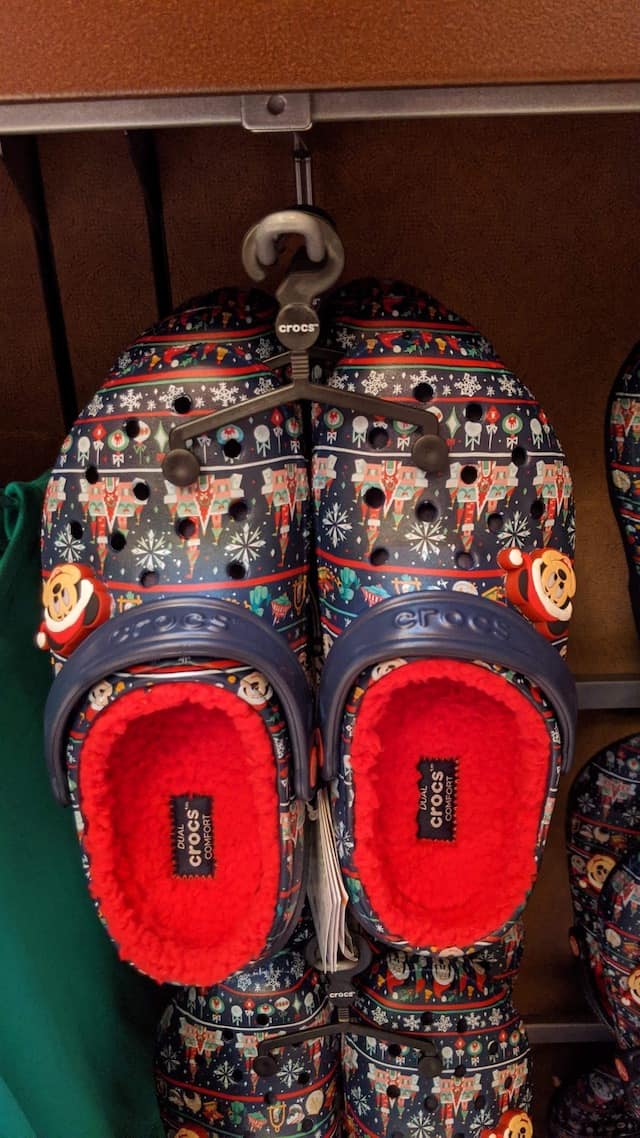 If crocs aren't your thing (to be honest, they weren't mine until I saw these), you can also find some slipper socks that feature our favorite mice.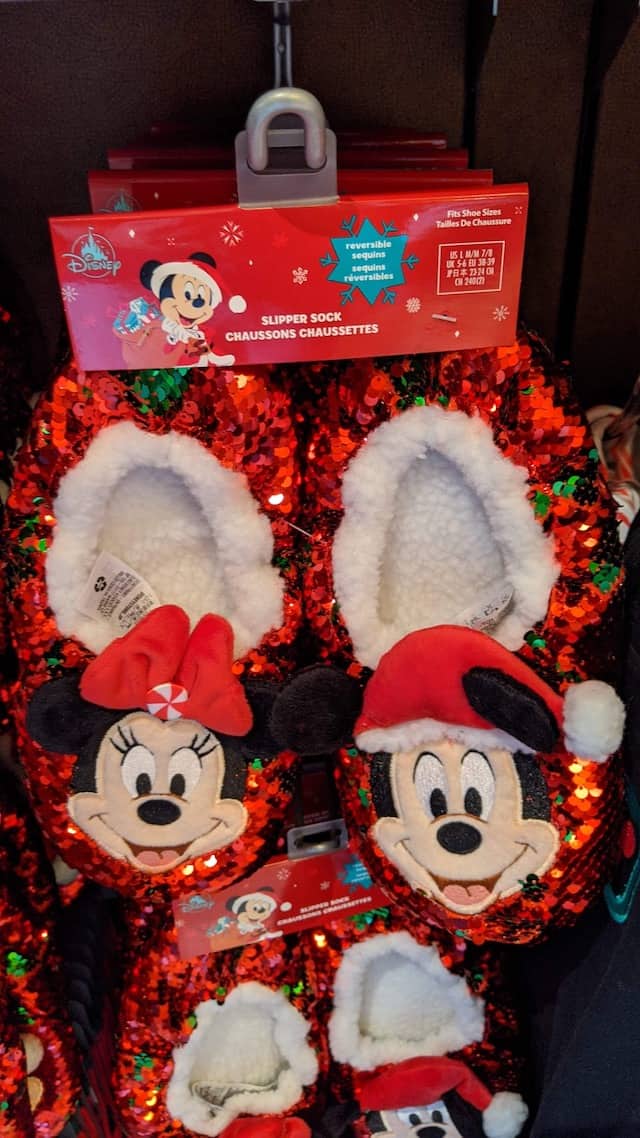 Finally, adorn your head with these seriously joyful Minnie Ears!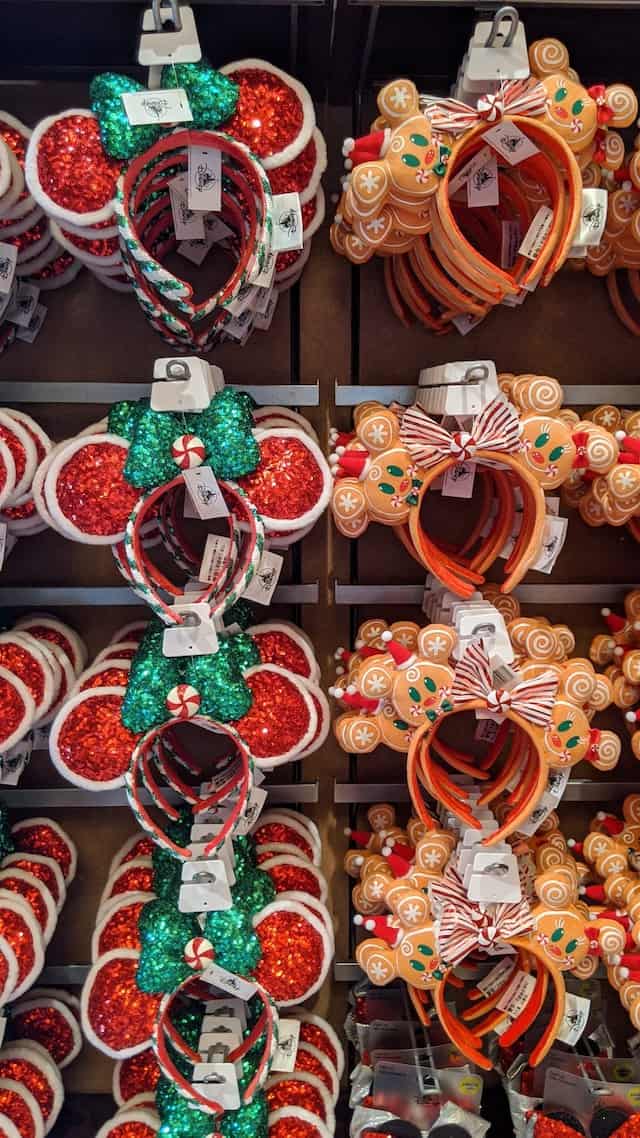 Do you like the candy cane or gingerbread pair better?
Santa Mickey hats are also yours for the taking at Once Upon a Time. Look how fun!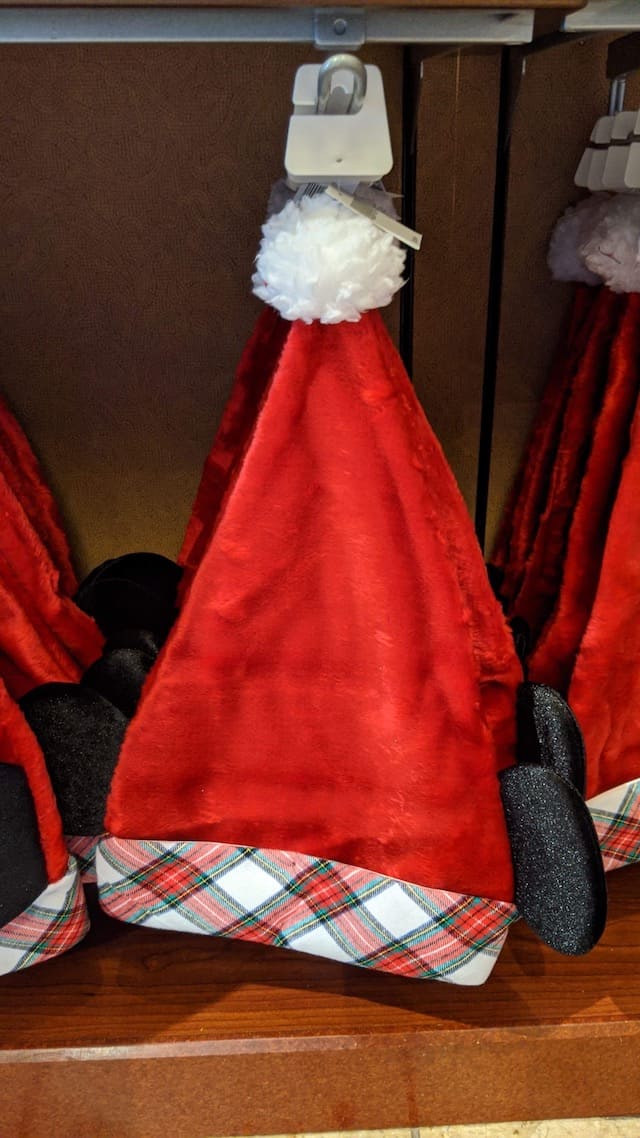 Home for the Holidays
Get your house holiday-ready with an assortment of home decor.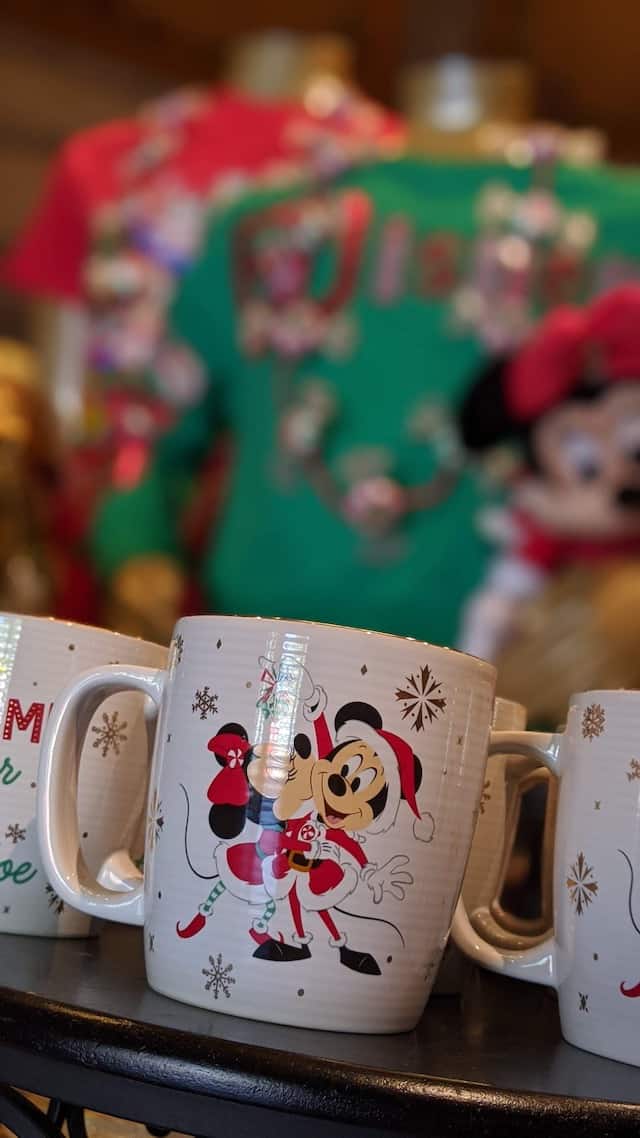 Minnie is smooching Mickey under the mistletoe in this cute mug.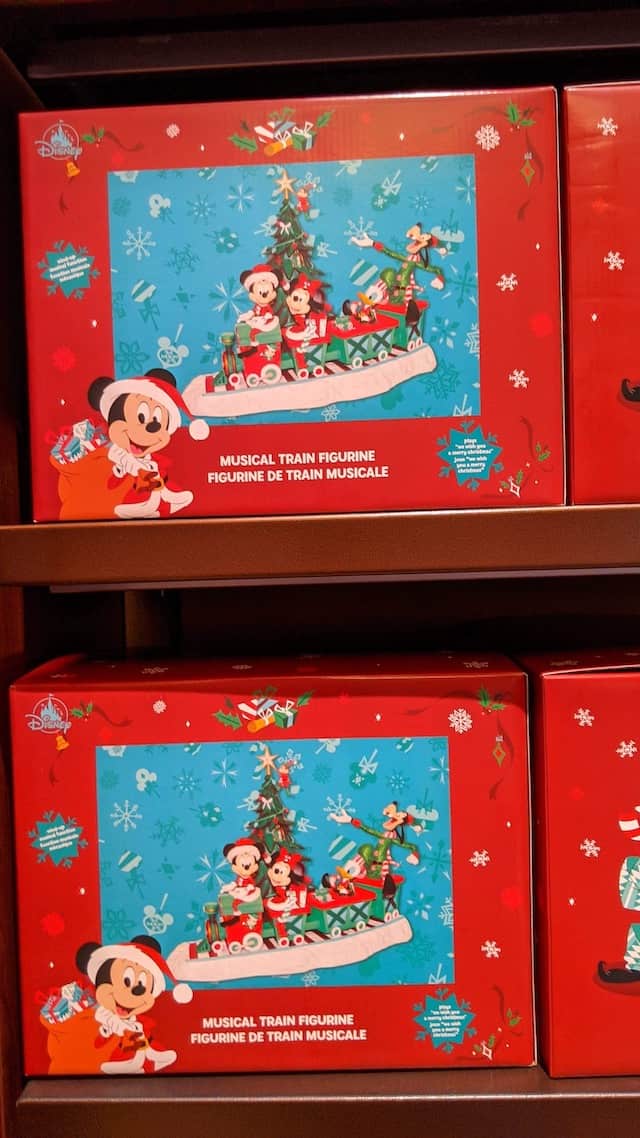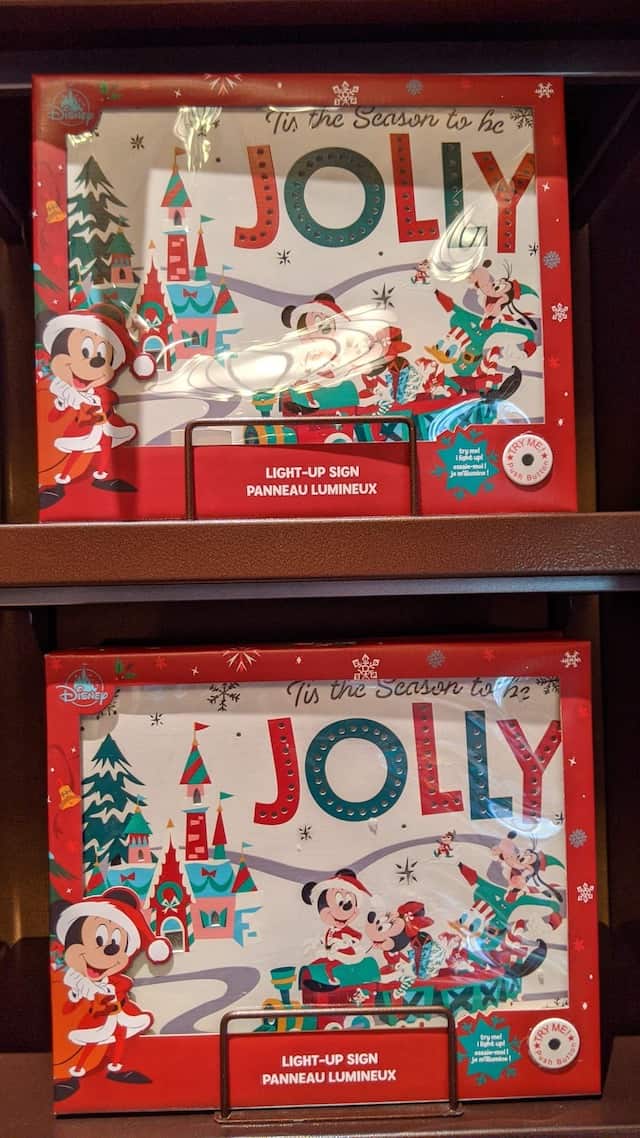 Signs, reversible table runners, and train figures are all available on Sunset Boulevard at Hollywood Studios. I personally love the idea of a reversible table runner – mostly because I have 4 kids and have to flip it at least once. I hope it's machine washable!
Are you heading to Disney World soon? Will you purchase of the holiday merchandise at Hollywood Studios? Share your favorites with us on Facebook!