Let's face it, this year has not be easy for anyone. We have seen everything change in the blink of an eye and have had to find new ways to adapt and keep going. Over 28,000 Disney Cast Members have tragically lost their jobs with the Walt Disney Company, and it leaves a lot of questions on the table. First and foremost being: "was this preventable"?
There may not be a perfect answer to this question, because there are many layers involved in a company's difficult decision to lay-off many of it's employees.
Sometimes, there is just no possible way to prevent these scenarios, but it's important to look at the full picture when deciding what factors lead up to a decision like this.
Letter to Disney CEOs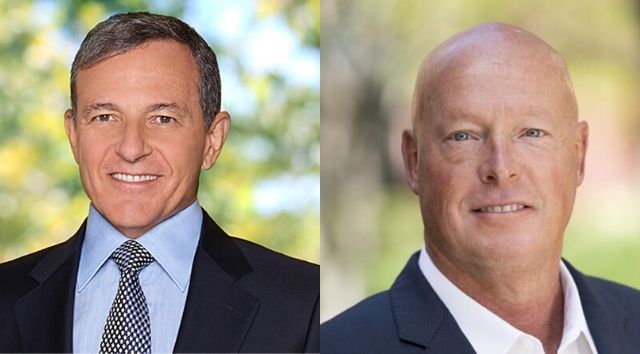 In a recent letter, dated October 13, 2020, sent by United States Senator Elizabeth Warren, Disney CEOs were asked to provide details regarding the massive employee layoffs and recent pay reinstatements for top Disney executives.
The letter states:
In the years leading up to this crisis, your company prioritized the enrichment of executives and stockholders through hefty compensation packages, and billions of dollars' worth of dividend payments and stock buybacks, all of which weakened Disney's financial cushion and ability to retain and pay its front-line workers amid the pandemic.
She went on to commend Disney on working to provide healthcare for it's laid-off employees over the last 6 months, but stressed the issue that:
"…thousands of laid off employees will now have to worry about how to keep food on the table as executives begin receiving hefty paychecks again"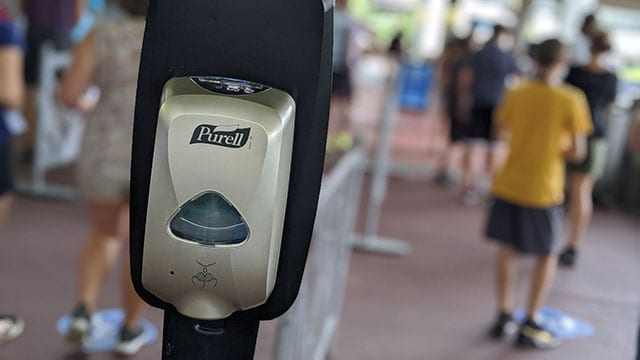 Cast Member Layoffs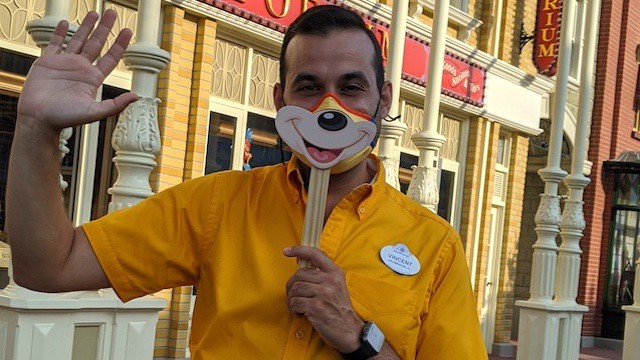 On September 29, 2020, Chairman of Disney Parks, Experiences and Products, Josh D'amaro released a statement announcing the 28,000 Cast Member layoff and said the decision was exacerbated by California's unwillingness to lift reopening restrictions.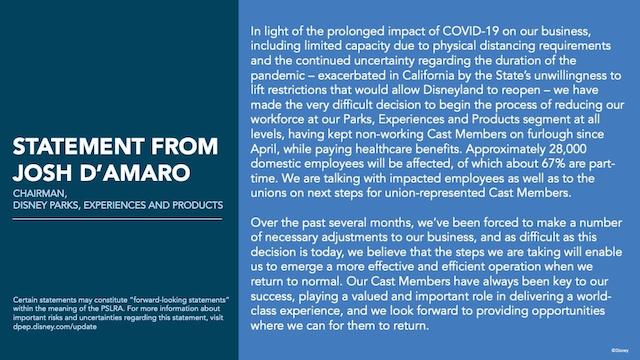 However, it's been pointed out that the overwhelming majority of the 28,000 Cast Members cut were Walt Disney World employees, not Disneyland employees.
We have all felt the brutal sting of these Cast Member cuts on the Disney magic, as they keep pouring in. One of the hardest hit sectors has been Disney Entertainment Cast Members.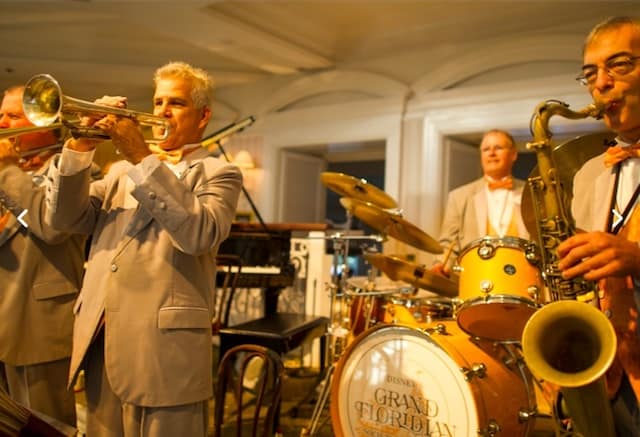 We've lost some long-time fan-favorite entertainment such as the Grand Floridian Society Orchestra, Yeehaa Bob, and possibly the Polynesian Village Resort performers.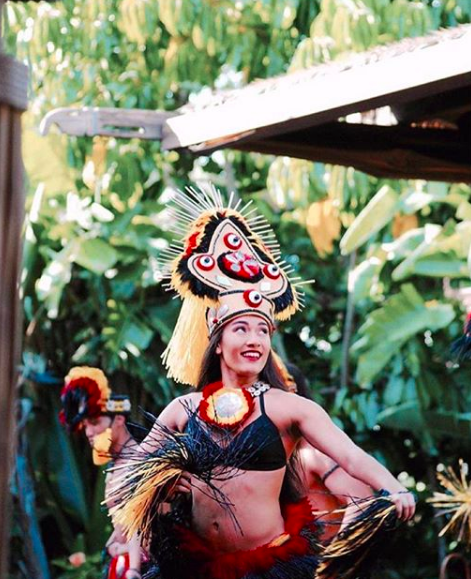 CEO Salary Cuts
In April of 2020, Disney's top executives initiated base-salary pay cuts. Current CEO, Bob Chapek, took a 50% pay cut on his $2.5 million base salary, while other Senior Executives took between 20-30% cuts of their base-salary. Former CEO, Bob Iger, decided to forgo 100% of his $3 million salary.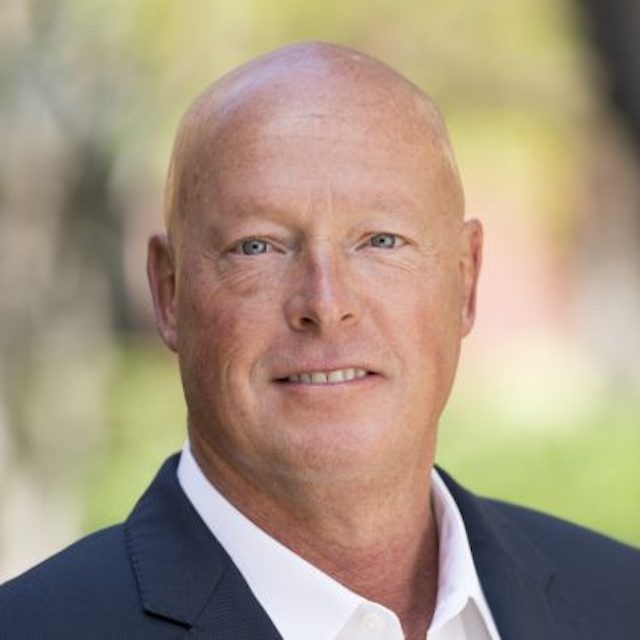 Just 4 months later, and shortly before announcing the massive Cast Member layoffs, it was announced that all of the base-salaries for Disney's top executives would be restored in full.
CEO Salary Reinstatement
This news of executives receiving their full million-dollar salaries back rubbed many people the wrong way due to the fact that many cast members at the time were still furloughed.
Senator Warren continues in her letter referring to these initial salary cuts saying that they represent "a drop in the bucket" because the real money is made via the CEO's compensation packages.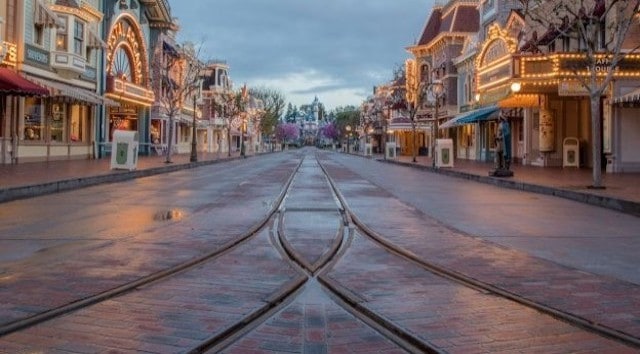 As an example, Bob Iger earned a total of $65.6 million in 2018 and $47 million in 2019 as a result of this compensation package, making a $3 million base-salary cut only 3.3% of his entire salary in 2019.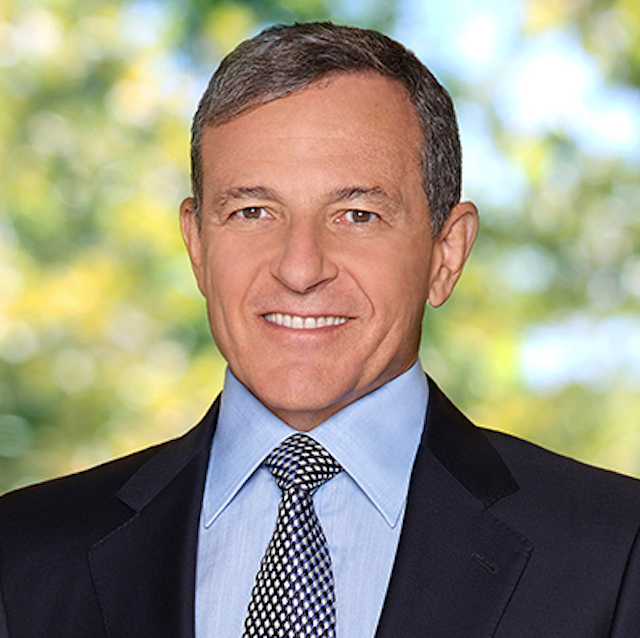 Pre-Pandemic Financial Decisions
Senator Warren goes on to question whether or not some of Disney's business decisions in the few years prior to the pandemic caused a reduction in its capital that placed them in a vulnerable position when the economic downturn struck.
While it's clear that no one saw this pandemic and economic recession coming, a few key points made in the letter suggest things were potentially made far worse by:
(…1) spending billions of dollars to repurchase its own shares over the last decade, (2) rewarding its shareholders through billions of dollars in dividend payments, and (3) showering its top company executives with over-the-top compensation packages and salaries — which reportedly were restored several weeks before the September layoff announcement…
In the last two fiscal years, Disney rewarded its shareholders with $5.4 billion in dividend payments in addition to $47.9 billion spent repurchasing its own stock "…– a practice that is known to turn excess company cash into higher stock prices for the benefit of shareholders".
Senator Warren wraps up her letter with a statement made from Disney CEO, Bob Chapek:
"Mr. Chapek reportedly stated that "Our ability to do good in the world starts with our cast members…who create magic every day. Our commitment to them will always be our top priority."
She goes on to say:
Yet it appears that – prior to, and during the pandemic – Disney took good care of its top executives and shareholders – and now is hanging its front-line workers out to dry.
To read the letter in its entirety, please click HERE.
Disney Responds
According to a video on CNBC.com, Disney publicly issued a response to Senator Warren's letter by stating:
Senator Warren's misinformed letter contains a number of inaccuracies. We've unequivocally demonstrated our ability to operate responsibility with strict health and safety protocols in place at all of our theme parks worldwide, with the exception of the Disneyland Resort in California, where the State has prevented us from reopening even though we have reached agreements with unions representing the majority of our Cast Members that would get them back to work.
Disney has certainly done a fantastic job with its health and safety protocols at their theme parks around the globe. The issue of whether or not Disney should be open, or whether they are following proper guidelines, is not in question in this letter.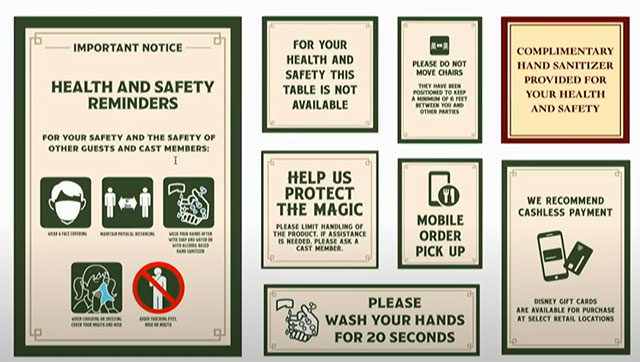 Disney has been given until October 27,2020 to submit answers to the layoff related questions laid out in the letter.
Final Thoughts
We are keeping all the Cast Members affected by these layoffs in our thoughts and prayers. You are the reason we keeping coming back to the parks time and time again. YOU are magic makers, and we thank you for all you have done for us.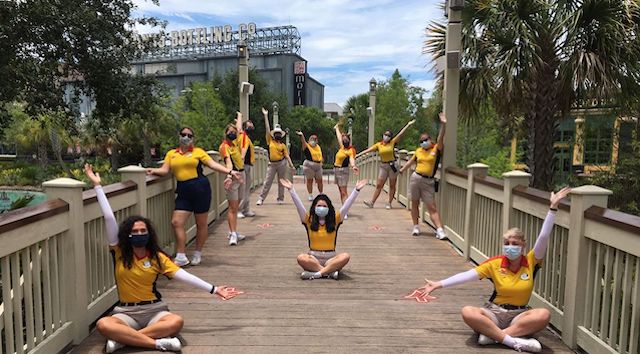 What do you think of this letter that was sent to Disney CEOs? Do you think there could have been more to done to potentially avoid these massive layoffs? Do you think the top executives should have reinstated their salaries already? Let us know on Facebook.