Set out on a movie adventure of a lifetime with this week's movie and snack. This is the last week of the Pixar Fest Celebration. Find out this week's movie and snack below!
Pixar Fest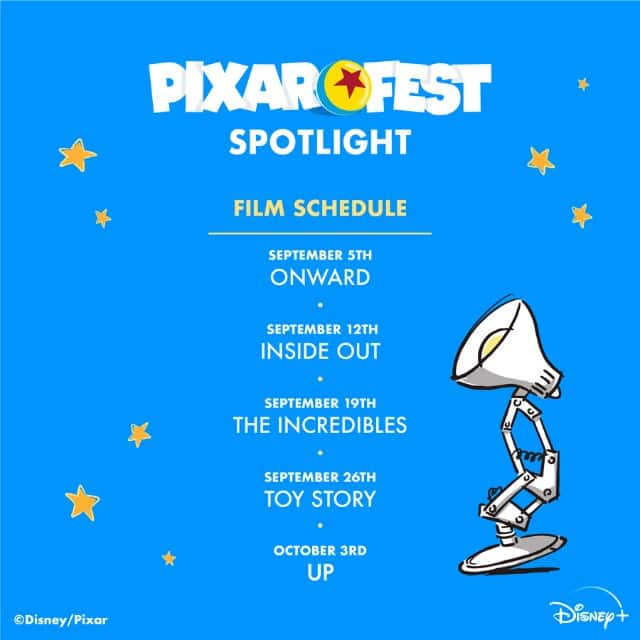 Pixar Fest is a month long celebration with watchalongs, new merchandise, and fun recipes to enjoy while watching the movie.
EACH WEEK THERE IS A DIFFERENT PIXAR MOVIE AND RECIPE FOR A SNACK TO ENJOY ALONG WITH YOUR MOVIE.
We have sent out these recipes for you to enjoy each Friday during Pixar Fest. Be sure to check out all of the recipes!
This week is the last week of the month long Pixar Fest celebration. Check out all the details about Pixar Fest and all of the latest things Pixar HERE!
We have shared four recipes and movies with you:
UP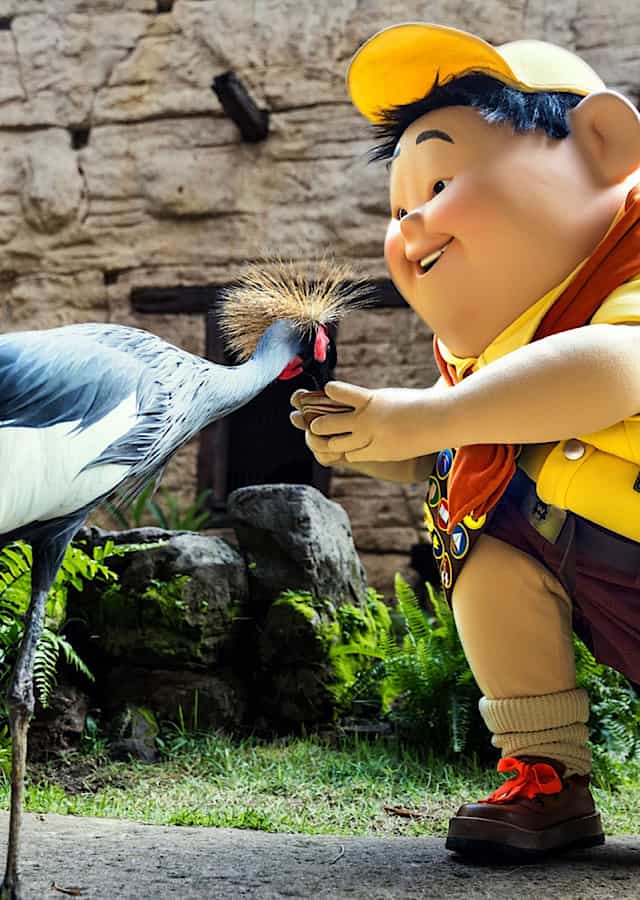 Up is a 2009 Disney Pixar film. This movie can be streamed on Disney+. Disney+'s description of the movie is:
Carl Fredricksen, a retired balloon salesman, is part rascal, part dreamer and ready for his last high-flying excitement. Tying thousands of balloons to his house, Carl sets off to the lost world of his childhood dreams. But unbeknownst to Carl, Russell, an overeager 8-year-old Wilderness Explorer who has never ventured beyond his backyard, is in the wrong place at the wrong time..Carl's front porch. The world's most unlikely duo reach new heights and meet fantastic friends like Dug, a dog with a speical collar that allows him to speak, and Kevin, a rare 13-foot tall flightless bird. Stuck together in the wilds of the jungle, Carl realizes that sometimes life's biggest adventures aren't the ones you set out to have.
UP Themed Snack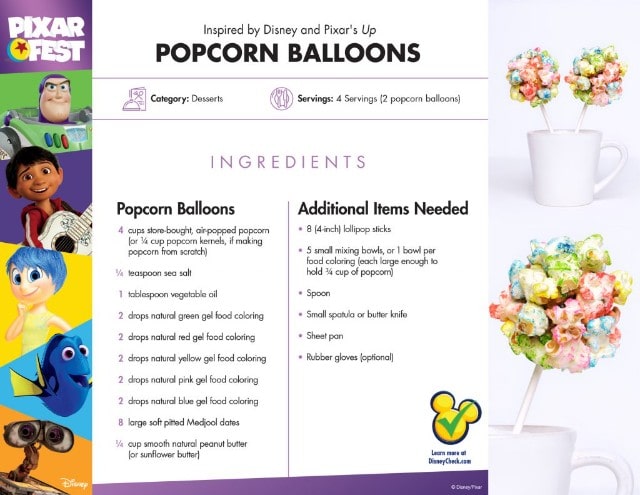 Popcorn Balloons is the UP themed snack. This is also a Mickey Check meal. Here is what you will need for this recipe:
Popcorn Balloons
4 cups store-bought, air-popped popcorn (or 1/4 cup popcorn kernels, if making popcorn from scratch)
1/4 teaspoon sea salt
1 tablespoon vegetable oil
2 drops natural green gel food coloring
2 drops natural red gel food coloring
2 drops natural yellow gel food coloring
2 drops natural pink gel food coloring
2 drops natural blue gel food coloring
8 large soft pitted Medjool dates
1/4 cup smooth natural peanut butter (or sunflower butter)
Additional Items Needed
8 (4-inch) lollipop sticks
5 small mixing bowls, or 1 bowl per food coloring (each large enough to hold 3/4 cup of popcorn)
Spoon
Small spatula or butter knife
Sheet pan
Rubber gloves (optional)
Directions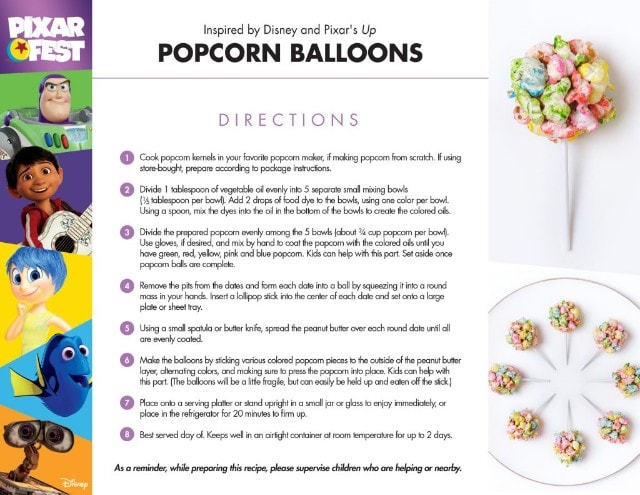 Cook popcorn kernels in your favorite popcorn maker, if making popcorn from scratch, if using store-bought, prepare according to package directions.
Divide 1 tablespoon of vegetable oil evenly into 5 separate small mixing bowls. Using a spoon, mix the dyes into the oil in the bottom of the bowls to create the colored oils.
Divide the prepared popcorn evenly among the 5 bowls (about 3/4 cup popcorn per bowl.) Use gloves, if desired, and mix by hand to coat the popcorn with colored oils until you have green, red, yellow, pink, and blue popcorn. Kids can help this this part. Set aside once popcorn balls are complete.
Remove the pits from the dates and form each date into a ball by squeezing it into a round mass in your hands. Insert a lollipop stick into the center of each date and set onto a large plate or sheet tray.
Using a small spatula or butter knife, spread the peanut butter over each round date until all are evenly coated.
Make the balloons by sticking various colored popcorn pieces to the outside of the peanut butter layers, alternating colors, and making sure to press the popcorn into place. Kids can help with this part (The balloons will be a little fragile, but can easily be held up and eaten off the stick).
Place onto a serving platter or stand upright in a small jar or glass to enjoy immediately, or place in the refrigerator for 30 minutes to firm up.
Best served day of. Keeps well in an airtight container at room temperature for up to 2 days.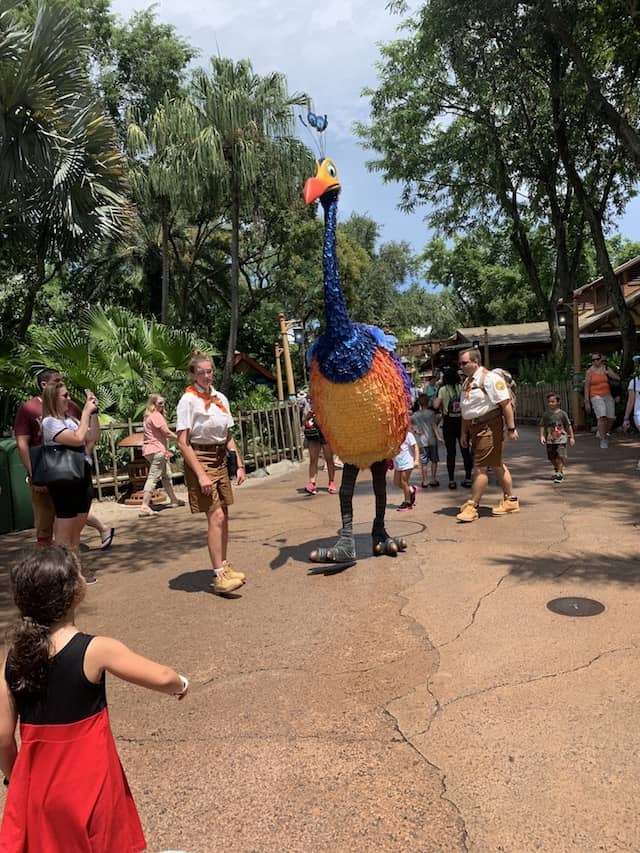 Disney also includes this disclaimer:
AS A REMINDER, WHILE PREPARING THIS RECIPE, PLEASE SUPERVISE CHILDREN WHO ARE HELPING OR NEARBY.
Will you be making these UP themed Popcorn Balloons? What did you think of the month long Pixar Fest Celebration movies and themed treats? Let us know on the Kenny the Pirate Facebook page. Don't forget to join the KtP crew page too!
-Heather Alosa