It's Pluto's birthday this week! In honor of Mickey's loveable pup, shopDisney is celebrating with all new merchandise and a special MerchPass opportunity! Read on to see how you can have a chance to get your hands on the latest collectible key and key pin.
Pluto made his screen debut on September 5, 1930, in a short titled, "The Chain Gang." The short featured two nameless bloodhounds.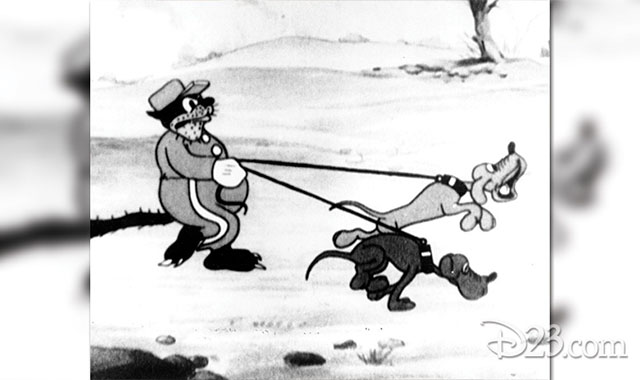 As Walt Disney explained, "We needed a bloodhound. Pluto got the part and turned out so well, we used him twice."
"We needed a bloodhound. Pluto got the part and turned out so well, we used him twice."

Walt Disney
Viewers loved Pluto's character so much, that he returned as Minnie Mouse's dog, "Rover" in "The Picnic". A year later in 1931, he was seen as Mickey's dog, Pluto in "The Moose Hunt".
He went on to star in 48 shorts of his very own and has also starred in feature films, video games and television series, like Mickey Mouse Clubhouse!
KtP Writers Favorite Pluto Memories
A few of the KtP writers have seen Pluto in the parks and even on a cruise! Take a look at some of their favorite memories with this famous pup!
Donna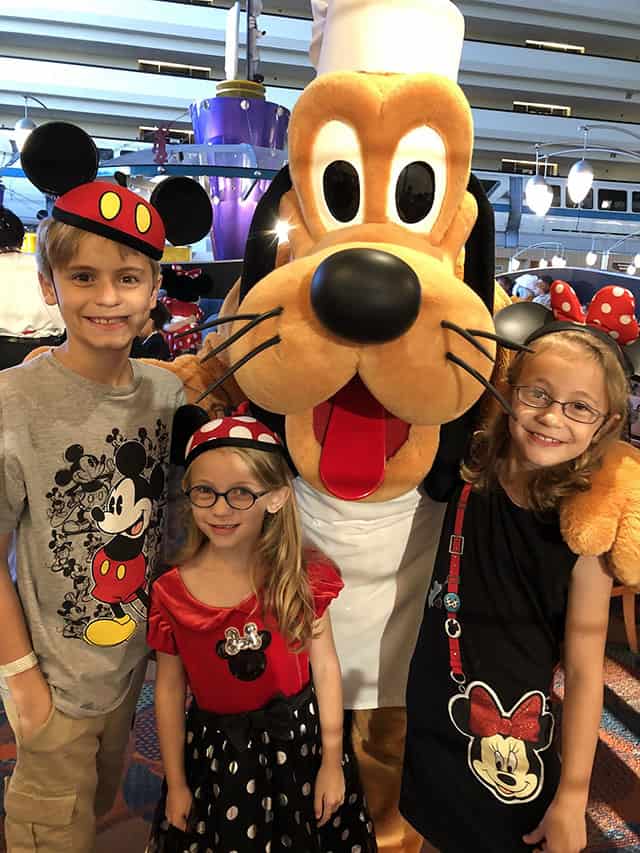 In the past one of our favorite places to visit Mickey's best pal, Pluto, was at Chef Mickey's located in the Contemporary Resort. One of our family's traditions is to schedule a character breakfast for the day that we are to leave the Parks. This is a great way for us to have one last visit with all of our favorite pals.
Currently, Chef Mickey's is available for dining, but characters are not present. We are hoping that Mickey, Goofy, Donald, Minnie, and of course Pluto will be returning soon. I love the Fab 5 that meet at Chef Mickey's.
My kids have loved these classic characters since they were little. Even though they are older now, no visit to Walt Disney World is complete without meeting these classics including our favorite dog, Pluto. Happy Birthday Pluto! Thank you for all of the hugs and for making our last days in the Disney Parks a bit more magical.
Monica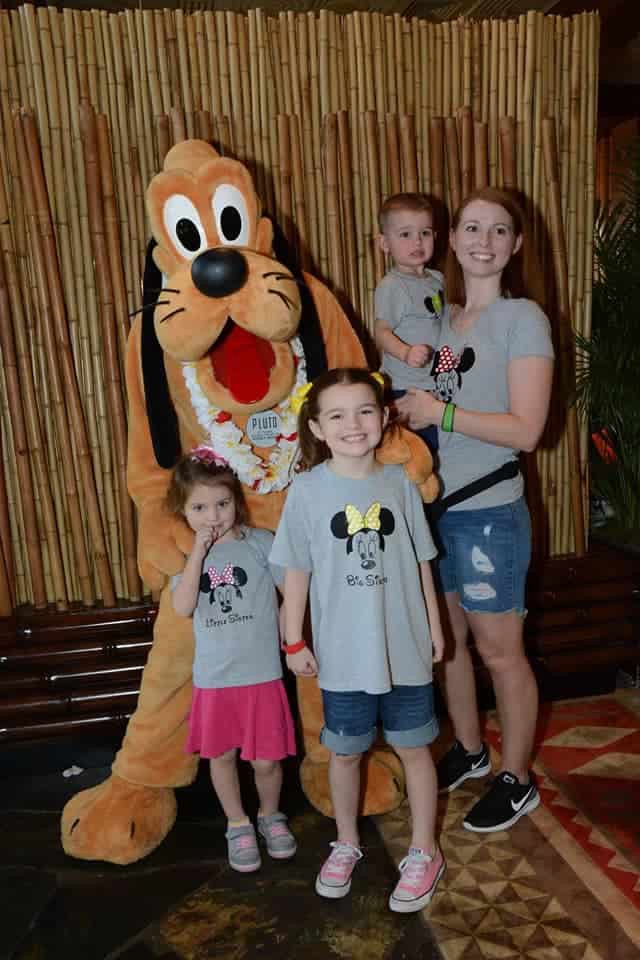 The first character interaction my youngest child had was with Pluto. We met him at 'Ohana, and he was terrified! He cried the entire time – I was so worried he was going to be scared of every character during our vacation.
Luckily, after a few meets he warmed up, and later that night he ran up to Mickey at the Christmas party!
Pluto will always have a special place in my heart because it was my son's first character experience. Happy birthday Pluto!
Jessica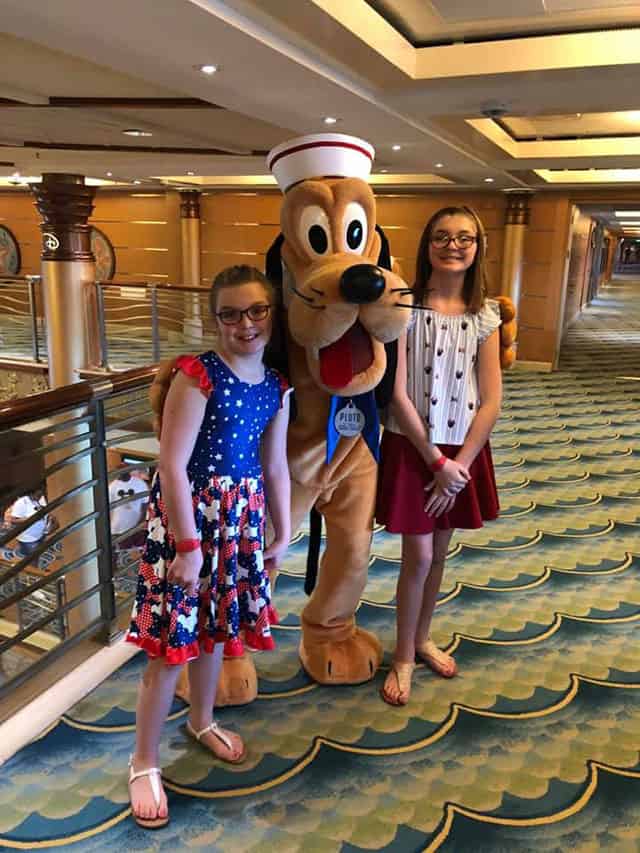 Pluto was the first character we saw as we boarded the Disney Magic and my girls ran right over for hugs! They enjoyed being silly and playing hide and seek whenever they saw him walking around on the ship.
Happy Happy Birthday Pluto!
Rebecca
We love meeting Pluto! This pic was taken at Garden Grill in 2019. Watching "Pluto's Christmas Tree" is a holiday tradition for our family!
Kate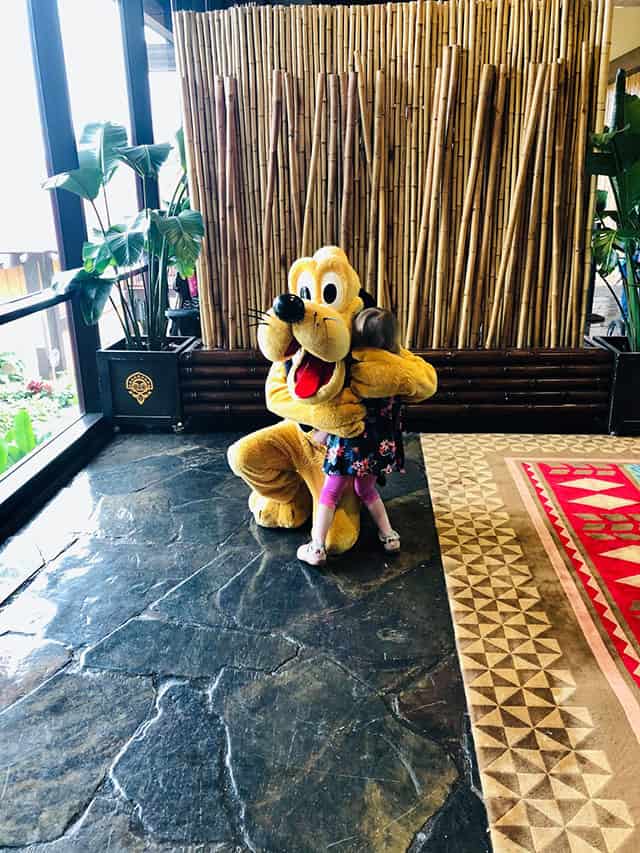 We love Pluto. We got a surprise meet with him at Polynesian when he was getting ready for 'Ohana. The kids loved when he played peek-a-boo with his ears.
Heather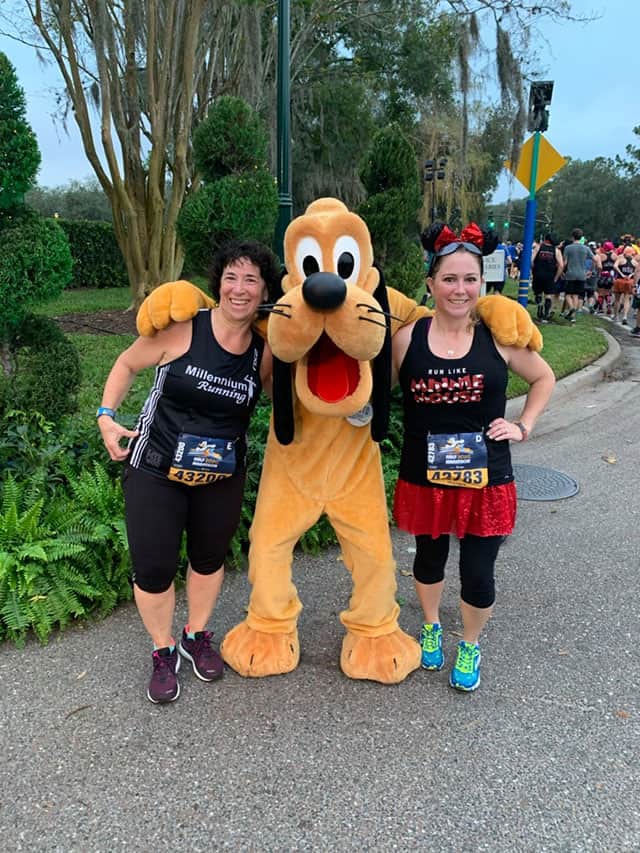 We just love meeting Pluto! I loved getting a quick picture with him during the Walt Disney world marathon weekend half marathon.
He is one of my favorite characters, and I can't wait until I can visit and see him again! Happy Birthday Pluto!
Jamie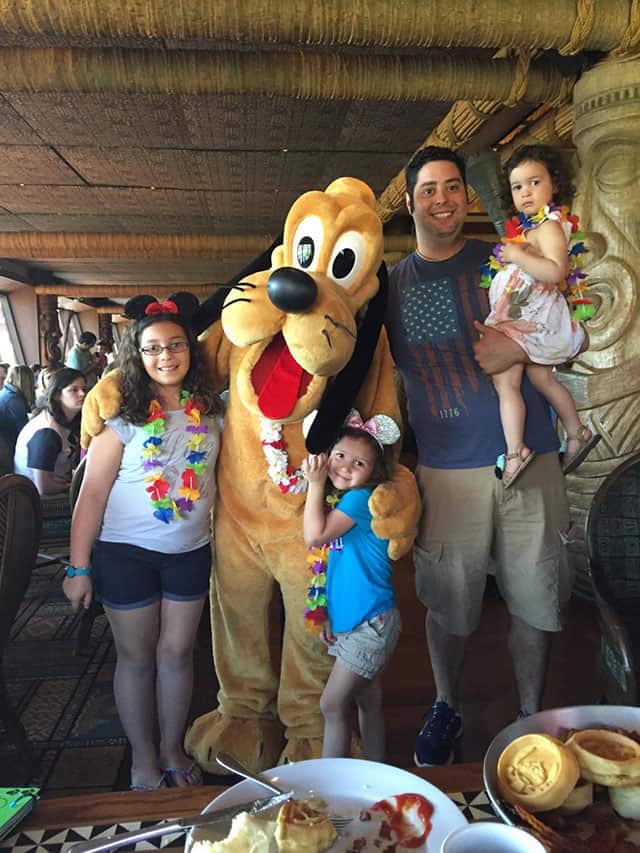 We love to hang out with our pal, Pluto, at Ohana! Greeting him with an "aloha" and a big hug is always a fun interaction for us.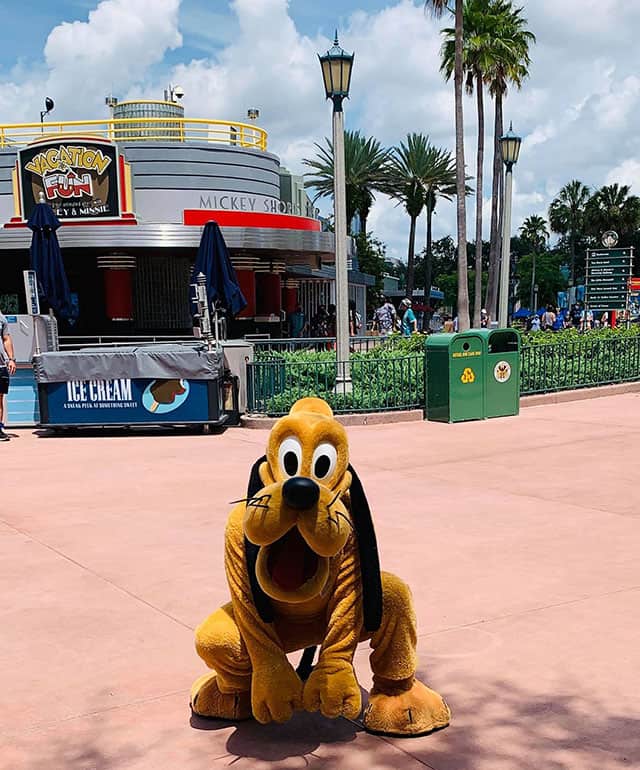 We missed him a lot on our most recent trip, but we were thrilled to see him in the character cavalcade at Hollywood Studios! Happy Birthday Pluto!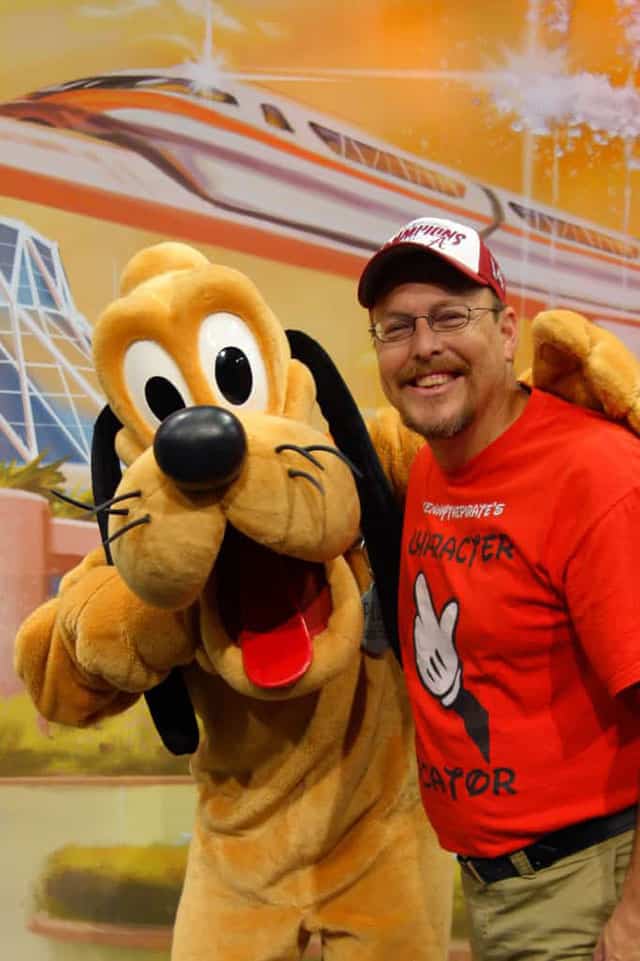 Maggie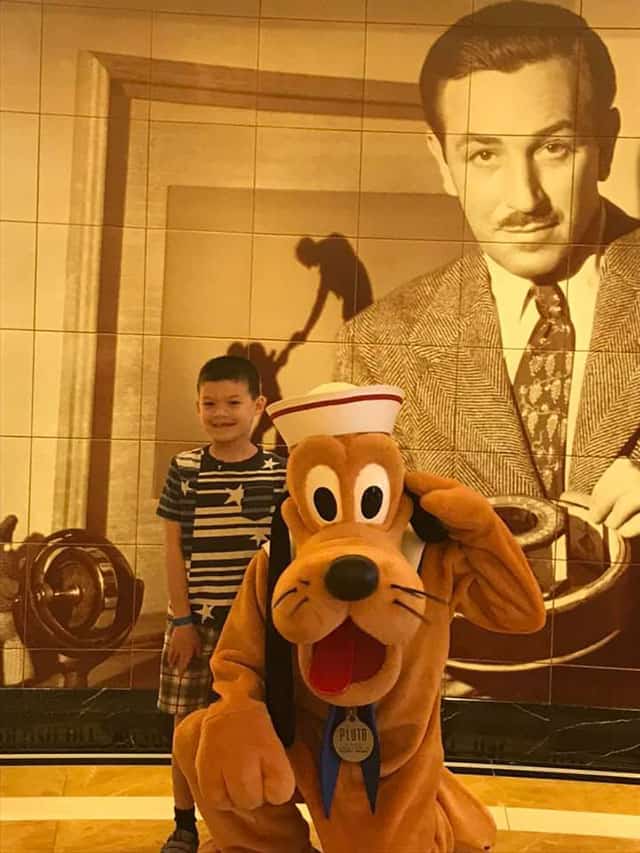 Pluto always has a special place in my heart because he is one of my son's favorites! He is one of the few characters that my son has specifically asked to meet.
When we were on the Disney Fantasy, we made sure to meet Pluto. I just love his little sailor outfit here. There was nobody else in line to meet Pluto here, so we spent a long time giving him hugs and it will always be one of my favorite memories.
Happy Birthday, Pluto!
MerchPass Opportunity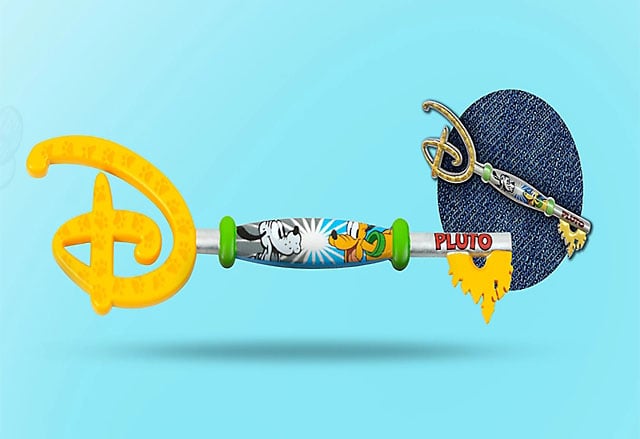 shopDisney is celebrating Pluto's 90th Anniversary with a special MerchPass opportunity! On Thursday, September 3rd beginning at 7 AM PT, entries open for a chance to purchase the Pluto 90th Anniversary Key & Key Pin.
If you are not familiar with shopDisney's MerchPass system, you can see how it works here. If you are one of the chosen ones, shopDisney will notify you via e-mail by September 5th at 5:00 PM PT. For complete details, visit shopDisney.com.
Past items available using a MerchPass have been items from the Minnie Mouse Main Street Attraction merchandise collection and the Frozen Castle Collection.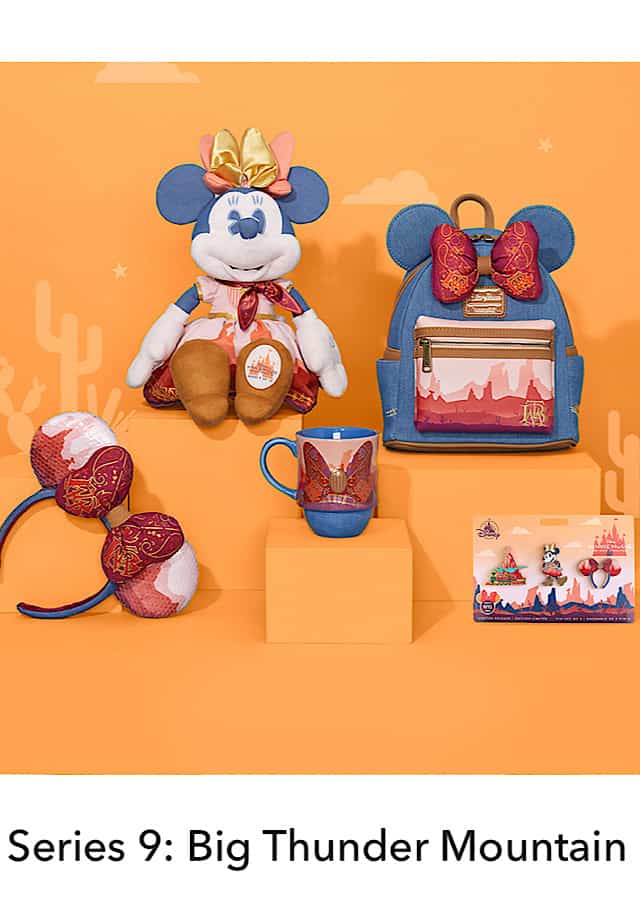 I have been able to purchase pins and plushes from each, but not much else. Many guests have felt frustrated with not even having an option at all.
However, certain items do appear on shopDisney as they become available! So, remember to keep looking!
Merchandise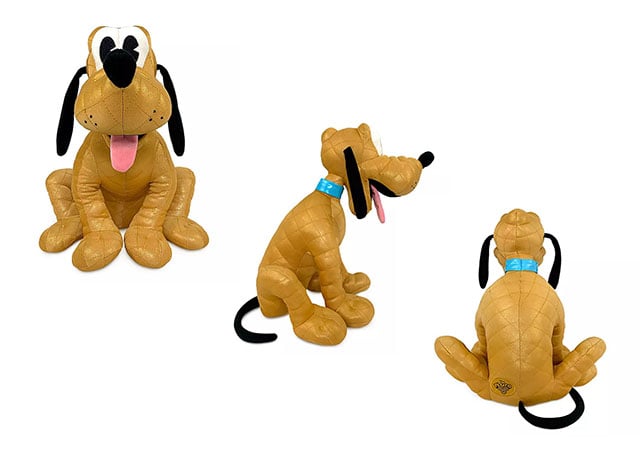 shopDisney is also offering new Pluto merchandise in celebration of Pluto's big day! Take a look at some of the adorable items!
Look at this adorable Pluto 90th Anniversary Plush! This plush features golden sheen fur, collar and a commemorative Pluto 90th Anniversary patch. He is 13″ tall and just waiting for someone to cuddle.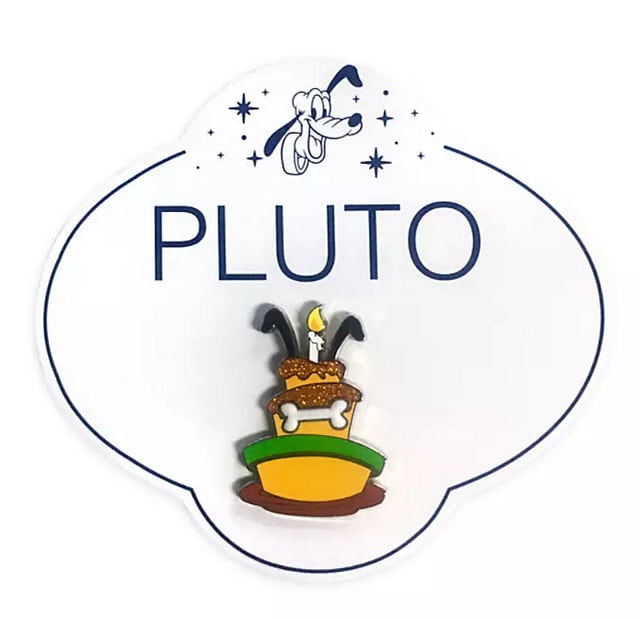 Pin collectors will love this 90th Anniversary Cake Pin in honor of Mickey's best pal. My favorite part about this pin is it comes with a Mickey icon pinback on a Cast Member name tag-shaped card with Pluto's name on it!
A Disney Pin Trading 2020 backstamp and "90 Magical Years Pluto" backstamp is also included.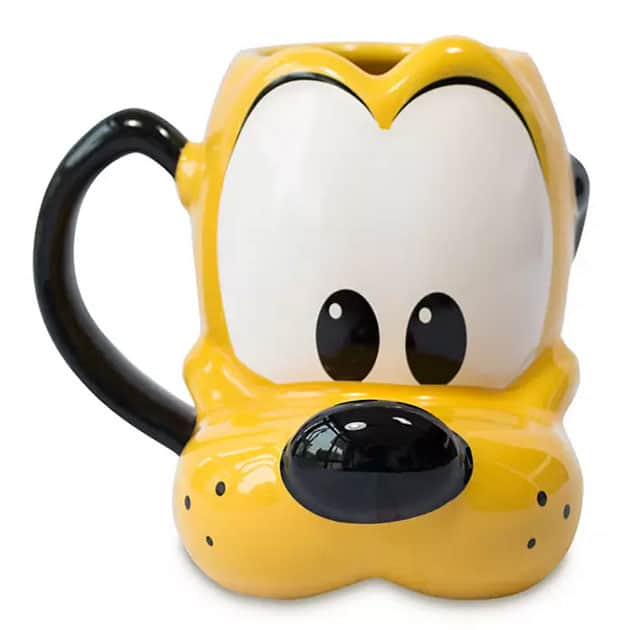 Who loves mugs? You can never have enough! This fun mug is in the shape of Pluto. I love how the handle is in the shape of his ear.
Your day will start off great sipping from one of these. I'm also pleased to say that it is microwave and dishwasher safe. If you are a mug collector, you might want to check out KtP writer Kate's post about the ABC Disney Parks Mugs.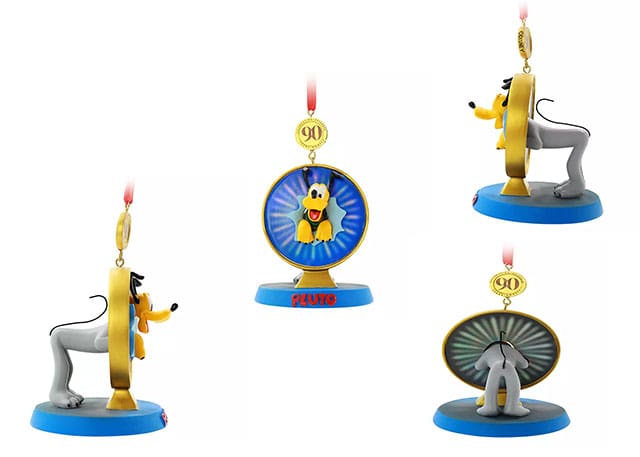 With the holidays right around the corner, you might want to think about buying some Christmas ornaments. shopDisney has a Pluto Legacy Sketchbook Ornament celebrating Pluto's 90th birthday.
The first thing you will notice about this ornament is Pluto's face is in color while his rear-end is as shopDisney describes, "still stuck in the black and white era." Why is this significant? It's a throwback to Pluto's debut as an unnamed bloodhound in "The Chain Gang".
The ornament is 3.5 inches tall and is freestanding, so you can choose to hang it on your tree or have it on your desk to display all year round.
Happy Birthday, Pluto!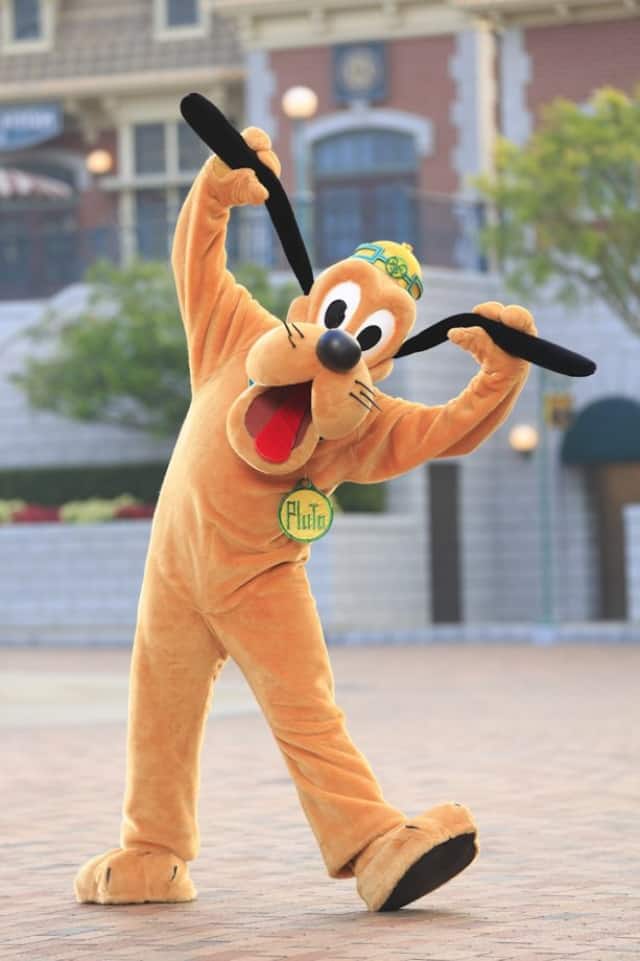 We hope you have fun celebrating Pluto's birthday this week! Whether it's in the parks, watching him on TV or looking back on some of your favorite memories with Pluto, we hope it brings you some happiness.
We invite you to share your favorite Pluto memories with us! Please share them with us in the comments below or post your photos on our Facebook page! Keep the celebration going in our crew on Facebook too!
Maggie Baltz