The ABC Disney Parks Mugs collection is back in the parks! Our writing crew has accumulated quite the collection! Can you A-B-"C" one in your future?
Before you read this post, you should know that my toxic trait is enabling others to purchase Disney Parks merchandise.
Proceed with caution because you might see some mugs that you "need."
ABC Mugs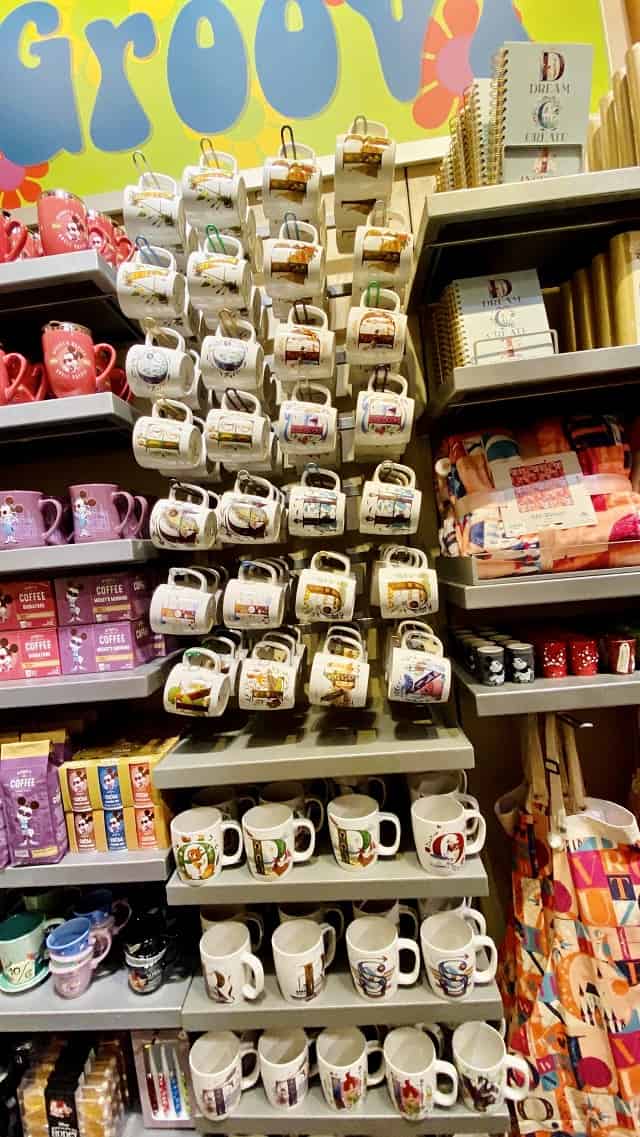 Walt Disney World and Disneyland each have their own versions of the alphabet. Some letters like "E" for Enchanted Tiki Room work for both parks. However, some letters like "C" is for Castle have a variant for each park.
The Disney Parks ABC mugs are not really new. They appeared on ShopDisney.com several months ago. However, they have been around long enough now to know whether they are worth bringing home.
I have accidentally acquired half the Walt Disney World alphabet. I can't help myself because aside from being adorable, they are great mugs in general.
What's Great About Them?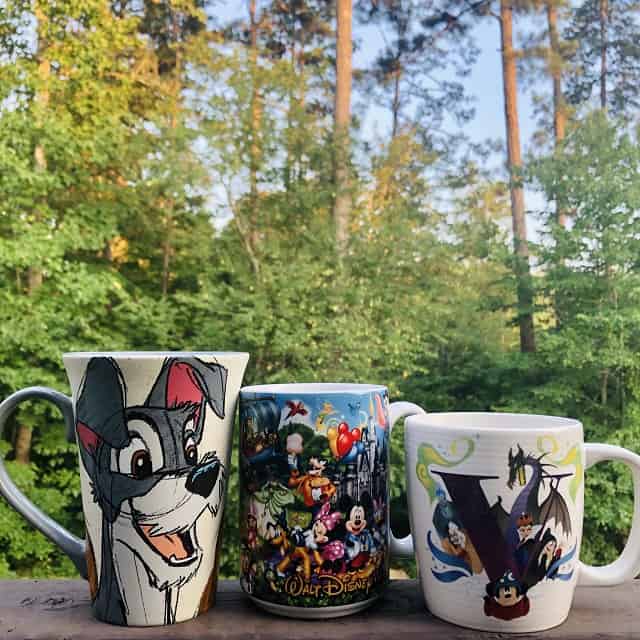 ABC Parks mugs put the "Fun" in "Functional." Whether you want to collect the initials of your family members, all your favorite attractions, or even the whole alphabet, they will help you start your day off with a delightful reminder of your favorite vacation destination.
As far as size goes, they hold 12 oz of liquid. They aren't over-sized, but they are not teeny either.
Even so, if you are a fan of Venti or a Trenta sized drinks, this one isn't going to work for you. If you like a nice single serving of coffee or tea, they are just right.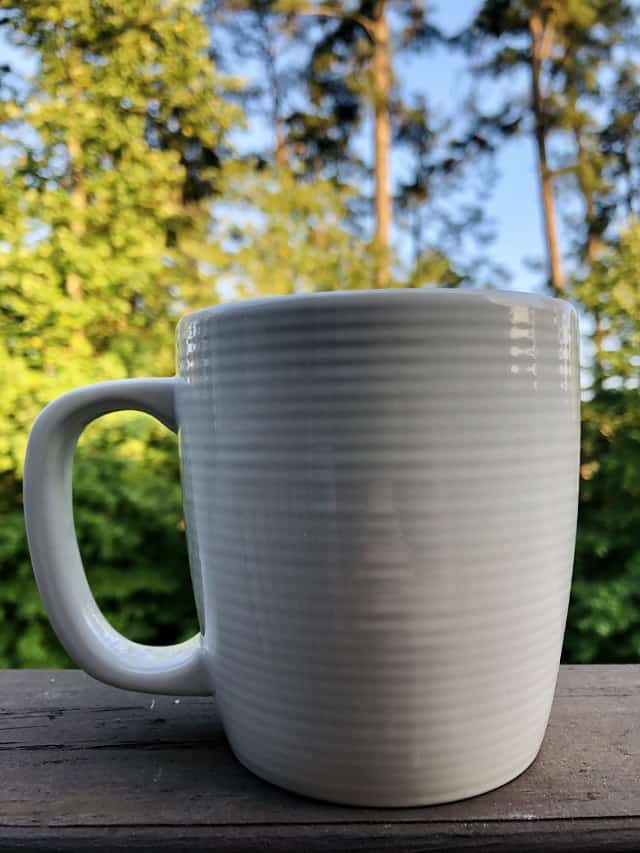 I love the plain, textured backs. If you like to bring a warm beverage to your Zoom meetings, you can display the "business side" or the "party side" of the mug depending on your audience.
Another great feature is that the handles of the mugs are grooved so that your thumb fits just so, and you can get a good grip on them. It is a little touch that I appreciate.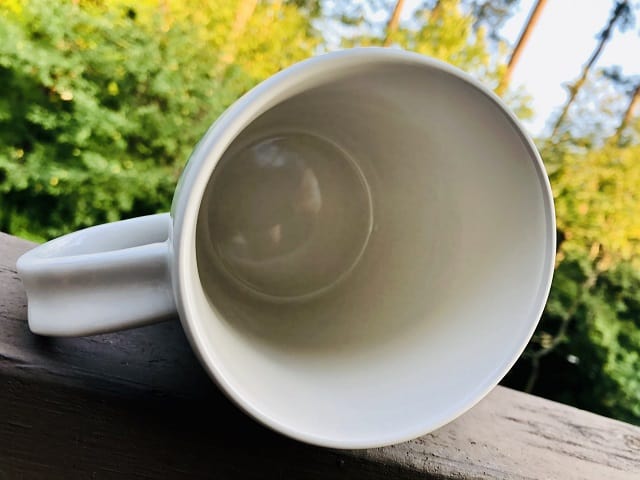 Even the bottoms of the mugs are adorable. Each has a little graphic in keeping with the theme of the mug.
Finally, if you are anything like me, you will be delighted to know that these mugs are dishwasher and microwave safe! Several of mine have been through quite a few wash cycles, and they have washed up perfectly.
These Mugs are Dishwasher Safe
Your KtP Writer's Crew loves them too! We have collectively almost gathered the entire WDW alphabet.
A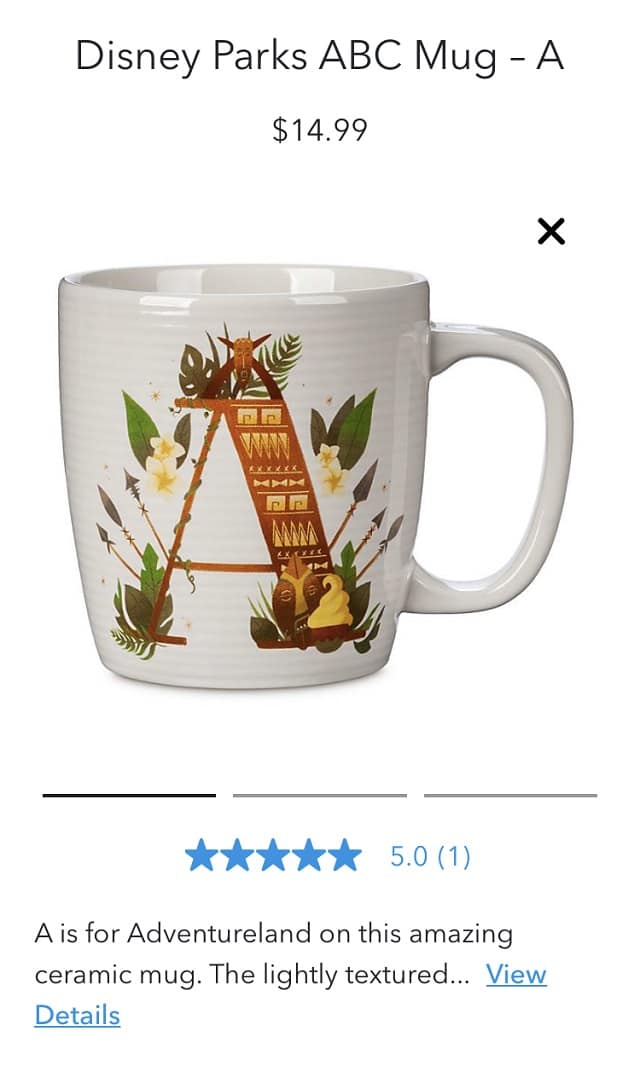 "A" is for "Adventureland!" It has quite a few Adventureland graphics distributed across the surface.
It even includes a nod to another "A" for "Aloha Isle." Dole whip fans will be able to appreciate the little Dole Whip Graphic!
B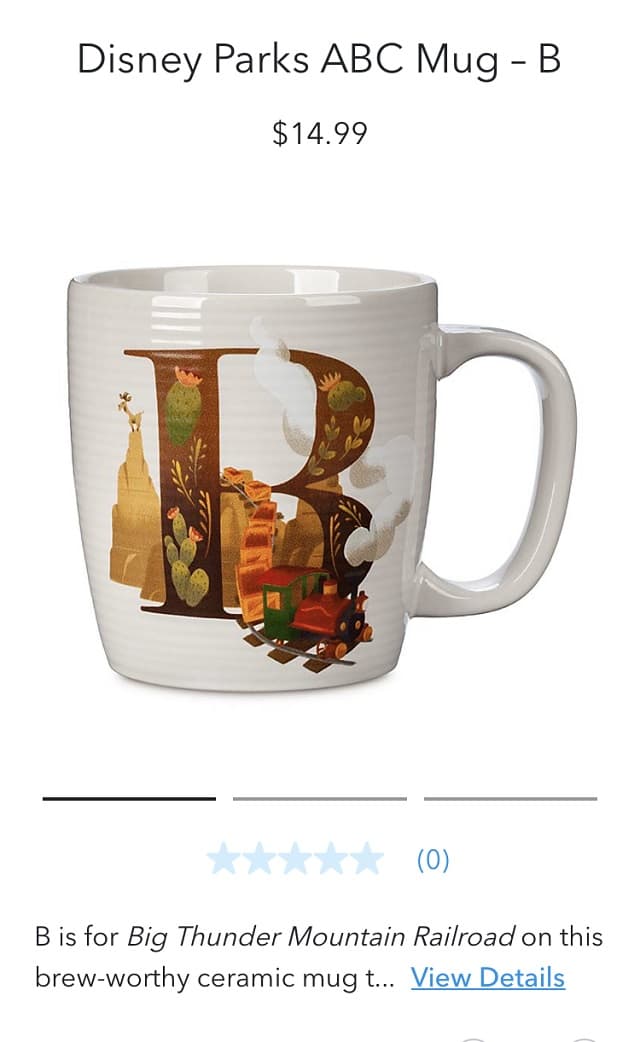 "B" is for "Big Thunder Mountain Railroad." The bottom of this mug even has the cute little train graphic stamped onto it.
I do not know how this one has not made its way into my cabinet. It's a classic for sure.
C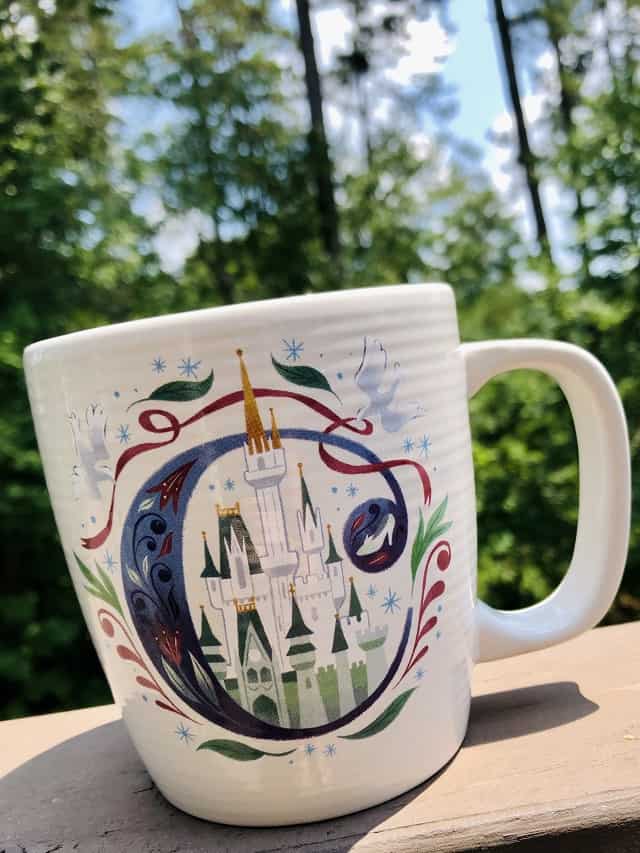 "C" is for "Castle." This is my favorite from the entire collection!
The Walt Disney World Version features Cinderella Castle (pre-makeover). The Disneyland version features Sleeping Beauty Castle.
Both are lovely. If you have a case of castle nostalgia, these will definitely make your morning coffee or tea feel magical.
D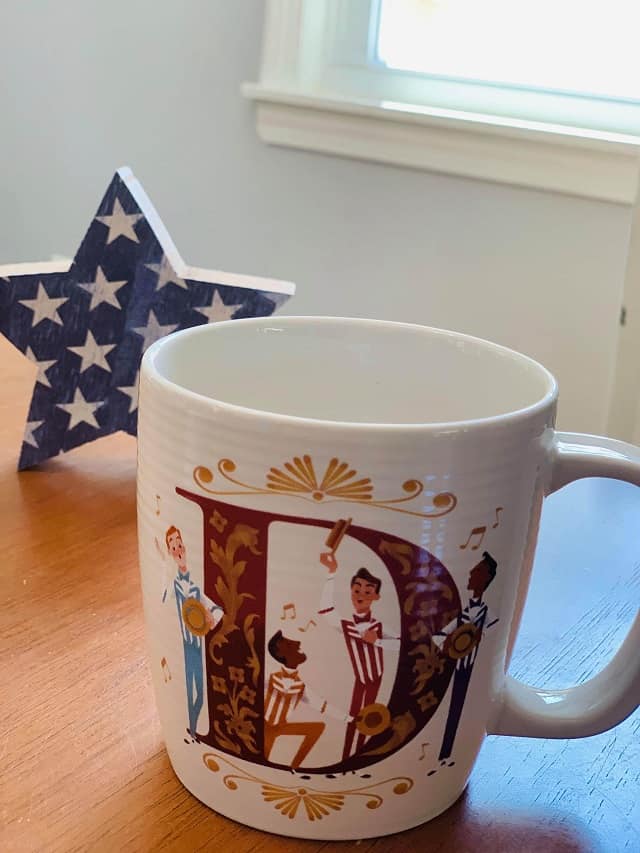 "D" is for "Dapper Dans!" There are a number of "D" attractions: Dumbo, DINOSAUR, Discovery Island, etc, but I think it's cool that Disney gave a nod to this iconic barbershop quartet instead of a ride.
While you cannot currently see the Dapper Dans in action at this phase of Walt Disney World's reopening, you can have them over for tea. You can also watch a fun Dapper Dan performance of "A Dream is a Wish Your Heart Makes" by clicking here.
E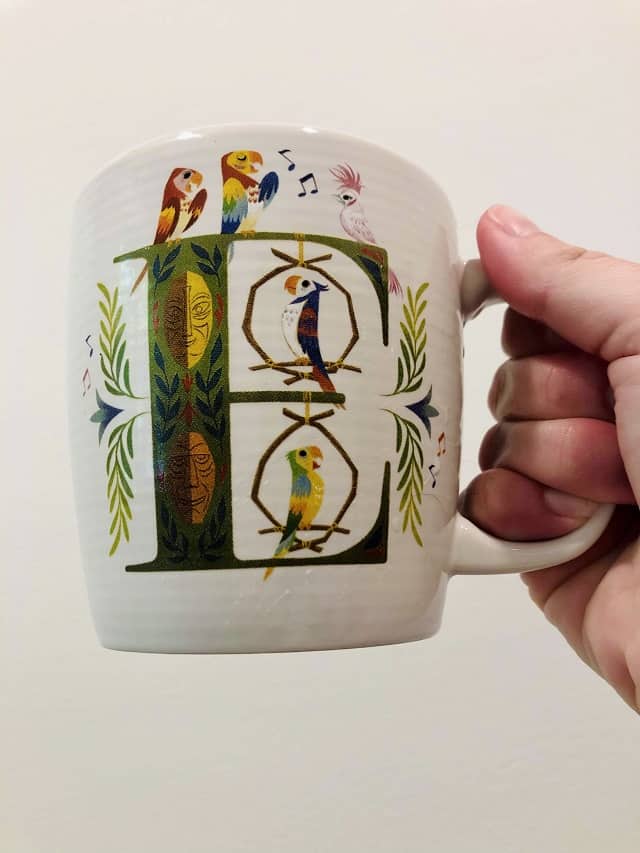 "E" is for "Enchanted Tiki Room." Dose anyone else hear this mug?
If you have always wanted to sip from a tiki-tiki-tiki-tiki-tiki mug, this is just the thing for you. It features likenesses of the animatronic birds from the classic Disney attraction.
F
F is for "Fantasyland." What would the Magic Kingdom be without Fantasyland?
And what would your mug collection be without Fantasyland for that matter? This mug showcases Tinkerbell and Storybook Circus as well as icons reminiscent of Snow White, Little Mermaid, and the Mad Tea Party.
G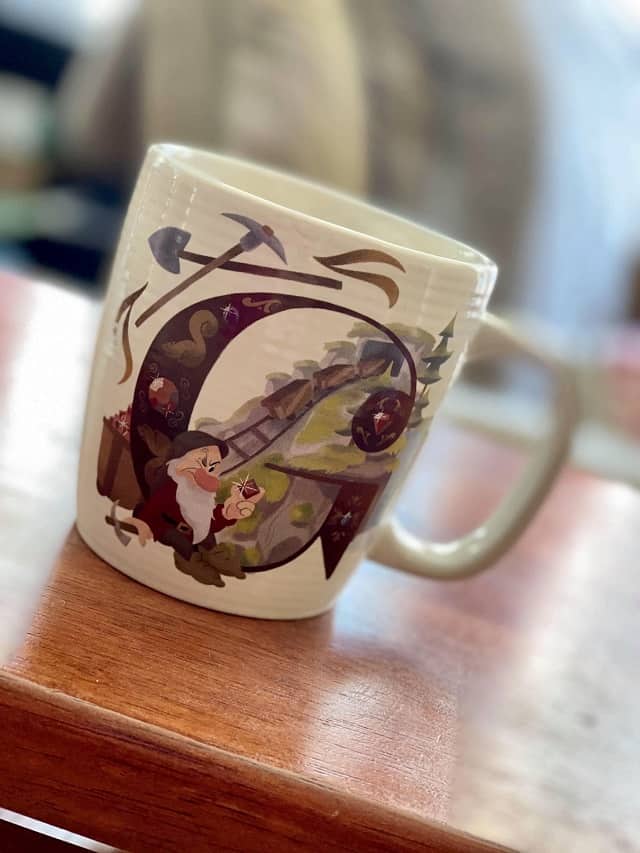 "G" is for "Grumpy." This little Dwarf also appears on a Seven Dwarfs Mine Train backdrop.
If you are a Seven Dwarfs Mine Train fan and collector, this mug is a must. It's also perfect for the Grumpy fans in your life, particularly if "G" happens to be their initial.
Disneyland does not have a Seven Dwarfs Mine Train attraction. So, the "G" mug is represented by Grizzly River Run instead.
H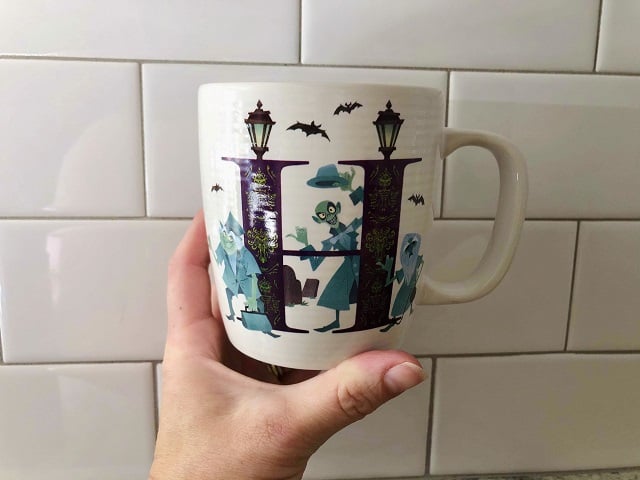 "H" is for "Haunted Mansion." It is no surprise that this mug sells out quickly each time it is re-stocked. Haunted Mansion has its own following.
Haunted Mansion fans will enjoy the Hitchhiking Ghosts featured on this mug. They will also be delighted to find that the "H" is decorated with the attraction's famous wallpaper.
I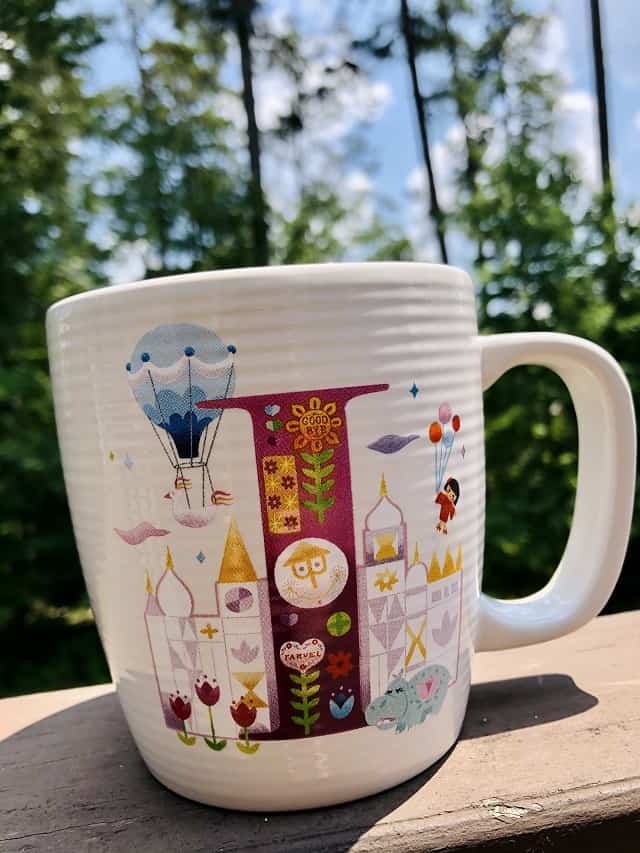 "I" is for "it's a small world." This mug is colorful and one of my favorites in the collection despite the fact that it reminds me of the static-y hold music that plays during those long holds with Walt Disney World.
If you love Mary Blair or small world, you'll love this small piece of the magic. If you don't love the song, you may want to skip this one, as other Disney fans in your home may start singing when they see it.
J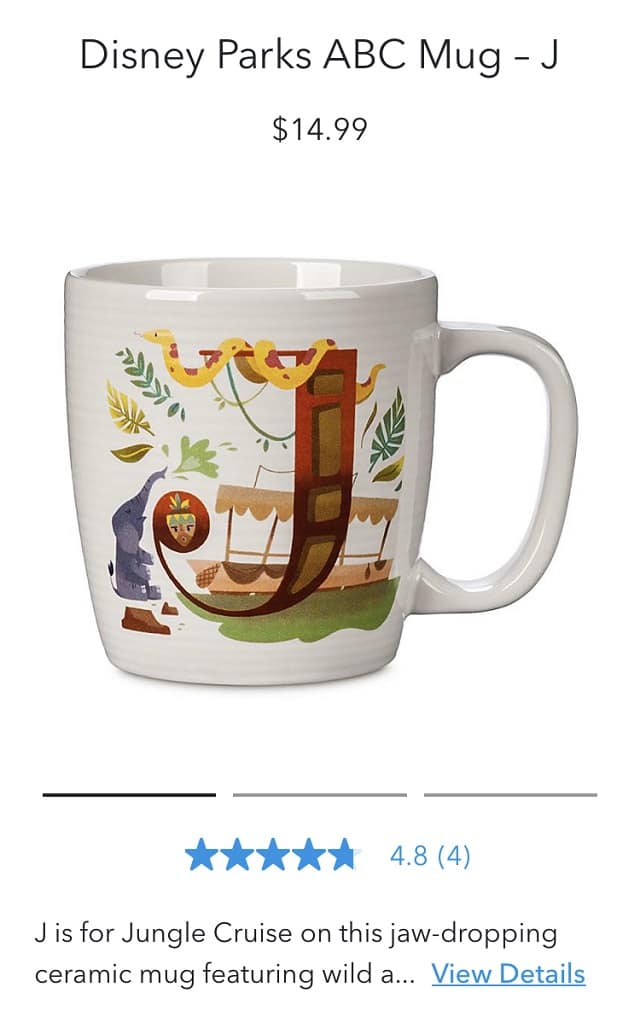 "J" is for "Jungle Cruise." This classic is the star of the "J" mug in both parks.
This mug depicts several memorable parts of the ride such as the little elephant (do you know how to tell whether he is an African Elephant or an Indian Elephant?) and the not-so-little anaconda. However, if you want to see the Jungle Book or the Backside of Water, you'll have to visit the parks.
K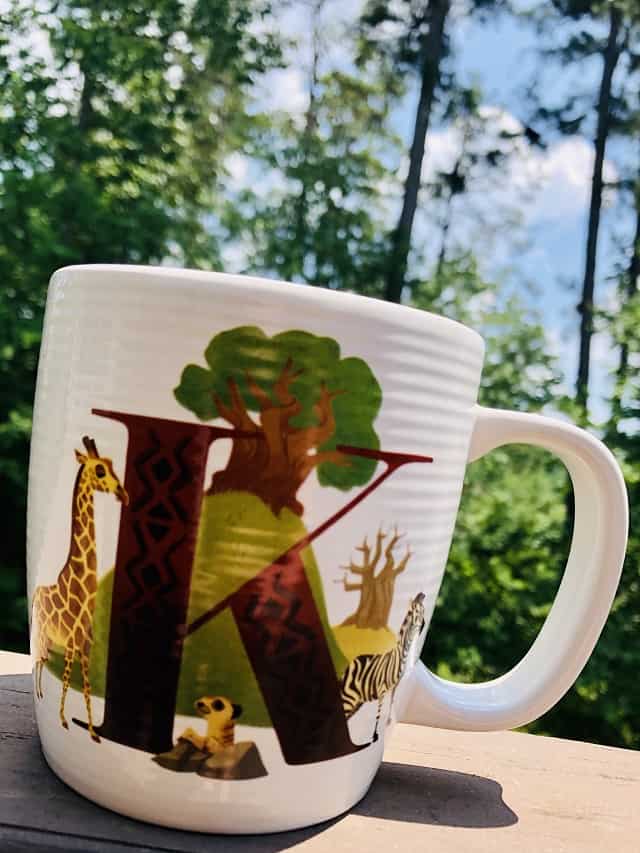 "K" is for "Kilimanjaro Safari." It just so happens that Kilimanjaro Safari is one of my favorite attractions, and my name starts with a "K," so when I saw this mug, I had to have it.
The letter "K" just also happens to be the first letter in the name of my favorite Disney Blog. It is a perfect mug on many levels.
The Disneyland version is quite different. The West Coast park gets King Arthur Carrousel for it's "K" cup.
L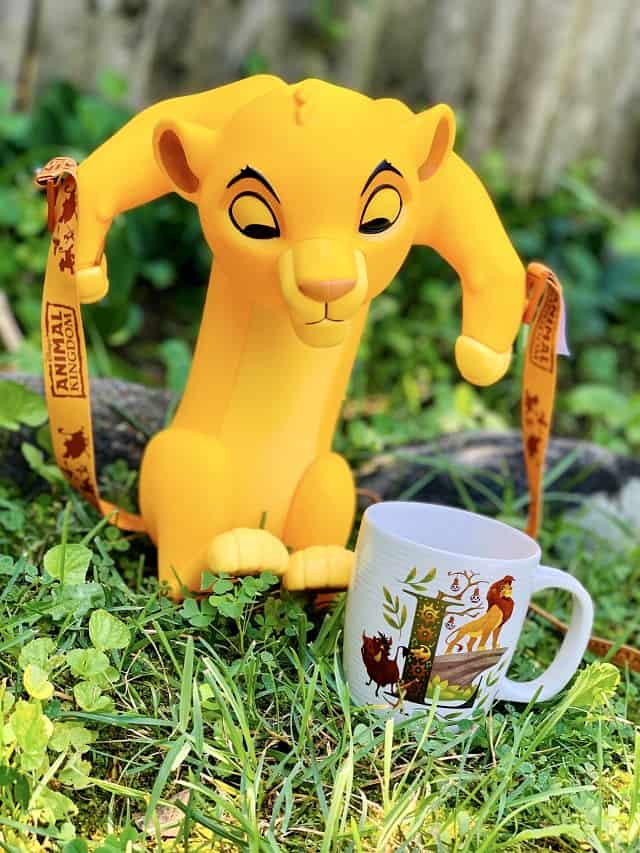 "L" is for "Lion King." Fans of Animal Kingdom's "Festival of The Lion King" show need this mug! It is a perfect memento of the magic.
Disneyland has it's own "L." #95 Lightning McQueen makes an appearance on this mug, and it is covered in images representative of Cars Land.
M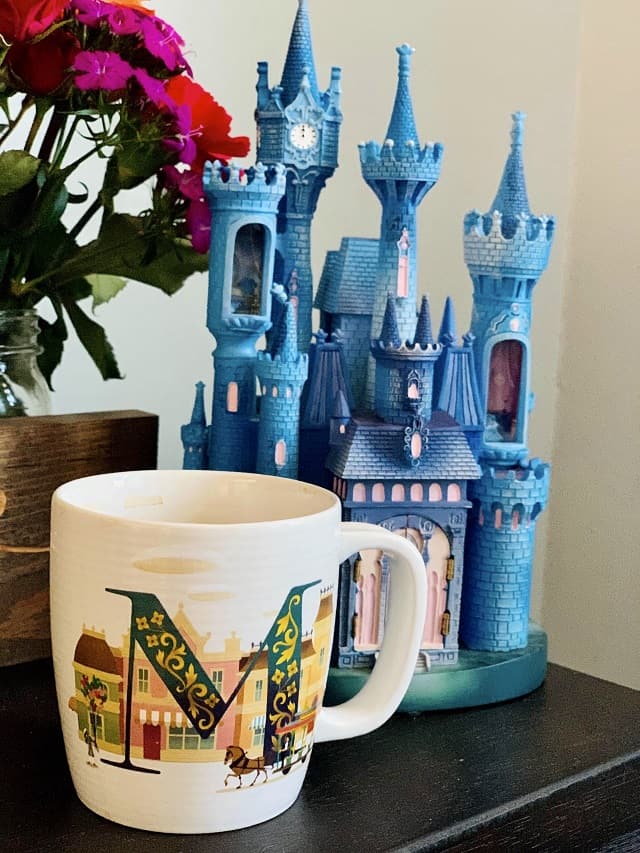 "M" is for" Main Street!" If nothing makes you so happy as strolling down Main Street, you may want to grab this mug.
As I mentioned, Disneyland has a different "M." Letter #13 is represented by the Matterhorn.
N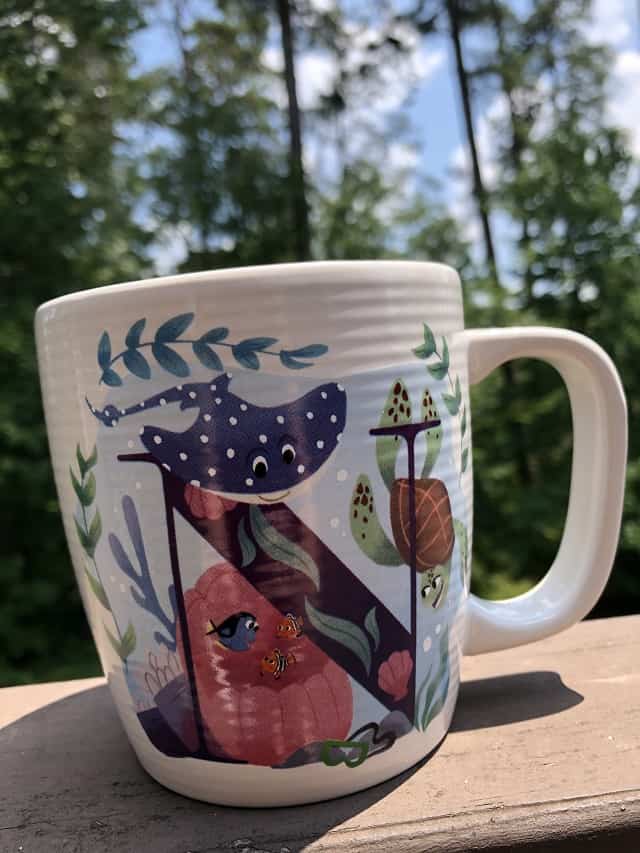 "N" is for "Nemo!" If you love the film, you will love this mug.
One of my kids loves the Seas with Nemo and Friends. It isn't unusual for this mug to prompt her to launch into "In a Big Blue Wooooooorld."
Interestingly, the Disneyland "N" is also for Nemo, but it is an entirely different mug. Instead it celebrates the "Finding Nemo Submarine Voyage."
O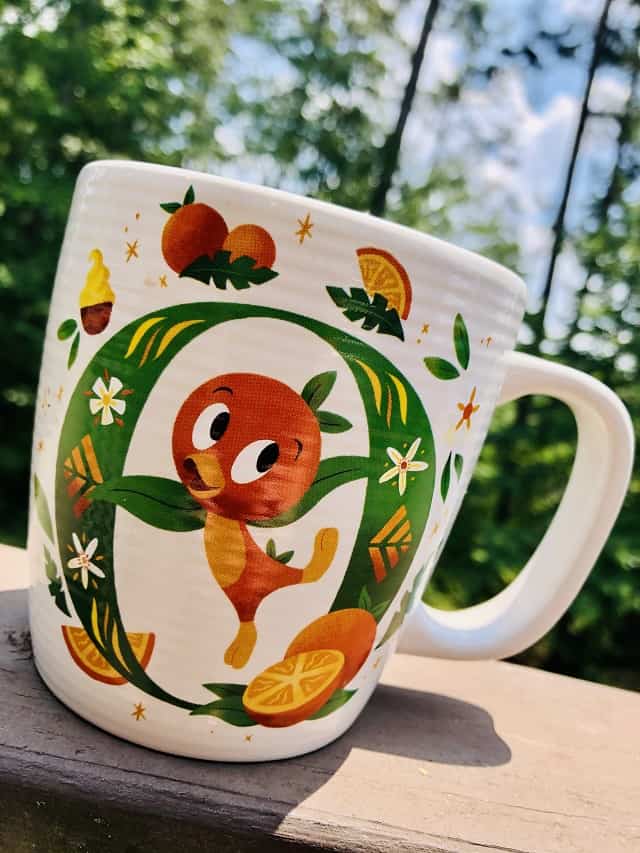 "O" is for "Orange Bird." The Orange Bird is wildly popular in my house. While I personally am on team Dolewhip, Sunshine Tree Terrace is a must-do for other members of my household.
Apparently the Orange Bird's fan base is far reaching because this mug seems to disappear quickly when it is in stock. So if you see and think you might want it, don't delay for too long before heading to the check-out.
P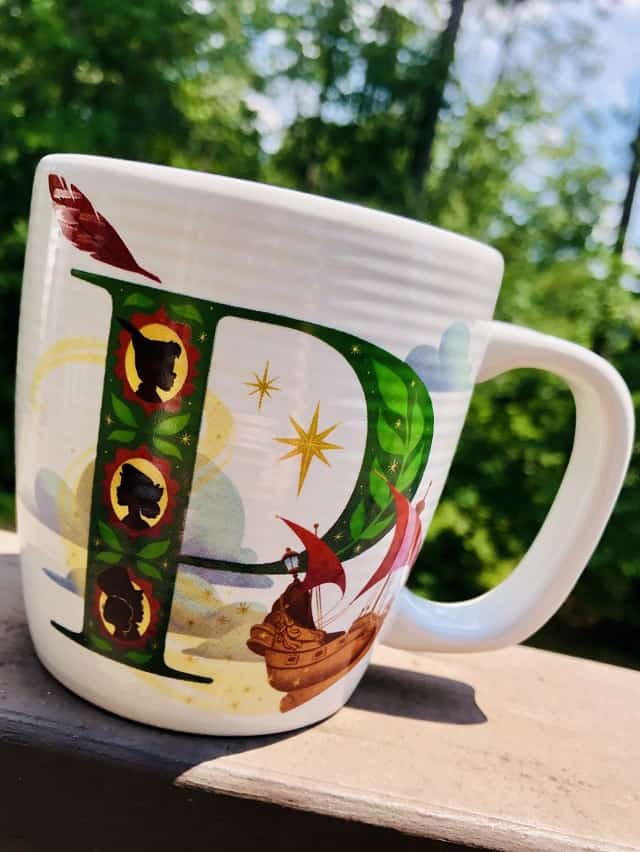 "P" is for "Peter Pan's Flight." Call me nostalgic, but nothing makes me feel like I am in Disney World quite like Peter Pan's Flight.
It depicts the Jolly Roger, the Second Star to the Right, and Silhouettes of Peter Pan and the Darling Children. If you love the Classic attractions that are reminiscent of your youthful days, this mug might make for a fun trip down memory lane.
Q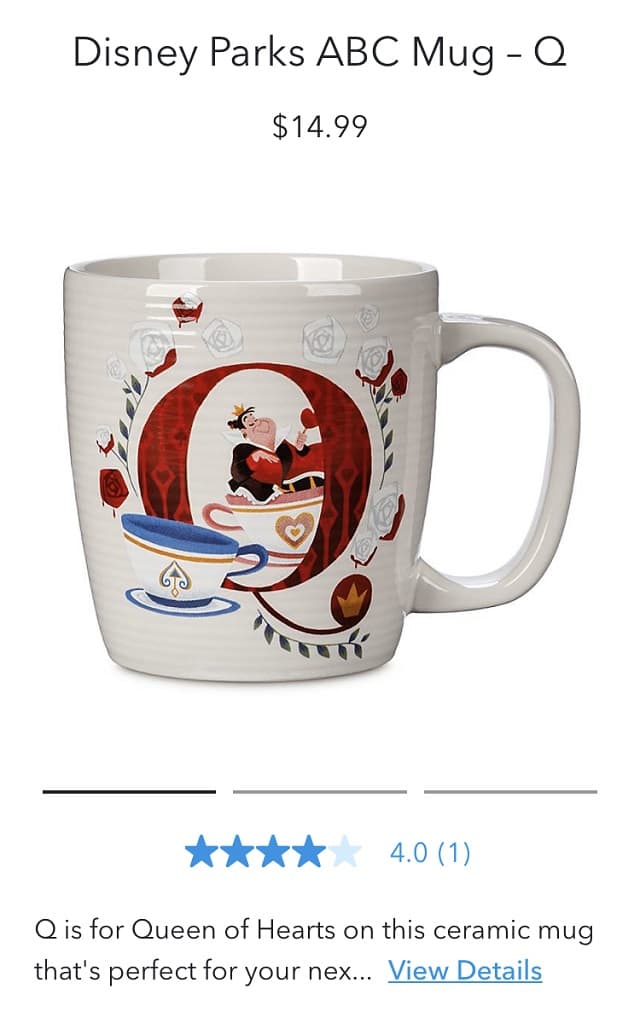 "Q" is for "Queen of Hearts." Q is always a tricky letter in the land of the alphabet, but Disney used the Queen of Hearts for an attraction tie-in with the "Mad Tea Party."
I imagine it also is a delight for Alice in Wonderland fans because the queen is not a character that appears on a lot of merchandise. I particularly like how some of her roses have been painted red!
R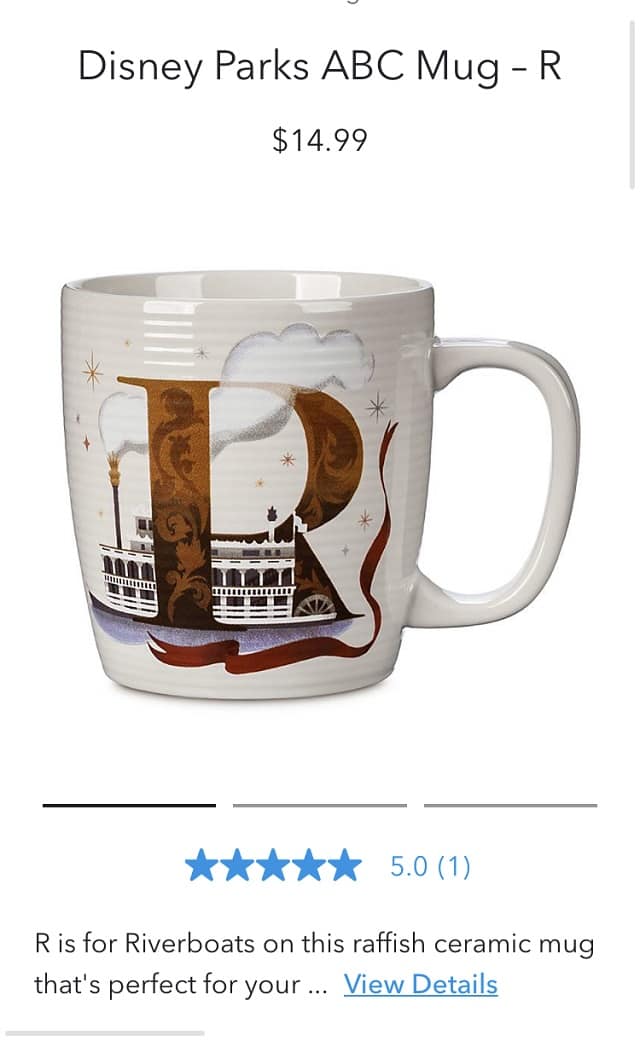 "R" is for "Riverboat." If you have ever hung out around Liberty Square, you have surely seen the Riverboat paddling its way along a scenic tour.
This ride is ALMOST one of the park's original attractions; it opened on the second day of Disney World's run. Purists will probably disagree, but I would say that's close enough to count.
S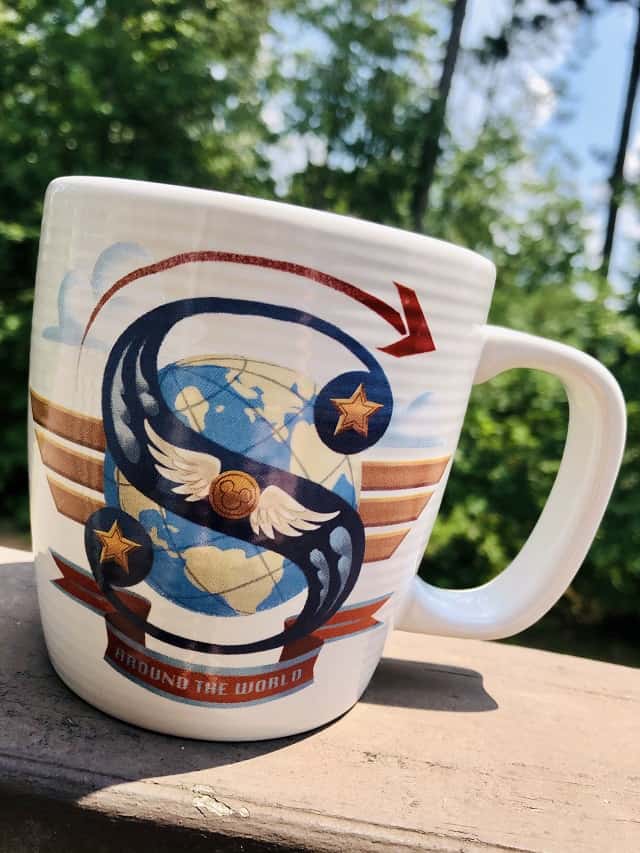 "S" is for "Soarin' Around the World." Soarin' is one of my favorite attractions, so I had to have this one. When I use it, I want to say, "Nice work, mug."
It would be pretty cool if Disneyland offered a Soarin' Over California version since sometimes the old favorite returns. Alas, Soarin' Round the World is the only option.
T
"T" is for "Tomorrowland." I love everything about this mug.
Much like Fantasyland and Adventureland's mugs, this one has references to multiple attractions throughout the land. Space Mountain and Astro Orbitor art work decorate this one perfectly.
U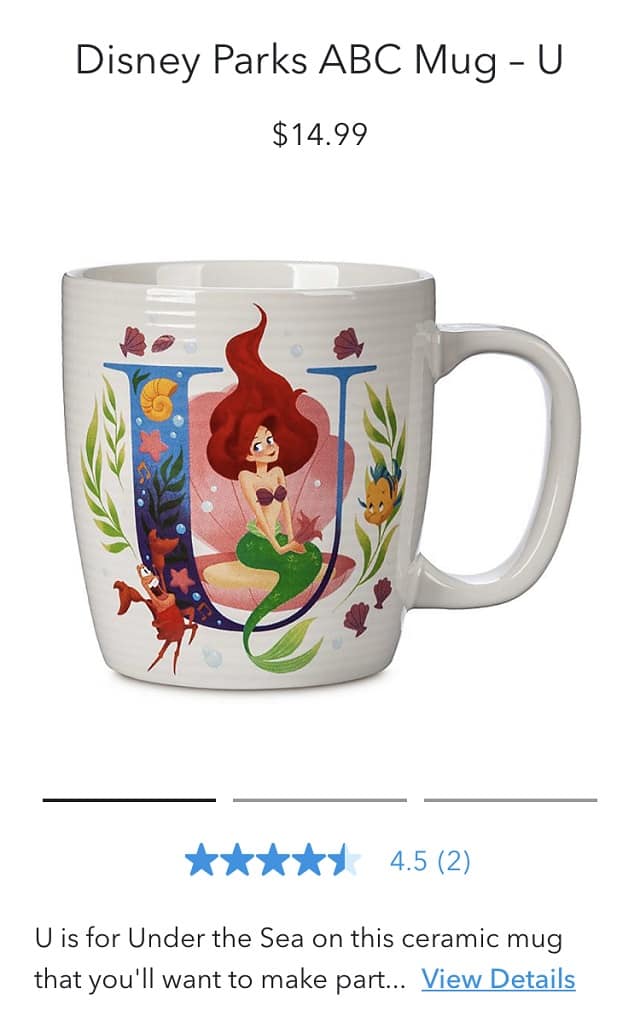 "U" is for "Under the Sea." Ariel fans, this one is for you!
This mug is a nod to Under the Sea, Journey of the Little Mermaid. Whether you are a fan of the film or the dark ride, this mug is a great memento.
V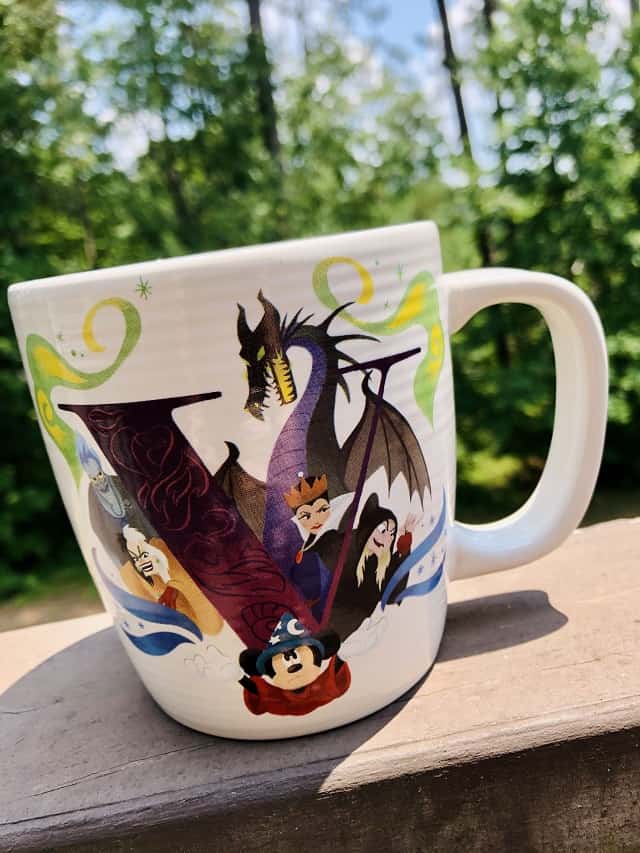 "V" is for "Villains." I bet you can't look at this mug without missing "Fantasmic."
This is another one of my favorites. Sorcerer Mickey is up against his many foes including Cruella, Maleficent, and the evil queen.
There is even a little Hook on the bottom! Both my kids are Fantasmic fans and love when I used this one.
W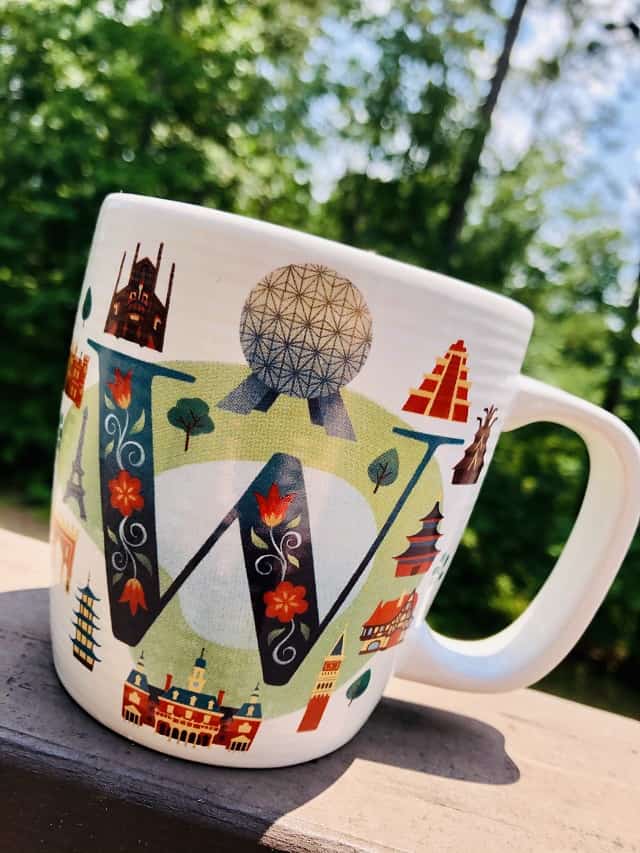 "W" is for "World Showcase." If you are an EPCOT fan, this is your mug! Instead of drinking around the world, you'll be drinking "out of" the world.
It is designed to depict all of the countries in the World Showcase AND Spaceship Earth. This is another of my very favorites.
Over In Disneyland, "W" is "World of Color." It is beautiful, and it is probably my Disneyland-specific favorite.
X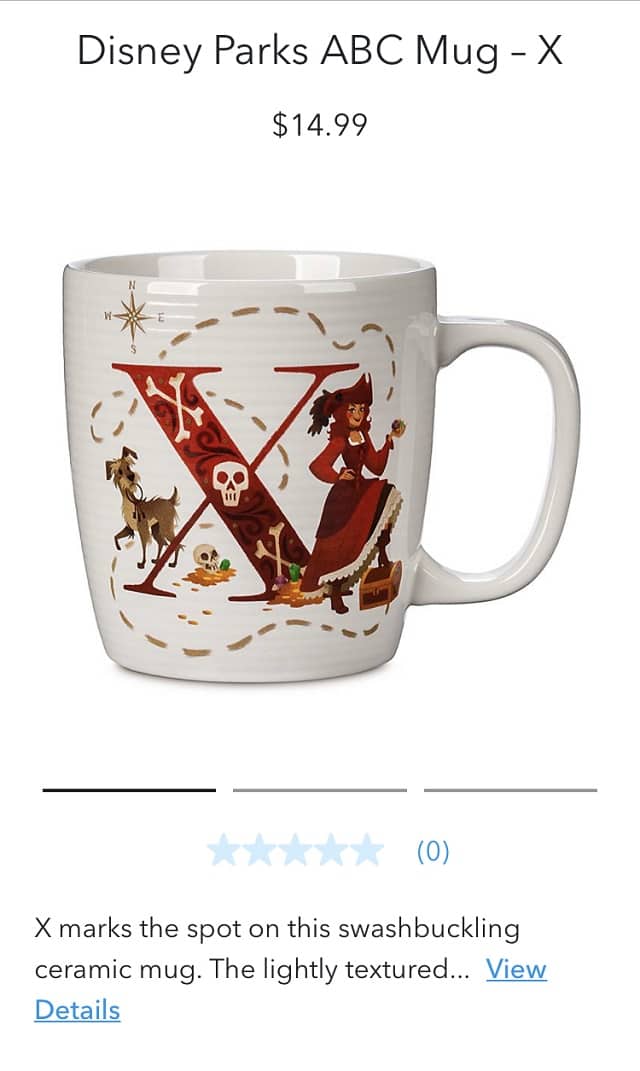 "X" is for "X Marks the Spot." In alphabet land, "X" is another tricky letter, fortunately Disney has JUST the attraction tie-in.
Pirates of the Caribbean is the star of this mug. It makes me want to sing, "Yo Ho, Yo Ho, A Pirate's Mug for Me!"
Y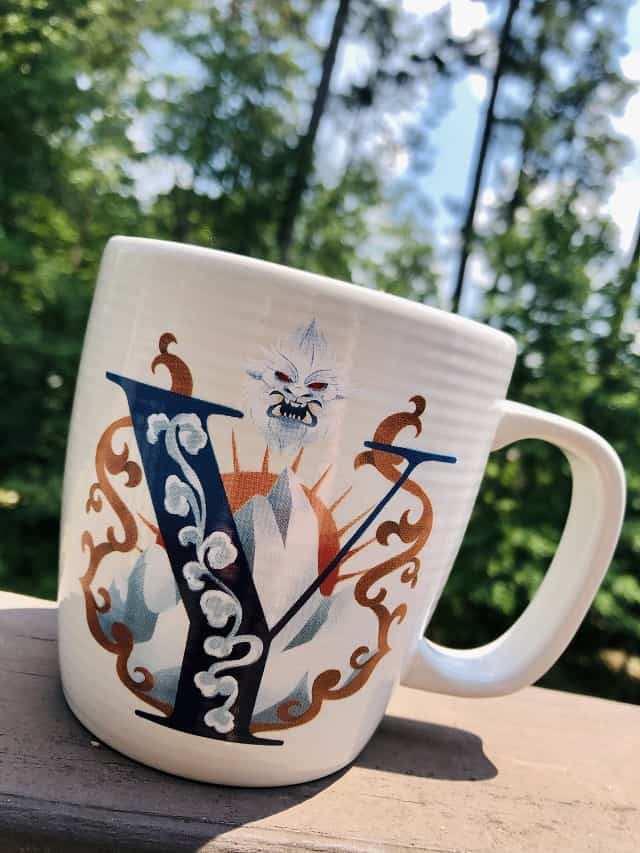 "Y" is for "Yeti!" If you love Expedition Everest, you will love this mug. This is one Yeti that is sure to work reliably well.
The Disneyland version is something completely different. The California Park's "Y" is Yen Sid the Wizard.
Z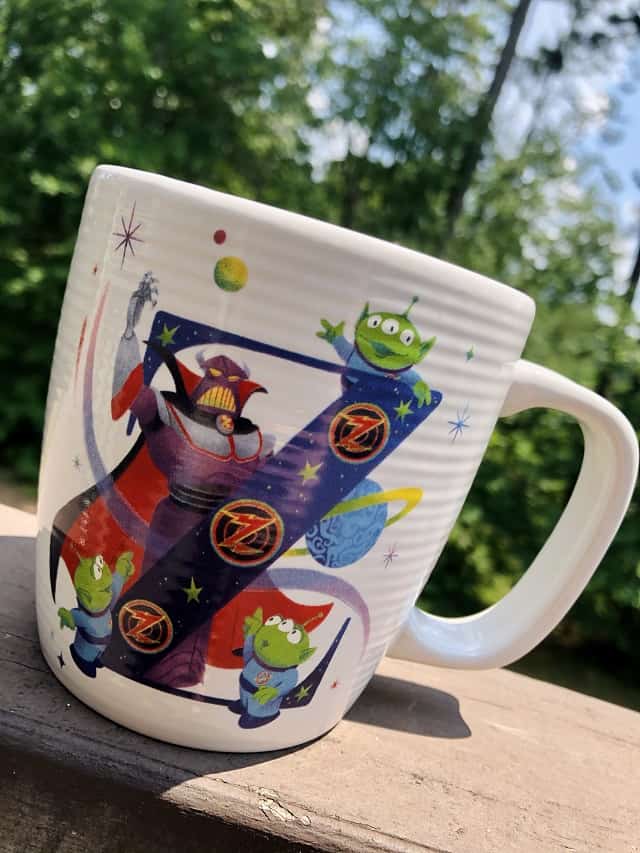 "Z" is for "Zurg." My kids love Buzz and Woody, but their very favorite Toy Story character is Zurg, and he is a hard character to find! So, we were excited about this mug.
We also love riding Buzz Light Year's Space Ranger Spin as a family. My kids pretend to shoot the "Z's" when I used this one.
Where to Find Them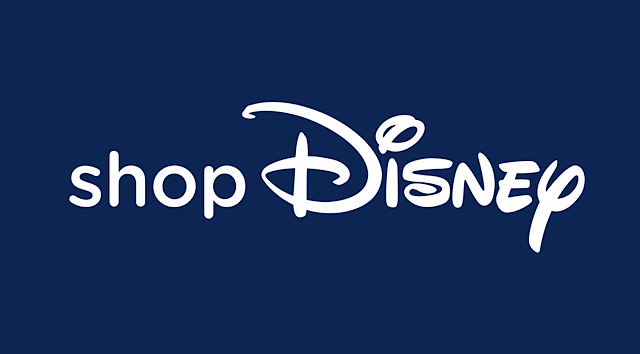 A number of these mugs are still available on Shopdisney.com. If you don't see your favorites, keep checking! Sometimes stock is added. I have noticed that there are typically anywhere from 11-26 styles in stock at any given time.
Now that Disney Springs and the parks are open, there are plenty of mugs for shoppers to find. The KtP writers ventured out to the parks recently and found them everywhere from the Pop Century gift shop to the Emporium in Magic Kingdom.
They were kind enough to send me a pair that I have missed grabbing when ShopDisney.com had them restocked. I owe them a round of Mickey bars!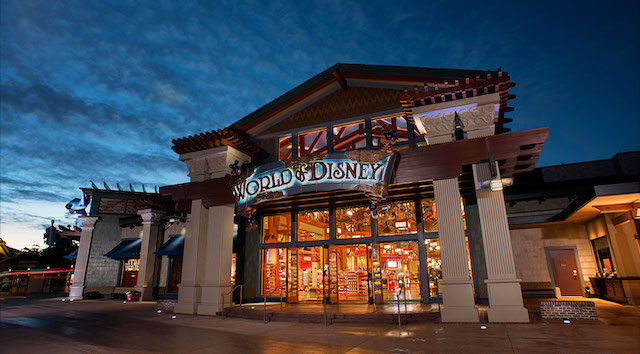 If you have a trip planned, you can pick up a few of these. The shops restock all the time, so check back if you are looking for something specific.
These mugs have proven to be a fun way to bring the parks home. I might even end up with the entire alphabet if I can leverage some space in my cabinet.
Which mug is your favorite? Let us know on Facebook! You can also join our friendly KtP Crew and continue the discussion there.