Rebecca reviews the details around flying in the time of coronavirus: airline policies, Orlando Airport policies, and the relative safety of flight.
A lot of Disney-goers are debating flying or driving to the parks to minimize their Coronavirus risk. You might be surprised to find that flying is safer than you think!
Is Flying Relatively Safe?
As we find out more information about the novel coronavirus, guidance changes. Scientists are now confident that Covid-19 is an aerosol virus.
What does this mean for flying? The answer may surprise you!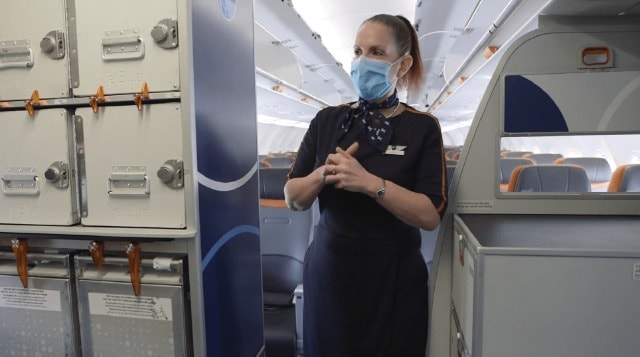 According to one researcher, flying does not significantly increase your risk of contracting Covid-19. Because airplanes constantly draw in fresh air, air is replaced frequently.
One reason doctors have recommended avoiding indoor restaurants is the fact that air conditioning systems move air around but do not bring fresh air in.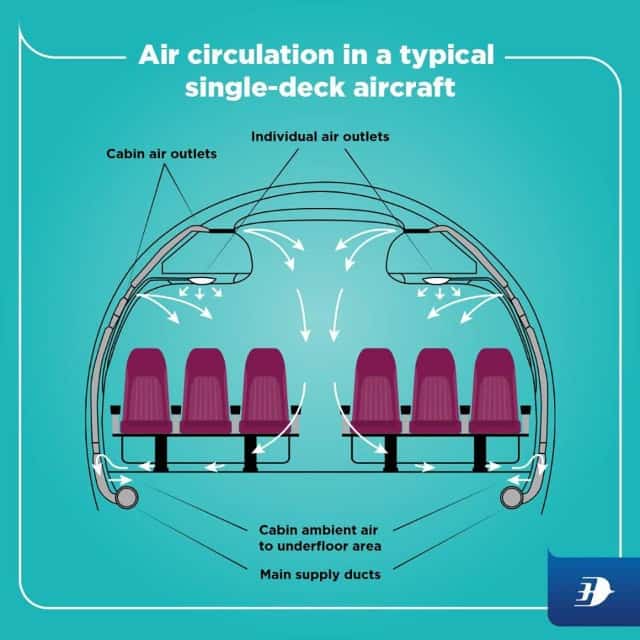 Airplanes have systems in place that do exactly what is necessary in order to minimize the amount of viral particles in the air around you: hospital grade HEPA filters and near constant fresh air.
MIT Professor Quantifies Risk
Arnold Barnett, a management science professor at the Massachusetts Institute of Technology has attempted to quantify the risk of contracting the novel coronavirus while on board a plane.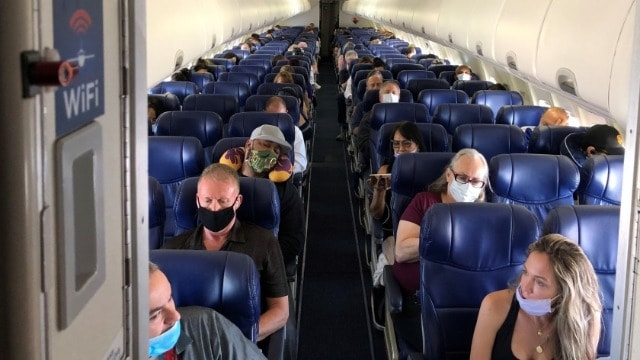 Because of the plane's filtration system, it is very unlikely that a passenger would contract the virus from anyone not in their immediate vicinity (same row, row behind, etc). Barnett factored in several variables and came up with a number: 1 in 4,300.
Further, Barnett's paper, which has not yet been peer reviewed, posits that the chances of contracting the virus is even smaller when the airline leaves middle seats unoccupied. In that scenario, the chance of contracting the virus drops to 1 in 7,700.
Airline Specific Covid-19 Policies
Southwest
My preferred airline, Southwest, has pledged to leave the middle seats unoccupied (except by family members) through at least October 31.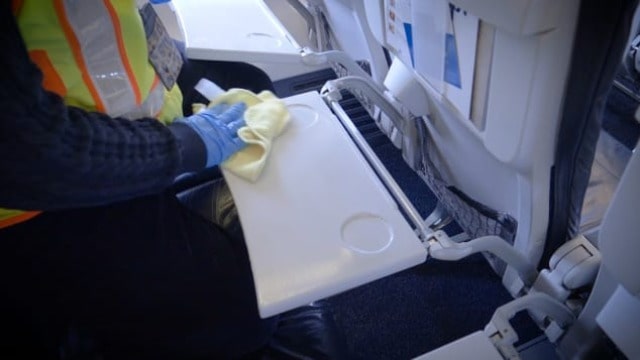 Want to fly free on Southwest? Check out my tips on earning points towards a companion pass here.
"If a Customer is unable to wear a face covering or mask for any reason, Southwest regrets that we will be unable to transport the individual."

Southwest Airlines Press Release
Southwest recently began requiring all guests ages 2 and over to wear face coverings on all flights with no exception. However, in an effort to speed up the cleaning process, they will only be sanitizing high touch areas between flights.
Delta
Another airline, Delta, also requires face coverings while checking in, waiting for a flight and during flights for all employees and guests over age 2. A face shield may be worn on Delta in addition to, but not in lieu of a mask.
Delta's seating policy at this time is unique. The system automatically blocks the seat next to your party when you select your seats. Cabin capacity is limited to 50% in the first class cabin and 60% in the main cabin.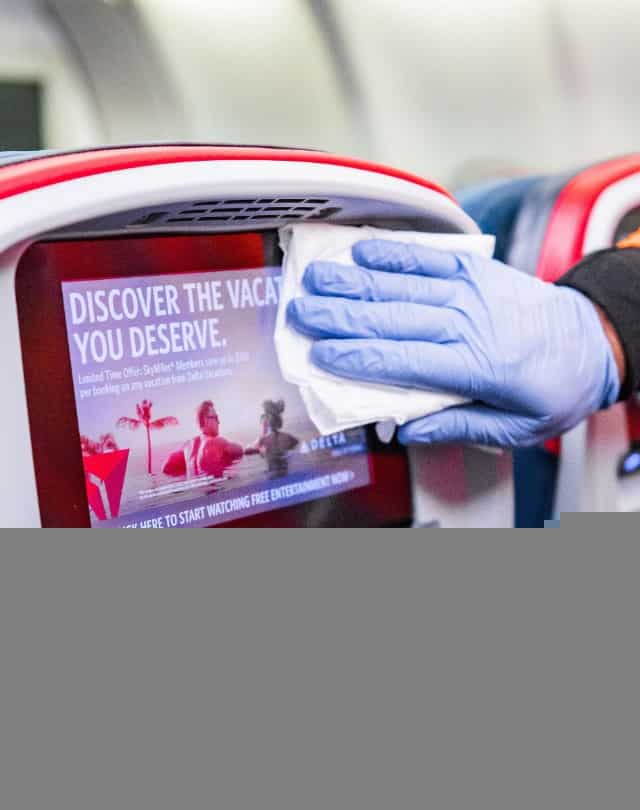 All middle seats are blocked on Delta, but parties of 3 or more have the option to select that middle seat for their own party.
On select routes, when demand is high, Delta will seek to upgrade to a larger aircraft to accommodate physical distancing.
Jet Blue
Jet Blue requires masks to be worn on their flights and in the airport. The airline will block middle seats through at least October 15. Jet Blue also boasts the most space between rows of any US airline.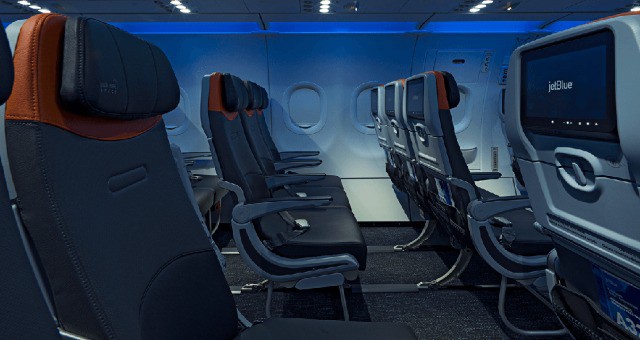 This airline's website mentions a touchless check-in experience and touts a new back-to-front boarding procedure to minimize having others walk past you for boarding and deplaning.
Jet Blue also shared this video on their aircraft filtration system:
American Airlines
American Airlines recently eliminated exemptions for disabilities and requires all guests over age 2 to wear face coverings for the duration of their flights and during time spent in the airports.
Guests checking in for an American Airlines flight will undergo a verbal screening for Covid-19 symptoms. American Airlines has a new touchless check-in experience and is handing out sanitizing wipes and gel on some flights.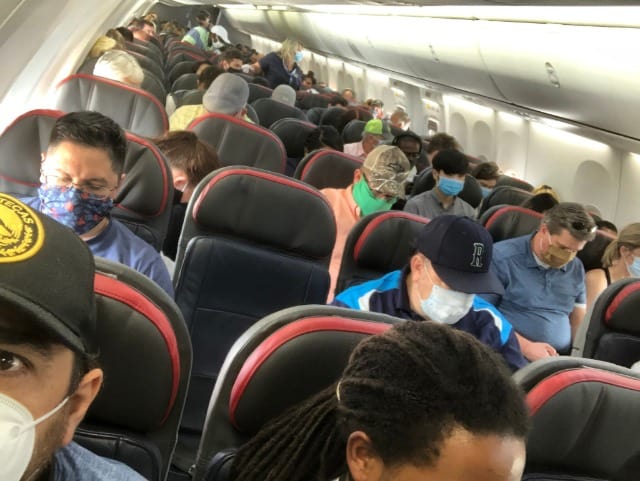 American Airlines is not taking measures to reduce passenger capacity on their flights as of July 1.
United Airlines
United Airlines requires all guests age 2 and above to wear face coverings when inside the airport and on their flights.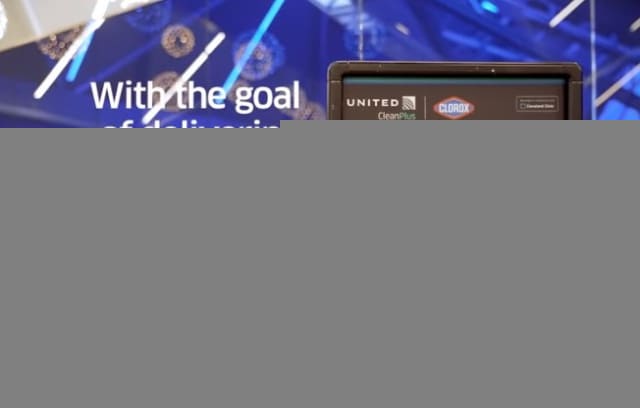 The airline has not implemented any measures to reduce the number of passengers on their flights. Their website states that if you feel the flight is too full for your comfort, you'll be allowed to rebook the flight without penalty.
"For regularly scheduled flights that are expected to be fairly full, we'll let you change your flight with no change fee or receive a travel credit for your trip. We'll do our best to contact you about 24 hours before your departure time so you can decide before you arrive at the airport."

United's FAQ "Should I expect my flight to be full?"
According to CNBC, 63% of US consumers are willing to pay more for a flight with reduced passenger capacity. At this time, I personally would avoid flying on United, Spirit or American Airlines, all of which are not reducing capacity on their flights.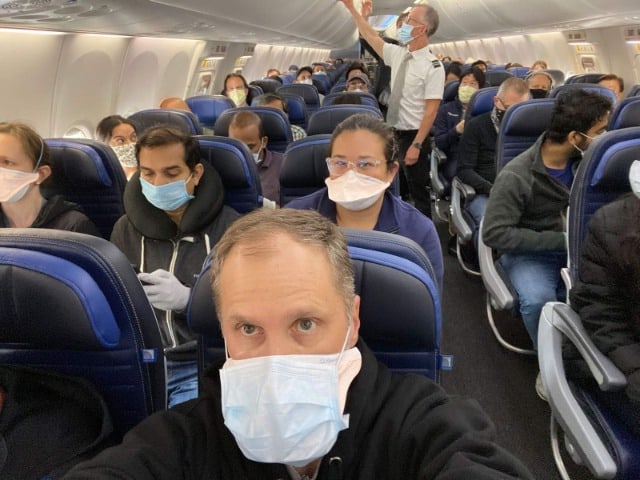 Orlando International Airport MCO
Jamie helpfully covered changes to Orlando International Airport including enhanced cleaning procedures, mask requirements and the installation of plexiglass to protect workers.
You will find countless hand sanitizer stations and social distancing markers on the floor. Additionally, The MCO twitter account is very responsive to complaints. If something is amiss, tweet them at @MCO.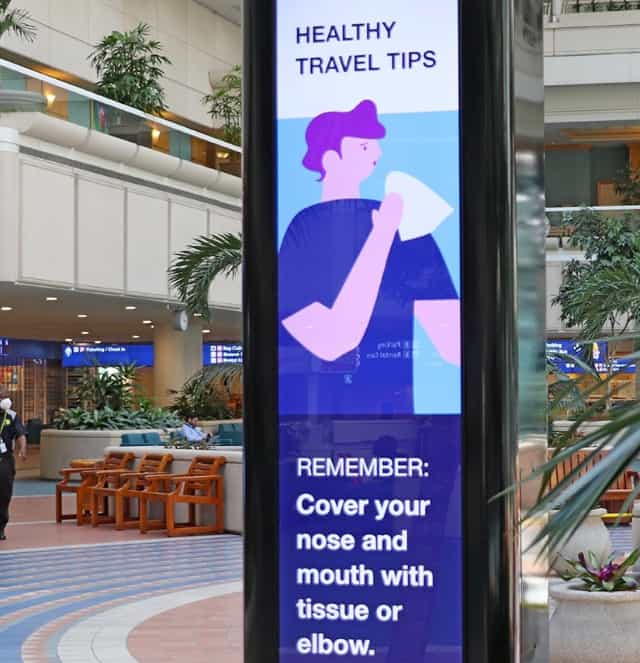 Changes to Disney's Magical Express and Luggage
There have also been a few changes to Disney's Magical Express service. The most important thing to note is that Magical Express is no longer picking up guest luggage. No yellow bag claim tags are issued at this time.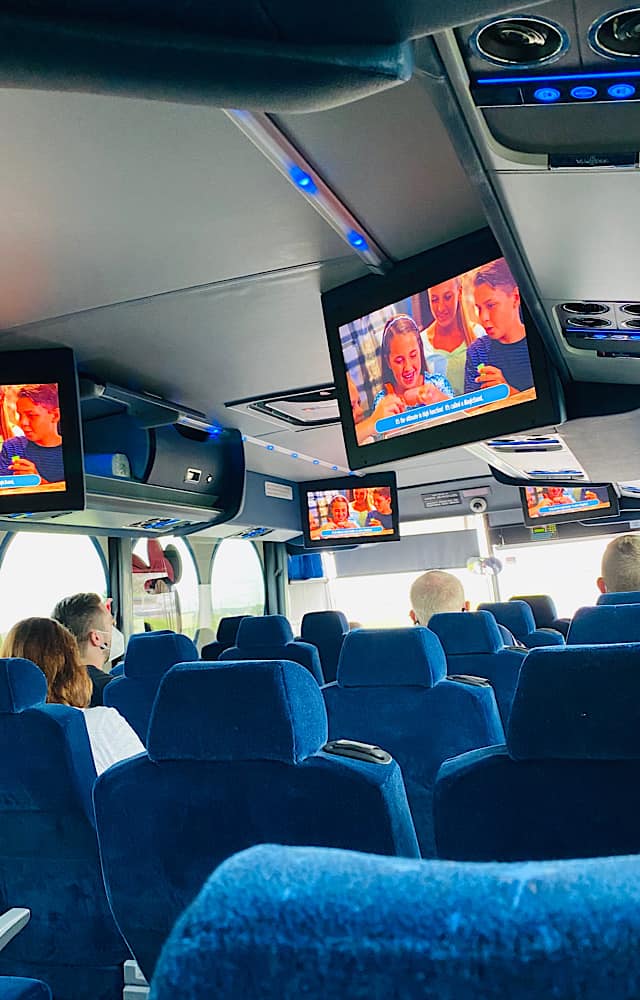 Guests need to collect their own luggage at bag claim and bring it with them to the Magical Express line. Jamie also helpfully wrote up her experiences and Magical Express changes here.
Resort airline bag check is currently unavailable. Guests need to bring their luggage with them on the Magical Express for departure from MCO.
Conclusion
Personally, I will be flying with my family to MCO like we always do. Since we fly for free (did I mention it's easy to earn Southwest points?), it's tough for us to pivot to driving from Virginia.
I felt comforted by the research from the MIT professor regarding virus transmission on airplanes. I'd be concerned about stopping along the way, not knowing how various localities are handling the pandemic.
We always fly Southwest, but I'd urge readers to research the policies of their chosen airline prior to booking. Forbes compiled a master list here.
Be aware of the changes to Disney's Magical Express service and the overall airport experience. You will need to handle your own luggage.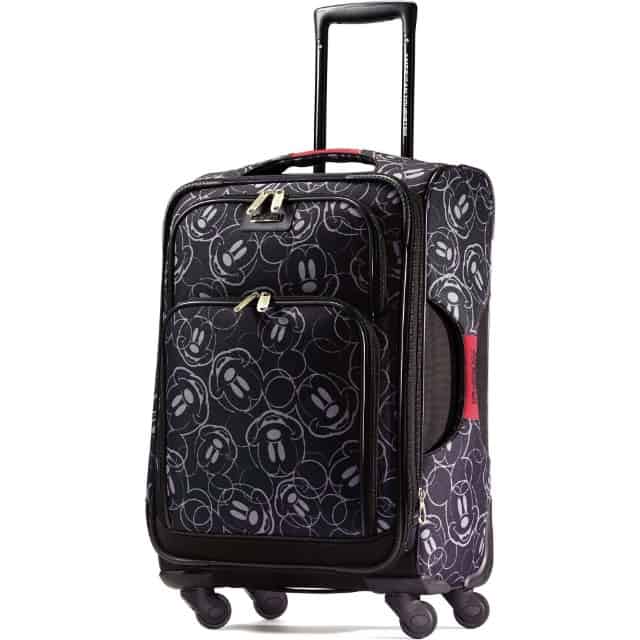 Are you planning to travel to Disney World soon? Will you be flying or driving? Let us know in the comments on Facebook and in our Facebook group.
-Rebecca W Davis