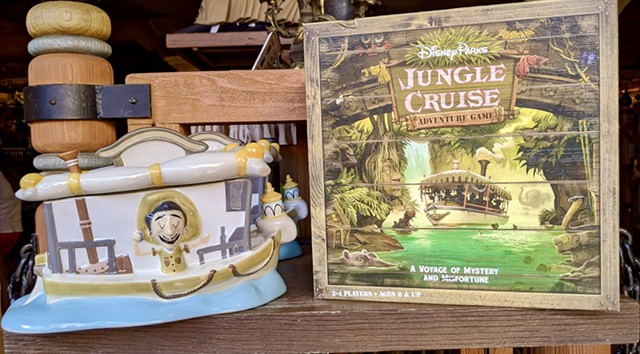 The Jungle Cruise turned 65 at Disneyland last month. To celebrate, Disney has created a new line of Jungle Cruise merchandise. Check out photos, details and merchandise locations here!
After seeing all of the new Jungle Cruise merchandise, I have the sudden urge to go out and buy several of the items! The quirky and corny Jungle Cruise vibe definitely comes out in these Jungle Cruise merchandise items.
Ringer T-Shirt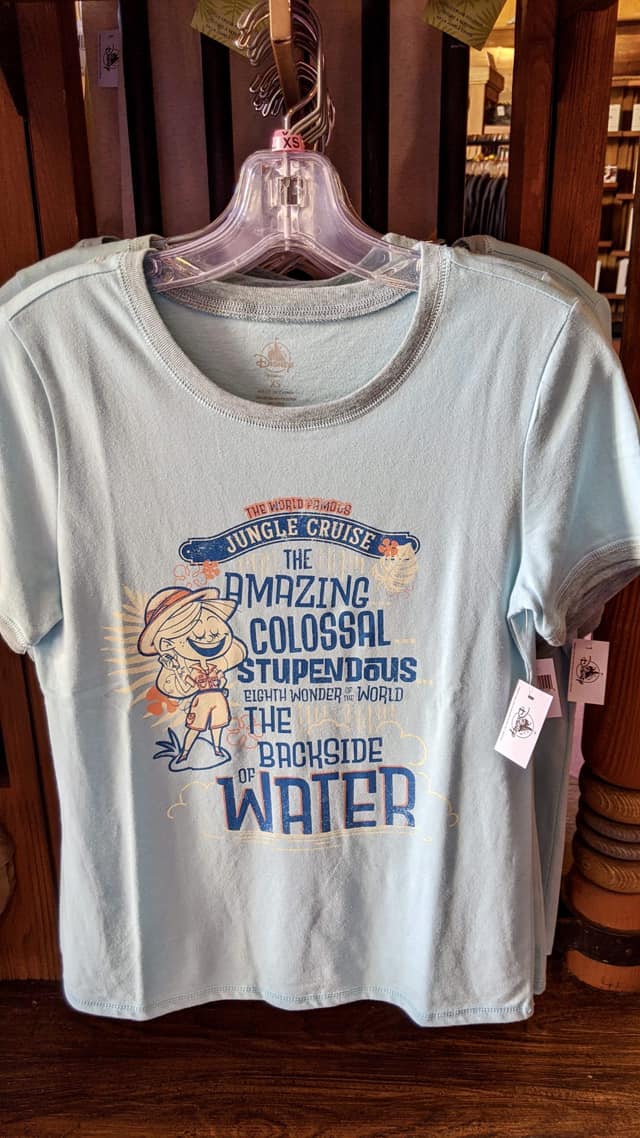 So fun to hear Jungle Cruise Cast Members describing the Backside of Water as "The amazing colossal stupendous Eighth Wonder of the World!" Now, guests can wear this fun ringer t-shirt to remember your trip down the quirkiest river cruise in the world.
Shirt consists of 60% cotton and 40% polyester, and is machine washable. This screen printed t-shirt is also available on ShopDisney.com for $36.99.
Disney Parks Adventure Game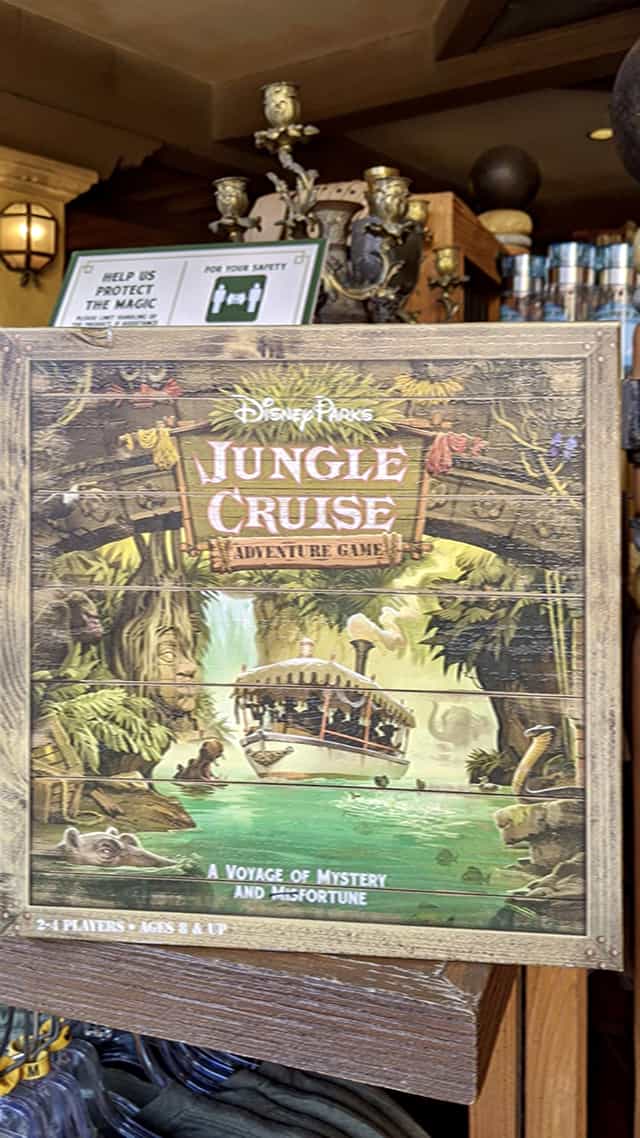 Want to bring the laughs home? Check out this hilarious board game described as an adventure of mystery and (mis) fortune. The game was originally released in earlier this year. However, this version is a Disney Parks exclusive that includes special event cards and deluxe game pieces. (See picture of game box back below.)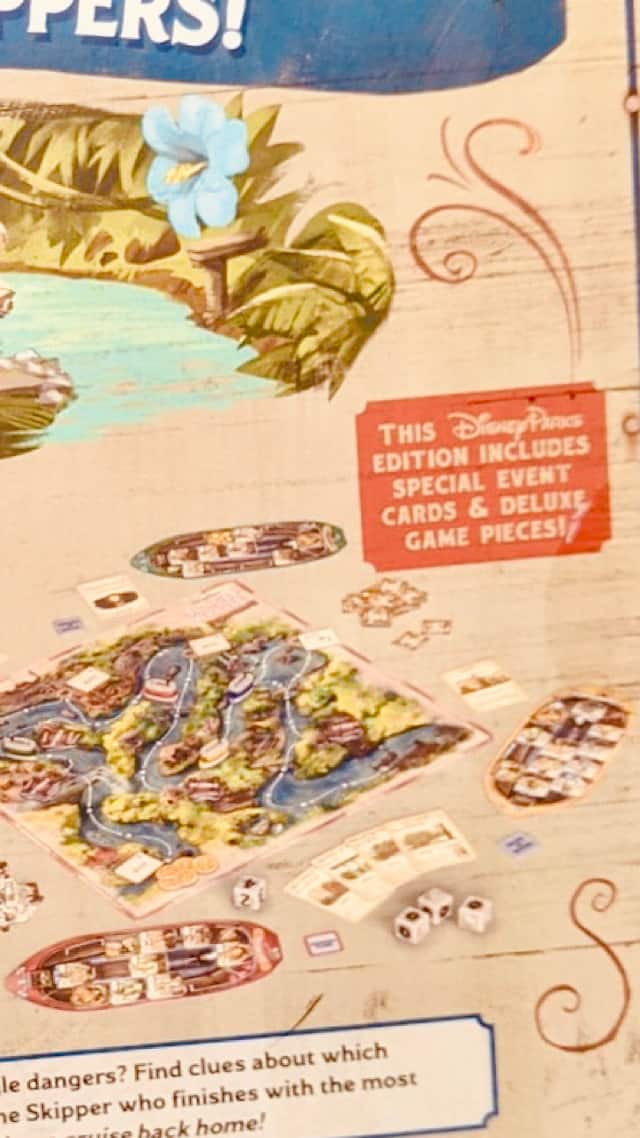 Each player is the skipper of their own boat, navigating through corny jokes and dangerous waters. Through a series of taking chances in various situations, deciphering clues, and earning points, the player with the most points wins!
This Jungle Cruise Adventure Game sounds like a fun family night! This exclusive Disney Parks edition retails for $44.95.
Check out a fellow KtP writer's article here to learn more about this creative game that debuted in earlier this year. The article also includes directions to play the game!
Pull-Toy
Disney Parks has released various pull-toys that are wildly popular with kids and the young at heart. Many people collect them, including my sister. The Jungle Cruise pull-toy features a whimsical skipper captaining his very own Jungle Cruise boat.
Since they're petite, they can fit in your suitcase, and make a fantastic gift that retails for $9.99.
Pins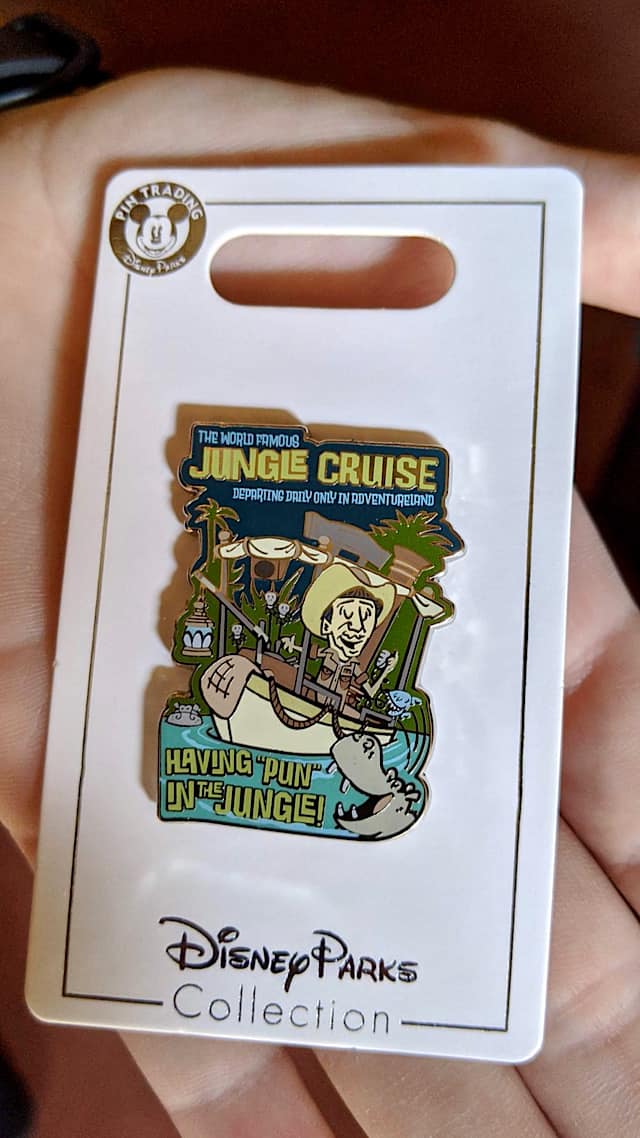 The above pin has my favorite quote: Having "pun" in the jungle! Haha! There's so many attraction details to take in! Doesn't look like the Skipper's worried about the peril ahead though. This pin currently sells for $9.99, and is a wonderful addition to pin collectors, including myself.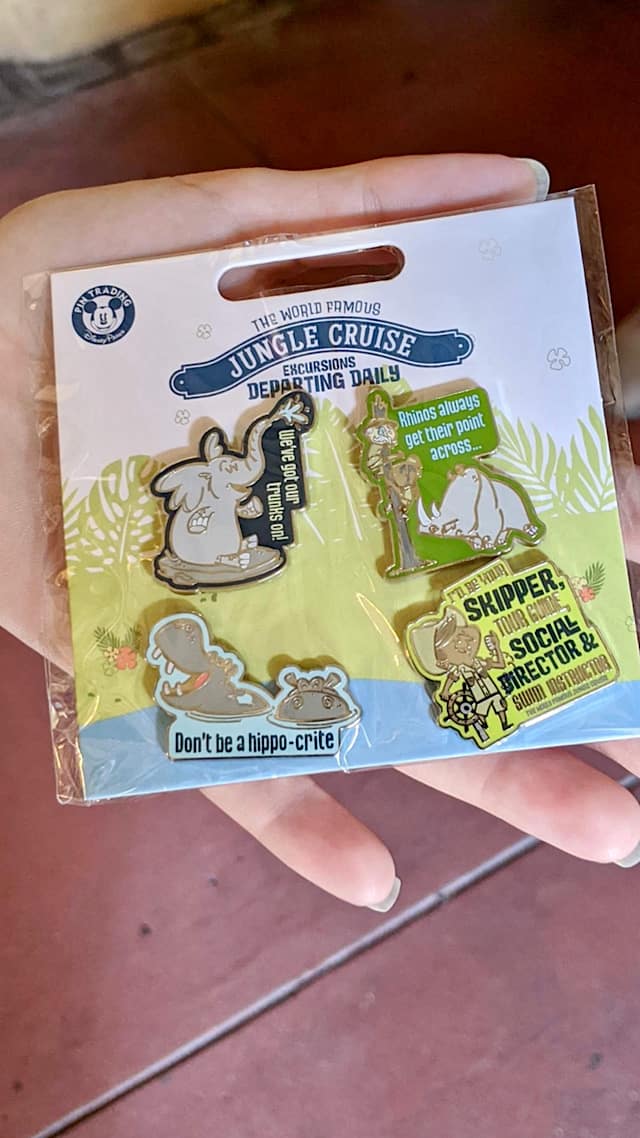 These corny jokes crack me up every time. I especially love the really animated Skippers! According to the pin above, he has a ton of different roles. The above pin set retails for $24.99.
Water Bottles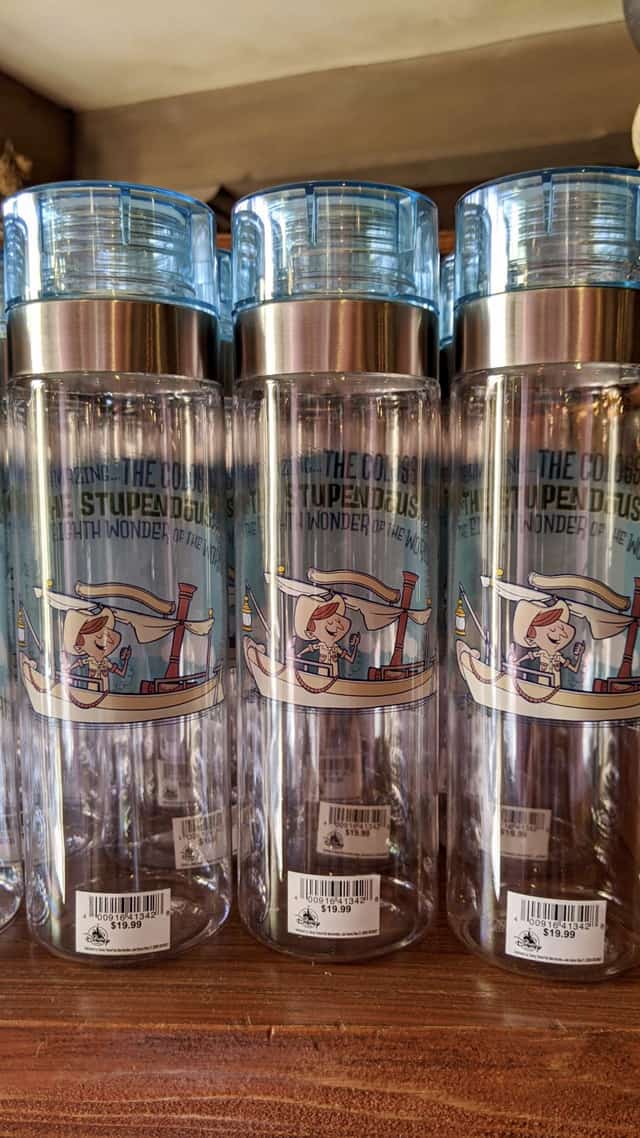 During the heat and humidity, it's important to stay hydrated! These clear water bottles have a double walled construction. I just love the phrase included in this line: The Amazing…The Colossal… The Stupendous… The eighth wonder of the world!
Bottles are made from plastic, and the top twists on using a silicon ring to avoid spills. These water bottles hold 18 ounces each, and need to be hand washed. They retail for $19.99.
All The Jokes T-Shirt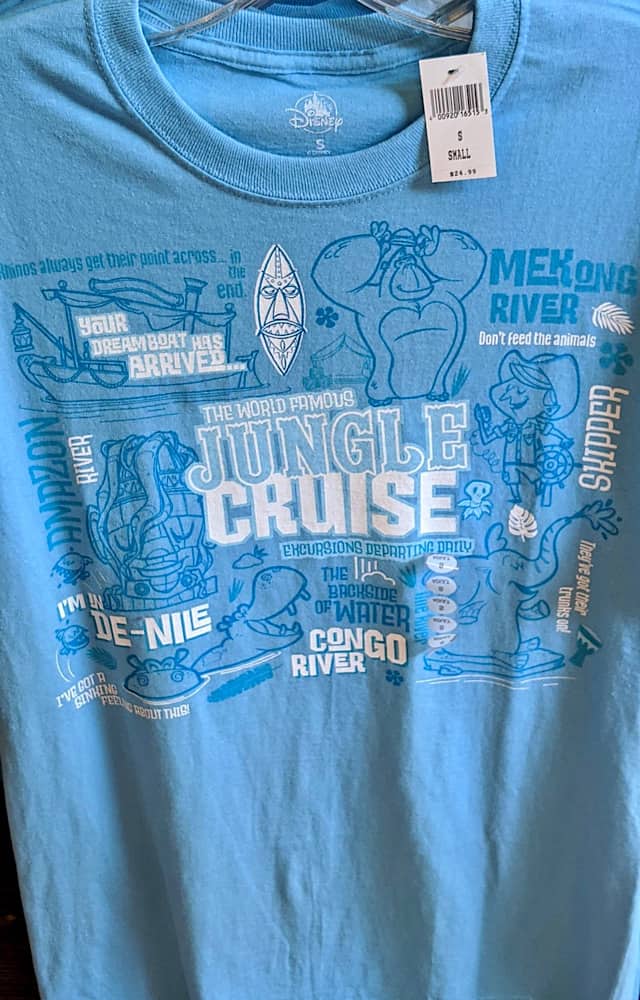 Here we go again with the jokes. Seriously, we don't really get excited about the fake animals, the jokes are what keep us coming back time after time! Maybe I'm in De-Nile about this… This "punny" t-shirt sells for $24.99.
Magnet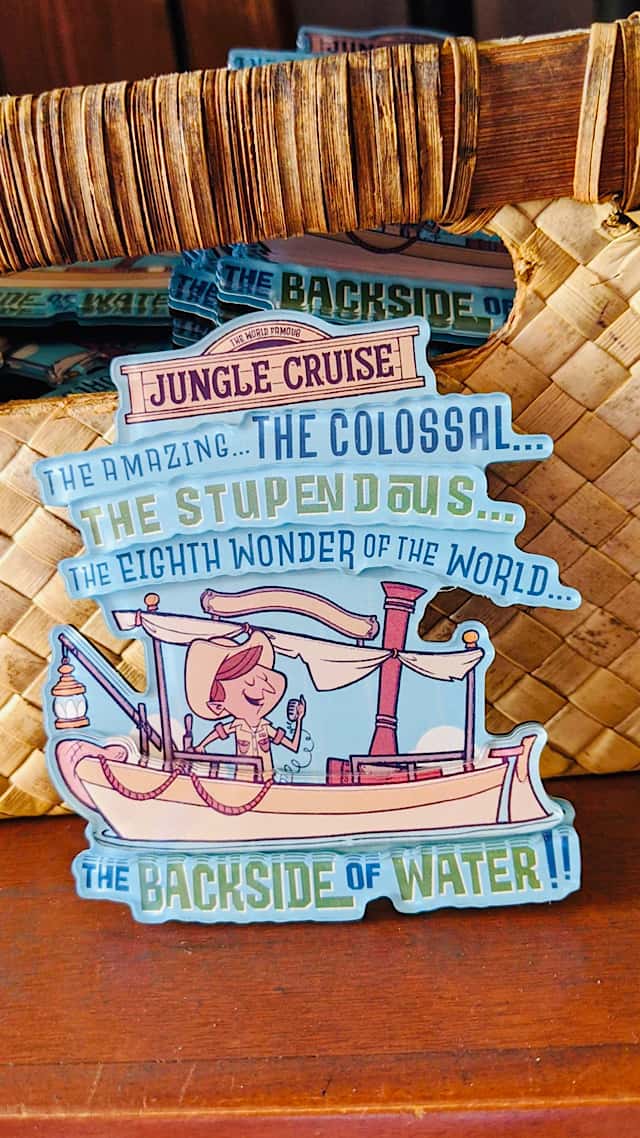 For guests that adore this Jungle Cruise merchandise line, but want something a little smaller, magnets fit the bill! I really like the animation and design of this magnet. These attraction based magnets are super popular, and retail for $9.99.
Knapsack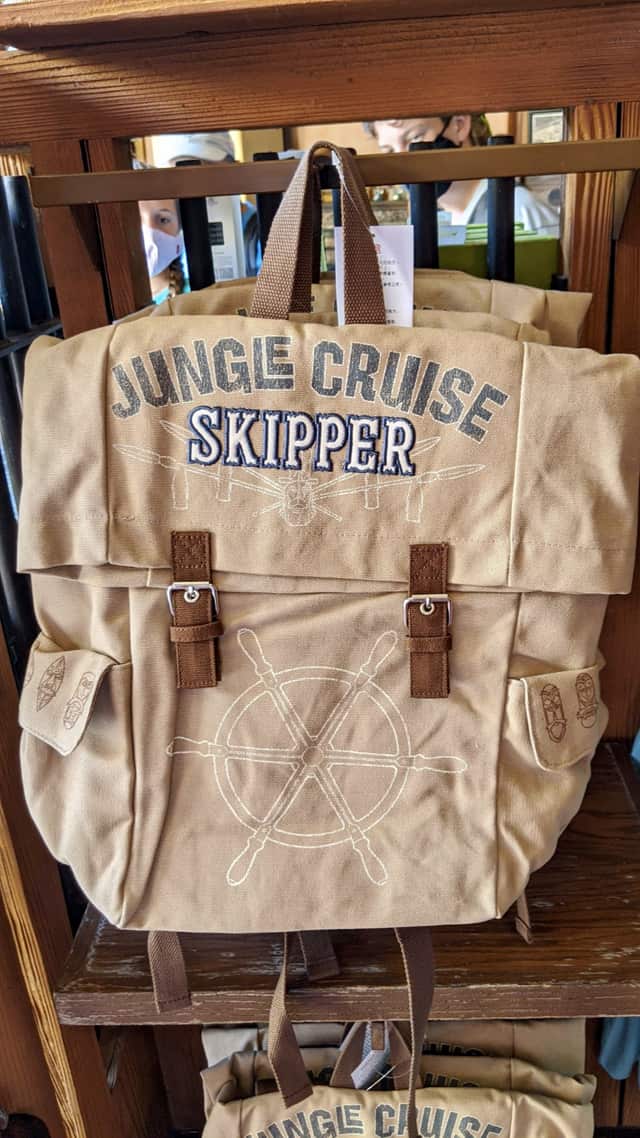 The Jungle Cruise Skipper canvas knapsack is perfect for all types of adventures, especially theme parks. Backpack includes large side pockets featuring tribal masks. The front of the bag includes fabric buckles, and a boat steering wheel. What a great Christmas present at $49.99.
Girls Elephant Pool T-Shirt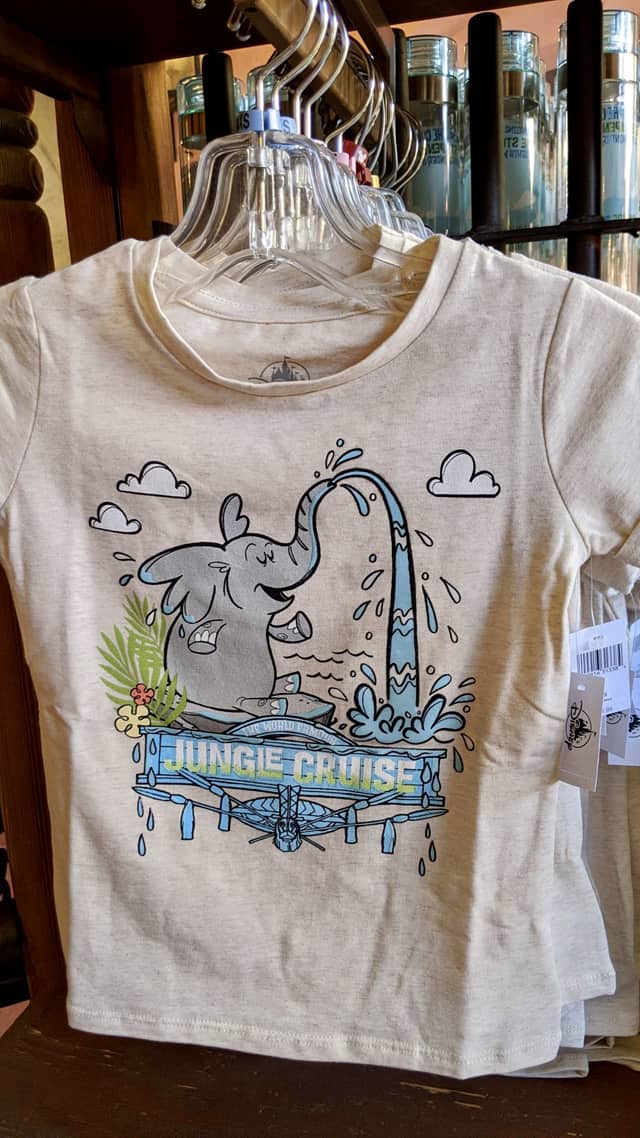 What child wouldn't love a t-shirt with an elephant shooting water out of it's trunk? The heathered jersey knit complements the cartoon graphics, flared silhouette, and rolled cuffs. The shirt is made of 95% cotton and 5% elastane. Guests can pick up this shirt for $24.99. ShopDisney.com carries this shirt.
Ornament Set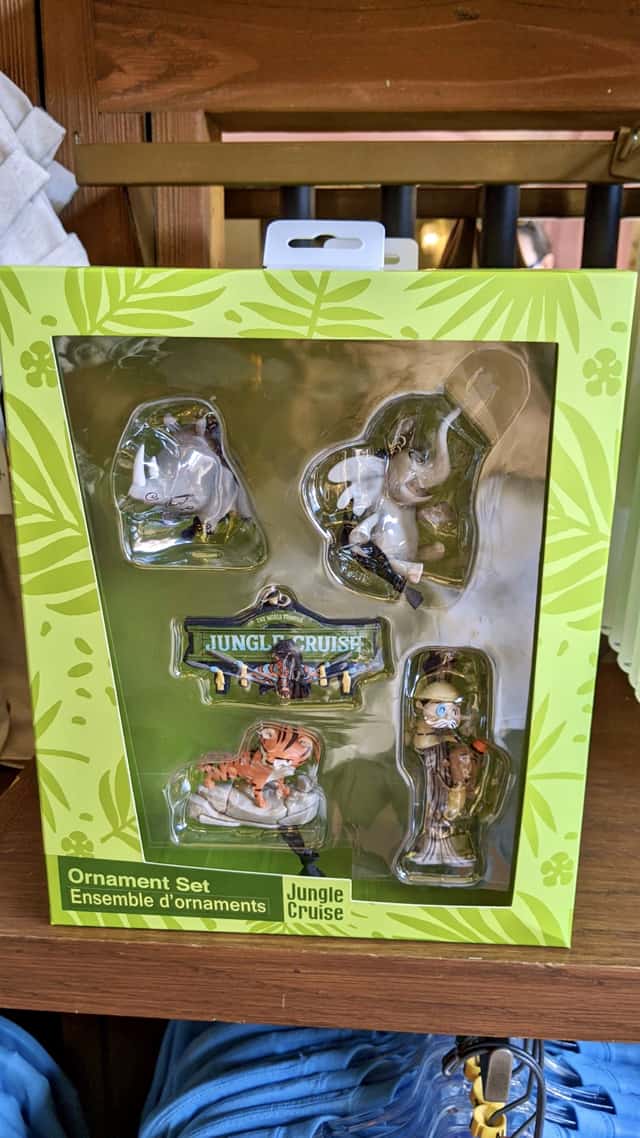 The next Jungle Cruise merchandise for sale is a 5-piece ornament set featuring some of our favorite parts of the attraction! Each ornament is hung by black silk string for ease in hanging on your Christmas tree or other display. Check out the exquisite attention to detail in the photo above.
My favorite is the bright green wooden sign decorated with spears and a tribal mask that resembles the attraction entrance sign. The ornament set retails for $39.99.
Heather Green T-Shirt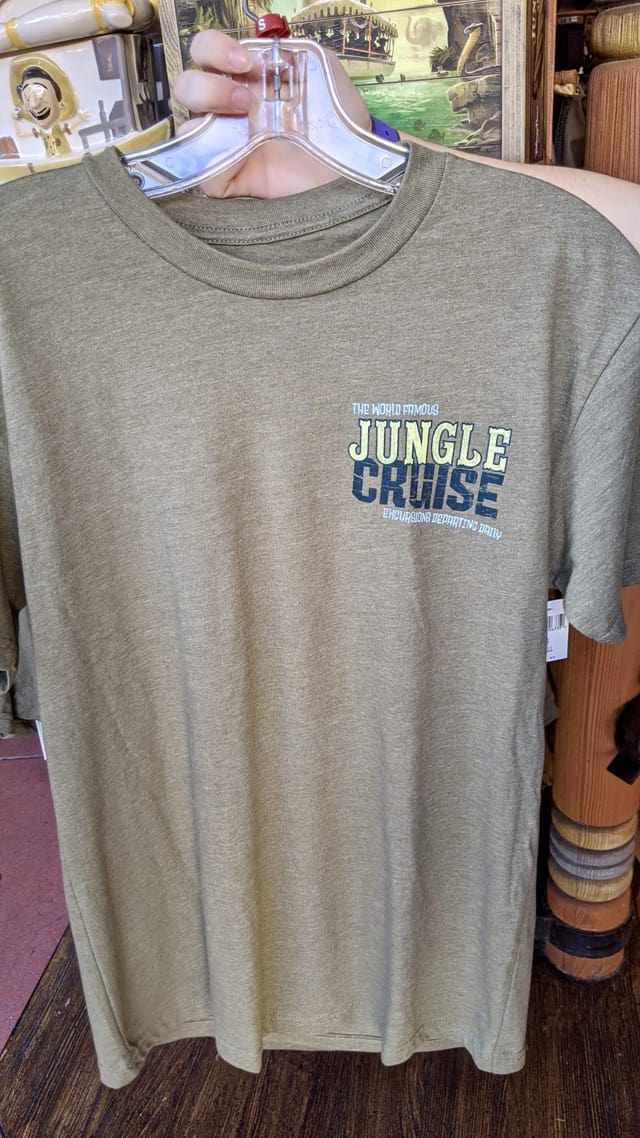 The heathered fabric feels soft and really adds to the jungle theme here. I prefer shirts without too much pattern on the front, so this one totally fits the bill!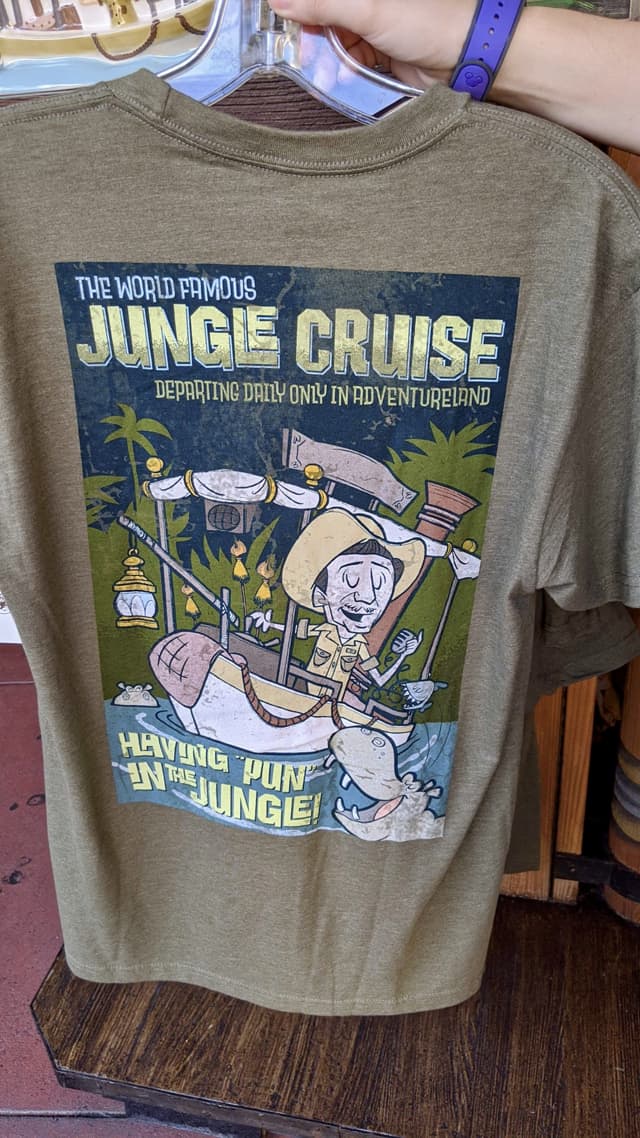 Now, the back is a whole different adventure! This is my favorite graphic in the t-shirt collection. It also has my favorite saying! Again, the Skipper isn't worried about the dangers ahead. Instead, he keeps a cool head, and keeps the guests from worrying by keeping them in stitches. This amazing t-shirt sells for $36.99.
Jungle Cruise Cookie Jar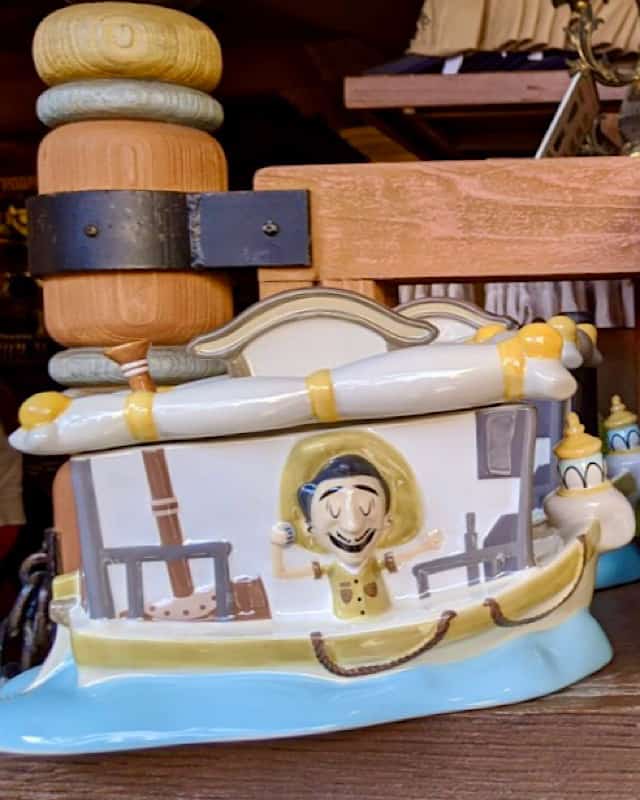 What a cookie jar! My sister collects Disney cookie jars, and she fell in love with this one! It measures approximately 10″ x 5.5″ x 7.5″. This endearing new cookie jar features a cartoon caricature design.
This Jungle Cruise item not only contains the boat and skipper, but water at the bottom to simulate floating. Wow! I gotta' have this one at $55.
Magic Band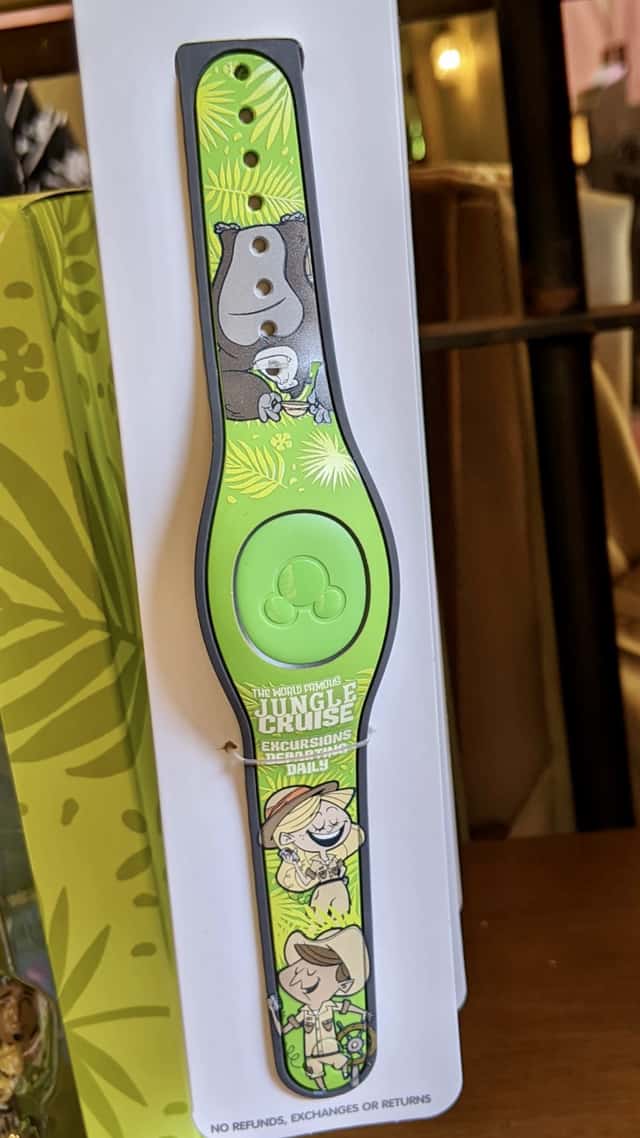 As I'm writing this article, I am blown away at the creativity of each item in this Jungle Cruise merchandise line! This magic band certainly does not disappoint! The bright green color really makes the animated items pop. This item retails for $24.99.
Skipper Hat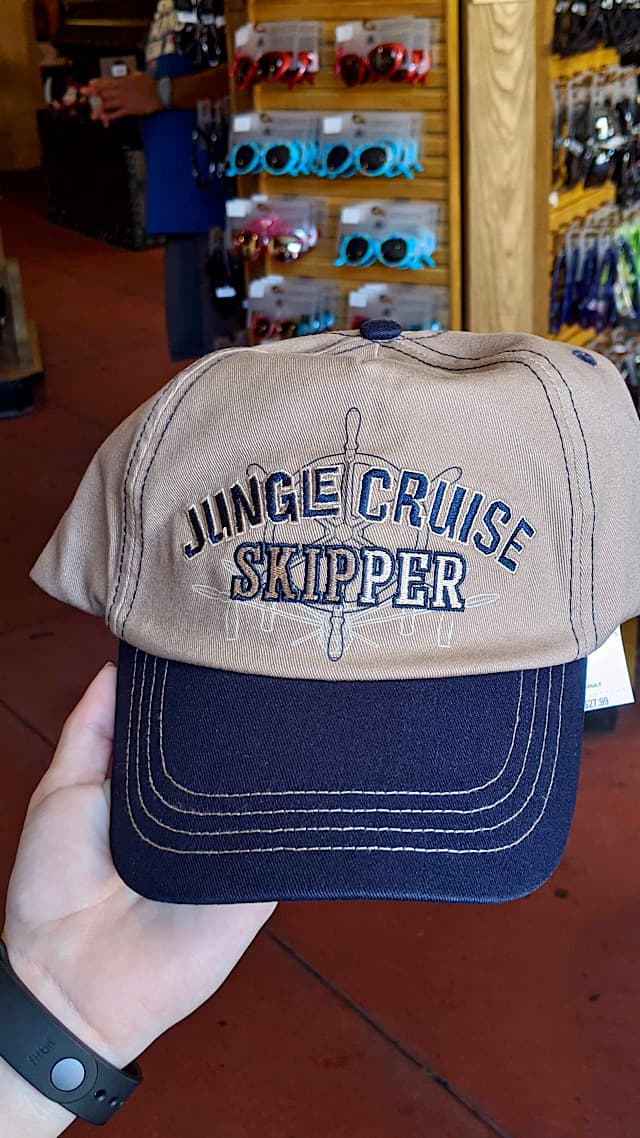 Set off on your own Skipper adventure with this classic ball-cap. The denim and khaki color combination are suited for those who prefer a simpler design. This cap sells for $27.99.
Jungle Cruise Movie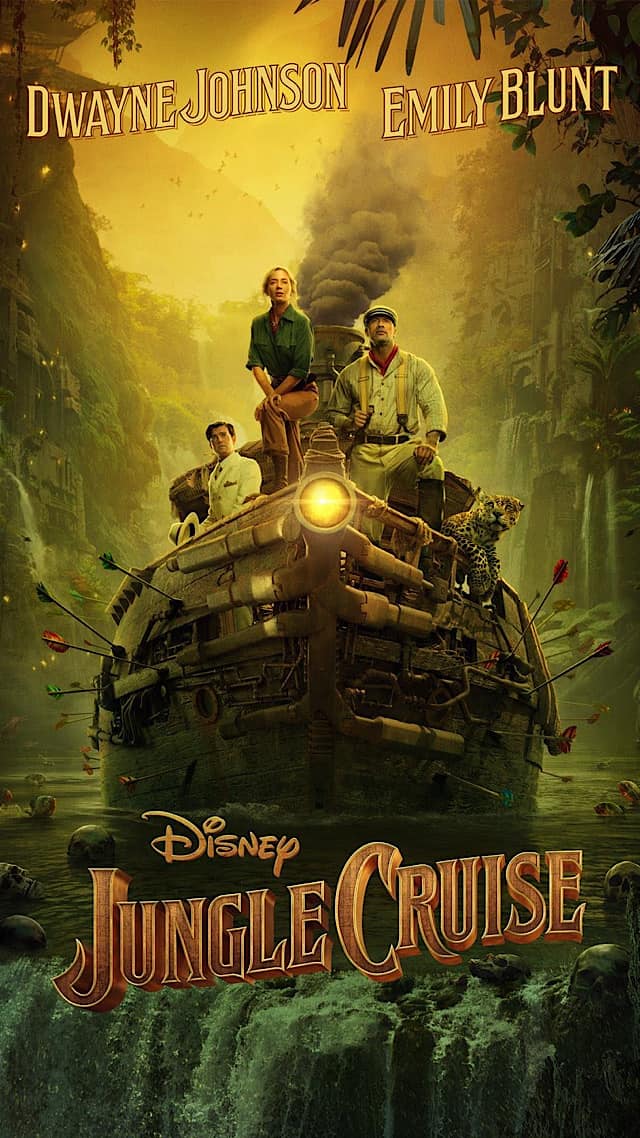 Disney plans to release the Jungle Cruise movie in 2021. Hopefully we'll see even more hilarious Jungle Cruise merchandise in the future. Check out the YouTube Trailer and additional movie details here.
Merchandise Location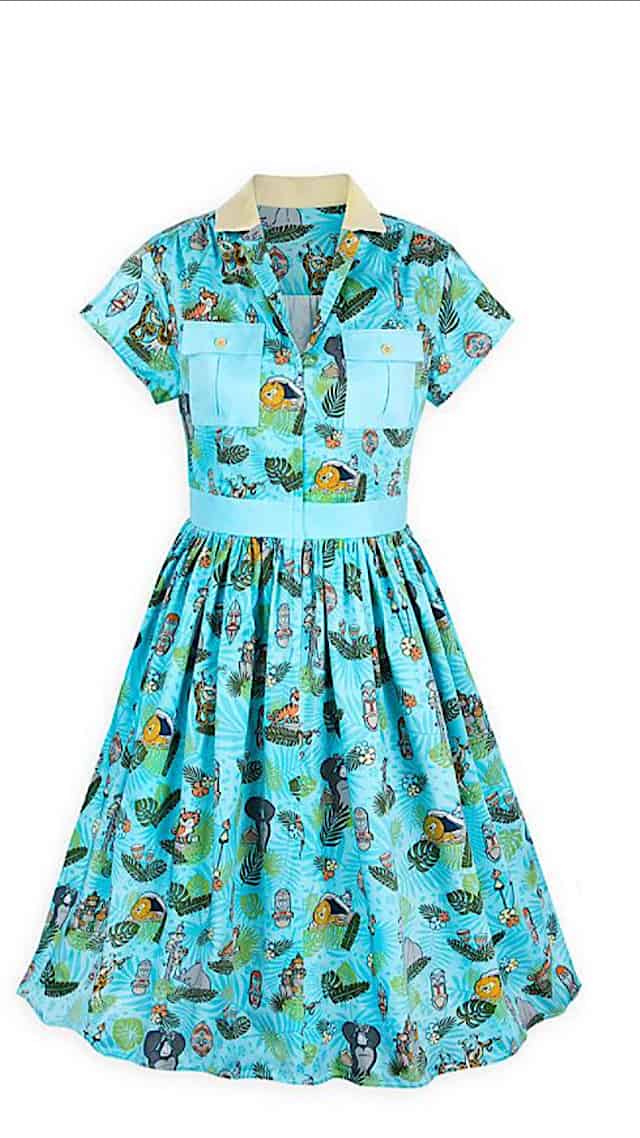 ShopDisney.com sells a few Jungle Cruise merchandise items, including an adorable pocketed dress. The playful colors and design make it fun to wear anytime! It retails for $128.
Kenny spotted all of the items in the post today at Magic Kingdom in Adventureland's Plaza del Sol Caribe Bazaar. (This is the store at the exit of the Pirates of the Caribbean ride)
The location of this store along with all the updated changes to Disney World can be found on Kenny's Character Locator site.
Jungle Cruise merchandise has also been spotted in Disneyland's Downtown Disney.
Which of the new Jungle Cruise items are your favorite? Are you a fan of Jungle Cruise's corny jokes? At first, I wasn't sure about them, but over the years I've become quite taken with them. Please share your thoughts on our Kenny the Pirate Facebook Page or join or Crew.
-Susan P.