Today is National Ice Cream Day! We can think of no better ice cream than the sweet treats that can be enjoyed in the Disney Parks and aboard the Disney Cruise Line. Join us as we celebrate delectable Disney ice cream treats and also learn how to bring a bit of Disney ice cream magic to your home.
Disney Ice Cream Treats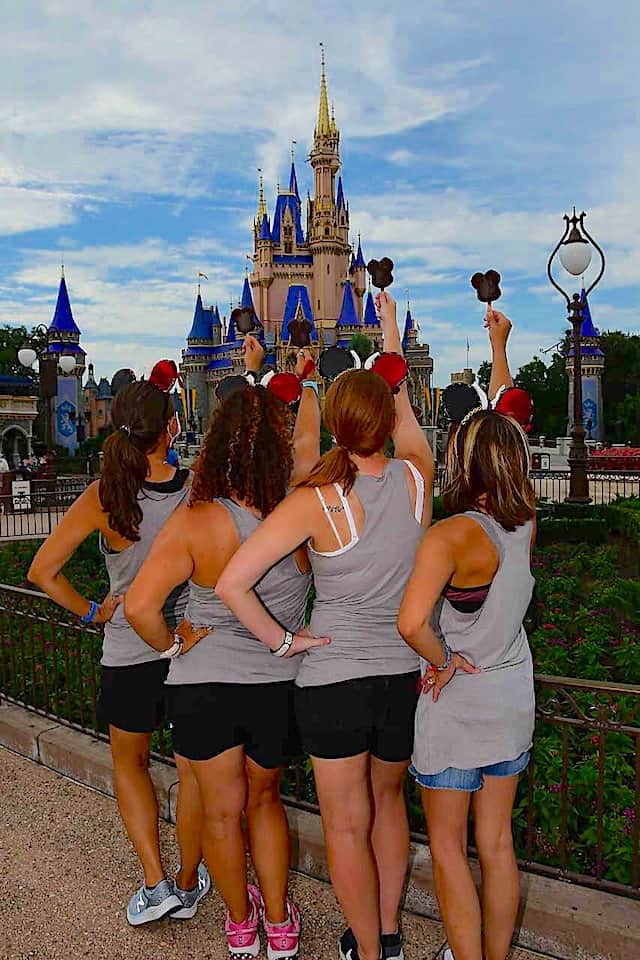 One of my all time favorite frozen Disney treat is the chocolate dipped Mickey Mouse ice cream bar.
I have purchased these from my local grocery store, but it still doesn't compare to enjoying one of these magical treats in the Disney Parks.
We shared some of our favorite Disney frozen treats from the past and ways to re-create them HERE.
Island Navigator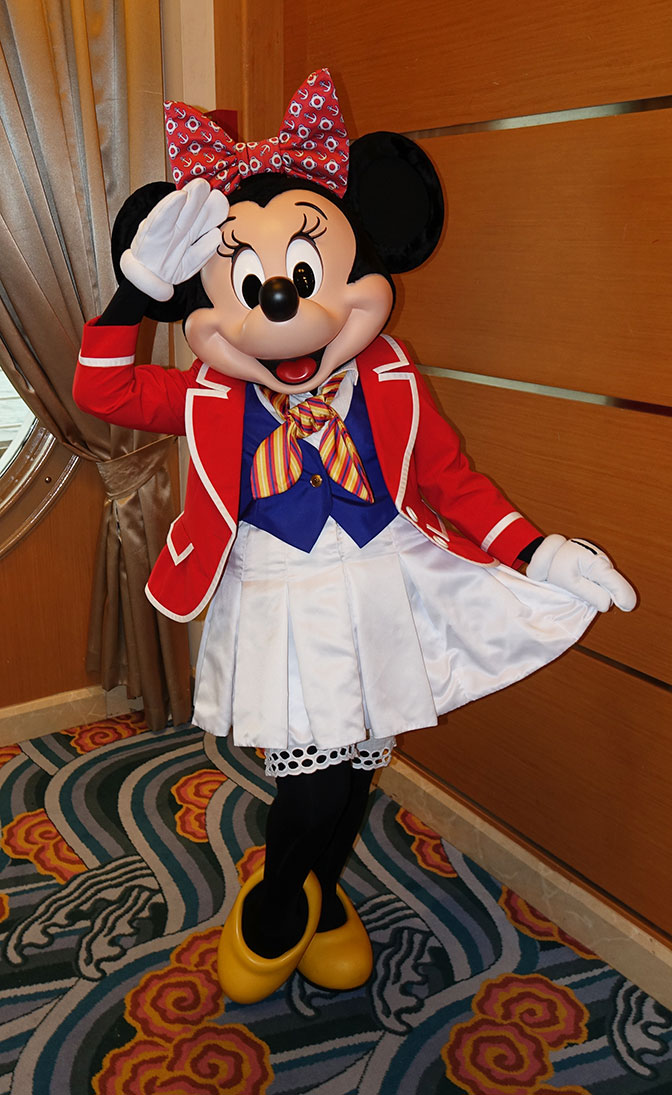 The Disney Cruise Line is known for wonderful Disney characters, magical moments, unbeatable entertainment, and of course delicious food. Today the Disney Cruise Line shares one of their signature frozen treats, the Island Navigator.
Ingredients:
1 cup pineapple juice
1/3 cup coconut cream
6-8 ice cubes
1 cup vanilla ice cream or frozen vanilla yogurt
Pineapple triangles, maraschino cherries, for garnish
Instructions:
Combine pineapple juice and coconut cream in blender. Blend to combine
Add ice and pulse until ice is crushed. Add ice cream and blend until smooth.
Garnish with pineapple triangles and maraschino cherries, if desired. Serve immediately.
You can find the printable recipe for the Island Navigator HERE.
Frozen Treats from the Disney Parks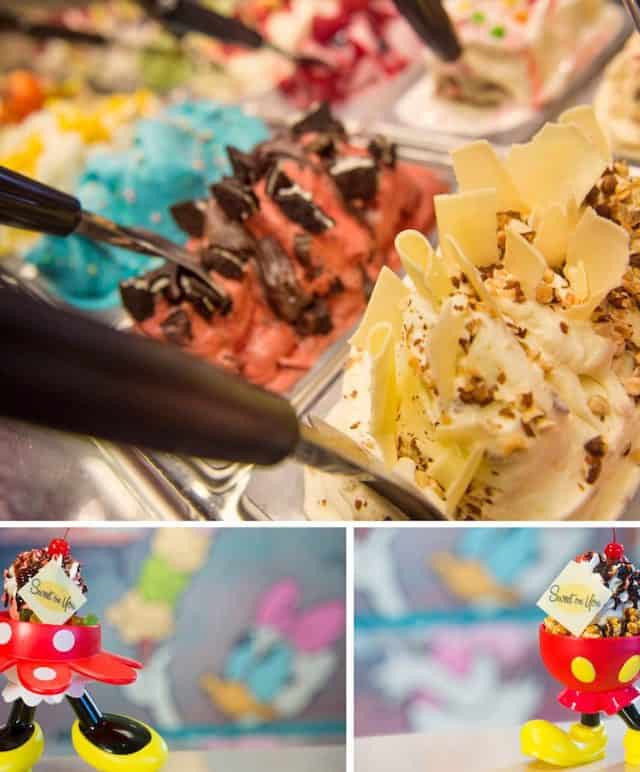 The unbelievable sweet treats pictured above can be found at Vanellope's Sweets and Treats on the Disney Dream. While the Disney Fantasy serves delicious sweet treats in the Mickey and Minnie sundae bowls.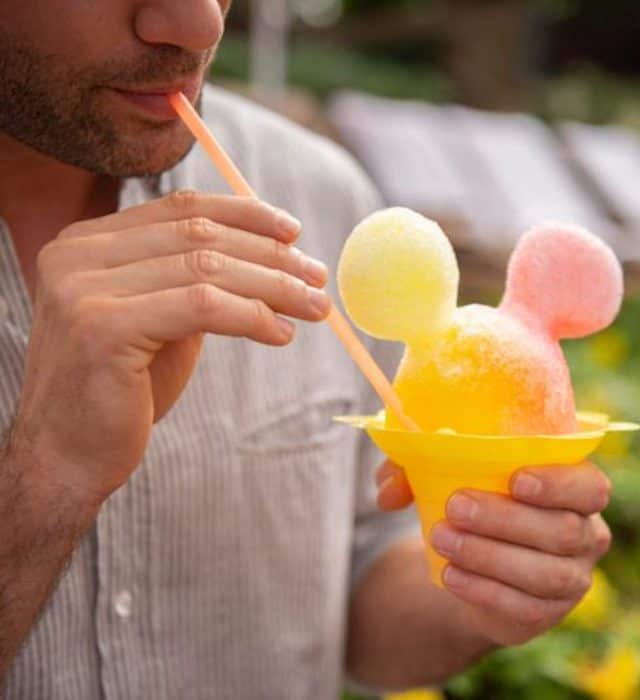 This Mickey Shave Ice can be found at Aulani- A Disney Resort & Spa. This treat can be found at Papalua Shave Ice. Guests can choose base ingredients included standard shave ice, ice cream, or sweetened condensed milk.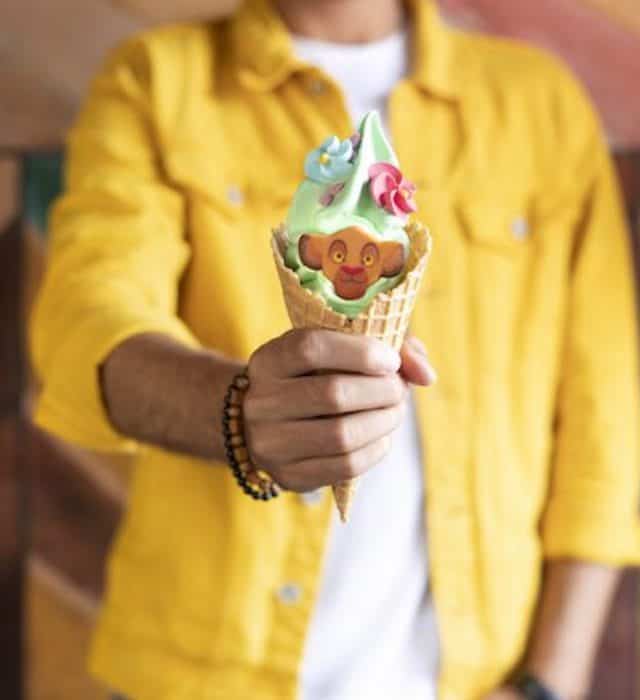 Check out this Exotic Paradise ice cream featuring our favorite future Lion King, Simba. This can be found at found in Disneyland Paris at Hakuna Matata.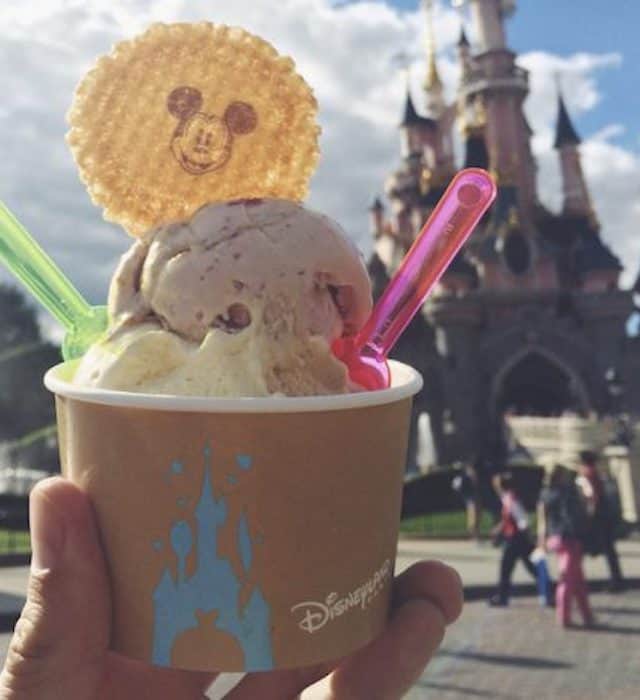 Tokyo Disney Resort offers soft-serve ice cream from World Bazaar. Look at how adorable the Mickey Mouse candy featured on top.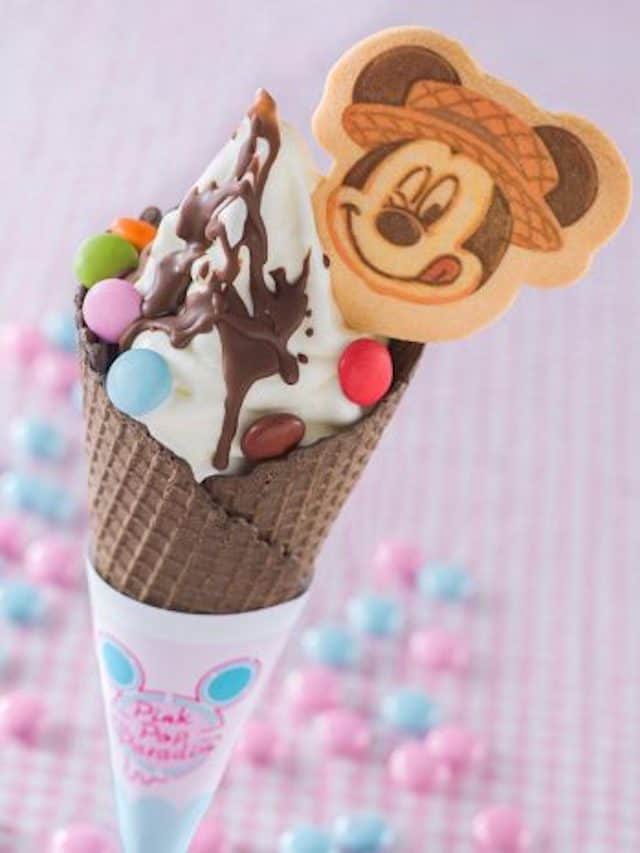 As we travel over to Hong Kong Disneyland we find white peach soft serve ice cream from Midtown Delight. This even features our adorable pal Duffy. The Mickey and Minnie kitchen sinks can also be enjoyed from the Main Street Corner Cafe'.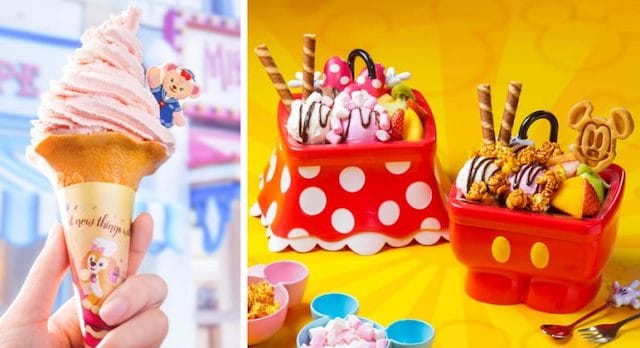 Disneyland Park features great frozen treats such as the Mini Ice Cream Sandwiches from Golden Horseshoe and Ice Cream Sundaes in the Mickey Mouse kitchen sink from Gibson Ice Cream Parlor.
Disneyland California Adventure Park is such a fun park and they offer Hard Floats and Hand Dipped Ice Cream Bars from Clarabelle's Hand-Scooped Ice Cream.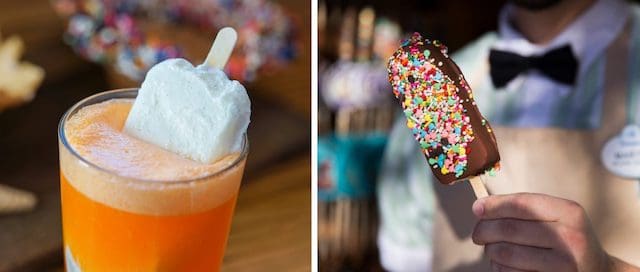 Shanghai Disney Resort has so many unique frozen treats. From the 'Old Mel Honeydew Melon-flavored Ice Cream Cone, Fresh Watermelon Ice Cream Sundaes, Donald Waffles with Watermelon-flavored Ice Cream, and Donald Watermelon-flavored Ice Cream Cones from Il Paperino.
Walt Disney World offers some of the sweetest treats including Ice Cream sandwiches from Sleepy Hollow at Magic Kingdom, Seasonal Ice Cream Flavors from Plaza Ice Cream Parlor at Magic Kingdom, Ice Cream Sandwiches from Hollywood Scoops at Disney's Hollywood Studios, and Artisan Ice Cream Scoops from L'Artisan des Glaces at Epcot.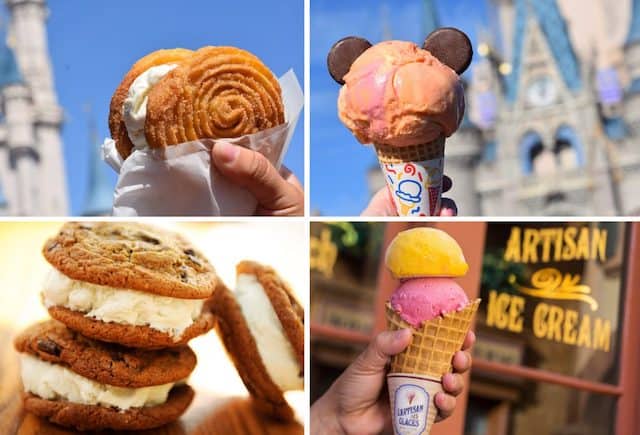 Walt Disney World Resorts offer unbeatable treats for Guests to enjoy such as the Artisanal Gelato Shakes from D-Luxe Burger at Disney Springs, Specialty Sundaes from Dino-Bite Snacks at Disney's Animal Kingodm, the Kitchen Sink and Specialty Milk Shakes from Beaches & Cream Soda Shop at Disney's Beach Club Resort.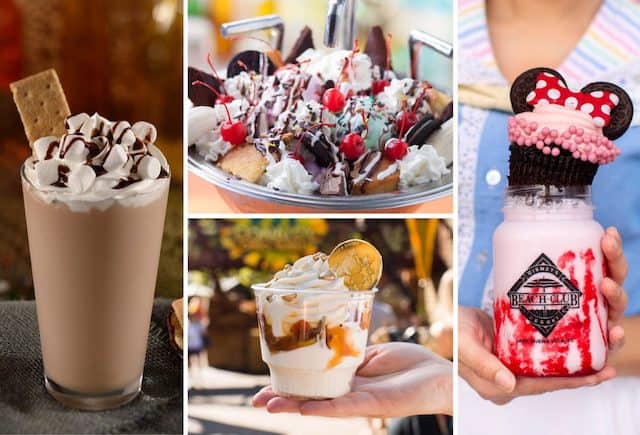 Create Disney Inspired Treats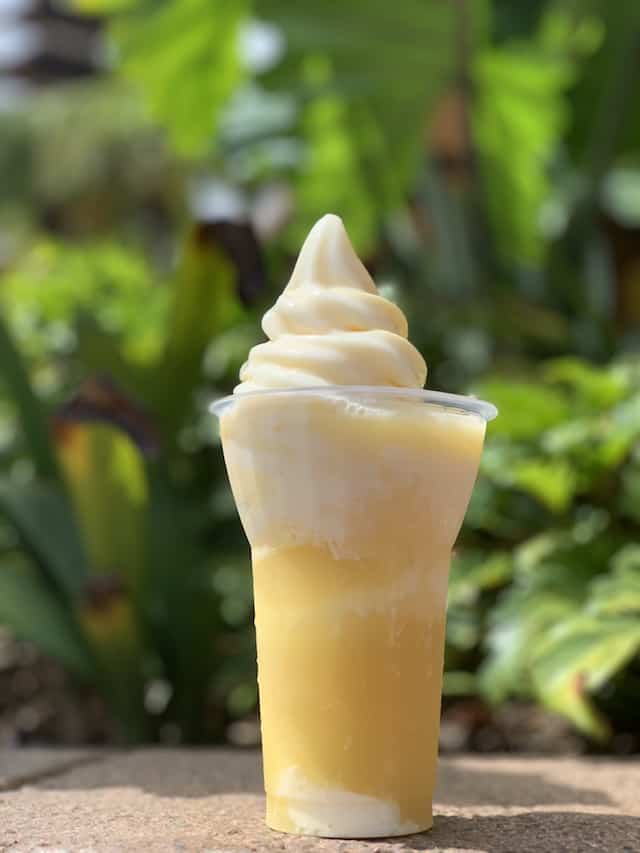 You can create your own Disney-inspired frozen treats at home with these great recipes for the Dole Whip, the Peanut-Butter & Jelly milkshake from Prime Time Cafe, and you can even make your own Kitchen Sink Sundae.
Try these great recipes for disney inspired frozen treats to bring a bit of disney magic to your home today.
How will you be celebrating National Ice Cream Day? What is your favorite Disney frozen treat? Share you thoughts with us on our Facebook Page.