It seems like it has been more than three months since refurbishment began on Cinderella Castle at the Magic Kingdom. We are happy to see that refurbishment has resumed! Read on to see the latest images of the progress happening.
Refurbishment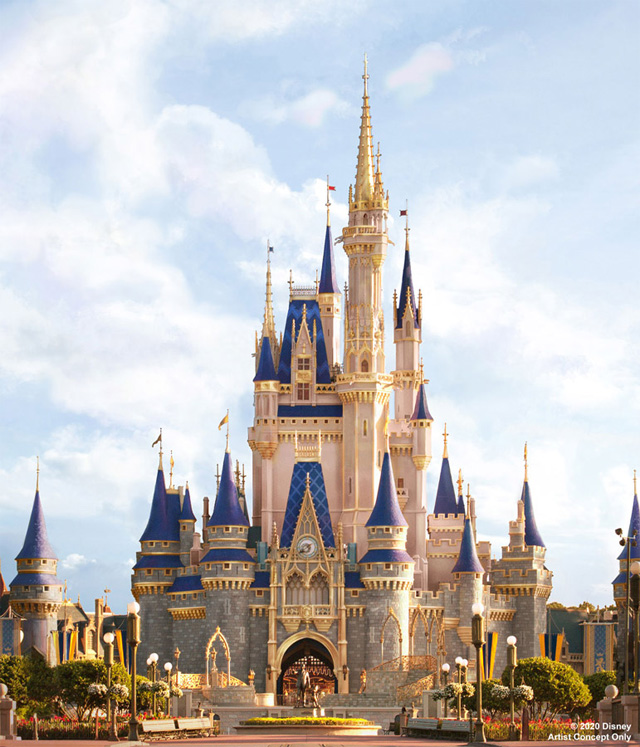 Refurbishment began on Cinderella Castle back in March. You can read about more details regarding the castle makeover here. The above photo is an artist concept of what the castle will look like once refurbishment is complete.
I have heard mixed reviews over it. Some people are not crazy about the darker blue, touches of gold, and rose pink overtone. I personally think it looks very elegant. Also, to be quite honest, the castle can be any color as long as it's open and we can all enjoy the magic once again!
Just a couple of weeks after refurbishment began, construction was halted due to concerns over coronavirus. We are happy to see that it has resumed! I have never been so happy to see those big orange cranes looming over the castle!
Refurbishment Resumes
Thanks to Twitter account, @bioreconstruct, we are able to see some of the progress that is currently being done on Cinderella Castle. Take a look at some aerial views of the work!
In this view, you can see a lot more gold along with the darker blue and rose overtone. I am not sure what to think about the presence of all of the gold.
At first glance, it seems to be a bit much, but I have a feeling once it is complete, it will look beautiful.
There is no question that work has definitely resumed! While there has been no set date on when the refurbishment will be completed, we can assume that it will be finished by the time the parks reopen next month.
Here you can see another view of the refurbishment.
Notice how very different the blues look here compared to the blues in the hub that are still waiting to be refurbished.
In this aerial view, Cast Members can be seen in Fantasyland. We know that Cast Members have been called back to work, so this is exciting to see as the park is getting ready to reopen next month.
We are hopeful that once Magic Kingdom reopens on July 11, 2020 we might see Cinderella Castle with a brand new look! Wouldn't that be nice for the reopening of the parks?
What do you think of the castle makeover? Will you be visiting the parks when they reopen? Tell us about it in the comments or on our Facebook page.