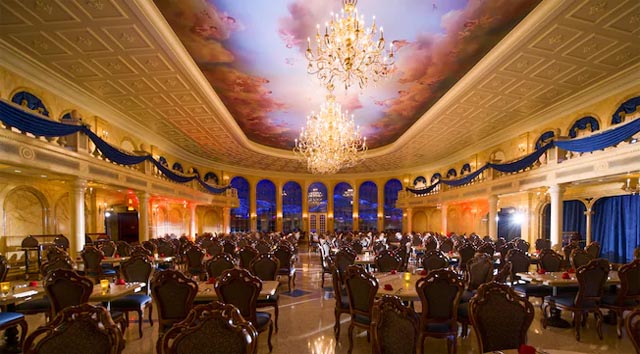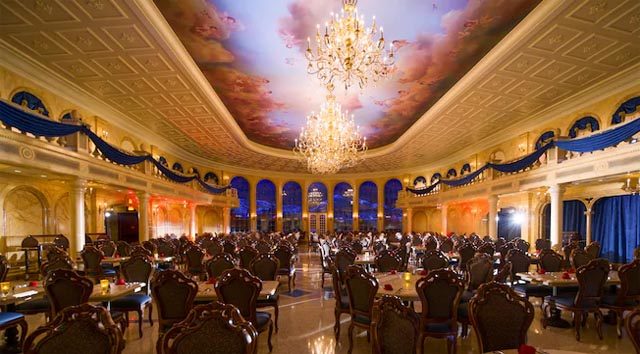 I recently dined at Be our Guest for breakfast. I was able to eat before Magic Kingdom opened and beat the crowds to ride Seven Dwarfs Mine Train! Come read my review and see how I managed to do it all!
What is Be our Guest?
Be our Guest is a restaurant in Magic Kingdom. Located in Fantasyland, the restaurant is themed to be Beast's castle from Beauty and the Beast. It is located near Enchanted Tales with Belle and Gaston's Tavern.
Breakfast, lunch, and dinner are served there. Breakfast and lunch use quick-service credits if you are on the Disney Dining Plan. Dinner requires two table-service credits. No characters meet at breakfast or lunch. However, Beast does meet at dinner.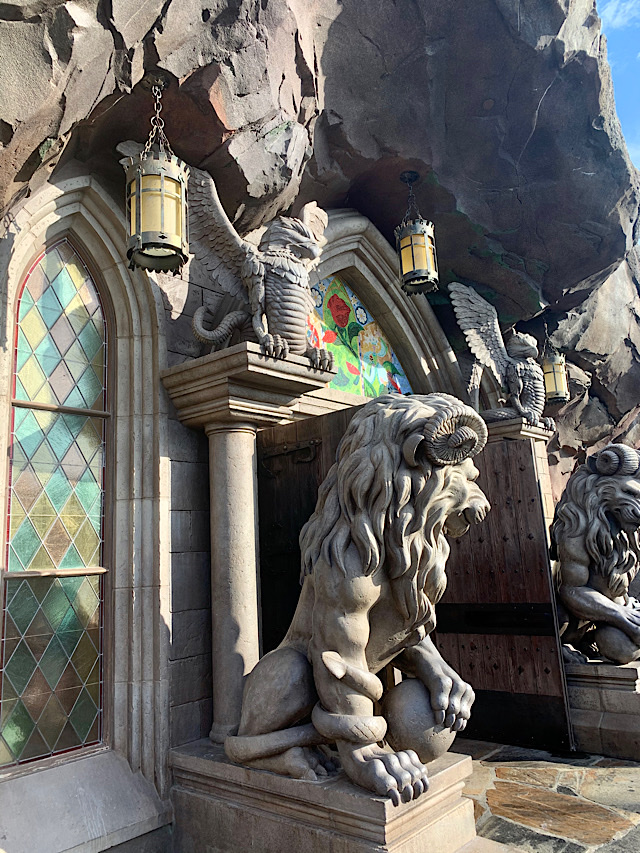 You can, of course, elect to pay for your meal with cash, a credit/debit card, or a Disney gift card. I used my Disney Reward Dollars to pay for the meal.
Reservations for Be our Guest are recommended and can be made up to 180 days in advance. They are easier to find if you have a smaller number of people in your party. The last two times I have dined there, I only had to get a reservation for 2 people. Both times I was able to get them before the park opened (known as pre-park opening, or PPO) and only about 60 days out.
Why are Pre-Park Opening Reservations Beneficial?
PPO reservations are beneficial for a number of reasons.
First, they get you into Fantasyland before everyone else. Guests can enter Main Street U.S.A. one hour before the park officially opens. However, they are held at the hub. Being farther back into the park gets you on headliner attractions faster than the crowds.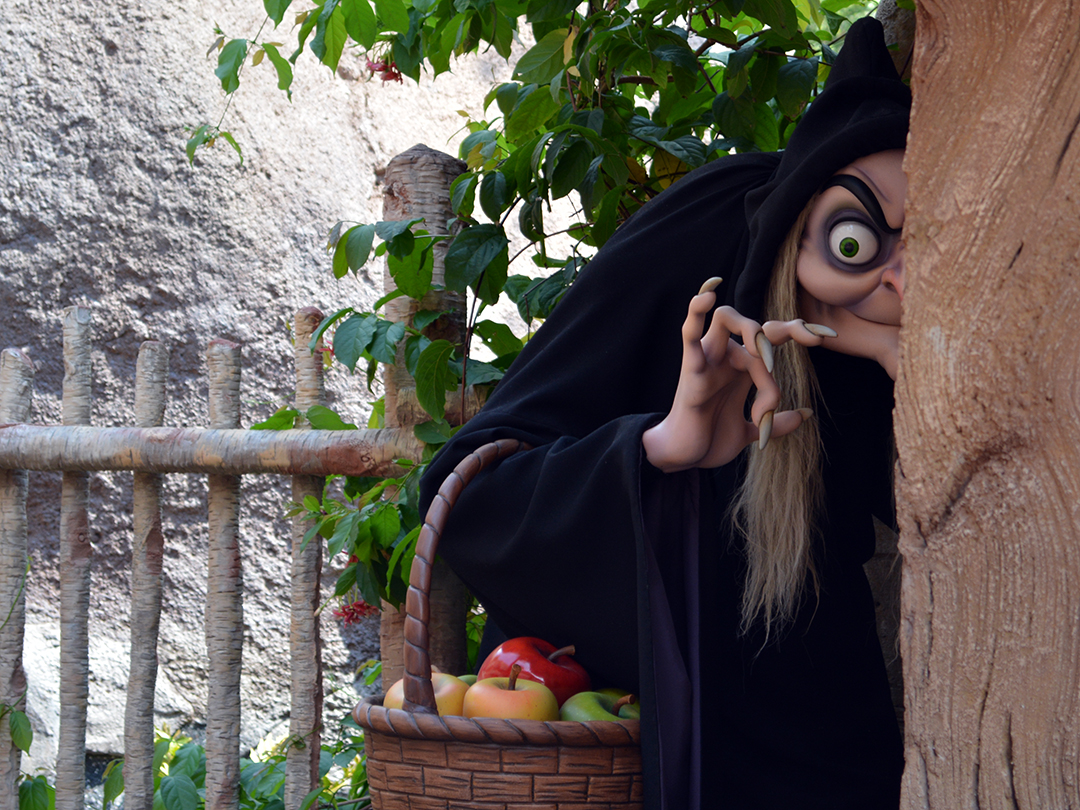 Second, you are not wasting valuable park time eating. If you choose to eat while the park opens, know that it could take an hour or more to eat, and that is time not spent riding attractions or meeting characters.
Third, no matter what time your PPO reservation is for, you can enter the park and head back to your reservation beginning at 7:45 am. I have done this twice for Be our Guest and once for breakfast at Cinderella's Royal Table.
This ensures you get even more time to eat and be done before the park opens.
Checking In at Be our Guest Breakfast
After you are let into the park, make your way up to the hub and over to Liberty Square. You will see Cast Members with signs and iPads checking names for dining reservations. You will follow the walkway behind Cinderella Castle and over to Be our Guest.
There is a small stand with Cast Members checking names and handing out rose trackers.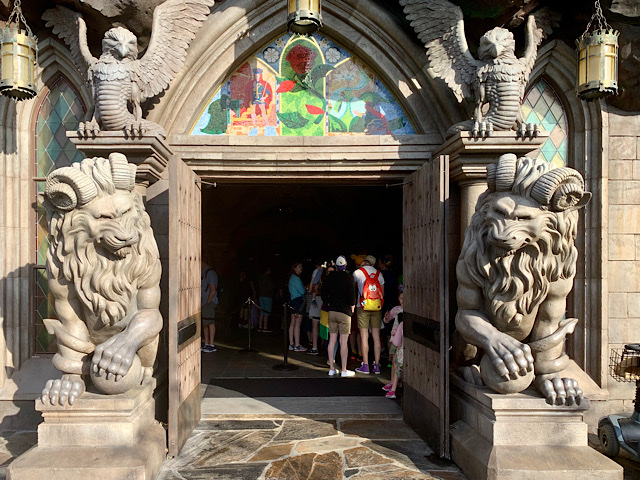 They told us to proceed up the walkway towards the front of the restaurant. There, we were held and a Cast Member was directing small groups into the restaurant at a time.
Once we were inside the restaurant, there were two lines: one for those who had pre-ordered and those who had not. I cannot stress enough the importance of ordering your food ahead of time! You can do this on the My Disney Experience app under your reservation.
Pictured below is what the lines look like to pay. The line to pre-order is much longer and to the left (which you can't see in the photo).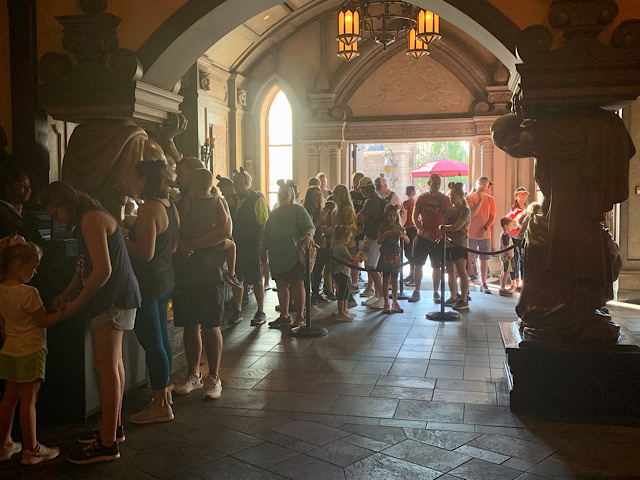 The line for guests who had pre-ordered was significantly shorter than the other line, and we were able to pay and find a seat much quicker than those were still waiting to order food.
The Atmosphere at Be our Guest
Since breakfast and lunch are quick-service, you are able to sit wherever you desire. The restaurant is divided into three sections: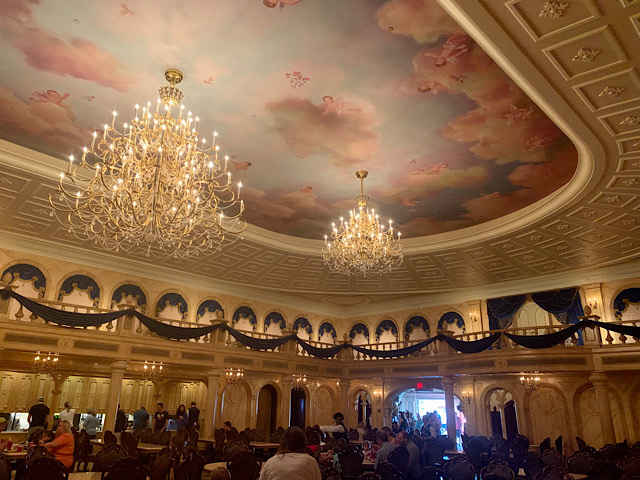 The Grand Ballroom – doomed ceilings and high chandeliers
The West Wing – dark and gloomy study
The Castle Gallery – romantic and figures of Beast and Belle and dancing
I have dined in the Grand Ballroom twice before, so I decided to try out breakfast in the West Wing on this particular day. The theming was on point. From the tattered portrait and enchanted rose to the stormy sound effects, I really felt like I was forbidden from being in there (in a good way of course)!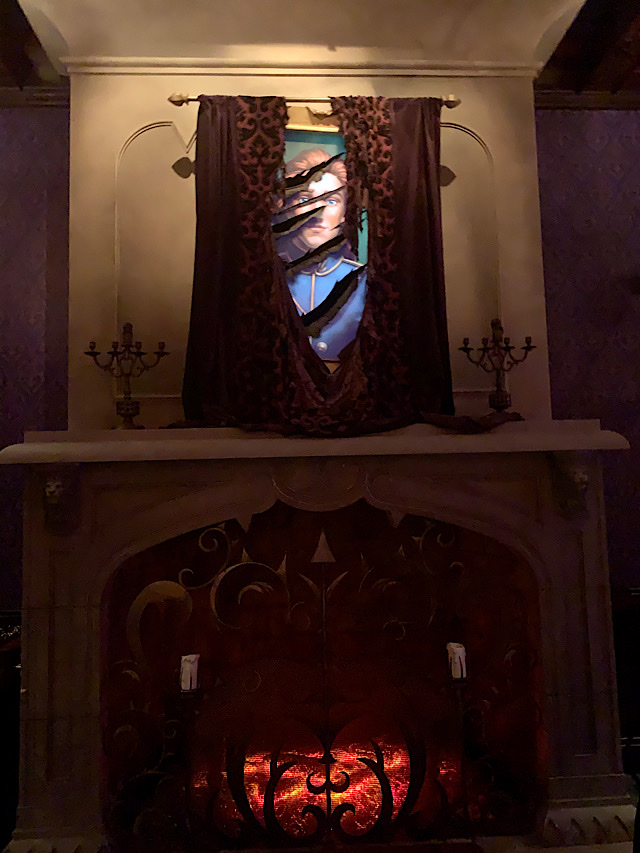 Since the West Wing was so well-themed, it was pretty dark and loud. It was hard to get decent photos of my food, and it was difficult to hear my mom who was sitting right across from me. I don't think I would sit in there if my kids were with me. There was just a bit too much going on.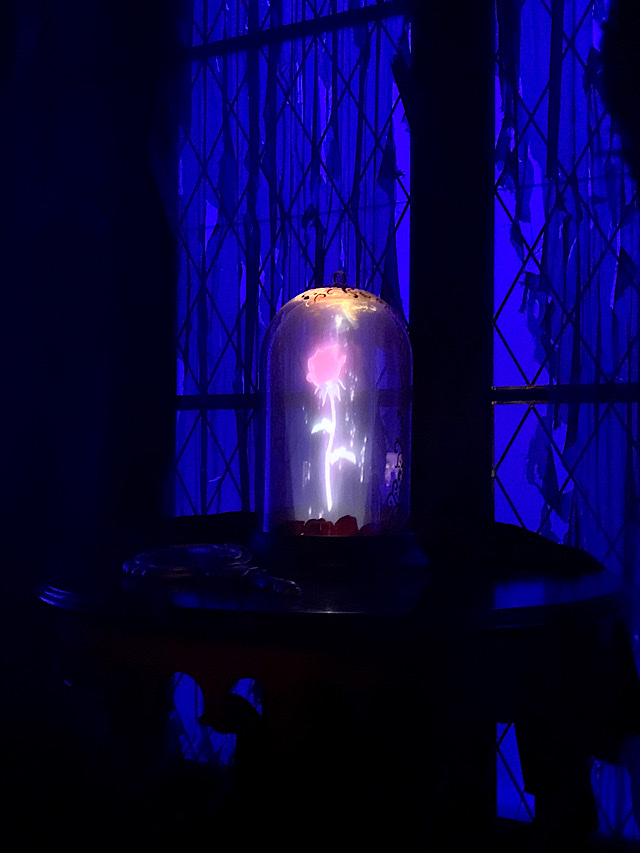 The Food and Drinks at Be our Guest Breakfast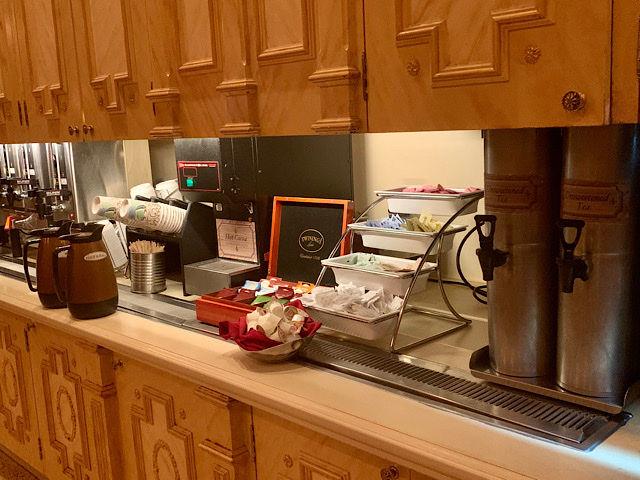 Upon finding a seat, my mom immediately went to the drink station to grab some coffee. The drinks stations have coffee, tea, creamer, hot cocoa, and soft drinks.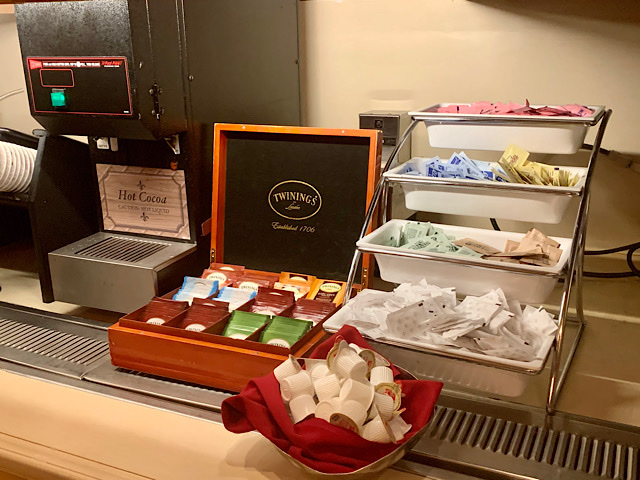 A Cast Member came by shortly after with a cart carrying our food. Each table is also given a plate or two (depending on how many of you there are) of pastries. The pastry plate looked pretty bare compared to what I've had in the past. Seems they are limiting the pastry options.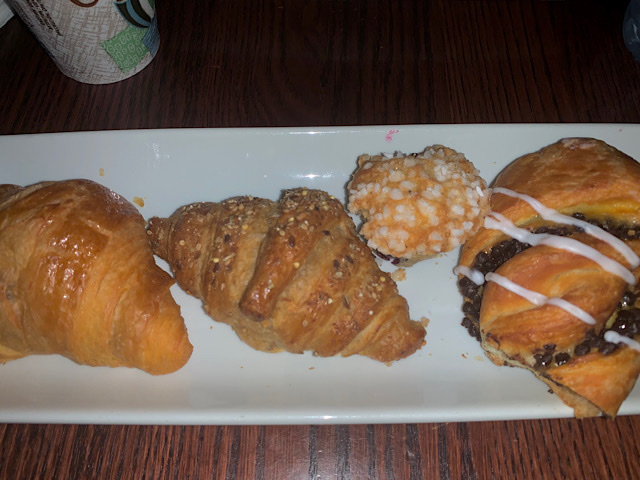 I ordered the eggs and bacon off the kid menu l because I knew I also had pastries to eat! It also came with a small cup of fruit and bottled water.
The eggs were Mickey-shaped this time, which was a nice surprise since I had not seen that before. Everything tasted just fine.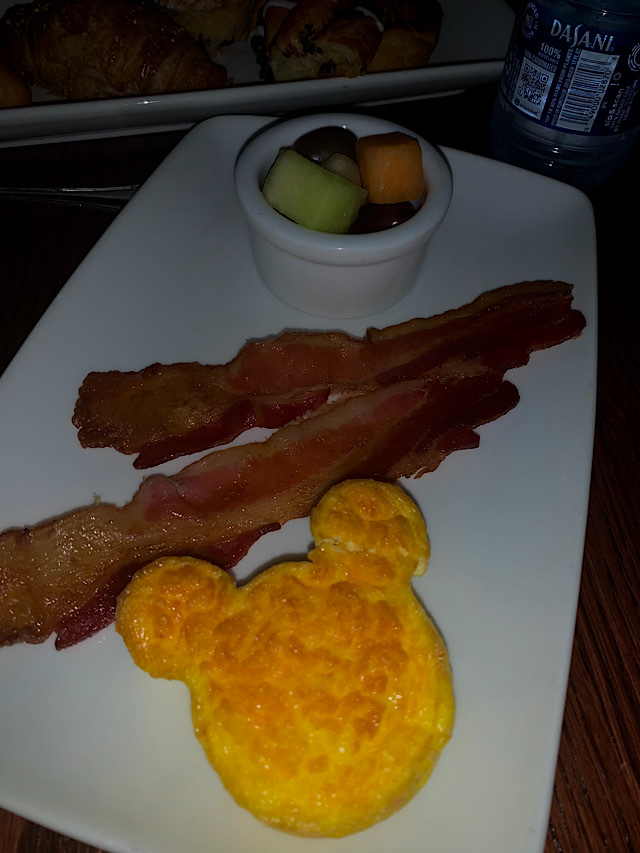 The table next to us looked a bit more adventurous with their quiche and even a charcuterie assortment! Just know there are plenty of options so be sure to look over the full menu when you preorder your food!
Riding Seven Dwarfs Mine Train
Earlier when I explained the benefits of a pre-park opening reservation, I mentioned you are able to get on the headliner attractions before the crowd. And, I also told you to check in for your meal at 7:45 am regardless of what time your PPO reservation is for.
Here is how that helps you get on and off Seven Dwarfs Mine Train basically when the park opens.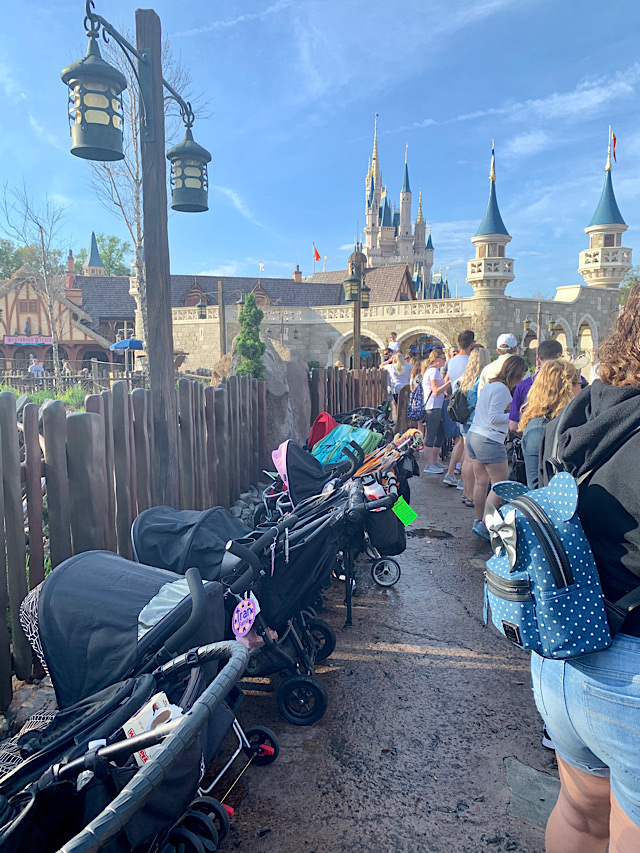 We were finished eating by 8:35 am and headed toward the standby line that was building for Seven Dwarfs Mine Train. Do not worry – most of the people are still eating since they didn't get there early or preorder. The line does not get long.
You can't miss the line when you walk out. It's along the gate right across from the entrance to Enchanted Tales with Belle.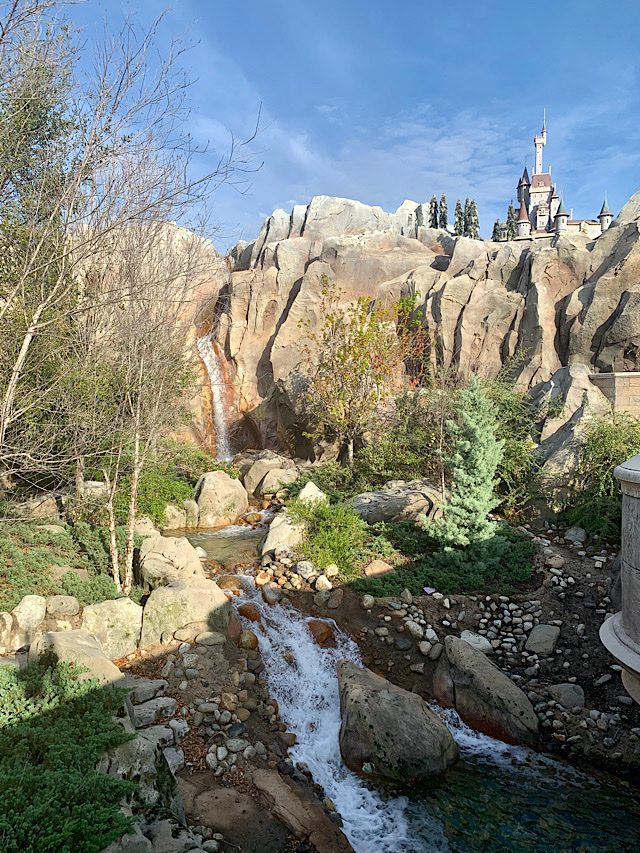 This was also an Early Morning Magic day. However, the line to ride was not affected at all by the EMM crowds. So basically, you hang out there until the park opens. My mom and I took turns using the restroom, throwing trash away, and watching the EMM guests ride over and over (that was torture).
Right before 9:00 am, a Cast Member led the small standby line to the entrance of Seven Dwarfs Mine Train. However, right as we got there, the ride broke down. Usually, you would just continue through the standby line and be on and off the ride before 9:05 am.
However, we were held there for almost 20 minutes! It looked like the ride had gone down. So much for hopping over to another headliner like Peter Pan's Flight right after!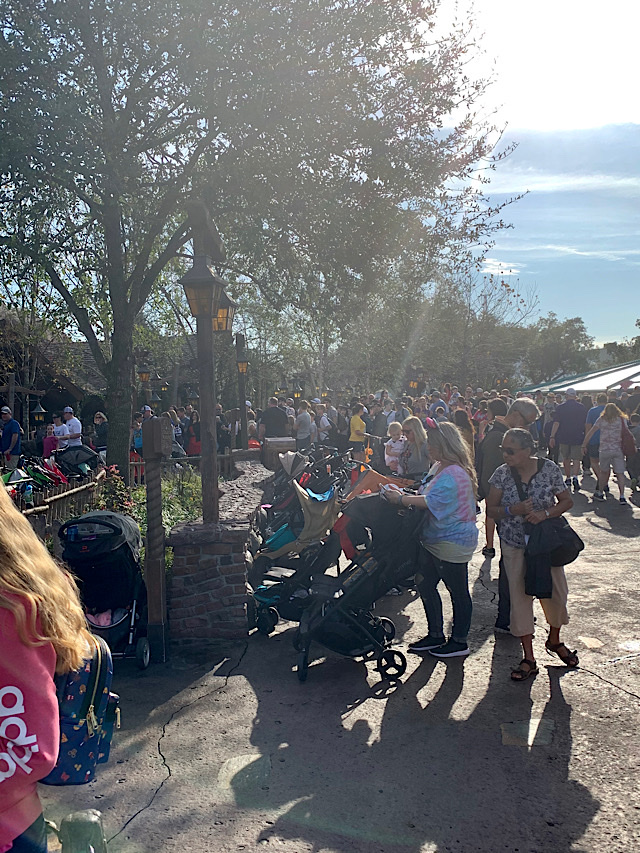 We could see the regular standby line form behind us, and it got long in no time at all. People around us were starting to leave. We decided to wait it out, and I'm so glad we did! We were on and off by 9:30 am. However, Peter Pan's Flight was at an hour wait and I knew I could use Character Locator tips to get a FastPass+ or just ride it at park closing.
We ended up riding it after Happily Ever After that night. Check out my review of the dessert party HERE.
Final Thoughts on Be our Guest Breakfast
Overall, I love Be our Guest! The food is fine, and the atmosphere is well worth it considering it's quick-service for breakfast and lunch.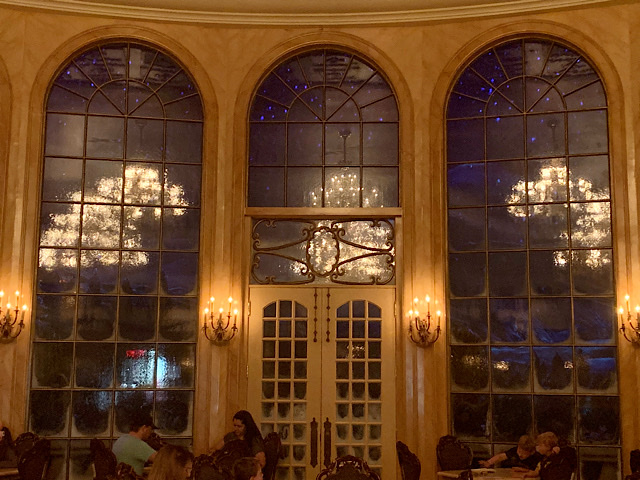 It's also a great way to get into Fantasyland sooner than the regular crowds. If you follow my tips, you will enjoy a great meal and a headliner attraction all before the park opens!
If you're interested in dining with the Beast instead, check out Heather's review of dinner at Be our Guest.
Have you dined here before? What was your experience like? Let us know on facebook! You can also join our KtP Crew and continue the discussion!
-Monica
Are you planning a vacation? Reach out to our trusted travel agency sponsor Authorized Disney Vacation Planner
Mouse Class Travel
!