Disney After Hours is a magical way to experience the parks.  For three hours after park closing, Animal Kingdom stays open and you'll feel like you have the park essentially to yourself (and a few hundred other guests)!
This wonderful experience is not without a catch: it is pricey!  Currently, this exclusive party comes with a hefty price tag of $129 per adult or child.  If you purchase on the day of the event, you'll pay $139 per adult or child!  Annual Passholders and Disney Vacation Club Members receive discounted prices of $99 per adult or child.
A bonus to After Hours is that you can enter the park at 7pm the night of the event.  Although the event (and the perks!) start after the park is closed to regular guests, you can enter early and make the most of your park time.
Additionally, guests can enjoy ice cream, popcorn, and select beverages, which are included in the cost of admission!  Other menu items are available for purchase as well.
Recently, we took a short trip and I was looking for a way to fit as much in as possible.  Animal Kingdom After Hours was being offered, so we decided to give it a try!  We have never experienced Animal Kingdom at night so that alone was something we couldn't wait to see.
Here is what Animal Kingdom After Hours has to offer, and my thoughts and experiences on each.
The Atmosphere/Crowds
We arrived at the park a few minutes after 7.  It was strange to be walking into the park essentially alone, while hoards of people were leaving the park!  As we went through security, there was a line being held for the After Hours event.  After a few minutes, they started letting us into the park, where we first received our wristbands for the evening and a flyer showing us what was available.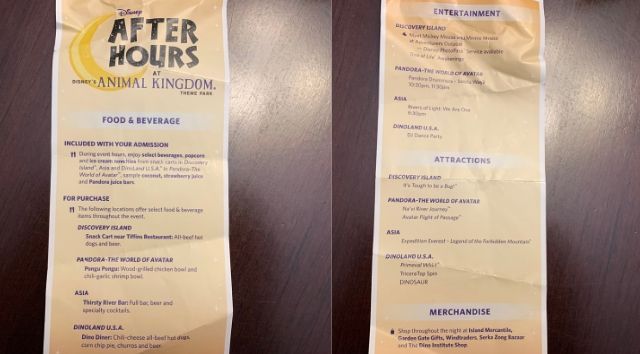 Normally when I arrive at Animal Kingdom, it is rope drop and we are heading straight to Pandora without really taking the time to "take it all in." Since we weren't rushing, we had planned on strolling through and seeing everything we could.
We started off by walking down to Discovery Island and the Tree of Life.  We arrived just in time to catch a Tree Awakening.  Since we went in December, we got to experience the Holiday Tree Awakening.  It was absolutely beautiful! Set to holiday music, the tree came alive with different holiday and winter scenes, all featuring different animals.
Because the park was still technically open during this time, the area was still very busy and chaotic.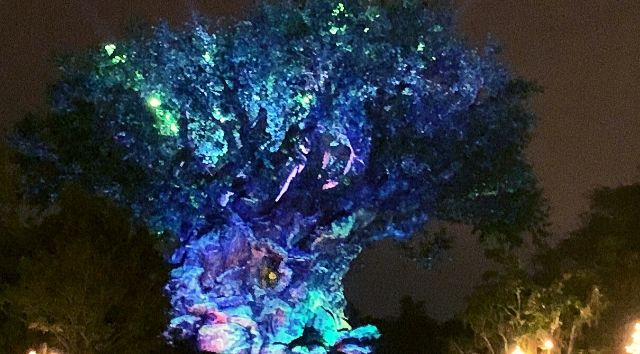 However, that was the last we saw of busy or chaotic.  There were several times in the night that we were literally alone, whether it was on a ride or walking through the park.  I have never experienced anything like this. It truly felt like we had the park to ourselves! 
We were most surprised while walking over the bridge into Pandora. We are usually stopped here at rope drop jammed next to all the other guests also trying to ride Flight of Passage so this felt truly special to us.
I believe this alone makes After Hours worth it: the ability to move through the park comfortably at a leisurely pace.  We enjoyed this aspect.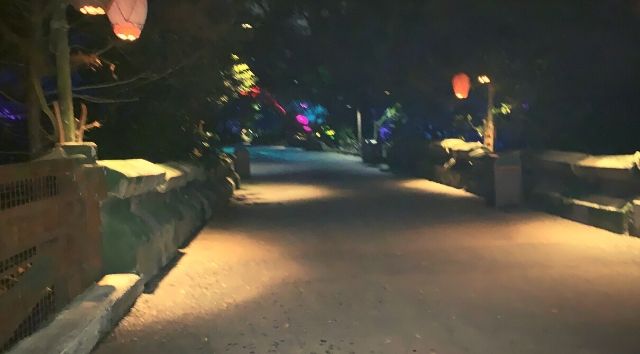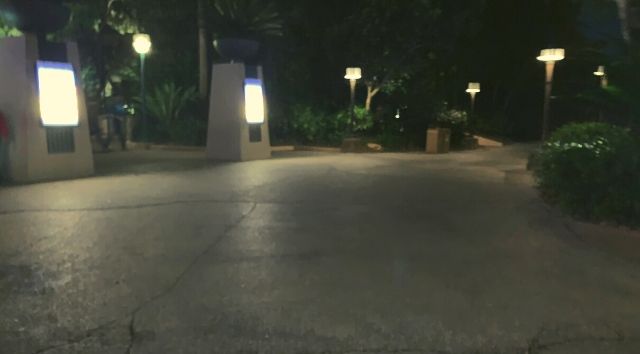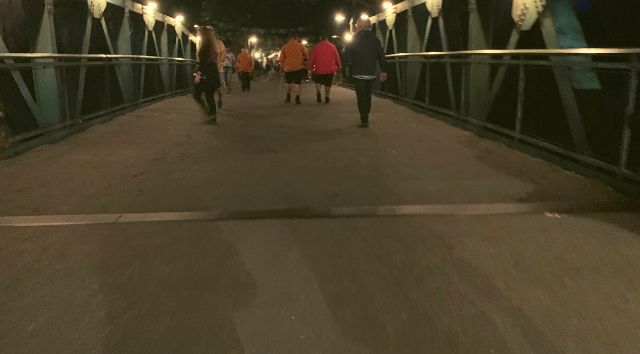 It is also worth noting that the Cast Members asked us to show our wristband each time we entered the queue for a ride, ordered a snack, or moved into a different "land" within Animal Kingdom. This definitely helped to be sure the day guests were not in the park after park closing time.
The Snacks
Disney's After Hours includes all you can eat ice cream, popcorn, and select beverages.  These treats are included in the price of your admission, so of course, we had to get our money's worth!
They did give us a flyer at the beginning of the night that included the locations of the snack stands, so we made it our mission to hit each one!
Before the event actually started at 9 pm, we found some Cast Members would serve the snacks and some would not.  In Dinoland, USA, we tried at about 8 pm, and the Cast Member was very adamant that she could not serve us any snacks.  We tried in Asia about 20 minutes later, and my husband got 2 ice creams, a popcorn, and a bottle of Coca Cola!  After 9 pm, we had no trouble getting any of the snacks.
Snacks were Mickey Ice Cream Bars, Mickey Ice Cream Sandwiches, Strawberry Popsicles, Popcorns, and either fountain or bottled soda and water.
Some of the snack carts gave boxes of popcorn, some gave small cups.  The carts gave bottles of water and soda, and the snack stands often gave cups of soda or water.
Each time, we were asked to see our wristbands, and each time, we were able to take as many of each item as we wanted.  I guess they figure you can only eat so much….I wish there was a way to take the Mickey bars with us though, they're my favorite!
We did take home several bottles of water and Coca Cola at the end of the night, and two boxes of popcorn.  I'd say we got our money's worth!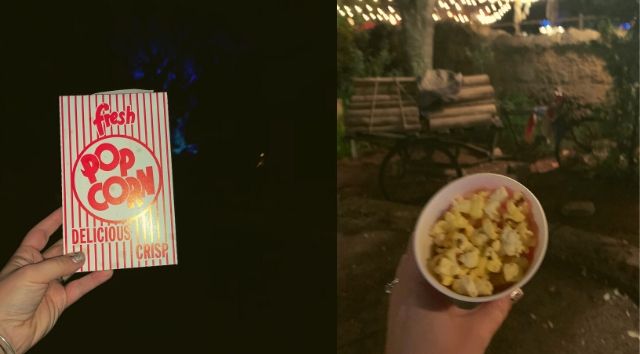 The Attractions
Discovery Island
Besides the Tree Awakenings,  It's Tough to Be a Bug is open in this area.  When we stopped for it,  we were the only ones in the theater!  It was unbelievable!  We love this show, but our kids are pretty scared of it so it was nice to enjoy it without thinking about the kids being terrified.  I was even able to catch some of the laughs I usually miss because I am distracted. This show is classic.
Dino Land, USA
The rides that are open during After Hours are DINOSAUR, Primeval Whirl, and TriceraTop Spin.  Our only objective here was to ride DINOSAUR. TriceraTop Spin is cute, but since we were kid-free we did not want to ride.  Primeval Whirl will always be a hard no for me. After reading about accidents on similar rides and Disney's decision to close the ride and only operate seasonally, I have decided this one just isn't worth it.
We arrived at DINOSAUR, and it was closed.  Cast Members explained that it would not reopen until 9 pm, since the park had just officially closed at 8 pm, and they needed to go through the ride and find lost belongings.  They explained this was their official procedure every night and that we should come back after 9 pm.  
This may or may not be their official procedure on After Hours nights, I'm really not sure.  However, I'll admit it was a little frustrating to see that the ride was down for an hour, but we shrugged our shoulders and walked on.  We returned later in the evening to ride it and we were able to walk right on.  We could have easily ridden it several times, but this one is one and done for me. I don't love it but my husband does!
Asia
I love Expedition Everest.  I love the queue, I love the vehicle, I love the drops, I love going backward, and I love being scared by the Yeti!  I was so excited to have the opportunity to ride with very little wait.
We always get a FastPass for this ride, so I had really hoped to take in the queue without my children whining or a massive wait.  Unfortunately, this was not possible as I walked completely through the queue without stopping until the loading area!  I tried to slow down a few times to look around but I was so excited to ride I just kept moving!
I was able to ride 3 times in a row without a wait before I started to feel a little sick.  One of the rides I was completely alone on!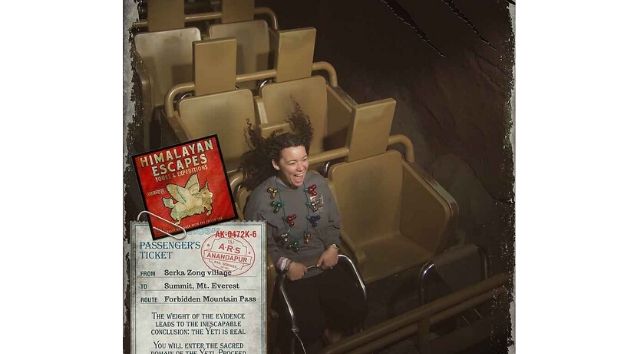 Rivers of Light was also open for the 7:45 show, but we decided to pass on this opportunity in favor of more rides!
Africa
Africa was not open during the After Hours event. In fact, we tried to walk through the area, but it was closed and a Cast Member routed us through Discovery Island.
Pandora-The World of Avatar
This is the area we spent the most time in.  The atmosphere alone is worth a visit at night.  I am always enchanted by Pandora; it is one of the most visually stunning areas in all of Disney World in my opinion.
However, if you haven't experienced it at night, I can tell you that you are missing out.  Pandora comes alive at night. It glows!  The ground is bioluminescent.  The plants, flowers, and rocks glow.  It is absolutely gorgeous. I wish I had a better camera that captured the beauty of this land better for you.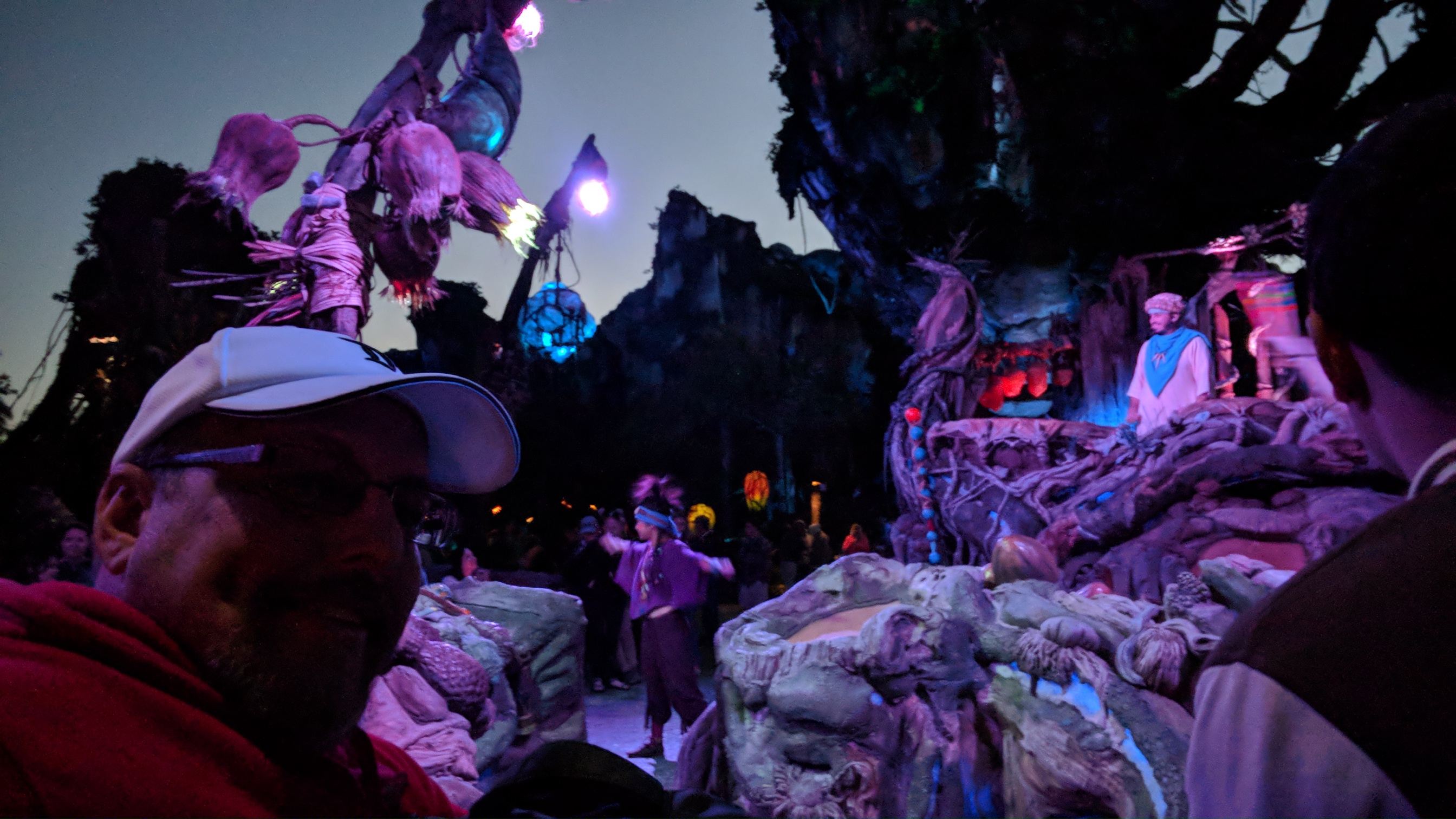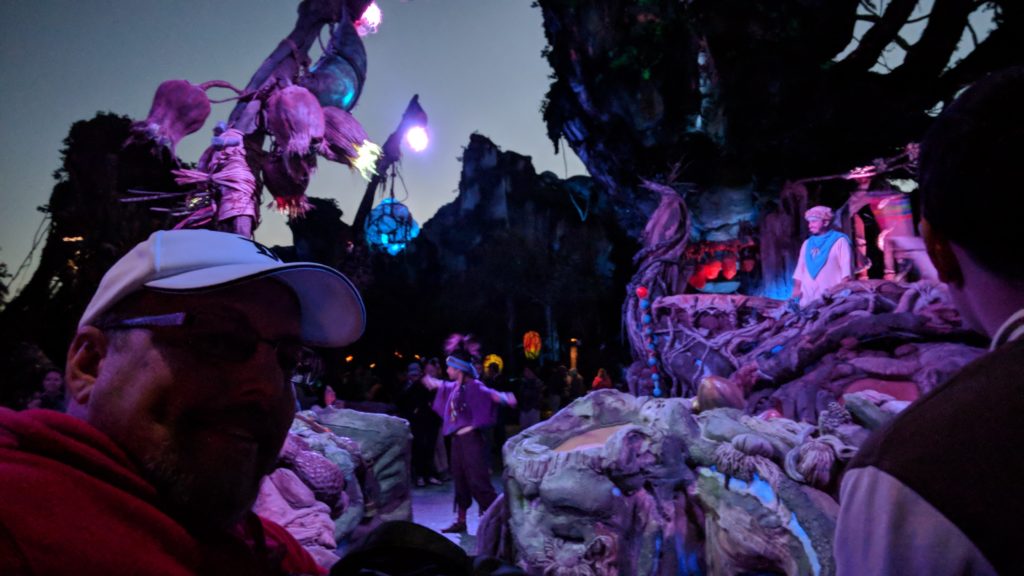 We caught the Pandora Drummers-Swotu Wayä. This traditional Navi drum ceremony is remarkable and worth a viewing, during the day or at night!
We rode Na'vi River with no wait. We walked straight through the queue and had the entire boat to ourselves.  I love this ride; it is incredibly beautiful and peaceful.  
Perhaps the biggest draw of After Hours is the ability to ride Avatar Flight of Passage with little wait. I did anticipate that this was why most people were here and I prepared myself for a slight wait.  The wait for this ride on a regular day tops out at two hours or more, so I expected we may wait up to 30 minutes.  Boy was I wrong!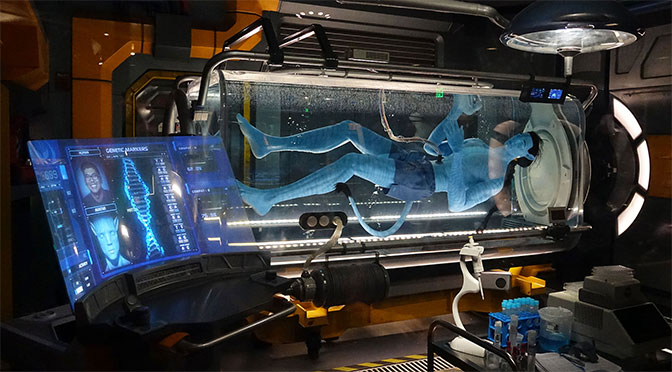 We rode Flight of Passage 3 times.  The first time, we were sent through the queue in its entirety.  Since I had expected a wait, I did time our wait.  However, we walked through the entire queue without stopping – a walk that took us 9 minutes!
When we got off, we went right back around to ride a second time.  This time they rerouted us on a much shorter route and we came out right where the FastPass line meets – only about a 4 minute walk this time! 
After two rides, we felt slightly ill so we took a break and walked around before riding a third time.  The third ride they rerouted us yet a third different way through the queue, and again, we walked through without stopping.
Also, for all three rides, we experienced slightly differing versions of the preshow.
I would've kept riding it if I could, but between all of the Mickey bars, the multiple rides on Everest, and the multiple rides on Flight of Passage, I was starting to feel lousy and feared another ride would put me over the edge!
Overall Thoughts
I loved every second of Animal Kingdom After Hours.  Yes, it was expensive but it was absolutely worth it in my opinion.
The ability to walk through the park without being slammed into by other people, walking through queue lines without stopping, experiencing our favorite rides multiple times, and all you can eat Mickey bars were worth every penny of that admission.
I did miss several things that Animal Kingdom has to offer: mainly the animals.  I will admit that Animal Kingdom without the ability to see the animals and ride the safari left a gaping hole for us.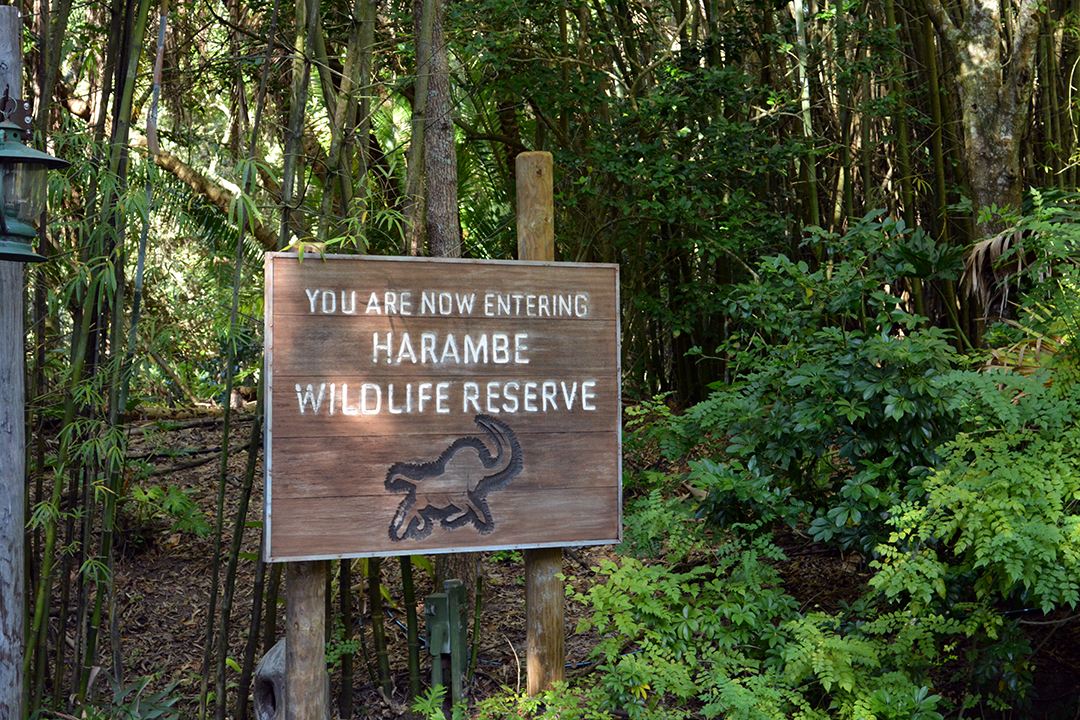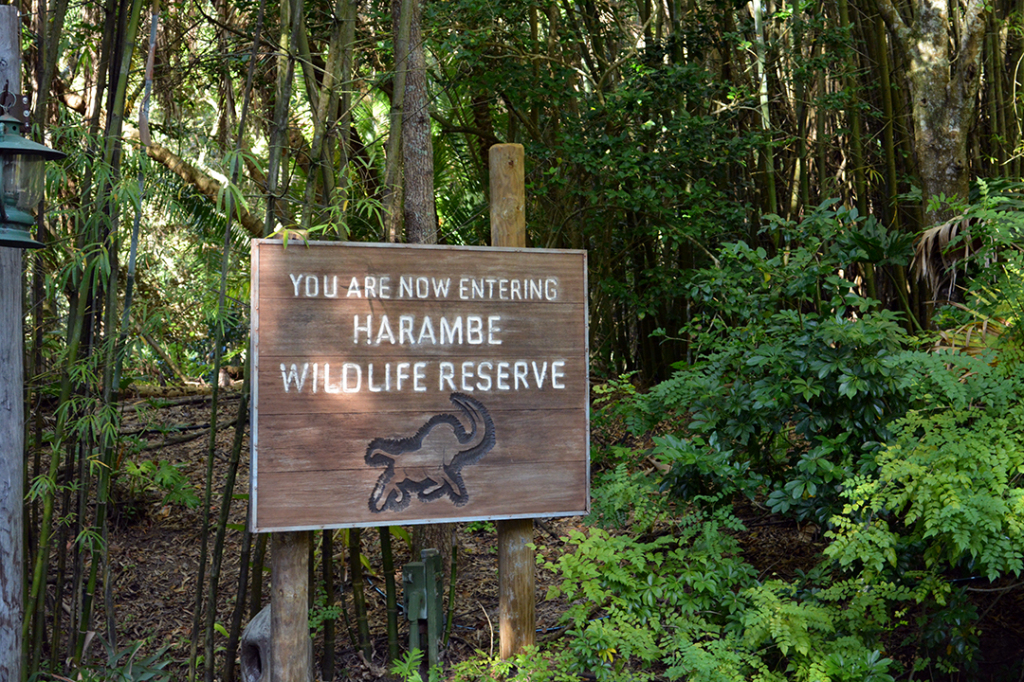 For this reason, I would not recommend Animal Kingdom After Hours if you have never experienced this beautiful park, or if seeing the animals and riding the safari is a make or break experience for you.  I also missed the opportunity to see the Festival of the Lion King Show, because this show is a must-do for us on every trip.
The other thing to consider is there are not a ton of attractions available at Animal Kingdom anyway, so there were not many attractions to visit.  If you are not a fan of Pandora, this event might not be worth it to you after seeing what else is available.
That being said, I still feel it was worth it.  Next up for us will be Magic Kingdom After Hours, as Animal Kingdom After Hours sold us on it.  There are so many attractions at Magic Kingdom and I think our experience might be even better. Plus, all-you-can-eat Mickey bars!  Stay tuned, I'll report back on that after my next trip!
Is an Animal Kingdom After Hours Event in your future? Have you done one before? Let me know your thoughts!
Jamie Fonseca