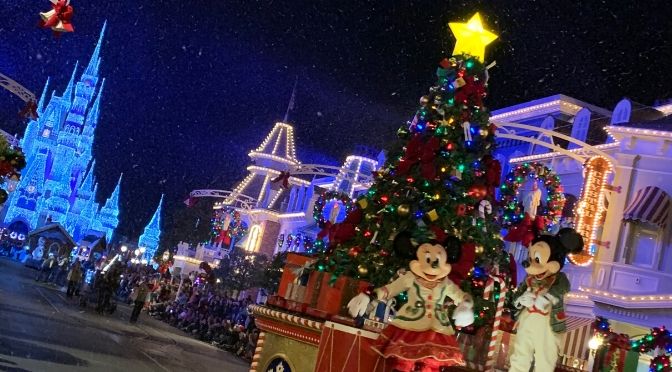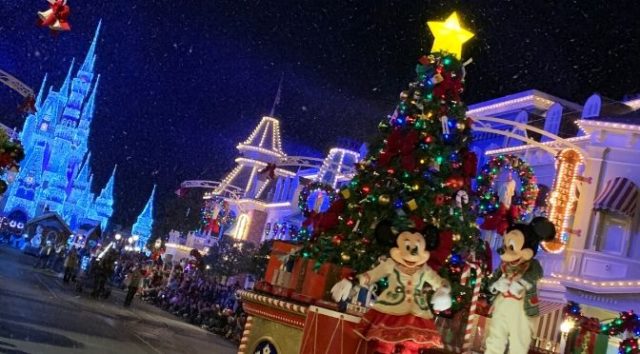 Mickey's Very Merry Christmas Party is a hard ticket event at Disney's Magic Kingdom.  This special party takes place select nights in November and December and features exclusive character meets, special holiday overlays on rides, an exclusive fireworks show, a Christmas themed stage show, and a wonderful Christmas parade featuring snow falling on Main Street.  This event also offers complimentary cookies, cider, and hot cocoa.
Tickets for this party range from $99 to $139, with tickets for children being $5 less.  Annual Passholder and military discounts are available, as well as advance purchase tickets.  If you purchase tickets on the day of the event, you will pay more.  If you already know you'll want to attend, you should buy tickets now, as this party tends to sell out in advance.
You can also purchase additional tickets for the dessert party for the fireworks and the dessert party for the parade.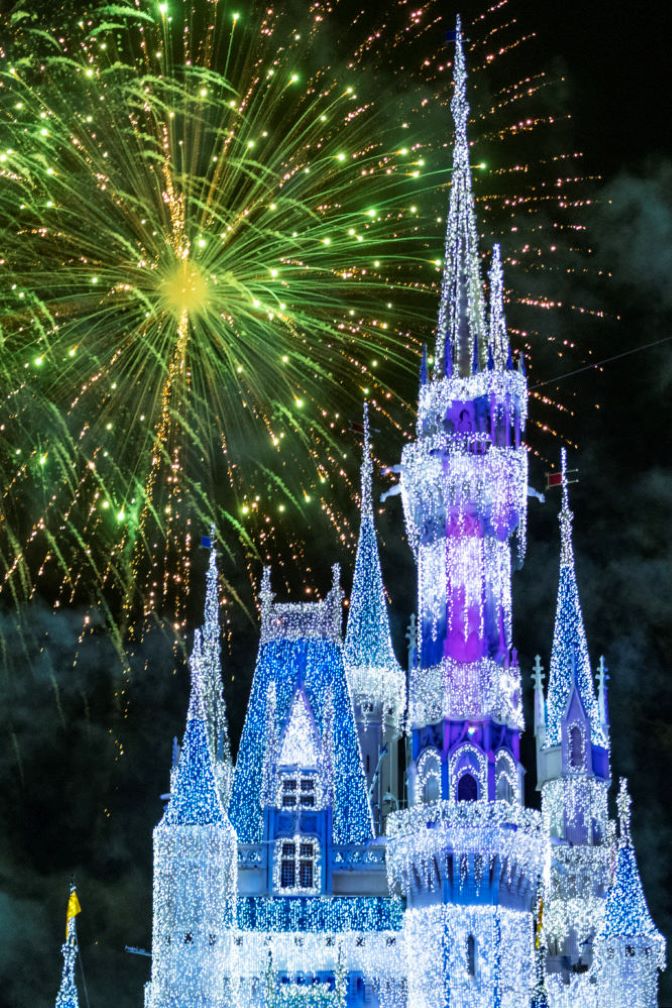 There are so many exciting things Mickey's Very Merry Christmas Party has to offer, so check out Kenny's tips on Character Locator, including locations for treats, character meet and greet locations, magic shots, and more!
Our main goal for the party was to see the Christmas decorations, experience the Christmas parade, watch Mickey's Most Merriest Celebration (the castle stage show), and enjoy Christmastime in the park. 
I had high hopes for our evening, as the party we attended did not sell out in advance.  I believed this to mean we would have low waits for lines and easy access to the parade route.
This event begins at 7 pm, but the ticket allows you to enter the Magic Kingdom at 4 pm.  I highly suggest getting there early, as arriving at 4 pm allows you to extend your party time by 3 hours!  I will warn you though-the park was very busy at 4 pm, as guests with general admission tickets were still in the park.
I was able to make FastPasses for 3:30 (Big Thunder Railroad Mountain), 4:30 (Splash Mountain), and 5:30 (Haunted Mansion), so we started our night that way.
Here's a rundown of what MVMCP has to offer, and my experience and thoughts on them.
Attractions
Monster's Inc Laugh Floor was one of the rides that received a holiday overlay, and since we love this show regularly, we knew we had to check it out. The show was much like the regular Monster's Inc Laugh Floor, with some holiday jokes thrown in.  Some of the scenes were slightly altered to include Christmas decorations, and some of the characters were wearing holiday attire.  Overall we enjoyed the show and the holiday touches.  If you are a fan of the original show, you'll enjoy this holiday overlay.
Next up: Space Mountain with the holiday overlay.  The line was longer than I would've liked, but the ride itself was lots of fun. Space Mountain's holiday overlay features holiday rock music and flashing green and red lights.  A must-do if you're a Space Mountain fan!
We also checked out the holiday overlay on the Jungle Cruise.  Renamed the "Jingle Cruise," the ride features lights and holiday decorations.  This was by far the longest line we waited in all night – about 25 minutes.  The ride queue itself had many fun decorations that we enjoyed looking at, from lights strung up and letters to Santa from the skippers pinned up on a bulletin board to a hat on the tarantula.  We boarded the boat, and expected the ride itself to have many decorations as well.  There were a few presents and lights throughout the ride, but nothing too overly obvious.  Most of the holiday overlay seemed to be in the ride queue only. This overlay is available during MVMCP, but also during regular operating hours.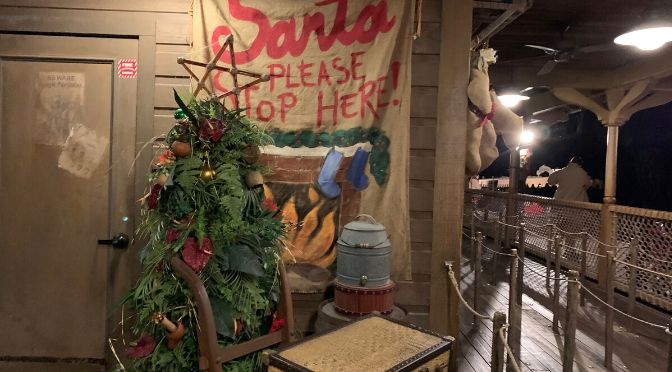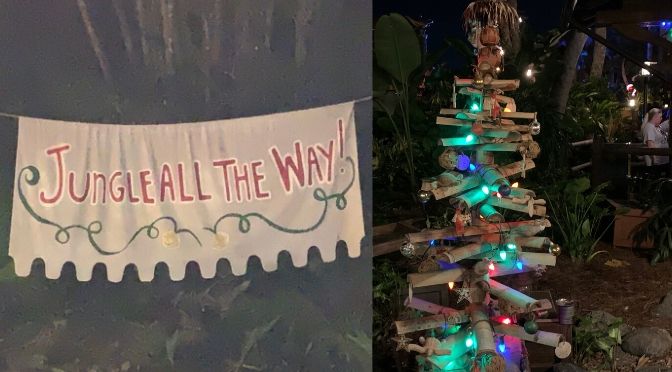 The Tomorrowland Speedway and Mad Tea Party also received holiday overlays, but we did not experience either attraction.
Shows
Mickey's Most Merriest Celebration takes place several times each night on the castle stage.  When we watched it, the hub area was completely crowded, but we secured a spot fairly quickly.  However, people pushed their way in, hoisted their kids up on their shoulders and held their phones up high to film.  Viewing the show was tough for me as I'm short, but my husband could see fine.
As the show started, familiar holiday music began and familiar characters filled the stage. The premise of the show is simple, Mickey is having a holiday party, and inviting all of his friends to join him.
The show began with the performers singing and dancing to spins on familiar songs. Then the characters and dancers started pulling out cell phones and singing "Text Me A Merry Christmas." With lines like "please remember this December to fully charge your phones" and "choose the right emoji that will make me LOL" I was absolutely horrified. This song was about the characters Snapchatting and texting each other. The projections on Cinderella Castle showed different Disney and Christmas emojis.
I felt this song was really out of place for Disney World.  When I am there, I don't want to think about texting or snap chatting.  I didn't love the characters' references to social media or the selfies I watched them take.  It didn't feel like it could possibly be real because Disney characters don't behave this way!  The rest of the show was better, but overall, I would not attempt to watch it again.  
Minnie's Wonderful Christmastime Fireworks Show is another MVMCP exclusive.  This show, hosted by Minnie Mouse, features classic holiday songs such as Joy to the World and Deck the Halls.  The music is presented with fireworks and projections on the castle.
The projections were impressive, as usual, but mostly featured seasonal themes such as gifts. To be honest, I absolutely love the projections featuring Disney characters, so I was not totally into the projections. I also missed hearing the Disney songs with the show, but the fireworks did not disappoint.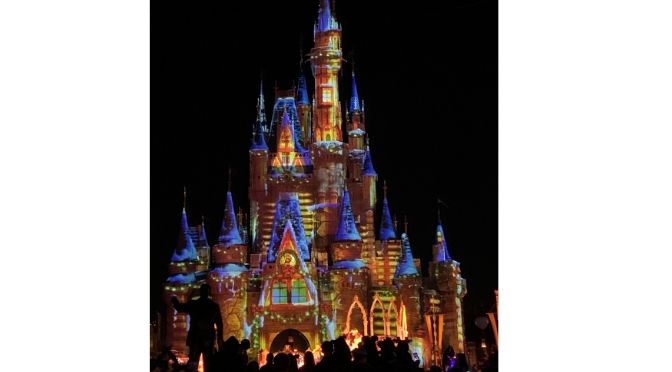 The Christmas parade at MVMCP is Mickey's Once Upon a Christmastime Parade. It was important for me to watch the Christmas parade on Main Street.  I received some good tips on the best places to stand with low crowds, but I was also told that Main Street provides a beautiful view with falling snow and Cinderella Castle in the background, so I knew that was where I needed to be.  
Main Street was packed, so we decided we should secure our spot right away.  Main Street filled with a mix of people trying to find a spot to view the parade, and people trying to leave the park.  The Cast Members did a great job of moving people along.  Before the parade started, some dancers came out into the street to entertain us.  They pulled children out into the street to dance, and everyone clapped along.
Shortly after the dancers finished, we could see some of the floats moving down Main Street.  The parade had arrived!  It was a magical sight for sure.  Mickey and Minnie came down Main Street on a beautiful float, followed by tons of characters, dancing and waving at us.  The parade did not disappoint, especially when the snow started to fall!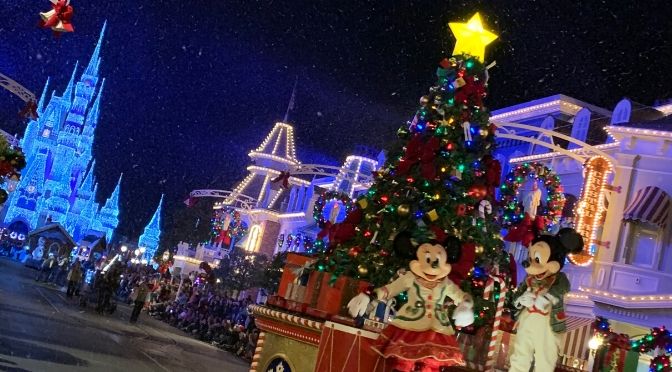 The highlights included Toy Soldiers playing instruments, Mickey and Minnie, dancing reindeer, and of course, Santa himself.
Characters
We were not focused on meeting characters for this party, except for Mickey Mouse of course.  After all, he was in his holiday finest, and a trip to Magic Kingdom is not complete for me without meeting the Mouse "that started it all!"
Mickey didn't disappoint.  He greeted me with the same big hug he has for me every time, and we chatted away and posed for pictures. In addition to meeting Mickey, there are several rare characters available to meet, such as the 7 Dwarfs, Moana, and Jack Skellington as "Sandy Claws." Character Locator has the full list!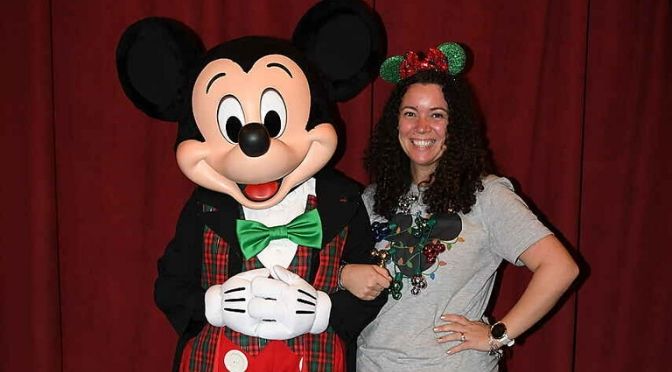 Atmosphere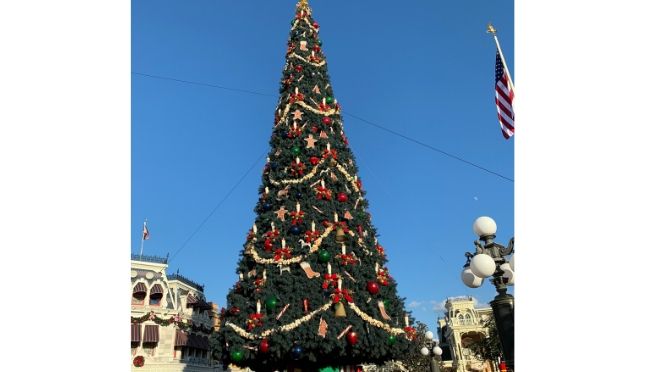 This is where Disney did it right. Magic Kingdom is decorated beautifully for Christmas. As you enter, you are greeted by a giant "icon tree" which is stunning. Garland drapes across Main Street. Cinderella Castle is lit up. Snow falls on Main Street. Even the Cast Members where seasonal clothing.
During the party, many guests are dressed in Christmas attire. I saw lots of matching Christmas pajamas, blinking lights necklaces, and holiday attire on guests. There is absolutely no beating the decor on Main Street. I was a little surprised as I walked through the rest of the park that I did not see many other holiday decorations. I did think they would carry throughout the park, but they were not as prominent in the other lands.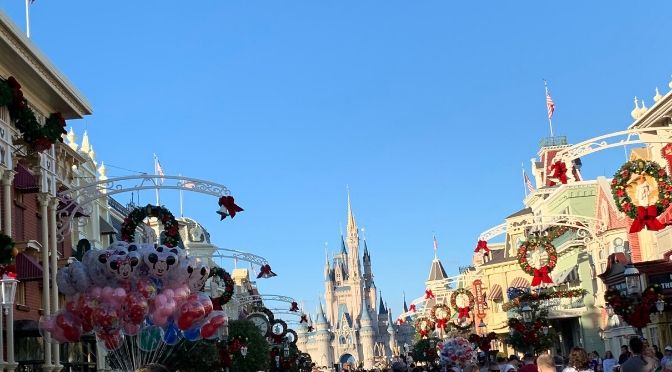 Snacks
MVMCP features complimentary cookies, hot cocoa, cider, eggnog, and Fanta.  We made it our mission to try every snack offered.  Some were better than others, but none were fantastic.
Complimentary Treats were marked by a large blowup Peppermint Stick outside of each location. Lines were long for treats but moved very quickly.
As we entered the party, we were treated to our first cookie, which was a red sugar-coated Mickey cookie.  It looked delicious but lacked in taste.  It was pretty dry and tasted slightly lemony.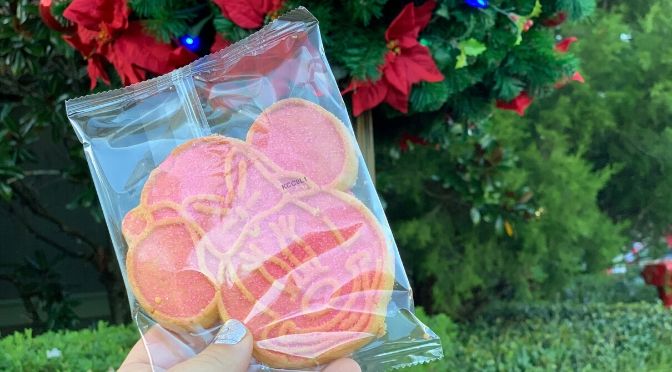 The chocolate chip cookie was your basic chocolate chip; nothing special about it, but it was yummy!  Crunchy around the edge and soft in the middle.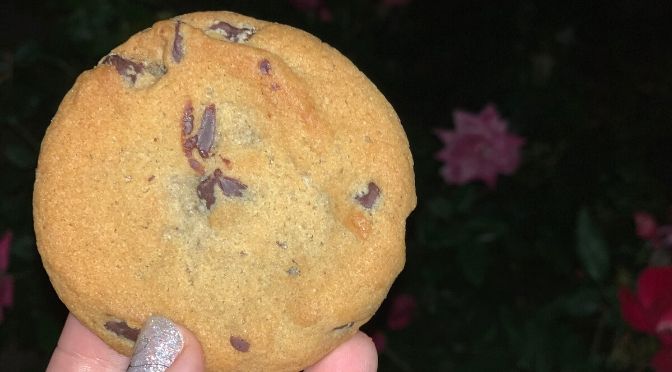 The Snickerdoodle with hot cocoa was delicious! The cocoa was super chocolatey.   Be warned though: the cocoa is just lukewarm, and the cup was only about a quarter full.
The Ginger Molasses cookie was slightly spicy. It reminded us of an oatmeal cookie. It was ok….we didn't go back for seconds on this one.
The Snowman soft pretzel was as adorable as it was delicious.
The Peppermint Chip cookie was my favorite cookie of the night!  It was soft, chewy, and had peppermint candies and chocolate chips in it.  I may have gone back for seconds on this one (or thirds)!
Eggnog was also served. It was nothing like any eggnog I've had before…it was very thin and runny. Also, the cup was only a quarter full.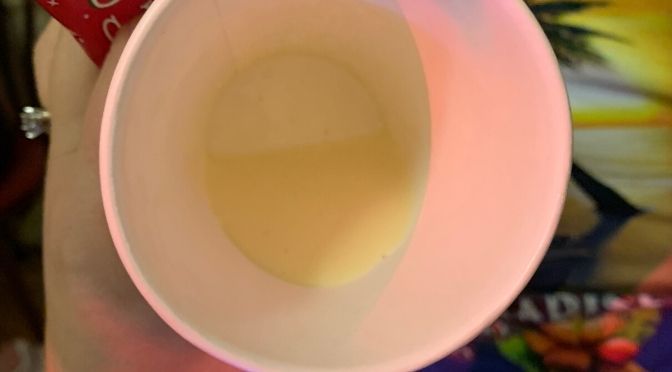 The Fanta soda was orange flavored. The cup was full, but the soda was completely flat.
The apple cider was….apple juice. The cup was full though!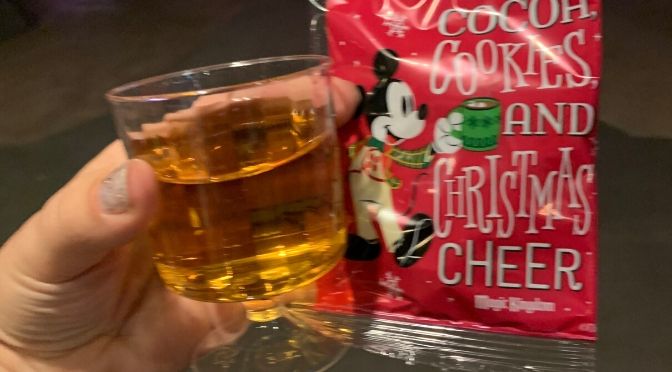 Crowds
The night we attended was not sold out, but the party was still extremely crowded. While we were still able to do everything we set out to do, there were times when moving through Main Street and the hub area was uncomfortable.
Overall, I was surprised that the number of people that were there did not make up a sold-out party, but our evening was still manageable. My guess is that even the nights that aren't sold out are extremely busy, and your best plan is to be prepared for the crowds. There are some good tips here on how to enjoy a crowded Christmas party.
Overall thoughts
While we enjoyed ourselves, I would not visit MVMCP again. I was lucky enough to attend MNSSHP this year, and I absolutely loved it!  I loved the decorations, I loved the villains, I loved the parade (and the Boo to You song!), I loved the fireworks, and I absolutely loved the Hocus Pocus Villian Spelltacular. I thought a lot about what bothered me about the party, and ultimately I think I figured it out.
The Halloween party featured Disney characters and brought them out, and they played on what they were already doing. The music featured was Disney songs or unique to Halloween Disney songs, such as the "Boo To You" song featured in the parade. Dressing up in costumes was so much fun.
The Christmas party fell short where the Halloween party got it right.  There are not many Disney Christmas movies or characters, and so Disney took their everyday characters and dressed them in holiday outfits.  Santa, Elves, and Reindeer are not unique to Disney but they were heavily featured.  The music was not unique to Disney, rather old Christmas songs with new spins on them (with the exception of the awful "Text Me A Merry Christmas").
I loved the Halloween Party because I got to experience a unique and authentic to Disney Halloween-: villains, Halloween songs, and Halloween Characters.  The Christmas party was a new spin on the same things we can get anywhere.  While that was special and unique in itself, I didn't get that same "wow" feeling.  I love to come to Disney and sing along to the Disney Songs, see the Disney projections on the castle, and immerse myself in Disney.  The Christmas Party did not meet that need for me. I will definitely be back to visit Disney World at Christmas again, but I'm not sure Mickey's Very Merry Christmas Party is for me.
Have you attended Mickey's Very Merry Christmas Party? What do you think of it? Drop me a comment and let me know!
Jamie Fonseca