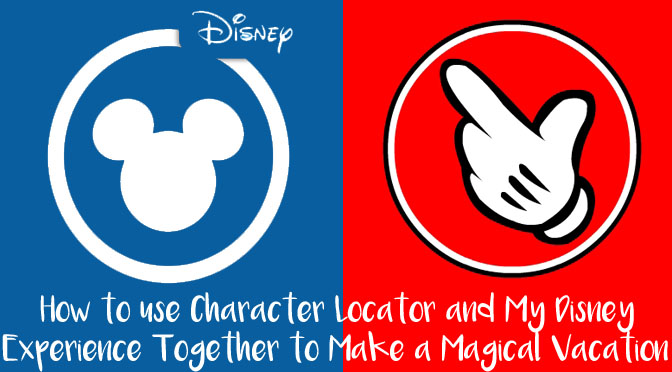 Almost everyone who plans a Disney World vacation should be familiar with My Disney Experience (MDE).  Did you know MDE does not have many of the features that make Character Locator so great? Let's look at different ways you can use both of these resources to help you have the most magical vacation.
MDE is the official planning tool from Disney World. This tool contains most of the logistical information you need for your trip. You can download it as an app on your mobile device or use it on the computer. First, let's take a look at all MDE can do.
How I use My Disney Experience
Dining Reservations
MDE is the only place where you can book your dining reservations for your Disney vacation. You can search by date, time, and the number of guests in your party. Then a list of all the available restaurants will pop up. Here is a screenshot of what it looks like when you're making dining reservations.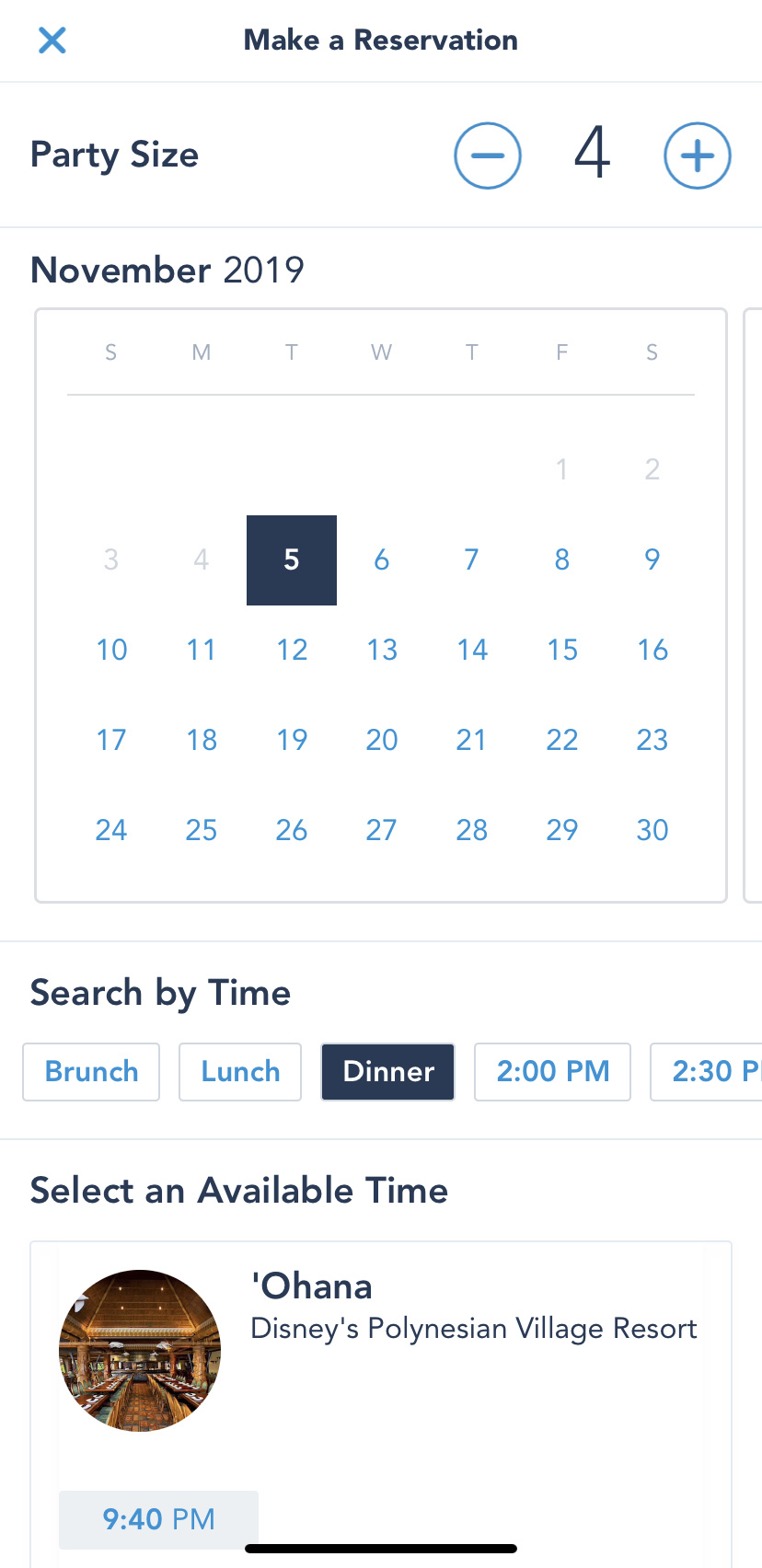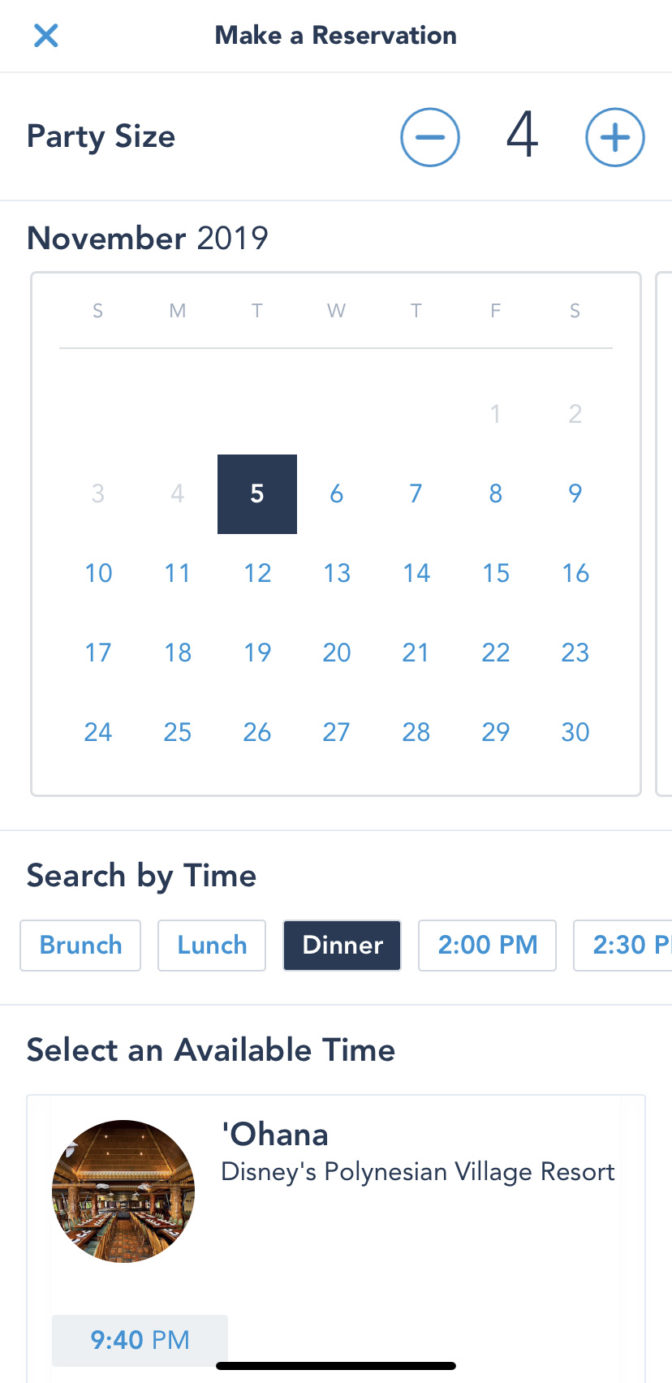 Fastpass+ reservations
My Disney Experience allows you to reserve and modify Fastpass+ (FP+) reservations.  This is the biggest reason why I use MDE.  Of course, if you want to see how to get the most out of your FastPass+ reservations, check out the awesome tips on the RIDES tabs on Character Locator.  More on that below!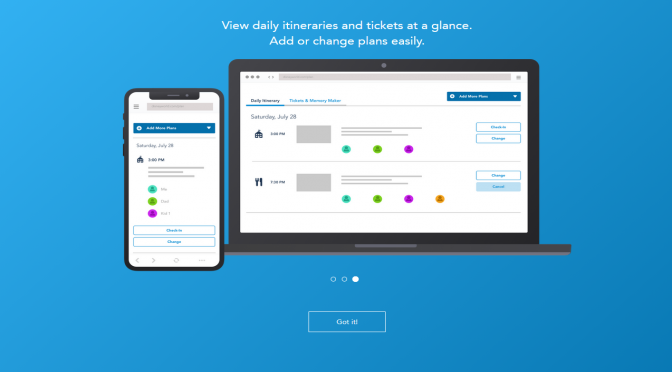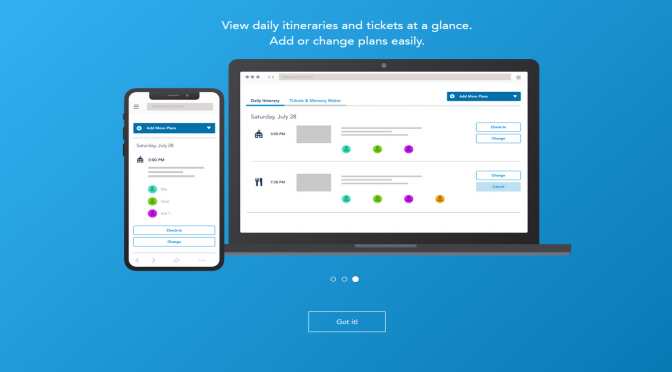 Mobile Ordering
If you are in a hurry or do not want to wait in line, take advantage of mobile ordering.  Why wait in line and waste valuable park time when you can order your food through My Disney Experience and have it ready in minutes? You can read more about mobile ordering here.  You can do some customization to your order, but may need to speak to a chef in person for some allergy needs.
Photos 
With MDE you can review your Disney Photopass photos that are taken while you are on vacation.  If you purchased Memory Maker, photos are also available to download to your mobile device here.
How I use Character Locator
Now, that we we've looked at the strengths of MDE, we need to look at Character Locator and all of the things that make it special! But first, it's important to note that Character Locator is web-based only.
This means you cannot download it as an app because Kenny wants to keep it up-to-date without you needing to update it! You can easily make this website work like an app by adding it to your home screen on a mobile device.
Crowd Calendars
The crowd calendar is Kenny's gift to all of us. He has ranked the best, median and worst park for each day of the year using a color-coded system. For me, the crowd calendars are key to managing vacation itinerary.
Do you want to avoid crowds as much as you can?  We all do. The crowd calendars have always been spot on. Many sites have crowd calendars, and almost everyone will tell you Kenny is the most accurate. His crowd calendars are available for free on this site, but a subscription to Character Locator has a few extra perks like being able to see historical hours for any date plus not having to click on each individual day.
He produces his special crowd calendars 6.5 months in advance and is usually the first to release accurate park hours.  Here is what it looks like on the mobile version: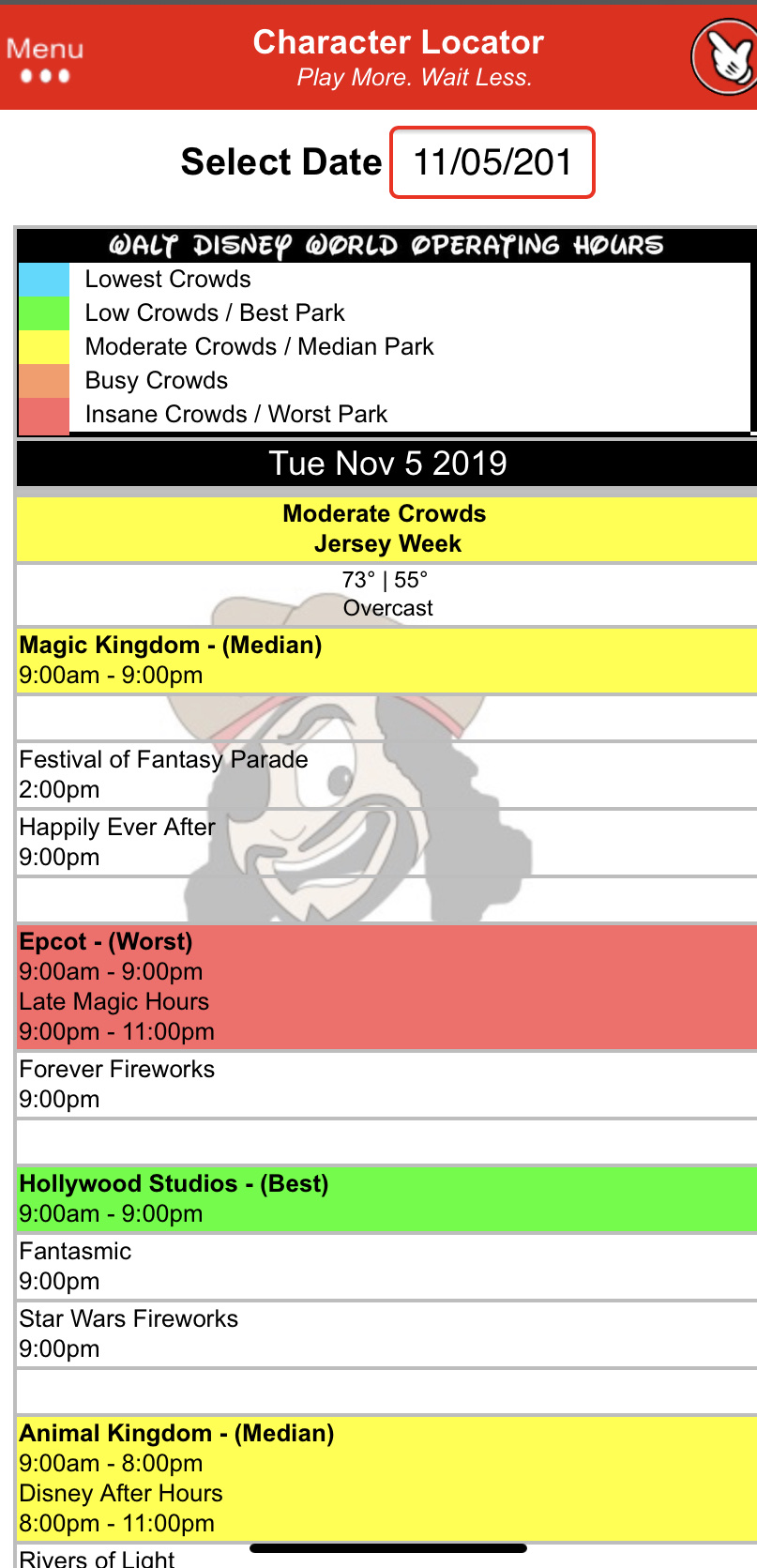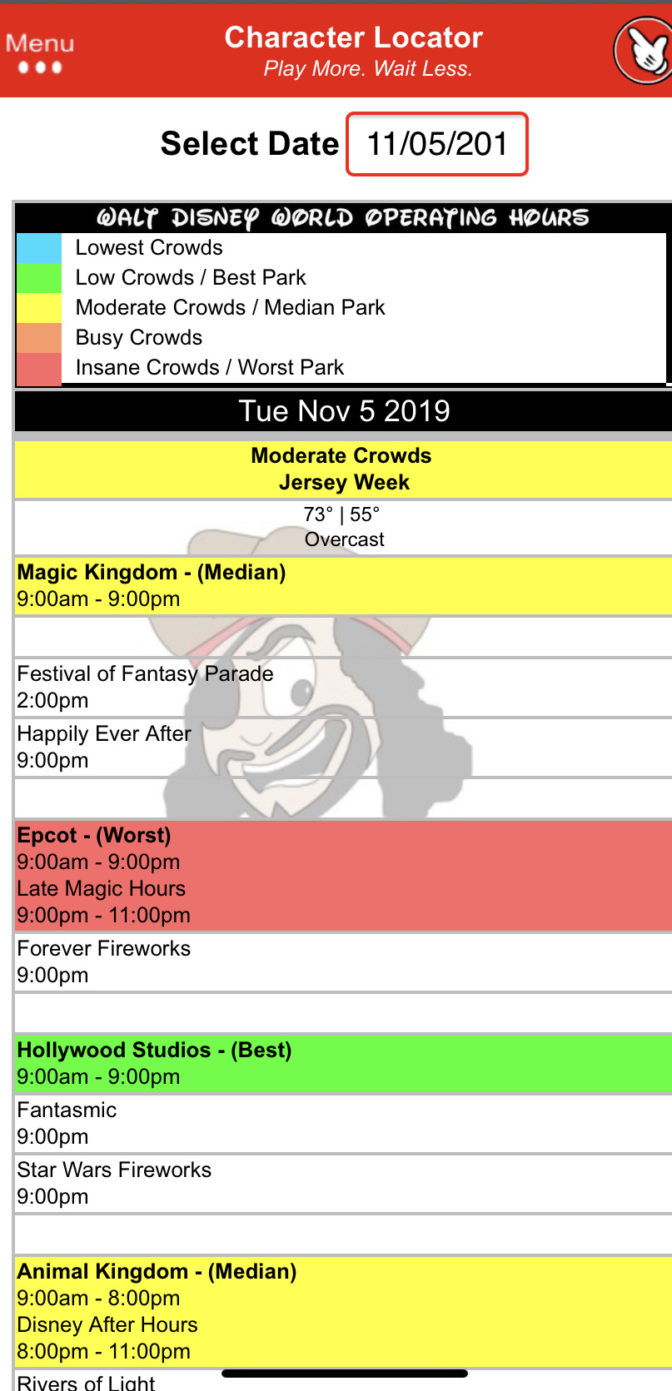 Hours and Special Events
Character Locator also has hours for each park day as well as special events listed. Having already checked the crowd calendar months in advance, though, you know what is going on each park and the best park to be in!  You can find the park hours listed at the top of your touring plan, on the main menus for each destination and at the top of any given park.
He even includes things like Early Morning Magic, Extra Magic Hours, special event parties and Disney After Hours!
Rides
Are you wondering whether or not a ride has Child Swap? How long is the ride? Could the ride be frightening for some smaller children or maybe someone with sensory issues?
Any handicap issues or seating issues are even mentioned!  This is one of the places you will find Character Locator helpful. There are even ride videos so you can get a feel for the ride before you visit the parks.  You will not find this information in My Disney Experience.
He also has advice for which rides are Fastpass+ worthy and tips for getting more FPs. The only thing you need MDE for is actually booking the FP+ selections.
Characters
FULL character locations and times are available in Character Locator and are always accurate. It also includes information like if the location has air conditioning, whether Photopass photographers are available, and whether or not the characters will sign autographs.
There are also interaction tips and photo posing ideas. Often times I meet a character, and I have no idea what to say or how to interact with them. With Character Locator, you will find some tips on how to get the most out of your character greet, and that adds more opportunities for fun, unique experiences.
Maps
Character Locator maps are unique because not only do they have locations for rides and restaurants but also for characters! Kenny even pinpoints and labels them!
Character Locator also gives recommendations for the time of day that is best for completing each attraction right there on the map.  He updates the map regularly to keep it fresh.
Magic Shot locations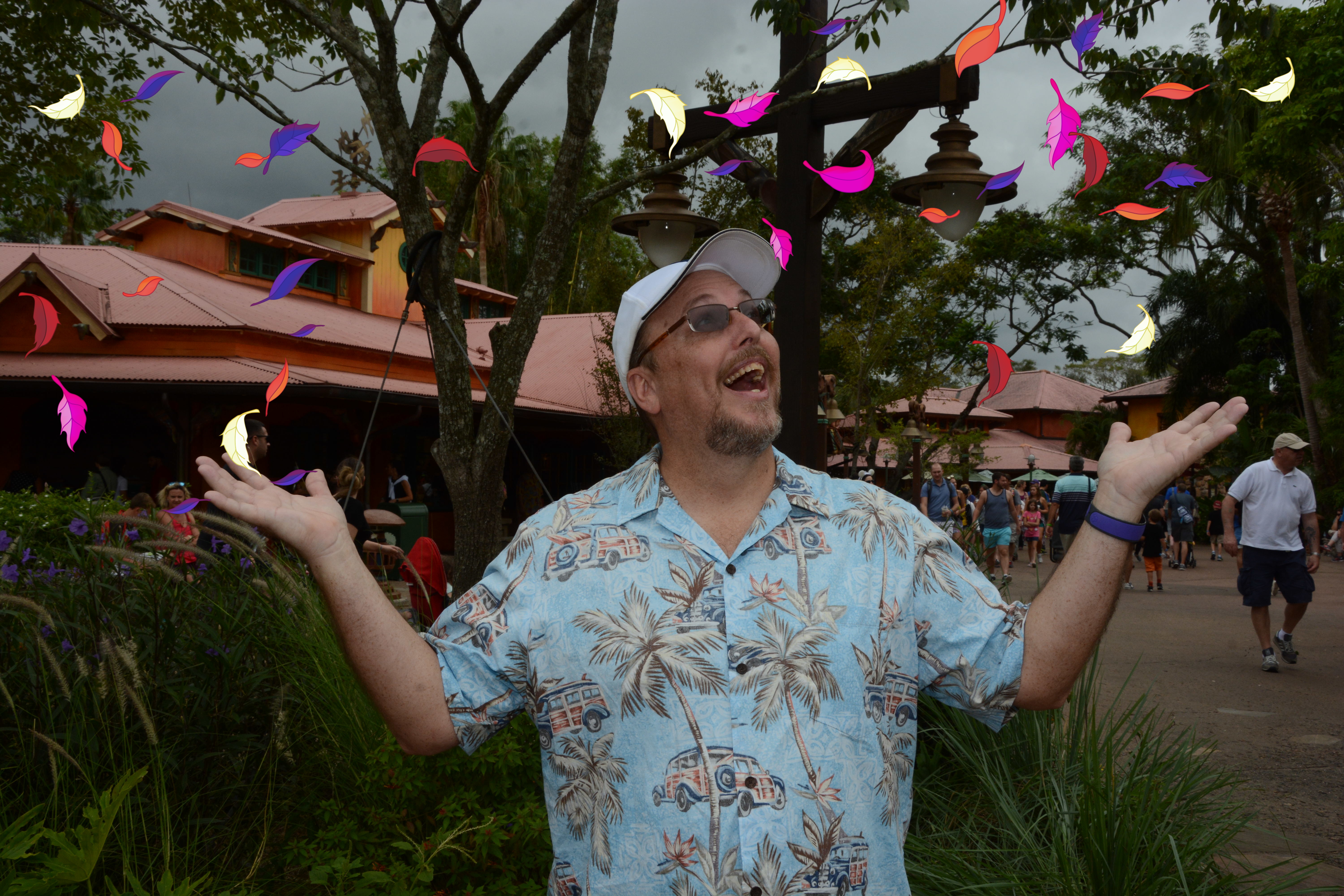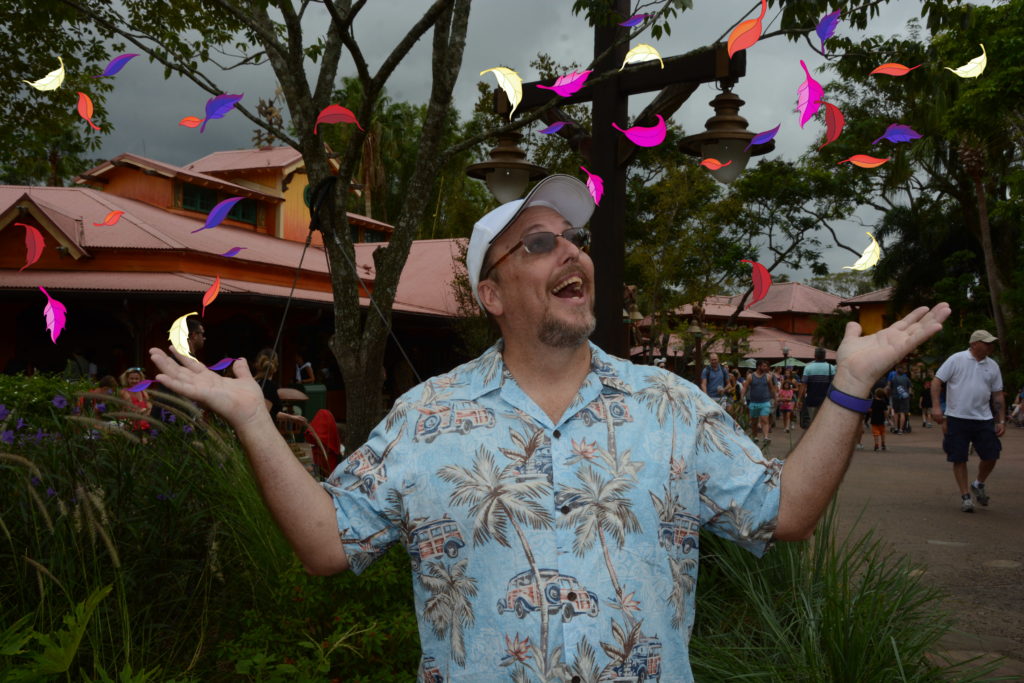 If you are looking for fun magic shots or advice on how to get the best photos, Character Locator has each Magic Shot listed. See this picture of me and my boys? There's no one else in the photo because I used tips from Character Locator!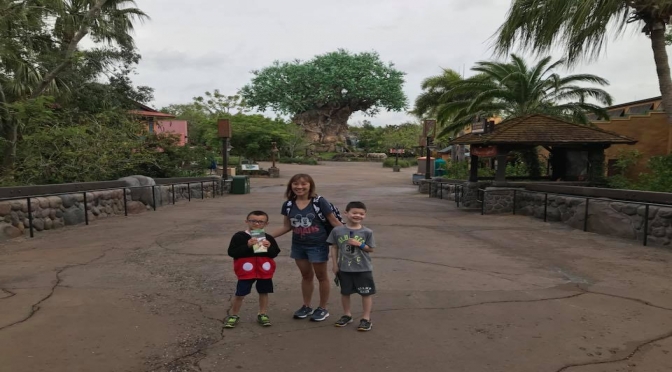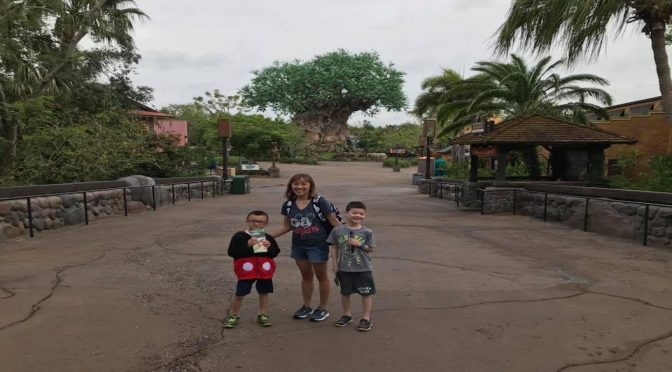 Touring Plans
I have saved the best for last. Character Locator has all of the above, plus touring plans.  Kenny has multiple touring plans for each park depending on the needs of your travel party. Maybe you want to figure out how to do everything you want but you do not want to get up at the crack of dawn to do rope drop.  Is it possible?
What if I have little kids? What kind of plan should I do?  Just select the best plan for your needs and follow it! You can even add your dining reservations and Magic Shot locations into the plans or take out attractions you don't want to do. It's completely personalized!
Additionally, Character Locator has the ONLY park-hopping touring plans on the market.  That's right, you can add any item from any destination right to your plan.  You can start with a Magic Kingdom plan and add another park, Disney Springs, a water park or even Disney resort information.
My Disney Experience and Character Locator are just a couple of ways to make your trip planning and experience more enjoyable. My Disney Experience is free to us and Character Locator, as Kenny says, costs less than a cheeseburger meal!
It's well worth it in my opinion. In my experience, it has allowed my family to enjoy a maximum amount of time in the parks with little or no wait times for characters, rides, and shows. We have been able to get those hard to get dining reservations and a FastPass for any ride that we wanted.  For such a low price, why not try it and see how it can enhance your vacation experience?
Have you used My Disney Experience and Character Locator?  What do you like most about them?
Maggie Baltz