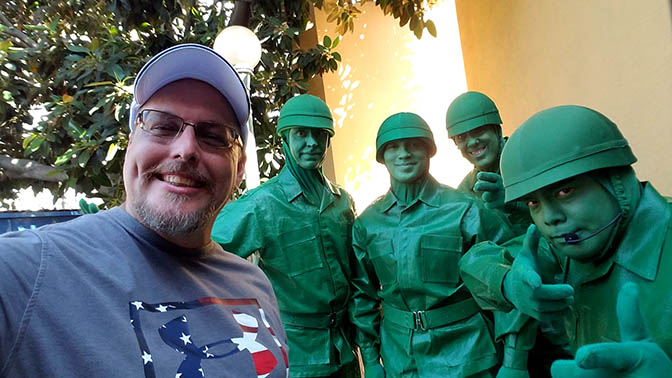 On July 12, 2017, with no advance planning, I woke up and decided to see how many characters I could meet in a single day at Disneyland and California Adventure.  Follow along with my Character Locator Challenge!
The Character Locator Challenge involves seeing as many characters as possible in one operational day.  You must have someone else take the photos for you as no selfies are allowed.  You can find the rules here, if you're interested in trying this.
Disneyland had a regular opening time of 8am and I entered a few minutes before 8:00.  I saw Mickey in front of Great Moments with Mr. Lincoln.  He was looking dapper in his classic red pants and tuxedo jacket.
1. Mickey Mouse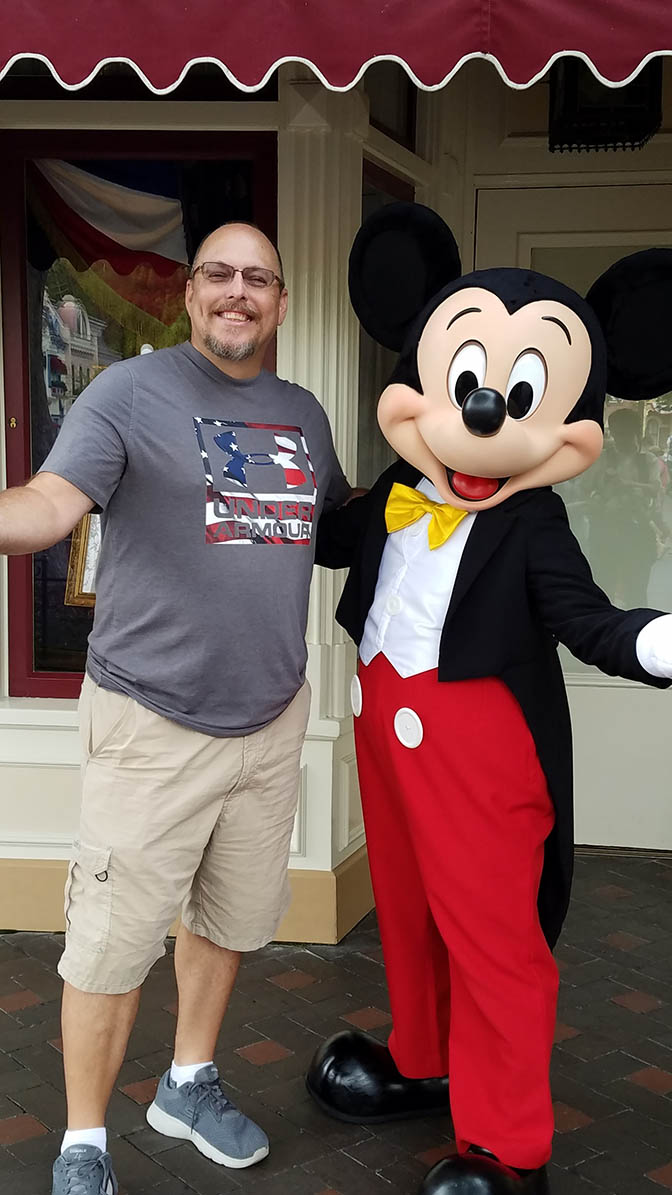 2.  Tinker Bell
Tinker Bell began meeting at 8:00am and I was the second guest of the day to meet her in Pixie Hollow.  On some occasions, other fairies may pop up, but Tink is the most common here.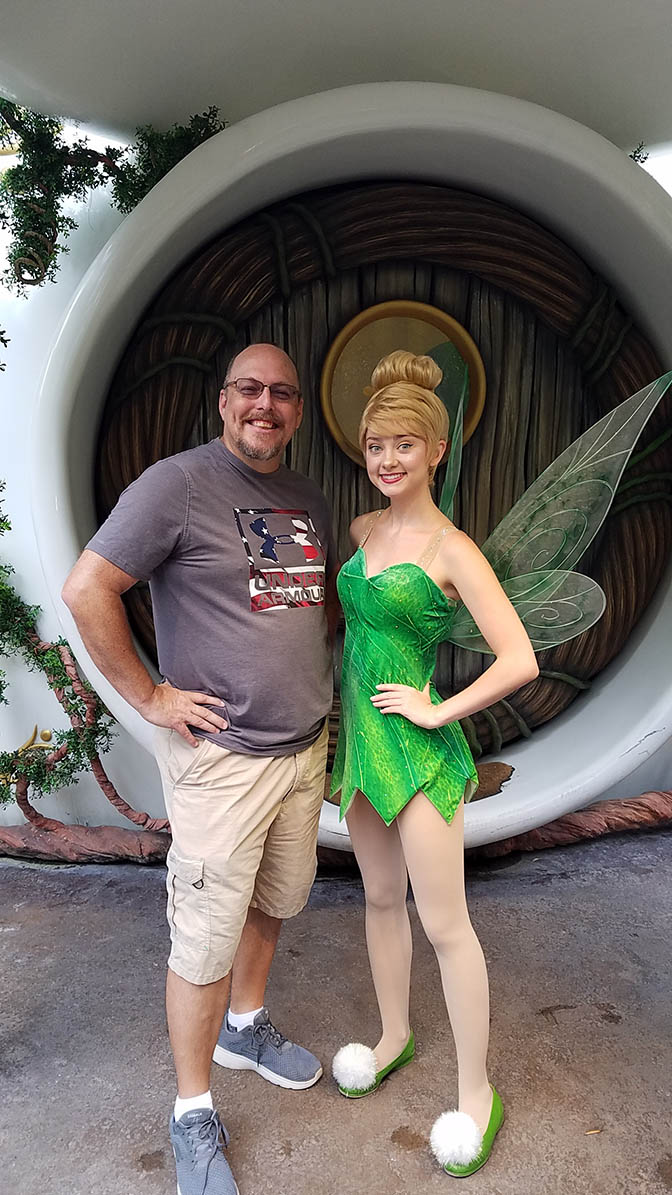 3. Minnie Mouse
I had pre-arranged a breakfast at the Plaza Inn.  I call it the "Character Palooza of Disneyland."  You can usually meet between 8 and 12 characters with a single meal.  Minnie is the hostess and usually meets outside to greet her guests.  You are offered a photo package, if you wish to have that.  They will take photos with your camera.
4. Rafiki
Rafiki was on the porch at the Plaza Inn, so I asked another guest to take our photo together.  Often times in Disneyland, you'll be asking others to take your photo as Photopass isn't offered at many of the meet and greets.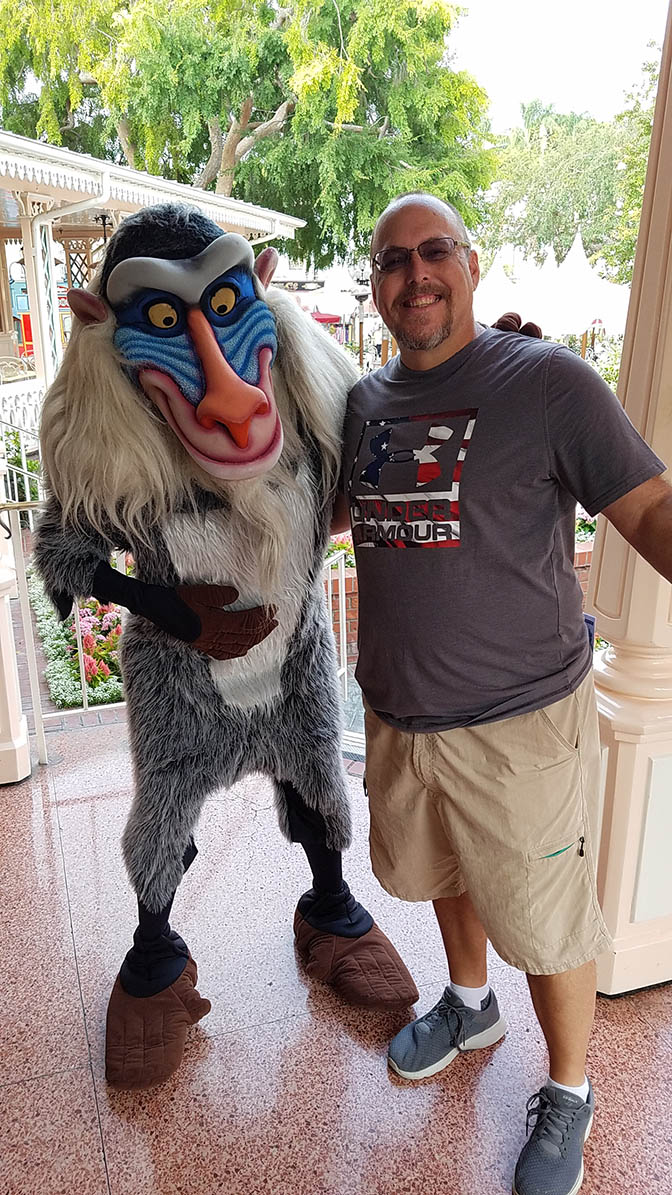 You are allowed to enjoy a character meal as a part of the Character Locator Challenge, but you must provide a photo of your receipt to prove you didn't just pop in and take photos with characters, then leave.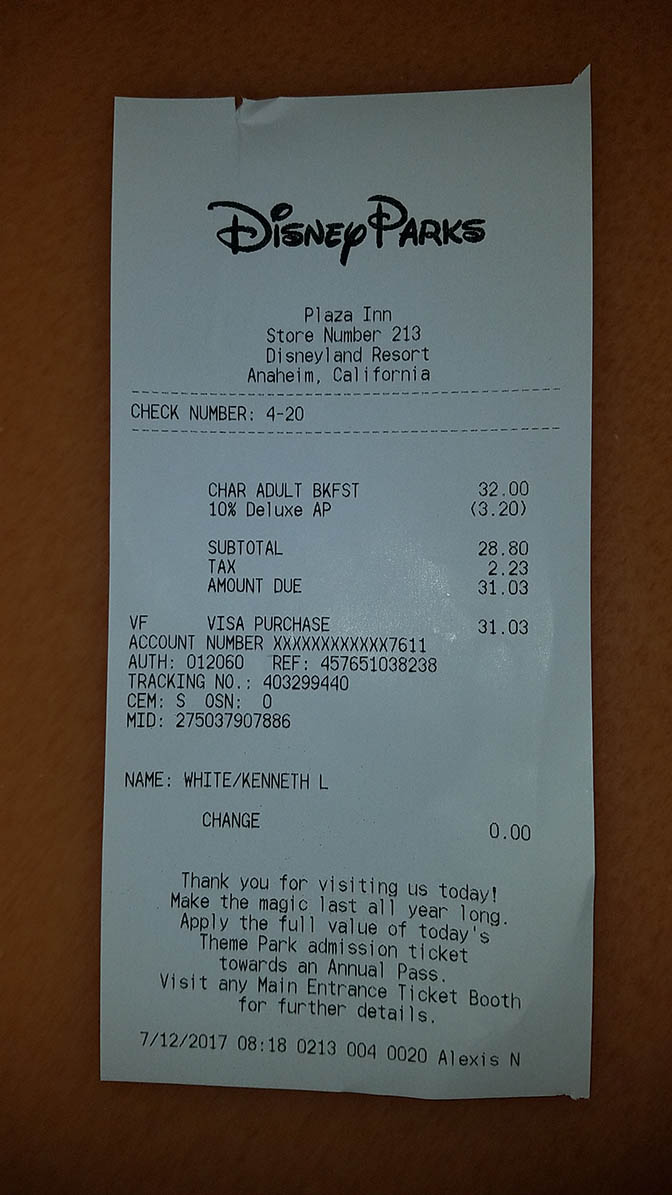 5. Dale
I was fortunate to have a couple of people, at tables near me, assist me with taking photos at the character meal.  The characters just keep coming and coming, so you have to eat a bite of food here and there and hope you're not stuffing your cheeks like chipmunks.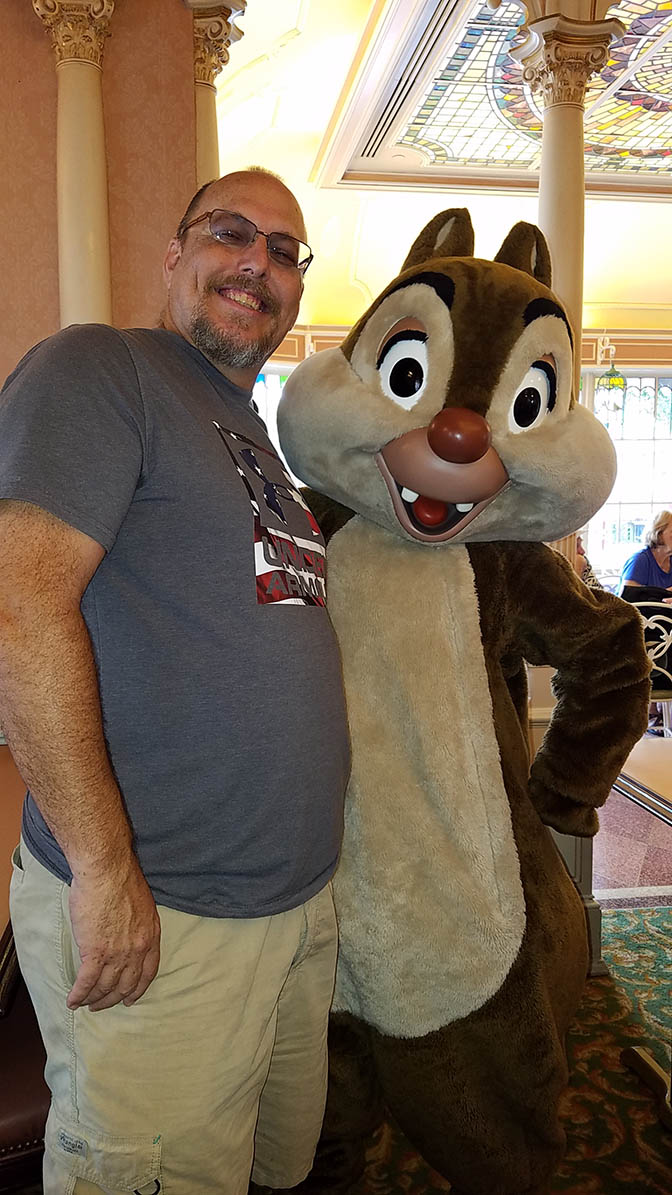 6. Tigger
Tigger and I had some bouncing time, but he had to be careful not to bump his head.  I'll make a note here.  When traveling alone, request a standard table, not a booth.  The characters didn't even notice me all alone in the corner.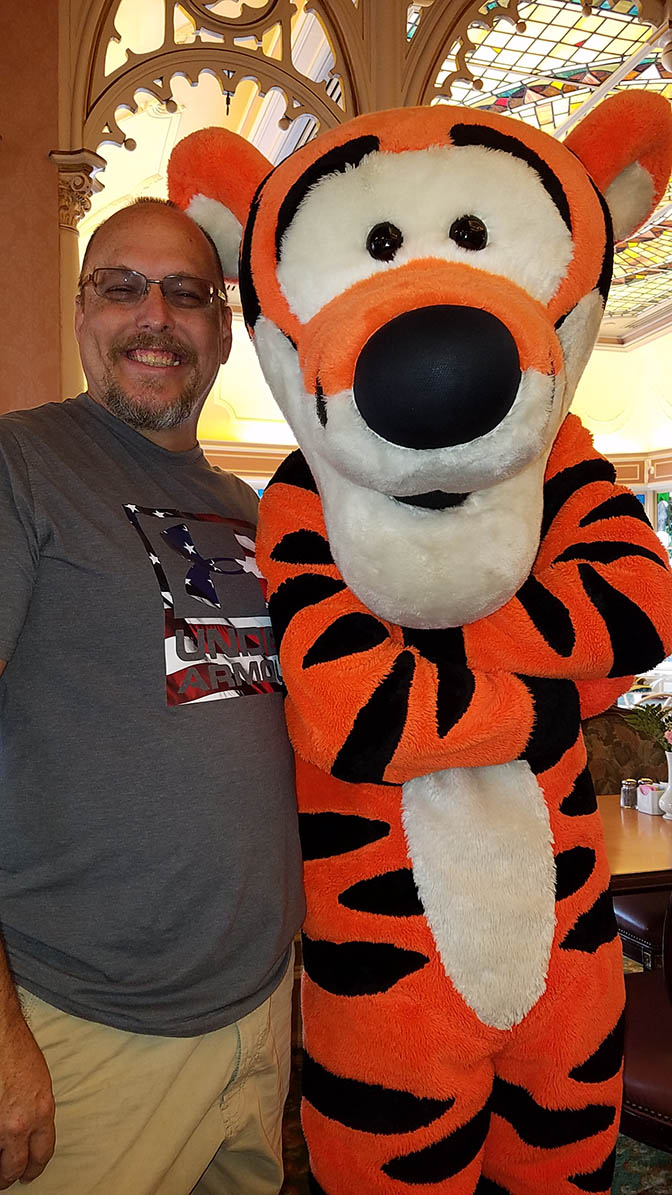 7. Suzy
Suzy, one of Cinderella's mice, was meeting guests on this morning.  I didn't see Perla this day.  If you need to know how to tell them apart, just remember "Perla's in Pink."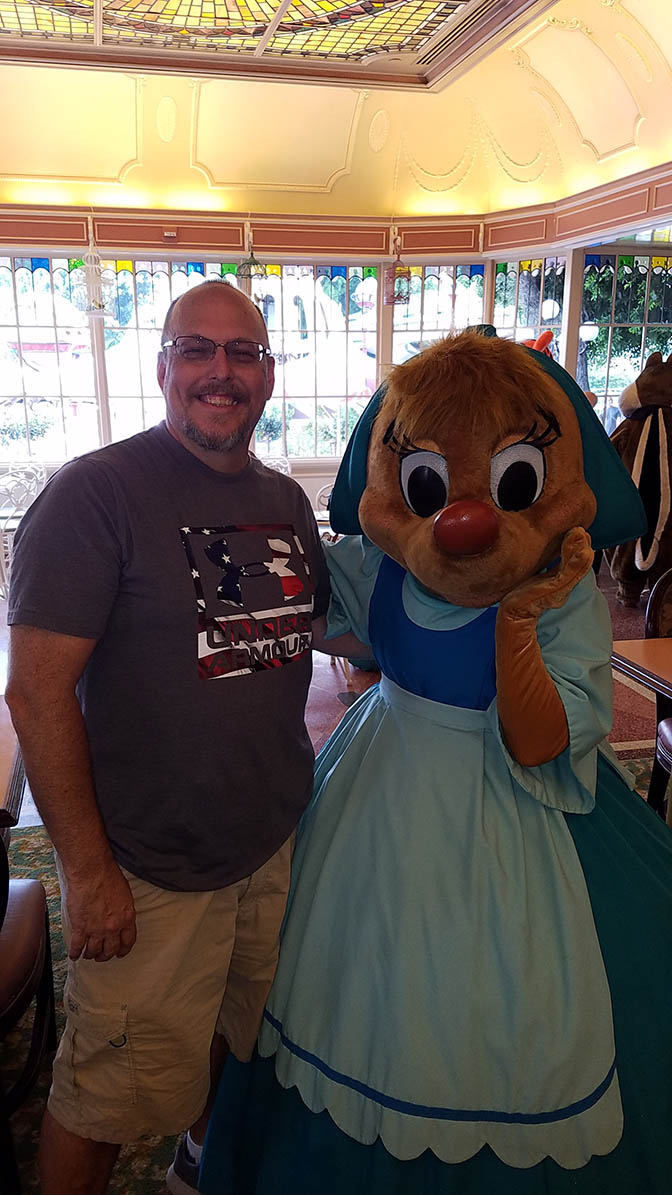 8. Chip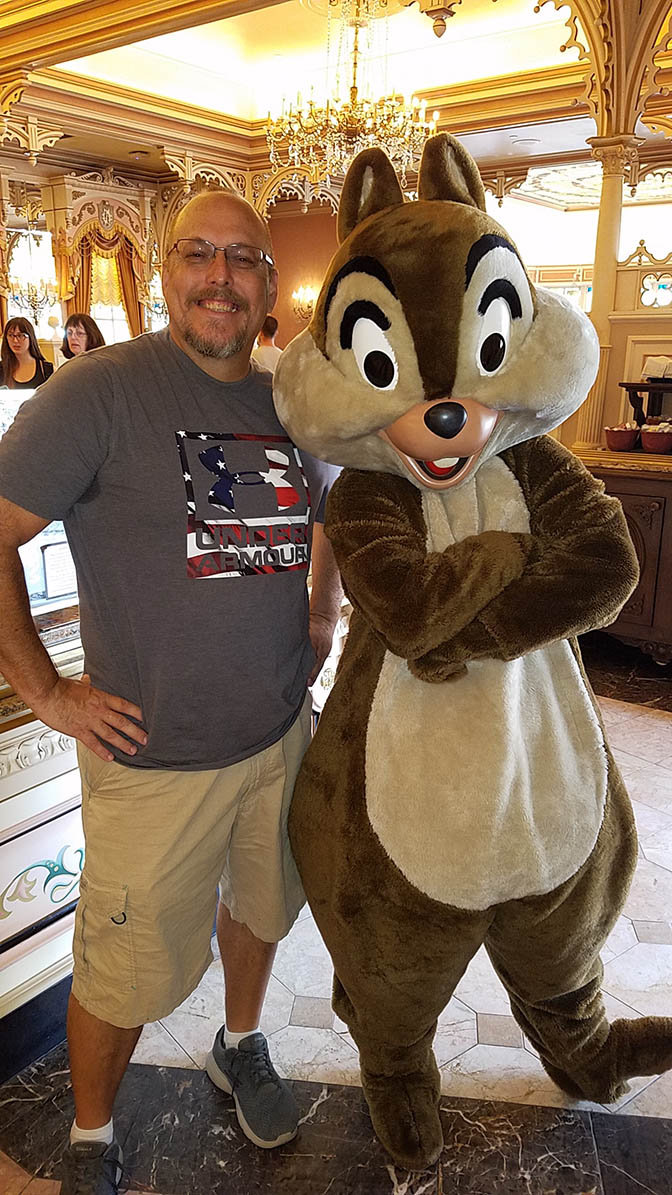 9.  Eeyore.
No one can brighten your day quite like Eeyore and his sunny disposition :)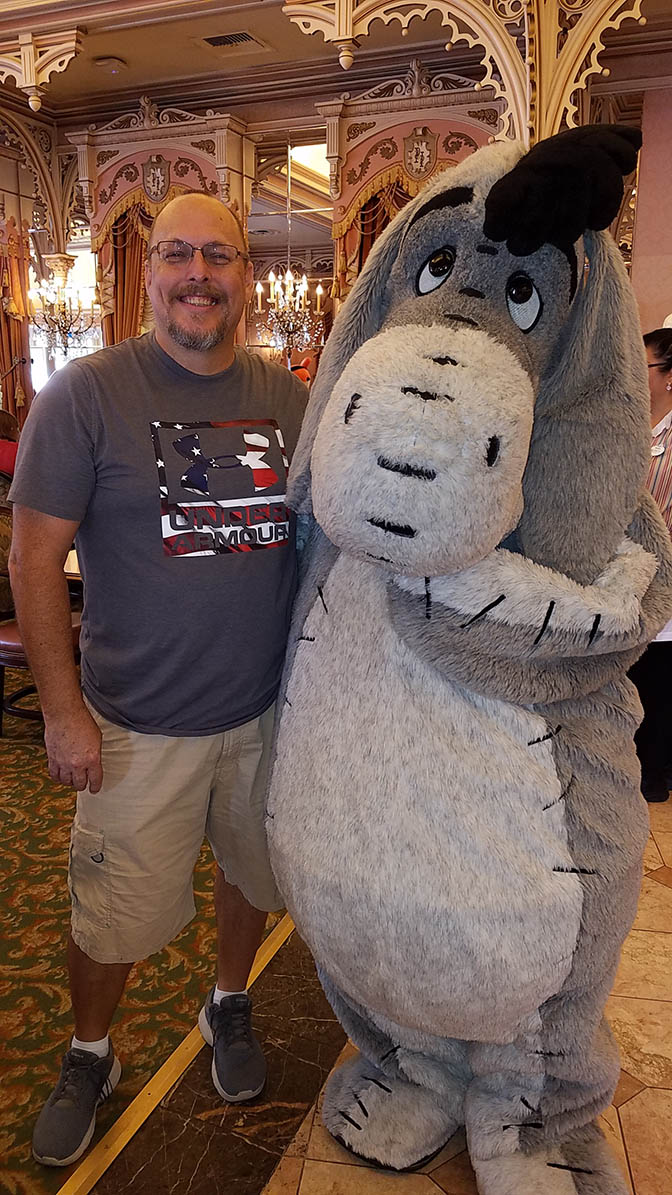 10.  Captain Hook
A pirate's day wouldn't be complete without meeting the good Captain, right?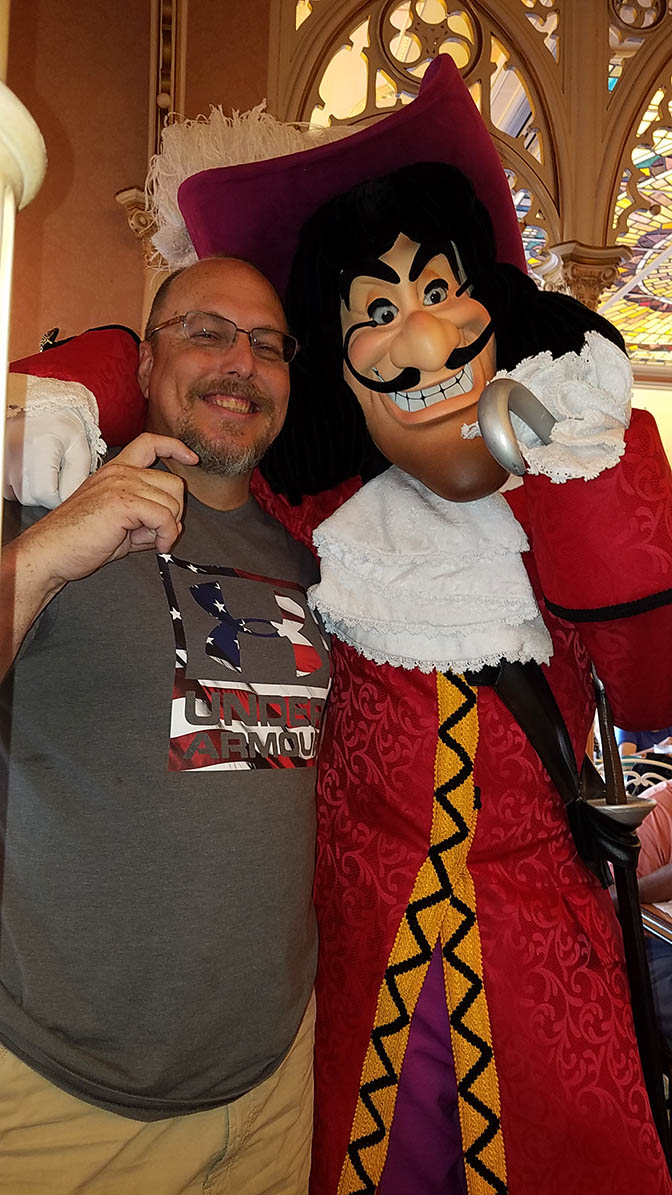 11. Max Goof
It's funny how many people around me had no idea who he was.  Some guessed he was "Baby Goofy" or other odd things.  He's Goofy's son folks!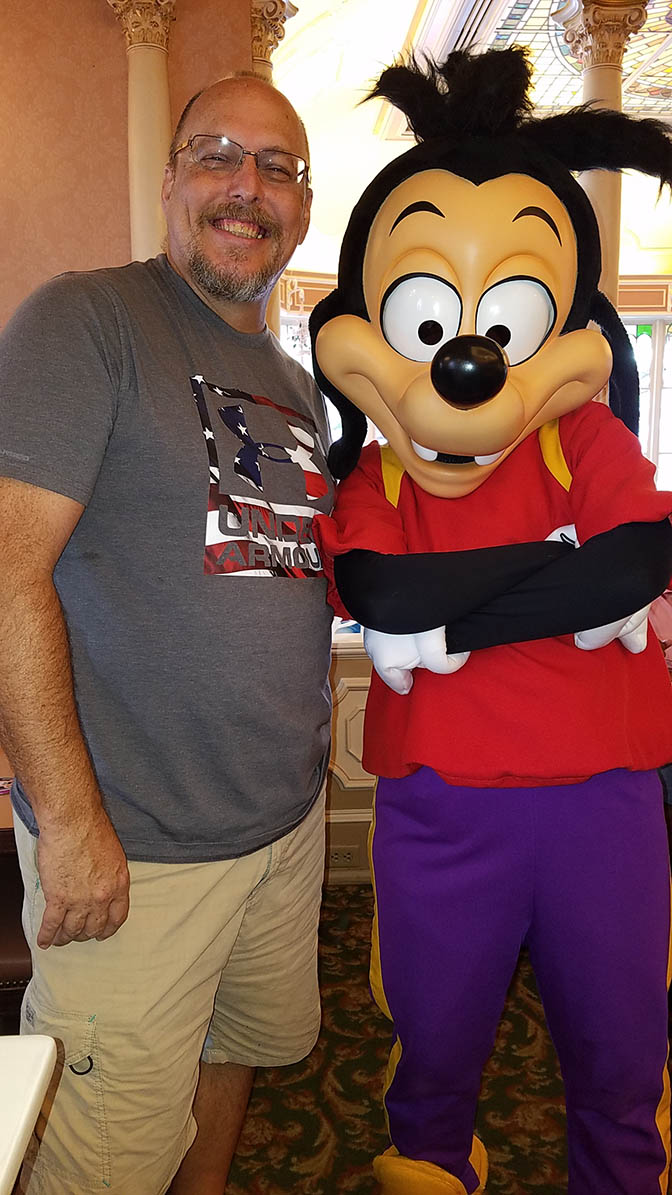 12. Fairy Godmother
She is one of the most polite and kindest people you'll meet.  I always enjoy seeing her at Disneyland.  It was easier to find her her than behind the Castle too.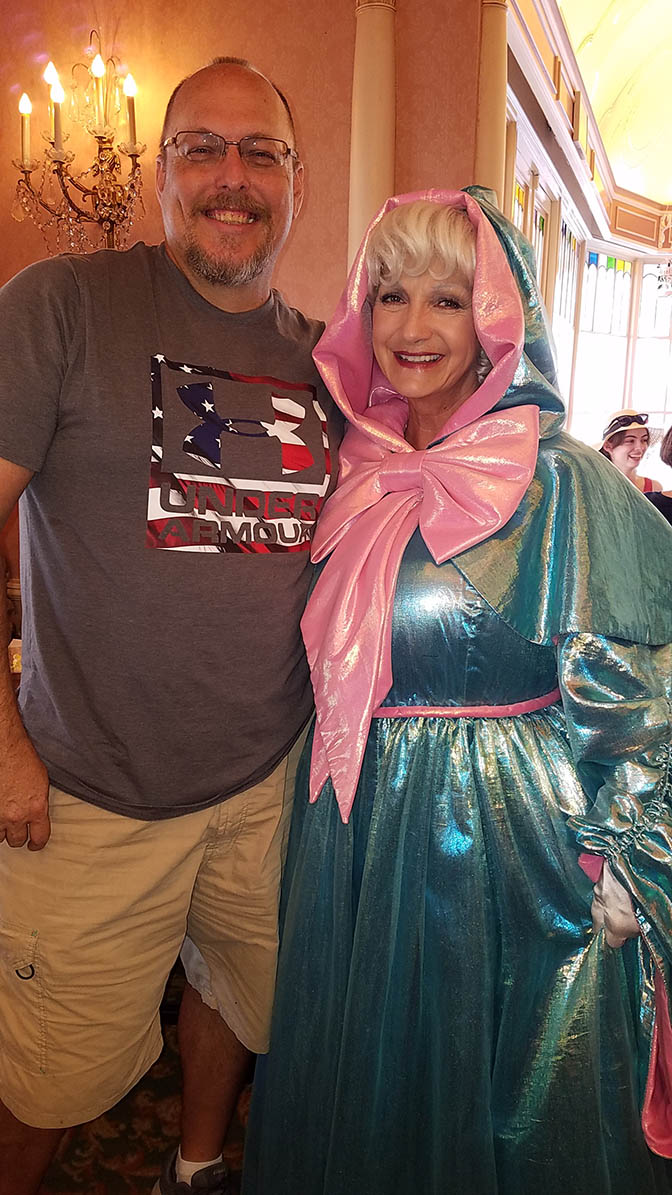 13. Winnie the Pooh
Pooh Bear would wrap up my breakfast experience.  I did eat bacon and eggs and french toast while I was there as well.  It was a busy time of consuming food and taking photos.  It took me about 40 minutes to meet 11 different characters.
14. Peter Pan
A big thought of the challenge involves getting other people to take your photo for you.  At Walt Disney World about 98% of the meets offer Photopass.  In Disneyland, the characters tend to roam, so there's no Photopass or character attendant near.  You'll have to ask other guests to take your photo and hope the photo is even visible :)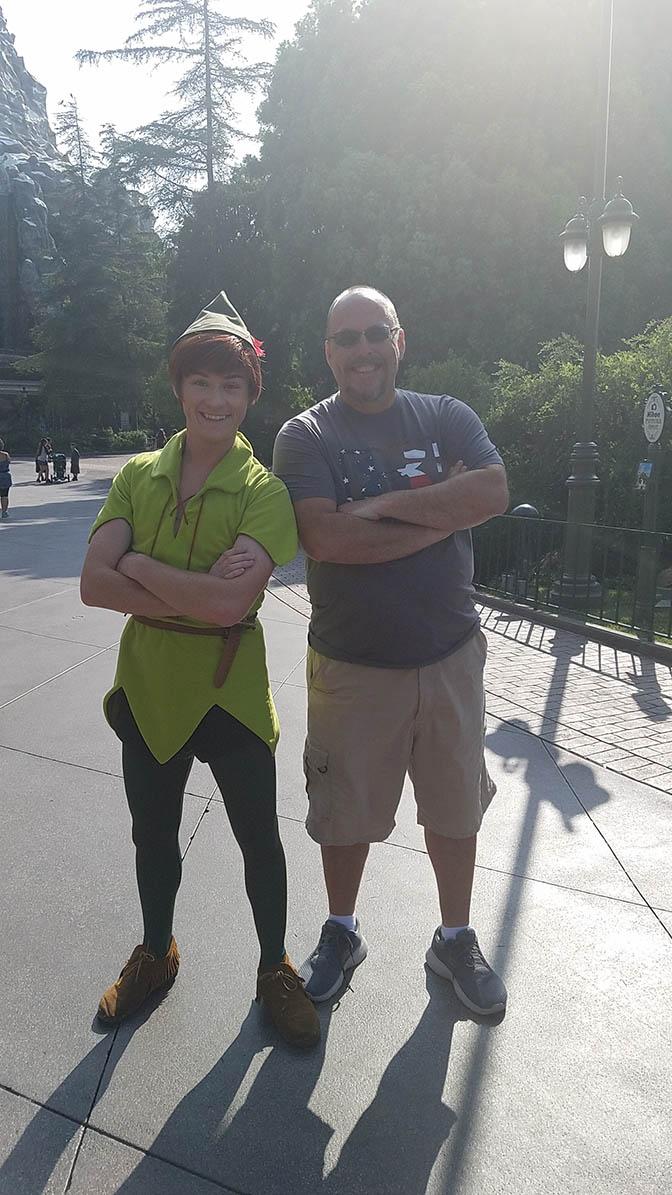 15. Gepetto
I found Gepetto, Pinocchio and Foulfellow roaming Fantasyland!  Another day I saw Gideon instead of Foulfellow.  I had to get photos with each as they were split up for several minutes.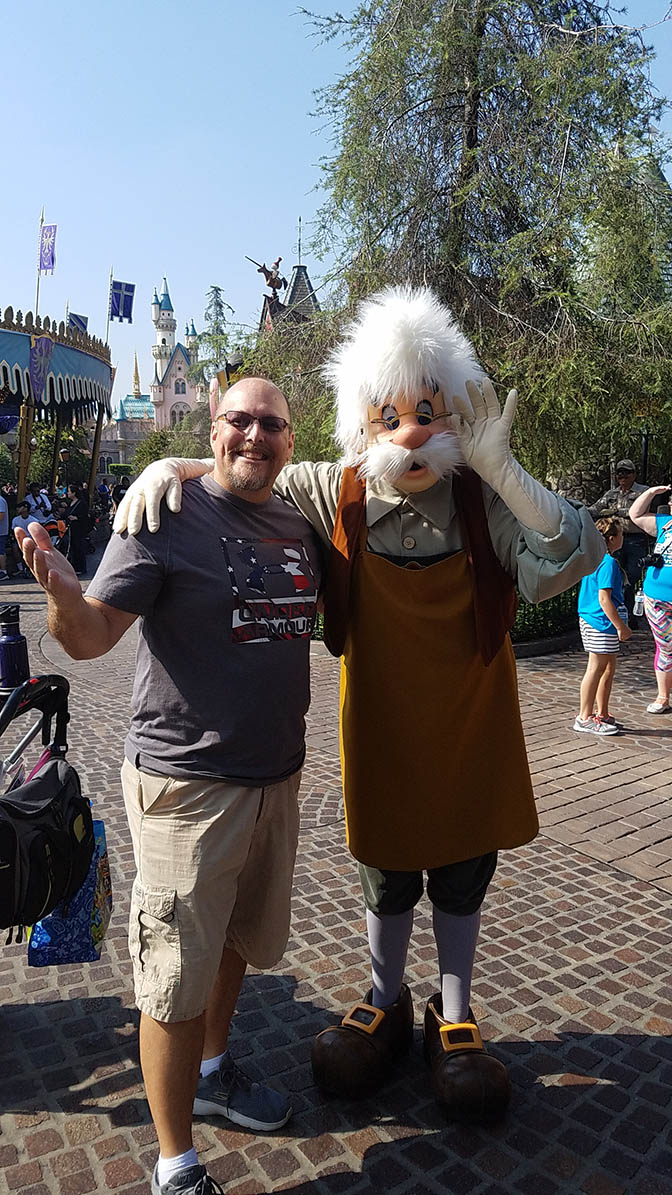 16. Pinocchio
Initially, Pinocchio was hamming it up with the Sword in the Stone.  It's this kind of whacky stuff that causes Disneyland locals to love the roaming characters.  It can be difficult to get photos with them though at times due to that.
17. J Worthington Foulfellow
While I was getting a photo with Pinocchio, Honest John tried to steal the spotlight.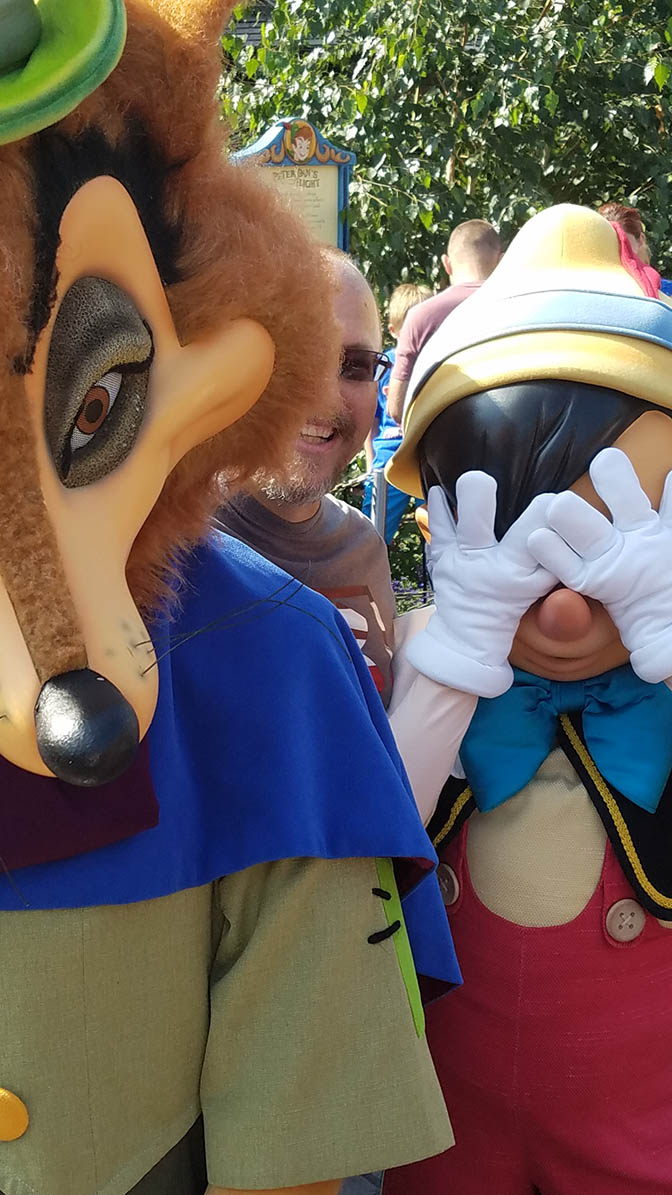 I guess the spotlight got a little bright on him.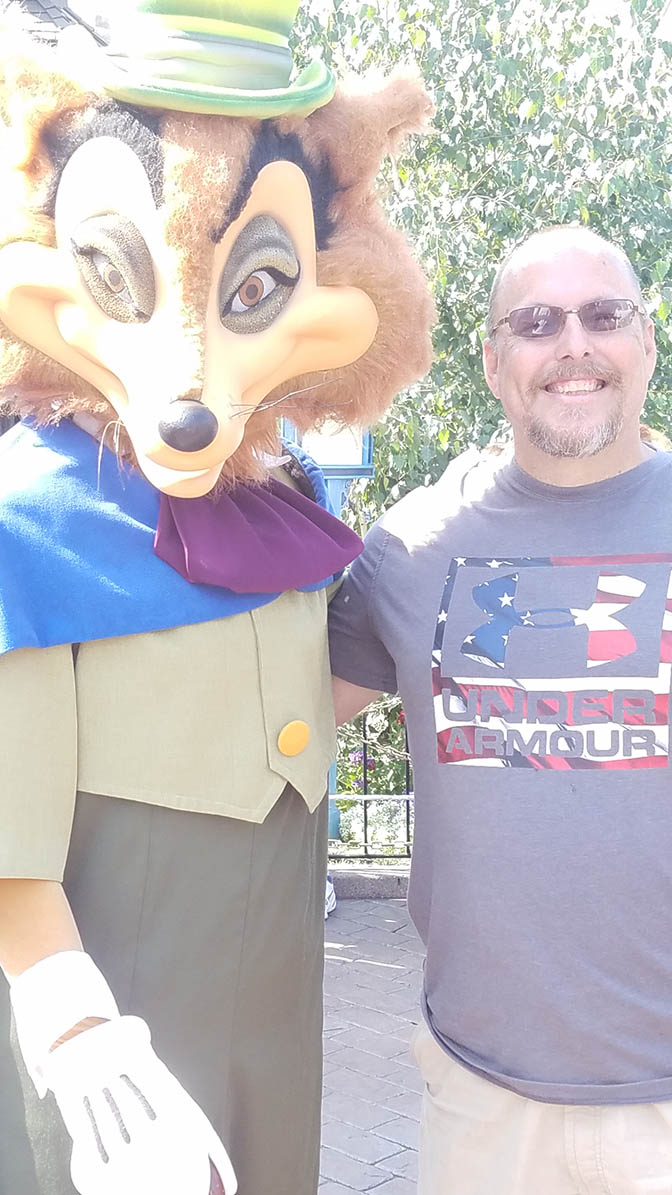 18. Aladdin
Next, I waited for several minutes for Aladdin and Jasmine to appear.  The Cast Member said they would be running late, so I waited longer only to have Aladdin appear alone.  Disneyland is different folks, you'll adjust to it pretty quickly though.  Schedules are rarely accurate, characters pop up in odd places.  It makes "locator" take on it's full meaning.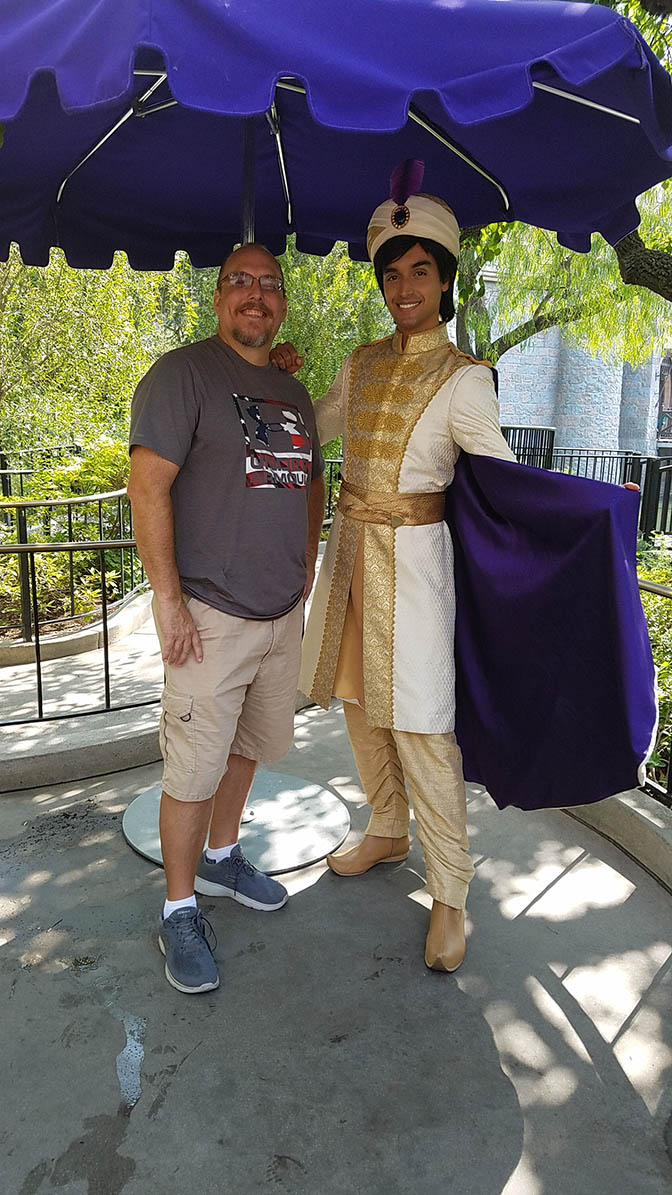 19. Moana
Moana currently meets next to Aladdin's Oasis in Adventureland.  Her schedule can appear completely, be listed in one giant time block or not at all.  You'll need to visually check to see if she is there and meet her early.  I'm not sure which way the stars really are in this photo.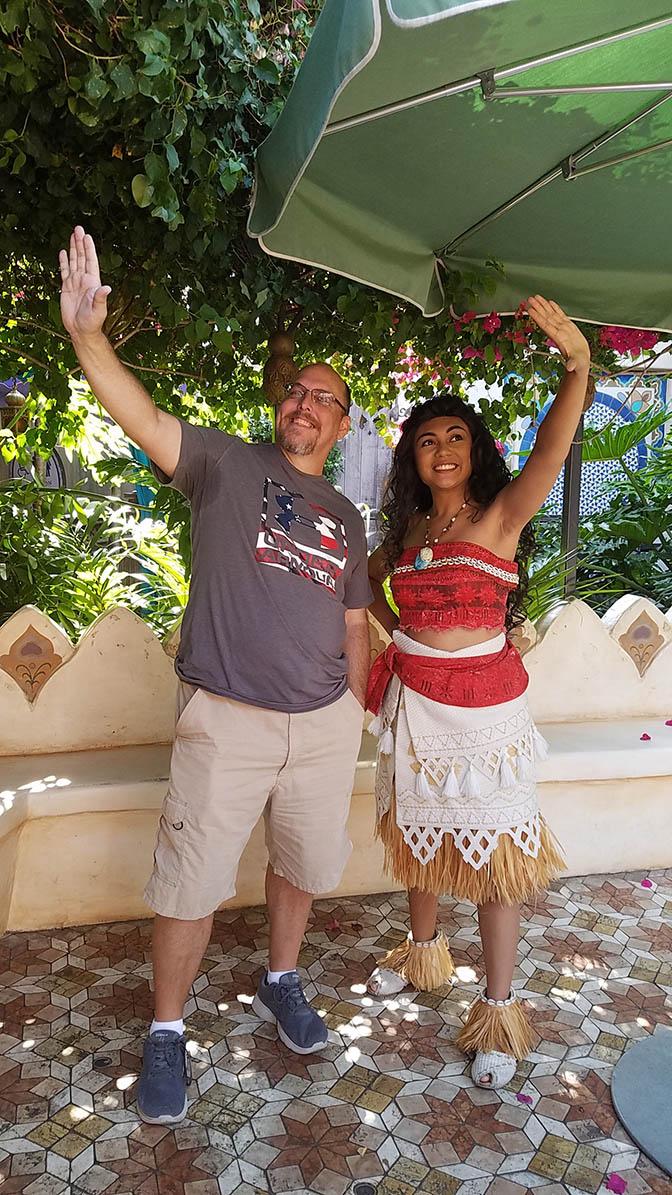 20. Jasmine
I doubled back, so I could line up for Flynn and Rapunzel and found the line to be open and short for Aladdin and Jasmine.  Aladdin was like, "Well, long time no see."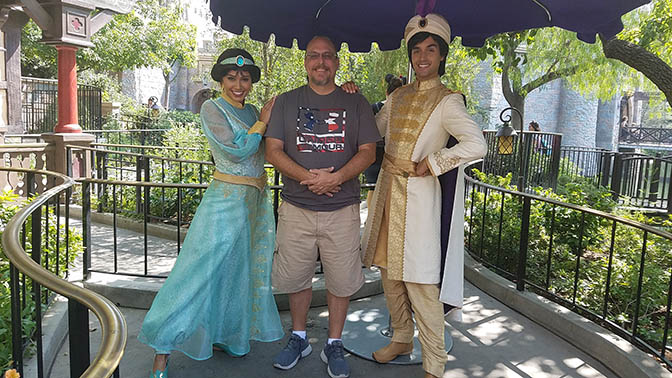 21 and 22.  Flynn and Rapunzel
Flynn and Rapunzel asked what I was up to today.  I told them I'm out meeting characters and they are number 21 and 22 and it was a little after 10am.  They loved the idea of the adventure and said they should try sometime.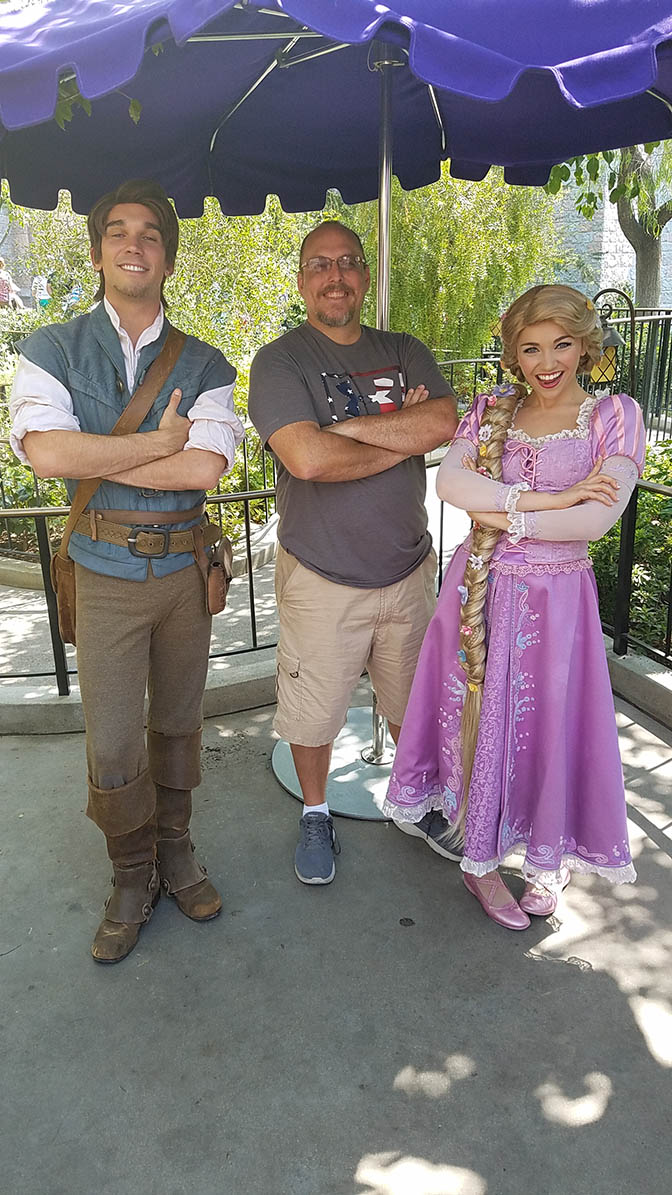 23. The Queen
The Queen often meets at the restrooms along the Fantasyland Path, but this morning she was at Snow White's fountain beside the castle.  She wouldn't allow me to smile and told me to be sure to share some apples with Princesses on my journey.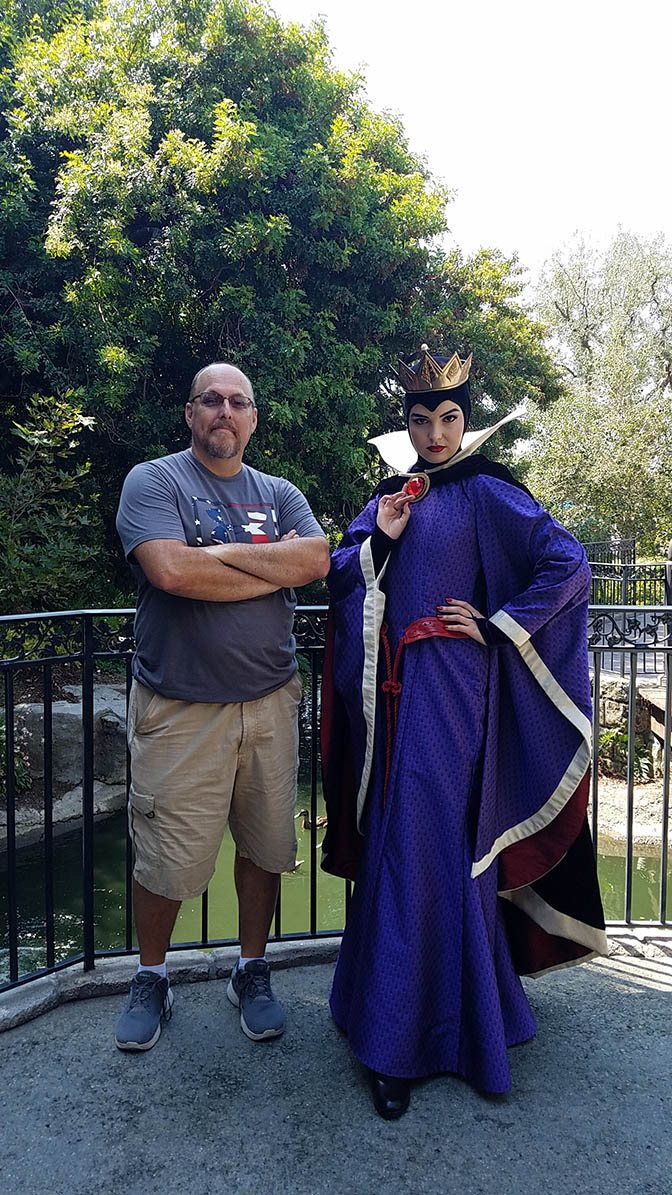 24. Woody
Woody was at Big Thunder Falls, which is to the side of Big Thunder Mountain Railroad.  I'd see him in California Adventure later, but didn't meet him there.  The challenge is to see as many different characters as possible, not visit the same character again.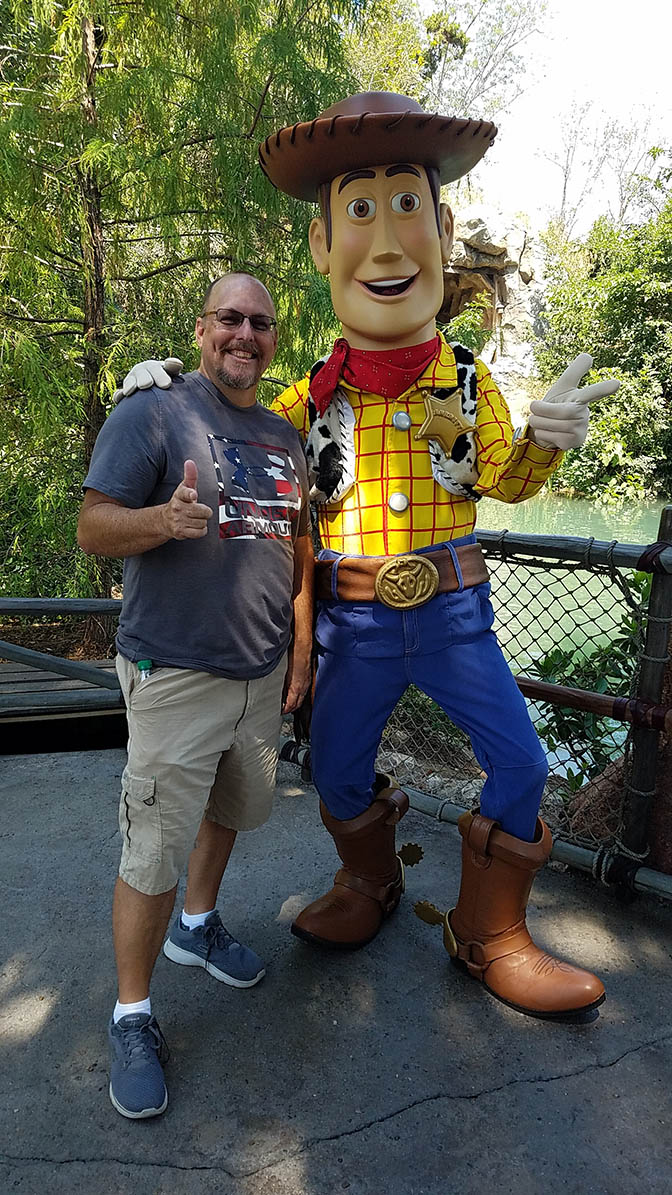 25 & 26.  Bert and Mary Poppins
Bert and Mary popped up along the Fantasyland Path, almost at Pixie Hollow and were doing a photo set, rather than roaming.  There was only a couple people in line.  When they are doing photo sets, they will organize their own lines.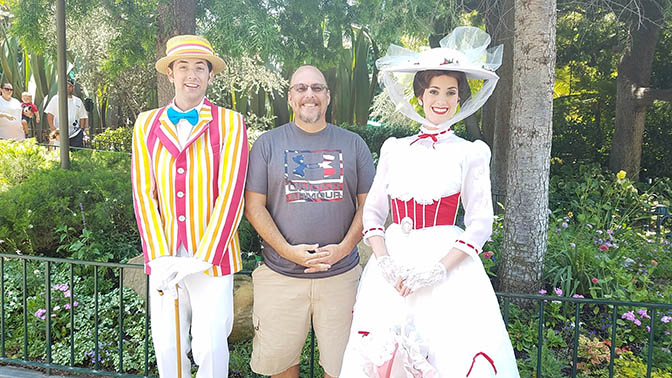 27. Princess Aurora
Throughout the morning and afternoon, characters (especially Princesses and Cruella) appear in front of the train station near the Mickey Floral.  I met her before hopping to California Adventure.
I wanted to visit with Alice and Mad Hatter, but the 2 times I saw them, they were roaming with children and I didn't want to interupt their moments together.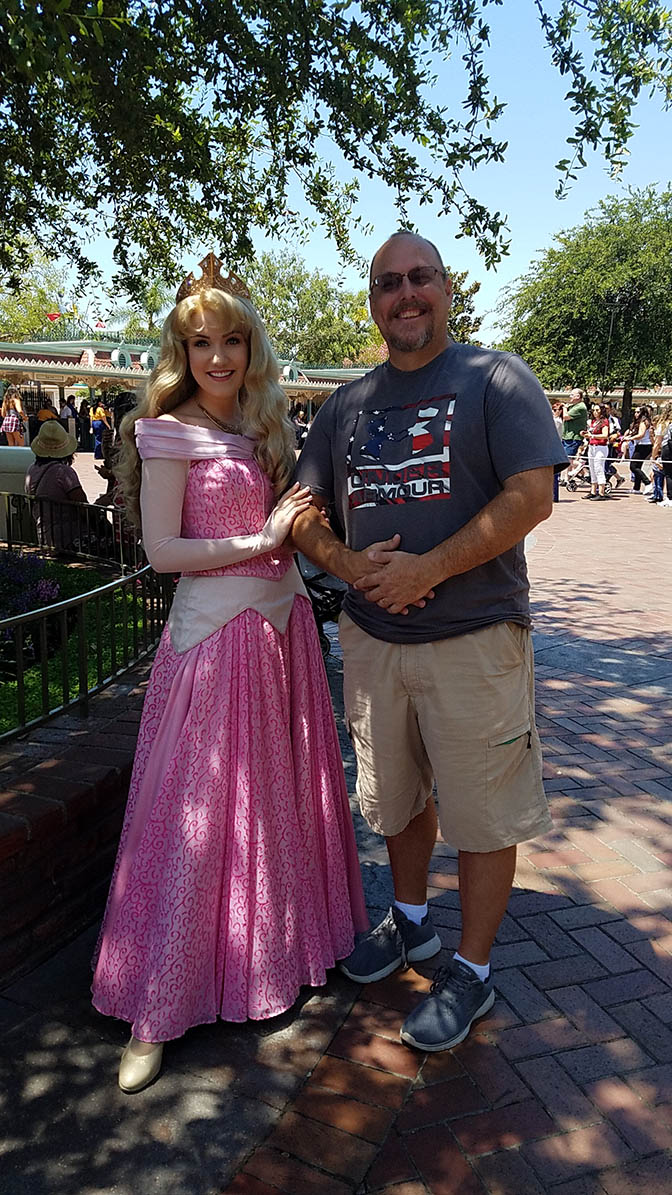 I really miss the hand stamp :(  It was a little thing that connected back to Walt himself.  They always stamped on the left hand.  Now, every guest has their photo taken to link to their ticket.  They don't use the finger scanner that we use.  The Disneyland method takes more time to enter the park, so arrive early.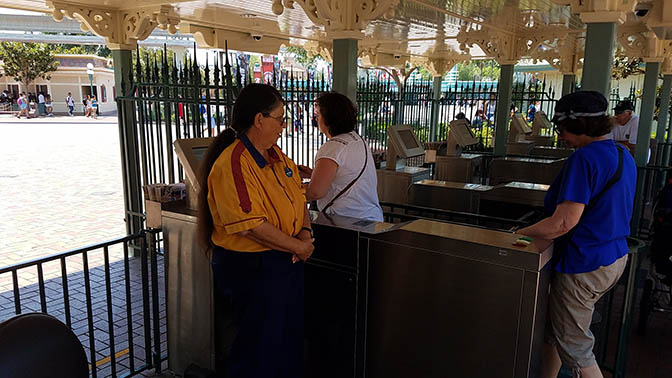 There's no bus involved in park hopping in Disneyland.  You just walk 100 or so yards across a concrete esplanade.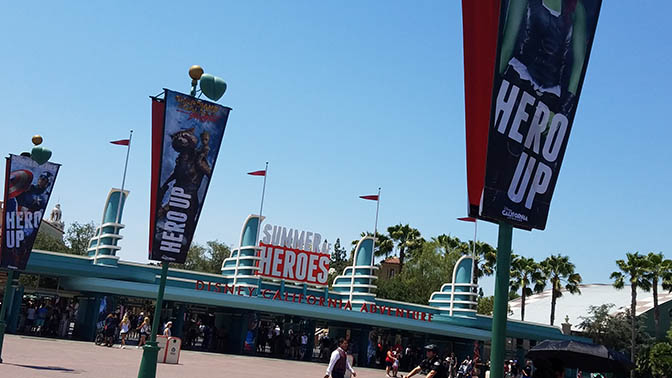 28. Sofia the First
I was trying to watch the character schedules as much as possible to make sure I could get in as many as possible before they leave.  Most characters meet into the early afternoon, then leave.  Only a few characters are available to meet at night in Disneyland / DCA.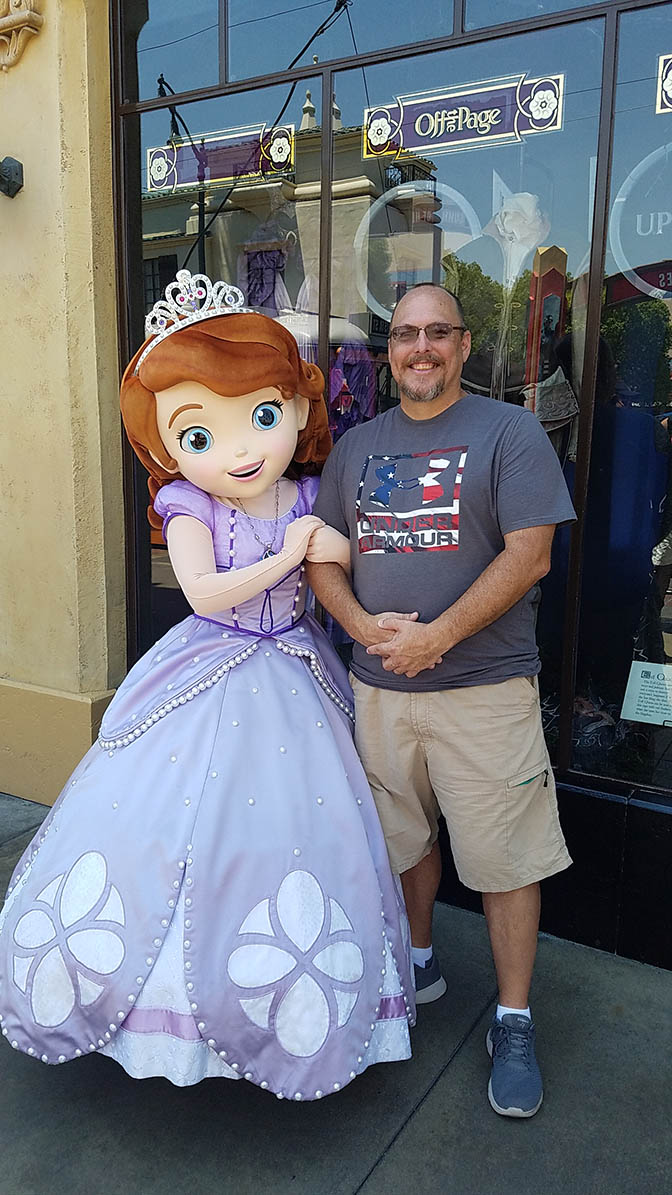 29. Black Widow
It was my first time meeting Black Widow.  We talked about how I know she is actually the one in charge of the Avengers.  Everyone thinks it is Tony Stark or Cap, but she's the only one that pops up in almost every movie.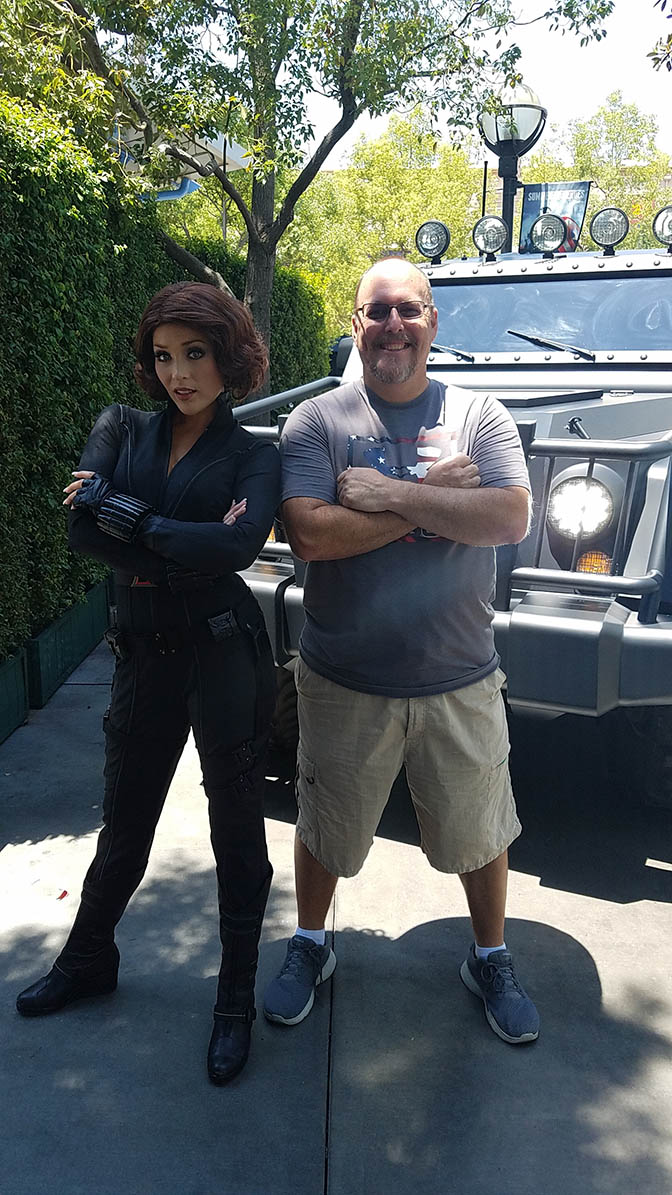 30. Stitch
Stitch meets at the Aloha Breakfast, but can also be found at the Disney Visa card meet in California Adventure.  This meet usually rotates between Stitch, Minnie, Pluto and Daisy.  You can ask the attendant who will be out and for what time.  You're only allowed one meet per day.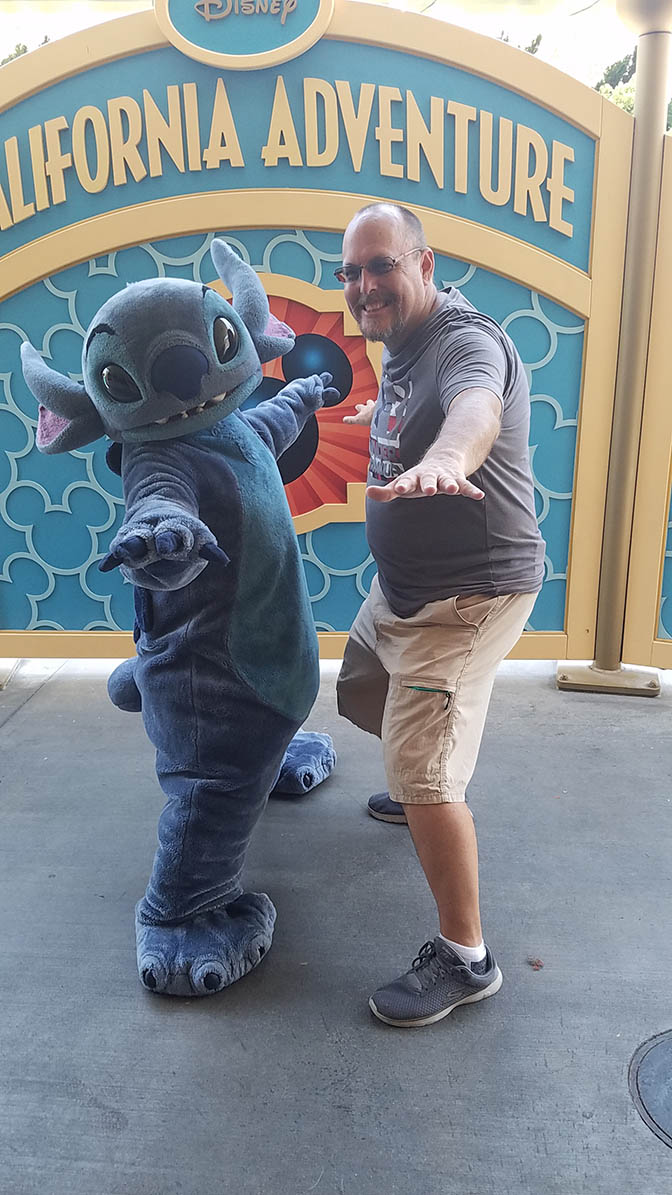 31. Groot
How awesome is meeting Groot?  He speaks too.  He has large vocabulistics like saying "I am Groot" all day.  It's a fun meet.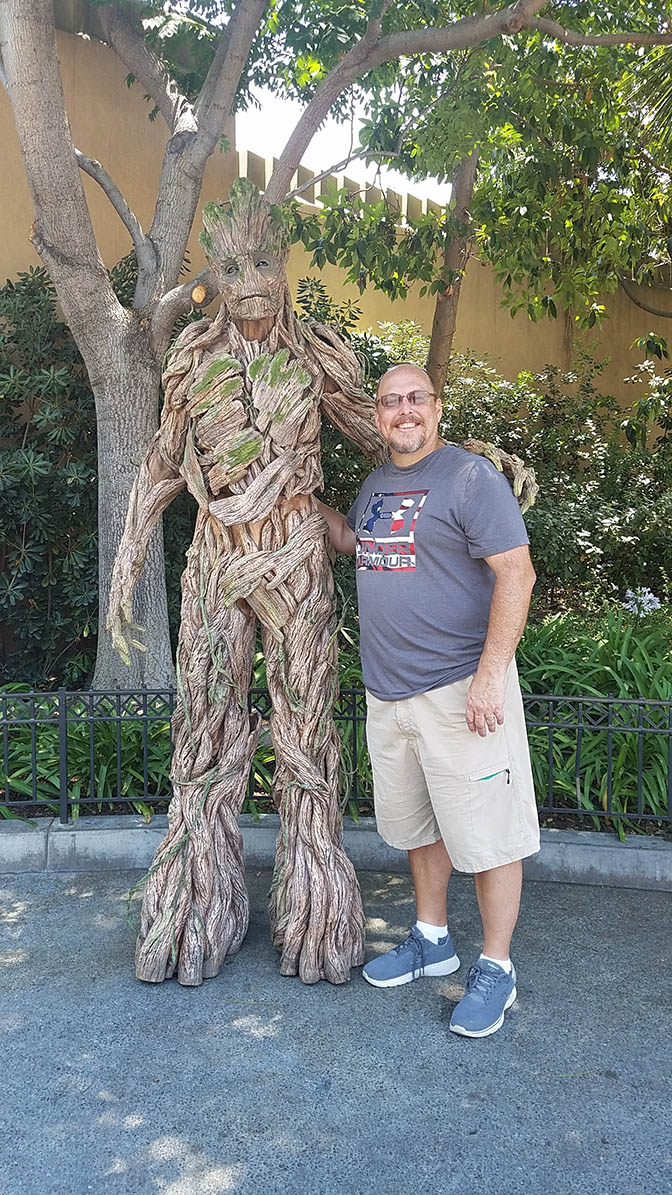 32 & 33.  Olaf and Kristoff (Winter)
On my date of visit they were meeting in Stage 17, but moved back to the Animation Building shortly after.  I actually prefered this location for the backdrops.  I've met Kristoff in summer gear at Blizzard Beach, but this was the first time meeting him in his winter wear.  It was a chilly 92 degrees this day.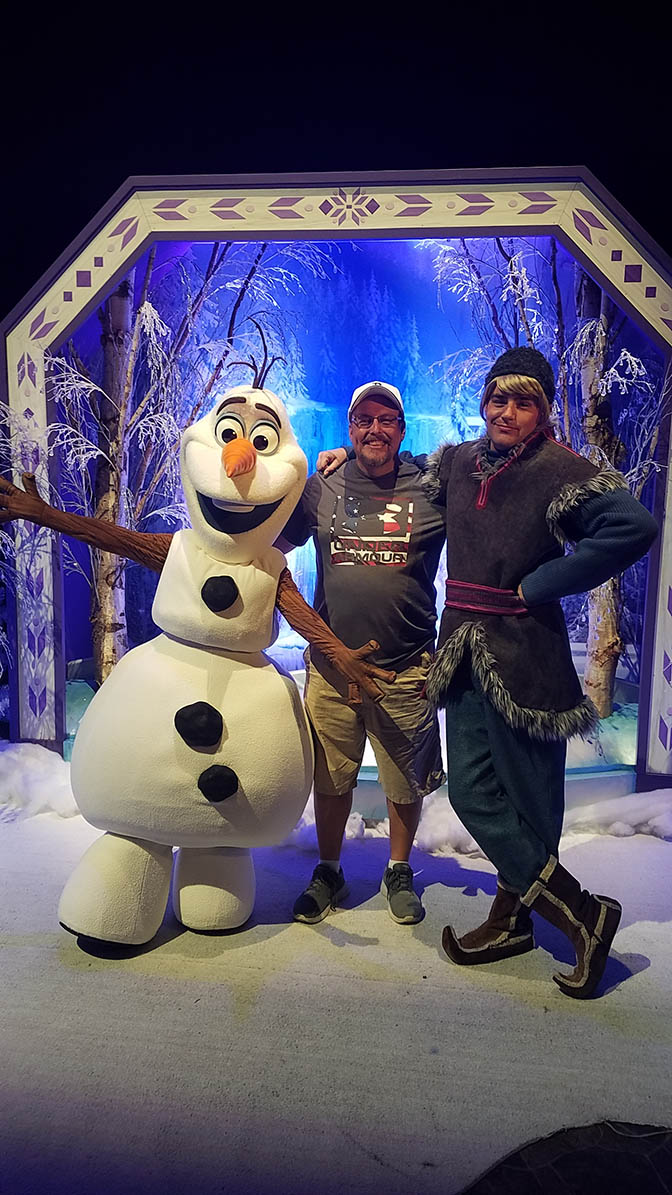 34 & 35. Elsa and Anna
The sisters were also in Stage 17.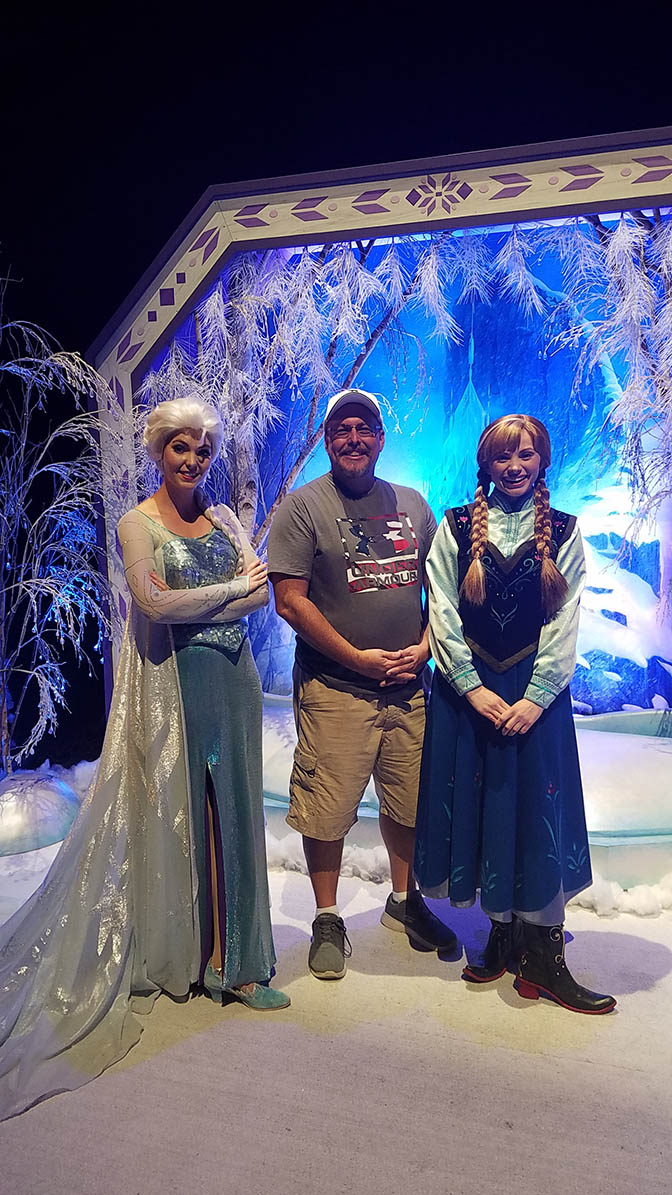 36. Donald Duck
I love this original costume for Donald in DCA.  We all know he's number 1.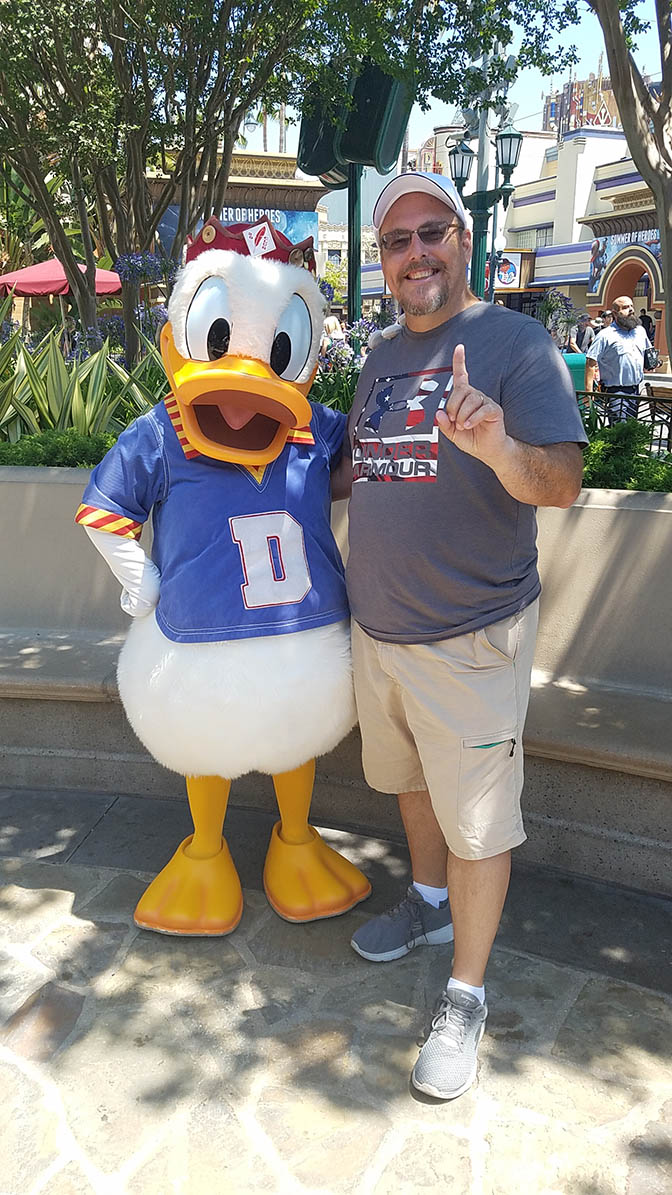 37.  Daisy Duck
Daisy was also located in Carthay Circle.  Because I knew when she would appear, I was among the first to meet her.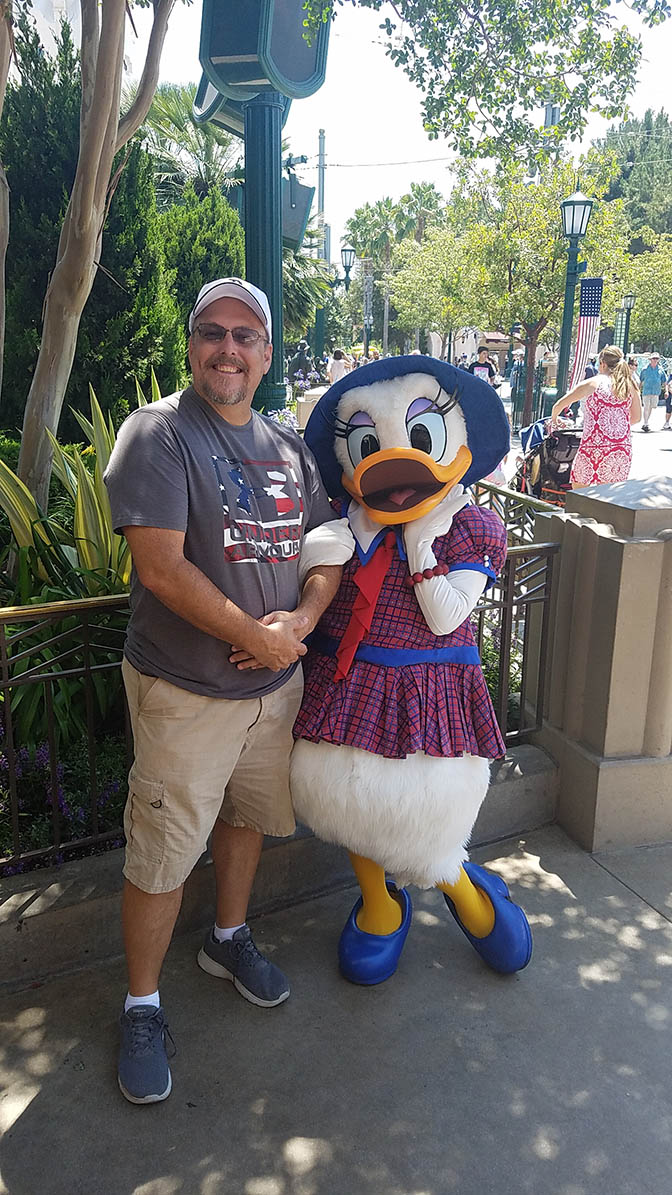 38. Princess Elena
Elena meets in Paradise Pier and only has a few sets per day.  She is VERY popular in California Adventure.  A line that appears pretty short will still take a while because she is very chatty with her fans.  It's a great meet and she is super nice.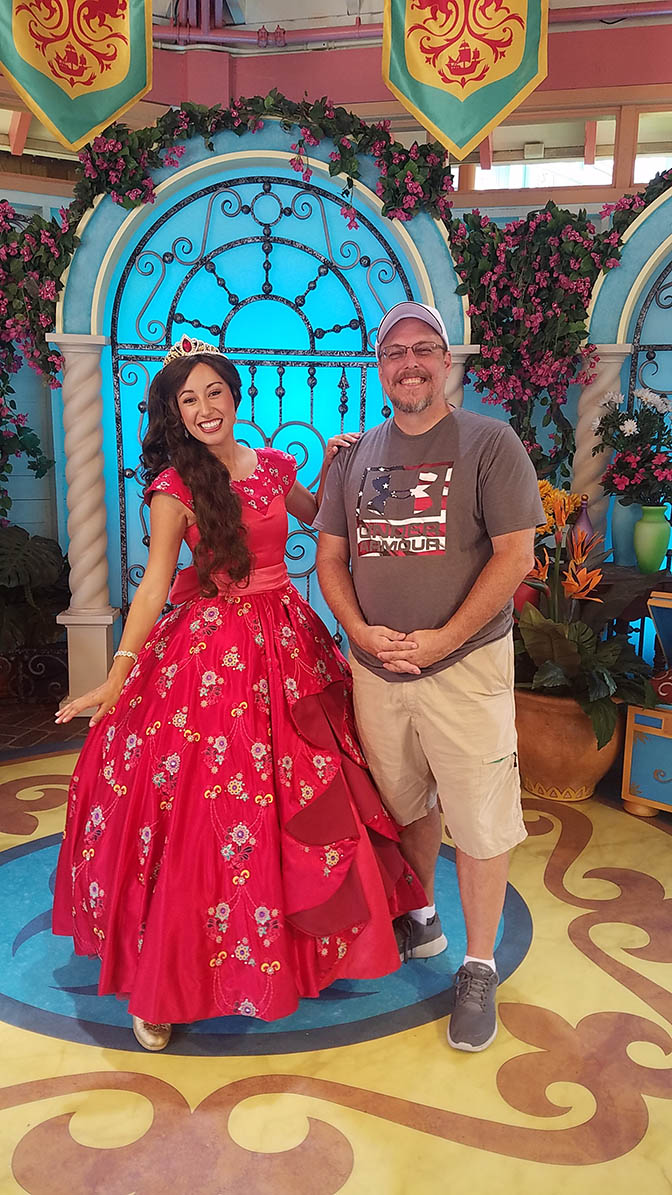 39. Oswald
I wanted to meet Buzz Lightyear, but he canceled his afternoon meets.  I suppose the heat was just too much for a guy that grew up farther from the sun.
It was a long walk to the front of the park, but Oswald can be tough to find some days.  He likes to sleeep late.  This would be his final meet of the day, so I made the trek for this awesome meet.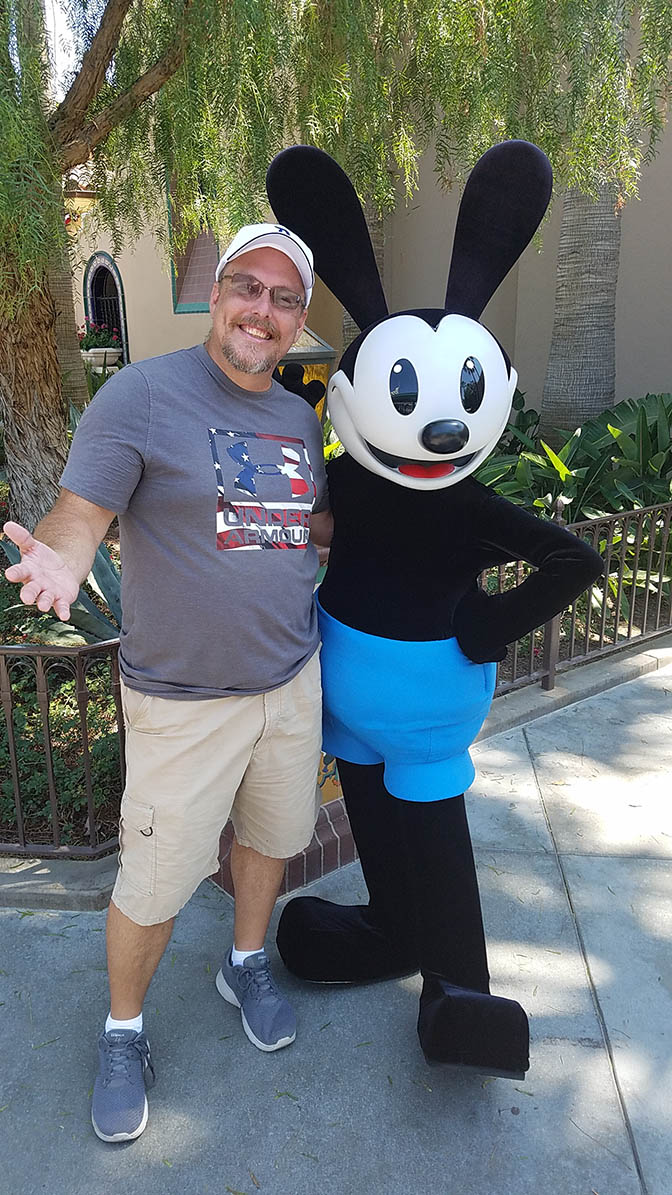 40. Doc McStuffins
As a note, I walked (usually slowly) throughout the day.  I wasn't running around all over.  I just wanted to see how many I could meet in a casual way.  Next up was Doc McStuffins.  She assured me that walking all over both parks would be good for my health.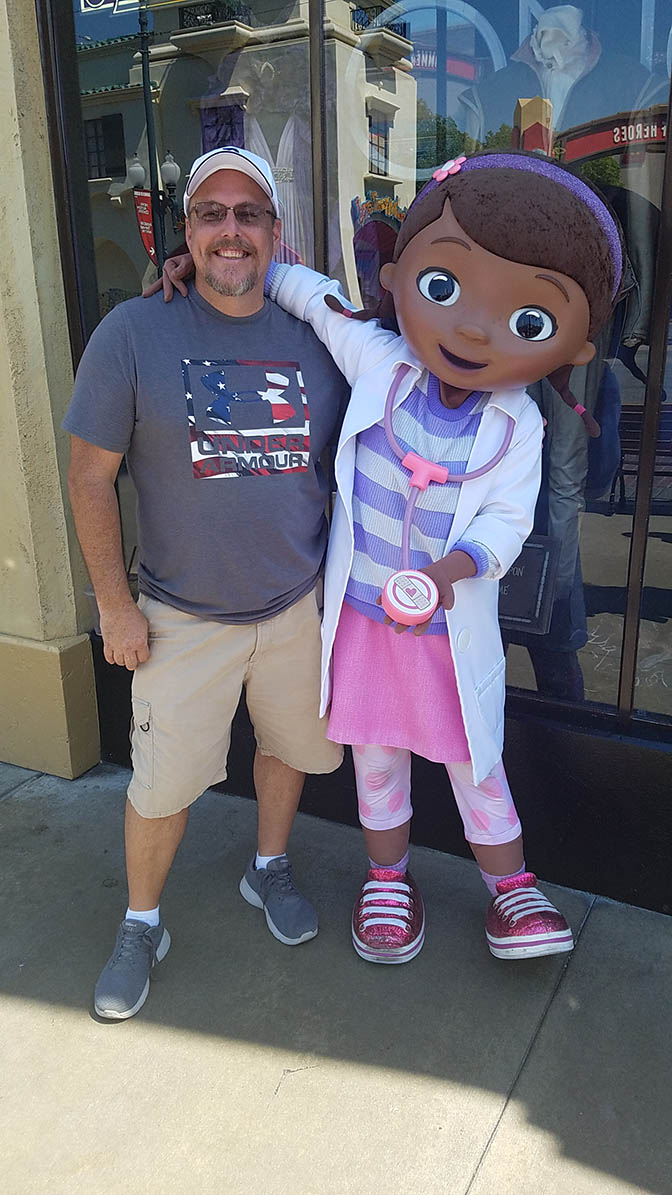 41. Mater
Over in Cars Land, I found Mater.  I look forward to the new Halloween overlay that he and the other Cars will receive.
Time for an afternoon lunch stop.  I grabbed a Chili Cone Carne and headed over to Flo's for some shade.  Someone on Twitter liked the appropriateness of this photo.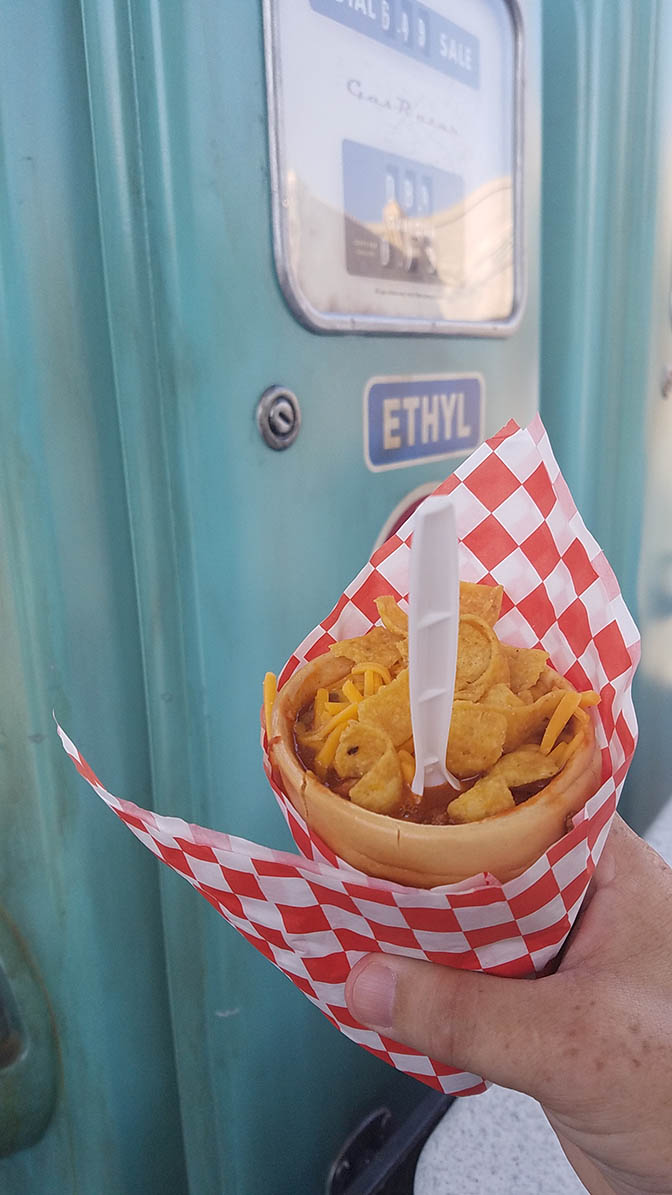 42 & 43.  Judy Hopps and Nick Wilde
I though Nick Wilde was a bit shady, but this really tops the sundae.  The only way to kill the shadows is to use a good flash, but I was using my cellphone all day.  I'd recommend bringing a good camera to Disneyland for all the meets that don't have Photopass.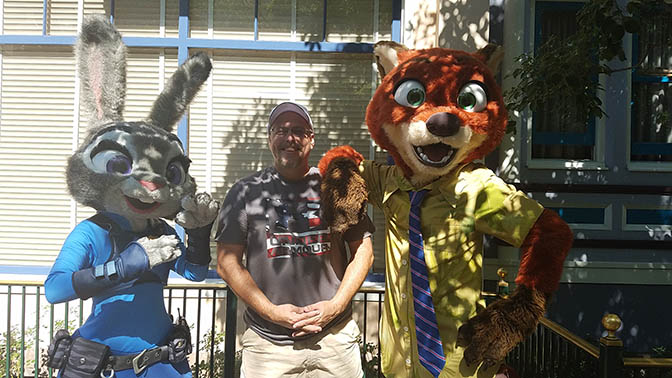 44. Green Army Man
They don't usually take many photos with guests, but they popped out for a few photos on this day.  This photo wouldn't count for the challenge…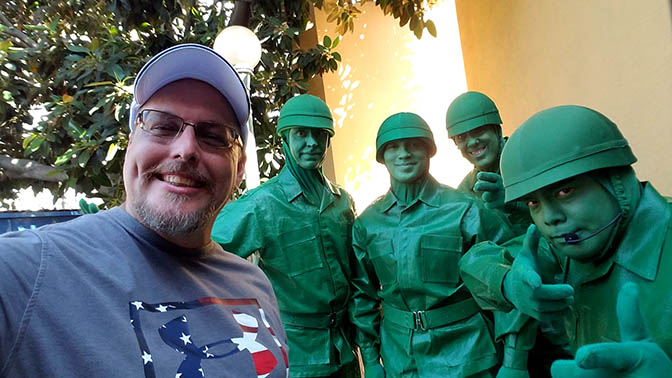 So I had this photo taken for me with Sarge.  How great is this?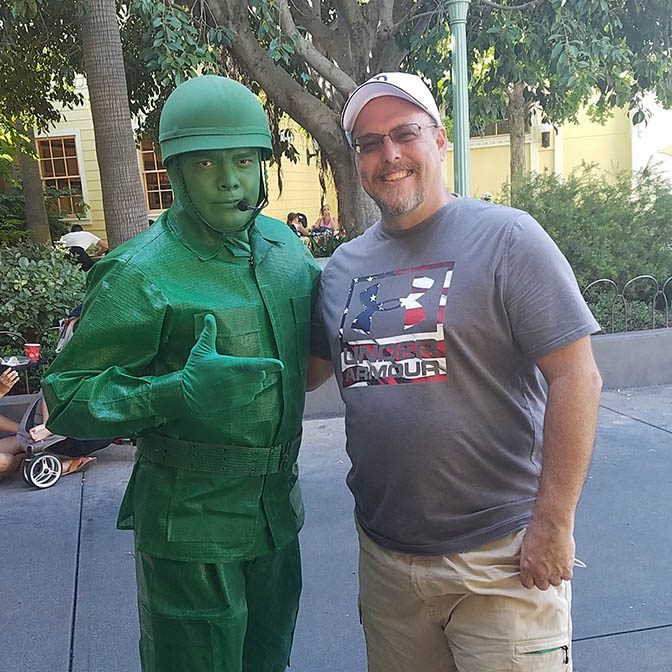 45. Snow White
I walked all the way from Paradise Pier to Fantasy Faire.  I needed to visit this and the Star Wars meets before they closed this day.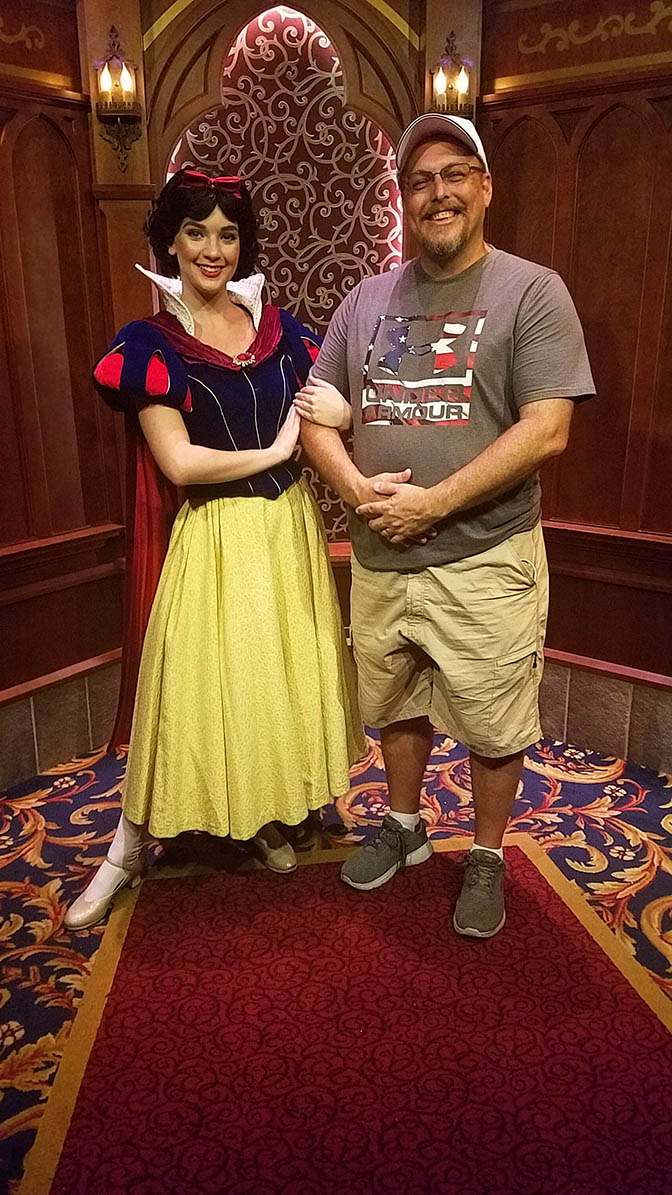 46.  Cinderella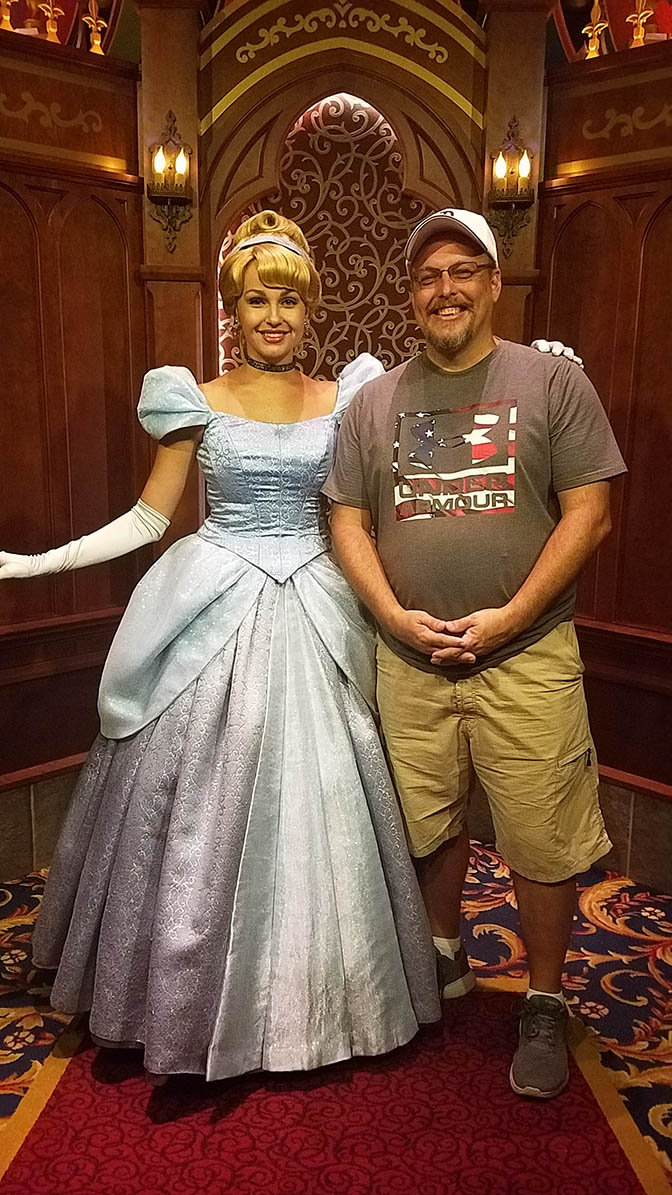 47. Ariel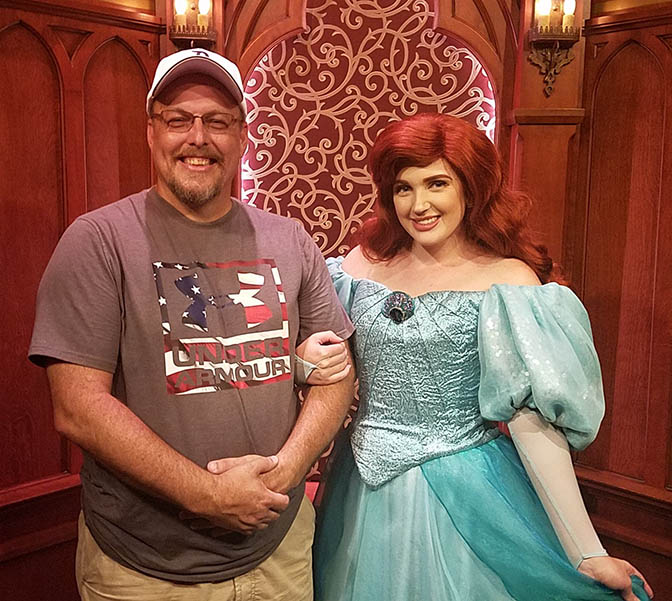 48. Darth Vader
Some people on Twitter thought Vader's head looked odd.  I'm not sure.  Maybe his shoulders just aren't as broad as usual?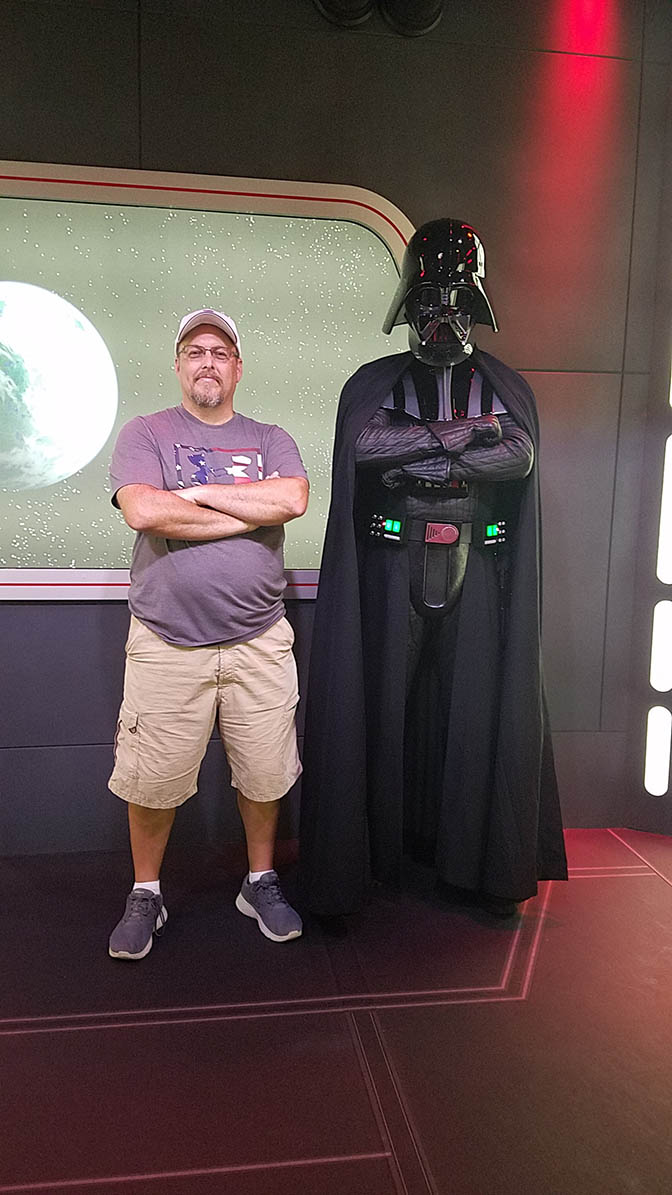 49. Chewbacca
Chewy gives the best hugs.  He accidentally bent my glasses, but we spoke Wookie none the less.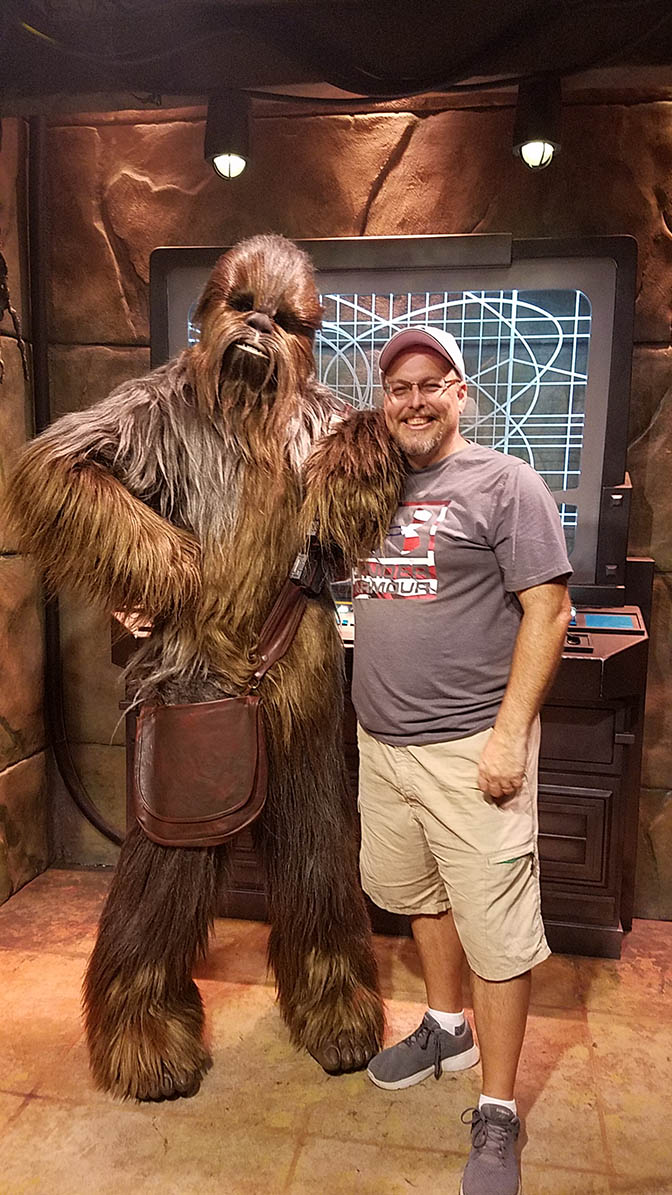 All the way back over to DCA.  I was waiting on the parade to finish up in front of Guardians fo the Galaxy (former Tower of Terror), so I could meet Gamora.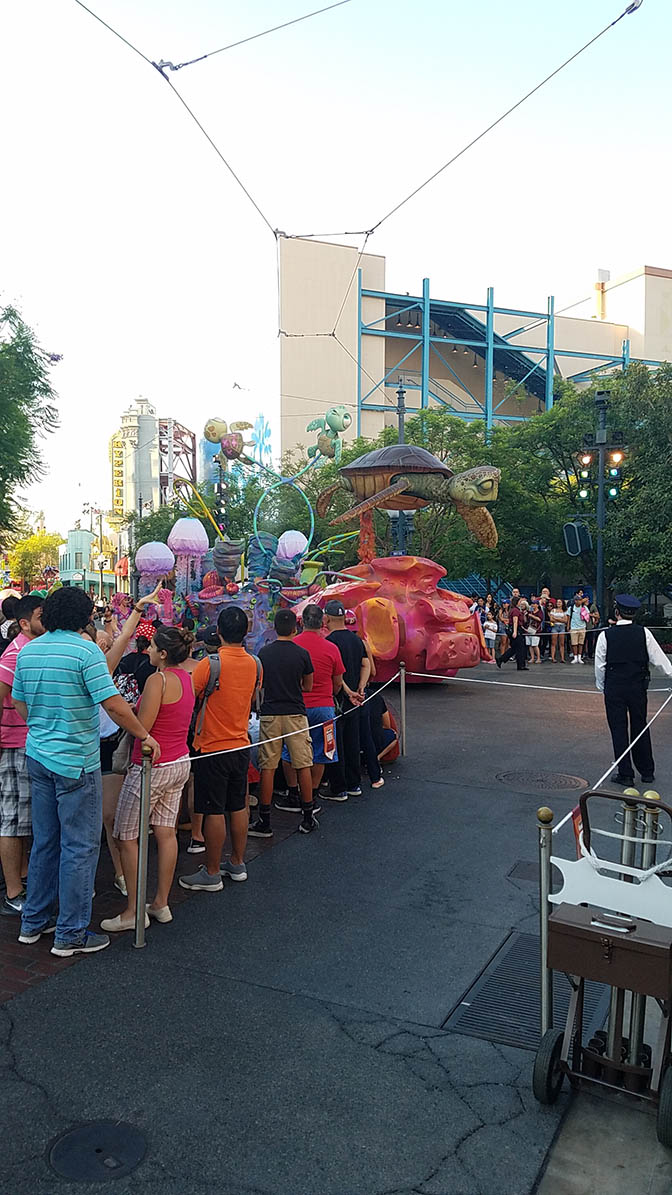 50. Gamora
Spot on!  Attitude.  Look.  And you get the Guardians logo in the photo as well.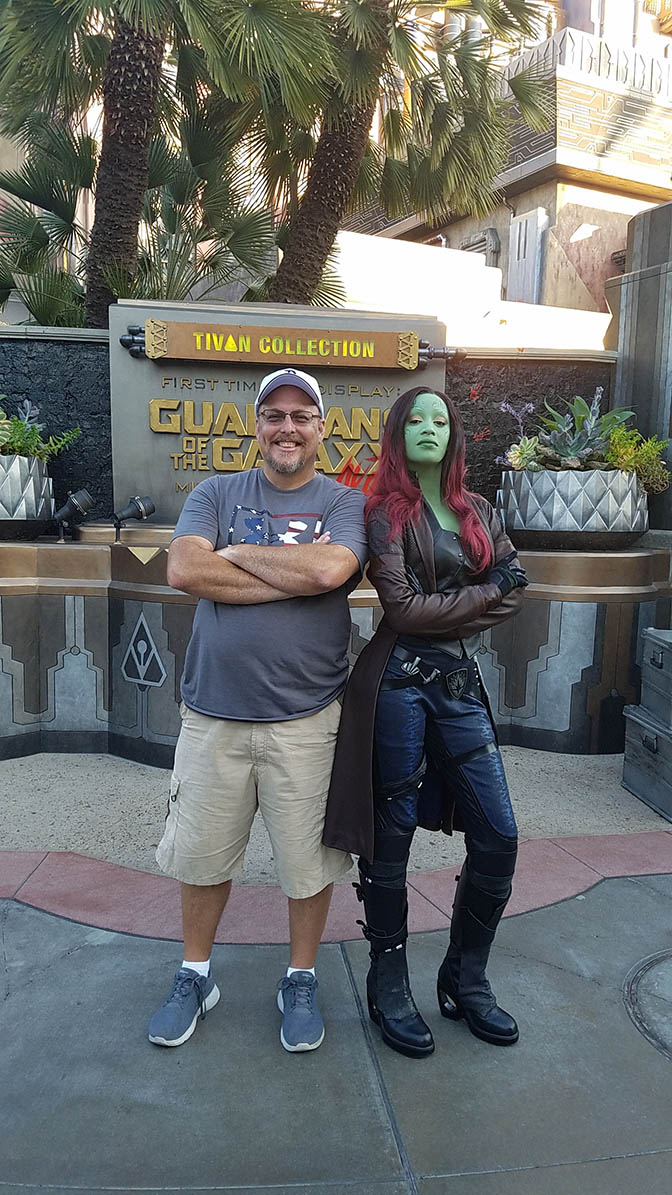 51. Hawkeye
Hawkeye takes over the location in front of Monsters Inc after Black Widow is done for the day.  I told him of my challenge with the bow.  I'm right handed, but left eye dominate.  He told me just to throw up a barrage of arrows and hope it hits something.
52. Captain America
Cap was impressed that I had met 52 characters by early evening.  He wished me well on my adventure and asked who I'd meet next, thinking it would be another hero.  I said, "Maybe Lightning McQueen or Goofy."  I don't think he expected that answer.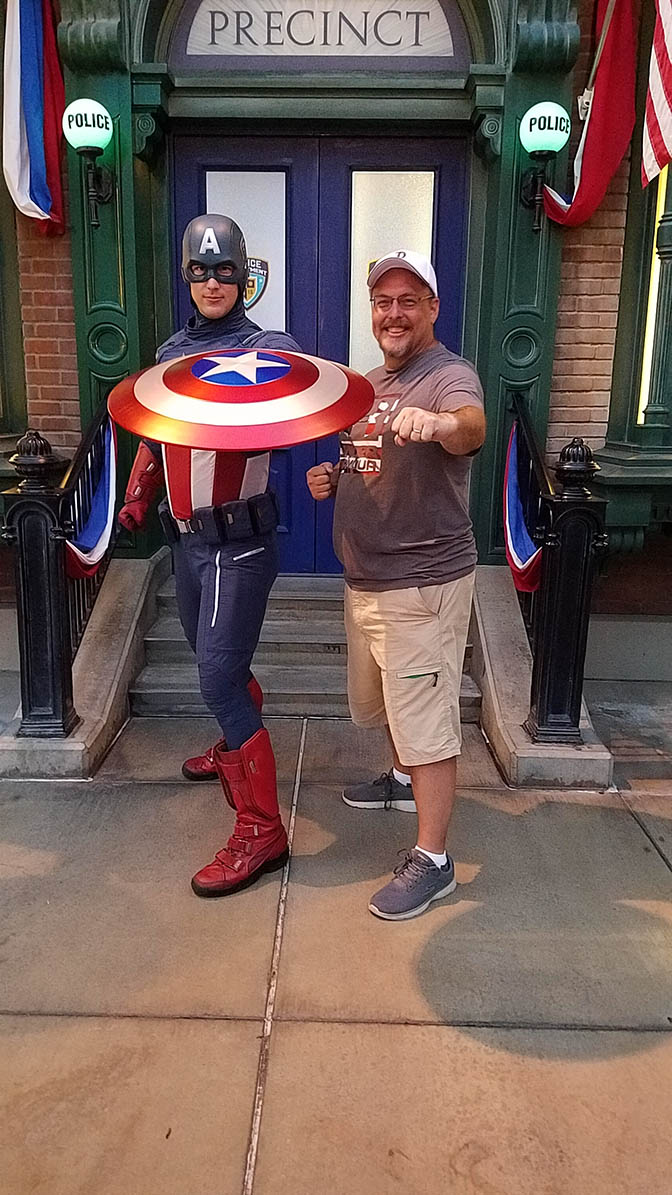 53. Lightning McQueen
Lightning was now rotated into the Cozy Cone meet location.  He appears with his new look on and off throughout the day.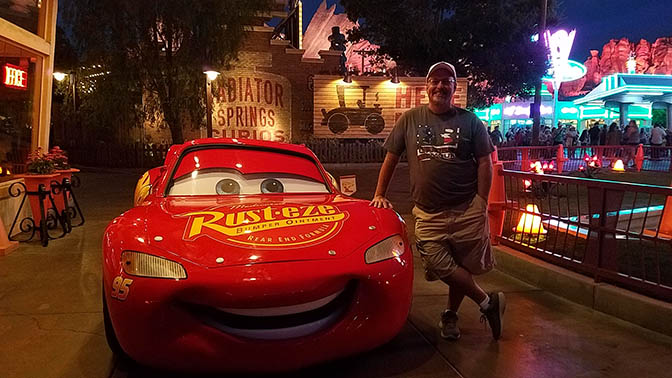 54. Goofy
Goofy was wandering Carthay Circle, but decided to stop for a few guest photos.  It was hot out, so he nixed the big green, zoot suit jacket.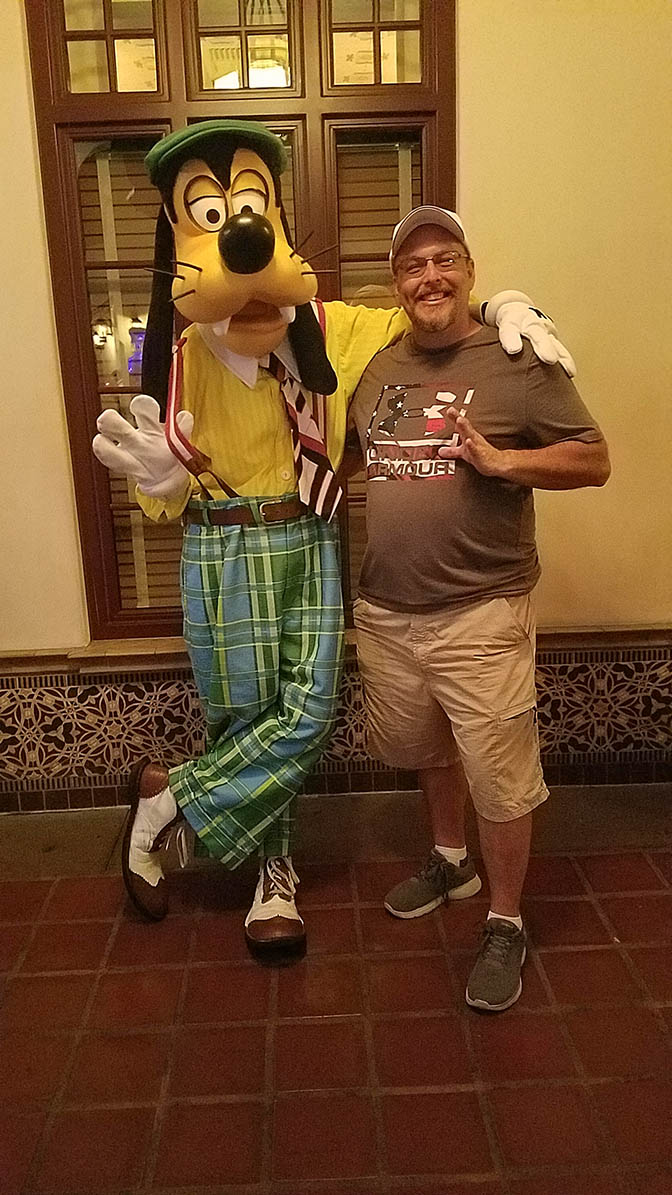 Cars Land is my favorite theme park land.  I could spend hours here just enjoying the lighting, the music and the food.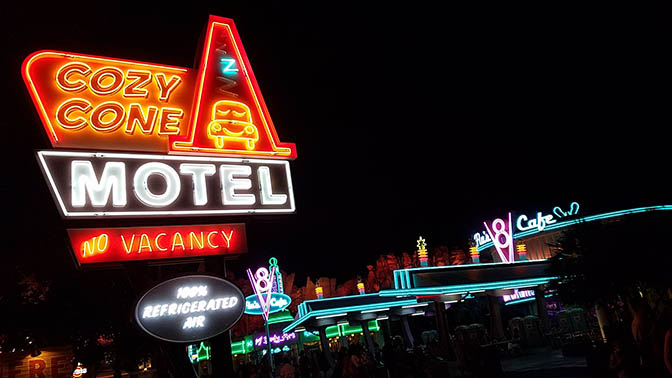 55. Cruz Ramirez
The helpful Cast Members told me that Cruz would return at a given time, so I returned for a photo with her.  I don't understand why Cars 3 hasn't performed well at the box office.  It's a bit predictable, but a very good movie.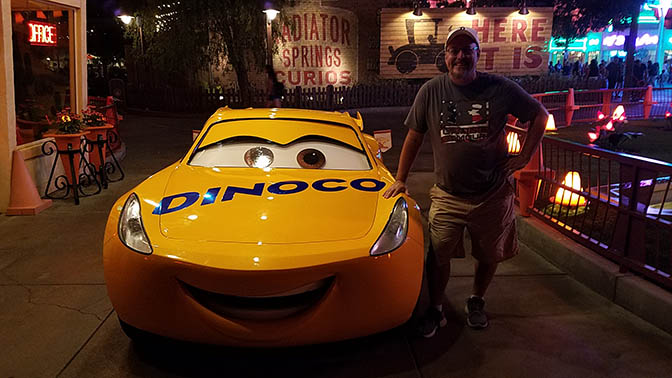 56. Pluto
I saved meeting Pluto for last in honor of my daughter Debbie.  It was her idea to begin such a challenge.  She was 8 years old when she met 60 characters in one day.  AND it was one day after completing a Magic Kingdom Ultimate Tour too.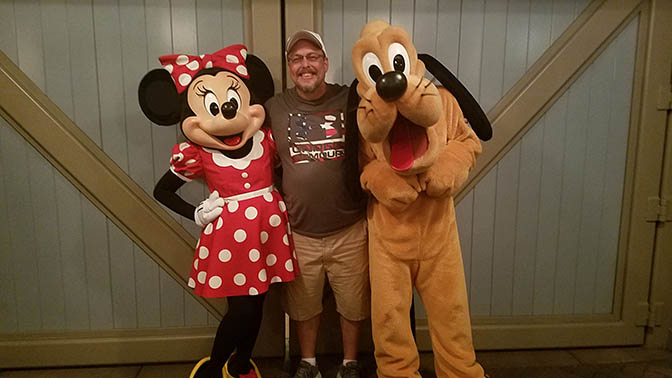 If you're interested in attempting the Character Locator Challenge at Walt Disney World, Universal Orlando or Disneyland, be sure to check out the rules page so your attempt can be added to the Wall of Fame.
You'll find that using Character Locator will make the challenge a great deal easier with it's Park Hopping Touring , Walt Disney World and Disneyland information.