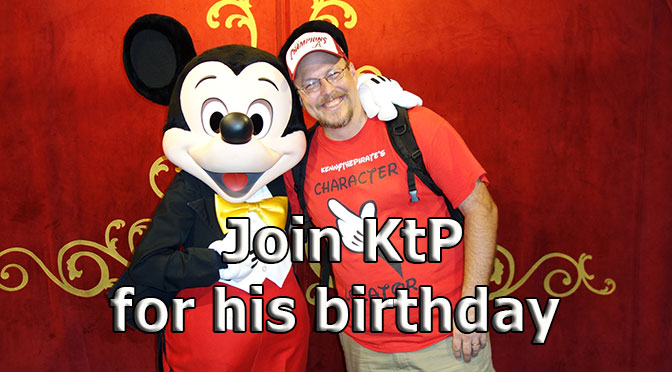 KennythePirate's 50th birthday will occur on Wednesday, August 30.  I thought it would be fun to celebrate with as many Crew members as are willing to attend the fun.  I've made a few simple Fastpasses, so we can enjoy some time together (and maybe even a cupcake).  Here's the details:
KennythePirate's Birthday Celebration
Wednesday, August 30, 2017
Magic Kingdom
Updated August 3rd
I've already pulled our Fastpasses and my brother BootstrapBob is joining me for the fun.  (He counts as a rare character meet) At least I won't be alone all day, lol.  You can add some Fastpasses that are similar and we'll meet up.  Join for one or more activities, it's totally up to you!
My Fastpasses:
12:00 – 1:00 PM Meet Mickey Mouse
1:00 – 2:00 PM Pirates of the Caribbean
2:00 – 3:00 PM Haunted Mansion
Schedule:
12:00 PM – Pick up Birthday Pin from City Hall
12:15 PM –  Meet Mickey Mouse in Town Square Theater (Use Fastpass)  Group photo!
1:00 PM – Mickey's Philharmagic
1:30 PM – Ride Pirates of the Caribbean (Use Fastpass)  Can we fill a boat?
2:00 PM – Country Bear Jamboree
2:30 PM – Ride Haunted Mansion (Use Fastpass)
3:00 PM – Pecos Bill's Talltale Inn and Cafe (Secret Nachos!)  TIME CHANGE
4:00 PM – Meet Goofy (My favorite character growing up)
4:30 PM – Peoplemover
5:00 PM – Carousel of Progress
5:30 PM – Celebratory Cupcake from Town Square Bakery
I can share the plan via the Character Locator Touring Plan builder, just post your Username in the reply!  If you cannot attend and would like to send along some loot as a gift, you may send a PayPal gift to kennygman77@yahoo.com.
Look forward to seeing you all!