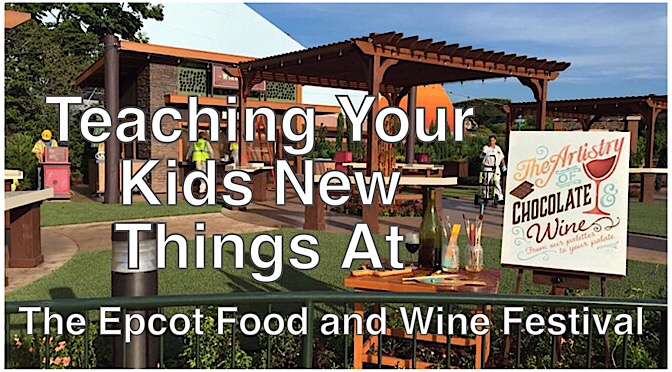 Do you ever wish there was a way to convince your kids to try new foods, or that you could let them try a lot of different foods without paying for multiple expensive meals that they refuse to eat? How about a wish that you could get your children to budget their money instead of asking for everything they saw, or that your kids would cooperate and work together for a common goal? I have great news! There is a way to do that, and it can happen at Disney. Better yet, they won't even know they are learning anything. They will think it is all their idea. Families can teach their children these concepts. And you can do it at Disney with two things – the Epcot International Food and Wine Festival and a Food and Wine Festival gift card for each of your children.
Is the Food and Wine Festival Even FOR Kids?
Let's address the first concern first. Some of our friends cannot believe that we take our kiddos to the Food and Wine Festival. They consider it a grown up event. First, because it is what most would consider to be sophisticated food. Second, because, as the name implies, Disney offers alcoholic beverage options at most kiosks.
Let me address the question of alcohol first, and I'll pick up the concern about the food next. There is the concern of people drinking too much and your child seeing that behavior. We find that if we do all our food exploration from the beginning of the event on our Epcot day, we can make it around to all our desired booths by mid to late afternoon. We then make our way out of Epcot before being accosted by any of those who have imbibed too much. Although if we stayed late I'm sure this might be an issue, we have been taking our kids to the Epcot for three years already with no issues yet.
Getting your Child to Try New Foods at the Food and Wine Festival
I know that many have a picky child or two. I have one incredibly adventurous child and two that each have their own peculiarities when it comes to their food preferences. When I try to make my picky eaters try something new, it doesn't usually go well.
However, when we are at Disney, our kids are generally more adventurous. And when we let them choose what they want to try from the very, very many options available at all the booths, it is amazing what they are willing to try for the first time. We usually grab a festival guide book for each of our kids when we first arrive at Epcot and have them look it over as well explore Future World in the morning before the booths open. This allows the kids time to find dishes they think they will enjoy. And they do find lots of options to try – even my picky eaters.
Little Plates Mean a Smaller Cost
With picky children, you might hesitate to take them to try a new cuisine at a restaurant. The food might be expensive and you fear they might not even try a bite. The nice thing about the International Food and Wine Festival is that all the dishes are just a "tasting" of a dish. Some call them small plates. It's an easy way to try something new without committing to an entire meal. Our kids are much more willing to decide on a new dish when they just have a few bites to taste. It's not a very big commitment.
Limited Funds Make for Creative Budgeting
As we mentioned, our kids have become quite bold at trying new foods. We give credit to Epcot's International Food and Wine Festival. That boldness was quickly adding up to a rather large budget for our kiddos. Like a kid in a toy store with an unlimited budget, they wanted to try everything! We had to get better control of our budget. So the year before last, we decided to try something new.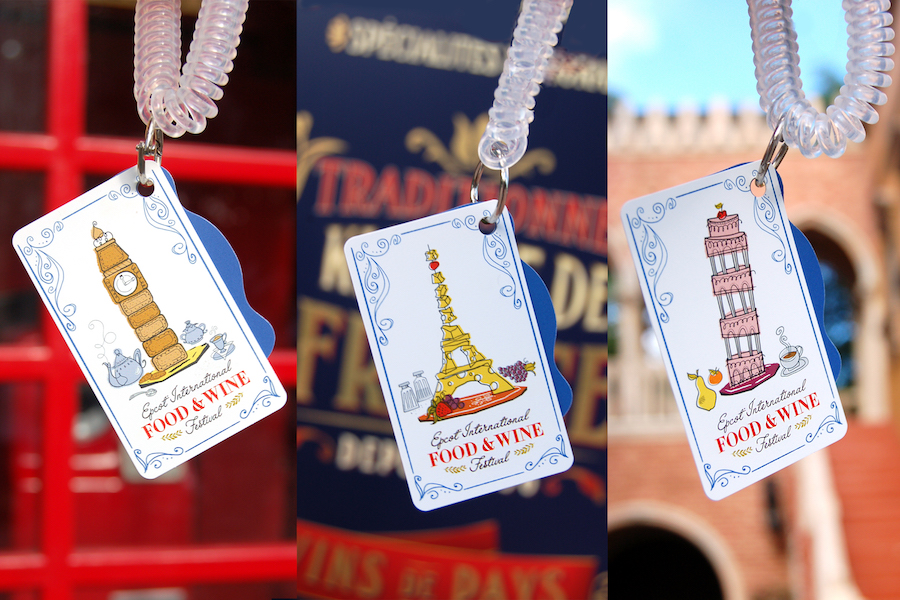 Before we headed back to the World Showcase, we stopped at a festival booth and purchased a festival gift card for each of the kiddos. These gift cards have a special armband on them that makes it easy for a child to keep track of. Disney requires a minimum amount on each card (normally $15). We have been giving them each $20-25 on their gift cards as their personal budget, so that wasn't an issue for us. Once they have their budget set in place, we encourage them to revisit their list to decide which bites most appeal to them, so they can prioritize. Suddenly, they no longer wanted apple strudel in the Germany outdoor kitchen at the Food and Wine Festival. This is because they knew that Disney sells strudel at the little quick service kiosk year round.
When You Have Limited Funds, You Might Just Share
The first time our kiddos realize how limited their choices become with their budget, it was a rude awakening for them. They started voicing concerns to each other about the fact that they couldn't get everything that they wanted with their budget. Then they realized that there were many dishes that more than one of them wanted to try. Suddenly, our "every man for himself" children were wheeling and dealing. "How about if I buy item A. You can share it with me. Then you buy item B. I share it with you."
Amazingly, our children wanted to share with each other. Sharing meant they were able to try more dishes.
Our Kids Have Learned A Lot At From The Epcot Food and Wine Festival
As you can see based on our story, bringing our children to the Epcot International Food and Wine Festival has worked well for us. We get to try all the dishes that make our foodie hearts happy. And our kiddos are learning to love trying new foods. Add to that life lessons on budgeting and sharing. Overall, our family has learned much from attending the Festival together.
We will be taking them back for the first of this year's visits in a few days. I can't wait to see what new foods they decide to try this year.