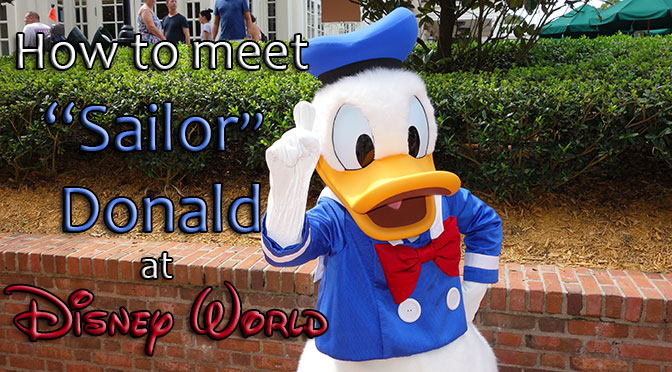 I'm often asked where a guest can meet Donald Duck in his classic "Sailor" costume in Walt Disney World.  It used to be really easy when he met at the Epcot Character Spot, but in 2015 it can be quite tricky to find him in this costume.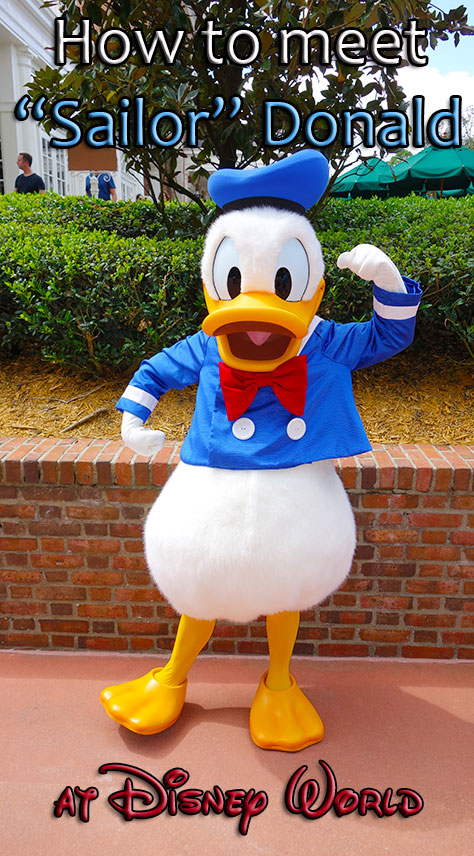 As of July 2015, Donald Duck doesn't offer any regular meet and greets or character meals in his traditional blue sailor outfit.   The only opportunities that you MIGHT find him in this costume are Epcot Character Training and Character Palooza.  There's no set schedules for these offerings, but the posts linked above will provide you with some good information that might allow you to meet him while you are visiting.  At Epcot Character Training, your best bets would be the American Adventure gate or World Showplace gate.
Here's a few of the costumes I've met Donald Duck wearing in Disney Parks and resorts:
| | | |
| --- | --- | --- |
| | | |
| Donald met briefly in 2014 in his Sailor costume in Animal Kingdom | | |
| | Donald appeared briefly as a Knight at Mickey's Not So Scary Halloween Party | Donald as he appears in his 1940's costume at Hollywood Studios |
| Donald in snowflake sweater at Disney World resorts during Christmas season | | |
| | | |
| Sailor Donald at Epcot Character Training American Adventure gate | | Canada Donald as he appeared for Winter Wonderland celebration |
| | | |
| | | |
| | Donald Duck as Devil at Inventions Brunch in Disneyland Paris 2014 | |
| | | |
If you enjoyed this post, feel free to share it on Facebook, Pinterest and other social media below!