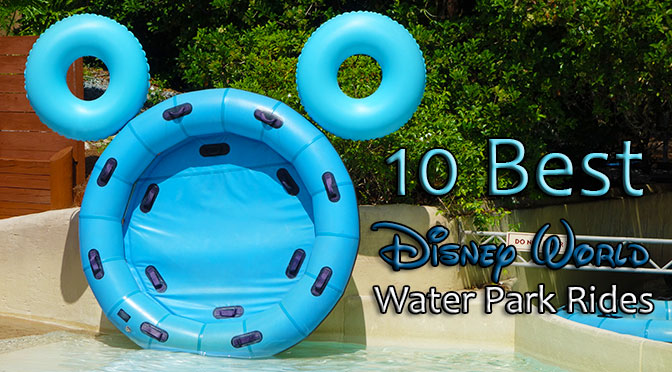 The weather is heating up as we turn toward the "dog days" of summer and we're all looking for a great way to cool down.  Perhaps you've planning to spend all your time in the four main theme parks of Walt Disney World.  You should consider taking a mid-day break or two at Blizzard Beach and Typhoon Lagoon and be sure to take in my 10 Best Disney World Water Park Rides.
10. Cross Country Creek – Blizzard Beach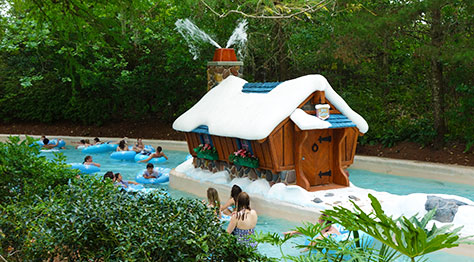 I LOVE lazy rivers, especially ones with great theming.  I enjoy just floating along placidly, talking with my family, laughing and seeing who can get the others wet in the various spray areas.  Cross Country Creek beats out Castaway Creek at Typhoon Lagoon only because it douses you with repeatedly with very cold water that is sure to bring out some great laughs among your family members as the others make those great silly faces.  Castaway Creek is great in its own right because it offers beautiful tropical theming.
There is no minimum height limit.
9. Chairlift – Blizzard Beach
The Chairlift at Blizzard Beach comes in a #9 on my list.  It's great fun because it takes you casually above Blizzard Beach so you can see all the chutes, slides and wave pool.  It's a one way ride uphill and can save you from climbing stairs repeatedly.  Where else can you take a snow skiing Chairlift in a water park?
There is a minimum height requirement of 32 inches.
8. Humunga Kowabunga – Typhoon Lagoon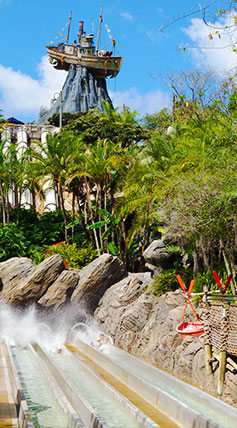 Humunga Kowabunga is the top speed slide inside Typhoon Lagoon.  It is a body flume slide that quickly drops you over 50 feet with a skidding, wedgie-filled splash at the end. It is enclosed, so most of this fast ride is in the dark. Top speed is about 30mph.  This ride is often a child's first experience at taking on a speed flume slide.  Another element of thrill here is that you can race against 2 other friends or family members at the same time.  There is a minimum height requirement of 48 inches.
7. Slush Gusher – Blizzard Beach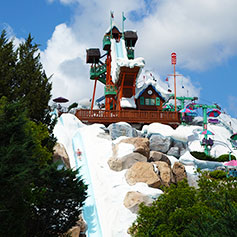 Slush Gusher is the park's second tallest and second fastest ride. It also takes those designations between both parks.  It is a 90 foot tall body flume slide that travels at high speeds and can be hard on your back at some points. It does have some great thrill points with the double hills. It makes you feel weightless for a moment or two.
There is a minimum height requirement of 48 inches.
6. Downhill Double Dipper – Blizzard Beach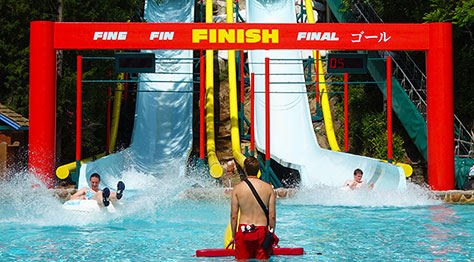 Board your tube and race down the hill to see who will win! The retractable gate makes for a more fair start. The ride only takes a matter of seconds, but kids love to try to beat their parents to the finish line. The slide is an enclosed 50 foot drop.
This ride is very popular and often has wait times of 60 minutes or more. Ride early or late in the day.
There is a minimum height requirement of 48 inches.
5. Toboggan Racers – Blizzard Beach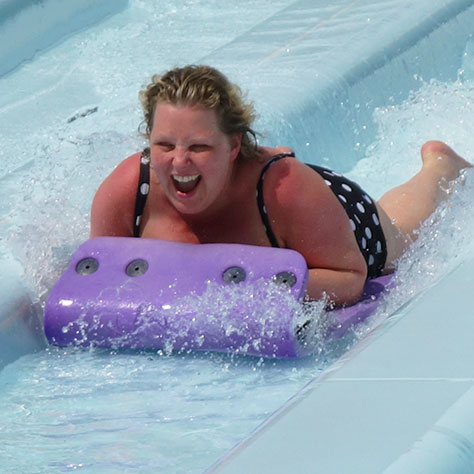 This toboggan style racer allows you to compete with up to 7 others down a fast moving, slightly hilly slide. The slide is 250 feet long. Kids will enjoy racing the adults. Grab your lightweight mat at the bottom of the hill and carry it up with you.  It also makes great shade from the sun.  Be sure to wait for the signal to go from the life guard.
There is no minimum height requirement.
4. Teamboat Springs – Blizzard Beach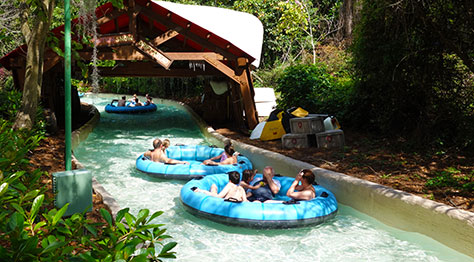 This ride allows a a family of up to 6 persons to experience this fun, family boat ride together. Younger kids often enjoy sharing their first big water thrill along side the adults. This is a 1200 foot long tube water slide with giant size tubes that await you at the top of the hill.  There are handles to grasp in the bottom of each raft.
The tube must have at least 4 guests, so you will be asked to group with others if you have less than 4 in your party. Look for the giant tube Mickey at the end!
There is no minimum height requirement.
3. Surf Pool – Typhoon Lagoon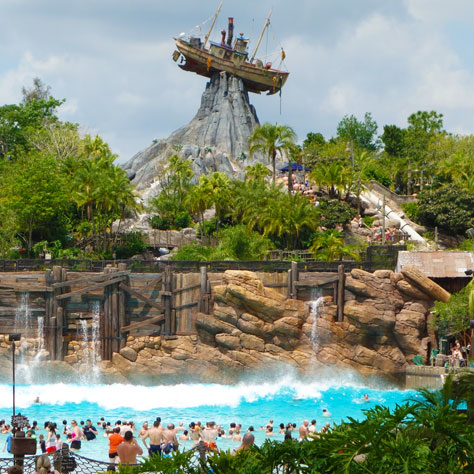 Technically, this isn't a "ride" I suppose, but you can ride the waves!  This wave pool is enormous and it creates gigantic 6 foot waves. The wave are fun to body surf, but powerful enough to grind you into the bottom of the pool. I strongly suggest that you stay with your children at this pool. Inner tubes are not permitted. They actually offer pre-park opening surf lessons here.  Persons of any age and height limit may participate, but small children will need your attention as the large waves could knock them down.  The pool alternates between large and small waves about every 30 minutes with the schedule posted at the front of the park.
2. Summit Plummet – Blizzard Beach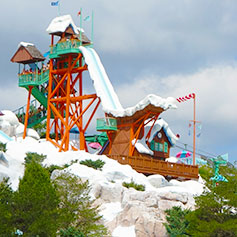 Are you ready o take on one of the tallest and fastest body flume slides in the world? The park's iconic ride isn't for the timid! Just the view from the top of the observation tower creates a number of cowards out of perfectly brave people.
The flume is 120 feet tall. It does not go off the ramp as it appears, so it is safe. However, your back WILL hurt after riding. Lay back, hold your breath, cross your arms and survive the giant drop.
This ride often has waits of 60 minutes or longer. Be sure to arrive before park opening or go near park closing to experience with short waits.
There is a minimum height requirement of 48 inches.
1. Crush n Gusher – Typhoon Lagoon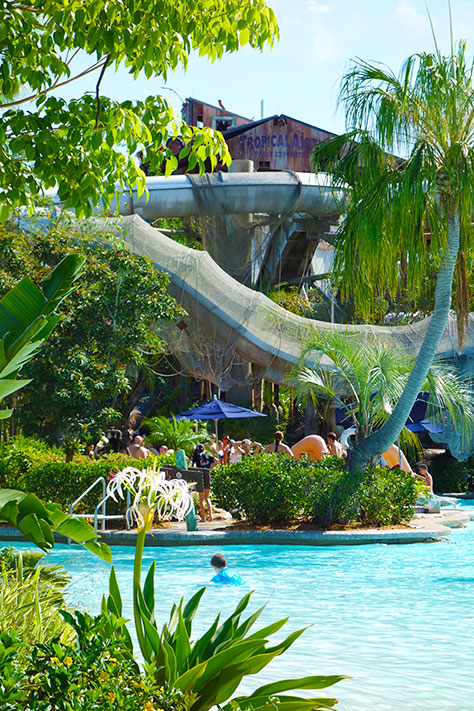 There's no other ride in Orlando like this! It's a water roller coaster that is sure to be a thrill to everyone that rides.  Guests can ride one of the 3 slides alone or any of the slides with one other guest. Be sure to try Banana Blaster, Coconut Crusher and Pineapple Plunger for different experiences.   The rider in the back gets blasted repeatedly with water that is pushing the tube uphill!
There is a minimum height requirement of 48 inches.
Honorable Mention – Shark Reef
This 362,000 gallon aquarium actually allows you to swim with fish like Blue Tang, Stingrays, Leopard and Bonnethead sharks. The salt water in the 10 foot 6 inch deep pool is a chilly 68 degrees! Snorkel and mask are provided free of charge. Guests are asked not to kick with their feet. FOR YOUR SAFETY: *You should be a strong swimmer and snorkeling experience is recommended *You should be in good health and free from heart conditions, seizures or other conditions that could be aggravated by this experience. *You must wear an approved mask and snorkel.
If you enjoyed this post, feel free to share it with your friends via Facebook, Pinterest and other social media below!