And, no, the answer is not Epcot's World Showcase! I found Disney World's best tacos hiding in plain sight!
Animal Kingdom Dining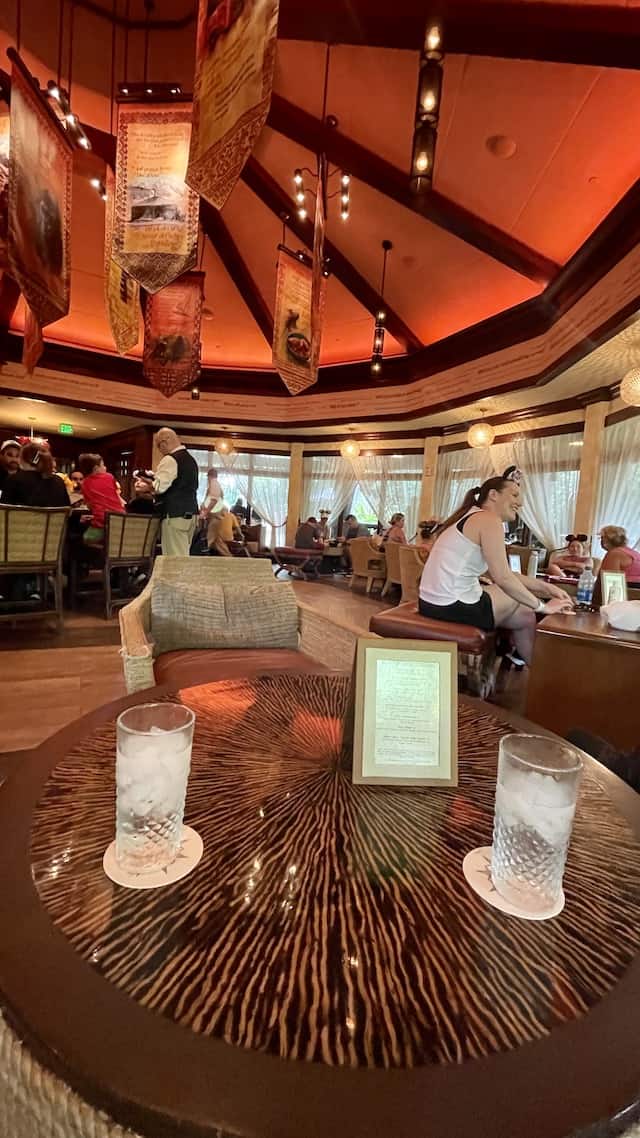 Over the years, I (Monica) have really come to love the food at Animal Kingdom. It is among some of the most authentic you can find on property. It also has some of the most delicious and wide variety of food options at any Disney Park. Whether you have a craving for something more exotic, standard fare or delicious pastries, Animal Kingdom has you covered.
We have some of the best snacks you can find in the park HERE and a complete guide to table-service and quick-service restaurants HERE. Some of my personal favorites include Satu'li Canteen and Nomad Lounge! On a recent visit, I decided to eat somewhere I have not eaten at before.
What I found were some of the most delicious tacos I have ever eaten at Disney World!
The Smiling Crocodile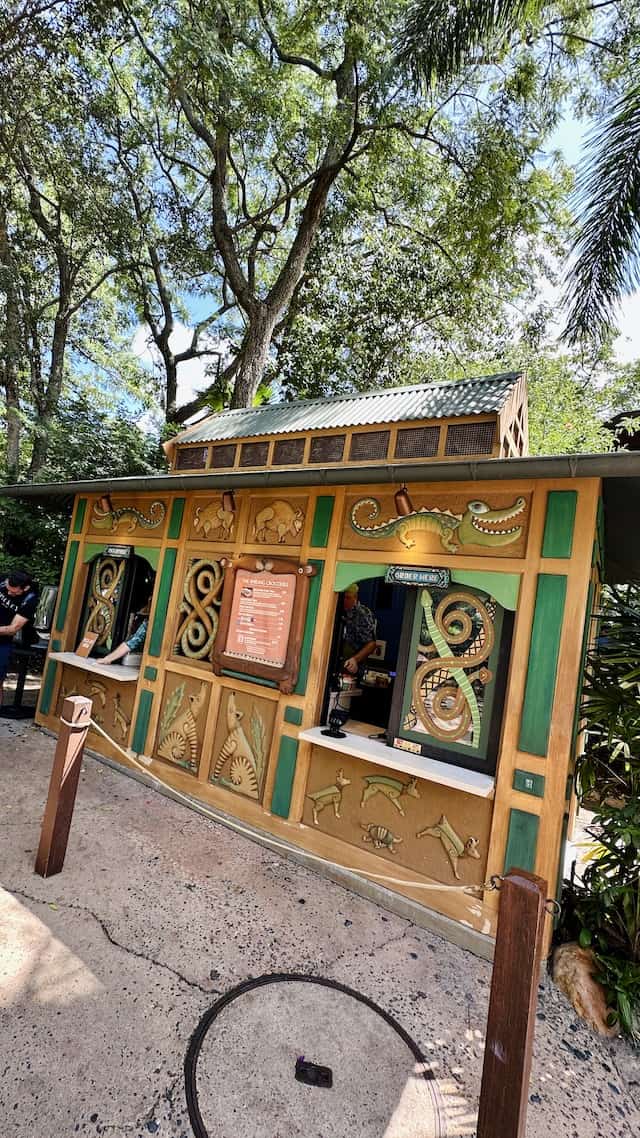 You can find these tacos at The Smiling Crocodile in Discovery Island. If you head to the right of Tree of Life towards Asia, you will find this small snack stand across from It's Tough to be a Bug. It's nestled in between Flame Tree Barbecue and Adventurers Outpost where you meet Mickey and Minnie.
Now, there are some important things you need to know before we get to the food. First, it does not have typical operating hours. While Animal Kingdom is usually open from 8:00 am to 8:00 pm, The Smiling Crocodile is only open from 11:00 am to 3:00 pm. This leaves a very short window of time to enjoy your food.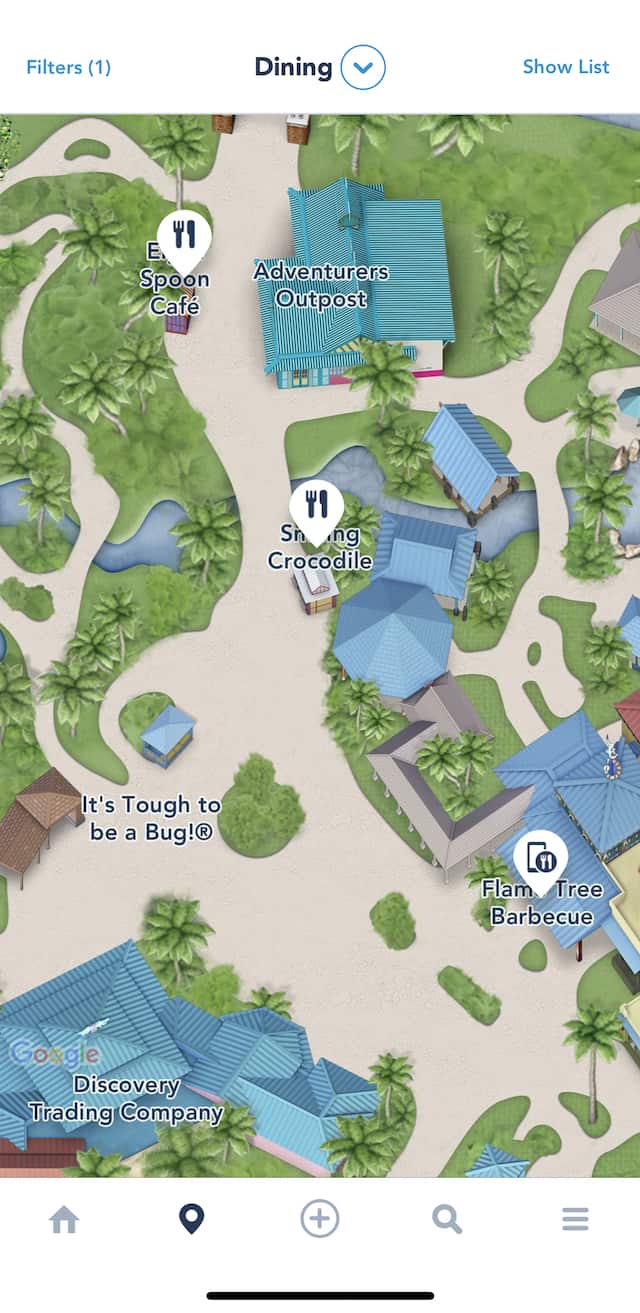 Second, there is no indoor seating and only a handful of tables next to this location. This can make it incredibly hard to find a place to eat. But, if you know your way around Animal Kingdom, you know there is a ton of seating at Flame Tree Barbecue. Grab a spot under a shady umbrella along Discovery River.
Third, mobile order is not available at The Smiling Crocodile. I have really come to rely on mobile ordering at Disney World, so waiting in line to order and then waiting again to get the food has become quite cumbersome. You may wait a bit longer compared to other locations, but I promise it is worth it!
Pulled Pork Street Tacos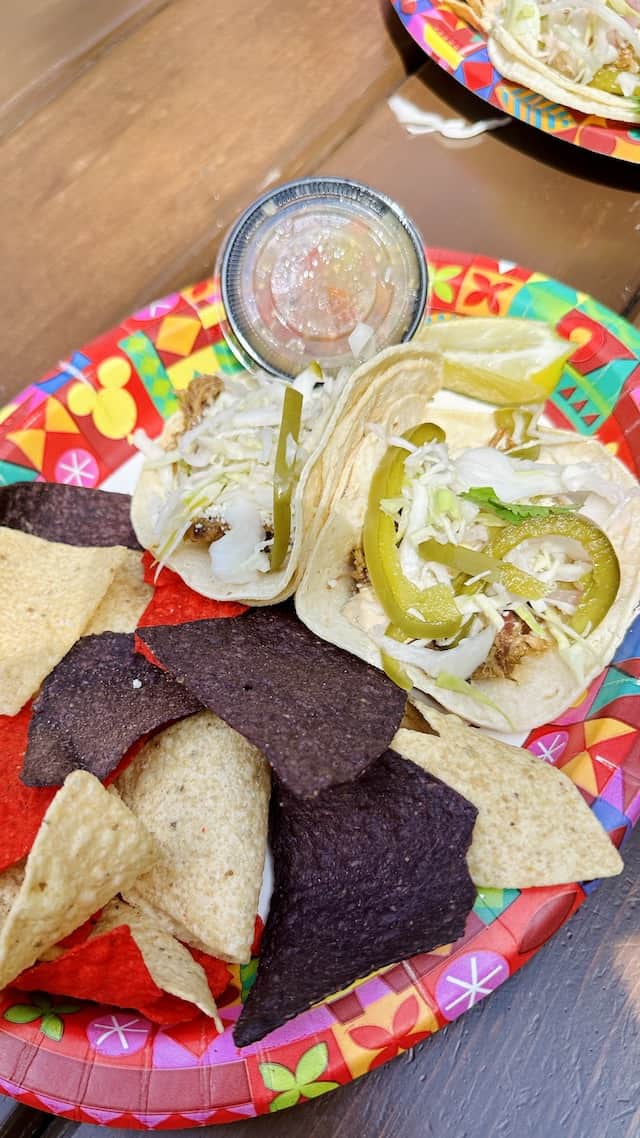 The pulled pork street tacos include two tortillas and heapings of pulled pork. The pulled pork is tossed in the house-made sauce with lime cream. And, heapings of cotija cheese, cabbage, and pickled onion are served on top. I also noticed slices of jalapeño even though they were not listed on the menu.
These two tacos also come with a side chips and salsa. Priced at $9.99 this is a fantastic value for the quantity and quality of food you receive.
These pulled pork street tacos tasted so good! The pulled pork was not fatty or chewy whatsoever, and the flavors of the sauce and toppings worked together so beautifully. Plus, the lime slice was a nice garnish!
Chicken Street Tacos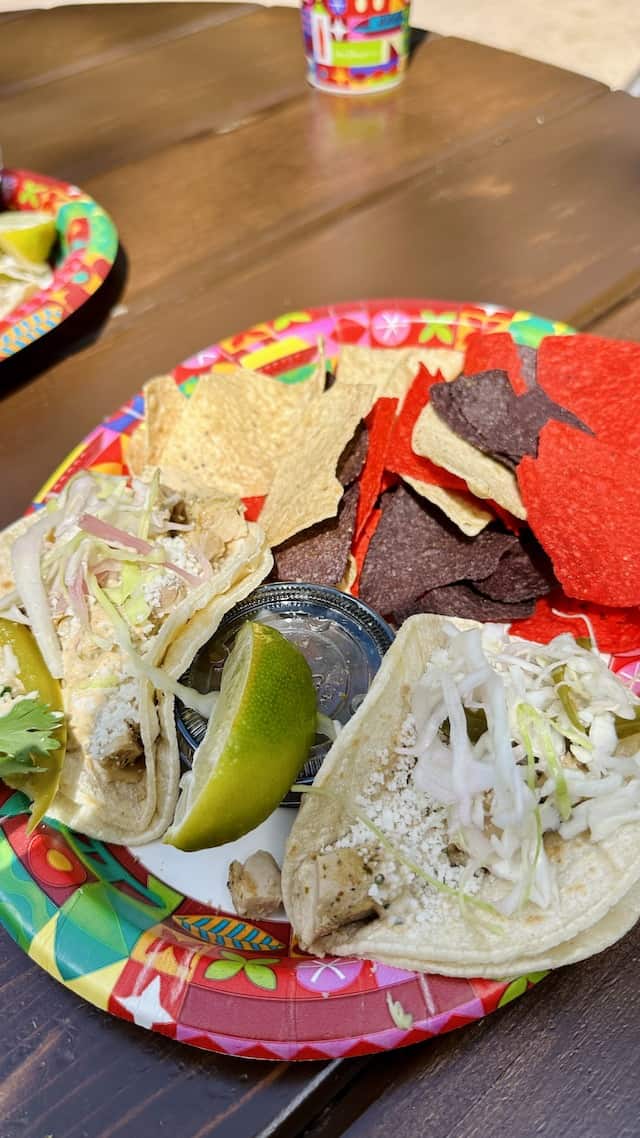 If chicken is more your vibe, The Smiling Crocodile has those, too! The entree is exactly the same with all the same sauces and toppings. The only difference is the meat is chicken, not pork.
I also really enjoyed the chicken version, but the pork tacos would be my first choice. But really, there is no loser in this contest. These tacos are amazing.
Although I did not sample the vegetarian version, there are street corn tacos as well. It's two tacos with black beans, roasted corn, Poblano peppers, and red onion. They are topped with pico de Gallo, lime cream, and cotija cheese.
Chips and Salsa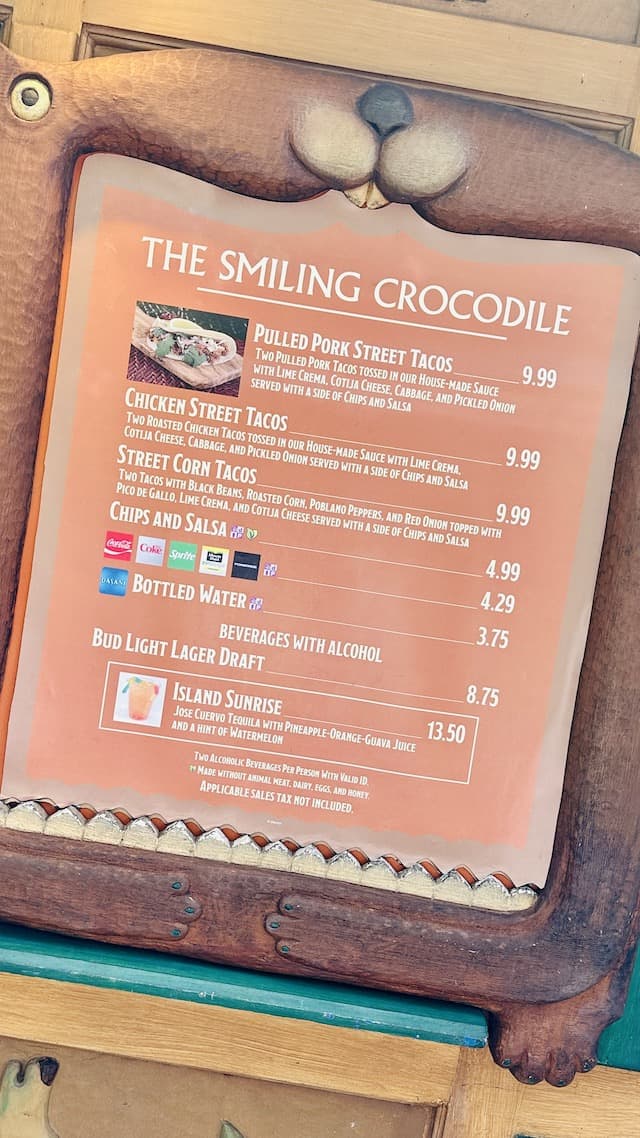 Chips and salsa complete the meal, and I love that The Smiling Crocodile did not forget about the perfect taco accompaniment. To be honest, there is nothing special about the chips and salsa. But that's ok, because I would not want anything to outshine the street tacos.
There were a variety of red, white, and black corn tortilla chips and a small serving of runny (yet chunky if that makes sense) salsa. I can't do too much spice, and the salsa was just the right mild-medium.
There was plenty on my plate, but if you wanted just a snack or needed extra, you can grab some on their own for $4.99.
Island Sunrise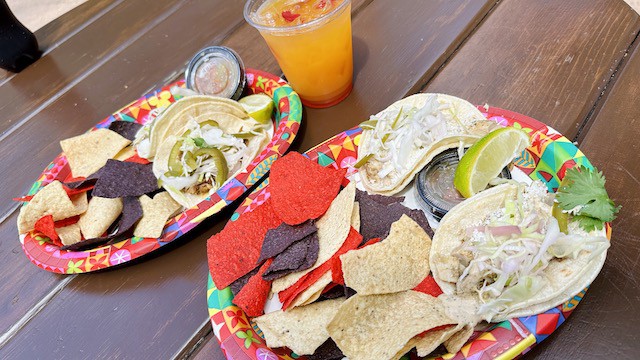 You will find bottled soft drinks and water along with a couple alcoholic options. There is a Bud Light Lager Draft for $8.75 and the specialty Island Sunrise for $13.50.
The Island Sunrise consists of Jose Cuervo Tequila with POG (pineapple-orange-guava) juice and a hint of watermelon. It is garnished with a gummy worm, and honestly, what adult doesn't love getting to enjoy one of these all to themselves without having to share with little ones?!
I tasted no hint of watermelon whatsoever, but the rest of the drink was fantastic. It was refreshing on a hot day and I loved the combination of the famous POG juice with tequila.
Final Thoughts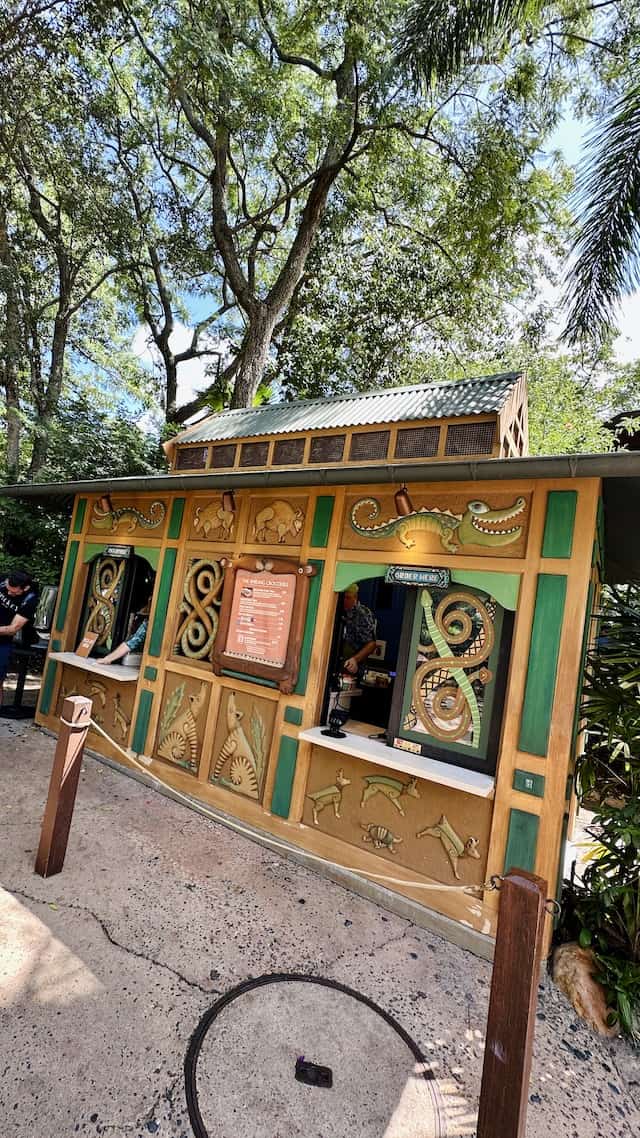 I cannot tell you how many times I have walked past The Smiling Crocodile and never gave it a second look. I was always so pre-occupied with my tried and true favorites at Animal Kingdom, and I am sad I did not try this sooner.
These tacos quickly made their way onto my favorites list. In a park mostly focused on Asian and African food, street tacos are a nice change of pace. Try these the next time you visit! You won't regret it.
Have you ever eaten at The Smiling Crocodile? Are they your favorite tacos in Disney World? Let us know in the comments below and share this post with a friend who may love to read this review.