The Disneyland Hotel is magical in every sense of the word. It is a beautiful tribute to Walt Disney and the original Disneyland Hotel. Check out this full review and photo tour of the standard room. You will LOVE it!
The Disneyland Hotel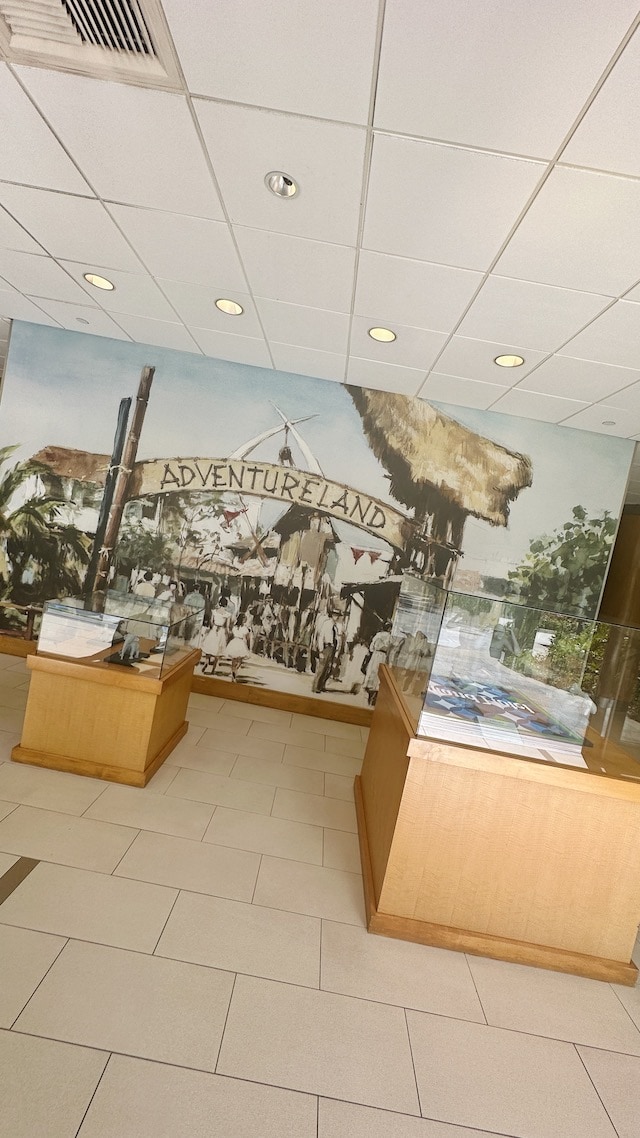 Did you know Disneyland almost opened without plans for a hotel?! At the time of construction, Walt wanted a hotel for guests to stay at because Anaheim was so far away from everything else. However, he did not have the financial resources to build one.
He came to an agreement with a third party to own and operate a hotel under the Disney name. It opened in October 1955, just a few months after the opening of the park. The Walt Disney Company finally acquired the Disneyland Hotel in 1988!
The hotel has gone through many changes in the 67 years it's been around, but it is the original Disney hotel. I was overjoyed to stay here on a recent visit to Disneyland, and it quickly became my favorite Disney hotel. It should be a bucket list item for anyone visiting Disneyland! Be sure to check out my full guide to the hotel in this post.
Room Types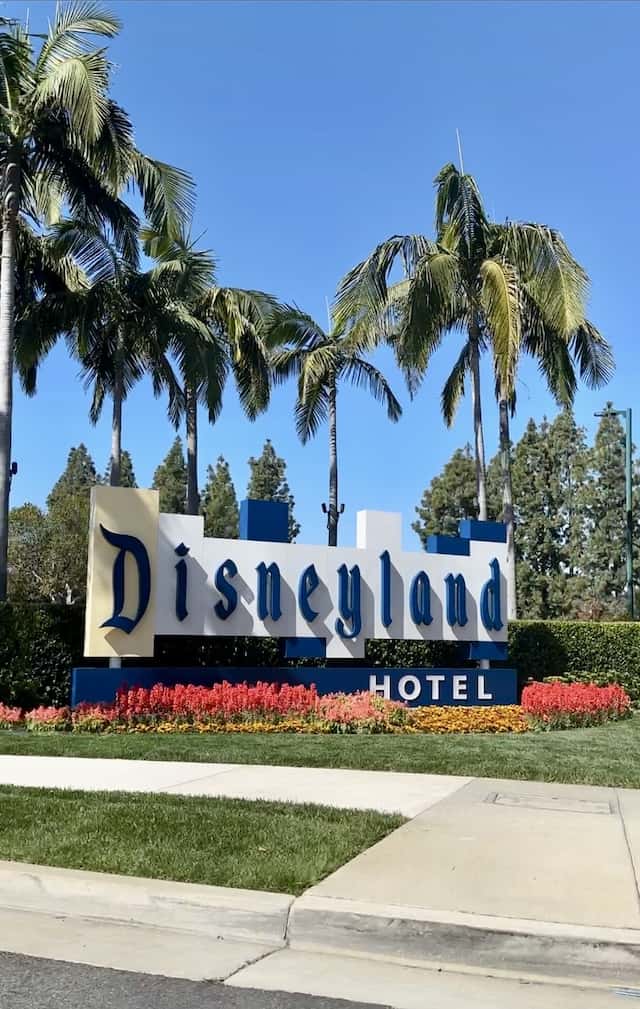 There are many different room types at The Disneyland Hotel. Standard rooms can include two queen beds or one king bed or two queen beds plus a day bed. This means parties of 5 can stay in a standard room! A premium or deluxe room will have views of the pool while a standard view will have views of trees or parking. Standard rooms may also have a premium Downtown Disney view.
The Disneyland Hotel also offers Club-Service amenities which include all the benefits of staying club-level plus views of either the pool or the Downtown Disney district.
Then, there are the many different types of suites available. You can choose from 1-, 2-, and 3-bedroom suites. Some are connecting suites and some are junior suites. The suite you are assigned is determined by the number of people in your party.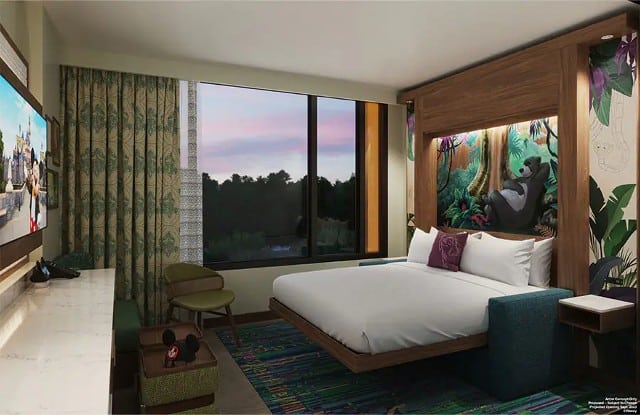 Signature suites are in a completely different category and include 1- and 2-bedroom suites. These are beautiful spaces themed after the towers. The theme you choose will determine which tower you stay at. Themes include Adventureland, Pirate, Big Thunder, Mickey Mouse, and Fairytale.
Over at the Villas, which will open in the fall of 2023, you will find duo studios – much like the tower studios at Riviera Resort in Disney World. Other accommodations include deluxe studios and 1-, 2-, and 3-bedroom villas. Garden rooms are separate from the main DVC tower and include duo studios and deluxe studios.
Entry and Main Space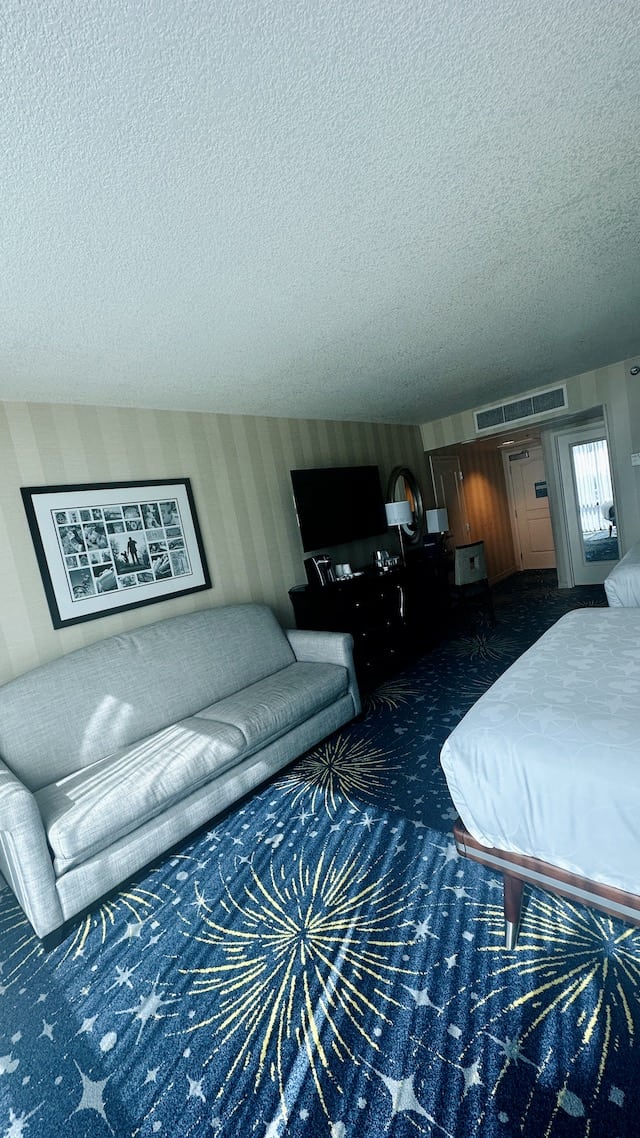 I stayed in a standard room with a deluxe view which had stunning views of the pool area. When you first walk in to the entry way, the first thing you see is the desk area. There is a small desk and chair. You will also find the menu for in-room dining as well as a cute stand up lamp featuring Mickey heads!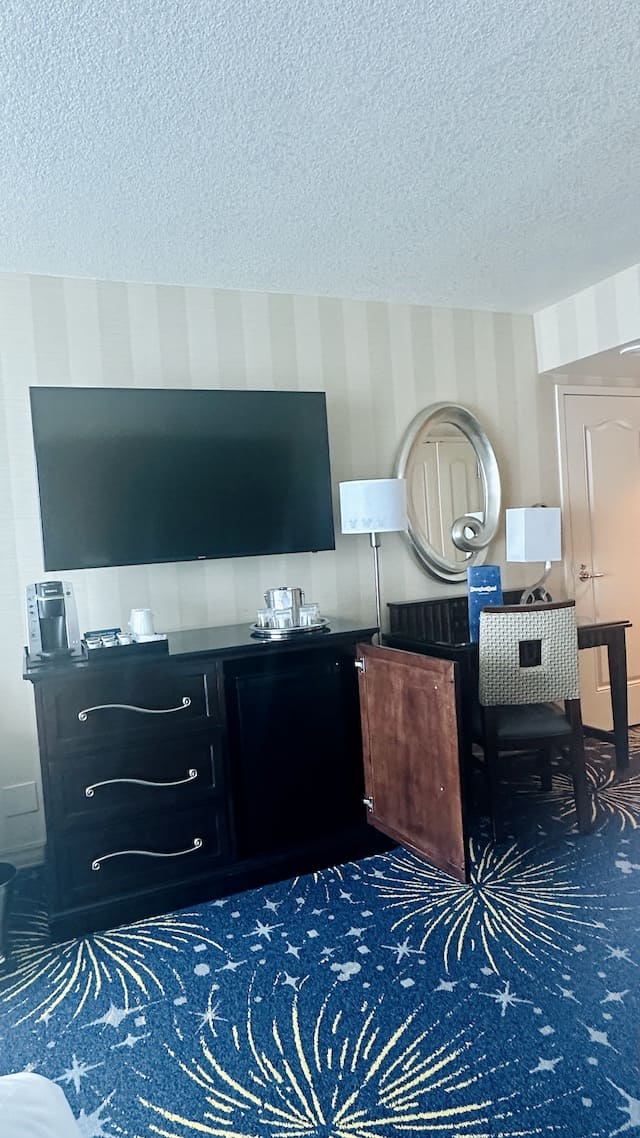 Next to the desk is the dresser and television. There are three small drawers and a cabinet with the beverage cooler. On top is the Keurig coffee maker with some k-cups and sweetener options. Additionally, you will find real glasses and an ice bucket.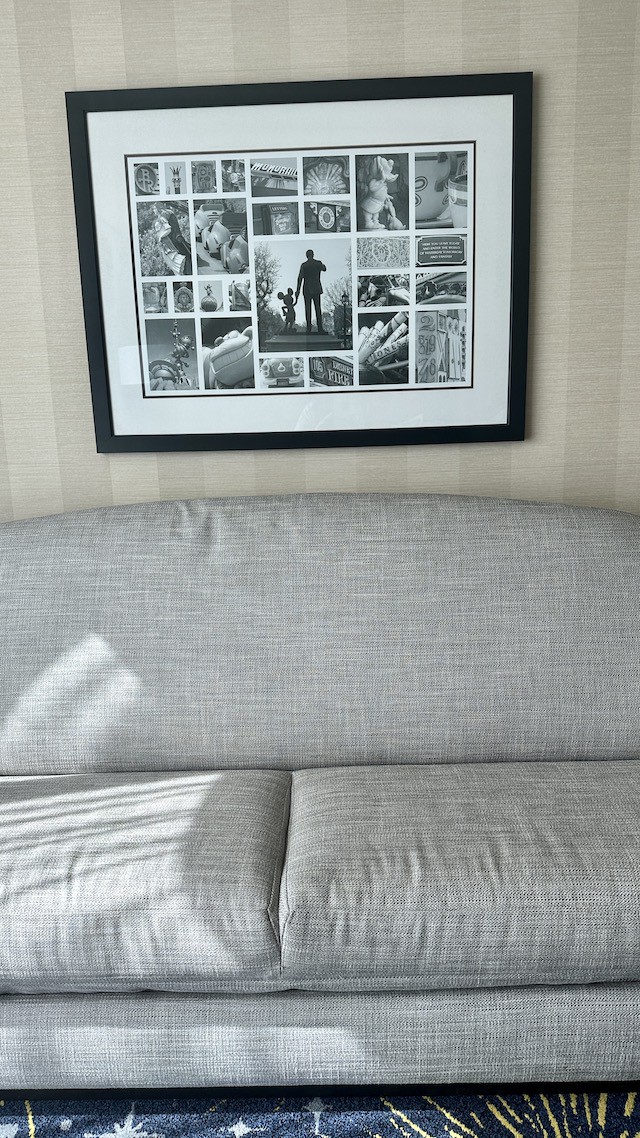 Beyond the entertainment space is the sofa/day bed. I love the old black and white photographs of Disneyland Park that hang above this area. It inspired me to want to recreate it at home! I kept the sofa folded up during my visit since I did not need it. However, it should be noted it folds out to a twin sleeper bed not a long full-size day bed like you find in the studios at Disney World.
The beds were my favorite part of this room. There is a giant wooden headboard that spans most of the wall. It lights up and plays "When you Wish Upon a Star" and I personally think every Disney hotel needs a light-up musical headboard. I left it on every night and fell asleep to the magic. It was perfect.
I also adored the pillows. One says "A dream is a wish your heart makes…" and the other says "when you're fast asleep." If they sold these, I definitely would have bought them! (Disney, if you are reading this…) The giant photo of Walt walking through Sleeping Beauty Castle also added a beautiful touch to the rooms.
Bathroom and Closet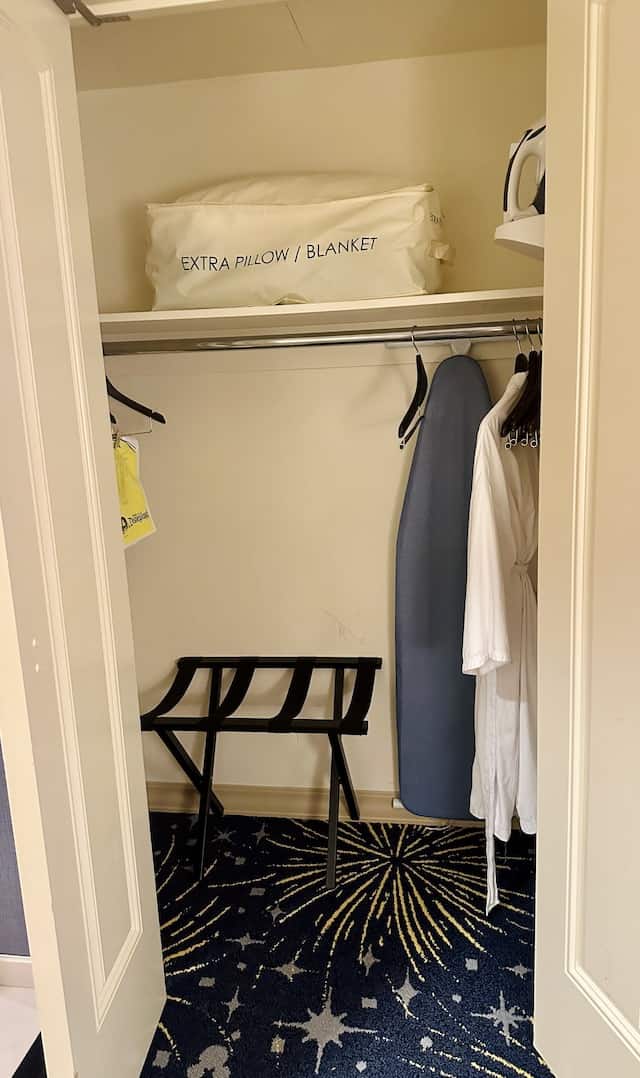 The Disney touches don't stop in the living space, though! It continues into the bathroom area. There is a separate closet before walking into the bathroom. It contains robes, hangers, ironing board, iron, luggage holder, extra pillow/blanket, and a laundry bag. The only downside to this room is the storage space. If you are hoping to unpack clothes during your visit, you will be hard pressed to find storage solutions.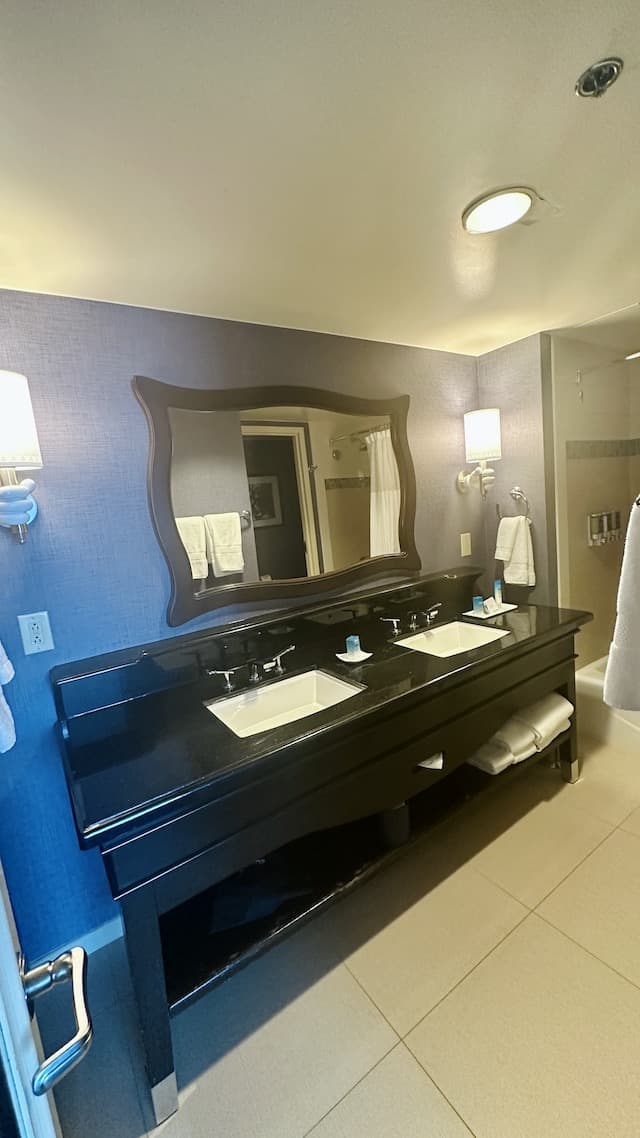 The bathroom area is pretty large with a double vanity, shower/tub combo, and a separate room with the toilet. The understated Mickey touches can easily be found in the bathroom if you look close enough! You'll notice Mickey hands on the wall lamps and Mickey heads on the faucet handles.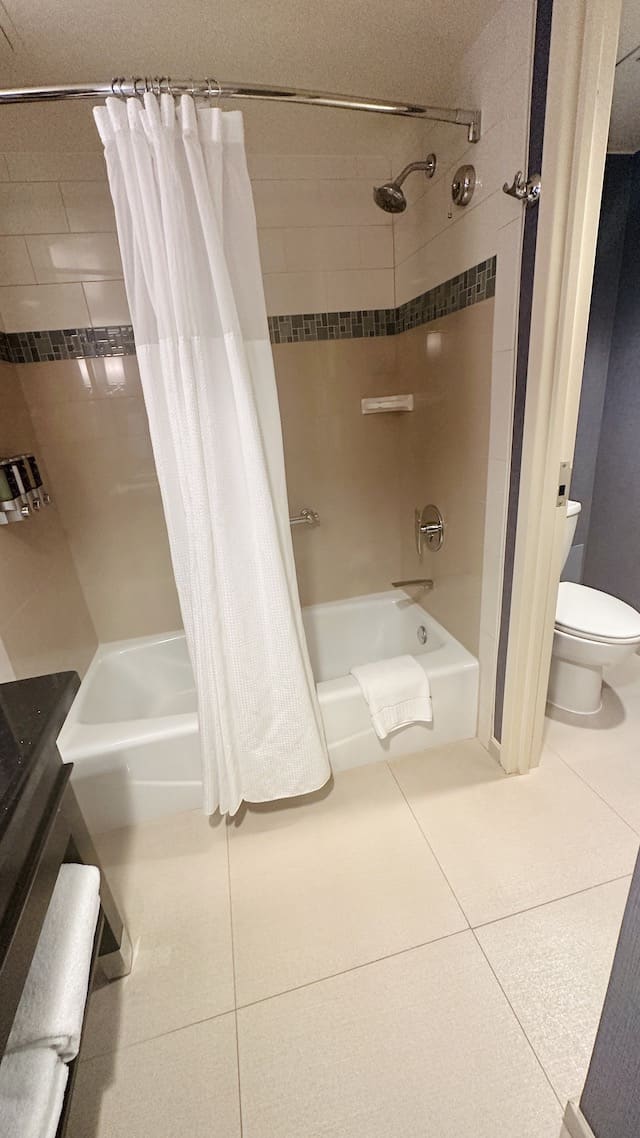 These rooms hold all of the basic toiletries you find in Disney rooms. There are a few travel size soaps and lotions on the vanity and the large refillable dispensers for soap, shampoo, and conditioner in the shower.
Final Thoughts
The rooms and the hotel as a whole are a beautiful nod to the past nostalgia that is Disneyland and a wonderful tribute to the man who started it all, Walt Disney. When I walked into the room I gasped – that's how beautiful it was!
These rooms have really special touches like beautiful deep blue carpet with fireworks, the light-up musical headboard, and the Mickey touches on the lamps. It is understated Disney and exactly what you would expect when you think of a Disney-themed room. Many of the refurbished rooms at Disney World feel sterile. This is not so at the Disneyland Hotel.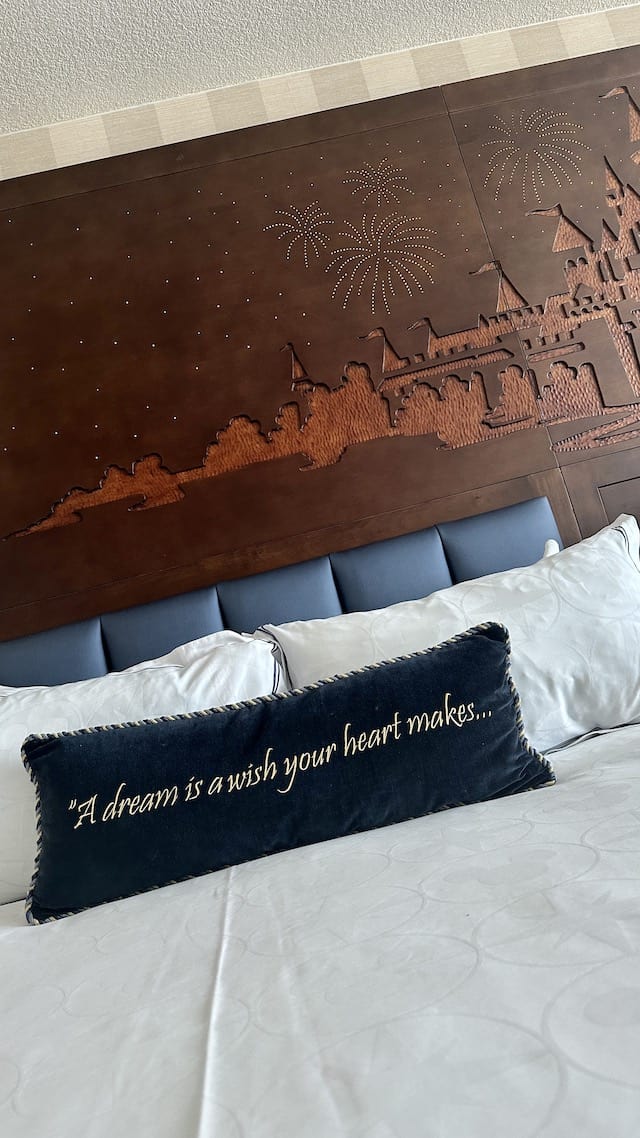 Additionally, these rooms are also quite large. I would compare it to a deluxe resort at Disney World. They definitely feel bigger than value and moderate resorts. For larger parties of 4 or 5, this is a nice room to spread out in. It felt bigger than the Grand Californian which I stayed in on a past visit.
I really loved my stay at the Disneyland Hotel, and the rooms were a big part of it. I know many will tell you to stay offsite. It's cheaper and just as far of a distance to travel to get to the parks. But if your vacation is a once-in-a-lifetime trip and you want that Disney experience, look no further than the Disneyland Hotel.
What do you think of the rooms at the Disneyland Hotel? Let us know in the comments below. Do you know someone who may want to stay here? Be sure to pass this review along to them!