Blue Bayou is one of the most sought-after dining reservations at Disneyland. But, is it worth the hype it receives? I dined here to find out!
Blue Bayou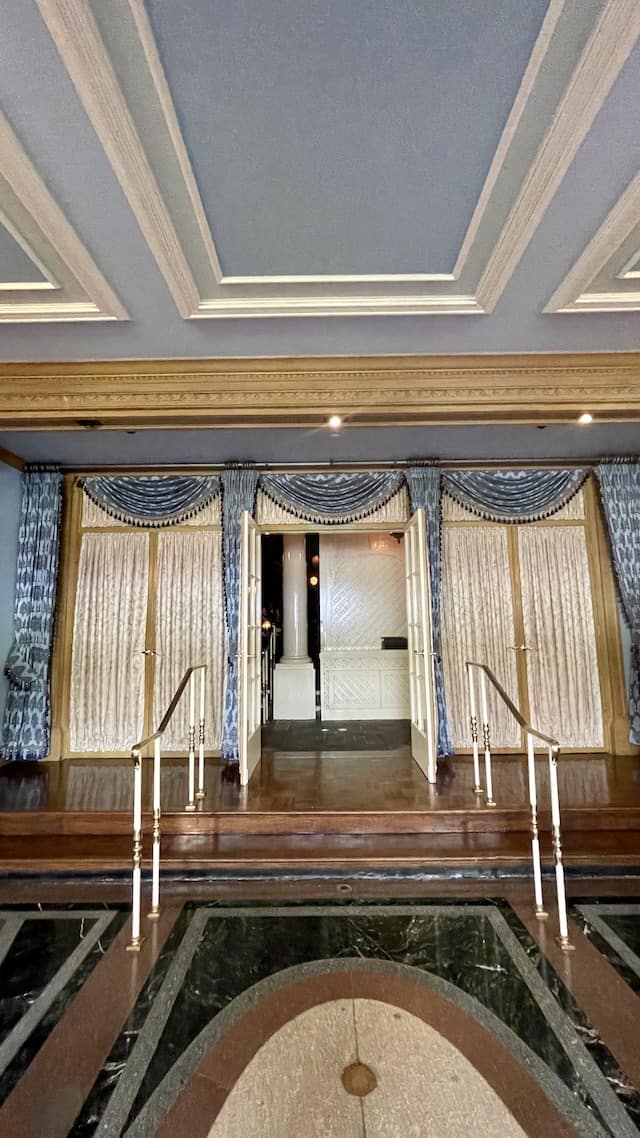 Ever since Blue Bayou opened its doors in 1967, it has become a must-visit restaurant for those visiting Disneyland. Diners can feast on Southern style dishes in an atmosphere that closely mimics the bayou.
Lunch and dinner is served here, and if you would like to opt in for a separate Fantasmic! viewing area, Blue Bayou offers a dining package as well. You can read my review of the River Belle Terrace dining package in this post.
During my first visit to Disneyland, I did my research on the all quintessential restaurants one must experience when visiting the West Coast. Blue Bayou quickly rose to the top of that list, so we decided on lunch one day and saved the Fantasmic! dining package for River Belle Terrace, another must-visit restaurant.
Here are my thoughts on the restaurant atmosphere, food, and if I would ever dine here again.
The Atmosphere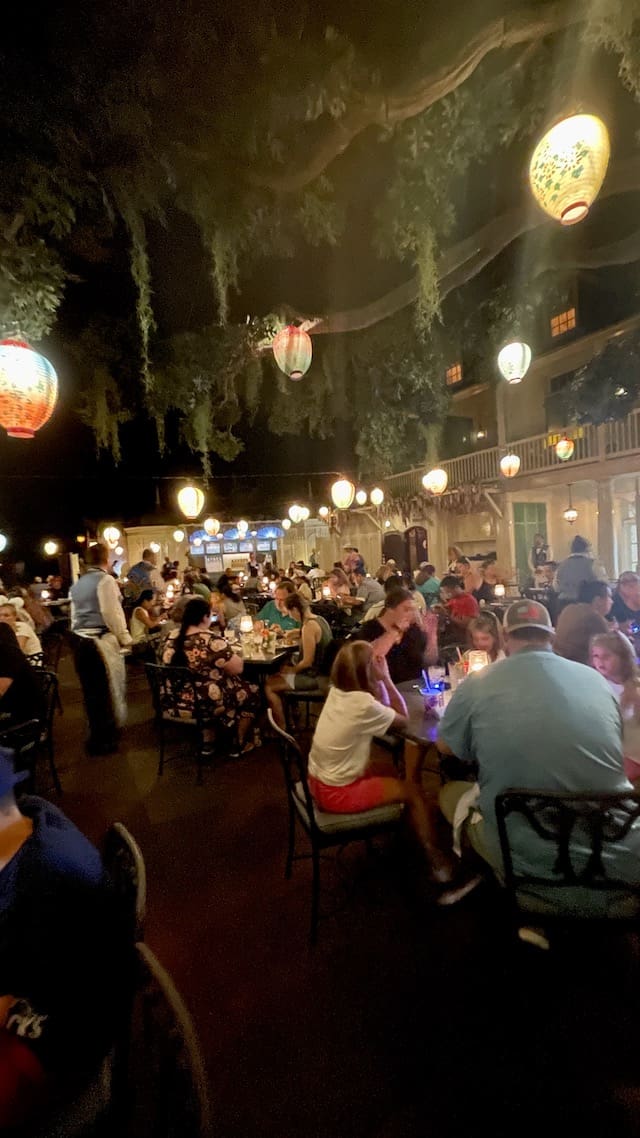 The best part of the Blue Bayou is undoubtedly the atmosphere. If you have ever dined in Pinocchio Village Haus at the Magic Kingdom, you know a section of the restaurant overlooks it's a small world. Blue Bayou is the same way for the Pirates of the Caribbean ride. When eating in the restaurant, you can look out over the water and see the boats pass by. On the flip side of that, if you are riding Pirates of the Caribbean make sure to look at everyone enjoying their meals!
Blue Bayou is truly like stepping into the nighttime ambiance of the South. It is pretty dark inside the restaurant, with the only light hanging from the trees and on your table. If reminds me of San Angel Inn Restaurant at Epcot. If you are someone who needs more light to see what you are eating and who you are interacting with, Blue Bayou may not be a pleasant experience.
To add to the atmosphere, there are artificial cricket and frog sounds that quietly play throughout the restaurant. You really do feel like you are dining outdoors in the south with all of these light and sound effects. Overall, it feels very intimate, especially if you can get a table next to the water.
Sitting by the water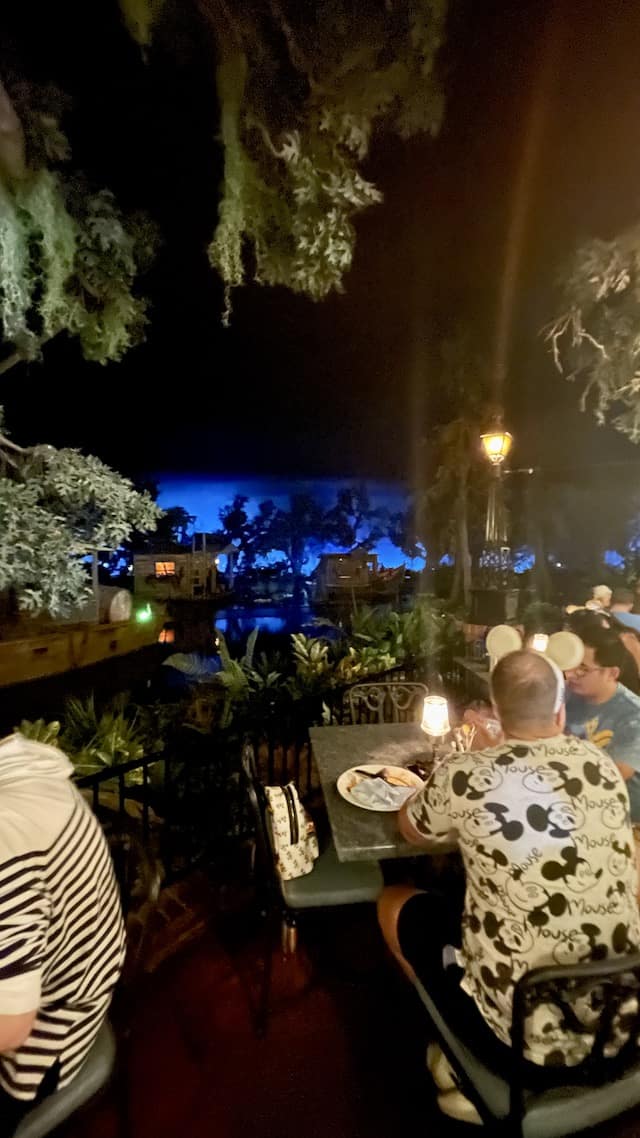 Speaking of which, this is the number one request of diners eating at Blue Bayou. Everyone wants to eat by the water so they can watch the Pirates of the Caribbean boats pass by! You can request a table near the water, but be aware you may have to wait a bit longer after your reservation time to be seated.
I opted not to request a table by the water. We were off to the side about two "rows" back and we still had a decent view of the water. It is not a large restaurant by any means, so if you don't get a waterside table, you should still be able to experience the same atmosphere as those who are.
The Food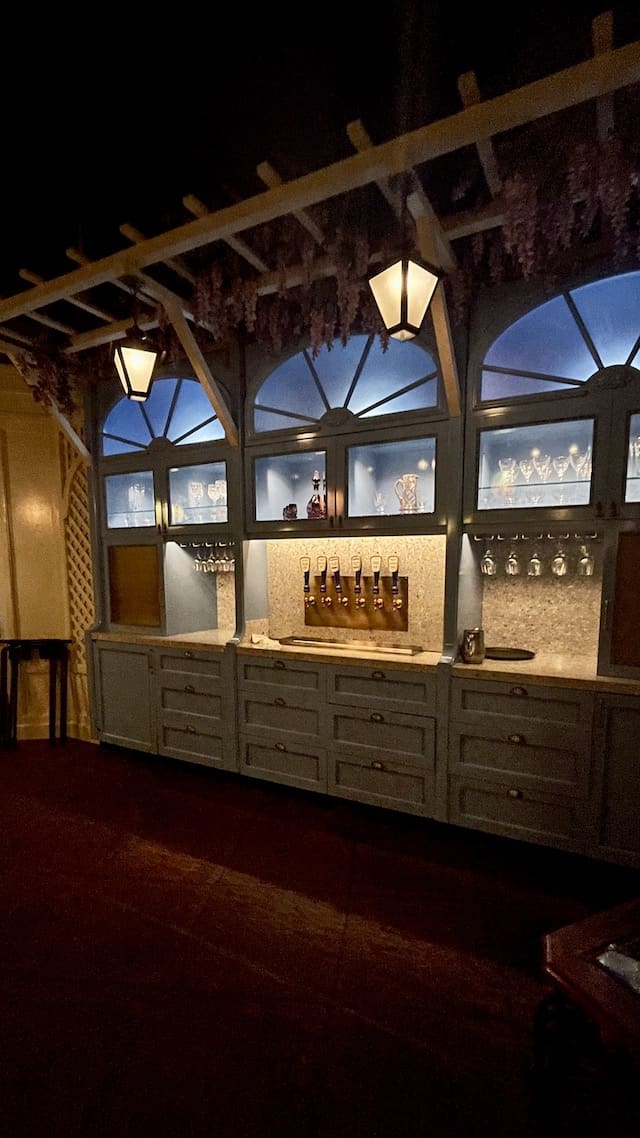 I will start this off by saying the food is authentically Cajun and Creole inspired. My (Monica) husband used to live in the south, and he said the food tastes exactly as it should. The rest of my family is not used to authentic Cajun and Creole food, and we did not care for it. Admittedly, we are a box-style from the grocery store jambalaya family.
If you are not used to authentic Cajun or Creole food, you may not like the dishes at Blue Bayou.
Monte Cristo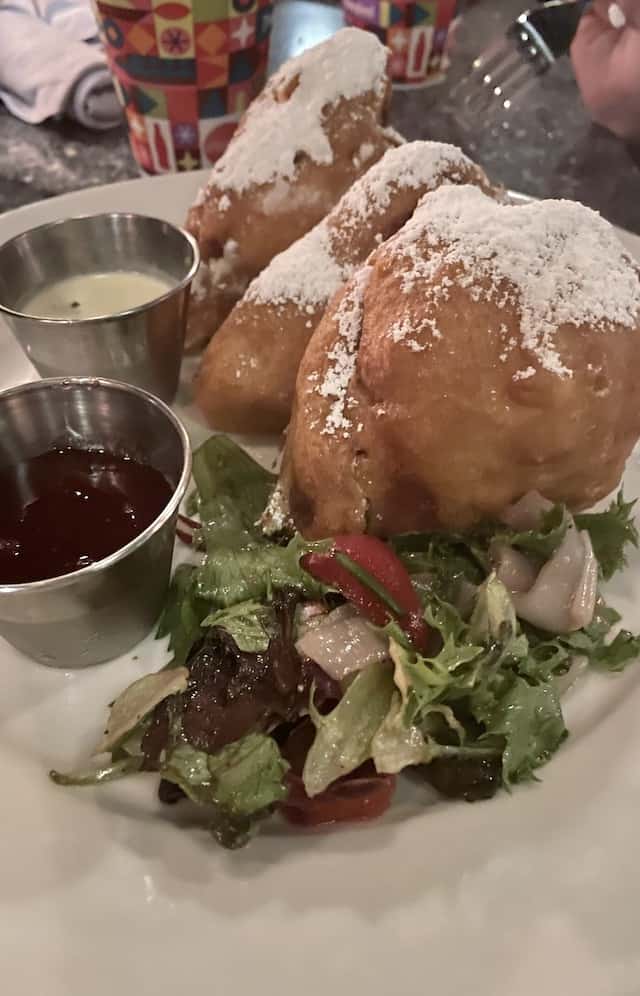 I had my heart set on trying the Monte Cristo, which at the time we dined here, was only available at Blue Bayou and Cafe Orleans. The atmosphere of Blue Bayou won out, due to being able to see the Pirates boats travel along the water. I thought my kids would enjoy that more. Three large turkey, ham, and cheese filled pastries came with a heap of powdered sugar on top and creme sauce and preserves. It also came with a salad, but I would have preferred the Pommes fries at Cafe Orleans.
The Monte Cristo has been on and off the menu, so I was happy to be able to order it during our visit. As I write this review just a few short months later, it appears the sandwich is once again off the lunch menu. Hopefully it will return soon! I know this is disappointing for many fans of the restaurant.
However, you can still order the Monte Cristo for dinner, so keep that in mind when booking reservations.
Filet Mignon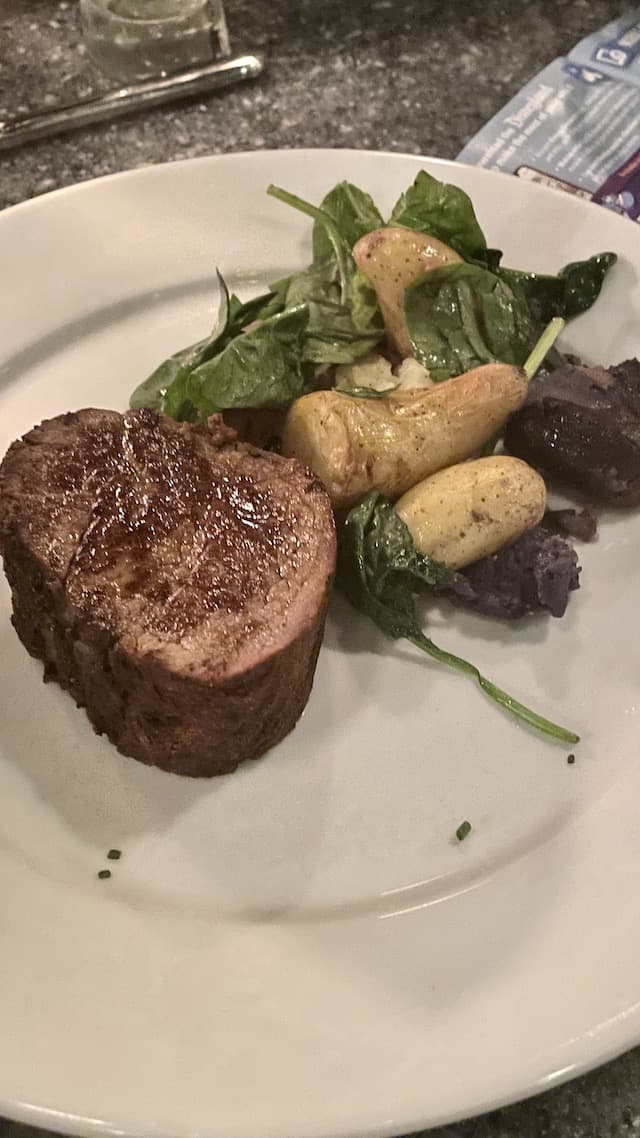 My son, being the plain eater that he is, ordered an adult filet mignon to receive a better cut (steak kid meals are usually cheap cuts of meat). This is probably the safest menu option for anyone, if it were still on the menu…
The next closest item would be the prime rib. It is served with vegetables and mashed potatoes.
Chicken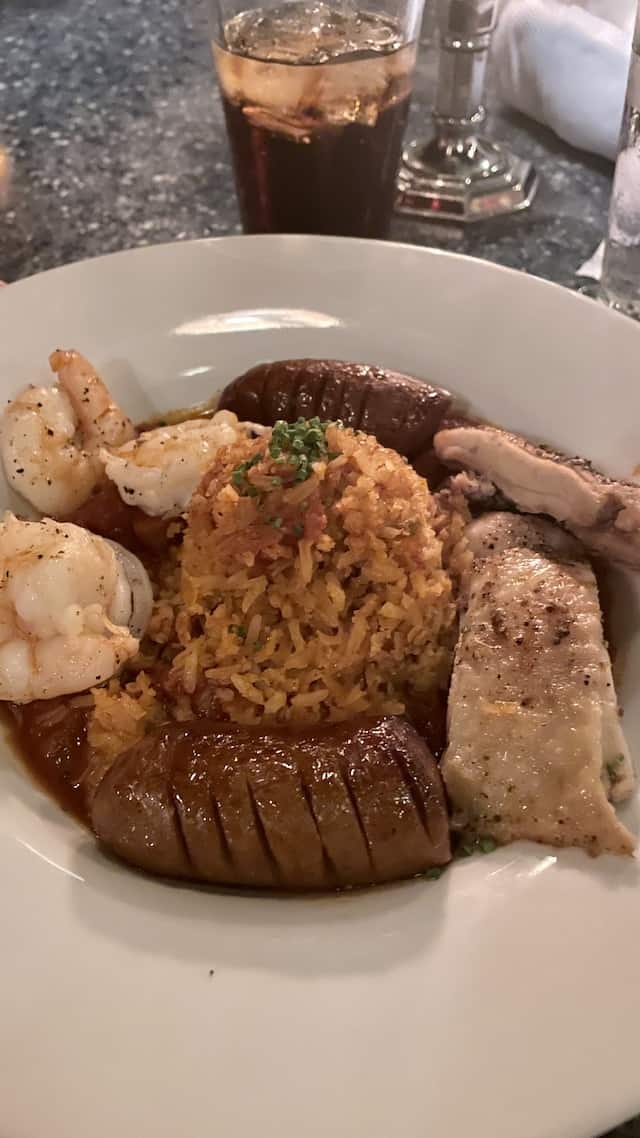 My husband ordered the jambalaya (or the Creole Roasted Chicken as it is noted on the menu). It comes with a mountain of rice along with chicken, sausage, and shrimp. He enjoyed this meal very much and said it tasted just as Cajun jambalaya should taste. This was the winner of the meal.
Spaghetti Kids Meal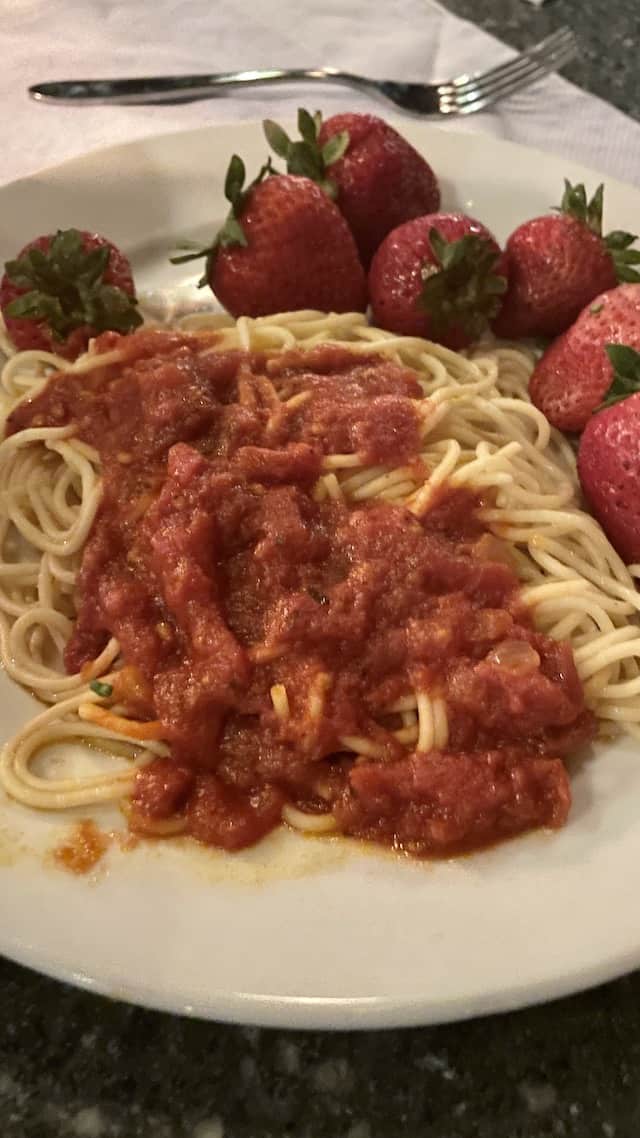 We also had a couple spaghetti kid meals that come with white pasta noodles, spaghetti sauce, and a side of fruit. This is the only thing three of my four children would eat.
Would I dine here again?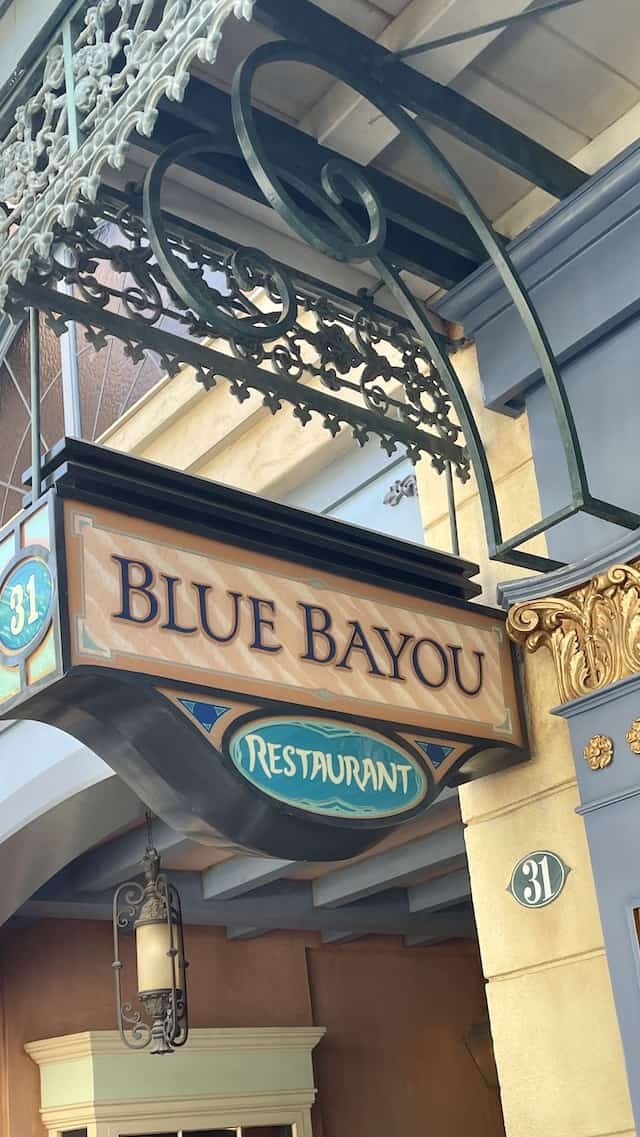 So, would I dine here again? Absolutely not with this reduced menu. They took a classic Disneyland sandwich and a "safe" cut of steak off the menu. The ambiance is beautiful, but this is a one and done for my family. I cannot imagine spending even more money to have a reserved Fantasmic! seating section with a dining package.
If you really want to see inside the restaurant, I suggest getting on the Pirates of the Caribbean attraction. You may also consider splitting an appetizer and dessert with your travel party, but I do not think the food is worth the high price tag.
It is such a shame, too, because I really wanted to love this restaurant. I do not think it lives up to the hype I had heard so much about. To read Marisol's review, see her post HERE.
What are your thoughts on Blue Bayou? Have you visited recently? Share your comments with us in the comments below and on Facebook.