I (Marisol) recently took a trip to the Disneyland Resort to enjoy many of this year's various holiday entertainment and attractions. Here are my favorite ones that you should not miss at Disneyland!
Disneyland Park Overlay Attractions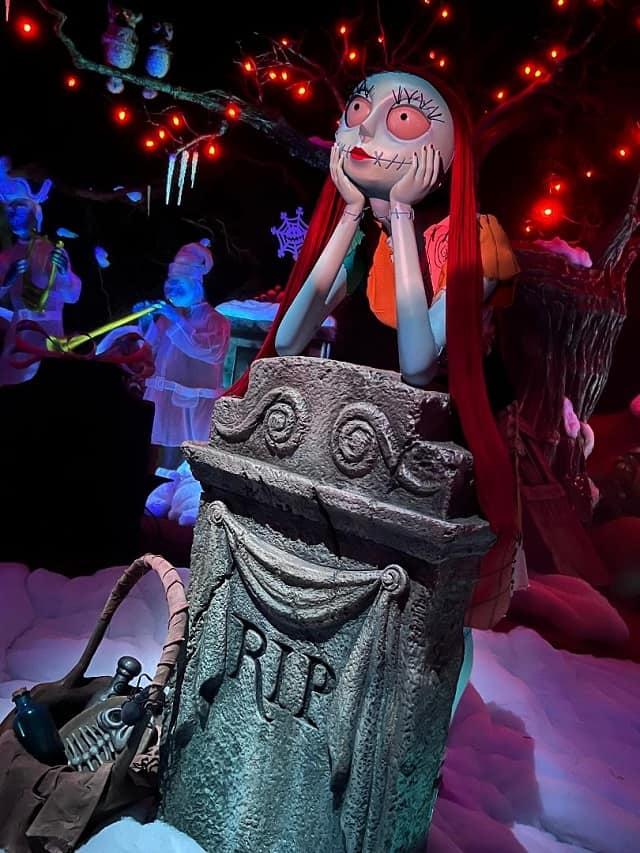 There are seven things that are always on my list to do when visiting Disneyland Park during the festive holiday seasons. And, they can all be experienced in one day. Enjoying each one of them always puts a smile on my face. These include riding the "it's a small world" Holiday and the "Haunted Mansion Holiday" overlay attractions, watching the lighting of the Christmas tree on Main Street and the lighting at "it's a small world," the Disney Holiday Dance Party, the "Believe… In Holiday Magic" Fireworks Spectacular and last, but not least, watching the Christmas Fantasy Parade.
I may be in the small majority, but if the Nightmare Before Christmas holiday overlay were to remain permanent, I would not mind it at all! During the seasons of Halloween and Christmas time, the residents of the Haunted Mansion temporarily relocate. Then, the residents of Halloween Town take residency for the two special holiday seasons. To read more about its 20th Anniversary from last year, you can see my post HERE.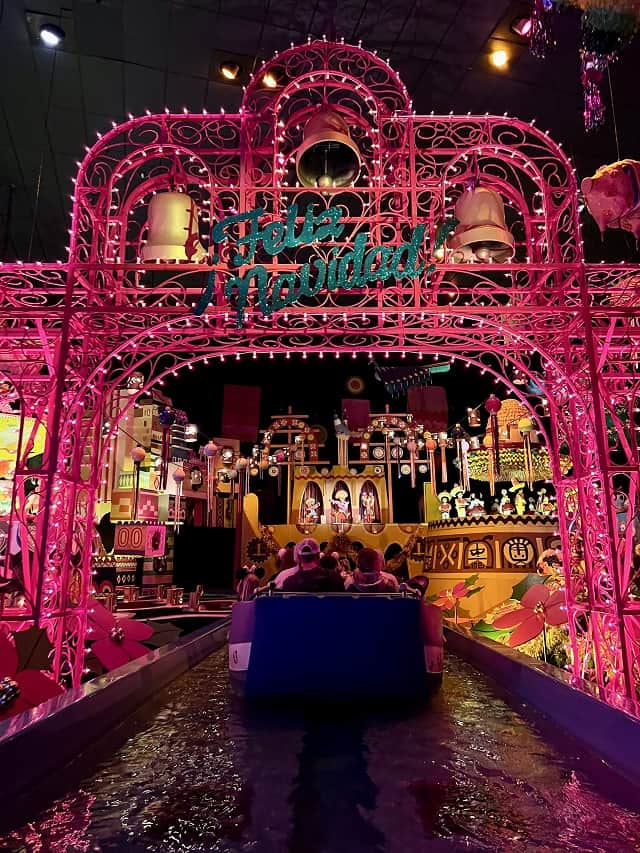 One of the other amazing holiday overlays at Disneyland Park during the holiday season "it's a small world".  This holiday season, the "it's a small world" overlay attraction celebrates its own milestone of 25 years. To celebrate the joyous milestone, the attraction showcases the number 25 throughout the boat ride around the world.
Every holiday season, the holiday overlay is filled with decorations, seasonal costumes and two holiday carols, "Jingle Bells" and "Deck the Halls". See my post about this HERE.
Lighting Ceremonies and Holiday Dance Party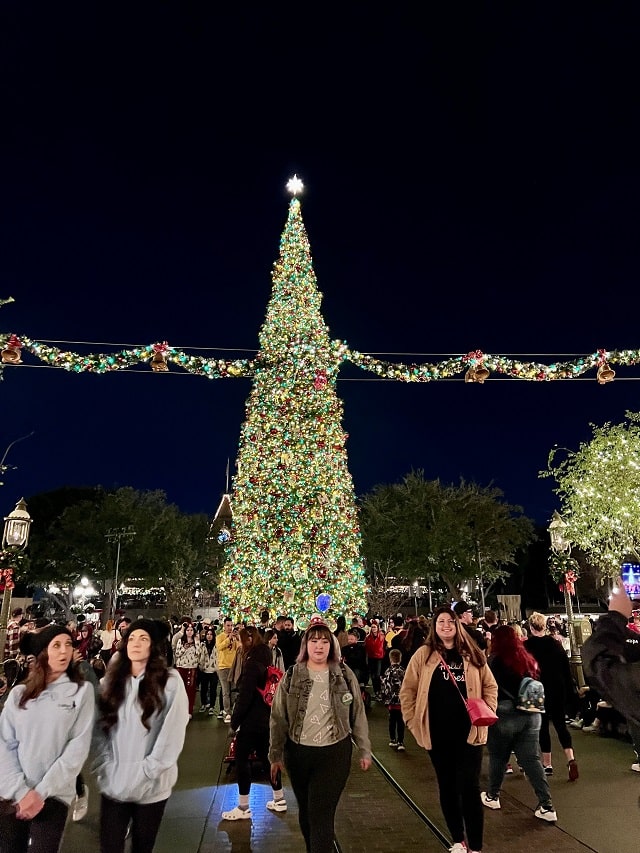 During the holiday season at Disneyland Park there are two lighting ceremonies that take place when the sun sets. This allows the millions of twinkling lights around the park to illuminate in all its majestic beauty throughout the park. At dusk, an announcement is made in Town Square on Main Street, U.S.A., for people to stop and look over as guests are invited to countdown for the 65 foot tree to light up.
In previous years, this ceremony was more meaningful and special as carolers with handbells would sing classic holiday tunes as the tree and lights on Main Street came alive. This aspect of entertainment may no longer occur, but there is something so special about counting down with hundreds of people around you and the cheers as the lights all turn on! The tree ceremony happens at 5 pm.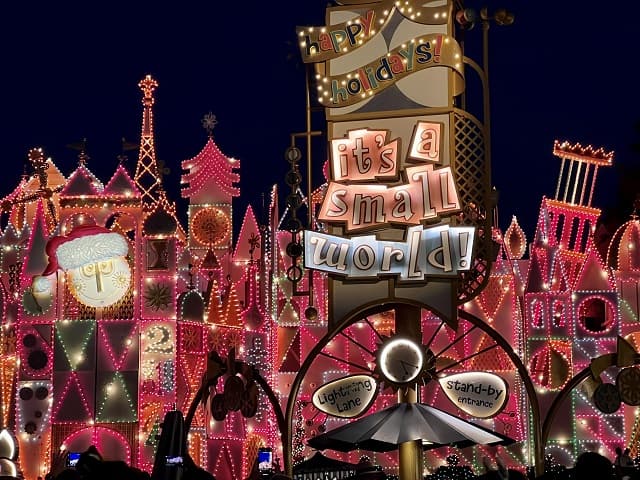 After watching Main Street illuminate, I recommend for you to walk, not run, over to it's a small world Holiday Lighting which occurs nightly at 5:15 pm.
Witness the magical moment when the whimsical façade lights up in a dazzling display of festive twinkling lights.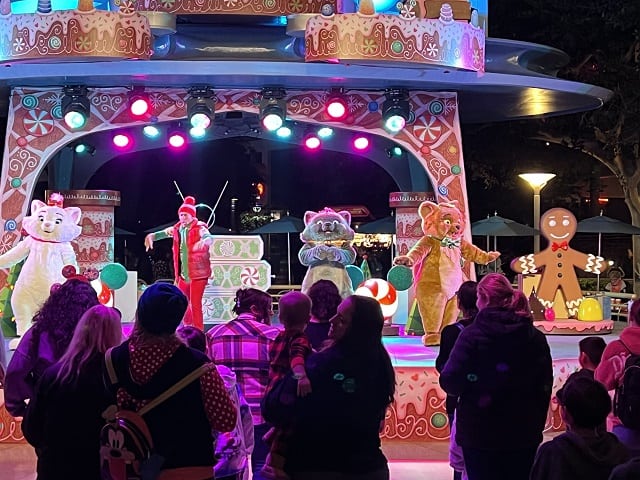 Who doesn't enjoy a good dance party? Guests visiting Disneyland Park will be happy to learn about the Holiday Dance party that occurs each night over at Tomorrowland Terrace. It takes place nightly from 7 pm-11 pm.
Although the party is aimed more towards little ones, people of all ages are invited to bust a move with a featured DJ who spins the beat to many Christmas classics. Different characters partake in the festivities which include Marie and her two brothers, Toulouse and Berlioz. How's that for rare characters?
Fireworks and a Parade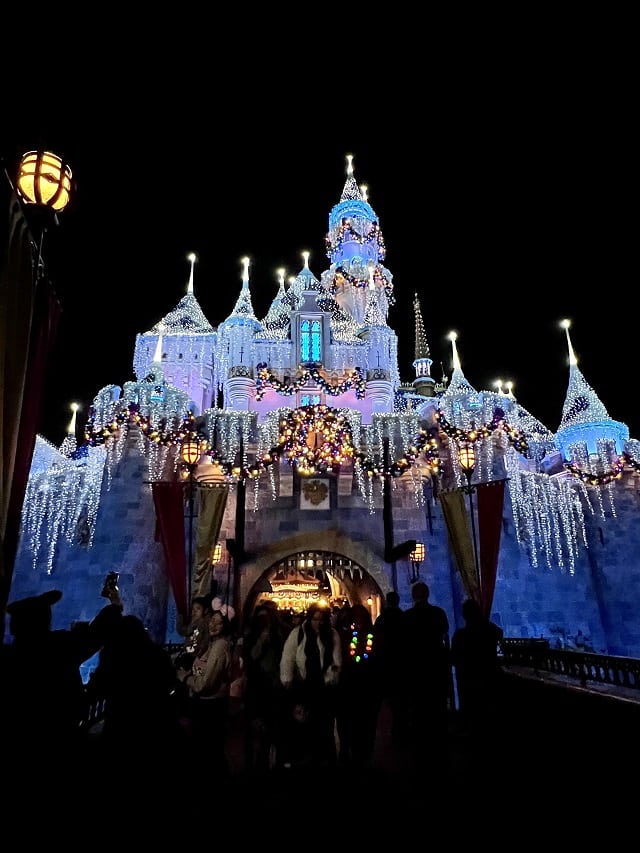 If there are two areas where Disney excels it would certainly have to be its fireworks and their parades! "Believe… In Holiday Magic" Fireworks Spectacular occurs each night at 9:30 pm. The skies and castle come to life through fireworks and holiday music to surely put you in the holiday spirit.
My favorite part? Make sure to stay until the end because it snows both on Main Street U.S.A and over at "it's a small world." Here's a great tip! The show on the façade of Sleeping Beauty castle are the same ones that are projected on the façade of "it's a small world."
The Christmas Fantasy Parade is one not to miss during the holiday season. There are usually two showings each day, although showtimes are subject to change. Guests are invited to check the Entertainment Schedule for dates and showtimes. If you visit Disneyland with me during this time of year, it will come as no surprise that I watch both showings of the parade. There is certainly a different feel to the two times offered because one occurs during the daytime, while the other is at night.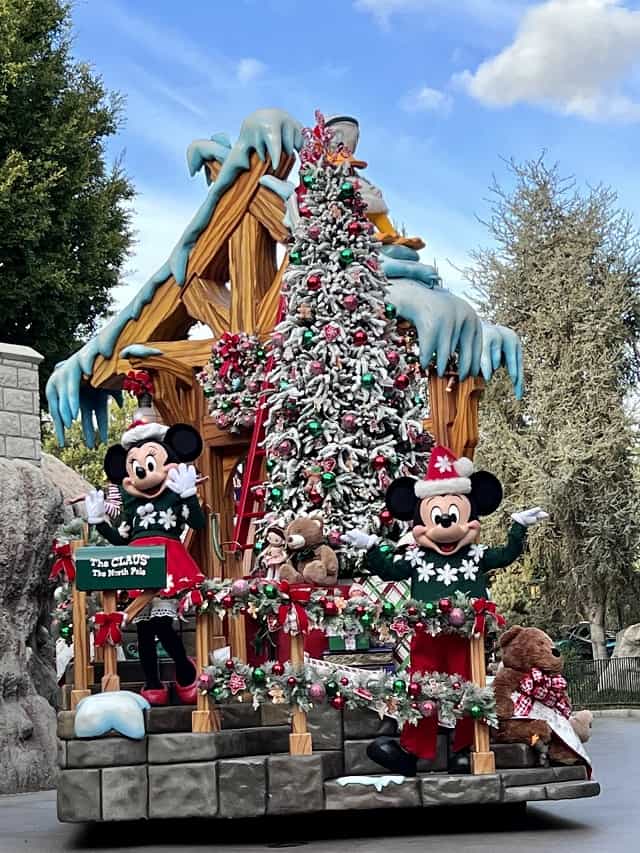 The holiday debuted in 1995 and over the years has seen many changes over the years. The parade features several Christmas themed floats and a catchy soundtrack along with favorite characters such as Woody and his friends, Anna, Elsa, the toy soldiers from Babes in Toyland, Mickey and his friends, Santa and his eight reindeers and many more. 
The parade is around 40 minutes. It begins from "it's a small world" for the 3:30 pm and ends at Main Street U.S.A. For the 8:30 pm viewing the parade begins at Main Street U.S.A and ends at "it's a small world."
Honorable Mentions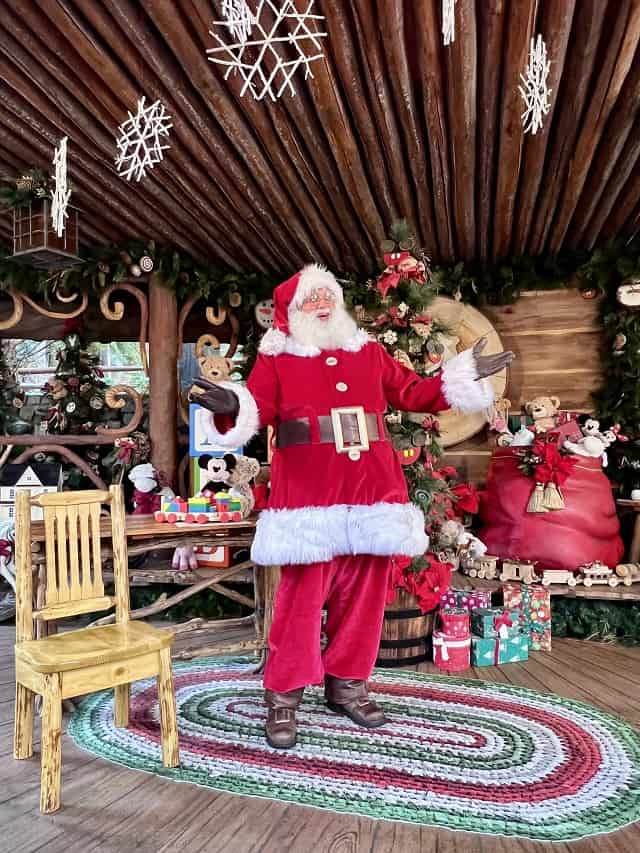 It's not Christmas time without a stop to see the golly old man himself, Santa Claus! You will notice that I have placed him on my honorable mentions list, but after you read my favorite things to do over at Disney California Adventure, you'll see why! Stop by and visit Santa in Critter Country at Disneyland Park, Disney's Paradise Pier Hotel, Disney's Grand Californian Hotel & Spa and at the Disneyland Hotel.
Are you a fan of the Dapper Dans? Make sure to make it a point in your day to enjoy them especially during the holiday season as this barbershop quartet sing and dance their way through many different holiday songs. The Dapper Dans can be found on Main Street, U.S.A.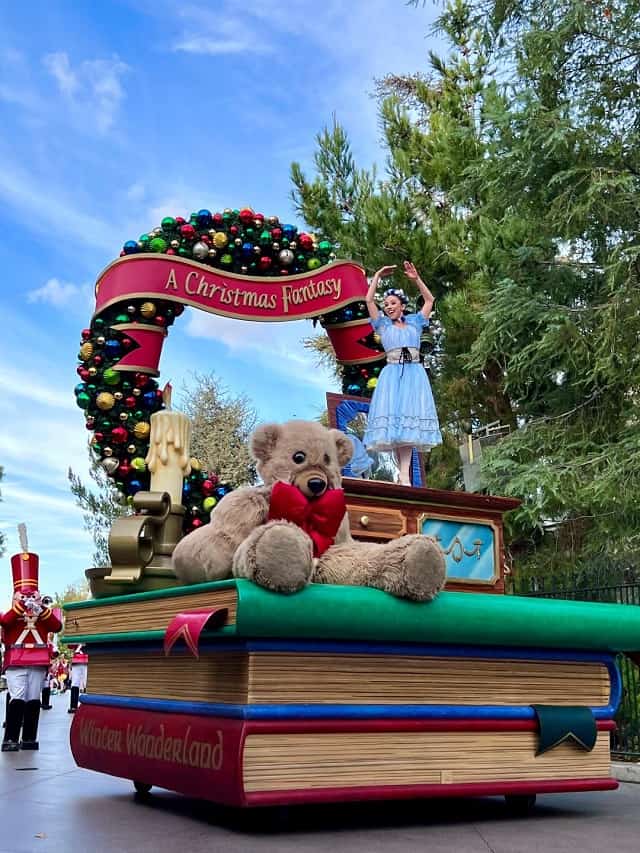 As one can see, there are many different holiday offerings that can be found around Disneyland Park. I did not even have a chance to offer my favorite holiday foods that I indulged in on my trip. That is another article for another day! There is much to enjoy to take in the spirit of this magical season as the celebrations continue through January 8, 2023.
Will you be visiting the Disneyland Resort during this holiday season? Is there something I missed from my list that you enjoy? Let us know in the comments on Facebook and in our Facebook group.