"What's This? What's This?" It's the 20th Anniversary of the Haunted Mansion Holiday Overlay? Join me as I take you through how the Disneyland Resort is celebrating with treats and merchandise.
Haunted Mansion Holiday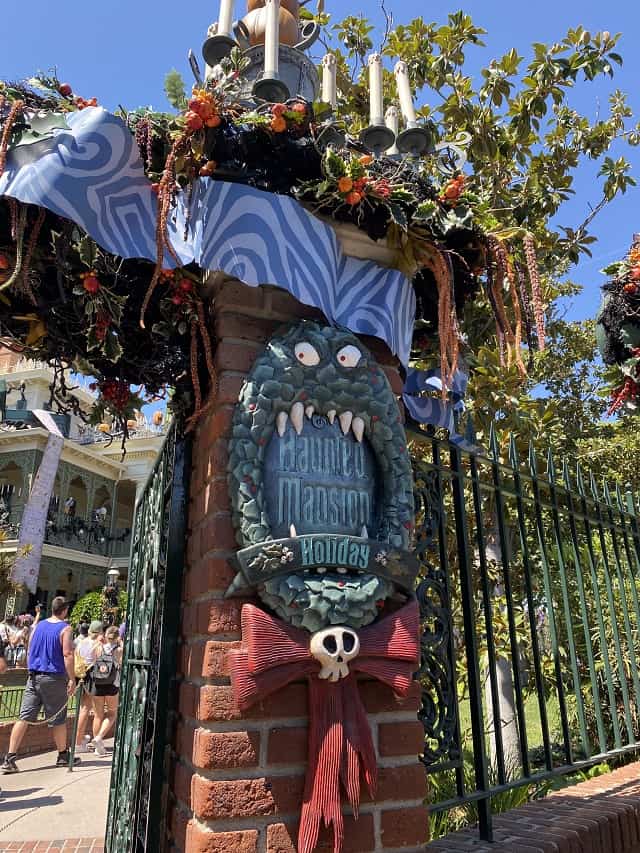 During the seasons of Halloween and Christmas time, the residents of the Haunted Mansion temporarily relocate as the residents of Halloween Town take residency for the two special holiday seasons.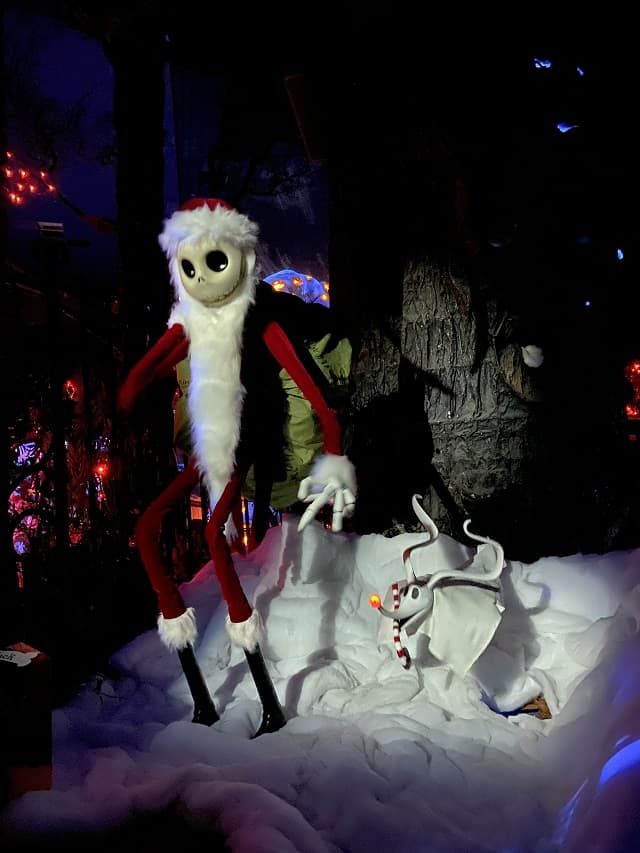 The Pumpkin King himself, Jack Skellington from Tim Burton's The Nightmare Before Christmas, features an overlay complete with a real life gingerbread house located in the Grand Hall.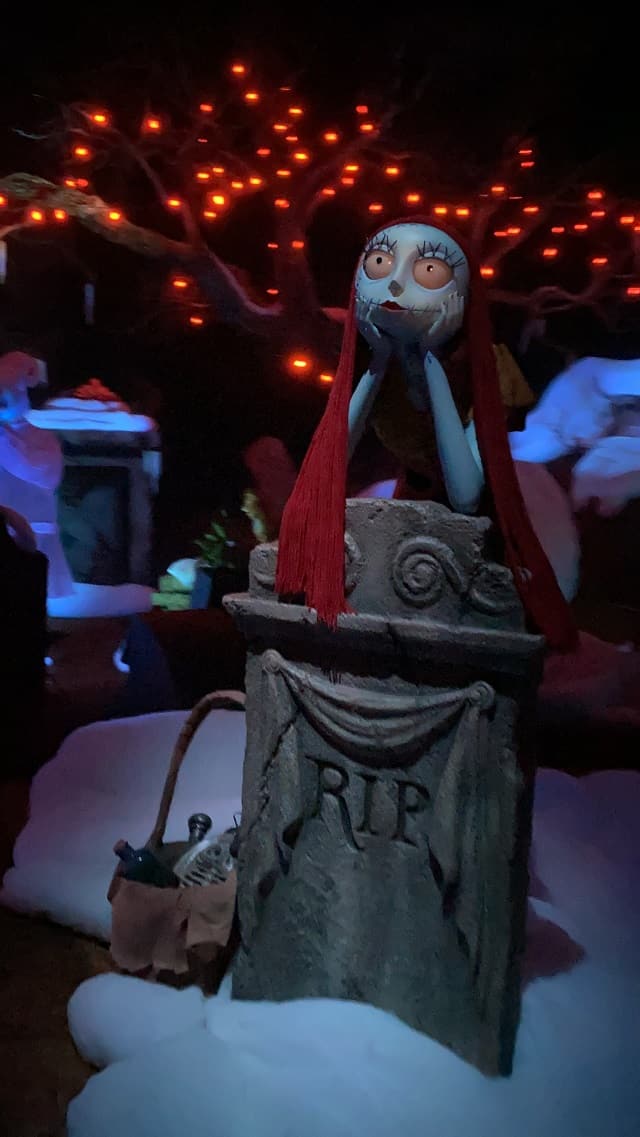 This year marks a special milestone as the fan favorite holiday overlay celebrates its 20th Anniversary and there are many ways to celebrate the occasion!
Nightmare Before Christmas Characters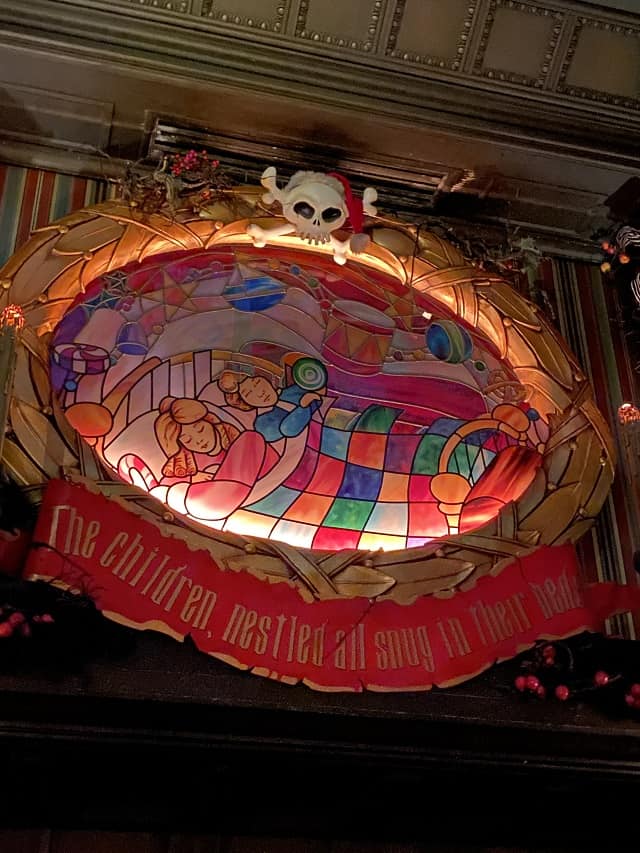 From the first moment that guests enter the hallway that takes them into the stretching room, guests are immersed with nods to the animated film itself.
Many of the characters of the film can be see throughout the attraction as they truly do take over the Haunted Mansion!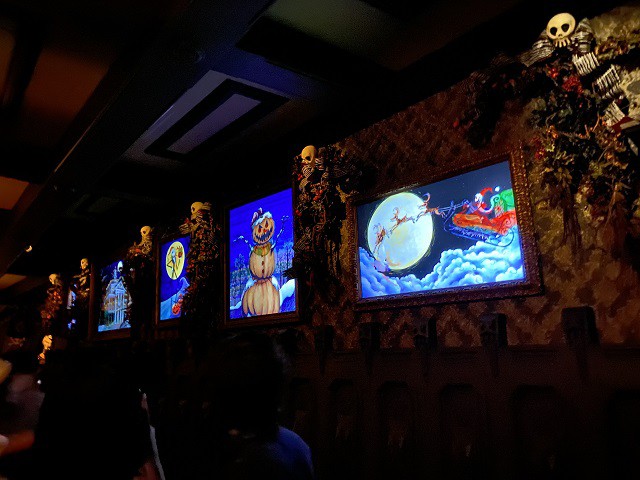 Whereas Covid has changed the way that guests can experience Character meet and greets throughout the Disneyland parks, this year guests will find both Sally and Jack on the balcony of the Mansion itself greeting guests as they await their holiday adventure inside.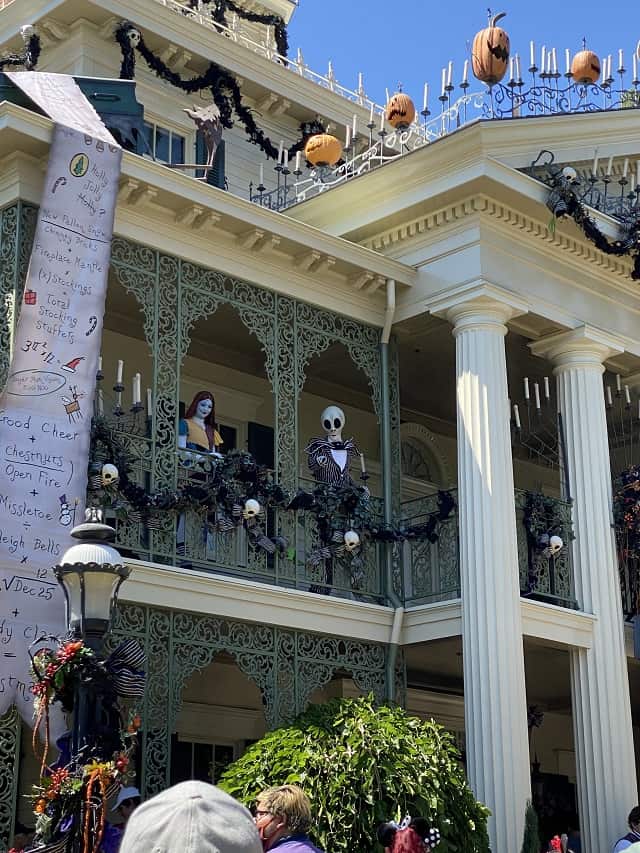 For guests that are fan favorites of the cult classic, the attraction does not disappoint as it is a full immersion experience.
In fact, it is such a popular overlay attraction that many guests have pleaded for it to come to The Haunted Mansion attraction at the Magic Kingdom at Walt Disney World.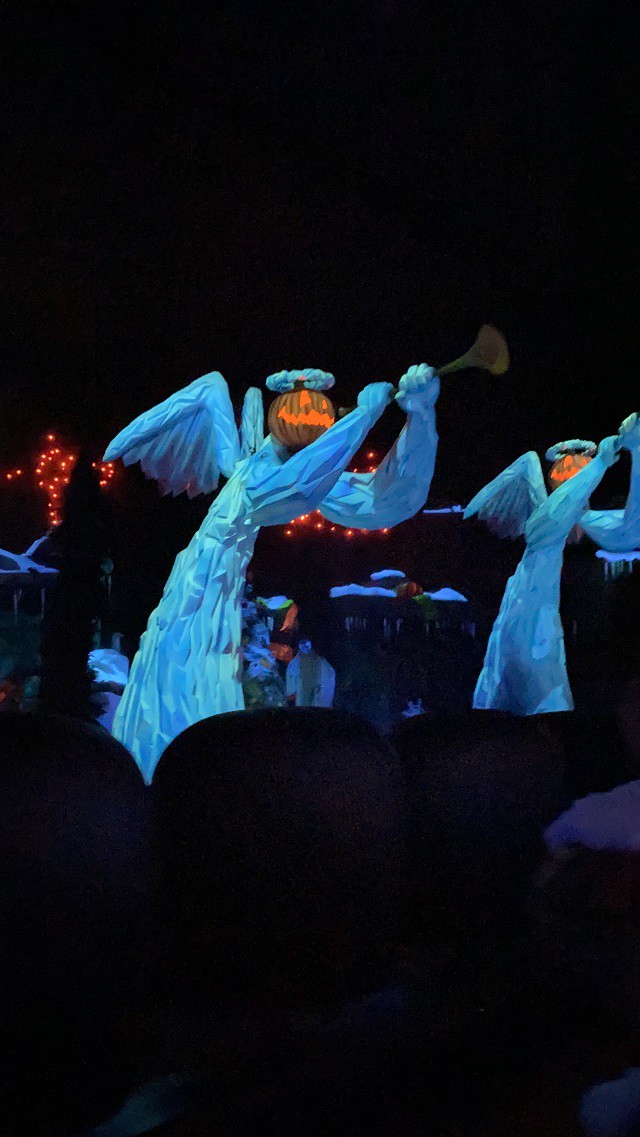 However, for the time being, it seems that it will remain an exclusive experience at Disneyland Park.
Gingerbread House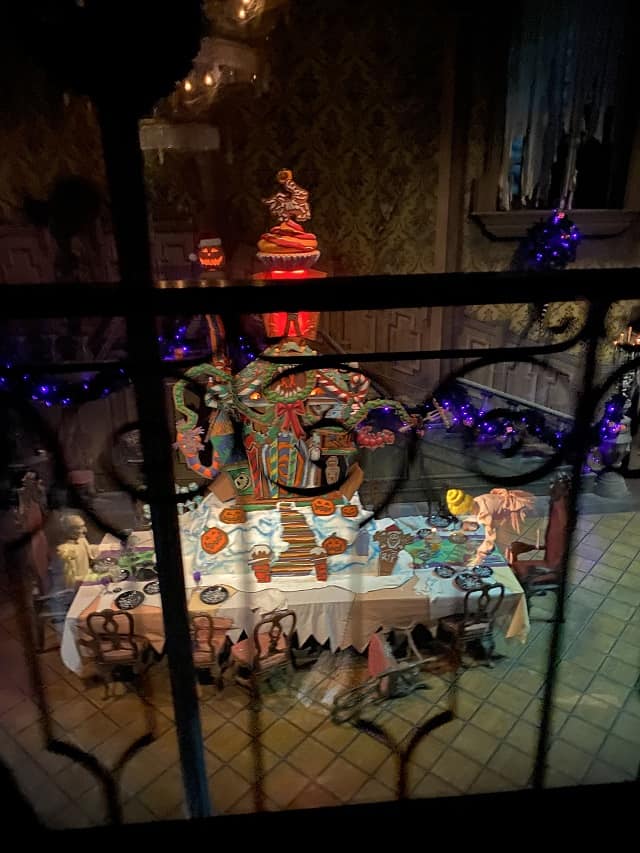 Located inside the Grand Hall of the Haunted Mansion attraction, a spectacular gingerbread house complete with the sweet smells adorns the center of the ballroom each year.
Tim Wollweber, associate art director for Disney Parks, designed this year's house, which pays homage to all the previous houses. Wollweber told Disney Parks Blog, "we went back to the graveyard to dig up all of our ideas from the past 19 years. This year's Franken-house stitches together favorite elements from the previous 19 houses!"
This is the list of each element pictured in the rendering below:
2001 – Monster House
2002 – Present House
2003 – Giant Oogie Boogie House
2004 – Zero's Dog House
2005 – Giant Man-eating Wreath House
2006 – Monster-infested House
2007 – Jack-in-the Box House
2008 – Giant Gingerbread Coffin House
2009 – Scary-Go-Round House
2010 – Pop-Up Sandy Claws House
2011 – Mimic Monster House
2012 – Jack Skellington's House
2013 – 13 Days of Christmas House
2014 – Gingerbread Zombie House
2015 – Gingerbread Card House
2016 – Stitched-Up-Patchwork House
2017 – Oogie Boogie Bug-infested House
2018 – Giant Gingerbread Spider House
2019 – Haunted Mansion 50 Years of Hauntings House
2021 – Gingerbread Franken-House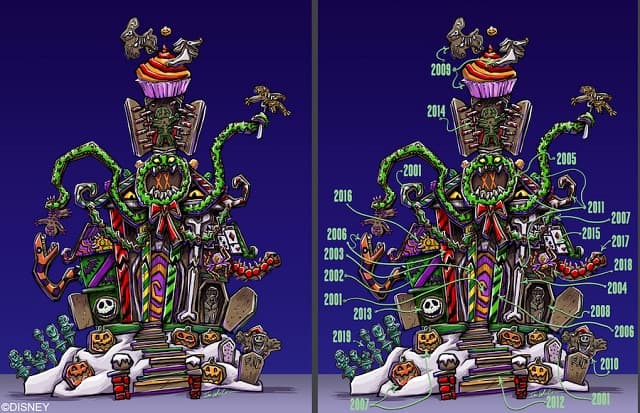 It is a sight and sound that guests surely do not want to miss!
20th Anniversary Merchandise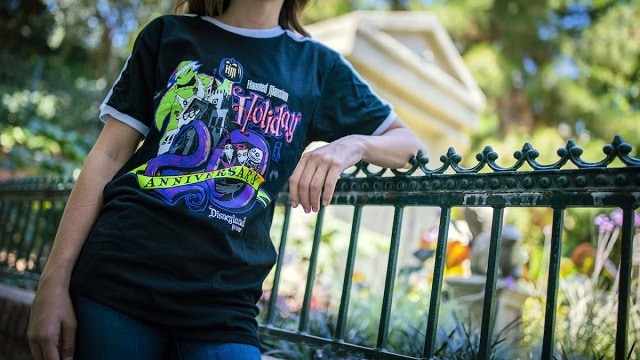 Arriving on Sept. 27th exclusively to the Disneyland Resort, commemorative merchandise of the overlay's merchandise will be available.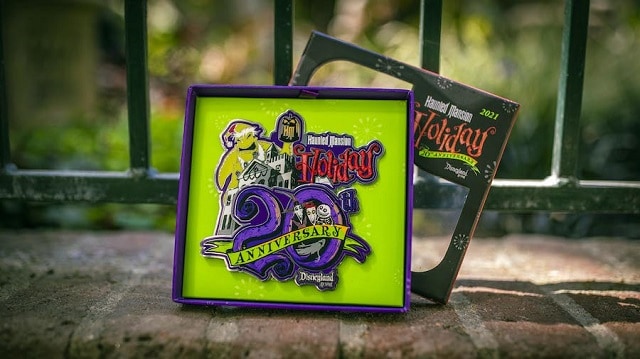 Corkcicle, pins, and a T-shirt will be available. These items will surely be popular!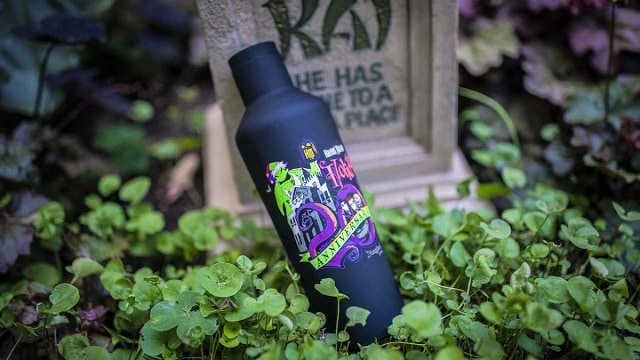 And what's a celebration without a sipper! Guests can purchase a Jack Skellington sipper at the French Market and Harbour Gallery in Disneyland Park.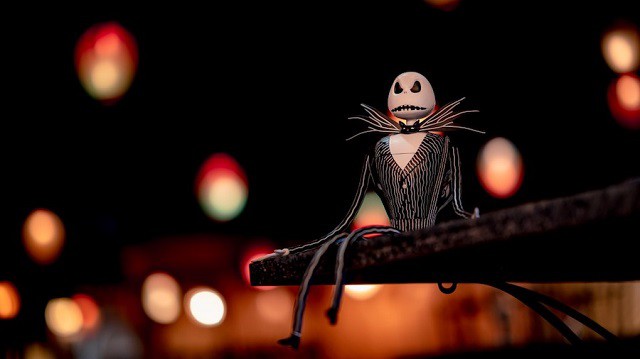 Oogie Boogie at the Grand Californian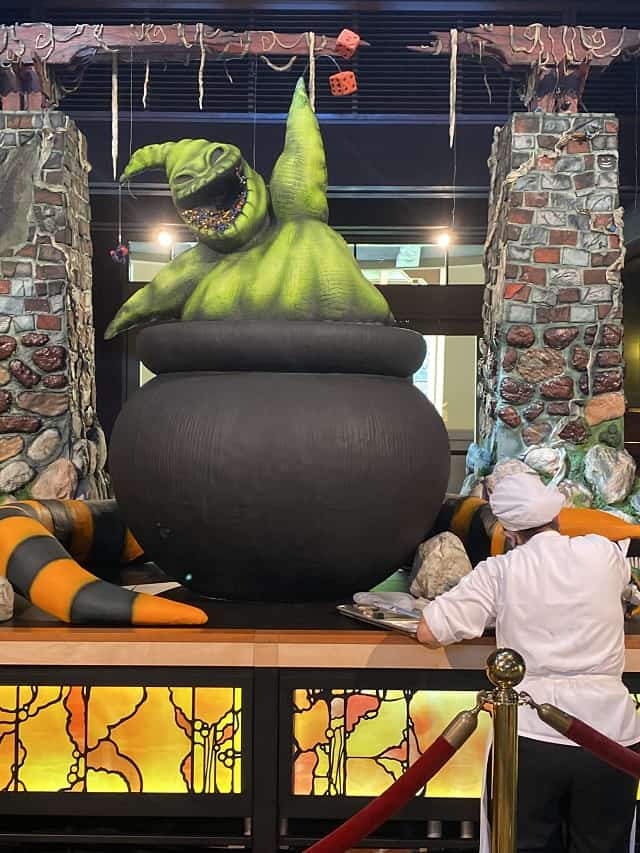 For guests who do not have a park ticket and reservation, no need to worry as guests are able to visit the Oogie Boogie confectionary masterpiece that adorns the lobby inside the Grand Californian Hotel.
Ooogie's cauldron stands at over 4-feet tall!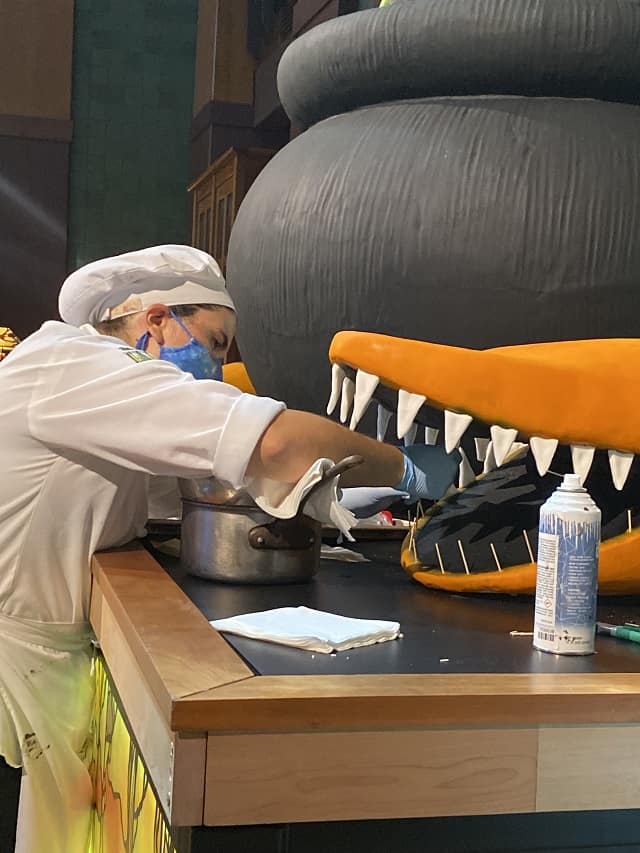 Want to learn more about the masterpiece itself? A pastry chef from 3:00 to 3:30 p.m. on Wednesdays and Saturdays are ready to greet guests and answer any questions now through October.
Situated next to the sculpture, guests can stop by the treat cart to purchase Mickey-shaped cookies, Oogie Boogie crispy treats, poison apple cookies, zombie Mickey whoopie pies, caramel apple cake, cookie shots with cotton candy milk, cookie boxes and different villain cookies each week.
How Long Will the Overlay Be Available?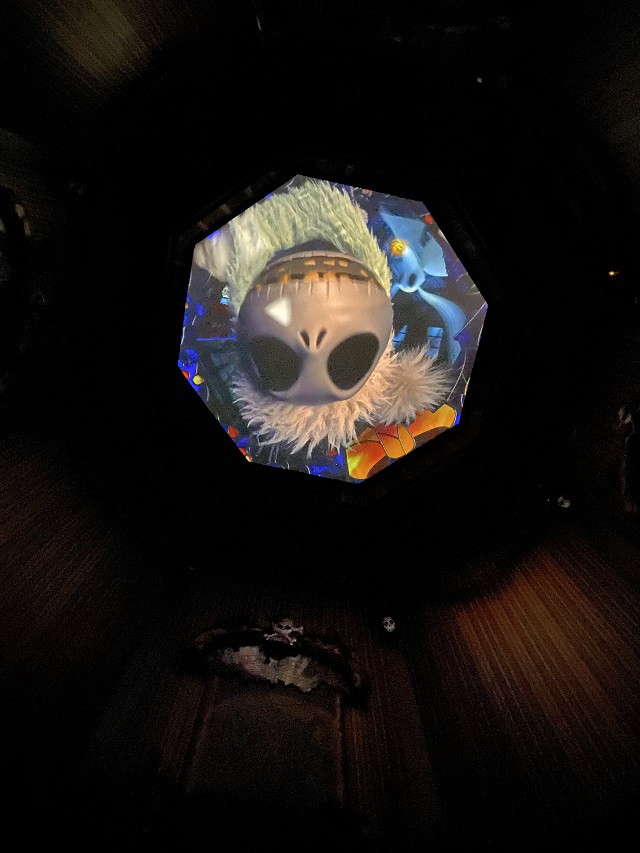 Guests who are visiting the Disneyland park in Anaheim can enjoy The Haunted Mansion overlay available from September 3, 2021 to January 9, 2022.
It is an experience that guests of all ages will enjoy during the Halloween and Christmas seasons!
Have you experienced The Haunted Mansion overlay before? What is your favorite part of the attraction? Let us know in the comments on Facebook and in our Facebook group.
Are you planning a vacation? Reach out to our trusted travel agency sponsor Authorized Disney Vacation Planner
Mouse Class Travel
!